Leeds Travel Essentials
Useful Information to Help You Start Your Trip to Leeds
Our Leeds Travel Essentials lays out the essential information you need to help you plan your trip to one of the most popular destinations in England. No matter how often you travel, some questions will always need answers: What's the weather like? How can I get from Leeds Bradford Airport to my hotel? What currency and type of plug do I need?
We have all these answers plus other basic info about the best time to go, getting there, getting around, and a few useful travel tips. You'll also learn about the most popular landmarks in Leeds such as Millennium Square, the Royal Armouries Museum, and Kirkgate Market. It's all compiled in this Leeds Travel Essentials. After going through this short and easy-to-read guide, you'll be a little more prepared to start your trip to Leeds.
1
When is the best time to travel to Leeds?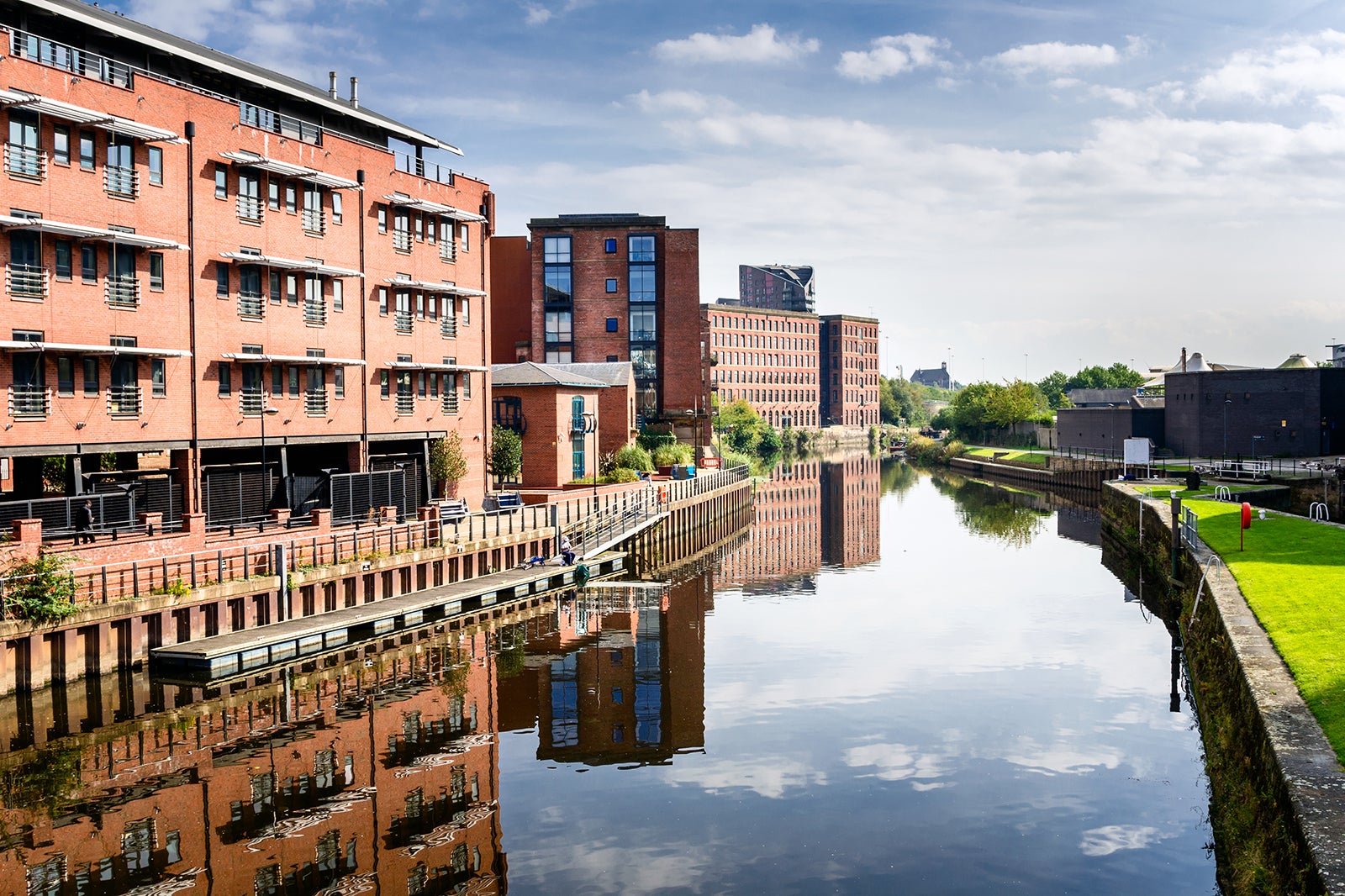 Leeds has an oceanic climate with mild summers and chilly winters featuring occasional snow. Average temperatures range between 3°C in winter and 16°C in summer.
The average number of rainy days per month ranges between 17 in January and 12 in July. It rains about 173 days per year in Leeds.
June–September is the warmest time of the year with average temperatures ranging between 14°C and 16°C. The peak season runs from mid-June to mid-September. Expect higher prices for hotels and flights during these months. Booking well in advance can help you save some money, though.
The best times to visit Leeds are in spring (May–mid-June) and autumn (late September–October). This is when hotels usually have lower rates and the weather is still mild and pleasant. You'll also avoid the summer crowds around this time.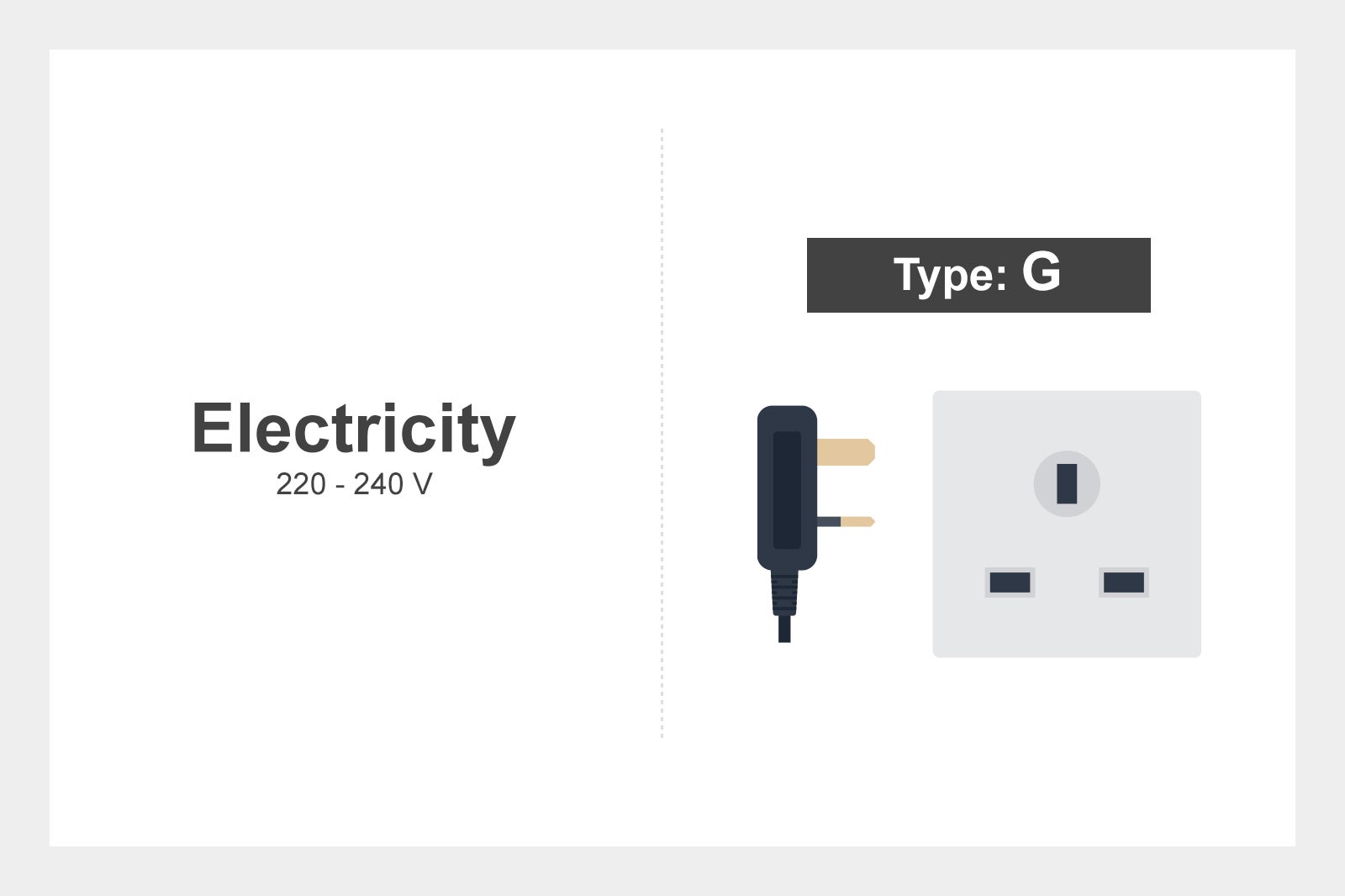 Plug type: G
Electricity: 220 - 240 V
Currency: Pound Sterling (£)
International dialling code: +44 (0)113
Emergency telephone number: 999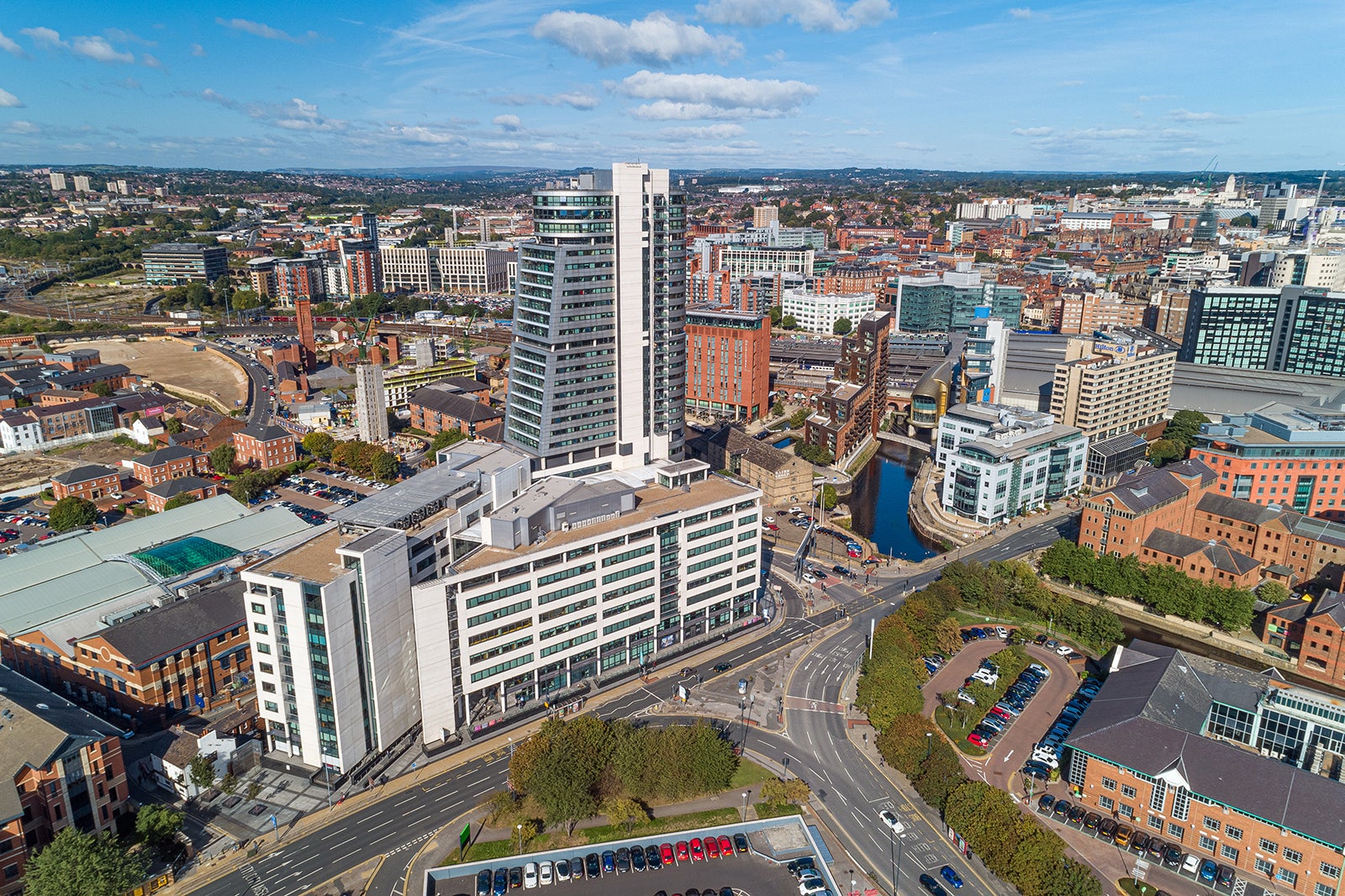 Leeds Bradford Airport (LBA) is the main arrival hub to Leeds. It's one of the largest airports in Yorkshire and, besides Leeds, it serves Harrogate, Bradford, Wakefield, and York.
If you're already in England, you can also get to Leeds by train. Note that the train is cheaper than the plane only for short distances.
Last but not least, if you travel on a budget, intercity bus services can get you to Leeds at very affordable rates from anywhere in the UK – although you'll have to take a ferry to get to the mainland from Northern Ireland.
Leeds Bradford Airport (LBA)
Leeds Bradford Airport is the primary airport serving Yorkshire in northern England. It's 6 miles northwest of the city centre. The driving time from the airport to Downtown Leeds is about 20 minutes.
There's free Wi-Fi at the airport. Ground transportation options available to get you to your hotel, depending on your budget, are as follows:
LBA has an official taxi partner named Arrow Cars. The pick-up area is right in front of the terminal exit. You can book a taxi ahead by downloading the Arrow Cars app on your smartphone.
Uber is available at LBA. The pick-up area is either the Terminal Front Express Car Park or the One Hour Free Zone.
The Flyer public bus network serves Leeds Bradford Airport. The bus stop is right behind the parking lot facing the terminal. The A1 bus takes you to Leeds with a departure every 30 minutes, 7 days a week.
Avis, Enterprise, and Hertz are just a few of the car rental agencies available at the airport. The Car Rental Centre is a 10-minute walk east of the terminal.
Leeds railway station
Leeds railway station is on New Station Street, in the city centre. It's one of the busiest stations in the UK. It's also an important connecting hub to major cities all around the UK.
The transfer options at hand at Leeds railway station to get to your hotel are as follows:
A network of commuter trains crisscrosses the city
A 24/7 taxi rank is available in front of the station
You can call for Uber services from the station
Several public bus lines serve the train station
4
How to get around Leeds?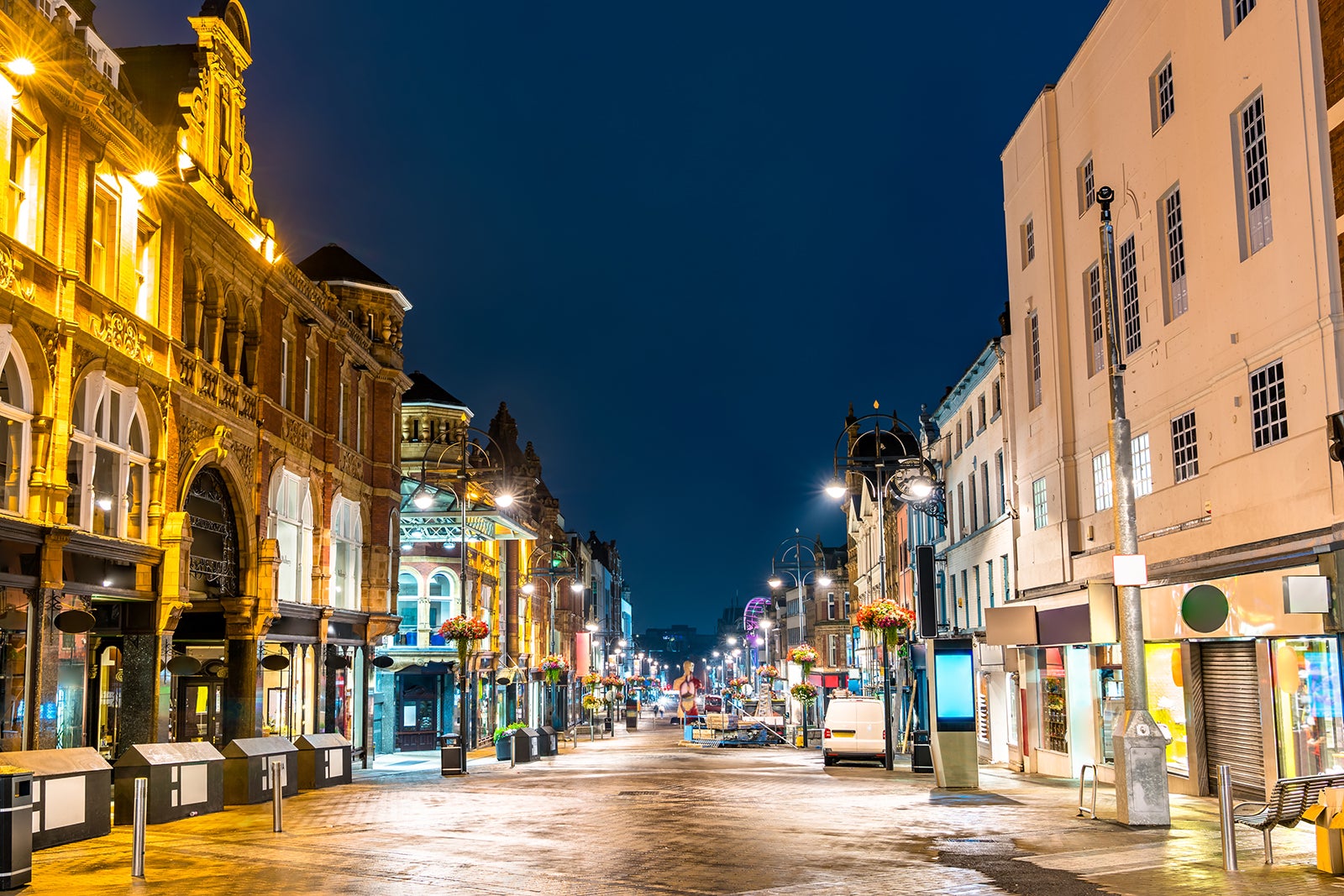 Travel tips
Leeds' city centre is easily walkable. It covers a square mile and features landmarks and iconic buildings such as County Arcade, Leeds Town Hall, and Park Square, just to name a few. Downtown Leeds is also home to a good range of dining and shopping options, as well as cool bars for enjoying a nightcap.
Cycling is also a fun way to explore the city on clear days. For longer distances, West Yorkshire Metro runs an extensive network of buses and trains that covers the entire county.
What public transport is available in Leeds?
Run by West Yorkshire Metro, buses and commuter trains run by different companies can get you to most places in Leeds and to nearby cities around Yorkshire. There are 14,000 bus stops and over 30 bus stations in the county, so chances are you'll find one near your hotel.
A wide range of ticket choices is available to suit your needs and budget. You can also get on the Leeds CityBus that makes a looping circuit with 18 stops at landmarks and attractions throughout the city centre at a cheap rate.
You can buy simple tickets on the bus and multi-day cards are available at the many stations available throughout the city. You can also pre-order cards on the Metro website. Children under 5 travel free, while those aged between 5 and 10 pay half the fare.
Taking a taxi
Amber Cars (+44 (0)113 202 2112), Arrow Cars Leeds (+44 (0)113 258 5888), and Roadrunners Leeds Taxis (+44 (0)113 217 1717) are just a few of the taxi companies that operate in Leeds. You can hail a taxi on the street in Leeds, and you can also often find them lined up in front of hotels, major attractions, and the train station.
Tipping isn't expected in the UK, though you can give one of about 10-15% of the fare if you're happy with your driver's service. Amber, Arrow, and other major taxi companies have apps you can download on your phone with which you can pay for the fare.
Uber is available in Leeds.
Is it advisable to rent a car in Leeds?
Renting a car is preferable if you plan on further exploring Yorkshire. You can find car rental companies at the airport and throughout Leeds. It's certainly more expensive than public transport but it gives you the freedom to go anywhere you want whenever you want.
Foreigners can use their country driving license for up to 12 months in the UK. Driving in Leeds can be a bit confusing at the beginning, due to the one-way system around the city centre. Many parking spaces are available throughout the city centre but can be busy during working hours.
Cycling around Leeds
Hiring a bicycle is a fun way of getting around Leeds on a sunny day. The city is decently bike-friendly and features a network of cycling routes for all levels. Check the city's official website to download maps of cycling routes in Leeds.
Check out companies such as Pedego Leeds (+44 (0)113 262 3352), Vern Overton Cycling (+44 (0)1423 781406), and Leeds Urban Bike Park (+44 (0)113 277 2413) for further info.
5
What are the main annual events in Leeds?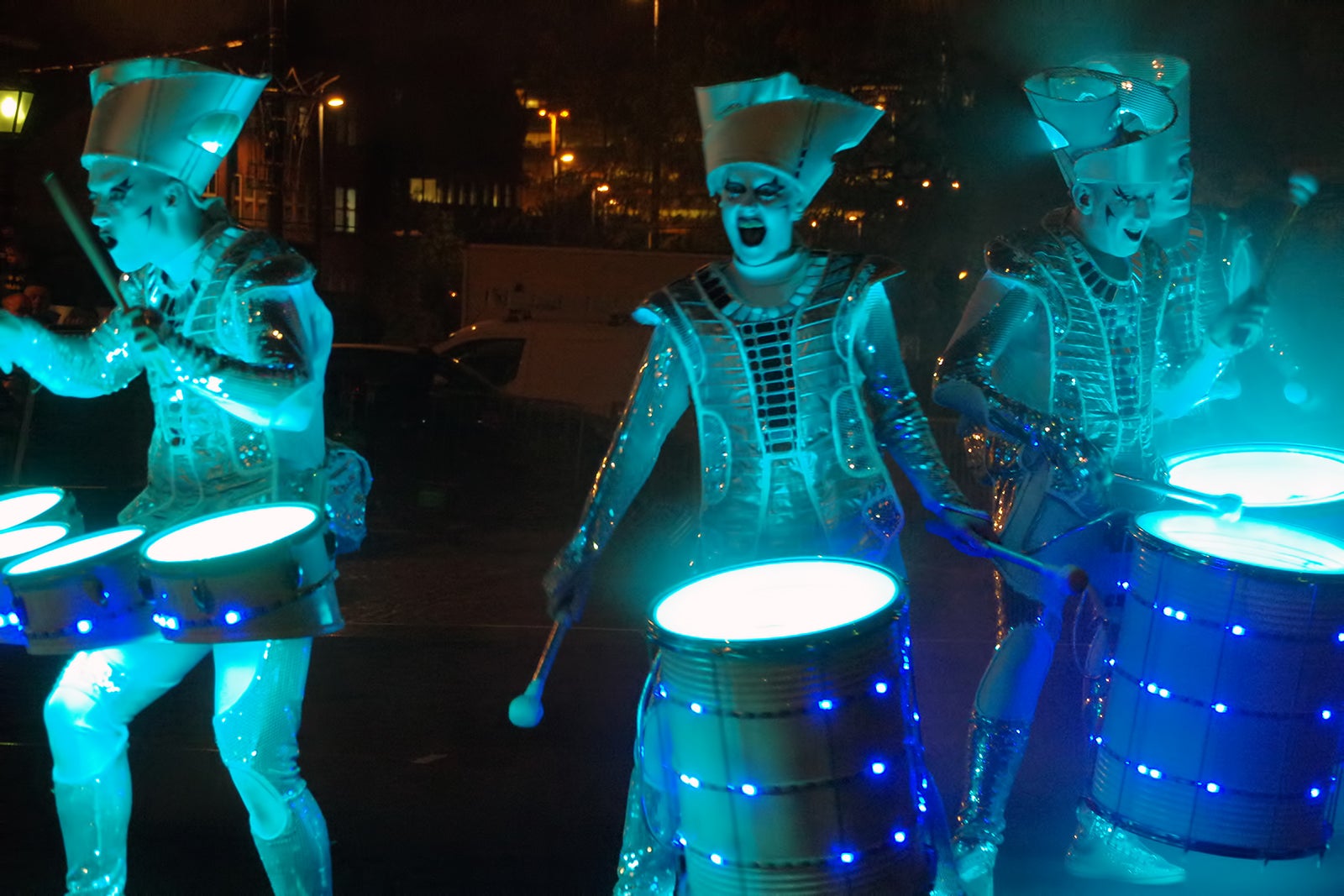 Leeds Indie Food Festival
May
A celebration of cuisines from around the world, with wine- and beer-tasting dinners, street food samplings, and cooking classes. A must-attend festival if you're a foodie.
Where: Various venues throughout the city
Leeds Festival
August
A lively 2-day rock music festival started in 1961 and among Leeds' biggest annual events. International artists and bands such as Metallica, Foo Fighters, and Muse are among those who've performed.
Where: Bramham Park, near Wetherby
Leeds Light Night
October
Stunning light shows in one of the UK's largest arts and light festivals. For 2 nights, lasers and light effects illuminate the city centre alongside music, dance, and street performances.
Where: Leeds city centre
photo by Donald Judge (CC BY 2.0) modified
6
What are the main landmarks in Leeds?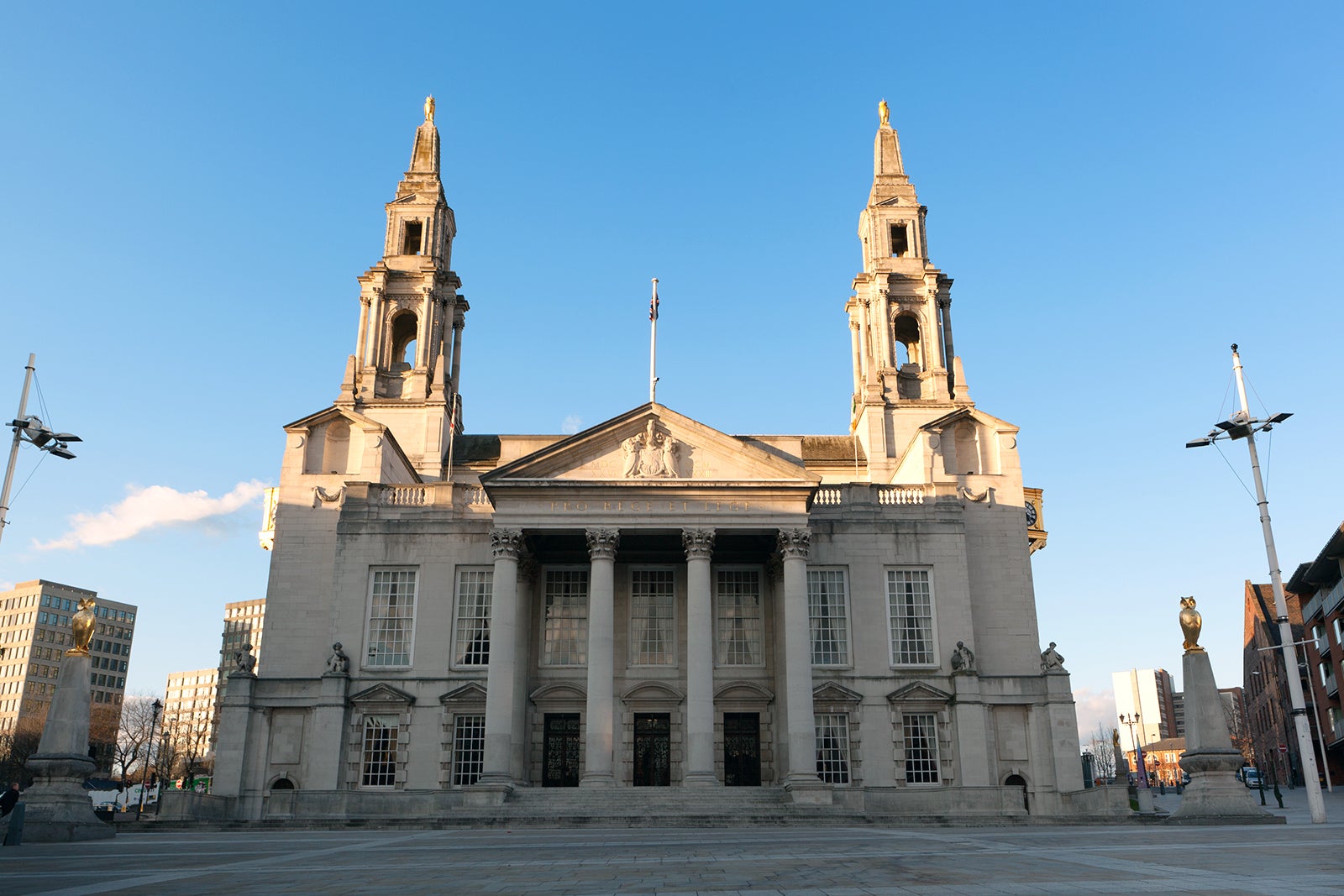 Millennium Square
A social hub in the centre of Leeds that's surrounded by major landmarks such as the Town Hall, Leeds City Museum, and Leeds Civic Hall, as well as several theatres and galleries.
The Royal Armouries Museum
Home to a lot of military hardware. The collection dates as far back as medieval swords up to current generation firearms, including artefacts from around the world.
Kirkgate Market
A market that's existed inside a charming historical building in Leeds City Centre since 1857. It has around 200 stalls with fashion, jewellery, hardware, and haberdashery vendors alongside fresh local produce and snack bars.
Kirkstall Abbey
Kirkstall Abbey is a monument to West Yorkshire's rich history, found on the north bank of the River Aire. Built in 1152, these well-preserved Cistercian ruins are among the oldest in all of England.
Back to top