13 Things to Do in Atlantic City on a Small Budget
Holidays in Atlantic City Don't Have to Be Expensive
Though Atlantic City hypnotises visitors with its flashy casinos, lavish resorts and sandy beaches, there are plenty of ways budget travellers can enjoy this iconic American city. There's more than just gambling halls and high-rise hotels lining its famous boardwalk, and you can have a fun-filled vacation while sticking to cheap activities.
Whether you need restaurant recommendations or budget-friendly transport options, saving money in Atlantic City is easier than you think. Feel like a gamer on the boardwalk, dance to live music, or go for a scenic ride without worrying about the bill. Discover the best things to do in Atlantic City on a small budget below, including tips and pointers on attractions and restaurants in the city that don't have to be expensive.
1
Atlantic City beaches
Soak up the sun on white-sand beaches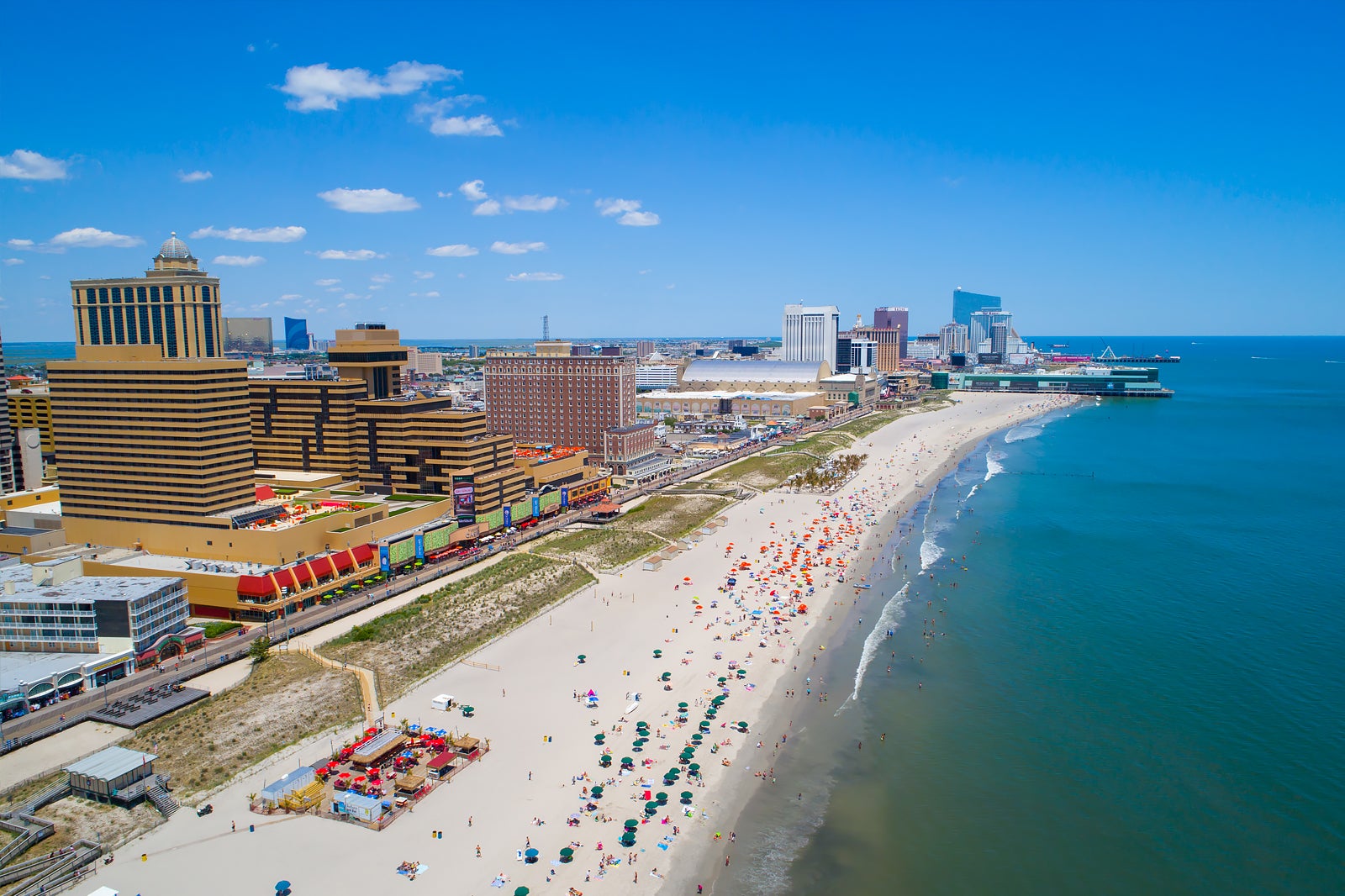 Atlantic City beaches are well-known for being family-friendly. The 5-mile stretch of public white-sand beach – offering free changing houses with restrooms and outdoor public showers – is excellent for a day of fun, sun, and sea. More adventurous, older kids can try kayaking and bodyboarding, or sign up for surf lessons.
Rent a beach umbrella and a couple of recliners and relax near one of the lifeguard towers while your kids swim and build sandcastles. When you need to replenish your energy, you can grab a bite from one of many restaurants located within walking distance of the beach.
2
White House Sub Shop
A New Jersey classic that has served lots of celebrities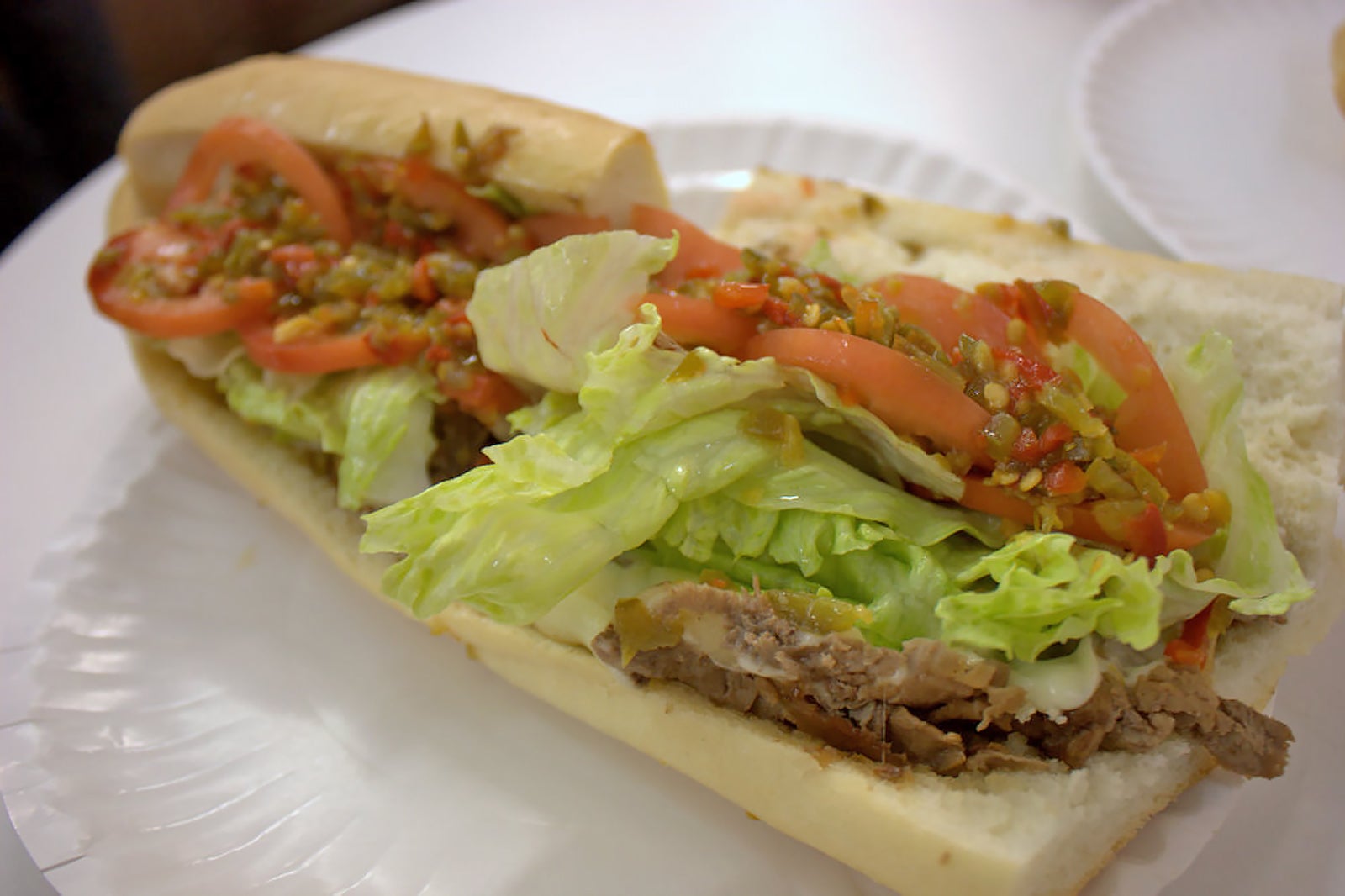 White House Sub Shop is a famous institution that has been serving delicious, filling subs to Atlantic City residents since 1946. Just a 10-minute walk from Atlantic City Rail Terminal, the shop is a convenient first stop on an empty stomach. The staff prepares each sub with delicate care and packs on the meat and cheese to satisfy your cravings.
Some of the popular menu options include the White House Special, Meat Ball Submarine, and Cheese Steak Submarine. Each item comes in half size or a whole sandwich if you're brave enough. Over the years, cultural icons such as Frank Sinatra, Oprah Winfrey, and Joe DiMaggio have visited for a taste of their renowned submarine sandwiches.
Location: 2301 Arctic Ave, Atlantic City, NJ 08401, USA
Open: Daily from 11 am to 6 pm (Fridays and Saturdays until 8 pm)
Phone: +1 609-345-8599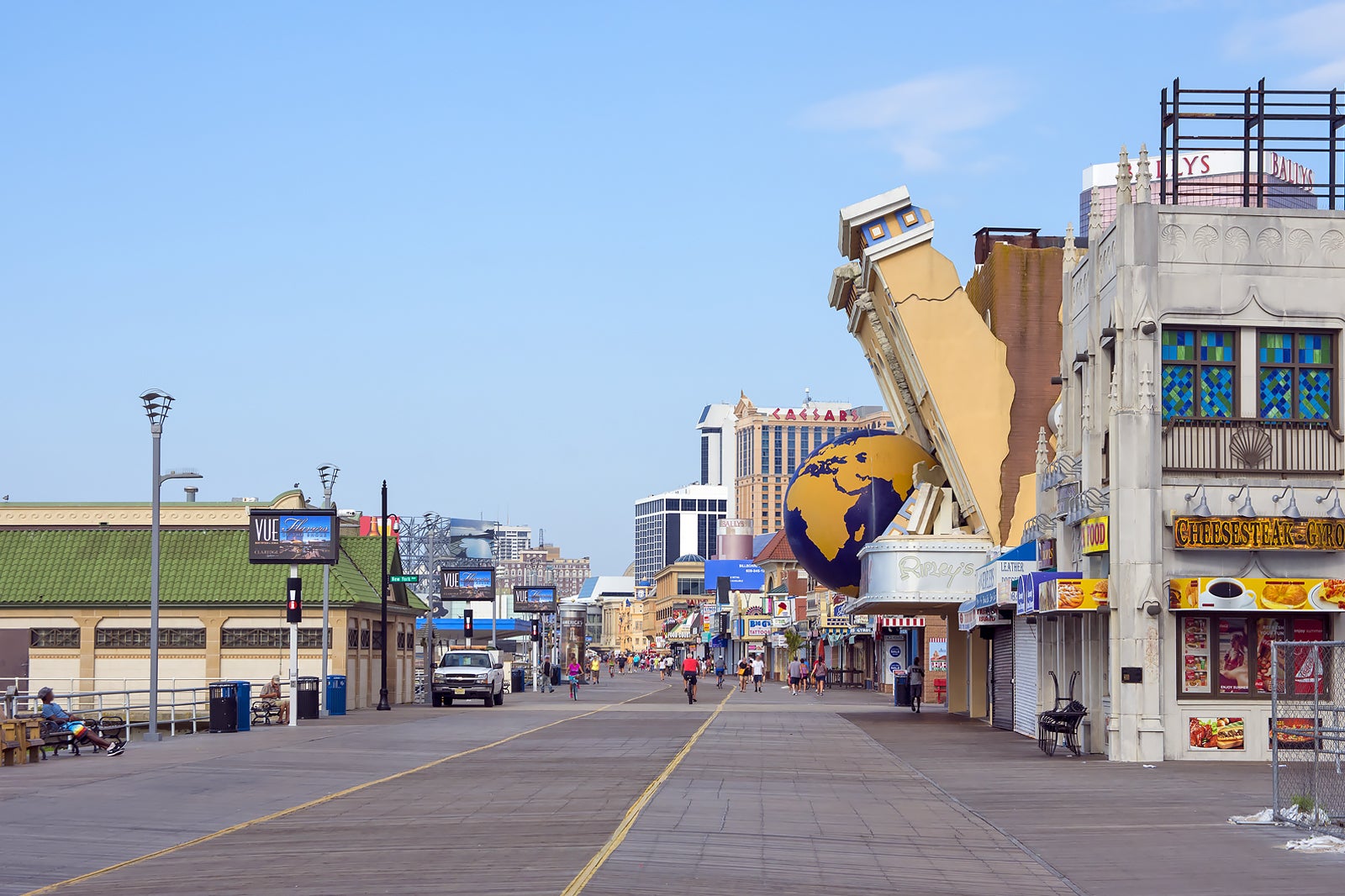 The Boardwalk Tram Service lets you cruise down the Atlantic City Boardwalk while giving you the backstory of its famous sights. Hop on at the Hard Rock Casino and pass Resorts Casino, Caesar's Pier, Tropicana Pavilion, and many more. You'll coast the entirety of the boardwalk while learning about its expansion over the years.
Individual prices are charged by one-way rides, but you can enquire about group rates in advance. If you bring any kids under the age of 12, they'll receive a reduced rate. The trams are comfortable and provide a scenic change of pace when you're exhausted from walking up and down the boardwalk.
Read more
Location: 114 S New York Ave, Atlantic City, NJ 08401, USA
Open: Daily from 11 am to 7 pm (Fridays and Saturdays until 10 pm)
Phone: +1 609-347-7500
photo by Bruce Emmerling (CC BY-SA 4.0) modified
4
Ride a jitney
Affordable bus service around town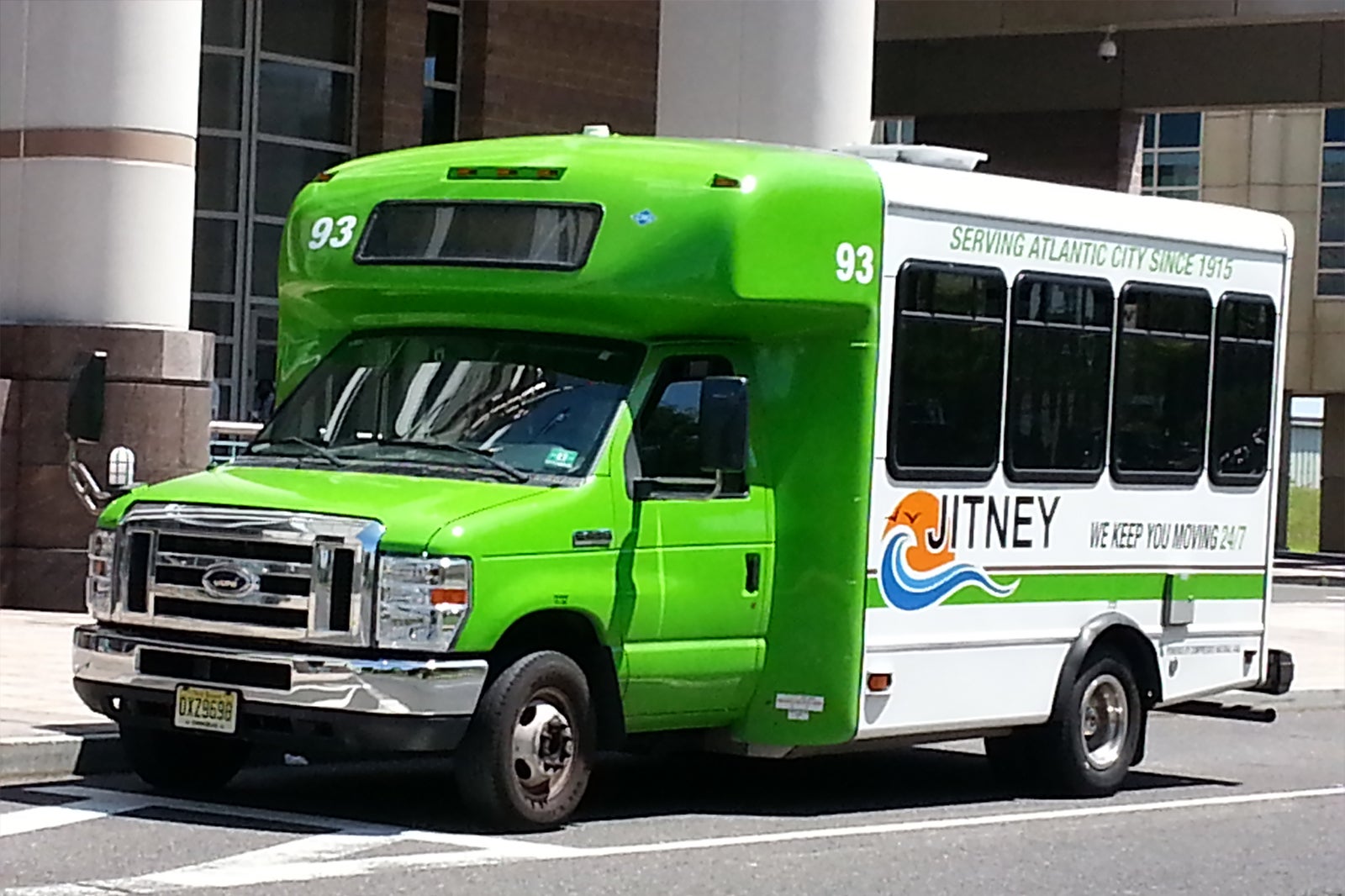 If you're in Atlantic City without a ride, call up the jitney service to reach all the attractions or make it to your event on time. Jitneys are unmistakable green vans that provide a shuttle service around various points of interest in Atlantic City. Vehicles operate 24/7, 365 days a year, and each pick-up location is marked with a "Jitney Stop" sign.
There are 13-seat, 24-seat, and 26-seat Jitneys available to accommodate large parties around town. Frequent riders can earn special discounts to save even more when riding through the city. Jitneys also offer shuttle services from the Atlantic City Rail Terminal to your favourite casinos.
Location: 6821 Delilah Rd, Egg Harbor Township, NJ 08234, USA
Phone: +1 609-646-8642
photo by Worldbook1967 (CC BY-SA 3.0) modified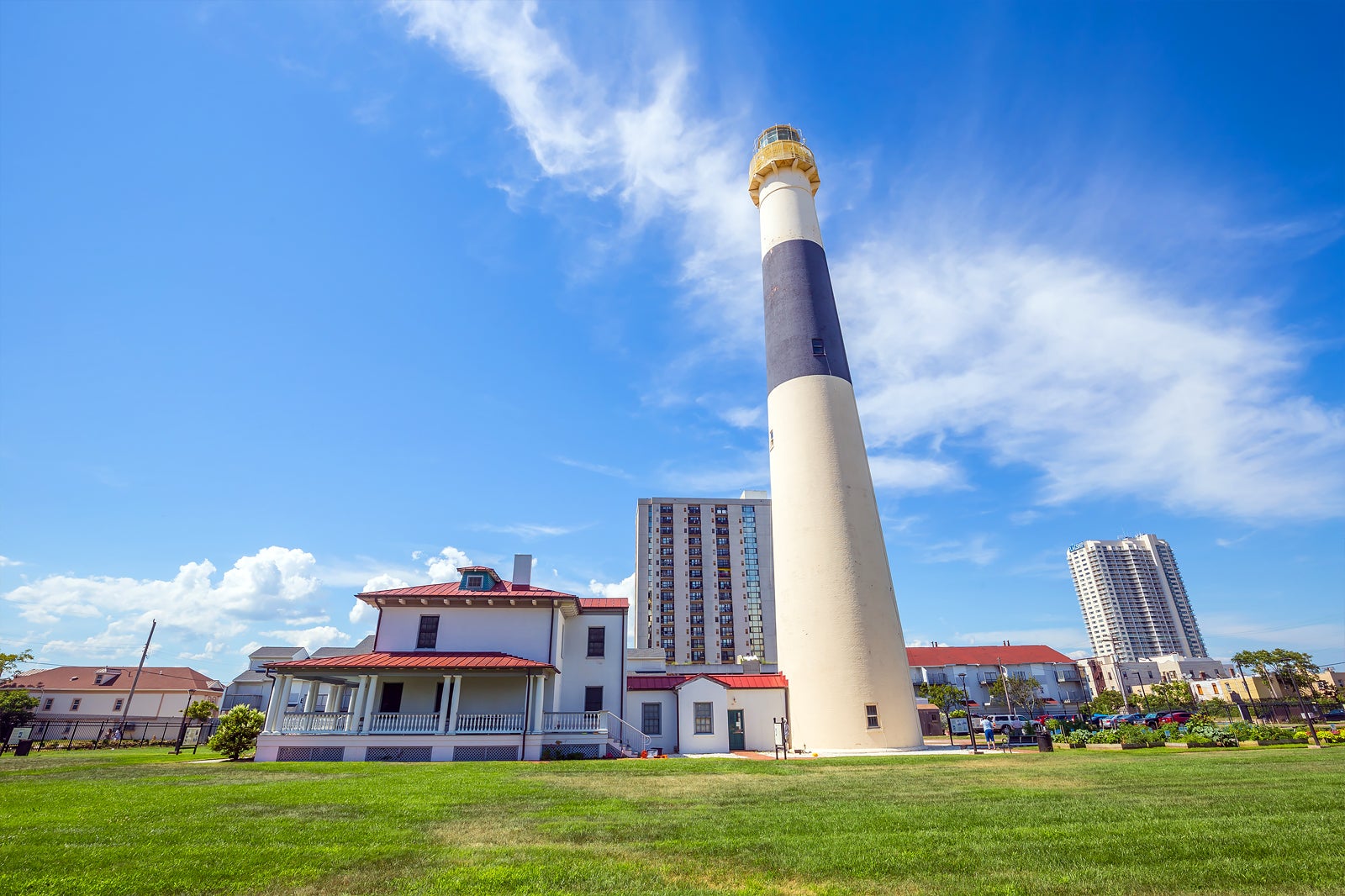 Absecon Lighthouse is the tallest lighthouse in New Jersey, and which you can climb up for views over Atlantic City and the Atlantic Ocean from 171 ft up. The lighthouse dates back to 1857 and is a historical structure on the corner of Pacific and Rhode Island avenues, interestingly not right on the shore and is eclipsed by other modern structures.
You'll need to conquer a total of 228 steps to climb to the top of the lighthouse which is in itself a journey back in time. The rewarding view of the Atlantic City skyline is one to tick off your Instagram photo checklists. Check out the museum and gift shop, as well as the massive original Fresnel lens exhibit on the old lighthouse's vast grounds.
Read more
Location: 31 S Rhode Island Ave, Atlantic City, NJ 08401, USA
Open: July–August: Friday– Wednesday from 10 am to 5 pm, Thursday from 10 am to 8 pm. September–June: Thursday–Monday from 11 am to 4 pm (closed on Tuesdays and Wednesdays)
Phone: +1 609-449-1360
6
Atlantic City Boardwalk arcades
Grab a roll of quarters and play wacky arcade games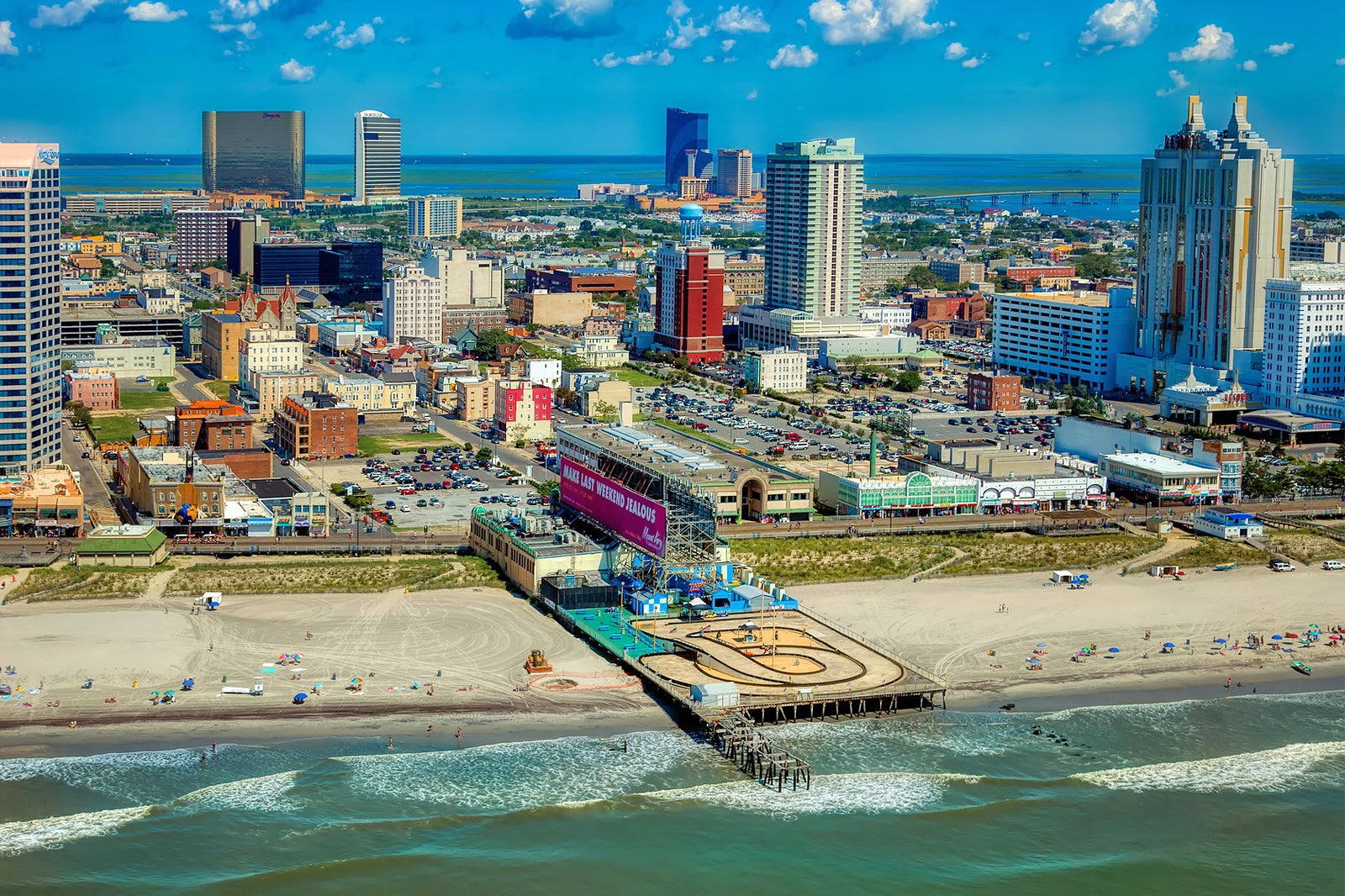 Playing the boardwalk arcades is an Atlantic City pastime that's enjoyable for all ages. Competing for oddball prizes can become surprisingly addicting and brings out the youthful spirit in anyone. The Central Pier Arcade features classics like skeeball and the Wizard of Oz. Adults can pretend they're in the casino by playing poker or slots for various prizes.
Playcade Arcade was the first arcade to grace the boardwalk, and you can play popular games such as Fast & Furious Super Cars and pinball. The Tropicana added the Family Fun Station, which includes basketball, air hockey, and all sorts of arcade games for everyone.
Location: Atlantic City Boardwalk, Atlantic City, NJ 08401, USA
7
Steel Pier
A fun-filled spot jutting out to the sea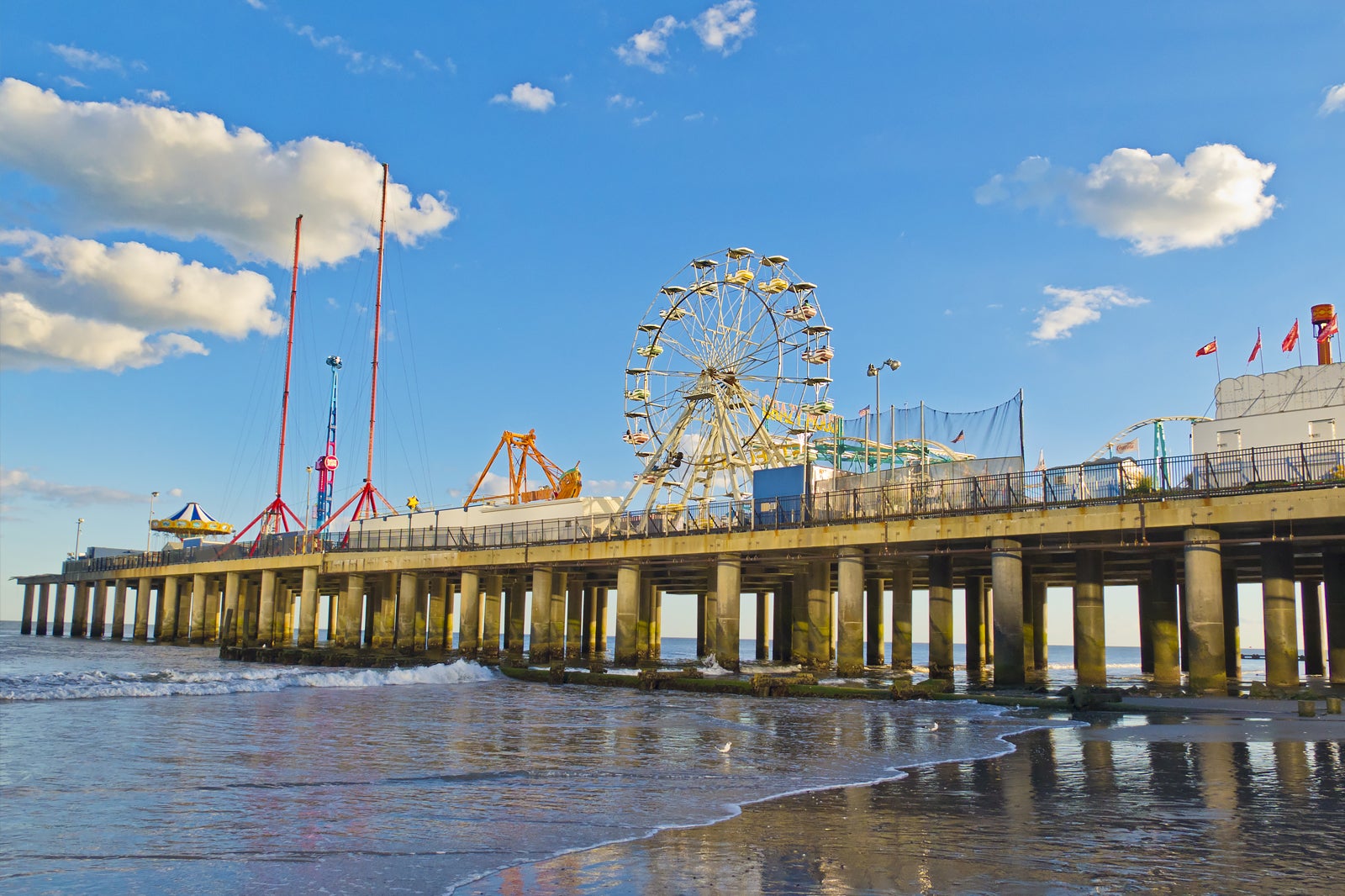 Steel Pier is an icon of Atlantic City's oceanfront, which you'll hardly miss on strolls along the Atlantic City Boardwalk with its massive amusement park and Ferris wheel. Built in 1898, it's the city's oldest theme park. And with its presence over the water with Hard Rock Hotel & Casino Atlantic City in its near background, it's an unmissable skyline.
Besides a 15-minute ride on The Wheel for breathtaking views of the city and coastline, you can have a great time on rollercoasters and a dozen other rides offering different thrill levels. You can also try your luck at staple carnival games or watch regular shows like high-wire motorcycle trapezes. Grab cotton candy or water ice or stop by Steel Pier Pub to fill up on hearty American meals served with live music.
Read more
Location: 1000 Boardwalk, Atlantic City, NJ 08401, USA
Phone: +1 609-345-4893
8
Rolling chair ride
An Atlantic City tradition dating back to the 19th century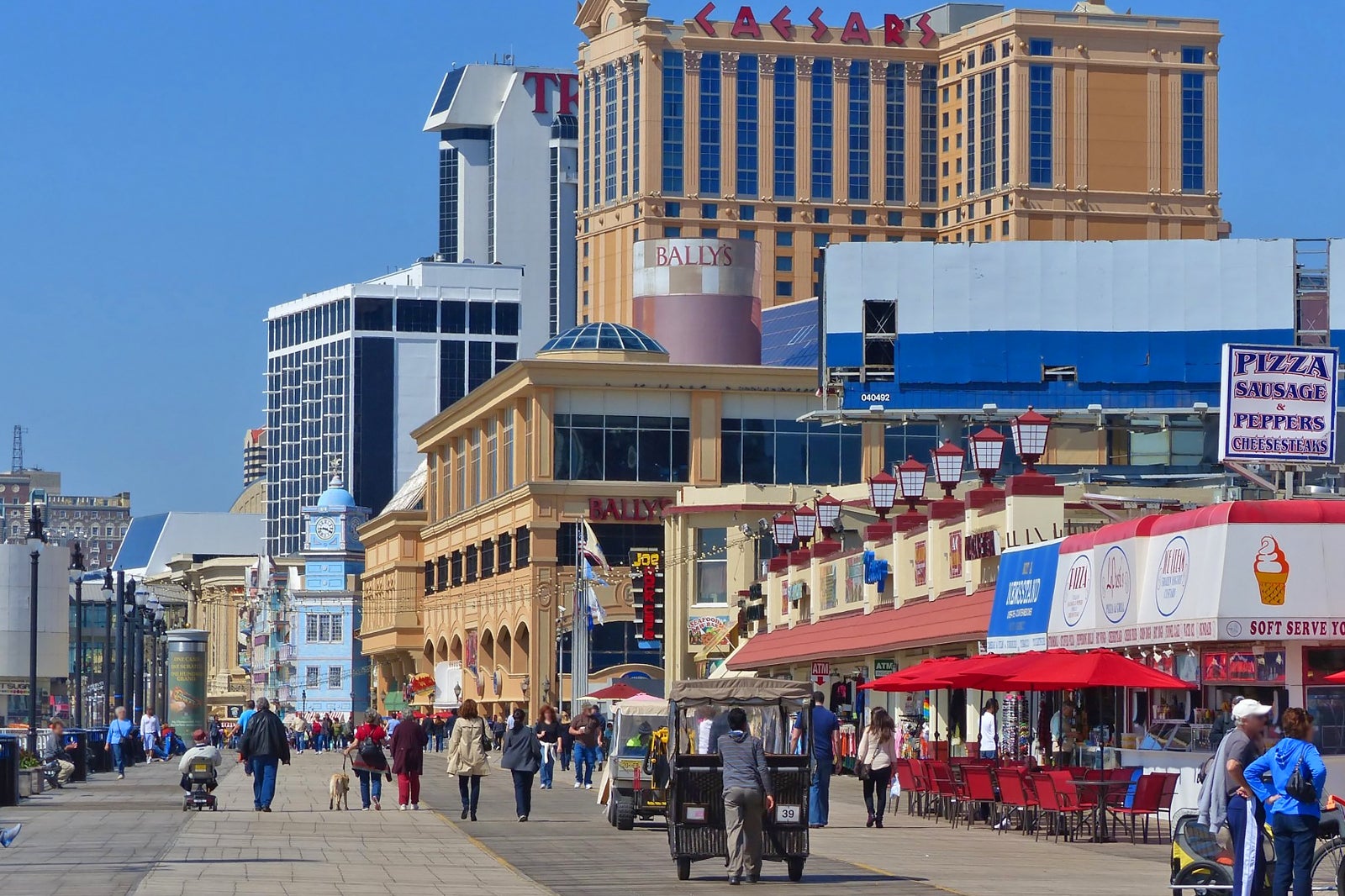 The vintage rolling chair rides are a historic part of the Atlantic City Boardwalk that transport you to a simpler time. First used in the 1880s, the chairs were the only vehicles allowed on the original boardwalk and were reserved for wealthy passengers. Nowadays, everyone can ride the chairs and participate in this classic Atlantic City activity.
Experience this age-old tradition and receive a push for a scenic ride on one of the chairs still patrolling the boardwalk. Rides are charged by the number of blocks or length of time you wish to travel. Don't forget to tip the hard-working pushers that help you enjoy this unique part of Atlantic City's history.
Location: Boardwalk, Atlantic City, NJ 08401, USA
9
Atlantic City Farmers' Market
A seasonal open-air market for fresh produce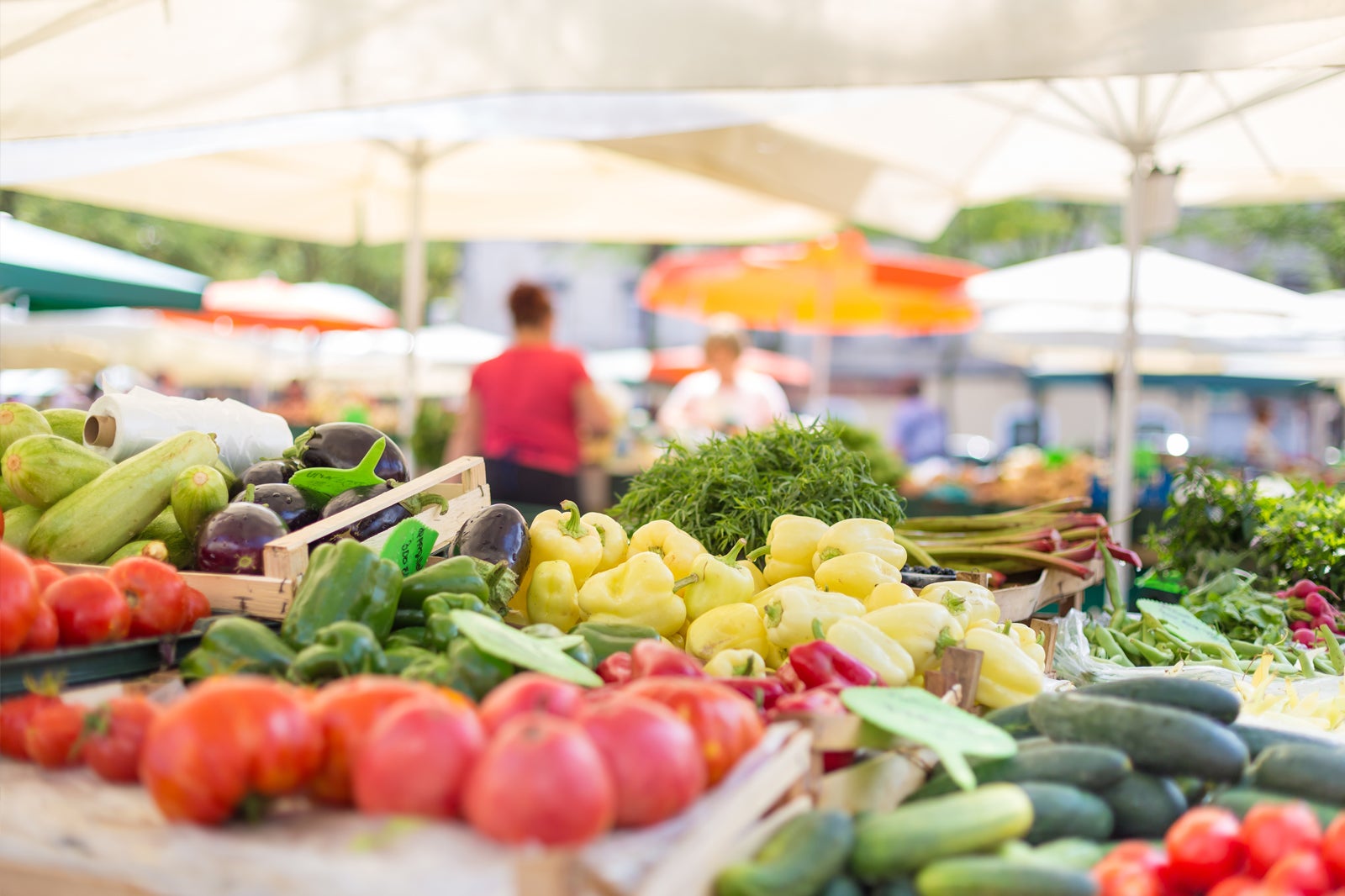 The Atlantic City Farmers' Market brings the community together every summer to browse through a variety of treats for sale. Located on Atlantic Avenue in between North and South Carolina Avenues, the market gives you a selection of delicious seasonal New Jersey produce. Gather all your favourite fruits and vegetables to save money and eat healthy during your trip. Local businesses, residents, and tourists are all drawn to the biweekly event.
Produce typically sold at the market includes eggplant, summer squash, sweet peppers, blueberries, cherries, peaches, plums, and much more. You'll also find flowers, handmade crafts, fresh herbs, baked goods, and local honey.
Location: Center City Park, 1200 Atlantic Avenue, Atlantic City, NJ 08401, USA
Open: July–September: Thursday and Saturday from 10 am to 4 pm
Phone: +1 609-344-8338
10
Atlantic City Free Summer Concert series
Take a break from the heat or dance the night away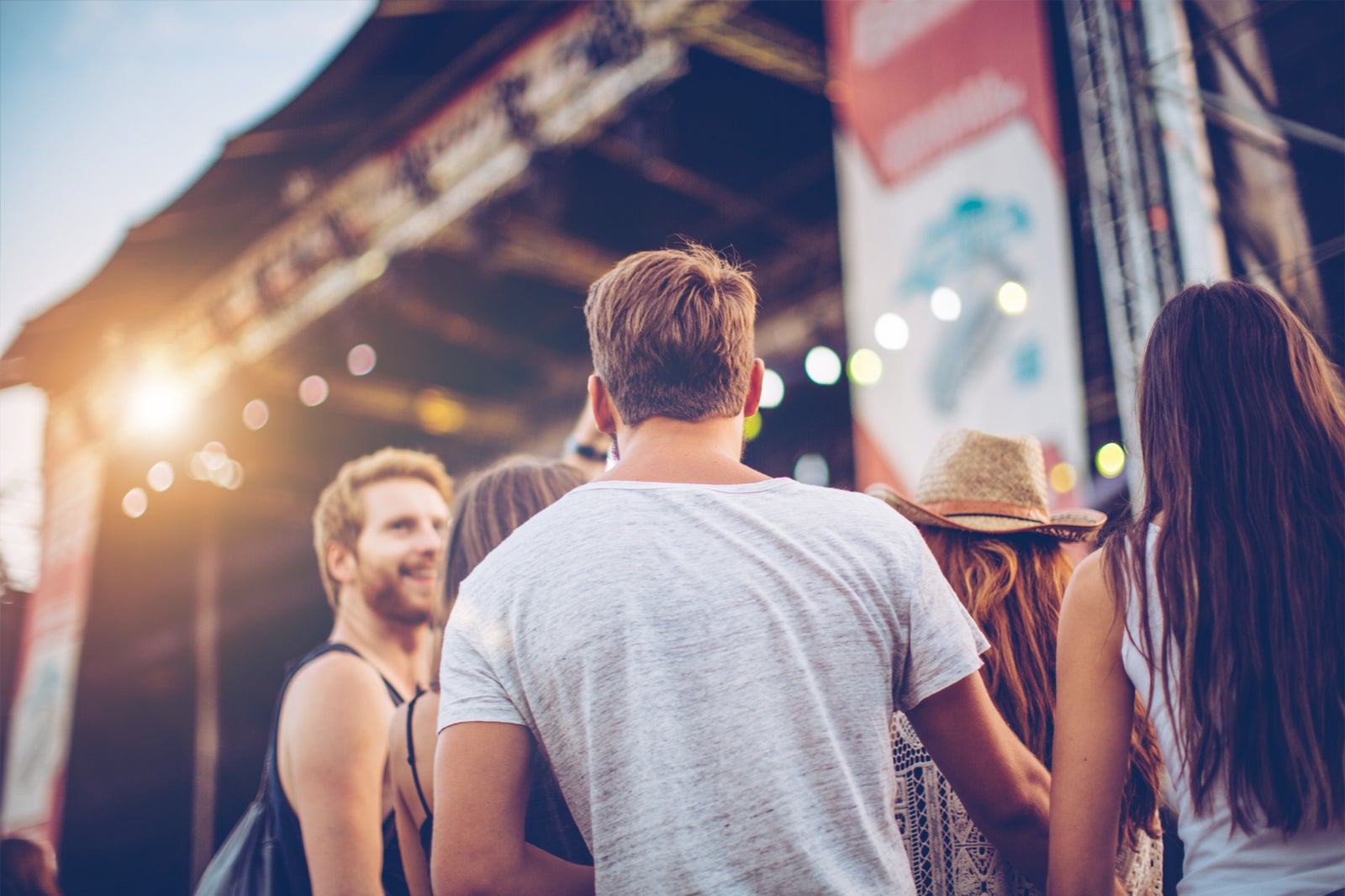 The Atlantic City Free Summer Concert series lets you bring your dancing shoes and boogie for no charge. Atlantic City residents know how to throw a party and you can join the fun all summer long. Talented musicians from all genres take the stage and you can bring a chair to enjoy the show.
Kennedy Plaza hosts weekend concerts from July to September where you'll see everything from southern rock to reggae. The shows are held from 7 pm to 10 pm and you can unfold your lawn chair right in front of the stage. Gardner's Basin holds one massive event each month that features a talented lineup of passionate artists.
11
Gilchrist Restaurant
Have a delicious breakfast on the outdoor deck by the bay
At Gilchrist Restaurant, you can grab a tasty breakfast without breaking the bank at a waterfront location around the corner from the Atlantic City Aquarium. Although the establishment has 3 other restaurants in the area, the Gardner's Basin location whips up comfort food with a glorious view of the marina. Enjoy your meal on the cosy outdoor deck during summer or snuggle up inside to check out the old-fashioned decor.
The no-frills menu consists of the restaurant's signature pancakes, freshly cooked eggs, omelettes, filling combo platters, and a hot cup of coffee. If you're off to a late start, swing by for lunch and try their nourishing deli sandwiches, wraps, salads, and soups. Expect genuine service, quality food, and fantastic prices during your visit.
Location: 804 N Rhode Island Ave, Atlantic City, NJ 08401, USA
Open: Daily from 6 am to 2 pm
Phone: +1 609-345-8278
12
Jim Whelan Boardwalk Hall
Attend an event at Atlantic City's famous arena
Jim Whelan Boardwalk Hall has served as the lifeblood of Atlantic City's entertainment scene for decades and continues to host large-scale events. The multi-purpose venue features concerts, sporting events, and a ballroom that accommodates over 3,000 guests. Legendary musicians have graced the stage of the 14,770-seat concert venue, including the Beatles and the Rolling Stones.
The convention centre sits right on the boardwalk beside Chicken Bone Beach and has welcomed visitors since 1929. An impressive highlight of the venue is the auditorium's gargantuan pipe organ that is the world's largest instrument. With more than 33,000 pipes, it adds a unique flair to shows hosted inside the arena.
Location: 2301 Boardwalk, Atlantic City, NJ 08401, USA
Phone: +1 609-348-7000
13
Brighton Park
Relax beneath the trees just minutes from the boardwalk
Brighton Park, situated in front of the historic Claridge Hotel, offers a change of pace from the energetic boardwalk of Atlantic City. Shaded trees surround a picturesque fountain in the centre of the plaza. The park sits adjacent to the boardwalk and lets you rest for a while after a busy day. Pack a lunch and have a picnic if you don't feel like spending money at a restaurant.
The New Jersey Korean War Memorial is the star attraction of the plaza, and the monument honours veterans from the forgotten war. Check out the wall with names of fallen soldiers and the statue of a man holding dog tags from his comrades.
Location: Atlantic City, NJ 08401, USA
Back to top