10 experiences for a romantic trip to Biarritz
Our firm favourites for a romantic getaway in Biarritz
Biarritz is the perfect destination for a romantic getaway. Biarritz, dubbed 'the Queen of Beaches and the Beach of Kings', will undoubtedly figure in your top 5 places for romantic trips. Its coastline is illuminated as the night falls and the sun sets over the ocean, and there is good food and countless hiking possibilities.
Skilled in the art of heightening dreams and emotions, Biarritz will remain etched in your partner's memory, in particular thanks to the welcome and attention to detail provided by the friendly restaurant and hotel owners. So, why not set your sights on this magnificent, multifaceted city? Here are 10 experiences for a romantic trip to Biarritz for you to enjoy hand in hand.
1
Villa Belza
A magnificent villa, a panoramic view and mysterious flavours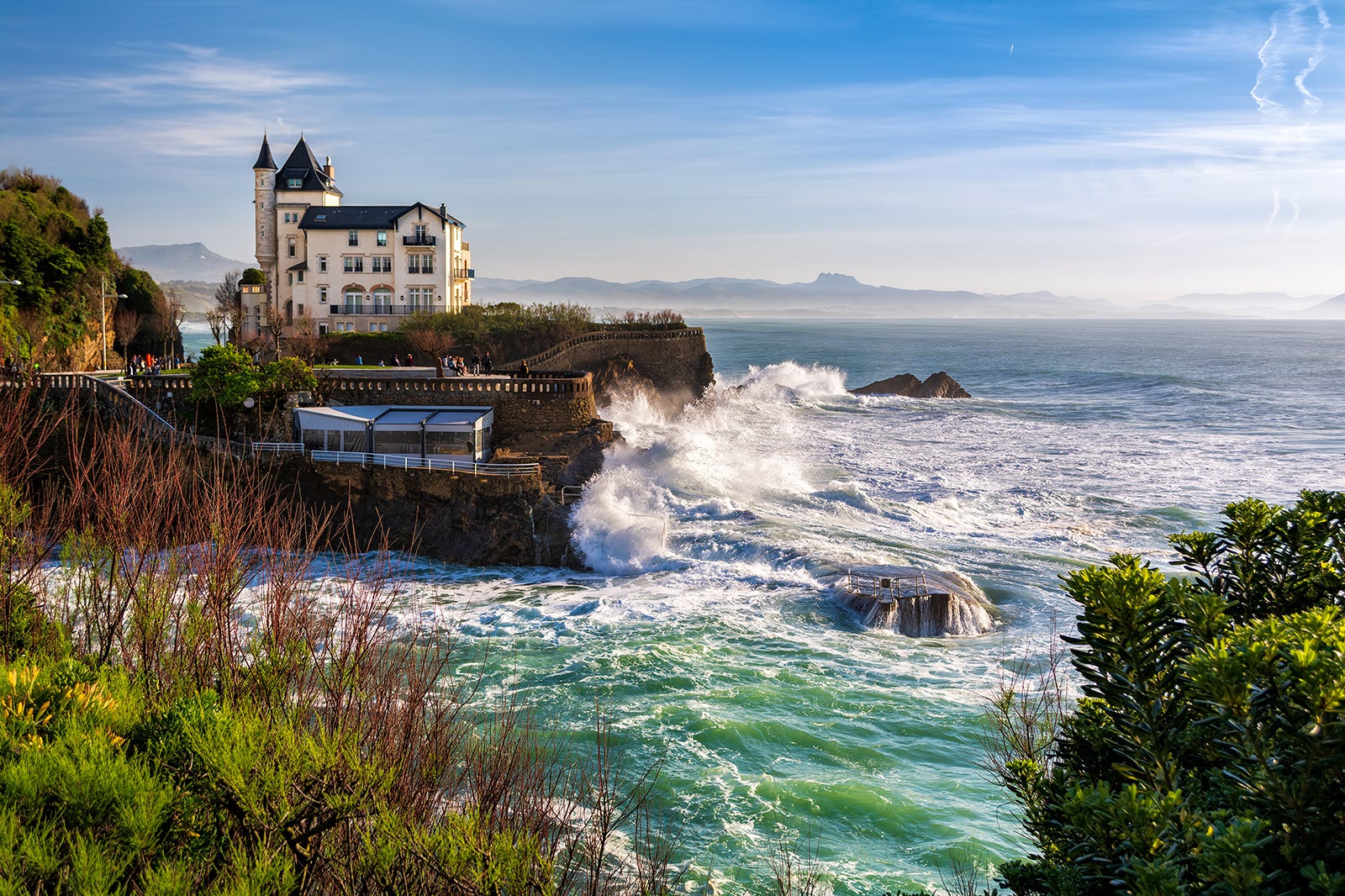 Villa Belza is an unusual residence, built between 1880 and 1895 in a neo-medieval style on the rocky Biarritz coast and flanked by a dungeon on one side and a turret on the other. On one side, it overlooks Côte des Basques (Plage de la Côte des Basques) and, on the other, the Devil's Chasm (Gouffre du Diable) and the Old Harbour. Perched upon its headland, this flashy building keeps a few closely guarded secrets, thereby fuelling popular imagination.
Today, it has been fully renovated and converted into apartments following 2 fires, and can be reached via the road from the seafront. So make a romantic walk here one of your objectives and capture the moment on camera, posing in front of this magnificent villa that is undoubtedly the most symbolic figure of 'the Queen of Beaches and the Beach of Kings'.
Location: 4 esplanade du Port Vieux, 64100 Biarritz, France
2
Atalaye Plateau
All of Biarritz in one walk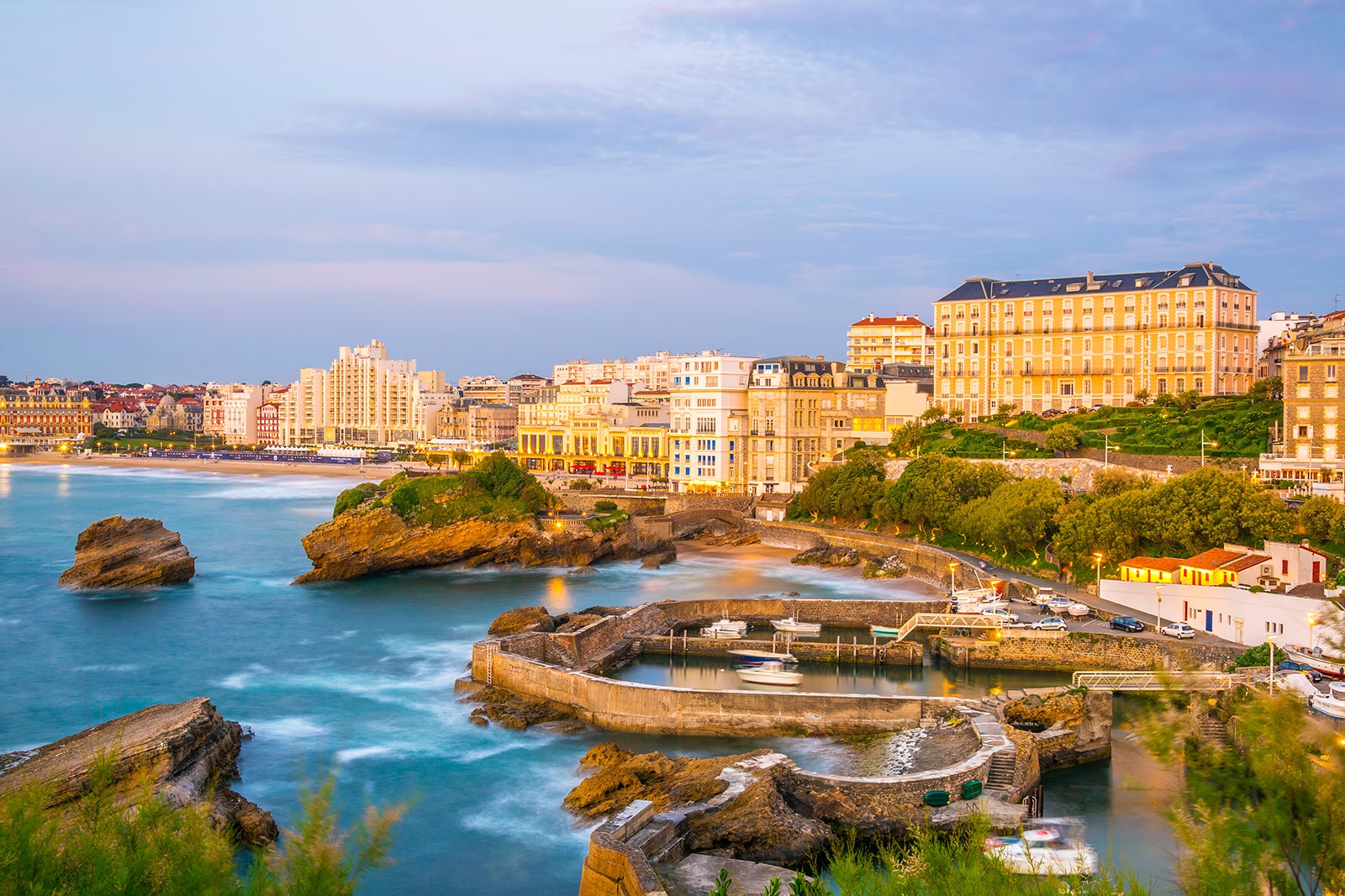 The Atalaye Plateau (Plateau de l'Atalaye), offering a magnificent view over the beach and fishing harbour, is the perfect place to begin your stay in Biarritz. In this breathtaking natural setting, you'll be able to take amazing photos, as well as spot a number of the resort's most iconic places: Biarritz Aquarium, the Isturitz and Oxocelhaya caves (Grottes d'Isturitz et d'Oxocelhaya), the lighthouse, the Rock of the Virgin (Rocher de la Vierge) and even the ramparts of Bayonne.
In short, a stroll with your loved one will help you discover the sea of possibilities available here.
Location: Rue de l'Atalaye, 64200 Biarritz, France
3
Biarritz Markets
Immerse yourself in the temple of gastronomy and local produce of Biarritz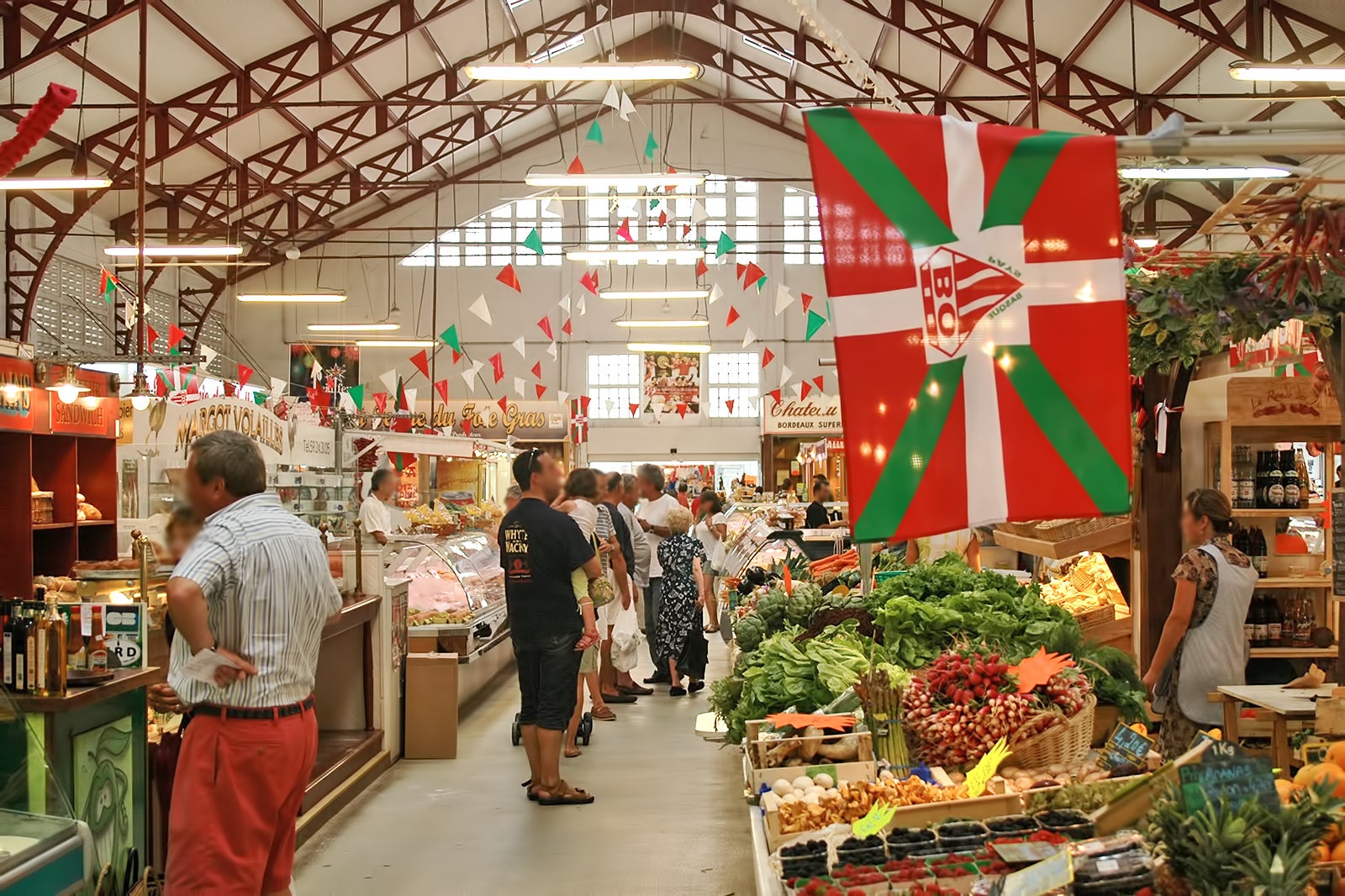 Couples
Families
Food
Shoppers
Biarritz Markets (Les Halles) is a friendly and lively shopping area and an essential venue for locals. Here, you can fill up on good things and let yourself be guided by the enticing aromas escaping from the brightly coloured stalls. In addition to showcasing local products, Les Halles is also a good place to eat and socialise, making it the perfect location for a romantic stroll, as evidenced by the large number of restaurants and bars in the vicinity.
Open year-round from the early hours, Les Halles de Biarritz is the city's pride and joy, where the traders strive to preserve the tradition of good service and quality of life.
Location: Rue des Halles, 64200 Biarritz, France
Open: Daily from 7.30 am to 2 pm
Phone: +33 (0)5 59 41 99 91
photo by Harrieta171 (CC BY-SA 3.0) modified
4
Atlantic Cycling Route
Discover the beauty of the coast between Bayonne and Biarritz by bike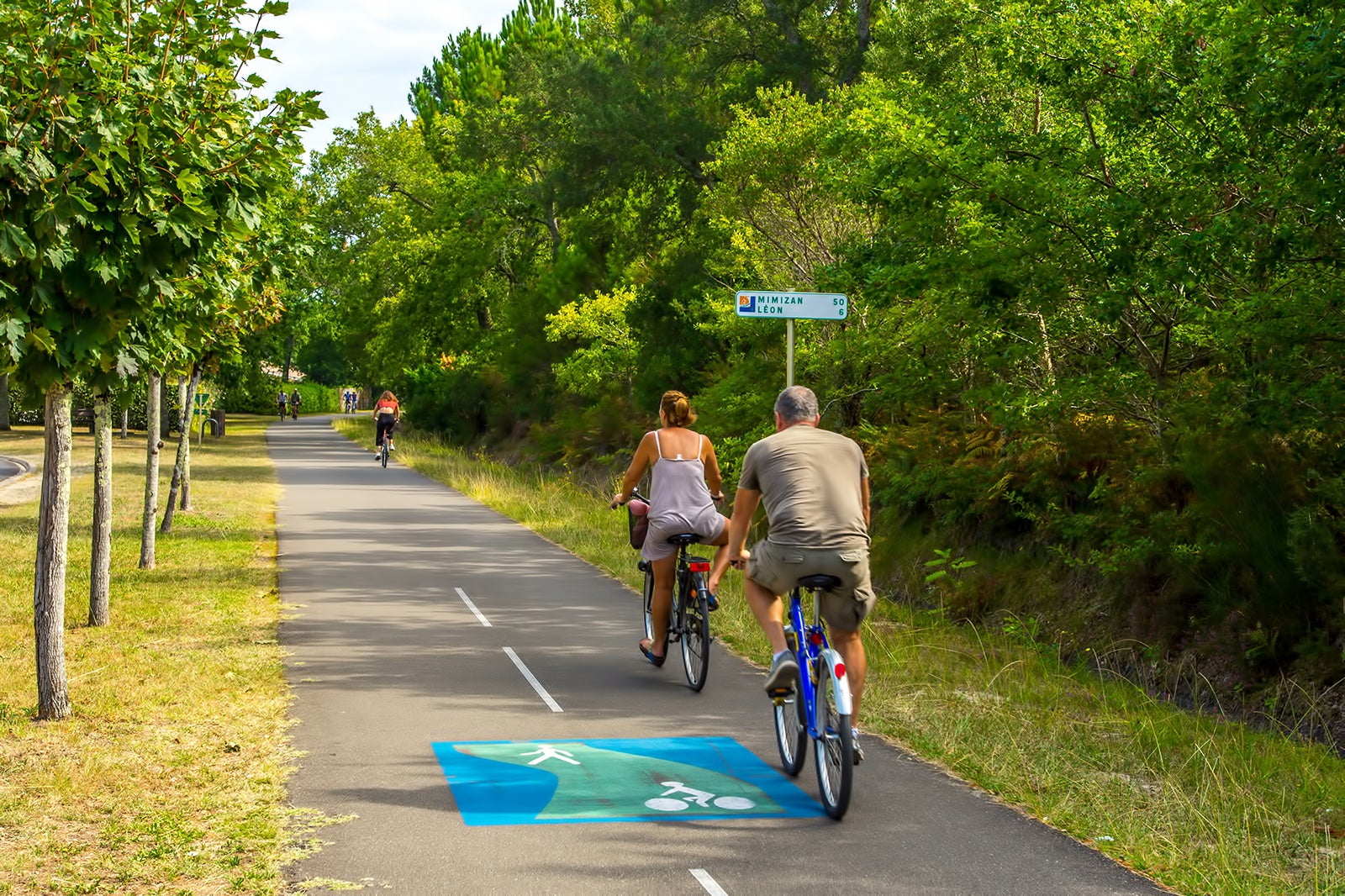 Couples
Families
Photo
Adventure
The Atlantic Cycling Route (La Vélodyssée) is a beautiful cycle route travelling through Brittany to the sea, before following the Atlantic coastline all the way to the Basque coast. Cycle the 16 km section that separates Biarritz and Bayonne with your partner. It offers magnificent views along the coastline.
What would you say to a romantic picnic in the Chiberta Forest (Forêt de Chiberta), or watching a pretty sunset on the beaches of Anglet, for example? And all this on easy trails, away from the traffic. There's nothing more romantic than bicycle touring against an impressive ocean backdrop.
5
Crampotte 30
An authentic little restaurant with ocean views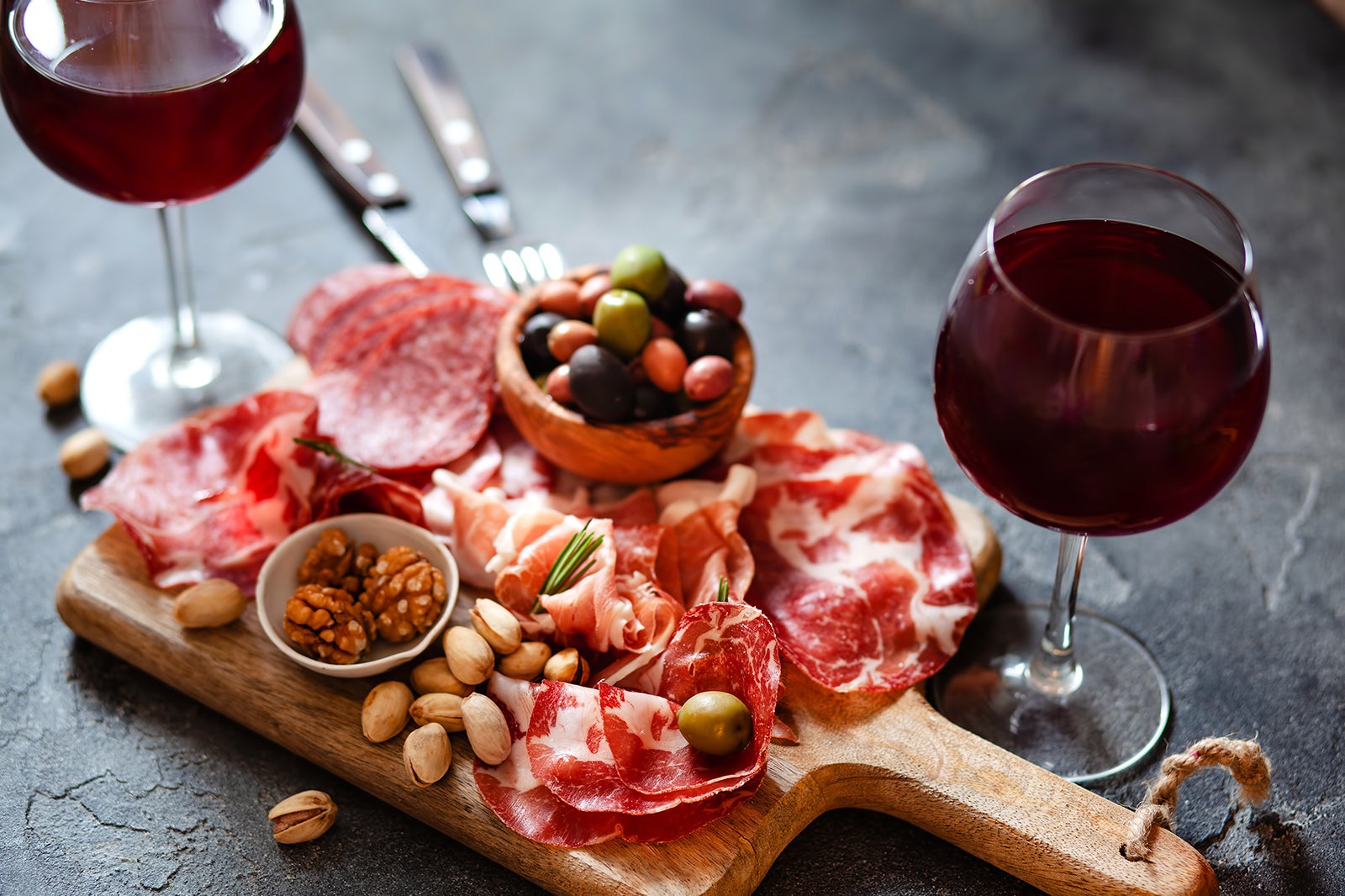 Crampotte 30 is named after the Gascon word 'crampotte' meaning 'little bedroom'. This is where sailors would come to rest and store their equipment. Now converted into a tiny restaurant, Crampotte 30 charms its visitors with its authenticity, magic and idyllic setting among boats, fishermen and seagulls. The view across the ocean is a real feast for the eyes. But taste buds are not forgotten, thanks to the perfectly balanced flavours of the dishes.
The quality of the produce is second to none. The cheese and charcuterie platters are simple but excellent, especially when accompanied by a glass of good quality wine. All of this at a reasonable price. There's no doubt that the tapas, cassolettes (individual dishes served in earthenware pots) and desserts on offer here will not fail to impress.
Location: 30 allée Port des Pêcheurs, 64200 Biarritz, France
Open: Open daily (except Tuesday pm) Lunch: from 12 pm to 2 pm Dinner: from 7 pm to 10 pm
Phone: +33 (0)6 54 84 27 84
6
Urban rally by Urbanraid
Urban rally: an original way to discover Biarritz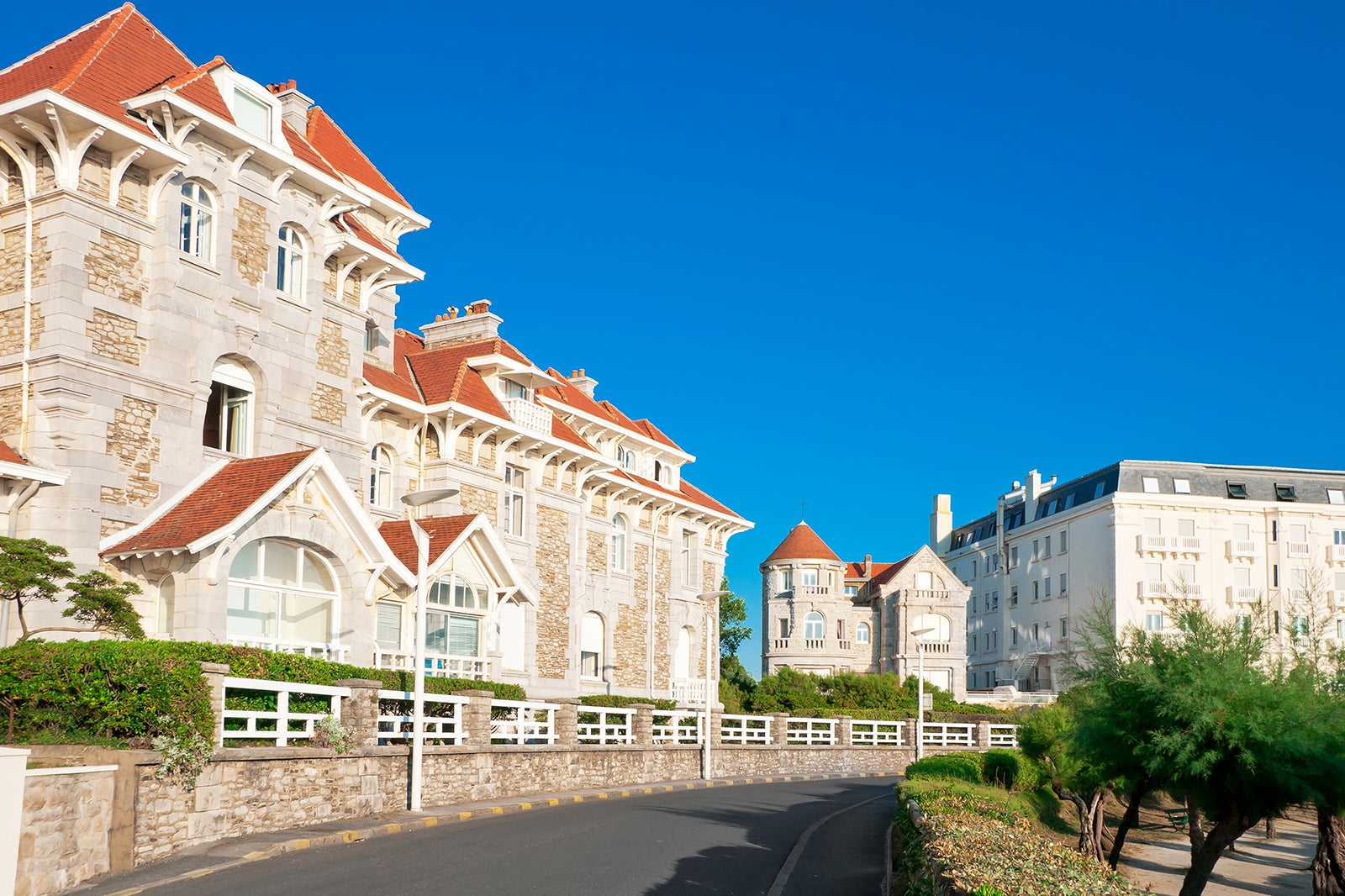 Couples
Families
Photo
Adventure
Urban rally of Biarritz by Urbanraid (Rallye urbain incentive Biarritz d'Urbanraid) promises an extraordinary experience. Depending on which category you choose, you'll be equipped with pace notes, a GPS or a tablet. Each team must remember as many clues and as much information gathered from the city as they can. In doing so, they'll discover its history, culture and several hot spots, including Virgin's Rock (Rocher de la Vierge), the lighthouse, the beach and Biarritz Aquarium (le musée de la Mer).
Your day will be filled with challenges, workshops, tastings and group tests. An introduction to surfing can even be included on the schedule. In short, a complete overview of all aspects of Biarritz awaits.
Location: Bureau de production sud région Marseille, 40 boulevard Raspail, 84000 Avignon, France
Open: Open daily
Phone: +33 (0)9 52 36 95 85
7
Go jet-skiing, flyboarding or even tubing
Get your adrenaline pumping on the Basque coast.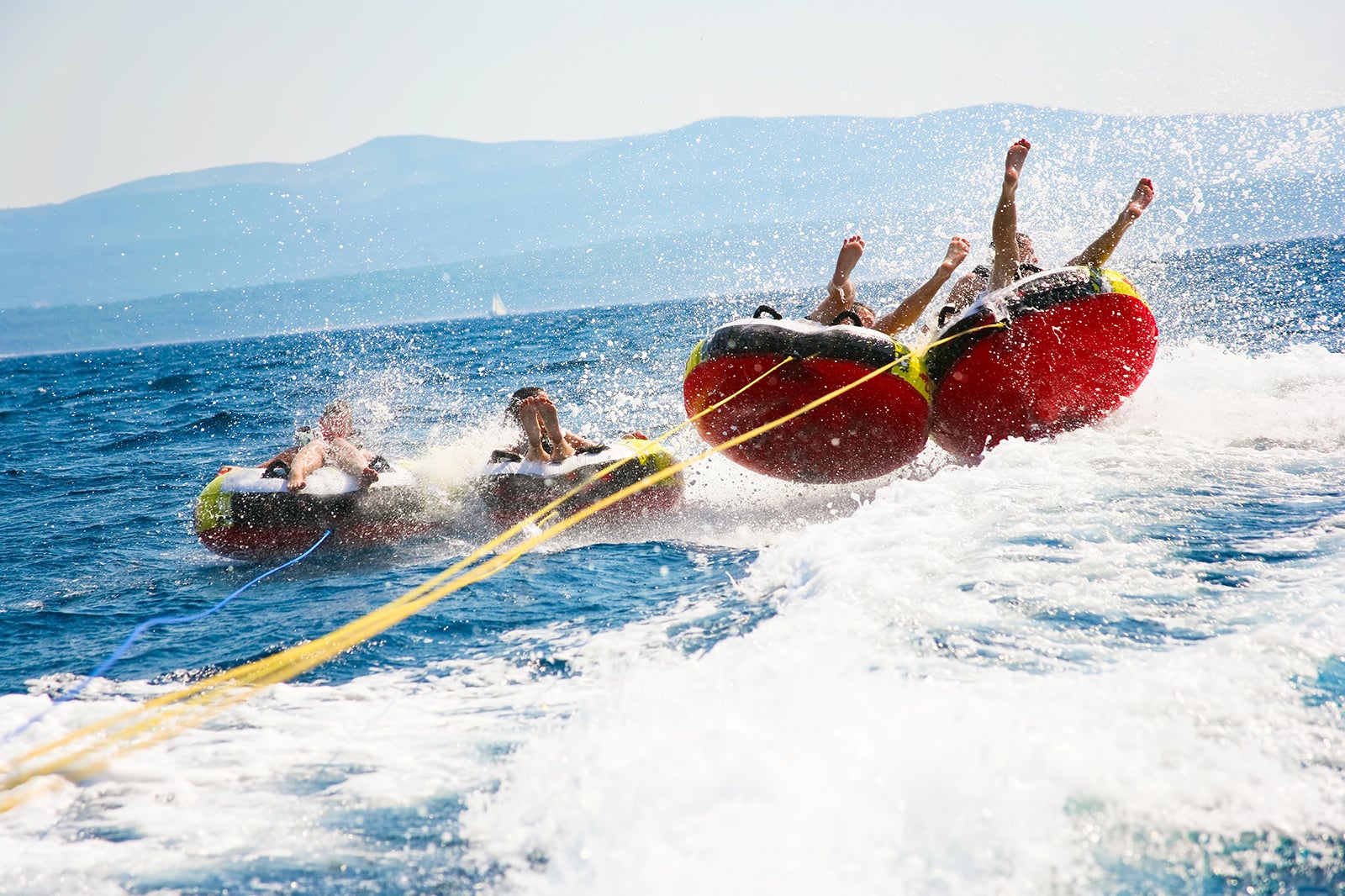 Go jet-skiing, flyboarding or tubing to discover the pleasures of travelling along the water mixing adrenaline and fun. Make yourself comfortable onboard an Air Stream raft or fly fish for a 30-minute sea outing, 15 minutes of which will be tubing. Does the flyboard, a water-propulsed flying surfboard, tempt you? You can try that, and jet-skiing, too.
In the case of the latter, it's you who's in charge, so you can choose thrills or a gentle ride to discover some of the most beautiful countrysides on the Basque and Landes coastline. The routes last between 1 and 2 hours, with the furthest reaching as far as Saint-Jean-de-Luz, Socoa and Capbreton.
Location: 2 promenade du Prince Impérial, 64600 Anglet, France
Open: Daily from 10 am to 9 pm
Phone: +33 (0)6 78 25 37 31
8
Le Miremont
A moment of luxury with this mythical Biarritz chocolatier and patissier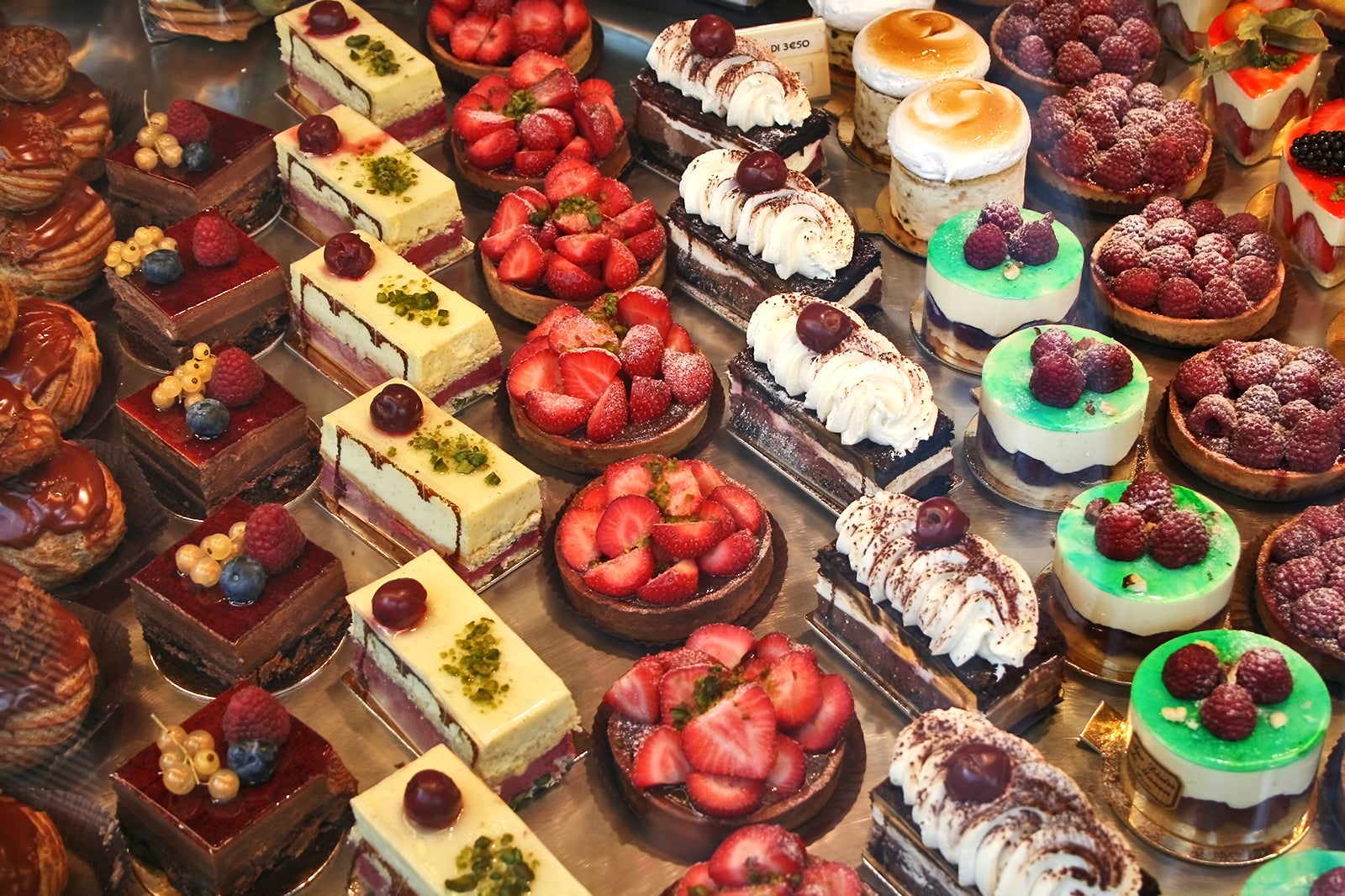 Couples
Families
Food
History
Le Miremont is a Biarritz tea room, patisserie, sweet shop and ice cream maker that was opened in 1872 by a young Swiss patissier from Saint-Moritz, before Joseph Miremont took the reins a little over a century later. Its traditional family recipes are still passed down from generation to generation, maintaining the ancestral savoir-faire and ensuring the specialities of the house live on for many years to come, from the Béret Basque (chocolate sponge cake with sprinkles) to the Russe Pistache (pistachio sponge cakes) and Basque cakes.
Its new flavours show that innovation is just as important. Look out for the Paris-Biarritz Itxassou cherry cake, sweets, frozen desserts and the renowned hot chocolate made from Caribbean cocoa beans that has the whole world's mouths watering. In short, this unmissable stop will awaken the taste buds.
Location: 1B place Georges Clemenceau, 64200 Biarritz, France
Open: Daily from 9 am to 8 pm
Phone: +33 (0)5 59 24 01 38
9
The Lake Paths
Take a romantic walk nestled between beaches and lakes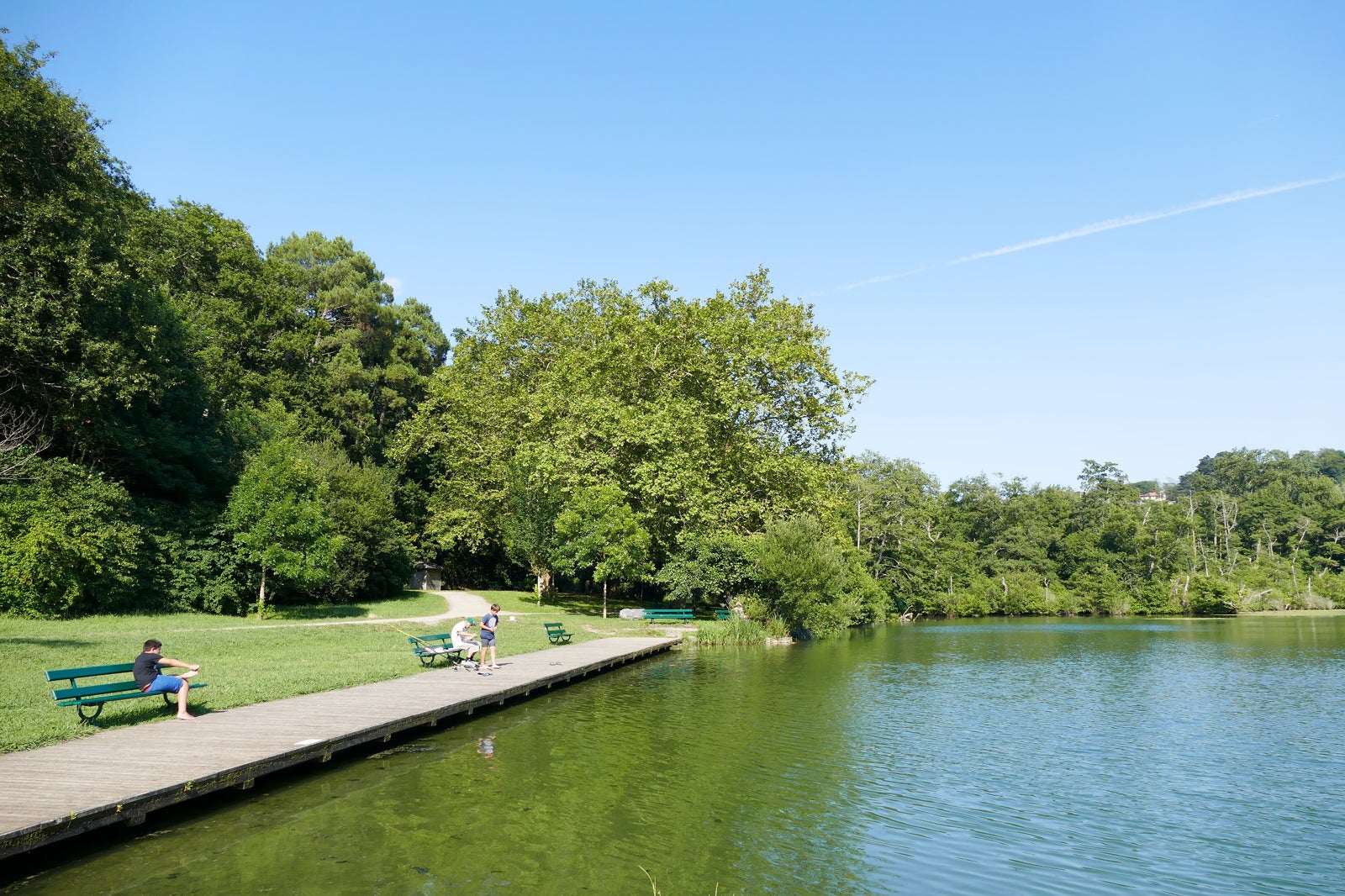 Couples
Families
Photo
Budget
Adventure
The Lake Paths (Les chemins des lacs) are a great spot for a stroll in the fresh air to spend a moment with the one you love. The paths around the lakes are the perfect excuse for a romantic walk. 3 pedestrian pathways circle Marion Lake and Mouriscot Lake (Lac Marion and Lac de Mouriscot).
An 8 km circuit begins at Milady Beach (Plage de Milady) to join the 2 lakes down to City Ocean (Cité de l'Océan). If you don't want the moment to end, add 2 5-km variations to your route so you can enjoy the lake or beachside.
Location: Lacs Marion et de Mouriscot, 64200 Biarritz, France
photo by Peter Potrowl (CC BY-SA 4.0) modified
10
Thalmar Spa
Spend a moment of escape as a couple at this wonderful Biarritz spa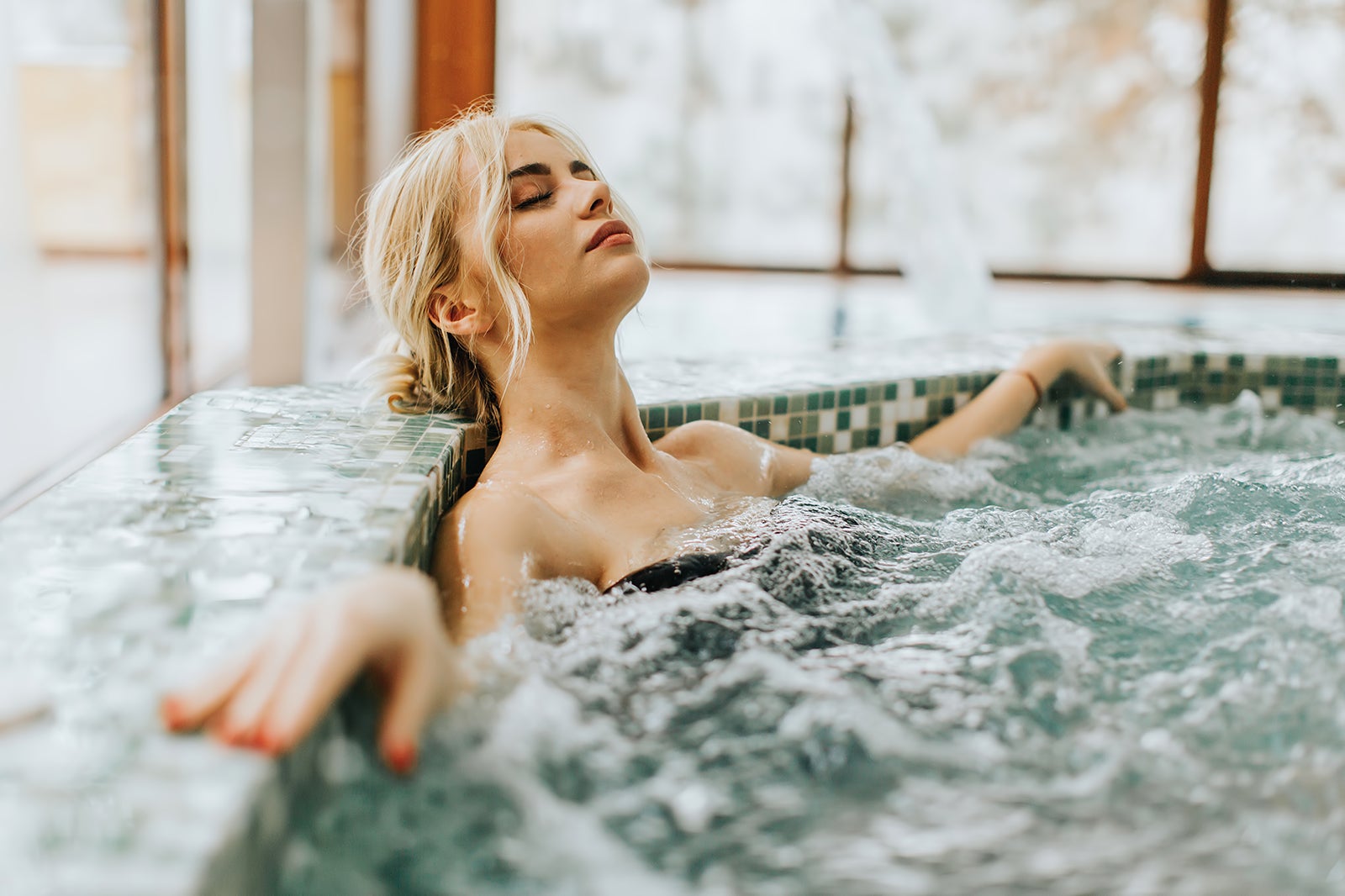 Thalmar Spa offers you the opportunity to revitalise yourself at this thalassotherapy and well-being centre that specialises in face and body treatments, aesthetic medicine, beauty enhancement services and massages and offers a wide range of relaxation possibilities. It even has a new private space dedicated to couples' well-being where you can treat yourself to a moment in time and enjoy the steam room, beauty ceremony and spa.
Try the jet shower to take advantage of all the benefits of the seawater. And, for a moment of pure well-being, leave yourself in the expert and delicate hands of the massage therapists who are seasoned in ayurvedic, Californian and Asian approaches. Pay for a half or whole day.
Location: 80 rue de Madrid, 64200 Biarritz, France
Open: Daily from 8:30 am to 8:30 pm Closes at 7 pm on weekends and closed from 1 pm to 2:30 pm on Sunday.
Phone: +33 (0)5 59 41 75 43
Back to top