10 Best Instagrammable Places in Lucerne
Photos of Lucerne You Can Brag to Your Friends About
Lucerne is a fantastic destination for photographers and Instagrammers, combining unique attractions, classical buildings and a beautiful natural backdrop. Within a few steps, you can go from rustic wooden covered bridges to rows of pastel houses. Stunning scenery spilling out into the unspoilt distance? Tick. Panoramic views from ancient attractions sitting all over the city? Tick. Flowing waters that run through the city, demanding your undivided attention? Tick.
Sitting among mountains dusted in snow, framed by a cobalt blue lake of shimmering depths, it's a place just begging to be snapped. Compact? Yes. Beautiful? Absolutely. From scenic shots to selfies galore, we've put together a shortlist of the most impressive, iconic and Instagrammable spots in all of Lucerne.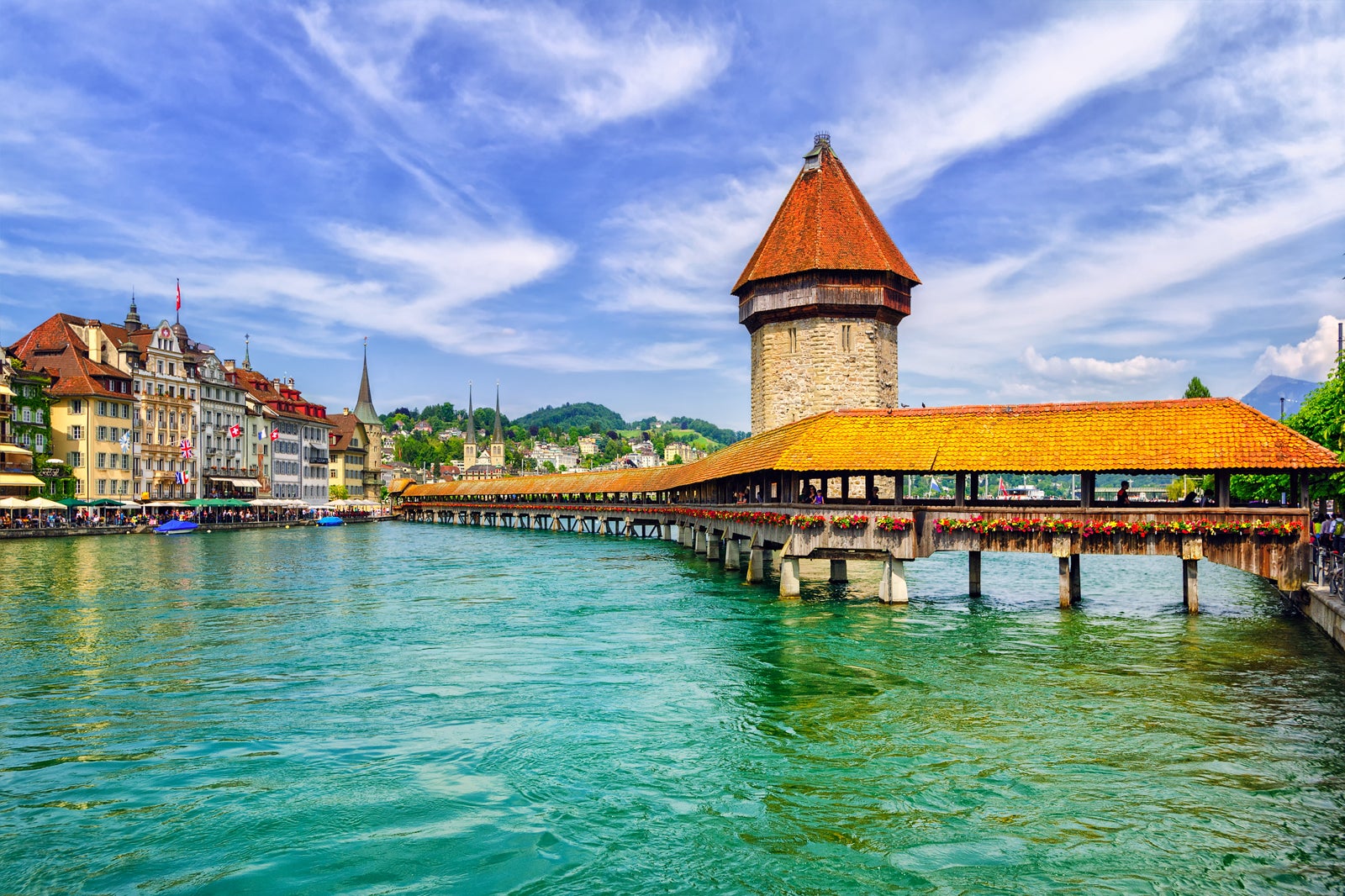 Chapel Bridge
A charming lookout point across the whole of Lucerne
This mesmerising bridge spans across the peacefully flowing River Reuss, right in the heart of Lucerne, and is one of the first places tourists flock to when stepping foot into the city. It's decorated with bright floral bouquets in the summer months and provides a fantastic spot to look out on the rest of Lucerne's remarkably beautiful sights from. Don't forget to look up at the paintings etched into the rustic roof. They tell a story of the city's history, which would make a great addition to your own Instagram Stories and educate your eager followers.
For an extra magical moment for your feed, head to the wooden wonder at night and bask in its ambient glow, which lights up the entire city. Likes guaranteed.
Location: Kapellbrücke, 6002 Lucerne, Switzerland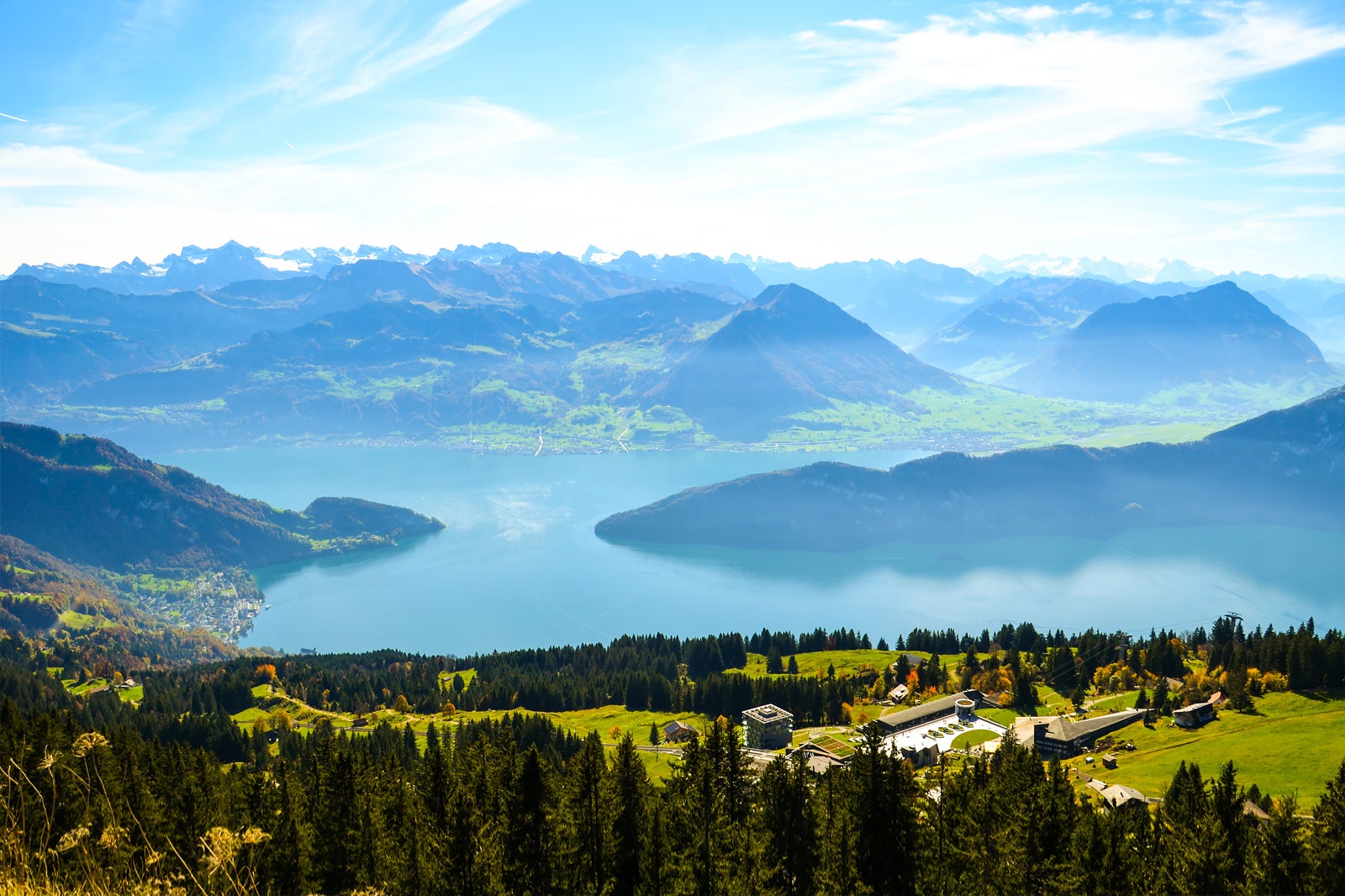 Lake Lucerne
A blissful blue snapshot of the city's extensive beauty
Grab a selfie with one of the most jaw-droppingly beautiful backdrops in all of Switzerland with a visit to Lake Lucerne. Looking like a scene from a high-class rom-com, with a gorgeous gradient of blues and greens stretching out into the distance, and Mount Pilatus just chilling in the background, there's no better way to capture Lucerne's insurmountable beauty in a single picture.
How you choose to snap such a breathtaking shot is up to you, but a boat ride around the lake will get you pretty up-close and personal to its depths, not to mention the hordes of swans desperate to make it onto your feed. Just make sure you get their best side.
Location: Vierwaldstättersee, Lucerne, Switzerland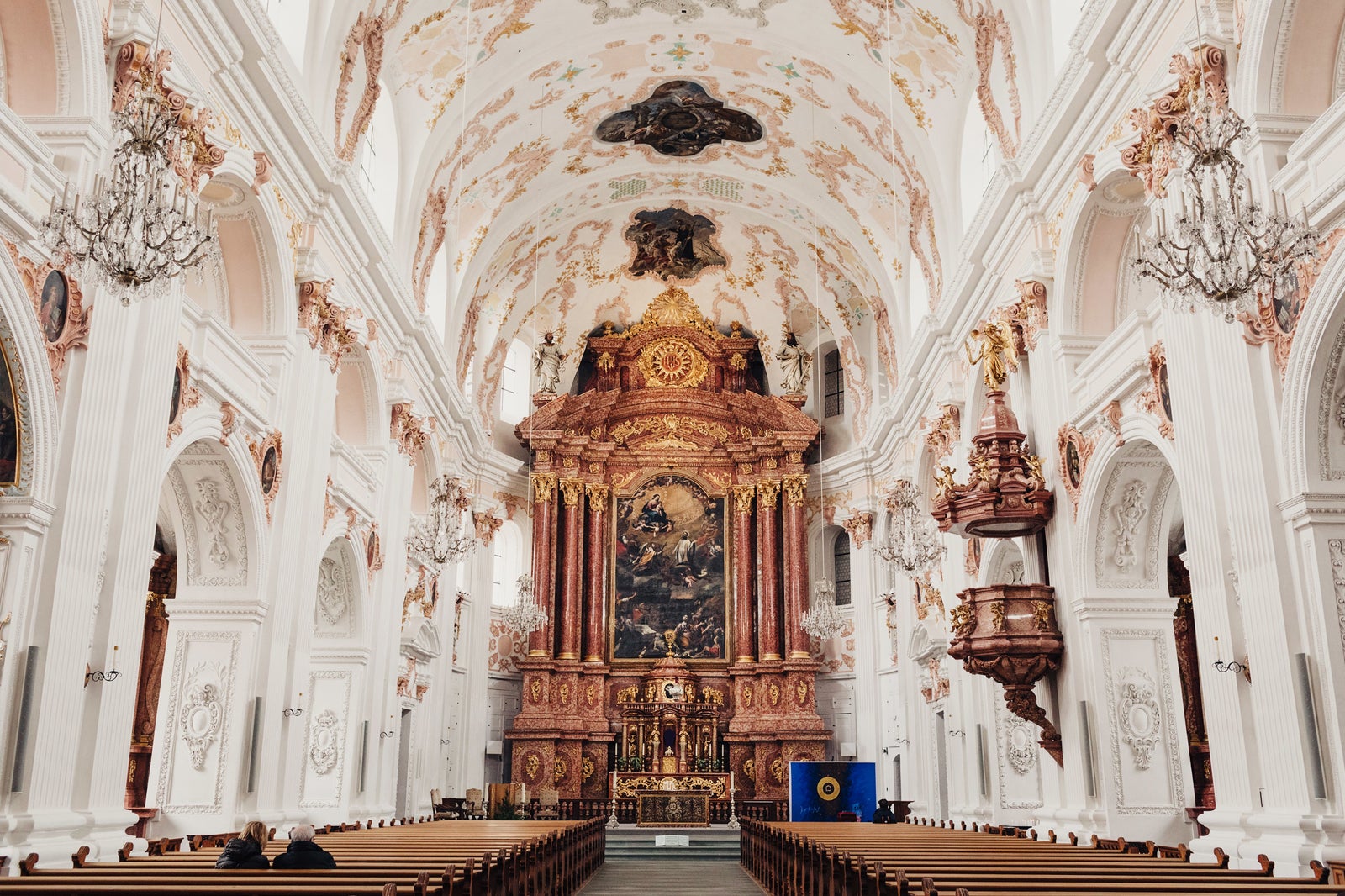 Jesuit Church
Give it a chance and open the doors to a world of ornate charm
From the outside, it may seem like any old church, but the minute you open the doors and step inside, you'll be taken in by quite the inviting surprise. Built in a rich baroque architectural style and with an interior made up of bright ethereal whites, soft blush-pinks and decadent golds that glisten in the daylight, this glamorous-looking church is a magnificent sight to behold.
Located along the River Reuss, and open from 6.30am every day, get your early bird wings on and head for its shiny interiors on a super-sunny day, when the light will come pouring in through the well-decorated windows.
Location: Bahnhofstrasse 11A, 6003 Lucerne, Switzerland
Phone: +41 (0)77 489 05 79
photo by VirtualWolf (CC BY-SA 2.0) modified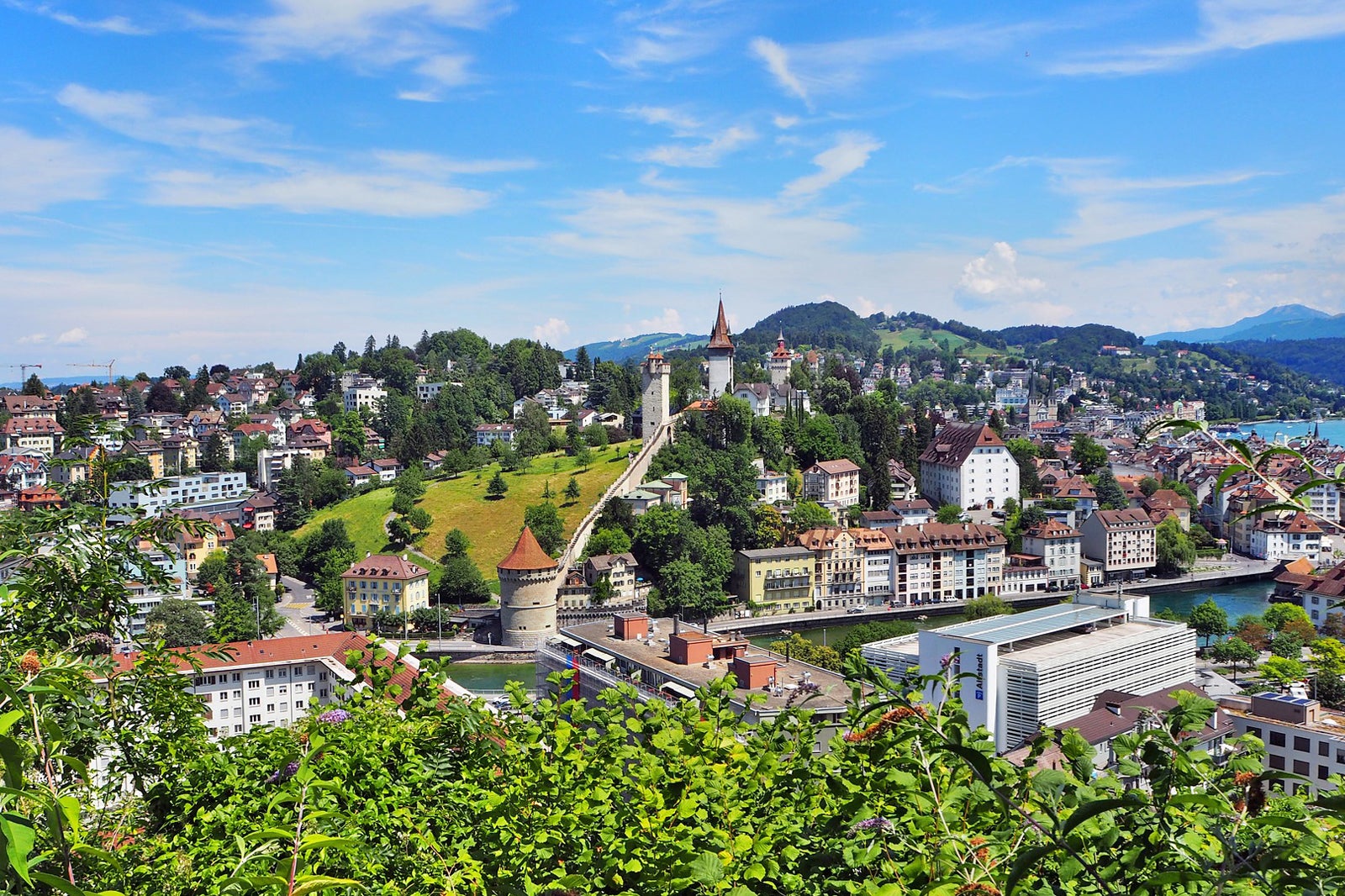 Musegg Wall
Picture yourself as a 13th-century local
If you want to experience what it would have been like to live in Lucerne in the Middle Ages, take a walk along Chapel Bridge and make your way to the impressive Musegg Wall. Along with its 9 towers, it forms part of the historic fortifications built around Lucerne in the 13th century. With unrivalled views of snow-capped mountains, Lake Lucerne, and the surrounding countryside, head up to the clock tower and get snapping.
It's best to put on your walking shoes as you'll have a number of stairs to climb to the top, but it'll be well worth it for the views. And you'll get the chance to burn off all that Swiss chocolate you've indulged in along the way – win-win.
Location: 6004 Lucerne, Switzerland
Open: +41 (0)41 410 81 87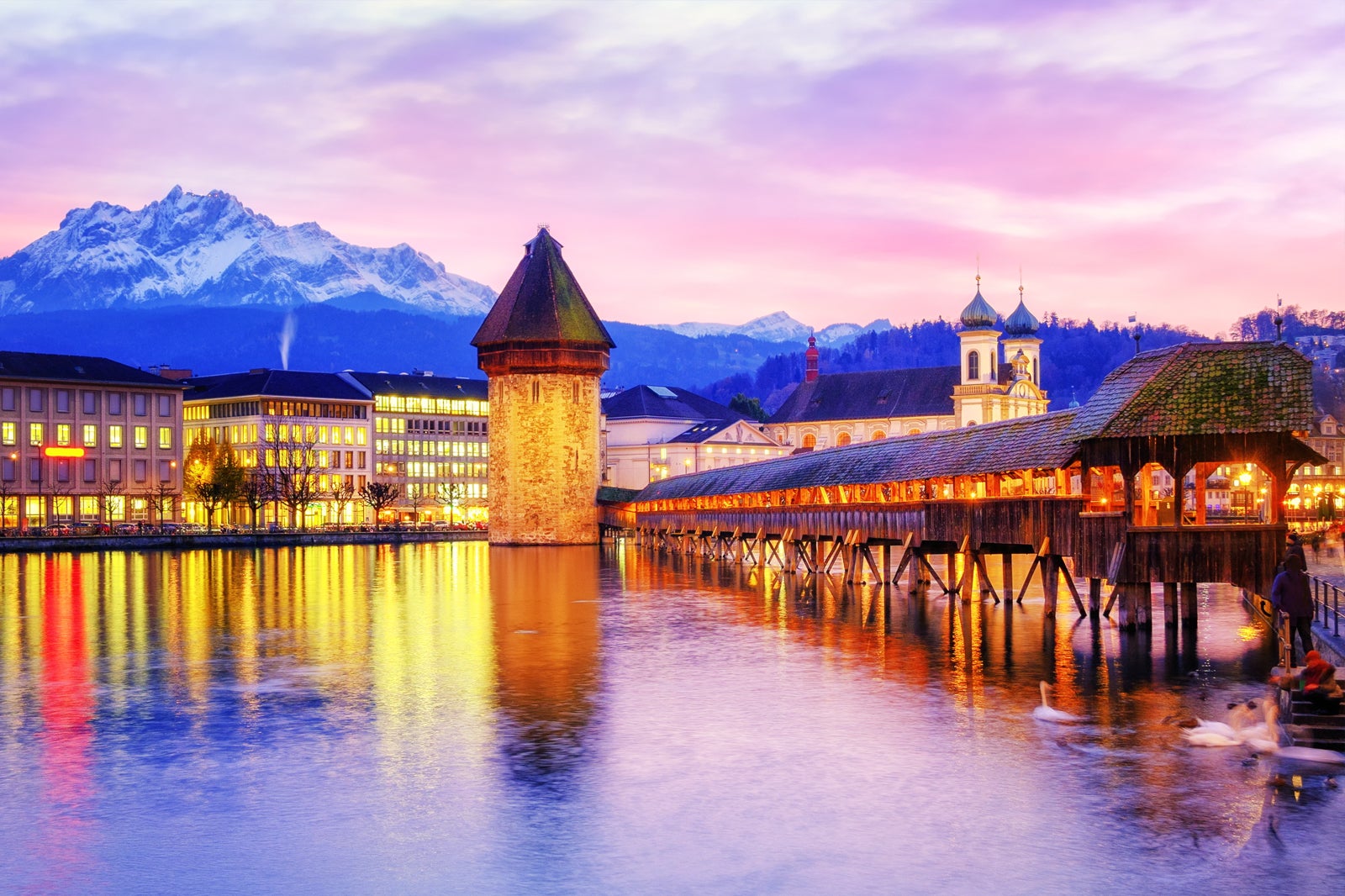 Wasserturm
Wander across to this impressive water tower, standing tall among its wooden piers
If you haven't quite got your fill of footbridge photos, fill up your feed with snaps of one of Lucerne's most famous landmarks – the octagonal Water Tower – sitting pretty, right at the end of Chapel Bridge. Created in the 14th century and a sight in its own right, this turreted tower of beauty actually predates the bridge itself, forming part of the city's fortifications.
Originally used as a prison and torture chamber, with the middle floor acting as home to the headquarters of the Lucerne Artillery Association, you can't climb inside its stonewashed walls, but you can capture its history with a powerful photo or 2 for dramatic effect. If you're lucky, a flock of alpine swifts might even fly out to provide a perfectly timed photobomb.
Location: Reusssteg, 6003 Lucerne, Switzerland
Mount Pilatus
Make your way to the top and take a ride on the cogwheel train
Just a bus ride from Lucerne Station to Kriens, a series of gondolas and a cable car all the way to its top, the picturesque Mount Pilatus will steal your heart – and your Instagram feed – with all of its photogenic scenery. On a clear day, you'll be able to see a 360-degree view from the top. No filter needed. But if you happen to make the climb on a not-so-clear day? Grab a hot chocolate and you'll still be able to make all your friends back home jealous.
Grab a group selfie on the cogwheel train, if you dare. As the steepest rack railway in the whole world, you've got to give it a try.
Location: Pilatus, 6010 Alpnach, Switzerland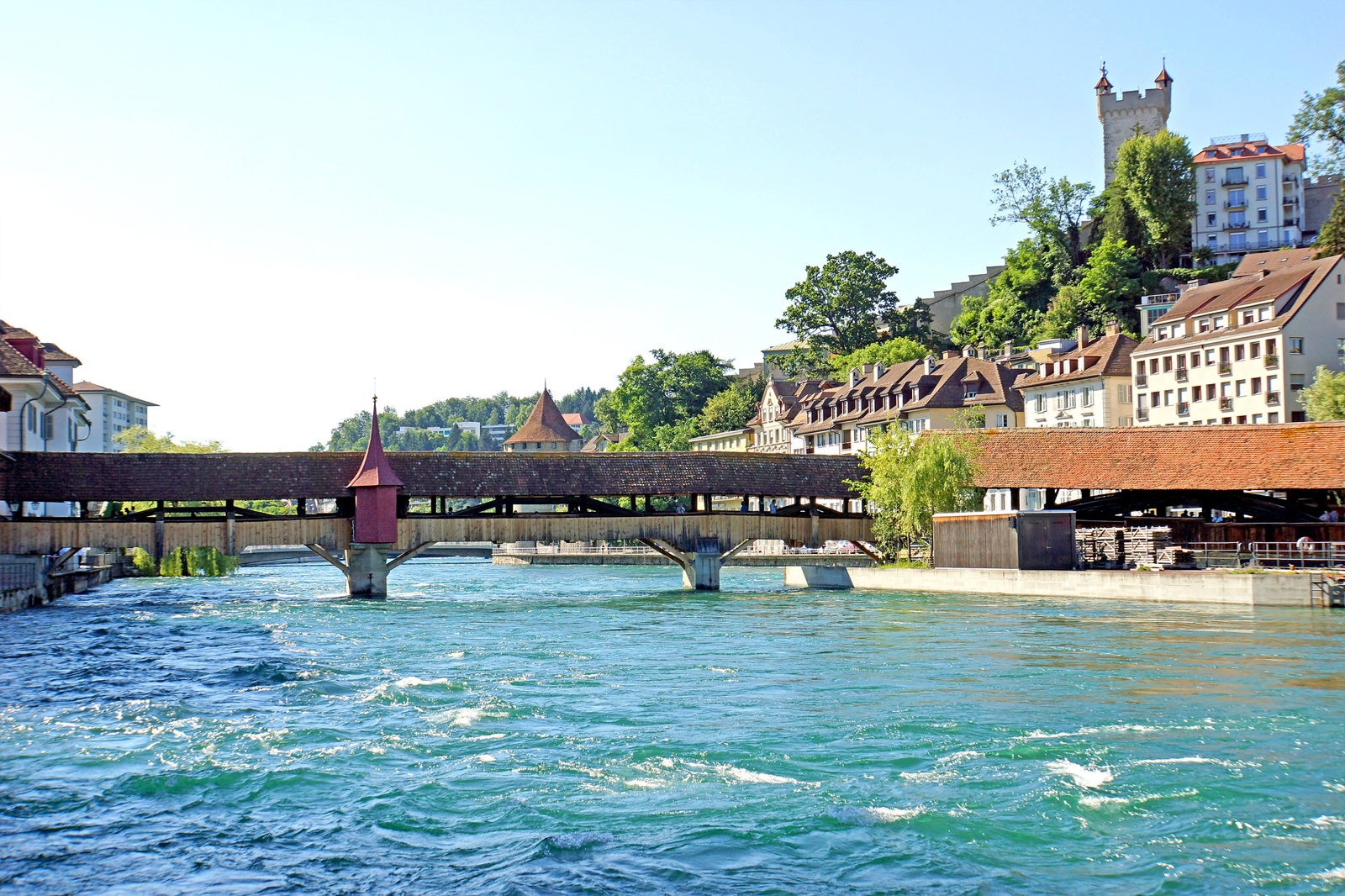 Spreuer Bridge
Chapel Bridge's quieter little brother
As part of the Old Town, this lesser-known wooden structure may not be at the top of Lucerne's #bridgelist, but that doesn't make it any less impressive. This beautifully decorated bridge is a true hidden gem of the city and also houses stunning painted panels with a fantastic view of Lucerne from across the river.
Another bonus? Its out-of-the-way location means fewer visitors and more photo ops. Result. So, linger on and enjoy the rush of the River Ruess as you stock up on stock photos for your feed. #winning.
Location: Lucerne 6002, Switzerland
photo by Dennis Jarvis (CC BY-SA 2.0) modified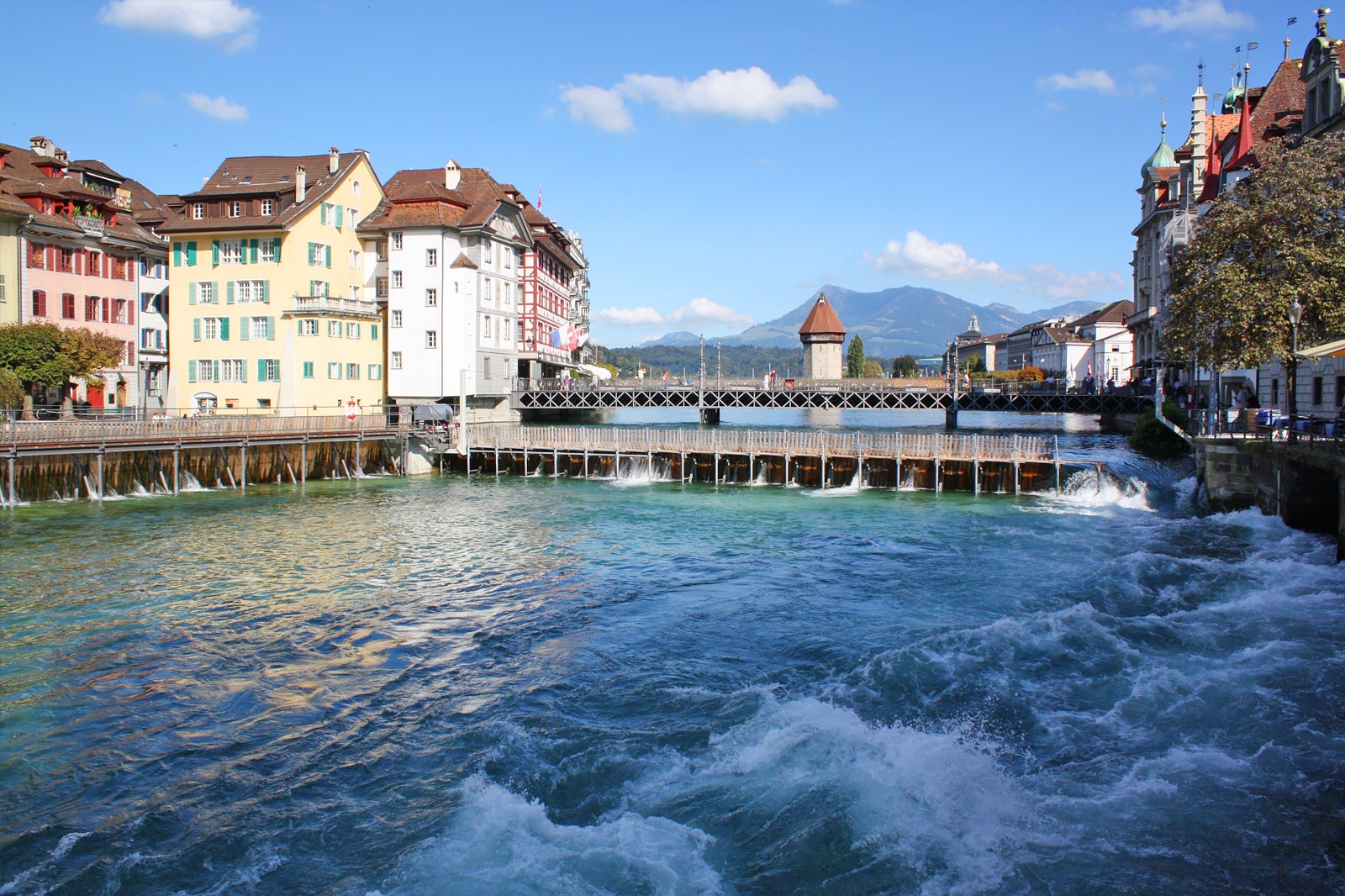 Nadelwehr
Enjoy the relaxing flow of Lucerne life at this ancient dam
As a historic dam controlling the water height in the city of Lucerne, this spot may not seem very #instaworthy but it's actually pretty darn cool. It's easy to miss if you aren't aware of its presence but its unique inner workings provide a beautiful ancient architectural spot and a relaxing place to stop and capture views across the city.
Just a 5-minute stroll from Chapel Bridge, get close enough and you can create some pretty impressive shots of the water. It also makes for quite the foreground feature, especially during a winter snowfall.
Location: Reusssteg 1, Lucerne 6004, Switzerland
photo by WES1947 (CC BY-SA 3.0) modified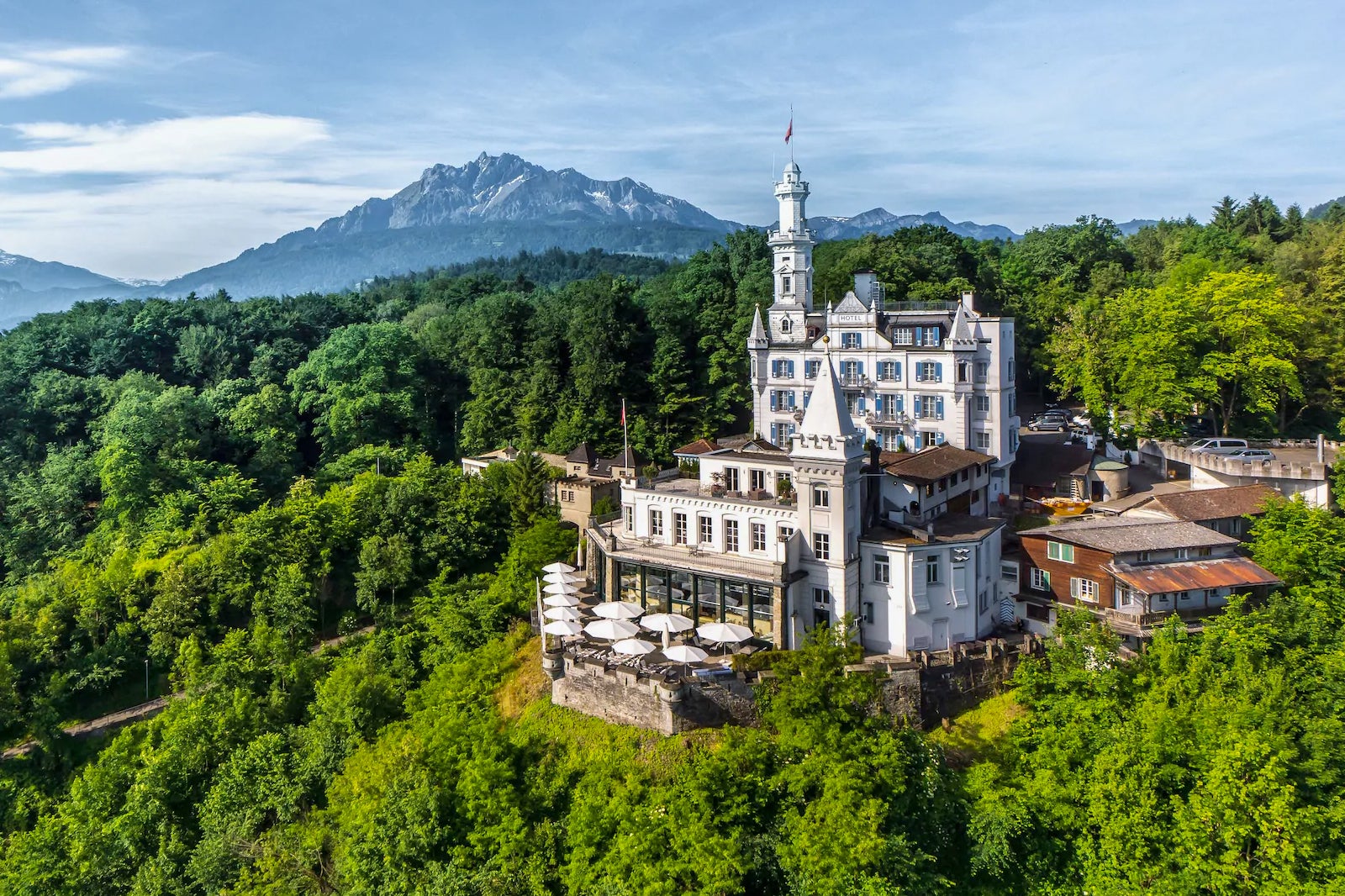 Hotel Château Gütsch
Get a taste of luxurious Lucerne living
Fancy living it up in a 19th-century castle – even if just for an hour or 2? Step inside the fairy-tale world of Hotel Château Gütsch, where romantic interiors and 27 rooms full of old-world charm await. Constructed by architect Emit Vogt, with the Bavarian castle Neuschwanstein as his inspiration, the gleaming white walls of this hotel offer up the perfect picture.
Standing tall since 1888, this 4,645 sq m turreted tower is situated on a lush green hillside overlooking Lake Lucerne and Mount Rigi. And such vibrant views are within effortless reach. Just a 10-minute bus ride and a further 10-minute walk will ensure much Insta feed envy.
Location: Kanonenstrasse, 6003 Luzern, Switzerland
Phone: +41 (0)41 289 14 14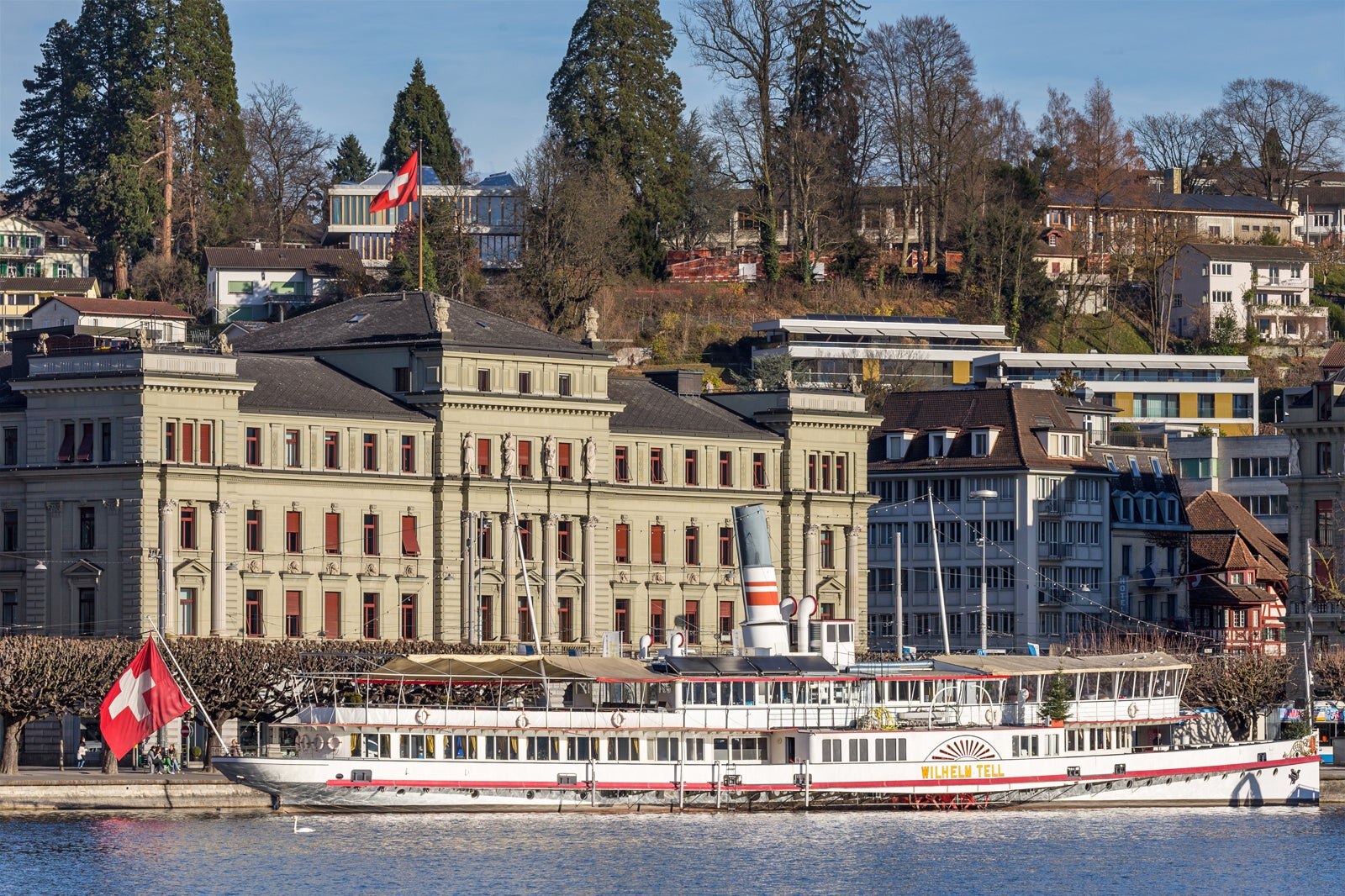 Schiff Restaurant Wilhelm Tell
Great food in a unique setting
Named after the Swiss folk hero himself, William Tell, it's time to take your feed to the high seas as you explore the wonder of this turn-of-the-century retired paddle steamer, moored on Lake Lucerne. Perfect for envy-inducing food snaps, you'll also get to experience the ship's character and ambient setting, complete with authentic furniture, which show you what life was like when it was full steam ahead.
If you time it right with a visit from October to March, you'll be met with 20 different types of authentic Swiss cheese fondue on board. Double the fun and double the likes.
Location: Landungsbrücke 9, 6006 Luzern, Switzerland
Open: Tuesday–Saturday from 11am to 12am, Sundays from 11am to 11pm (closed on Mondays)
Phone: +41 (0)41 410 23 30
photo by JoachimKohlerBremen (CC BY-SA 4.0) modified