10 Best Things to Do in Rostock
What is Rostock Most Famous For?
Rostock is a large port city famed for being home to one of the oldest universities in the world. A member of the powerful Hanseatic League during the 13th century, the city features historical places of interest including St. Mary's Church, the Cultural History Museum and the Old Town wall and gates, just to name a few.
From Warnemunde Beach to the Shipbuilding and Maritime Museum and from the Karl's Adventure Village Roevershagen to the lively Kropeliner shopping street, there are plenty of things to see and do for the whole family in Rostock. Here's a non-exhaustive list of the main attractions in this popular destination on the banks of the Warnow River.
What are the best things to do in Rostock?
1
New Market Square
Take the pulse of the Rostock in its liveliest square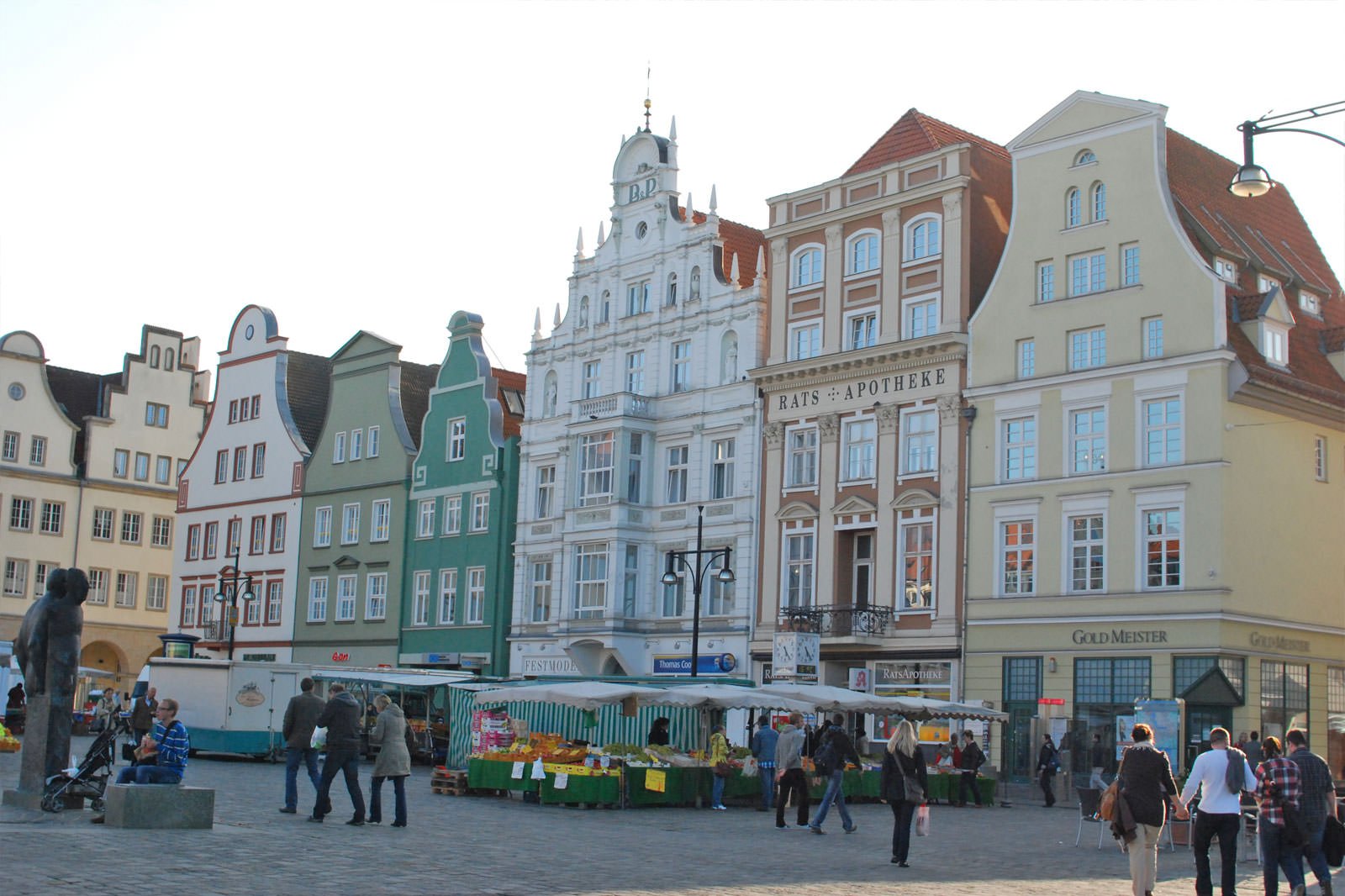 Locally known as Neuer Markt, New Market Square has been the pumping heart of Rostock since the 13th century. Featuring pastel-coloured Renaissance merchants' houses, the splendid Town Hall, St. Mary's Church and the Rostock Cultural History Museum, it also hosts a daily grocery market. It's a great place to start a tour of the pedestrian streets of the Old Town. You'll also find a few bars and restaurants on Neuer Markt for a pause during your stroll.
Location: Neuer Markt, 18055 Rostock, Germany
photo by Torsten Maue (CC BY 2.0) modified
2
St. Mary's Church
See the 15th-century workings of the Astronomical Clock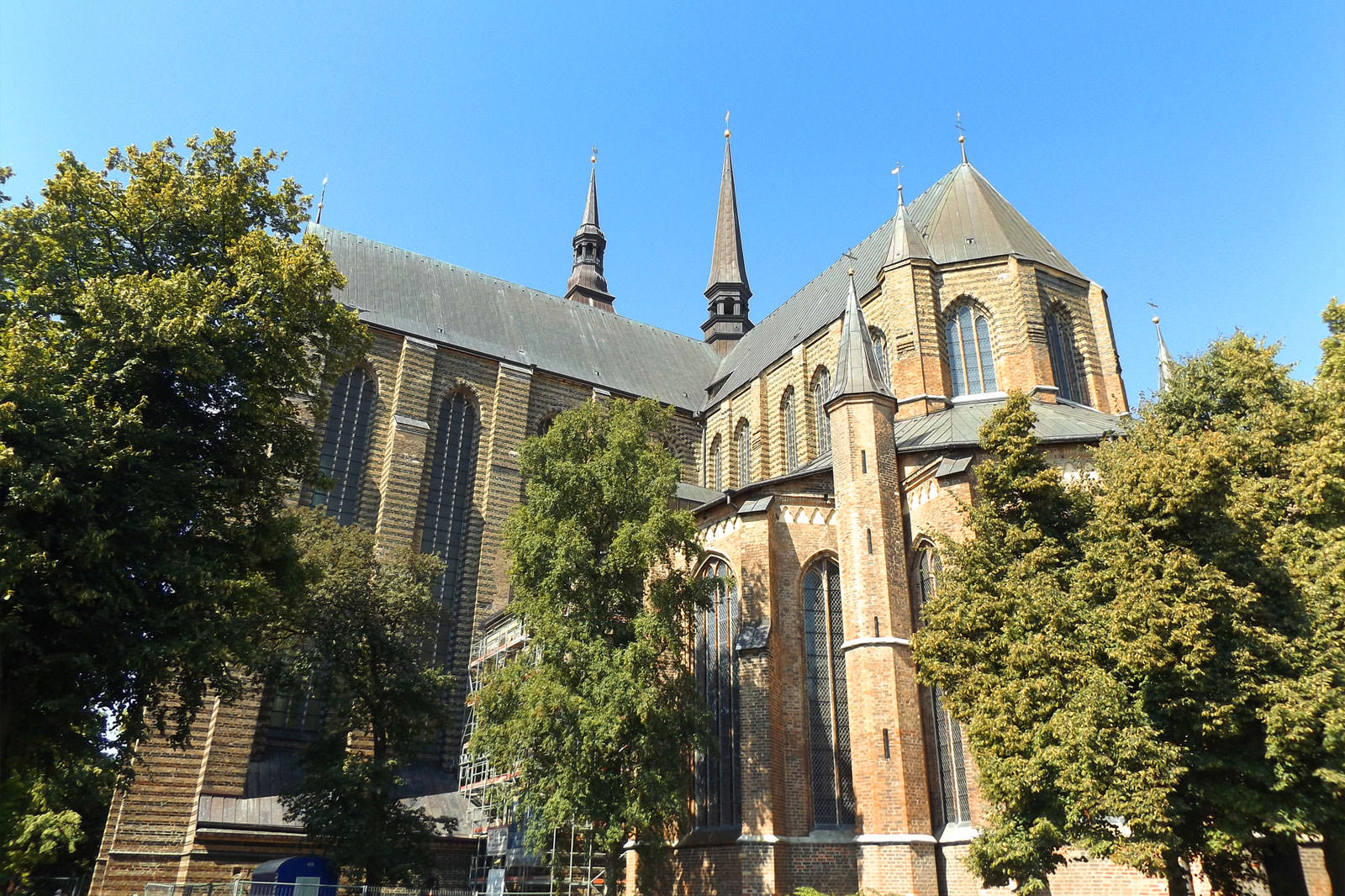 Marienkirche is the local name of St. Mary's Church, the largest of the 3 churches found in Rostock. Built in the mid-13th century, it's a Brick Gothic church that hosts valuable artefacts such as a splendid 18th-century high altar and an impressive stained-glass rendition of The Day of Judgement on the south portal window of the transept. Nevertheless, the highlight of St. Mary's Church remains its 15th-century Astronomical Clock, the only one of its kind that still works with its original clockworks.
Location: Bei der Marienkirche 2, 18055 Rostock, Germany
Open: October–April: Monday–Saturday from 10 am to 4 pm, Sunday from 11.15 am to 12.15 am. May–September: Monday–Saturday from 10 am to 6 pm, Sunday from 11.15 am to 5 pm
photo by Doug Kerr (CC BY-SA 2.0) modified
3
Warnemunde Beach
Enjoy a charming beach on the Baltic Sea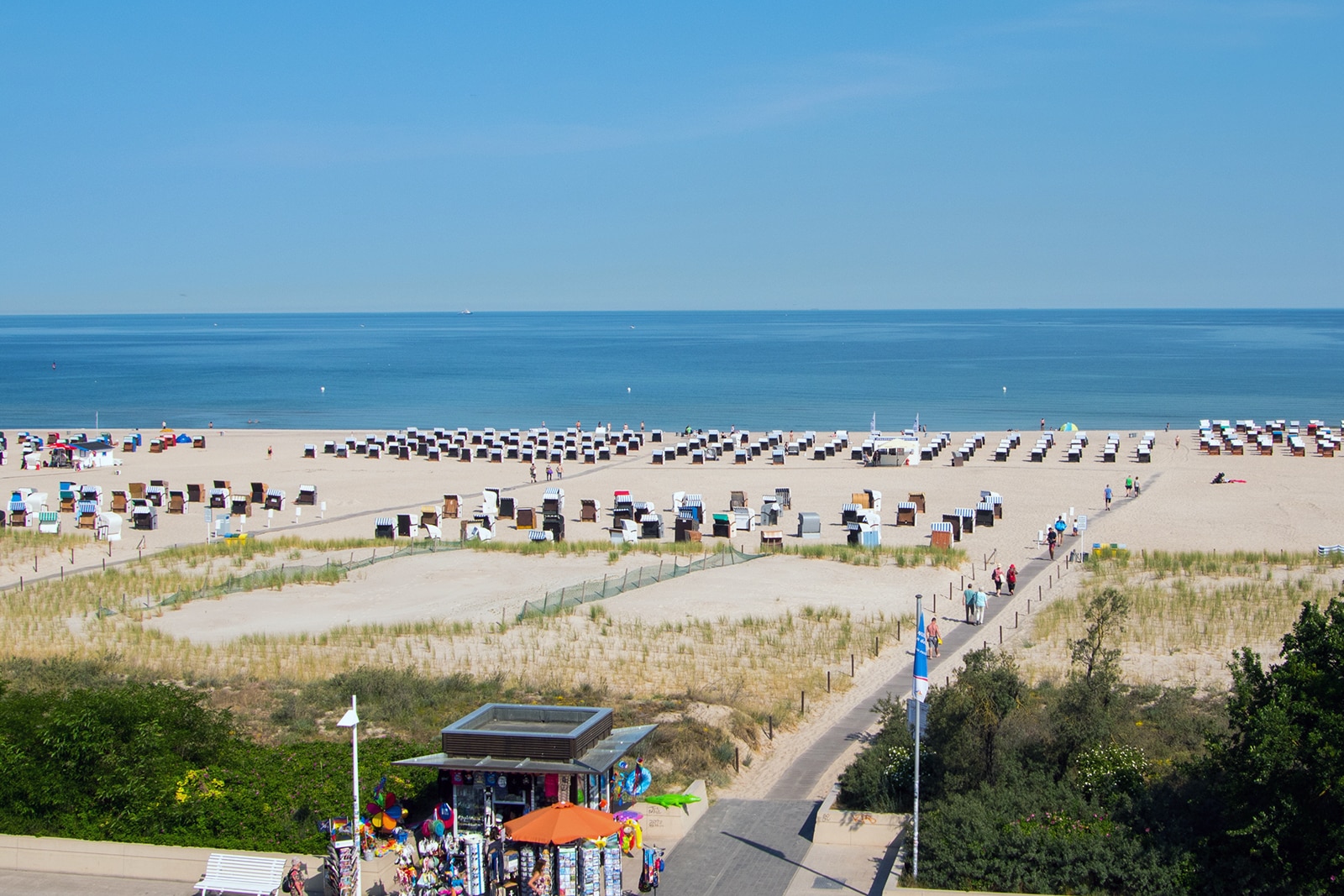 A seaside resort and district of Rostock 12 km north of the city centre, Warnemunde hosts one of the widest beaches on the German Baltic Sea coast. It stretches for over 3 km. Bordered by a promenade, Warnemunde Beach is home to beach bars, a surf school and a kids' playground. Toilets and showers are also at hand. Sat on a square near the mouth of the river, the 19th-century lighthouse and adjacent contemporary-style Teepott Restaurant offer great photo opportunities.
4
Kropeliner Strasse
Enjoy window-shopping in a vintage pedestrian street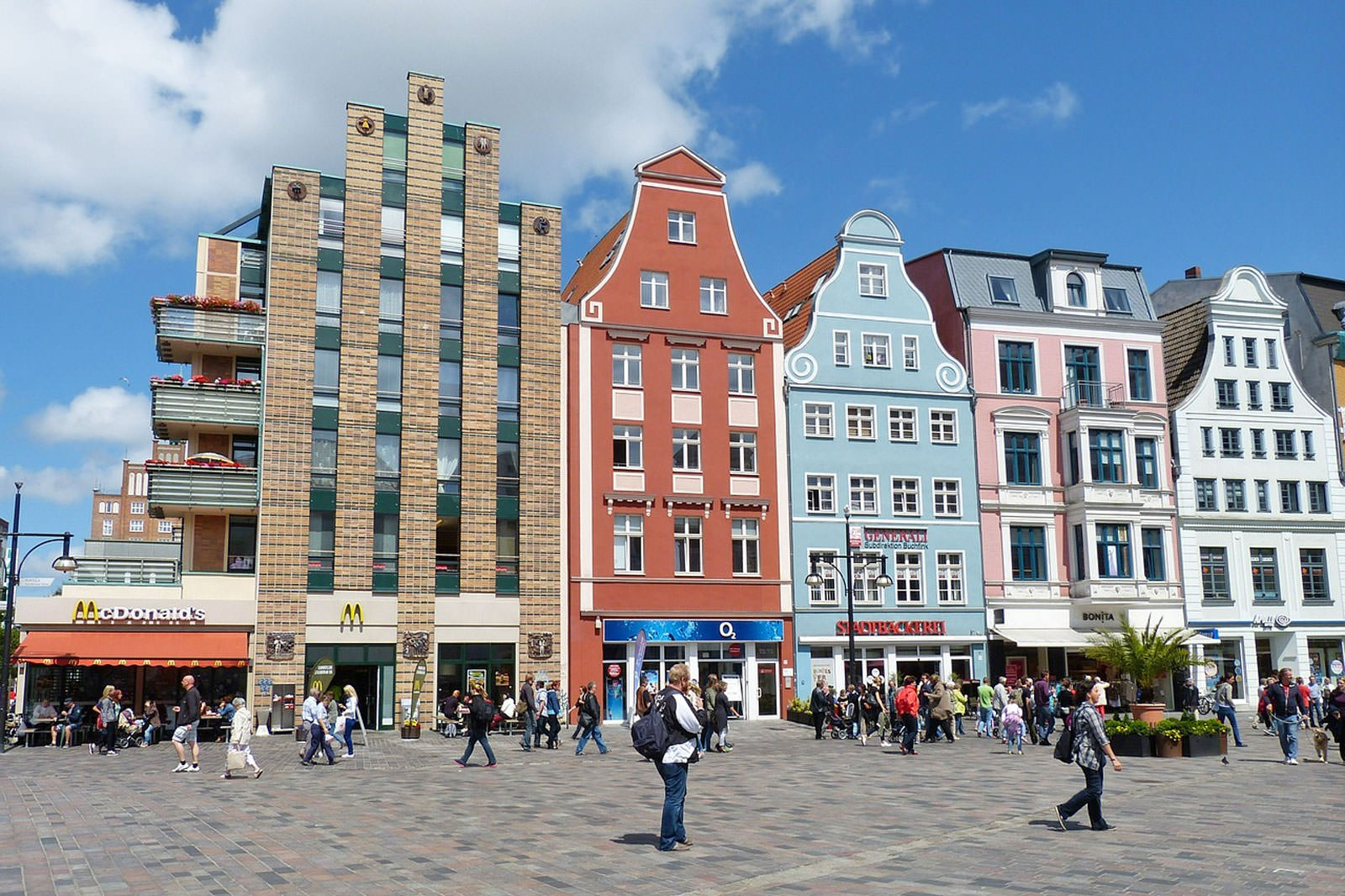 Stretching through the Old Town between Kropeliner Tower – one of the original city gates – and the New Market Square, Kropeliner Strasse is the main shopping street in Rostock. Lined with majestic Hanseatic buildings, the pedestrian street also passes in front of the university. Featuring shops, cafés, restaurants and a small green park with benches in University Square, it's a very pleasant, lively street to stroll day and night. Clothing, jewellery, cell phones, cosmetics; you'll find many types of stores on Kropeliner Strasse.
Location: Kröpeliner Str., 18055 Rostock, Germany
5
Alter Strom
Stroll along a charming and lively canal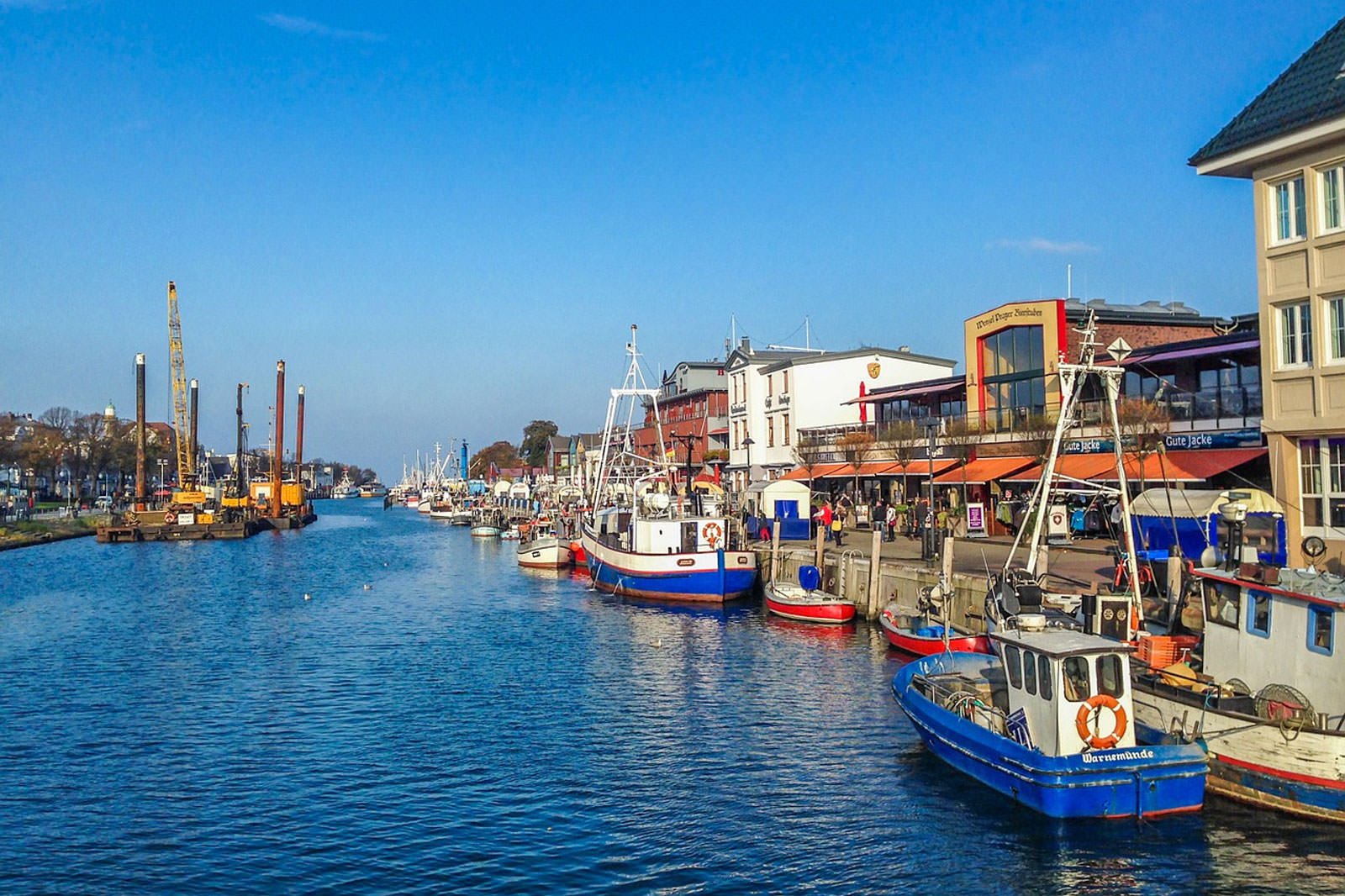 The Alter Strom is a 1,100-metre-long canal that stretches between Warnemunde and the ferry terminal at the mouth of the Warnow River. Lined with vintage houses, boutiques and inviting cafés and seafood restaurants, it's a popular place to wander around on a sunny day. The fishing boats moored at the docks, the fish market stalls and the street performers add to the quaintness and lively atmosphere of this popular promenade.
Location: Alter Strom, 18119 Rostock, Germany
6
Shipbuilding and Maritime Museum
Visit the largest floating museum in Germany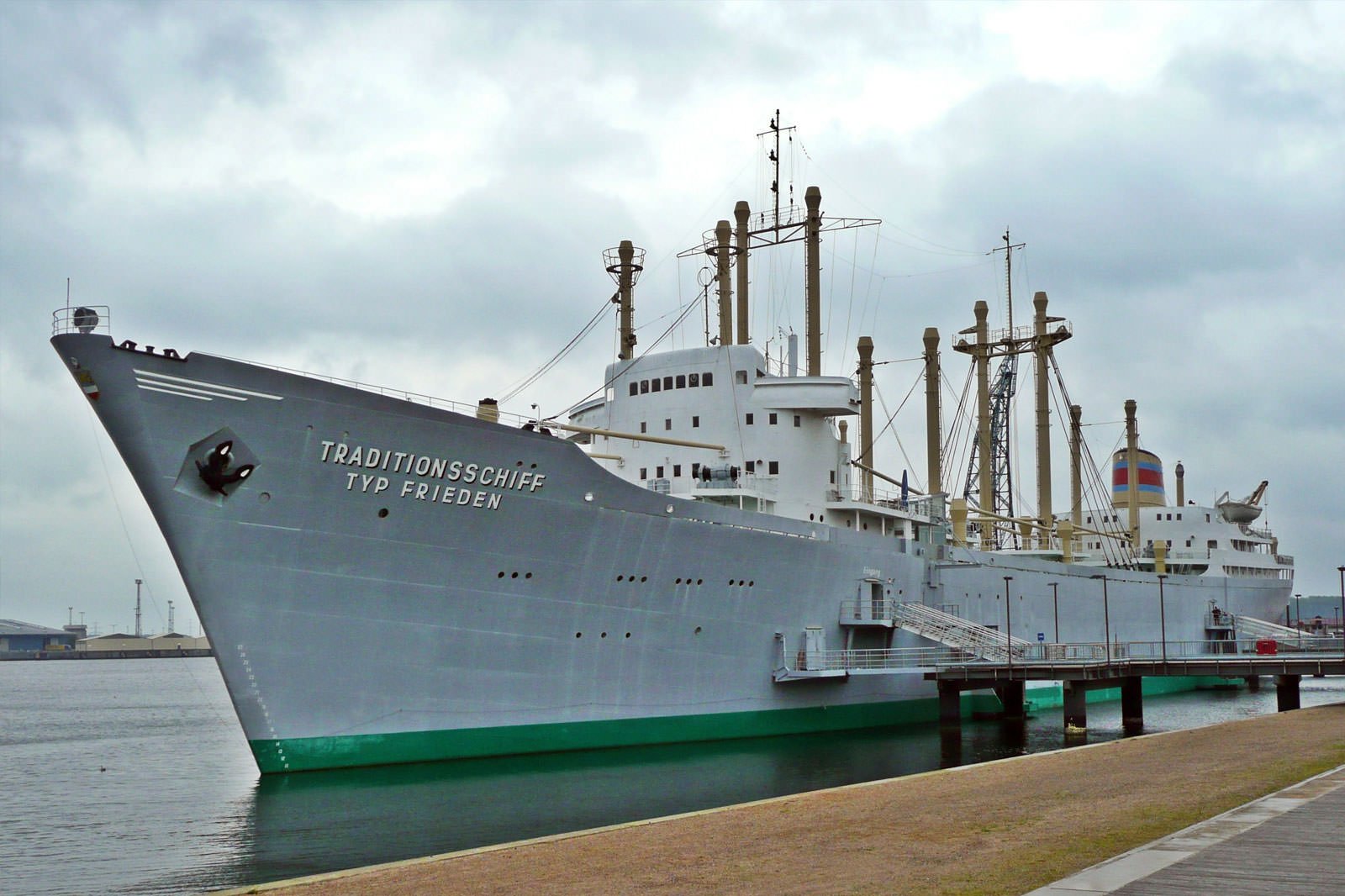 An important city of the bygone Hanseatic League, Rostock always had a close relationship with the sea. Housed in a 10,000-tonne cargo ship called the M/V Dresden, the Shipbuilding and Maritime Museum is a fascinating place to explore. From the bridge to the bilges, you can inspect the ship from top to bottom. Along the way, you'll see exhibitions retracing the history of shipbuilding in Rostock. After the visit, you can head to the nearby Technology Museum or stroll through the IG Park the floating museum is moored at.
Location: Schmarl Dorf 40, 18106 Rostock, Germany
Open: April–October: Tuesday–Sunday from 10 am to 6 pm. November–March: Tuesday–Sunday from 10 am to 4 pm
photo by Norbert Kaiser (CC BY-SA 3.0) modified
7
Karl's Adventure Village Roevershagen
Take the kids to a farm-themed park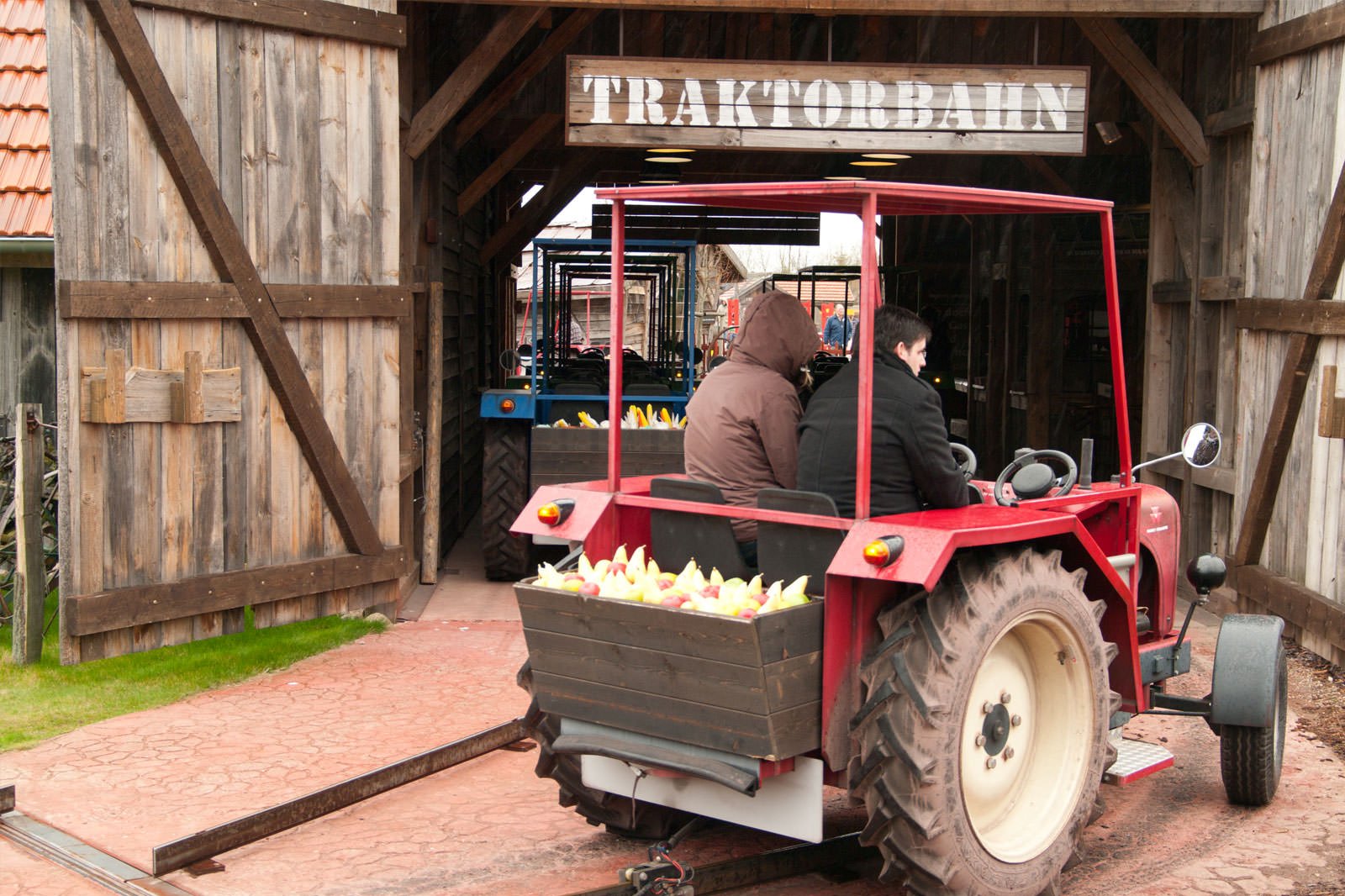 Families
Shoppers
Photo
Food
Established in 1921, Karl's Adventure Village Roevershagen is a rural-themed park located 10 km northeast of Rostock city centre. This all-weather, all-year-round amusement park hosts a wide range of attractions, from tractor rides to big slides to butterfly garden to climbing frames - the list of things to see, do and enjoy seems endless. The park is dedicated to strawberries - a speciality of the region. You'll find them in the Farmer's Market, used in soap, candy, fountain, jam and more.
Location: Purkshof 2, 18182 Rövershagen, Germany
Open: Daily from 8 am to 7 pm
photo by Rosakoalaglitzereinhorn (CC BY-SA 3.0) modified
8
Cultural History Museum
Discover the Hanseatic city of Rostock in a captivating museum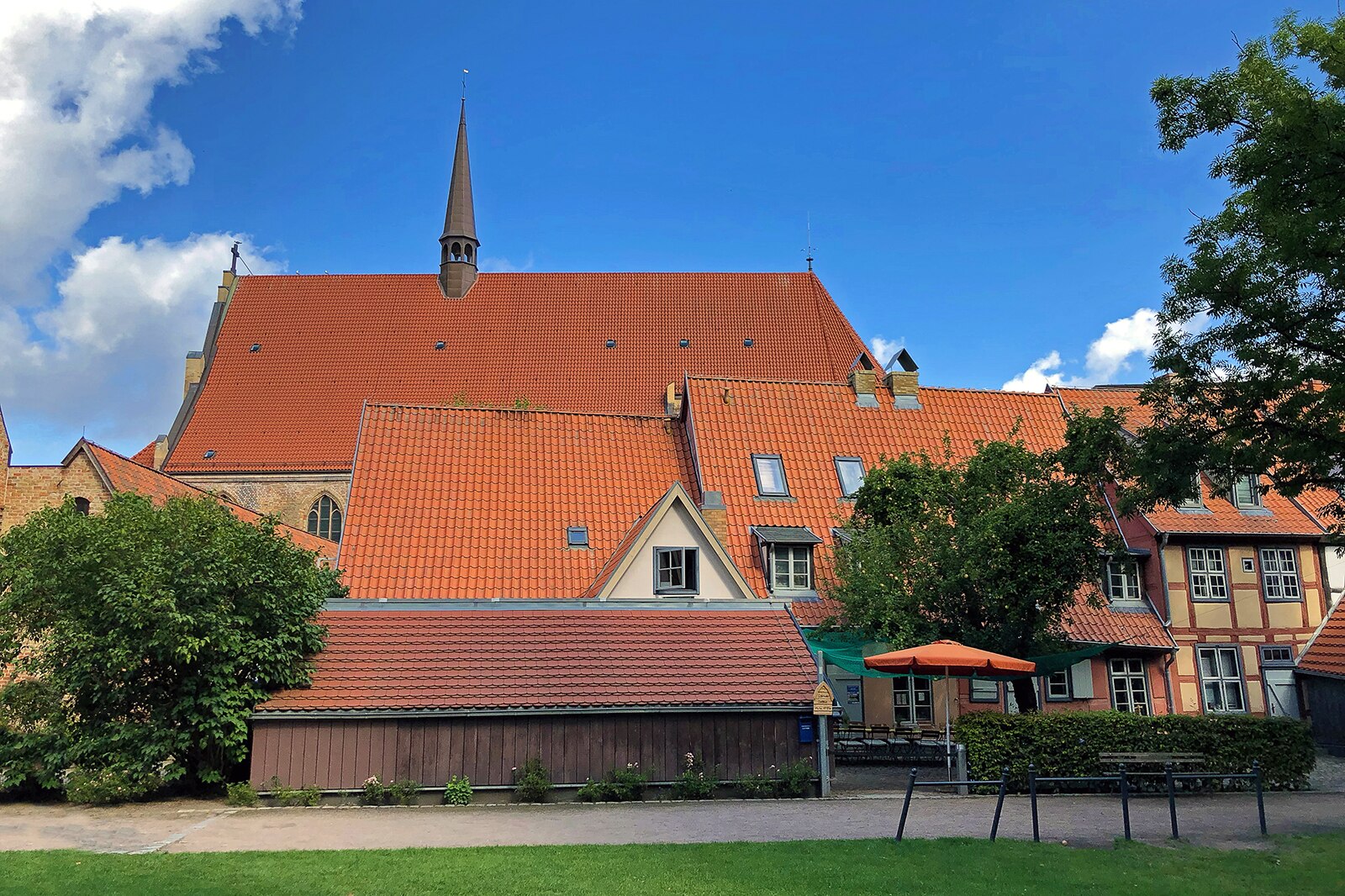 Rostock Cultural History Museum is housed in the Abbey of the Holy Cross, a historical Cistercian monastery in New Market Square, right next to St. Mary's Church. Sacred art, Dutch paintings, historic toys, archaeological finds and more, the permanent exhibitions on display at the museum retrace the history of the Hanseatic city of Rostock and of the region of Mecklenburg-Western Pomerania. Entrance is free. The central location of the museum gives access to a good choice of cafés nearby.
Location: Klosterhof 7, 18055 Rostock, Germany
Open: Tuesday–Sunday from 10 am to 6 pm (closed on Mondays)
9
Petrikeller
Have a Middle Ages-style dining experience in Rostock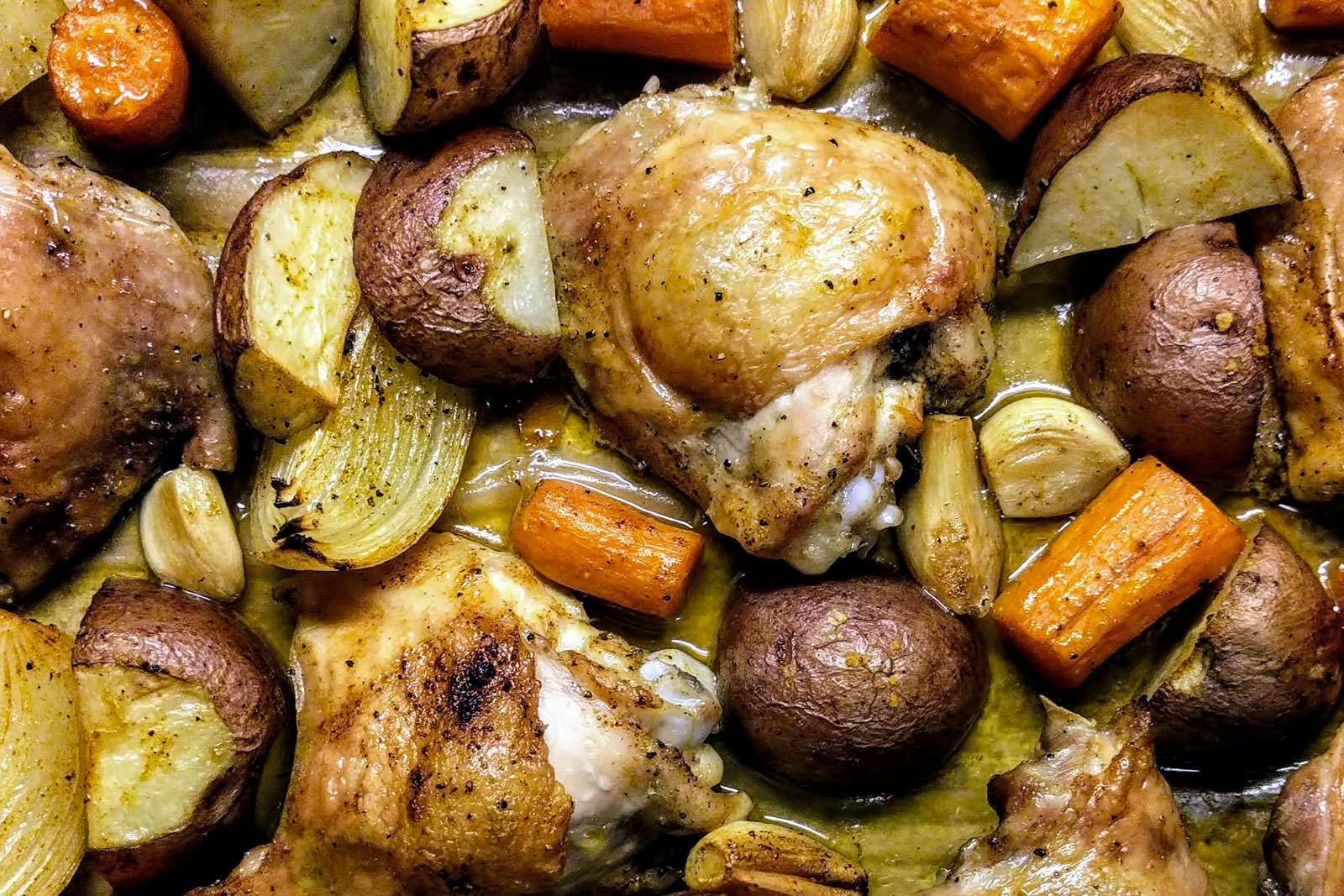 Quirky and fun, Petrikeller Restaurant gives you the opportunity to dine in the exact same conditions you'd find in a 13th-century medieval tavern. The dining room is settled in a dimly lit cellar decorated and furnished like in the Middle Ages. You're given a Viking helmet at the entrance and you eat the authentic German dishes on offer with your hands. The atmosphere is as peculiar as it is friendly. At the end of the meal, you roll the dice and can get a free meal if you're lucky.
Location: Pferdestrasse 1, 18055 Rostock, Germany
Open: Tuesday–Sunday from 5 pm to 10 pm (closed on Mondays)
10
Bar-hopping in Rostock city centre
Discover some popular venues for fun after dark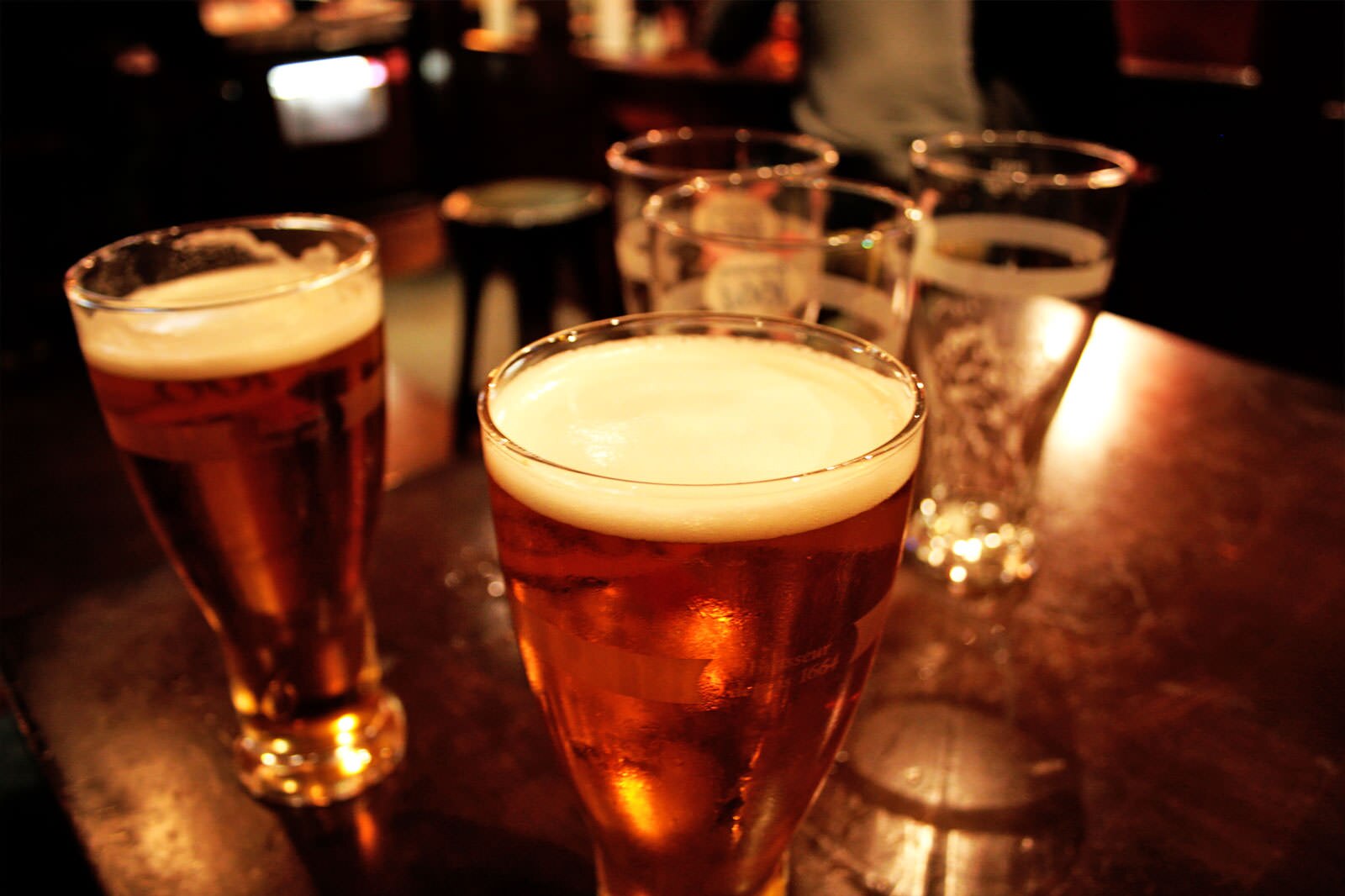 Rostock city centre hosts a lively scene of bars and restaurants at which to enjoy a nightcap. Zwanzig12 is a modern venue housed in a vintage building on Schnickmannstrasse. It serves skilfully mixed cocktails as well as delicious burgers. A few blocks away, on Altschmiedestrasse, you'll find Altstaedter Stuben. This classic German restaurant features a splendid dining room in its cellar. Last but not least, Studentenkeller is a lively pub located on University Square. It's open until late on Wednesdays, Fridays and Saturdays only.
Back to top