9 Things to Do in Busan on a Small Budget
Holidays in Busan Don't Have to Be Expensive
Thinking of things to do in Busan on a small budget? Let us show you some of the top options. For instance, look for scenic sites like a beautiful palace on a cliff overlooking the sea, whose name is based on a Buddhist legend. Also, it is a good idea to just follow people to a fun market if you want to feel the bustle of Busan and enjoy some people-watching.
Other places like Dongbaek Island and Samnak Ecological Park show a different side according to the season, so they're also worth a look. Who said it costs a lot of money to enjoy the colourful scenery of Busan? After checking out the options below, you'll see that holidays in Busan don't have to be expensive.
1
Dongnaebu Dongheon
For a bit of Korean history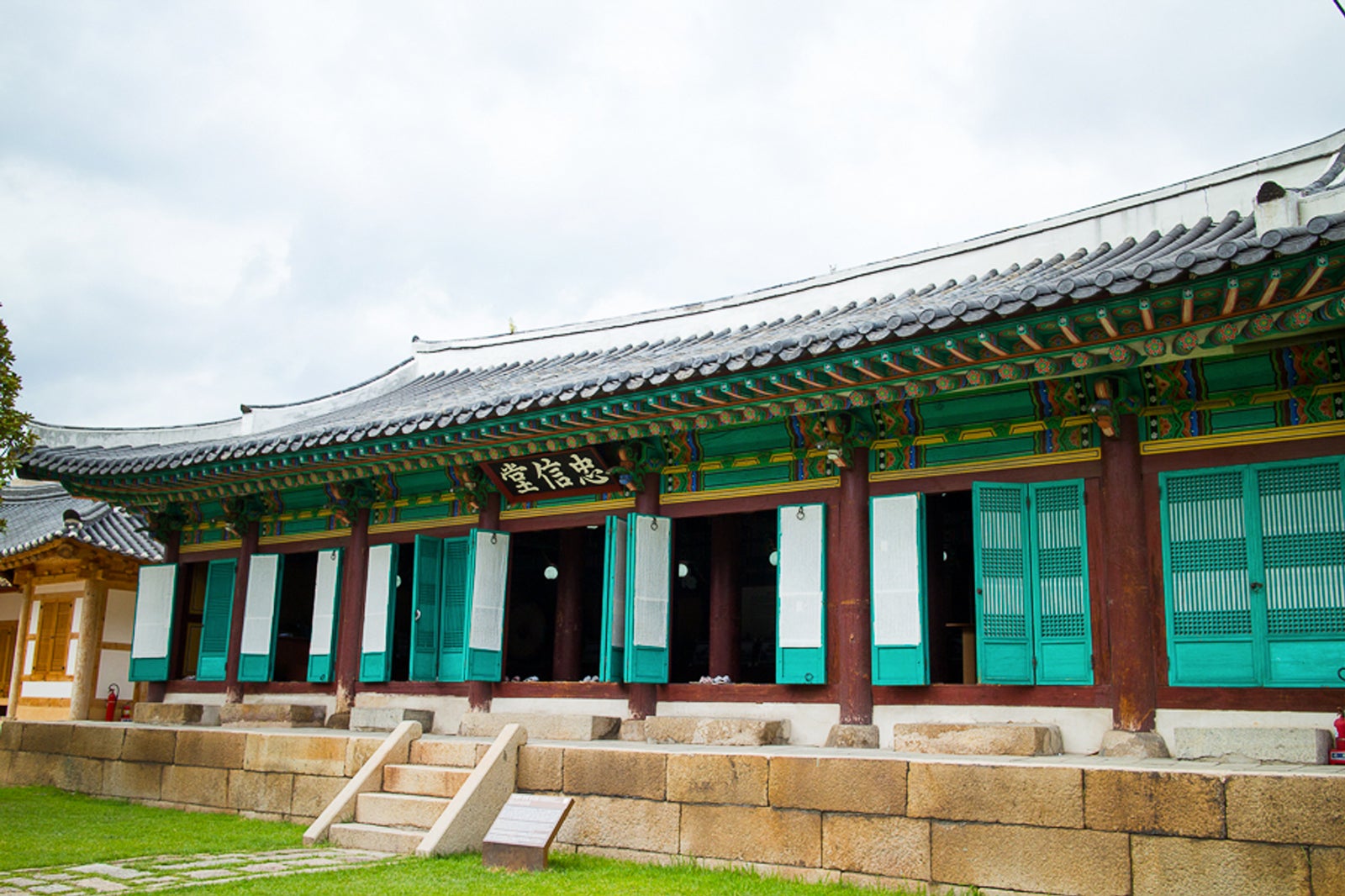 Couples
Families
Budget
Group
Dongnaebu Dongheon was the government office where the Dongnae Magistrate handled public affairs and has retained the same look as seen in historical K-dramas. Dongnaebu Dongheon has been thoroughly restored to inform and maintain history.
It has on display various period-correct torture devices as seen in period dramas, as well as figures representing the Dongnae Magistrate and constables. It's open to the public, so be sure to visit if you're interested in a bit of Korean history.
Location: 421-56, Suan-dong, Dongnae-gu, Busan, South Korea
photo by Amlou2518 (CC BY-SA 4.0) modified
2
Samnak Ecological Park
A place to reconnect with nature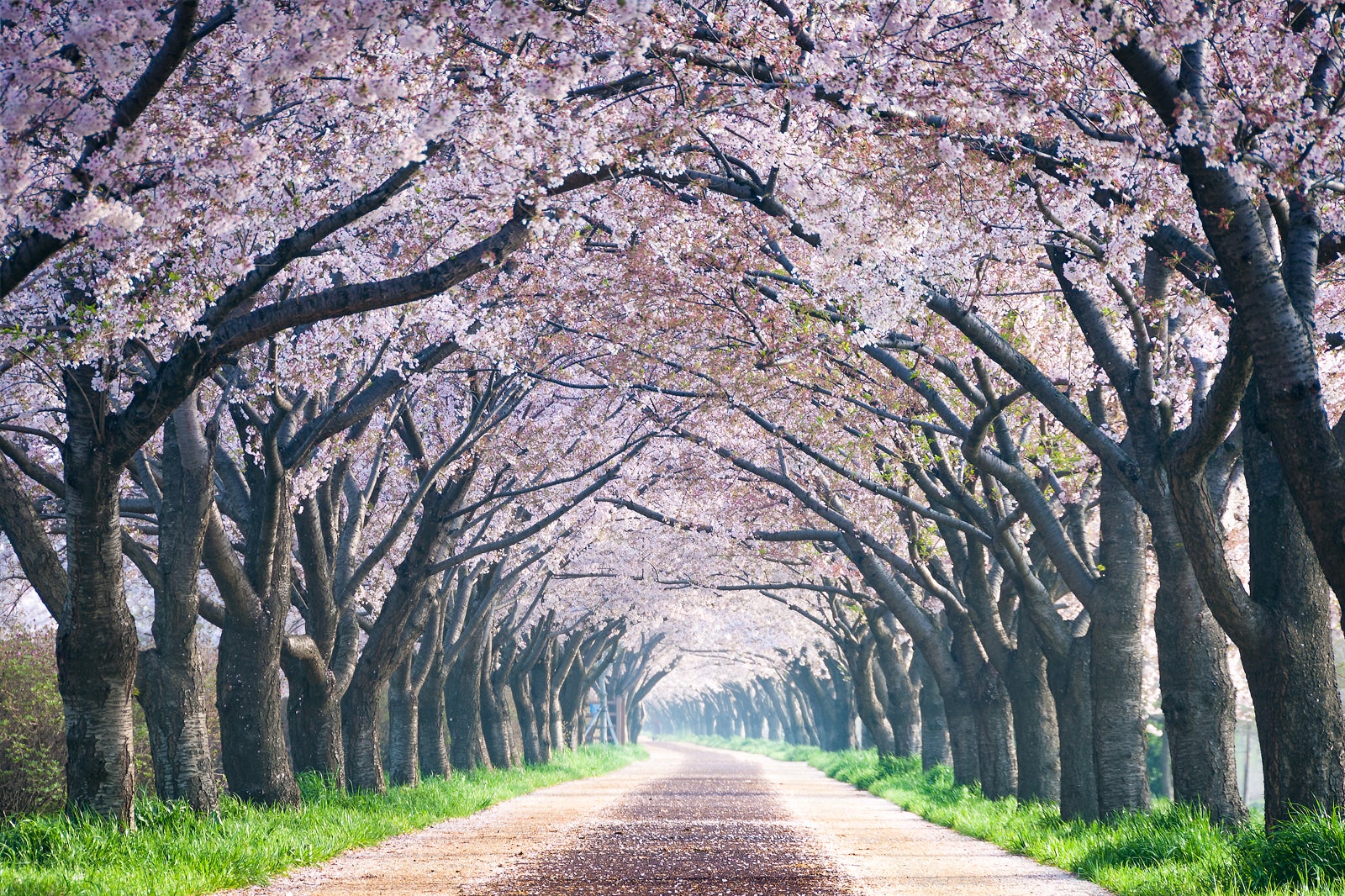 Couples
Families
Budget
Group
Samnak Ecological Park is popular among people looking to see blooming seasonal flowers, as well as wildflower colonies and ponds. The park is created in an environment clean enough to be habitats for migratory birds.
An outdoor swimming pool for children opens in summer, and various sports facilities and a car camping site become available for use at affordable prices. Seasonal changes bring about a different look to the park, and a visit is highly recommended to anyone who loves nature.
Location: Samnak-dong, Sasang-gu, Busan, South Korea
3
Dongnae-eup Fortress
Rich in history and architectural beauty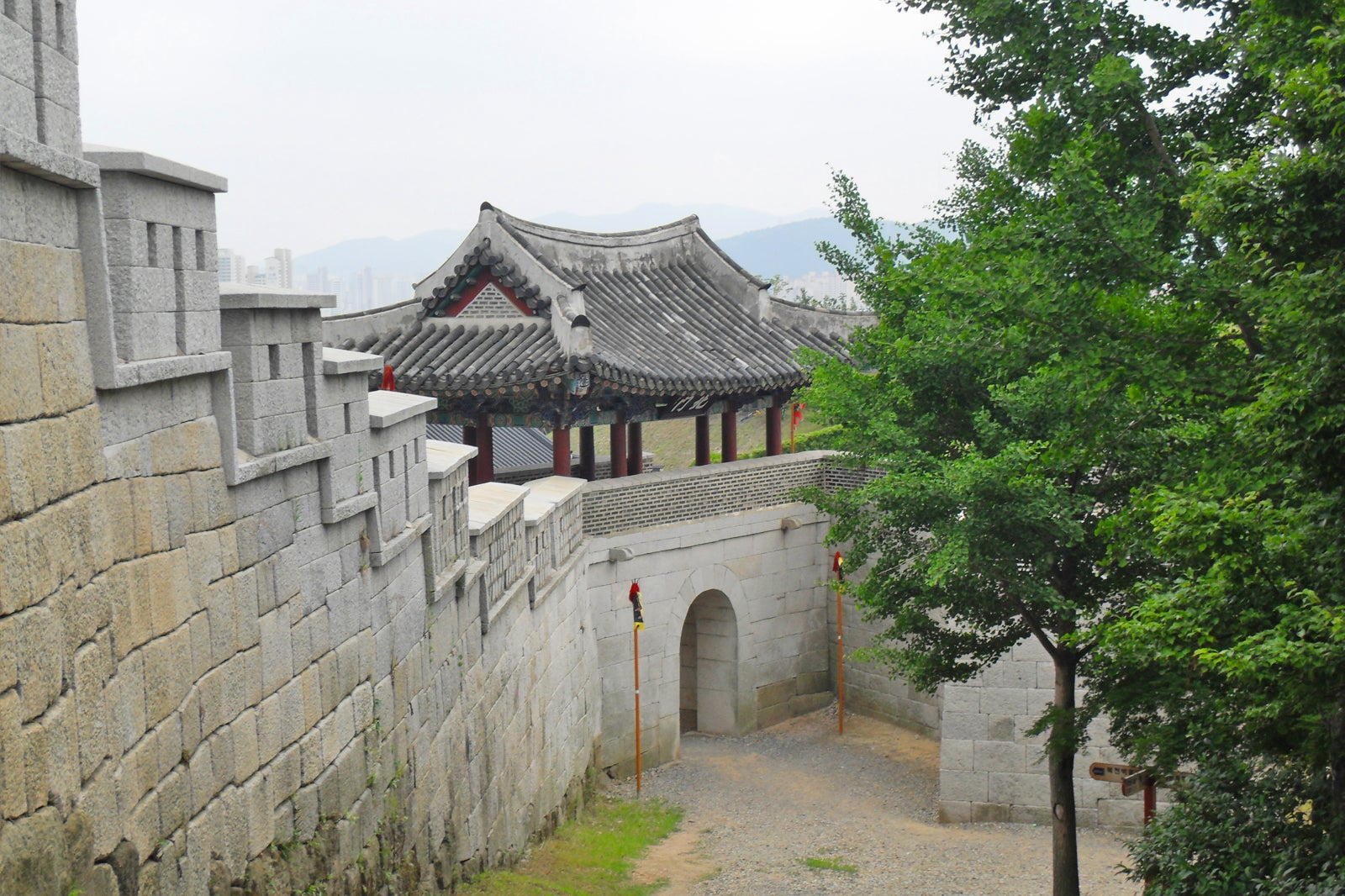 Couples
Families
Budget
Group
Dongnae-eup Fortress near the Dongnae Cultural Center is a historic site where great battles of the Japanese invasions of Korea (1592–1598) took place, one of which took the life of the Dongnae Magistrate. Soft lights illuminate the fortress walls at night, which helps make for a calm evening stroll.
In spring, spectacular cherry blossoms bloom along the walls. The Dongnae-eup Fortress History Museum and Bokcheon Museum can be found near the northern gate. Also, historical festivals are held here annually.
Location: Samnak-dong, Sasang-gu, Busan, South Korea
Open: Monday–Saturday from 9 am to 8 pm (closed on Sundays)
Phone: +82 (0)51-550-4081
photo by Oh Dong-geon (CC BY-SA 3.0) modified
4
Haedong Yonggung Temple
Behold the dragon-like temple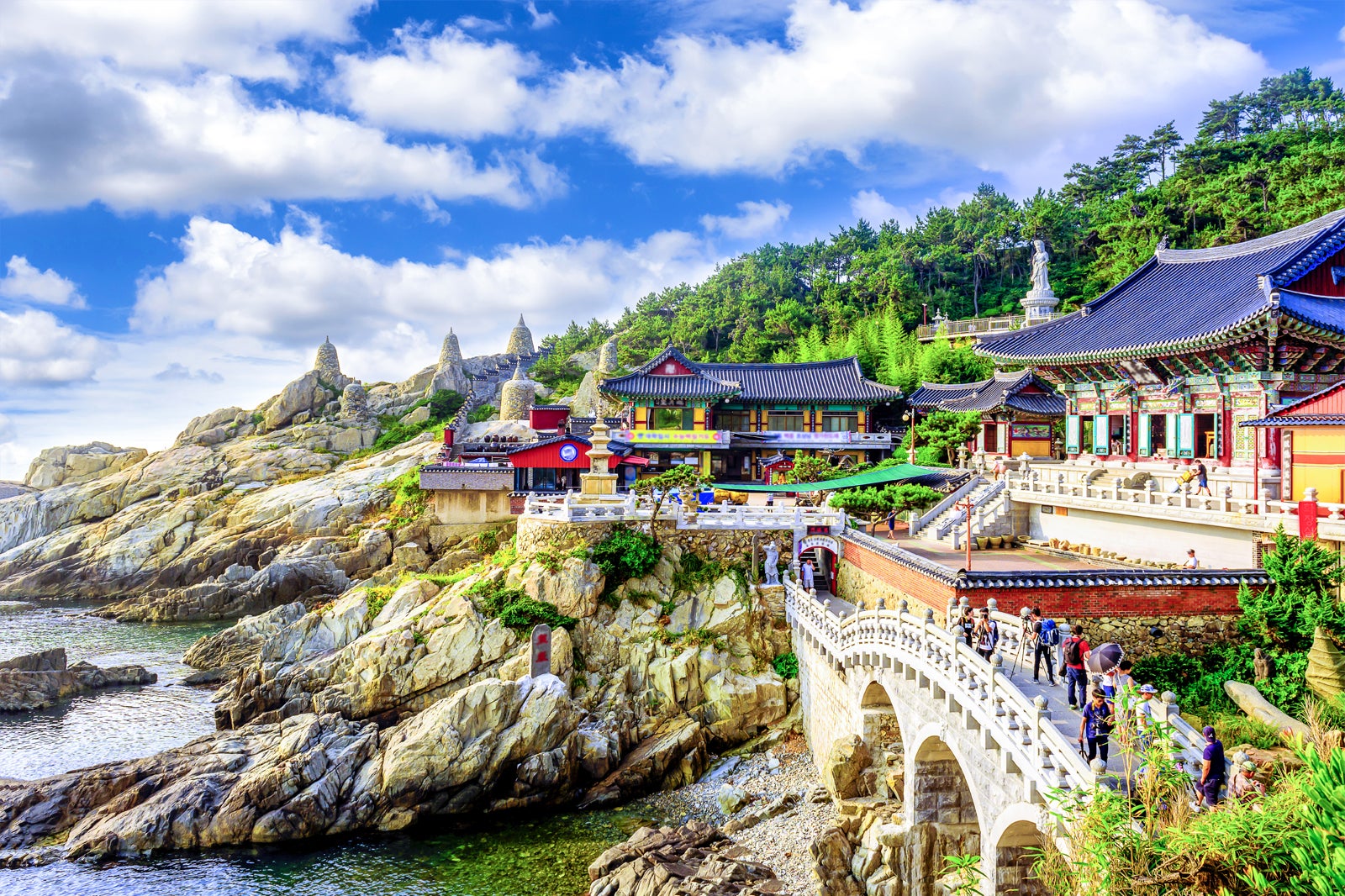 Couples
Families
History
Budget
Group
Haedong Yonggung Temple is a stunning temple that resembles a dragon and built on a waterfront cliff. Once you pass the statues of the 12 gods of the earth by the entrance, you'll be greeted by the Traffic Safety Prayer Pagoda and a Buddha statue that supposedly assists in the conception of a male child.
Walk down the 108-step staircase that grants good health to see the wonderful seascape that made this temple famous. If you're looking for something different than most temples in the mountains, this cliffside temple is the place to visit.
Location: 86 Yonggung-gil, Gijang-eup, Gijang-gun, Busan, South Korea
Open: +82 (0)51-722-7744
Phone: +82 (0)51-722-7744
5
Jagalchi Market Sky Park
A cityscape viewpoint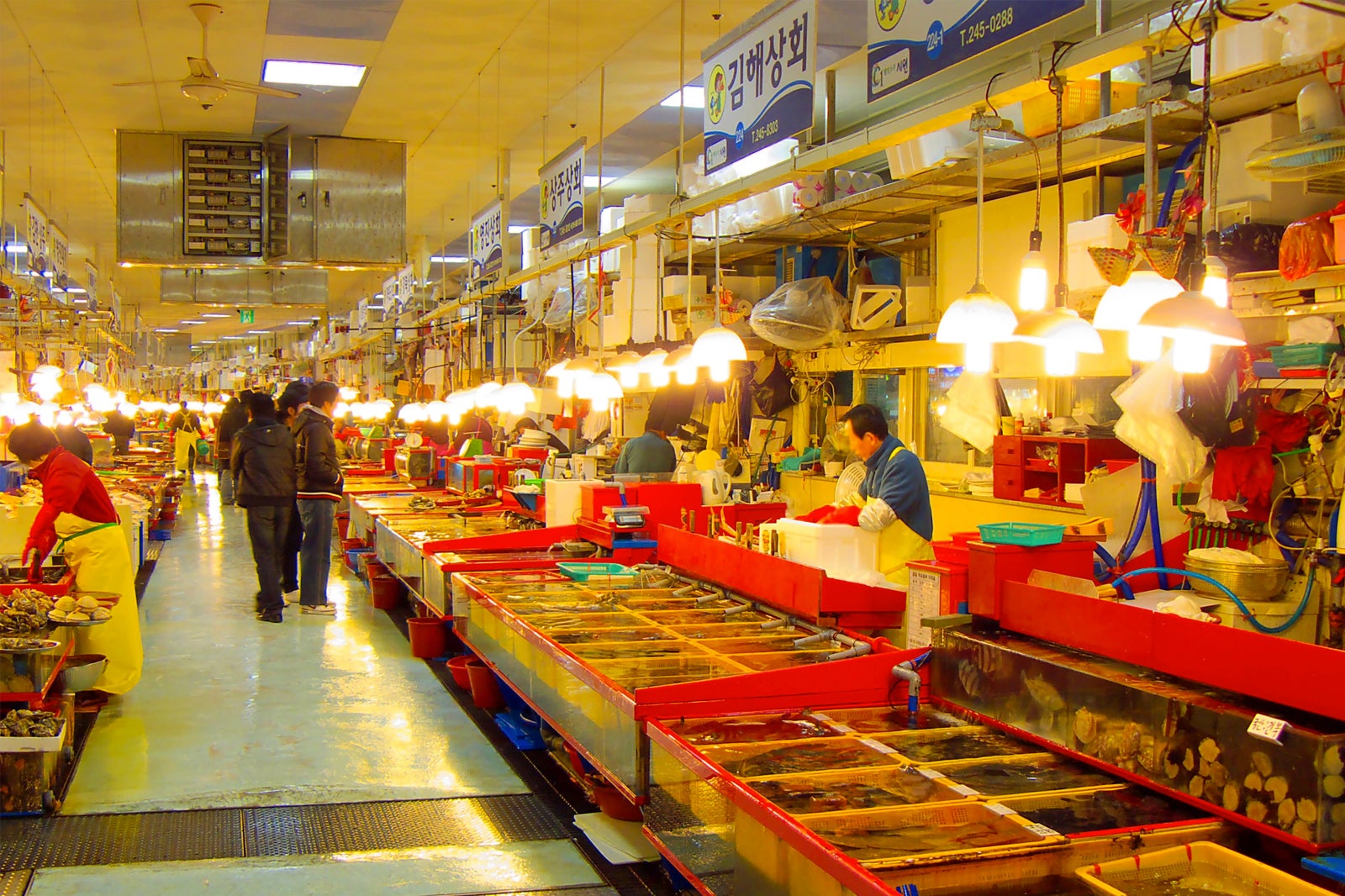 Couples
Families
Budget
Group
Get to the top of Jagalchi Market Sky Park, also known as Jagalchi Observation Deck, for a view of the bustling Yeongdo area and Yongdusan Park. Although it's not particularly big, it is decorated with pretty benches and optical art for some charming photo opportunities.
At night, the view of the shining lights of the Yeongdo area and Yeongdo Bridge are exceptionally beautiful. Visitors of Jagalchi Market can enter without a fee, so be sure to check it out if you're in the area.
Location: 52 Jagalchihaean-ro, Jung-gu, Busan, South Korea
photo by Kok Leng Yeo (CC BY 2.0) modified
6
Dongbaek Island
Take in the wonderful seascapes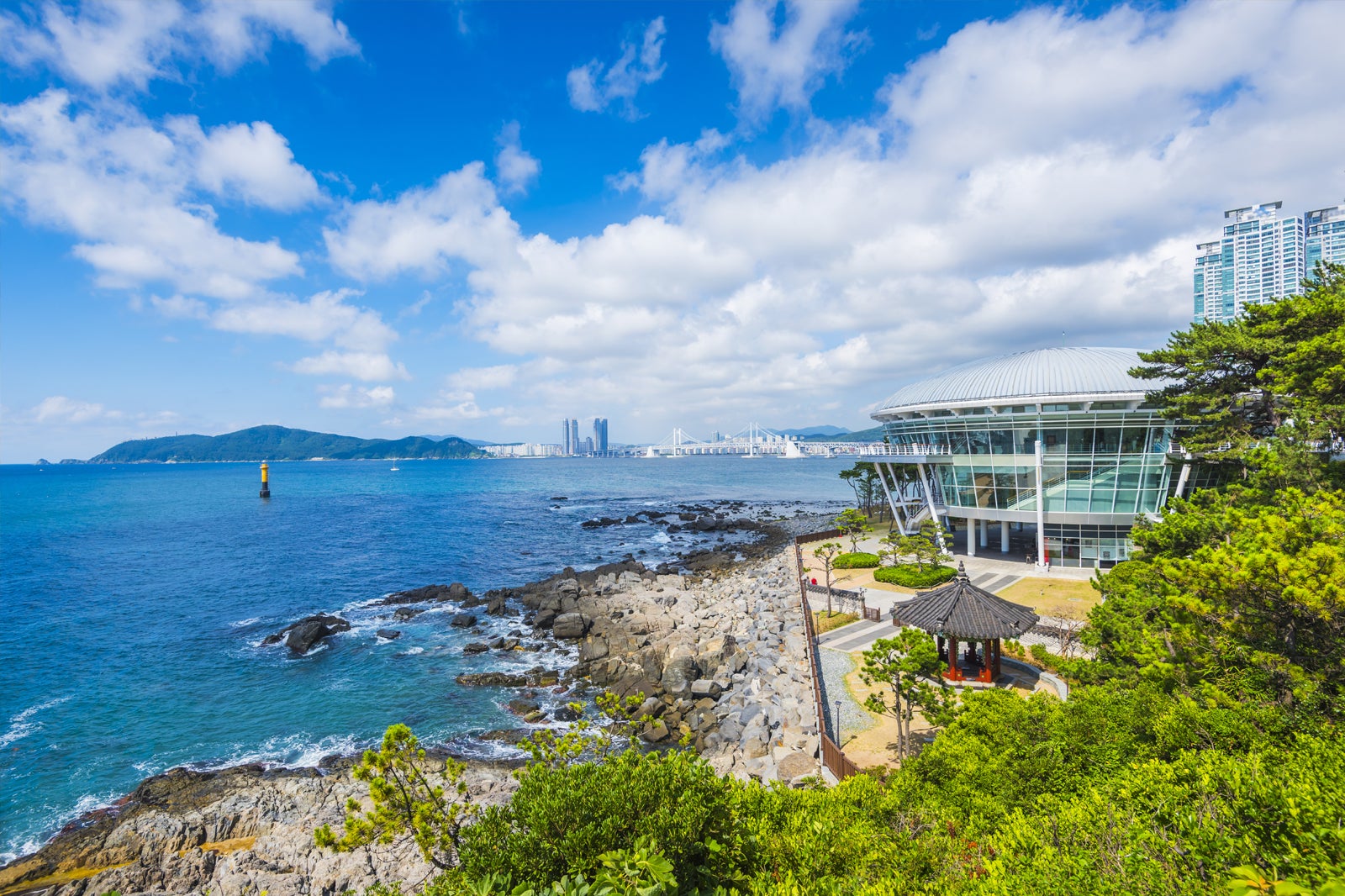 Couples
Families
Budget
Group
Dongbaek Island is a go-to for great coastal scenery in Busan. From Haeundae, famous for its colourful night-time skyline, walk along the road toward The Bay 101 and the Westin Chosun Busan to arrive at the island. Walking on the wooded, well-kept path will make you feel as if you've been transported to a different world.
Cross the suspension bridge on Dongbaek Island to arrive at a spot where you can enjoy views of the coastal cliffs, woods, and the sea at once. It's a gorgeous island both in the day and night, so don't miss it.
Location: 710-1 U-dong, Haeundae-gu, Busan, South Korea
7
Nampo-dong Gukje Market
Find street food and souvenirs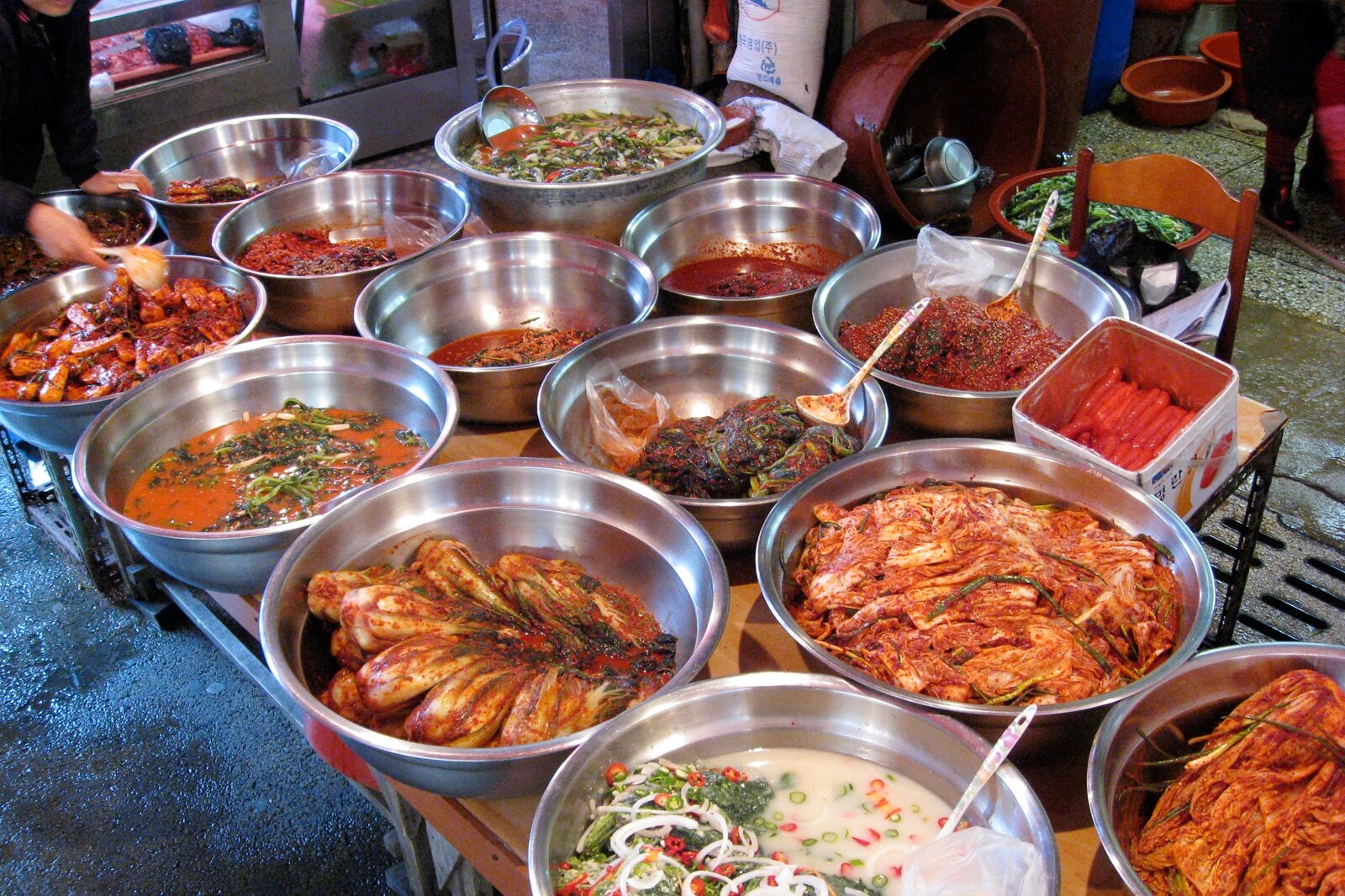 Jagalchi Market, Kkangtong Market, and Gukje (International) Market are all close enough that you can see all 3 markets in one visit. Gukje Market has a vibe that's similar to Namdaemun Market in Seoul, and each section of the market has something different on hand.
The market, which has been open since the Korean War, is currently being transformed into 609 Cheongnyeon Mall, a space geared more toward younger shoppers. The multicultural night market draws in more people than during the day, giving you a different look at the bustling market atmosphere.
Location: Sinchang-dong 4-ga, Jung-gu, Busan, South Korea
Open: Daily from 9 am to 8 pm (closed on the 1st and 3rd Sundays of the month)
Phone: +82 (0)51-245-7389
photo by taylorandayumi (CC BY 2.0) modified
8
Chungnyeol Temple
A temple of warriors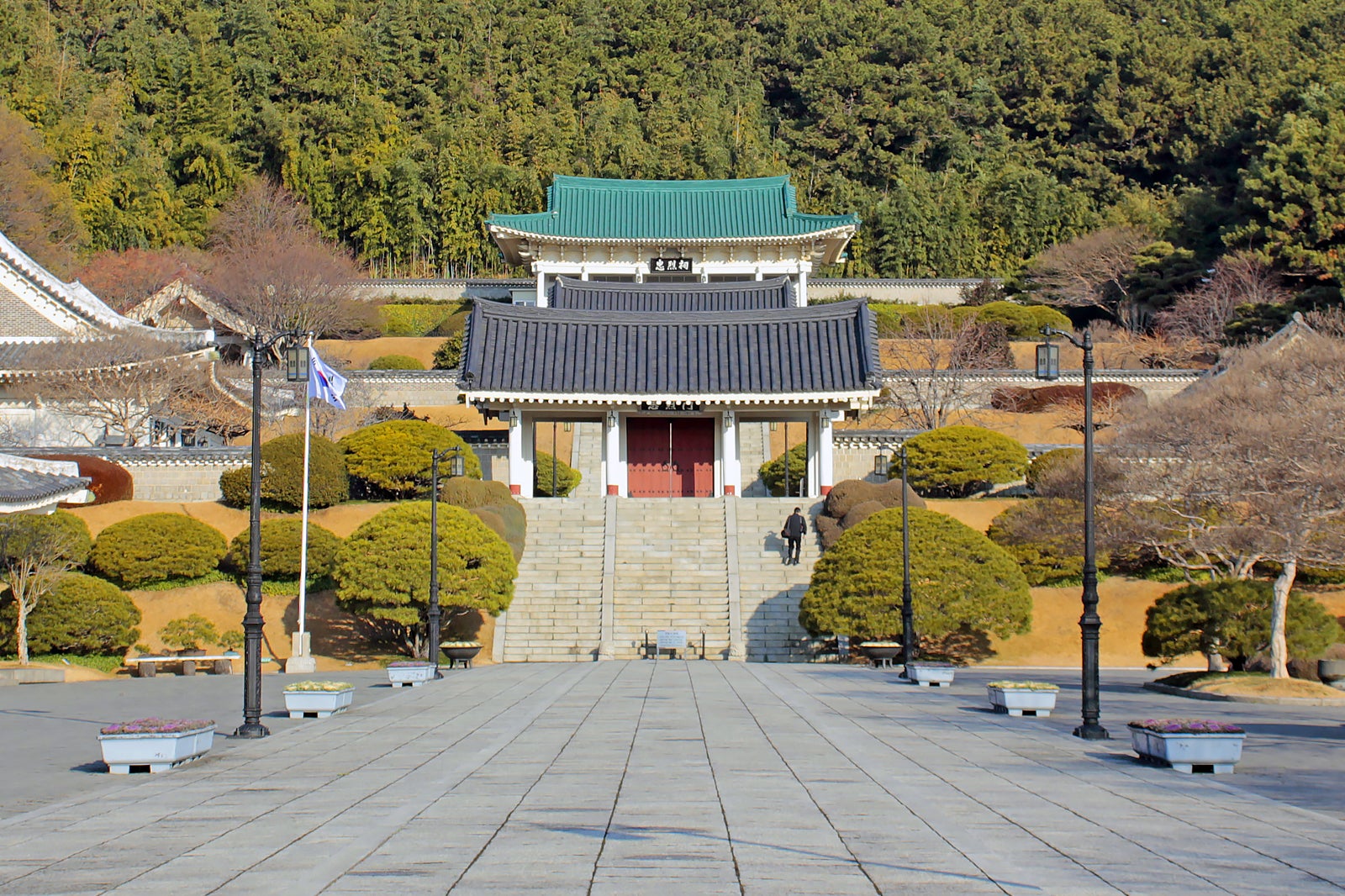 Couples
Families
Budget
Group
Chungnyeol Temple is home to the ancestral tablets of many patriots, including Song Sang-Hyeon, who died in battle against Japanese forces during the Japanese invasions of Korea (1592–1598). Upon entering the temple entrance, a straight path that leads to the main sanctum conveys a sense of openness, and the shades from the surrounding trees add to the refreshing sensation.
The views from the main sanctum are particularly nice because there aren't any tall structures, and the wooded path from the sanctum to a pond is quite remarkable.
Location: 347 Chungnyeol-daero, Dongnae-gu, Busan, South Korea
Phone: +82 (0)51-523-4223
photo by Minseong Kim (CC BY-SA 4.0) modified
9
Bokcheon Museum
Admire items from ancient tombs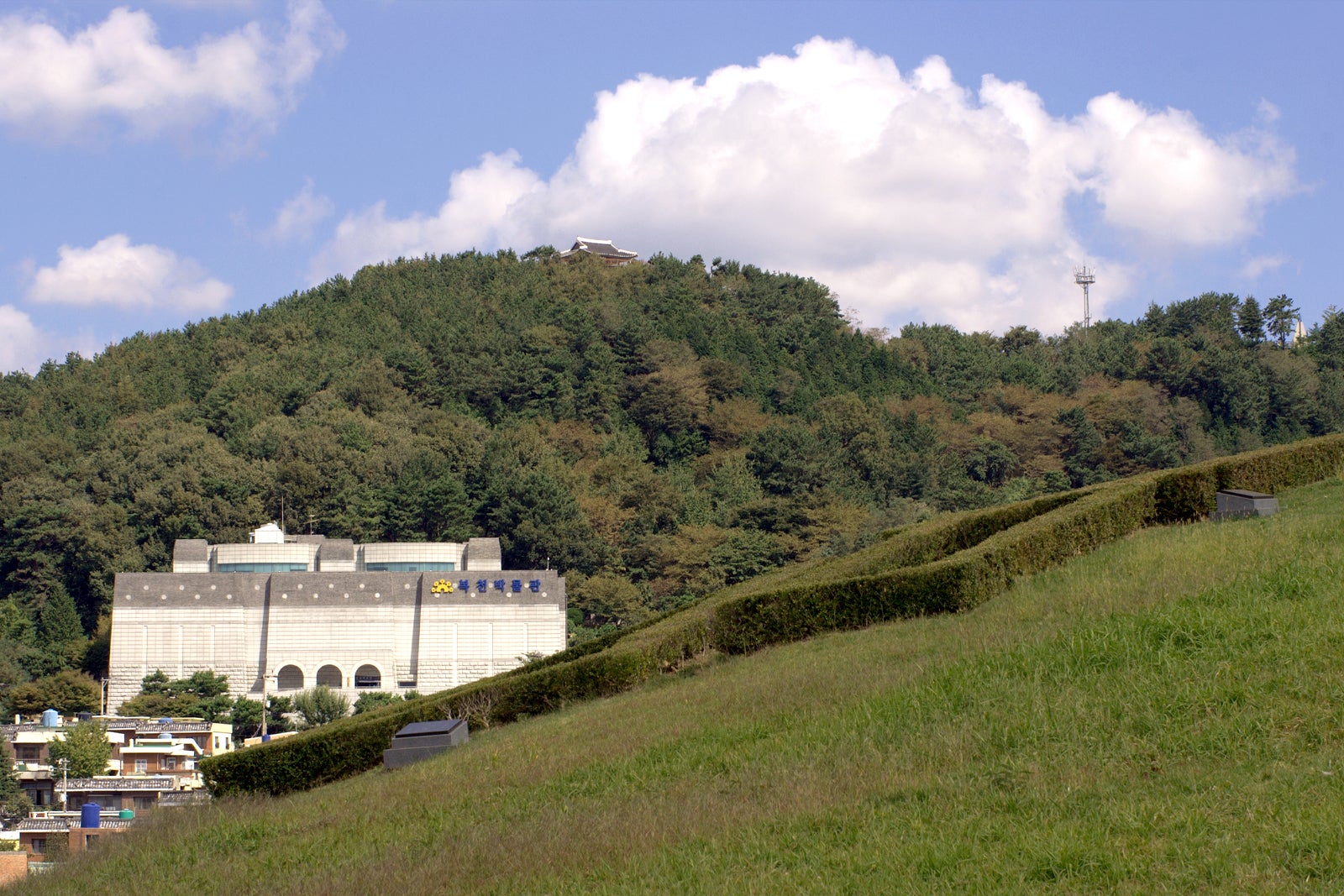 Couples
Families
Budget
Group
Bokcheon Museum was established to display various artefacts discovered in the Bokcheon-dong Ancient Tombs. The museum is large, admission is free, and there's an outdoor resting area near the entrance. The information desk will stamp your commemorative booklet, and wheelchairs and strollers rentals are also available for free.
You can book ahead for a guided tour. Be sure to check out the path to the outdoor exhibition hall and the scenery around the museum. They're known to be quite beautiful.
Location: 63 Bokcheon-ro, Dongnae-gu, Busan, South Korea
Open: Daily from 9 am to 6 pm (closed on Mondays)
Phone: +82 (0)51-554-4263
photo by Eun-sik SONG (CC BY-SA 4.0) modified
Back to top