10 Best Outdoor Adventures in Albufeira
Awesome Outdoor Things to Do in Albufeira
There are plenty of awesome outdoor things to do in Albufeira, a southern Portuguese town that's beloved among partygoers and sun-seekers around the world. While most come here for its gorgeous beaches, the town and its immediate surroundings also offer enchanting reserves and exotic wildlife, as well as a host of family-friendly outdoor activities.
We have compiled some of the best outdoor adventures you can experience in the south of Portugal. From biking across the Algarve to discovering the world under the sea surface, there's plenty of adventure to be had in Albufeira throughout your trip.
1
Dolphin and whale watching tours
Discover the porpoises of the Atlantic Ocean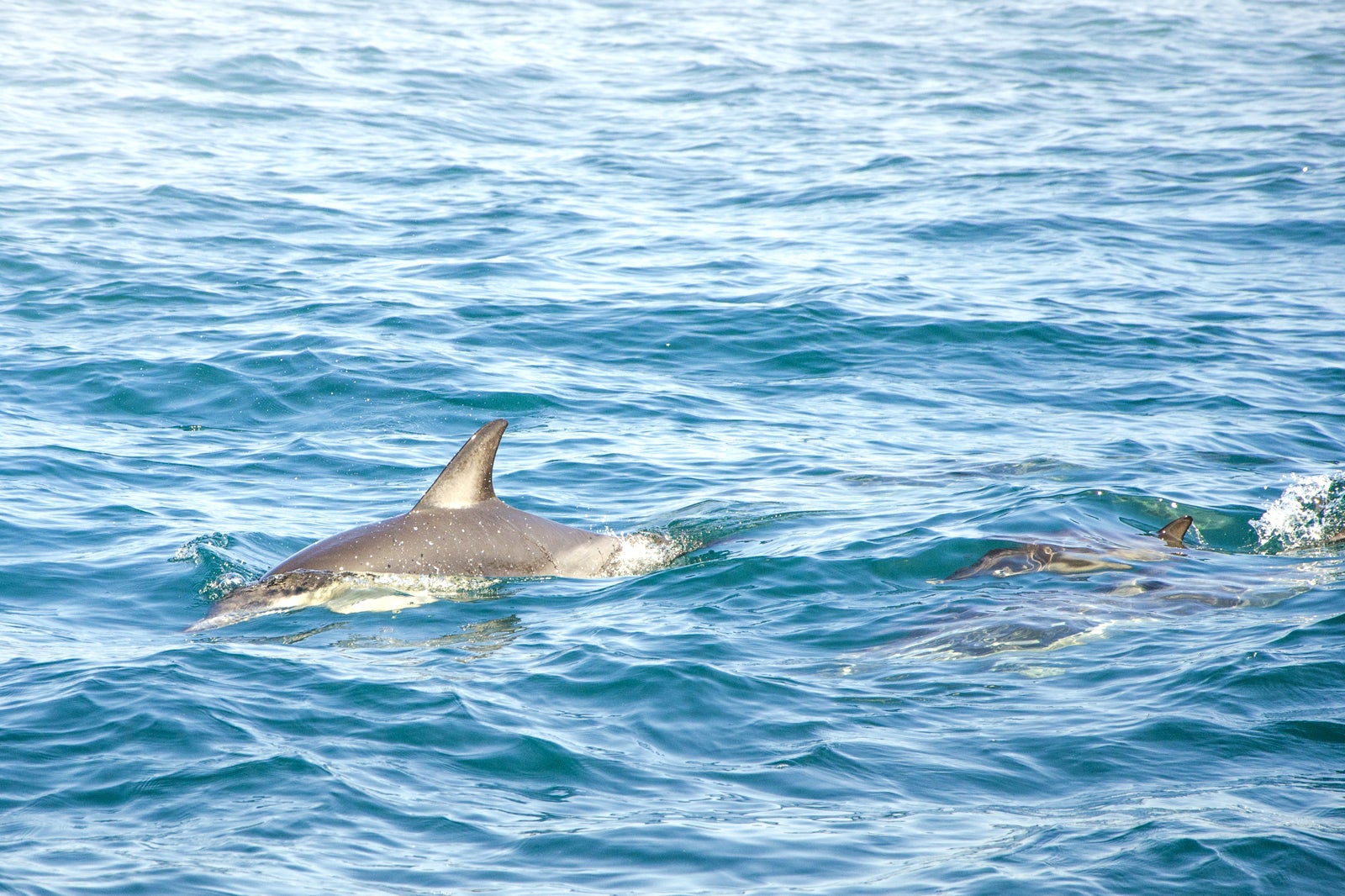 The waters around Albufeira are teeming with wildlife, and you don't necessarily need to dive under the surface to encounter some exotic animals. Several species of whales and dolphins are attracted to the warmer parts of the Atlantic Ocean. There's a high chance of spotting the common dolphin, bottlenose dolphin, and the minke whale. If you're lucky, you might even spot killer whales during your tour.
Dolphin and whale watching tours depart from Albufeira's harbour and usually last for 2.5 hours. Visit in the summer when most species move in close to the town, away from the colder waters of the Atlantic Ocean. Many tour operators include a visit to the Benagil Caves on the same day.
2
Sea kayaking
Enjoy a workout along the coastline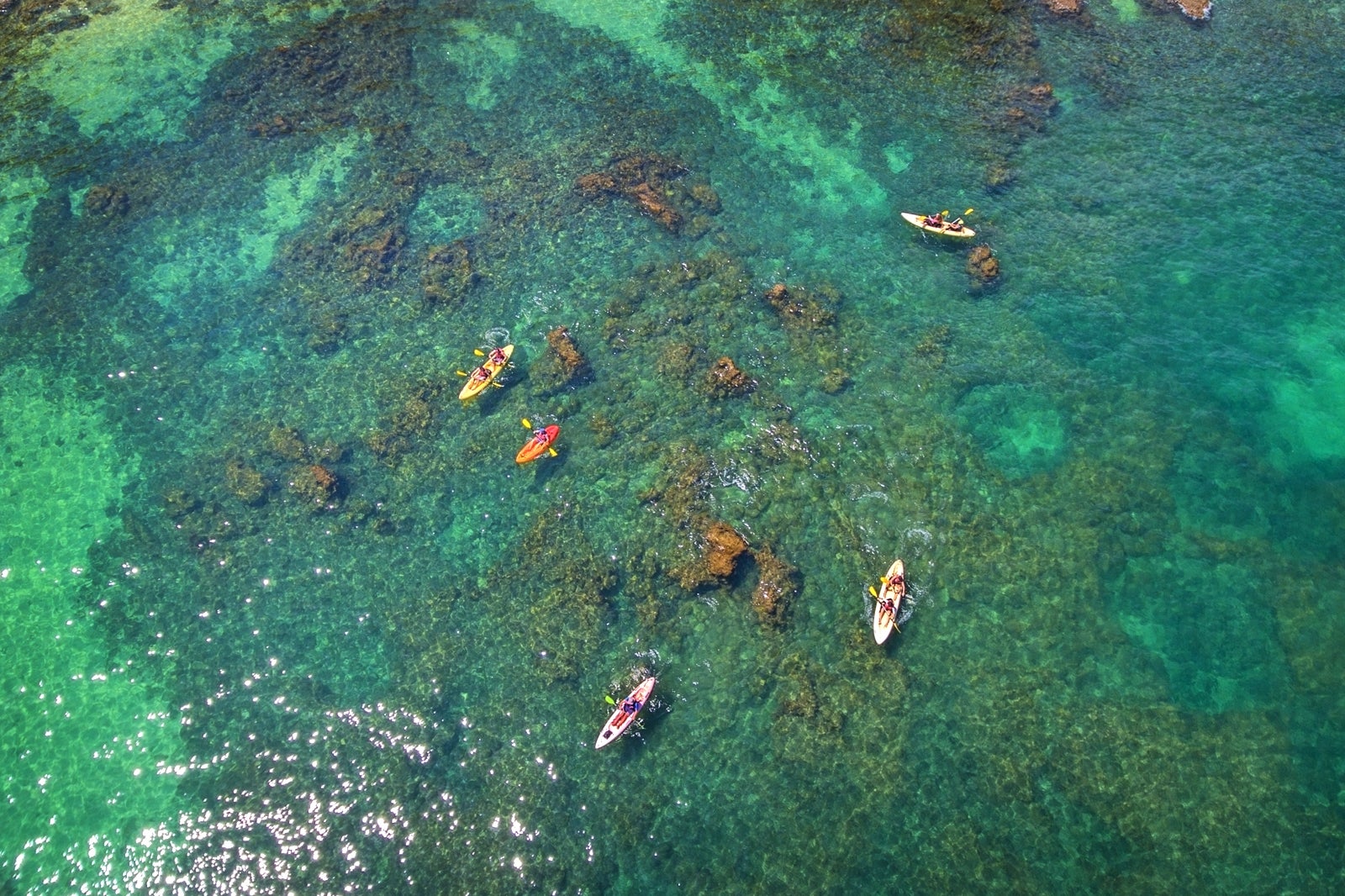 Sea kayaking is one of the best ways to explore the beautiful coast of the Algarve. One of the most stunning locations to visit by sea kayak is Praia de São Rafael, a fantastic beach surrounded by limestone cliffs and coves. The seemingly out-of-this-world scenery can be seen from the waters around Praia do Arrifão, which is surrounded by rugged rock formations.
You can rent a single or duo kayak – if you want to paddle out on your own – or opt for an organised tour to join like-minded travellers. We highly recommend joining an organised kayak tour if you're travelling with children – you get a briefing and travel to spots with calm waters, making it easy for the little ones to paddle.
3
Mountain biking
Release your energy on the top tracks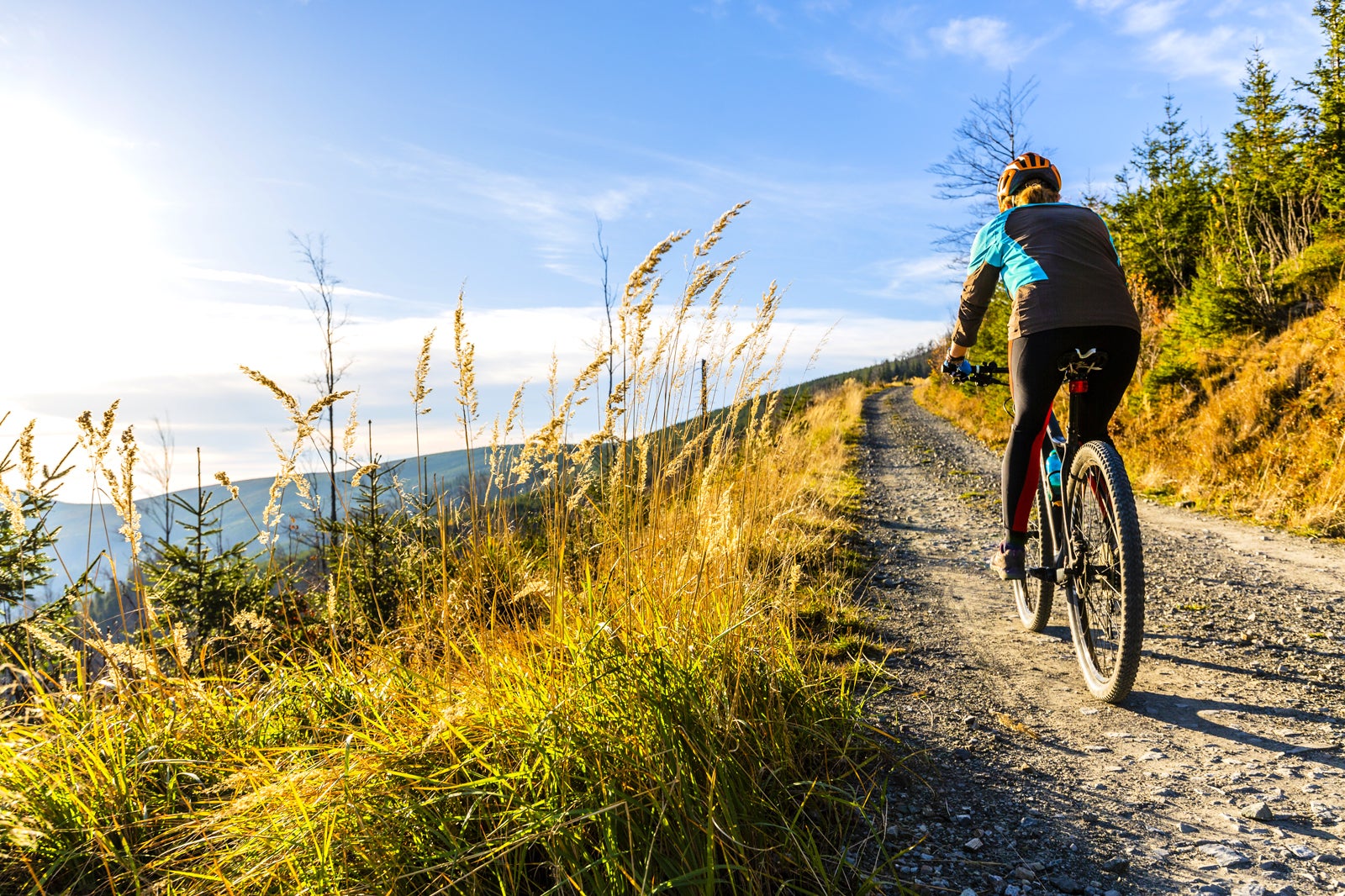 With miles of sand dunes along the coasts, as well as inland hills and forests, Albufeira is an excellent destination for mountain biking enthusiasts. Dirt roads, forest trails, and modest hills provide bikers with plenty of opportunities to test their skill and endurance. You can find several tour offices and bike dealers renting out bikes in the centre of Albufeira.
Fonte Benemola and Rocha da Pena are bike-friendly nature parks near Albufeira. For the most breathtaking coastal views, follow the Ecovia do Litoral – this long-distance trail stretches from the Western Algarve to the Spanish border, taking around 18 hours to complete.
4
Skydiving
See the Algarve from a different perspective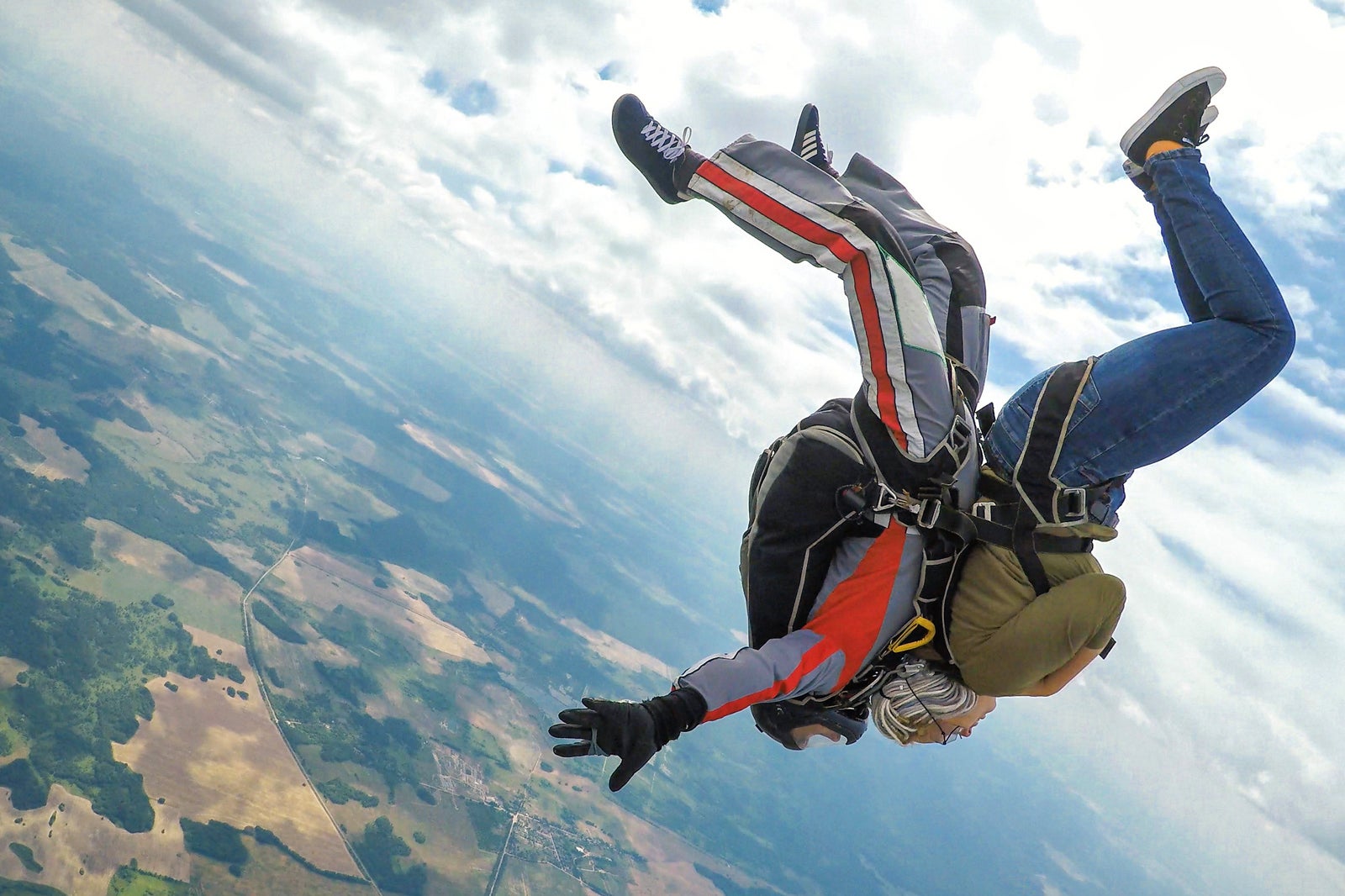 Skydiving is a fantastic alternative to exploring the region around Albufeira. From a height of thousands of metres, you get a real impression of the forests, rocky coast, and the deep blue Atlantic Ocean.
After a short flight takes you to an altitude of 4,572 metres, you'll jump off and soar high above the rugged landscapes of the Algarve region. If you're not an experienced skydiver, you can do a tandem jump with an instructor. Fun extras include video and photo services, which lets you to relive this exciting adventure over and over again. Keep in mind that the minimum age for skydiving is 16 years.
5
Scuba diving
Travel to an undiscovered world
Under the surface of the Atlantic Ocean, a unique ecosystem can be explored by scuba diving. Several dive schools operate excursions across the Algarve, where an abundance of aquatic animals and vibrant corals live. Some of the alluring creatures you might encounter during a dive are octopuses, stingrays, moray eels, and nudibranchs. Dive spots in the area include coral reefs, artificial reefs, and sunken ships.
There are several Albufeira-based diving schools, such as Easydivers and Indigo Divers. If you're new to diving, you can join introductory lessons and courses to get yourself familiar with the techniques.
6
Bird watching in Salgados Lagoon
Spot rare birds in the freshwater wetlands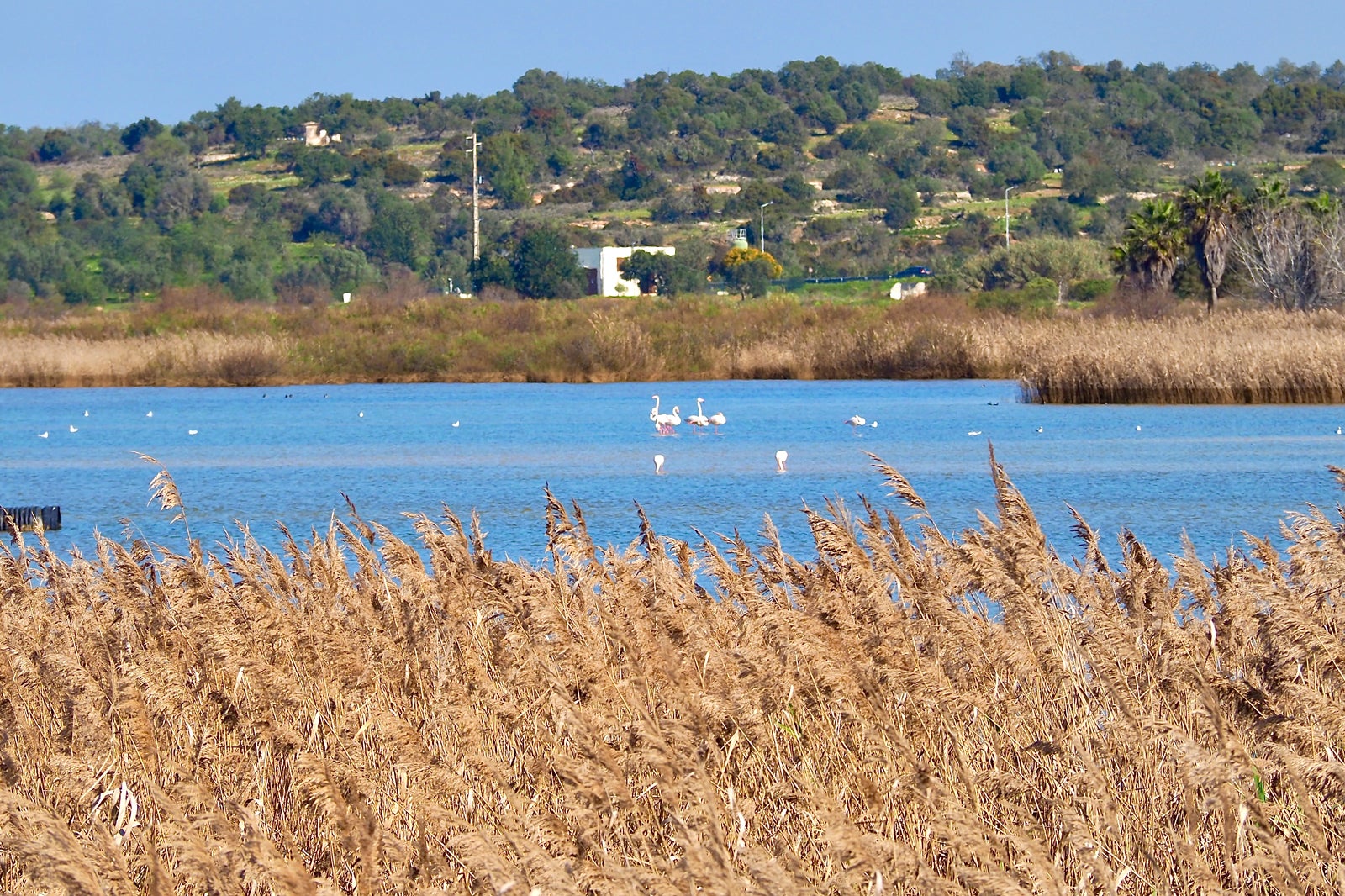 Salgados Lagoon is one of the most important – and vulnerable – wetlands in the Algarve. You can follow a walking trail that runs around the lagoon, where you can observe the birds of this wetland. Native species include white storks, black-winged stilts, and red-crested pochards.
When you follow the trail inland, you'll see non-aquatic birds like bee-eaters in the trees. It's worth going here at any time of the year, as numerous migratory birds come and go by the seasons. The trailhead lies around 10 km west of Albufeira, which makes this place a tranquil getaway from the town.
Location: 8200-424 Guia, Portugal
Open: 24/7
7
High Ropes Albufeira
Crawl and clamber around this fun park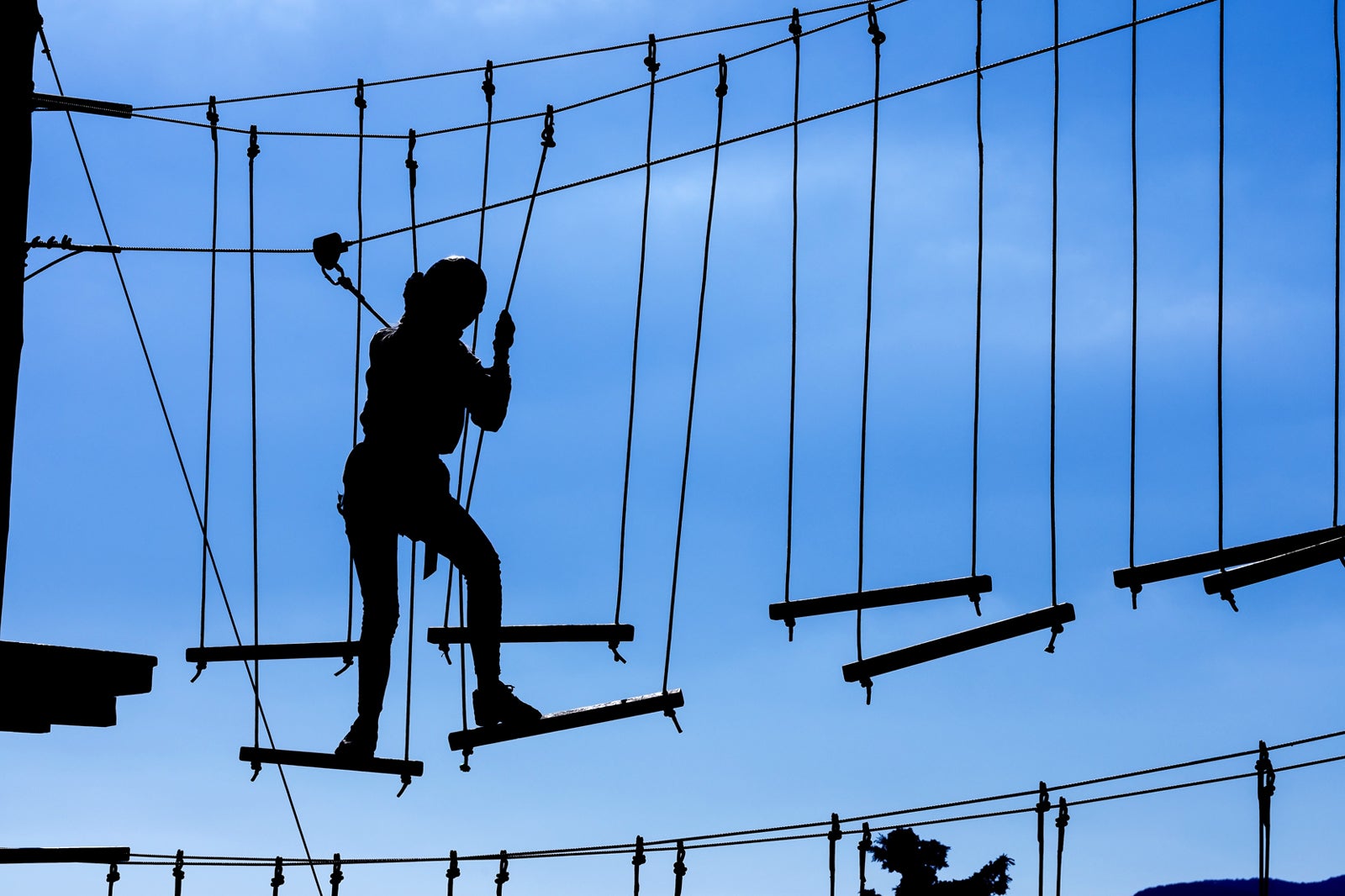 High Ropes Albufeira is excellent for families with active children in the Algarve region. Located in a jungle, this adventure park lies east of the town centre, offering plenty of ziplines, rope bridges, and rope nets. You can choose from 3 different courses – Curious, Adventurous, and Fearless. While you don't have to be super fit to take on any of its courses, the most advanced option is only open to those over the age of 12.
High Ropes Albufeira has a paintball arena as well for those who want a different kind of action. The staff is also always around to guide you, ensuring a safe but fun experience throughout your visit.
Location: Estr. de Santa Eulália 215, 8200-381 Albufeira, Portugal
Open: Daily from 2 pm to 6 pm
Phone: +351 913 185 782
8
Benagil Caves
Revel in this wonder of nature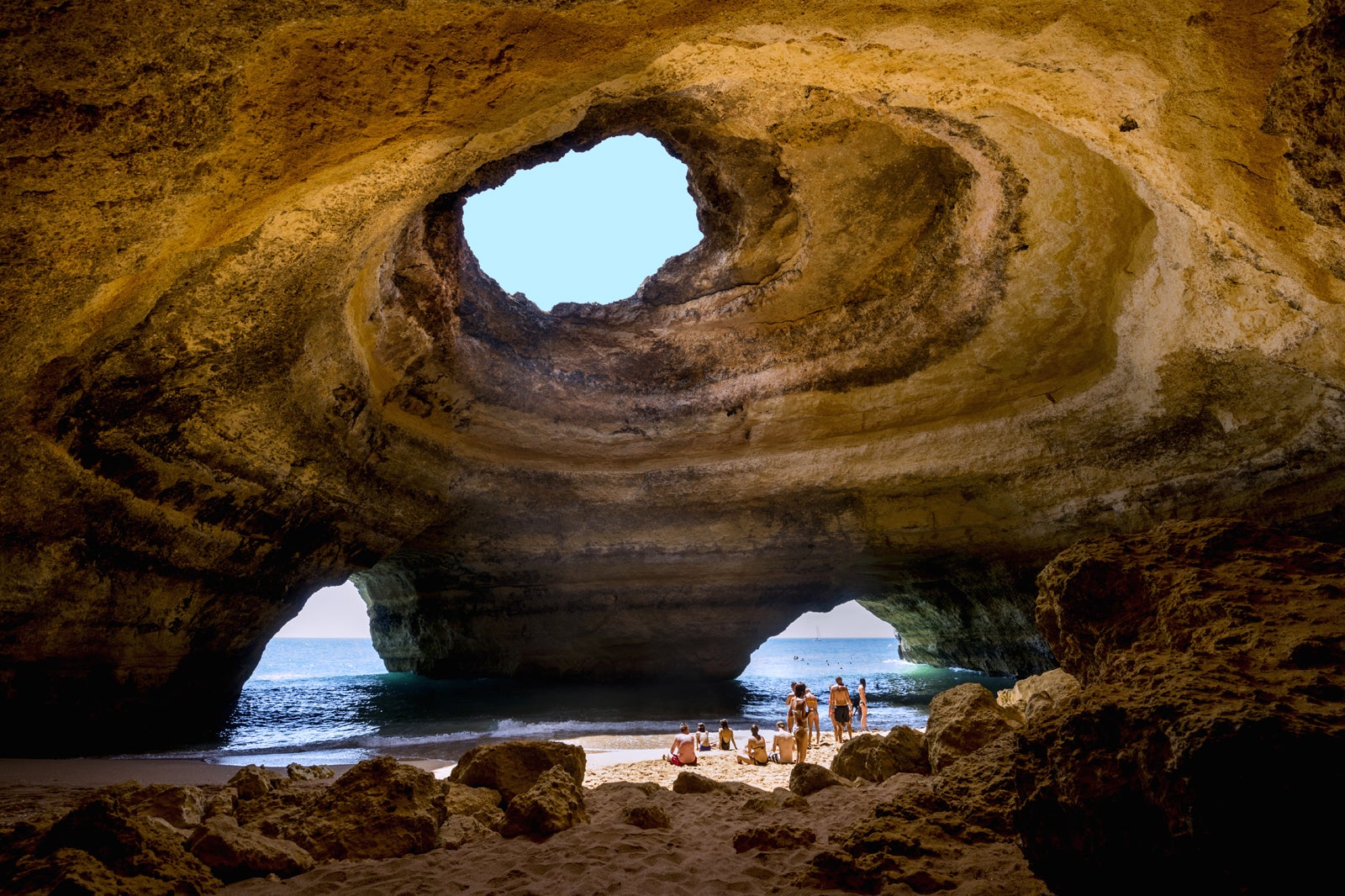 The Benagil Caves is an iconic rock formation that looks a bit like a majestic cathedral with a hole in the ceiling. With 1 side in the ocean and the other on the beach, it's an excellent location to enjoy a picnic with your loved ones, take your best travel photos, and swim in the clear waters.
You'll find several walking tracks around the cave, some of which lead to Praia da Corredoura and Praia da Marinha – both beaches are surrounded with towering cliffs. Benagil Cave is in Lagoa, around 20 km west of Albufeira.
Location: Lagoa, Portugal
Open: 24/7
9
Hiking
Discover the diverse landscapes of the area by foot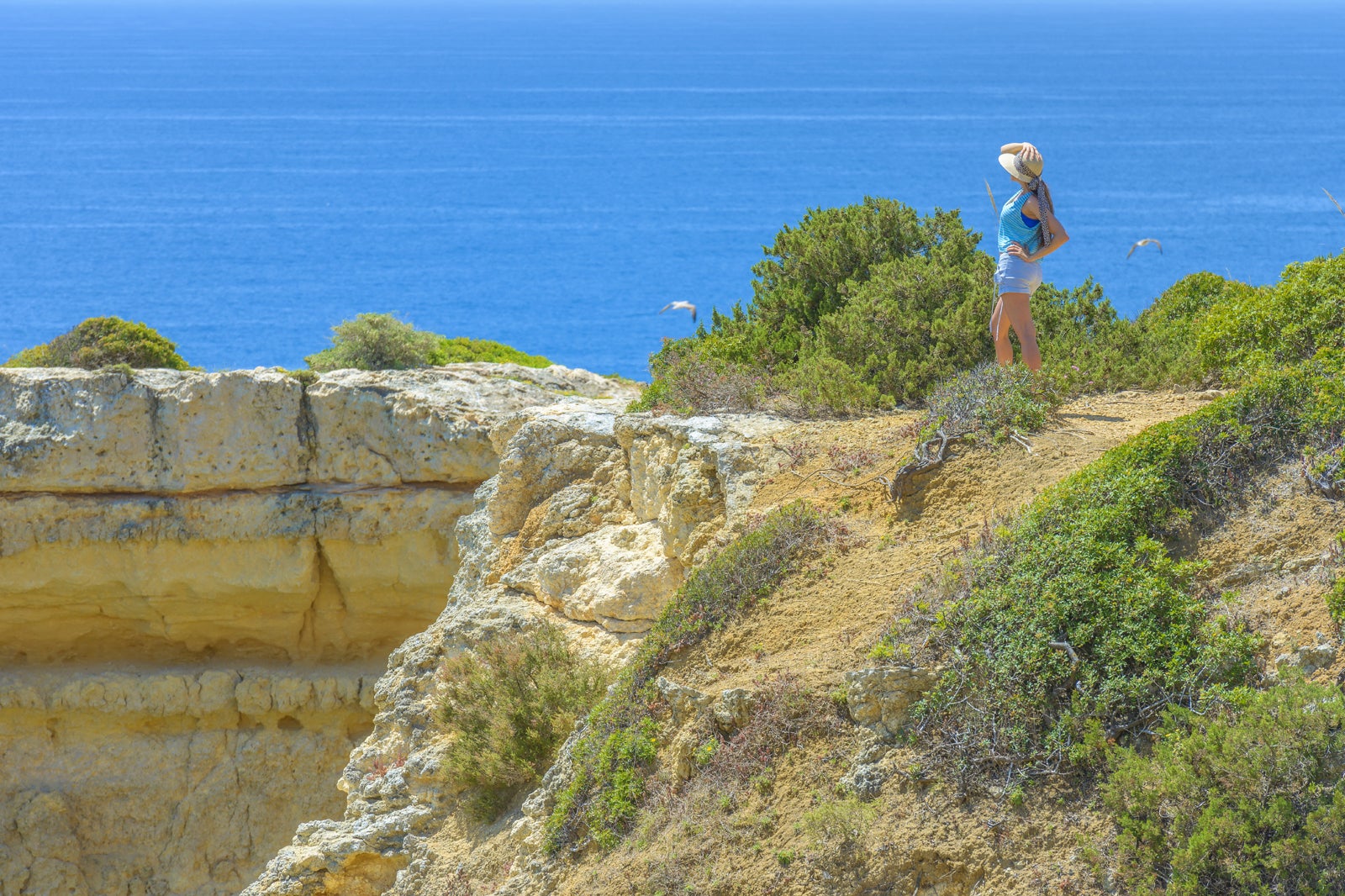 Albufeira has plenty of hiking opportunities, from trails over coastal cliffs to tramping routes in the interior of the Algarve. Hiking is an excellent way to immerse yourself in nature, enjoy the scenery and stay fit at the same time. A popular route runs from Praia de Arrifes to Praia do Castelo, passing by no less than 8 beaches over a length of just 3 km.
If you want to explore the region's more rural parts, consider the Amendoeira Hiking Trail – an 8-km-long trail with views of a peaceful stream and exotic wildlife. You can also hike the Rocha da Pena Trail, which allows you to spot native flora and pass volcanic rock walls.
10
Surfing
Ride the waves from nearby beaches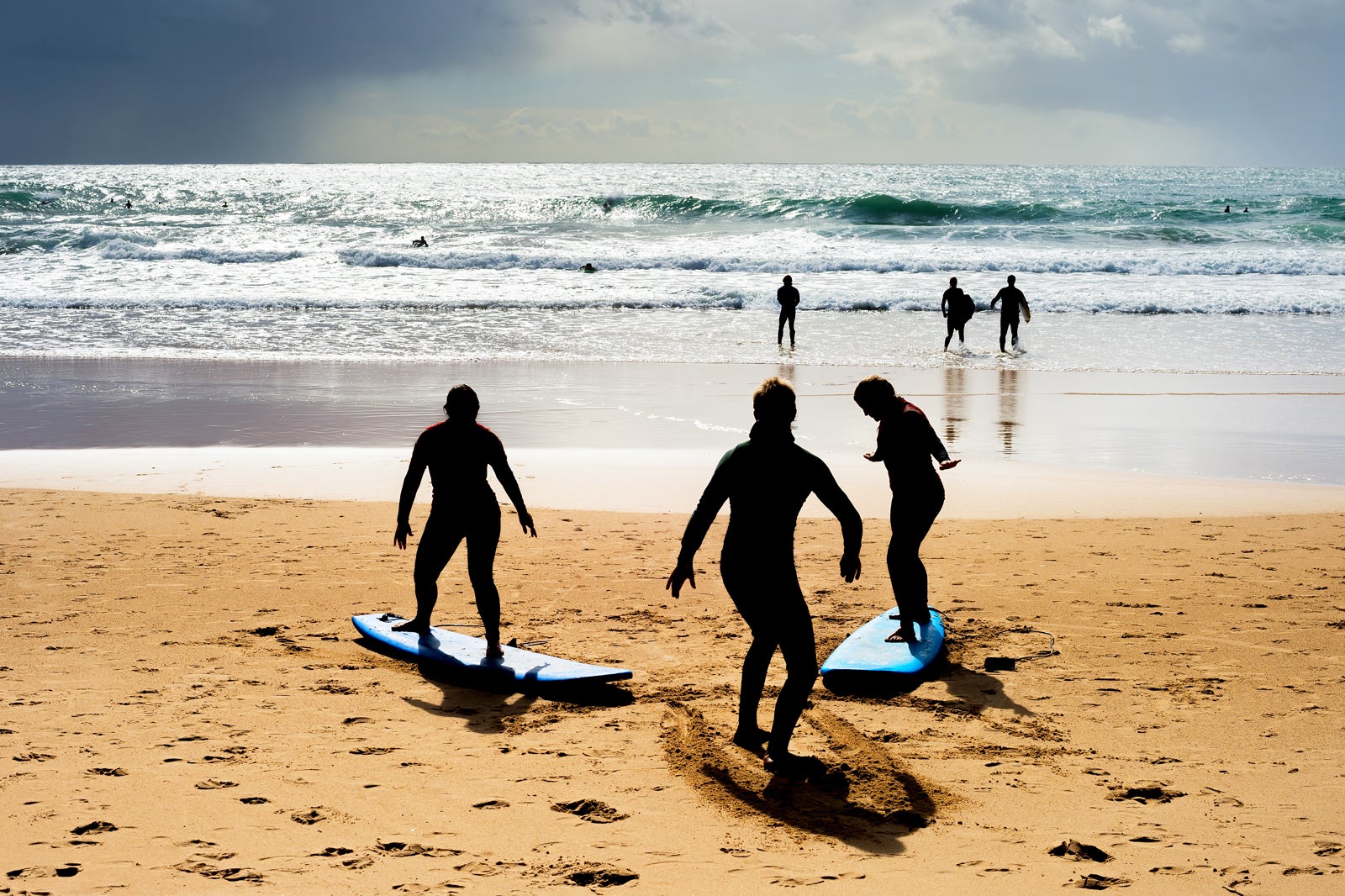 Albufeira – and the Algarve in general – is an appealing surf destination for beginners and pros. A popular surf beach is Praia Falesia, which offers decent waves throughout the year. Experienced surfers should visit during the winter months, when the waves are bigger and tourist crowds are smaller.
Another excellent surfing spot in the region is at Praia da Rocha, which is only a short drive away from Albufeira. It's best to surf early in the morning when crowds are quite scarce. Around these beaches, you'll find surf shops offering lessons and rental gear.
Back to top