Srinagar's Top Attractions for Fun and Relaxation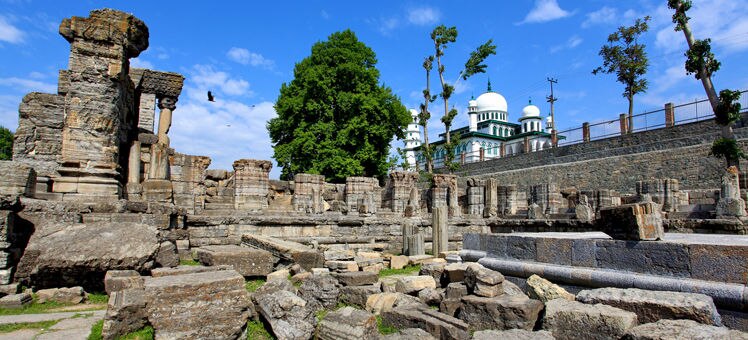 Tranquil lakes framed by mountain peaks, ancient temples, and elaborate Mughal gardens are among Srinagar's top sights. The city and its surrounds offer exciting adventures and fantastic photo opportunities, so take your time to explore. Trekking in the Himalayas, staying on a houseboat, and haggling at markets selling Kashmiri handicrafts are just a few of its attractions.
Serene Dal Lake
Traditional houseboats and surrounding mountain peaks are reflected in the still waters of Dal Lake, one of Srinagar's most popular sights. Wooden boats, called shikaras, can be hired for tours around floating gardens, famed flower and vegetable markets, restaurants, and shops. This romantic lake offers respite during India's summer heat, as once discovered by the Mughals and the British, and is now attracting increasing numbers of tourists to Srinagar again.
Colorful Mughal gardens
Srinagar's largest garden, Shalimar Bagh, was built by Mughal Emperor Jahangir for his wife in 1619. The garden is best visited in fall and spring, when the leaves of the stunning Chinar trees turn golden. On the top terrace you'll see the inscription, "If there is a paradise on earth, it is here." Nearby, terraced Nishat Bagh has views of Dal Lake. The Fairies' Abode, a 20-minute drive away, was built in the 17th century on the ruins of a Buddhist monastery at the top of Zabarwan mountain range.
Shalimar Bagh, Shalimar, Rainawari, Srinagar, Jammu and Kashmir 190025; Website: Shalimar Bagh

Nishat Bagh, Nishat, Srinagar, Jammu and Kashmir; Website: Nishat Bagh
Exciting day tours
Guided tours are popular with many travelers visiting "Kashmiri Venice." Kashmir Valley Travels Day Tours are an experienced operator guiding small groups and individuals on treks, safaris, and tours of Srinagar. Kashmir Treks, another reputable tour company, offers guided trekking for adventure travelers seeking a distinctive experience of the region. They have various packages which can be tailored to suit your needs.
Kashmir Valley Travels Day Tours, Main Road Dalgate, near Dalgate bus stop, Srinagar, Jammu and Kashmir 190001; Tel: +91 990 6735701; Website: Kashmir Valley Travels Day Tours

Kashmir Treks, Sofi Complex, Beehama Chowk, National Highway 1D, Ganderbal, Jammu and Kashmir 191201; Tel: +91 194 214 5181, +91 990 642 1796; Website: Kashmir Treks
Hot-air balloon rides
From Zabarwan Park you can take a hot-air balloon ride over the city. On clear days, panoramic views, stretching to Pir Panjal mountain range, make it an inspiring choice for travelers. It's a wonderful opportunity to experience a bird's-eye view of Dal Lake and its floating market, as well as surrounding temples, and cerulean skies.
Relaxing Kashmiri day spa
If color healing, massages, yoga, aromatherapy, and Ayurvedic treatments are in order, Srinagar's Rejuve Spa should be on your itinerary. An award-winning spa in sophisticated surroundings, it also has an indoor pool, and a health club that you are welcome to use before or after treatments. There are also 3 highly rated restaurants in the grand hotel's grounds, which means you won't have to go far for a delicious meal.