Cowboy Bars, Cocktail Lounges, and Old West Entertainment - Jackson Hole Nightlife
Cowboy Bars, Cocktail Lounges, and Old West Entertainment - Jackson Hole Nightlife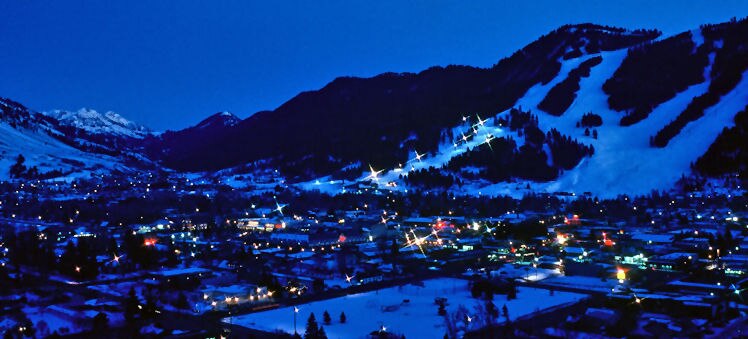 It may be widely regarded as an outdoorsman's paradise, but Jackson Hole also offers an exciting lineup of social activities after sunset. You can head to downtown Jackson and kick up your heels at a cowboy bar, sip cocktails at a fireside lounge, or sample local beers at a brewpub. For a slice of authentic local culture, you can head to the rodeo or a watch musical at the playhouse.
Country music and dancing
Downtown Jackson is where you'll find spirited country and western bars complete with live music, line dancing, and real cowboys. One of the most popular spots is Million Dollar Cowboy Bar where the barstools are made from horse saddles and single barrel Jack Daniel's whiskey flows freely. A few steps away you'll find Silver Dollar Bar & Grill. You can enjoy cocktails at the unique bar embedded with U.S. silver dollar coins and get down to the local bluegrass band that brings in lots of locals.
Million Dollar Cowboy Bar
A local landmark characterized by a vivid neon exterior, this bar features live music, and on most nights you can dance, too. It is set across from the town square and sits on the site of Jackson's first commercial building.
25 North Cache Street, Jackson 83001Tel: +1 307 733 2207
Million Dollar Cowboy Bar website
Silver Dollar Bar & Grill
Located in the historic Wort Hotel, the Silver Dollar blends a warm, western atmosphere with classic cocktails and tasty snacks. You can enjoy live music 3 nights a week, including local favorites like bluegrass band One Ton Pig.
50 North Glenwood Street, Jackson 83001. Tel: +1 307 733 2190
Silver Dollar Bar & Grill website
Cocktail lounges and brewpubs
For an evening of creative drinks and easy conversation, you can head to a cocktail lounge or brewpub. Ascent Lounge at Four Seasons Resort Jackson Hole serves specialty cocktails and small plates in an elegantly rustic setting, while The Rose offers classic cocktails prepared with bitters and fresh citrus. If you're a craft beer aficionado, you'll want to head to Snake River Brewing, also known as "Jackson's living room," for organic brews, or grab an award winning IPA at Thai Me Up Brewery.
The Rose
Steps from Jackson Town Square and housed inside the Pink Garter Theatre, this classic cocktail lounge serves local Wyoming beers, upscale eats, and shareable bowls of punch, like Sioux City, which includes aged rum, rye whiskey, and sarsaparilla.
50 West Broadway Avenue, Jackson 83001. Tel: +1 307 733 1500
The Rose website
Snake River Brewing
Everything at Snake River Brewing is handcrafted, from the beers to the selection of sandwiches, pizzas, and pastas. You can head here with the whole family to kick back and relax like a real Jackson local.
265 S. Millward, Jackson 83001. Tel: +1 307 739 2337
Snake River Brewing website
Country and western entertainment
To get the full Jackson Hole experience, you'll want to immerse yourself in the local culture. On summer nights, residents and visitors alike flock to the downtown rodeo grounds to take in authentic cowboy entertainment like bull riding, calf roping, and barrel racing. If you're looking for an evening of classic theatrical amusement, you can buy tickets for a show at the historic Jackson Hole Playhouse. The theater offers a year-round schedule of western-themed productions, including an annual Christmas show and Old West classics like Seven Brides for Seven Brothers.
Jackson Hole Playhouse
Housed in a brightly painted building constructed in 1916, this Wild West-style playhouse is a 2-minute stroll from Jackson Town Square. Of particular note are the energetic productions and tasty, pre-show dinners served by singing waiters.
145 West Deloney Avenue, Jackson 83001. Tel: +1 307 733 6994
Jackson Hole Playhouse website