Family Fun in Asheville - From French Broad River to Riding Trails
Family Fun in Asheville - From French Broad River to Riding Trails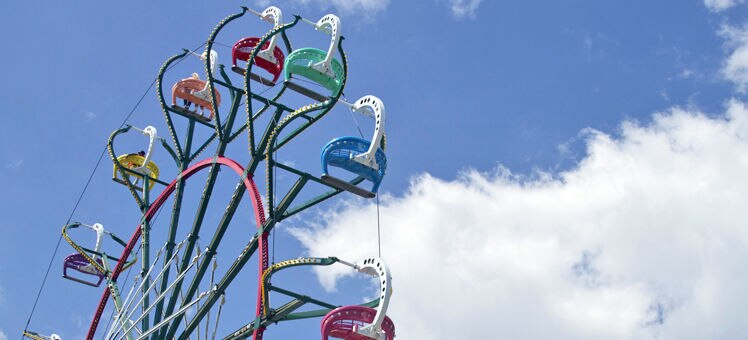 A top attraction for families visiting Asheville is the abundance of outdoor activities, and their setting in outstanding natural scenery. Go whitewater rafting for adventure, or tube lazily down the French Broad River, or hike up one of the many local mountain peaks. Biltmore Estate wows visitors of all ages, and families can make the most of the outdoors with fun activities at a number of nature and adventure centers.
Explore America's largest home
A visit to Biltmore Estate presents many ways to break up the day and keep kids engaged. Opt for the kids' audio guide narrated by the Vanderbilts' beloved Saint Bernard, Cedric. Post-tour, take the family for a stroll through the mansion's manicured gardens, along a 2.5 mile path, or get going on the hiking, biking, and horseback riding trails. Segway and river float tours are available, and visitors can even shoot sporting clays in true Vanderbilt fashion.
Biltmore Estate
Luxurious Biltmore Estate has 250 rooms and sits on 8,000 acres. Sustainable practices put in place by the Vanderbilts still reign supreme, with an on-site farm, a winery, and brewery in operation.
1 Lodge St., Asheville 28803Tel: +1 800 411 3812
Biltmore Estate website
River fun and ziplines
The whole family can pass the day on the French Broad River - tubing, paddleboarding, or whitewater rafting, during warmer months. Activities can be arranged through Asheville Outdoor Center or The Adventure Center of Asheville. The latter also has KidZip, a zipline tour for kids 10 and under, along with mountain biking trails.
Asheville Outdoor Center
You can rent watercraft - including canoes, kayaks, rafts, tubes, and stand-up paddleboards - through Asheville Outdoor Center April through October.
521 Amboy Rd., Asheville 28806. Tel: +1 828 232 1970
Asheville Outdoor Center website
The Adventure Center of Asheville
Children love outdoor exploration at the Adventure Center of Asheville, just 5 minutes from downtown. Ziplining is the main attraction here, with America's first zipline course specifically designed for children 10 and under. Mountain bikes and trails are also available.
1 Resort Dr., Asheville 28806. Tel: +1 877 247 5539
The Adventure Center of Asheville website
Sky-high views
The featured attraction at 1,000-acre Chimney Rock State Park is its namesake, a 315-foot monolith that juts above the trees. You can reach the top by walking up 500 steps or hopping on the elevator, to be rewarded with a panoramic view of mountains, forests, Lake Lure, and Hickory Nut Gorge. Don't miss 400-foot Hickory Nut Falls, before stopping in Chimney Rock village for refreshments and souvenirs.
Chimney Rock State Park
Chimney Rock State Park lies 25 miles southeast of Asheville and is one of the area's most popular destinations. Enjoy magnificent views from this park's pinnacles and take the family on a hiking trail.
431 Main St., Chimney Rock 28720. Tel: +1 800 277 9611
Chimney Rock State Park website
WNC Nature Center
This 40-acre rehabilitation center serves as a habitat for native and endangered Western North Carolina wildlife. Families can walk at their leisure to various stations where kids will love seeing reptiles, otters, big cats, and black bears. A challenging hike through the woods winds along the Swannanoa River. Pack a lunch and stop along one of the many picnic tables available throughout the scenic park.
WNC Nature Center
Structured as a zoological park, WNC Nature Center helps visitors get to know Western North Carolina's wildlife up-close 361 days a year.
72 Gashes Creek Rd., Asheville 28805. Tel: +1 828 259 8092
WNC Nature Center website
Blue Ridge Parkway
One of America's most scenic routes, Blue Ridge Parkway has many expansive overlooks for views, or you can pull over for a hike to see waterfalls. Craggy Gardens is a favorite stop, or continue on to Mount Mitchell, the highest peak in North Carolina. Whatever you do, bring your camera to capture mountain ranges, forests, and waterfalls that form a stunning backdrop for family excursions. Grab a Kids in Parks guide, which illustrates several self-guided adventures suited for all ages along part of the Mountains-to-Sea Trail.
Craggy Gardens
Craggy Gardens, located 24 miles from Asheville, attracts visitors year-round, but especially in late spring and early summer when colorful rhododendron blooms dominate the landscape.
195 Hemphill Knob Rd., Asheville 28803. Tel: +1 866 308 2773
Craggy Gardens website
TRACK Trail
Families can download adventures to track specific aspects of the trail, including Fall Foliage, Buds become Blossoms, and Ferns. Other trackable guides feature Nature's Relationships, Nature's Hide & Seek, and Tracking Tree Treasures.
2388 NC-128 Burnsville 28714. Tel: +1 828 675 4611
TRACK Trail website