Family Friendly Attractions in Santa Monica
Family Friendly Attractions in Santa Monica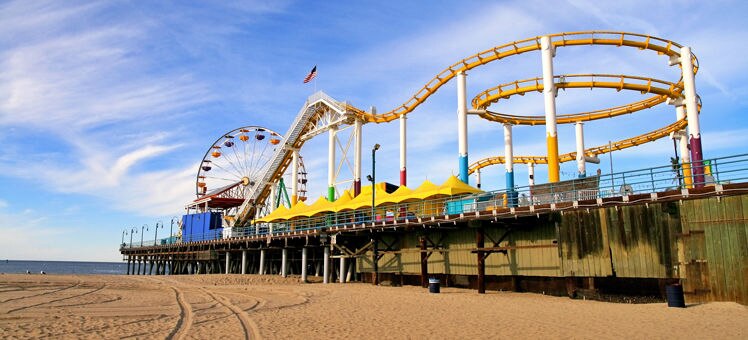 Fun and seaside sun await families visiting Santa Monica, where soft sands meet calm ocean waters. But beyond the oceanfront lie activities for all ages, from playgrounds for tots to a theme park that satisfies both teens and parents. Educational entertainment is found at a kid-friendly aviation museum and at an aquarium, while shopping options aimed at adults also have attractions for little ones.
Play at Pacific Park
Kids clamor for Santa Monica Pier, home to Looff Hippodrome, a landmark building constructed in 1916 with a carousel dating to 1922. A stroll to Pacific Park® lets you hop on tyke-tailored rides like Inkie's Wave Jumper and crop duster-style seaplanes. Fancy a bounce around? Trapeze School New York offers classes on a trampoline and flying trapeze to kids aged 6 and up.
Trapeze School New York
With no experience, you can get daring on a trapeze and learn other aerial arts at an outdoor studio on Santa Monica Pier.
370 Santa Monica Pier, Santa Monica 90401Tel: +1 310 394 5800
Trapeze School New York website
Family-friendly beaches
Along more than 3 miles of coastline, young ones can swim, boogie board, and take surfing lessons with pros at Santa Monica Surf School. The whole clan can rent bikes to cruise along the shore, perhaps stopping at the picnic area or playground of beachfront Dorothy Green Park, just south of the Pier.
Santa Monica Surf School
You can learn surfing basics, or take a paddle-board lesson, in private or group classes on the beach.
2400 Ocean Front Walk, Santa Monica 90405. Tel: +1 310 526 3346
Santa Monica Surf School website
Shop and romp around
With cinemas and street performers, Third Street Promenade can entertain the entire family. At Santa Monica Place, a modern mall at the promenade's south end, a food court features dining from high-end to cheap eats. There, you can grab some burgers and thick chocolate shakes at Johnny Rockets, letting the kids climb a wooden-whale structure at a nearby play area. A 3-minute walk from Third Street Promenade takes you to Fourth Street's Magicopolis, a magic shop that puts on vaudeville-style shows.
Johnny Rockets
Styled after 1950s malt shops, this international chain has served made-to-order burgers since opening its first locale on L.A.'s Melrose Avenue in 1986.
395 Santa Monica Place, Santa Monica 90401. Tel: +1 310 394 6362
Johnny Rockets website
Magicopolis
Magicopolis sells magic supplies and puts on shows packed with comedy, special effects, and audience participation at its 150-seat theater.
1418 4th Street, Santa Monica 90401. Tel: +1 310 451 2241
Magicopolis website
Parks and playgrounds
Across from Santa Monica Pier, modern Tongva Park has fountains and an overlook with ocean views to relax parents, while children can clamber on climbing features, slides, and a splash pad. A 7-minute drive from downtown Santa Monica, Douglas Park has a duck pond where youngsters can feed its inhabitants. At Clover Park, 7 minutes by car from downtown, tots can ascend an observation tower and scramble over other aviation-themed structures.
Tongva Park
Named for the area's indigenous people, this oasis has winding paths, an amphitheater, and play areas for kids.
1615 Ocean Ave, Santa Monica 90401. Tel: +1 310 458 8310
Tongva Park website
Entertain and educate
At the Museum of Flying, an 11-minute drive from downtown, children can get hands-on aviation experience by hopping into the training cockpit of a Lockheed T-33. Below Santa Monica Pier, Santa Monica Pier Aquarium has exhibits on local sea life. You can watch a shark feeding, touch a spiky sea urchin, and join a marine-themed scavenger hunt.
Museum of Flying
With a special focus on aviation in Southern California, this fascinating museum chronicles the history of flight - from the Wright Brothers to the jet age.
3100 Airport Ave, Santa Monica 90405. Tel: +1 310 398 2500
Museum of Flying website
Santa Monica Pier Aquarium
Dozens of species of animals and plants found in Santa Monica Bay are on display at this interactive exhibition space.
1600 Ocean Front Walk, Santa Monica 90401. Tel: +1 310 393 6149
Santa Monica Pier Aquarium website
Discover
Find your perfect holiday in Santa Monica
From 40 hotels.