Family-Friendly Fun in Torquay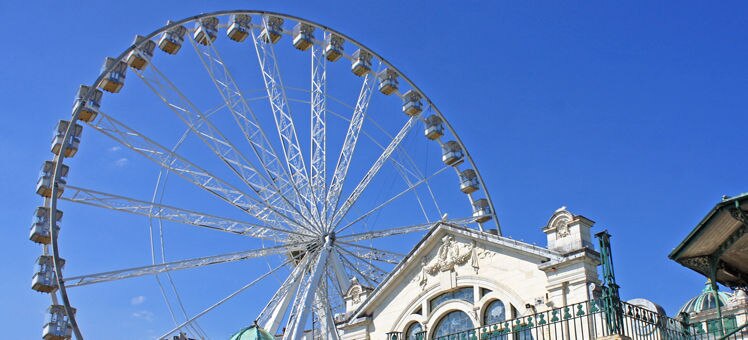 If you're hitting Torquay on one of its many sunny days, you'll most likely want to head to the sandy beaches, most of which have facilities such as toilets and baby-changing. There's plenty of indoor fun to be had around the town, from captivating attractions to high-energy activities where the little ones can have fun while tiring themselves out.
Wonderful wildlife
There's wildlife to enjoy throughout the Devon region, with Dartmoor Zoo, which inspired the movie We Bought A Zoo, located a few miles outside of Torquay. In Babbacombe Bay you can often see playful seals swimming around. There are some outstanding wildlife attractions in Torquay itself and in the neighboring seaside town of Paignton.
Living Coasts Zoo & Aquarium
Bringing the ocean to life, this is a fascinating display where children can marvel at the creatures of the deep. They can also learn about penguins and seals during regular feeding-time talks.
Living Coasts, Torquay Harbourside, Beacon Quay, Torquay TQ1 2BG Tel: +44 1803 202470
Living Coasts Zoo & Aquarium website
Paignton Zoo
There are 80 acres of animal habitats to explore at Paignton Zoo, with a Jungle Train to help you get around. Ask nicely, and they'll even let you feed the giraffes.
Totnes Road, Paignton TQ4 7EU. Tel: +44 1803 697500
Paignton Zoo website
Dynamic displays and attractions
Torquay's museums and historical exhibitions are all very kid-friendly and most of them offer interactive displays and fun educational activities. You can also find some exhibitions that are specifically aimed at young ones, such as the prehistoric beasts of Torquay's Dinosaur World. The eccentric Model Village in Babbacombe is a star attraction of the area and should bring out the inner child in even the most serious grown-up.
Babbacombe Model Village
One of Torquay's star attractions, this miniature village is built with flair, imagination, and a lot of humor. Little ones will feel like giants while exploring tiny streets, and afterwards they can enjoy a round of miniature golf.
Hampton Avenue, Babbacombe, Torquay TQ1 3LA. Tel: +44 1803 315315
Babbacombe Model Village website
Torquay's Dinosaur World
Travel back to a time when dinosaurs ruled the earth with this interactive display that captures the beasts in all their giant and scary glory. There's also a gift shop with great dinosaur toys.
Torquay's Dinosaur World, Head Office, 3 Victoria Parade, Torquay TQ1 2BB. Tel: +44 1803 298779
Torquay's Dinosaur World website
Indoor activities
Families love Torquay for its beaches and sunny days, but if there are times when your kids would rather play indoors, there are several options on hand. When you need to feed the troops, you'll find that the cafés, bars, and restaurants are extremely accommodating, most of them offering children's menus and baby chairs.
The Play Café
A handy resource for parents of younger kids, this café has a built-in soft play area, so you can let them blow off steam while you rest your legs and sip a latte.
161 Higher Union Street, Torquay TQ1 4BX. Tel: +44 1803 431363
The Play Café website
The Boulder Bunker
While extreme climbers often attempt the cliffs around Torquay, you might prefer a safe indoor climb for your family - all ages are welcome and instructors are on hand. You won't need ropes, and there are big crash mats below.
11 South Street, Torquay TQ2 5AE. Tel: +44 1803 293229
The Boulder Bunker website