Insider Travel Tips for Historic Cheltenham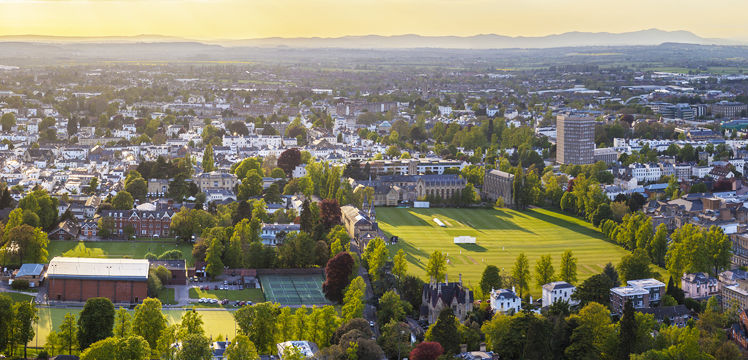 Cheltenham has an impressive cultural heritage and many fascinating landmarks. Victorian and Edwardian architecture stand proudly alongside modern establishments, including leisure centers and shopping malls. The city's dining scene is increasingly diverse, and traditional pubs share streets with trendy lounge bars. Veteran theaters stage mainstream productions in opulent surrounds.
Best time to travel
Cheltenham comes alive with vibrant foliage and blooming gardens in spring - the perfect time of year to visit for enjoying serene strolls in the city's many parks. Along with warmer weather, summer brings an assortment of exciting cultural festivals, with jazz, science, literature, and dance among the genres showcased.
Not to miss
A 20-minute drive from Cheltenham, Sudeley Castle has historic gardens once admired by former queens of England. The castle has royal heritage dating back 1,000 years and is vibrant with blooming flowers, including several varieties of roses, from spring until fall. Montpellier District mixes old and new with elegant boutiques, chic eateries, and period architecture along tree-lined streets. The annual Cheltenham Literature Festival, held each fall, draws famous authors from the UK and around the world.
Getting around
The closest airport is Birmingham International Airport (BHX), just over an hour away by car. Cheltenham Spa train station runs services to and from Birmingham, London, and various cities in the north of England, like Manchester and Sheffield. National Express bus services also operate shuttles from London's Heathrow (LHR) and Gatwick (LGW) airports. Within the city, driving is the main mode of transport and taxis are readily available.
Cuisine
Gourmet food reigns supreme in Cheltenham, with many restaurants sourcing fresh, local ingredients to create contemporary dishes inspired by traditional recipes. Modern British and Indian eateries are particularly popular, with several offering a high-end experience. Authentic international cuisine can be enjoyed in many venues, including Italian, Thai, and Japanese restaurants.
Customs and etiquette
Tipping in restaurants is customary, so you should expect to add between 10 to 20 percent to your bill. Forming orderly lines, called "queues," when waiting for service is viewed as a strict rule to be respected. Manners will get you far in Britain, and you can expect a friendly "cheers" or "ta" when speaking to anyone from the service industry. Britons tend to be reserved, and generally frown upon loudness or confrontation. Traffic runs on the left, which is the opposite of most countries.
Fast facts
Population: 116495

Spoken languages: English

Electrical: 220-240 volts, 50 Hz, plug type G

Phone calling code: +44 1242

Emergency number: 999