Where to eat in Toronto – a food and dining guide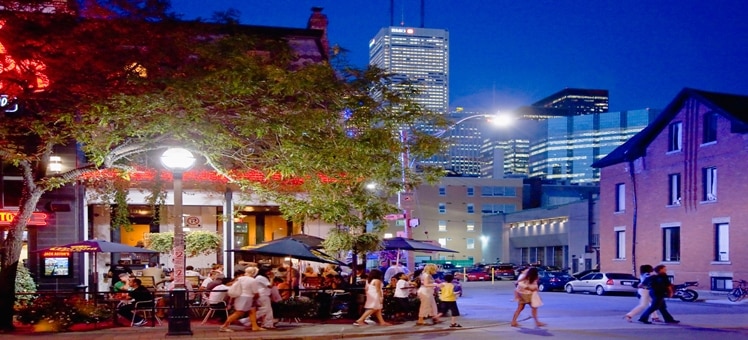 Toronto is a culturally diverse city, with a population influenced by the many settlers from countries near and far. Differing areas crop up around town, like Little Italy, the various Chinatowns and Little India. Other cuisines are found here too, including Caribbean, Hungarian and Portuguese. Whatever tickles your taste buds, you'll find it in Toronto!
Greektown
Forming part of East Toronto, Greektown is a prime example of how the city has grown into a culturally diverse place. This micro-culture is one of the largest communities of its kind in North America. Lining Danforth Avenue are tons of Greek restaurants, where local cuisine and specialities can be sampled within an authentic atmosphere and setting. At Messini Authentic Gyros service is impeccable and draws the customers back time and time again. Christina's on the Danforth is a mix of Greek and Mediterranean dishes, occasionally served with a side of live music. During the month of August thousands of people flock to the streets for the popular 'Taste of the Danforth' food festival.
•
Messini Authentic Gyros
, 445 Danforth Avenue, Toronto, ON M4K 1P2•
Christina's
, 492 Danforth Ave, Toronto, ON M4K 1P5
Chinatown
Toronto has a large Chinese-Canadian population, and several neighborhoods that reflect the fact. The largest is Chinatown along Spadina Avenue, with its heart at the Dundas Street intersection. The area is in fact a hub of many Asian cultures, including Thai and Vietnamese. A popular family-run Chinese restaurant is the Kwangtung Dim Sum, where diners are shown the food and can pick what most appeals to them. At the Bright Pearl Seafood Restaurant you'll find delicious dim sum along with Peking specialities served on rolling carts within the charming old-world walls.
•
Kwangtung Dim Sum Restaurant
, 10 Kensington Avenue, Toronto, ON M2M 1R6•
Bright Pearl Seafood Restaurant
, 348 Spadina Avenue, Toronto, ON M5T 2G2
Little Italy
Downtown Toronto is home to a slice of Europe with its very own Little Italy neighborhood. Found chiefly on College Street, Little Italy is a popular location for a spot of dinner or a quiet coffee break. The street is lined with authentic trattorias, cafés and delis. The colourfully graffitied area serves authentic dishes, from the classic pizza to juicy risottos. The family-style Il Gatto Nero restaurant boasts these dishes, as well as succulent seafood and a handy terrace for people watching. For a lighter option, Café Diplomatico is a hip hangout for coffee lovers to sip at a steaming cup and nibble on biscotti.
•
Il Gatto Nero
, 720 College St, Toronto, ON M6G 1C2•
Café Diplomatico
, 594 College St, Toronto, ON M6G 1B3
Bloor West Village
Head to Bloor for a special occasion, where the restaurants and bistros are a cut above the rest. Fine dining is the way to go here. La Société is a prime example, and a stylish bistro-style restaurant that oozes a Parisian vibe with its dark oak décor and deep red cushioned booths. The area is known for its plush breakfast cafés, as well as its other international options. At Blu Ristorante opulent Italian dishes like octopus and rigatoni bolognaise are presented like works of art. Booking in advance is recommended when dining in the area, as the restaurants fill up fast.
•
La Société
, 131 Bloor Street West, Unit 211, Toronto, M5S 1R1•
Blu Ristorante
, 17 Yorkville Ave, Toronto, ON M4W 1L4
Local dish
The peameal bacon sandwich is a little known local dish that Torontonian's love to sample. The bacon originates in Toronto and is made from boneless pork loins. It is smokeless, tender, rolled in yellow cornmeal and served in a Kaiser roll with mayo, lettuce and tomato.
Discover
Find your perfect holiday in Toronto
From 1250 hotels.