Where to eat in Rajasthan – local delicacies and regional dishes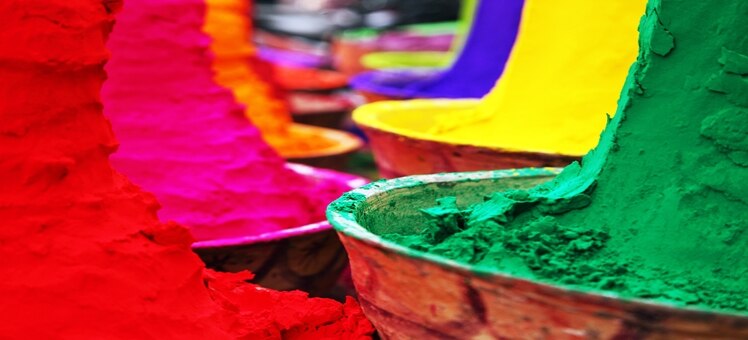 <span>Rajasthan is such a huge and diverse state, so claiming one national dish is rather hard. However, Rajasthan is a mainly vegetarian state and food is cooked in ghee (rich butter). Daal Baati (lentil curry dumplings) is a popular dish and desserts are eaten before the main meal. Due to the desert </span><span>region, </span><span>water and green vegetables are sometimes scarce which impacts cooking styles, instead, milk and butter milk area used. </span>
Local food
: Don't miss out on a thali here, a silver plate filled with lentil dhal, curry, curd (yogurt), rice and a chapati (flat bread) which is a staple diet here. Tandoori cooking is also one of the state's signature cooking styles of meat from lamb to chicken. Bikaneri Bhujia is local popular crispy spicy snack from Bikaner.
Pushkar
Pushkar produces local Rajasthani food such as Malpua (sweet pancake dipped in sugary syrup). Indian, Chinese and vegetarian food are also popular in Pushkar along with some Tibetan restaurants. The Pushkar Restaurant offers Italian food which is also popular throughout India, and is done rather well. Many places such as the Rainbow Restaurant, which overlooks the lake, make pesto from fresh basil leaves and create authentic pizzas.
•
Pushkar Restaurant
, 122/3, Near Bharma Temple. Tel: +91 1452772729 •
Rainbow Restaurant
, Brahma Mandir Road, Pushkar 305022. Tel: +91 9414260770
Jaipur
Tandoori cooking is very popular in Jaipur and The Moti Mahal Delux takes pride in its traditional tandoori cooking. The chicken lababdar is especially good. The menu offers a wide range of meat and sea food and is perfect for a stop off after a serious day bartering as it is just outside the pink walls of the old city. Jaipur also loves rooftop restaurants and the Peacock Rooftop is one of the best, with quirky furniture and cooling mist with a huge menu from Indian to Chinese, try the malai kofta.
•
Moti Mahal Delux
, 5 Kamal Mansion, M.I road, Jaipur, 302001. Tel: +91 1414017733 •
Peacock Rooftop Restaurant
, Hotel Pearl Palace, Ajmer Road, 302001. Tel: +91 141 2373700
Bikaner
Restaurants around Bikaner are usually more up-market and often have excellent views of nearby attractions, which bumps up the price slightly but many say it's worth it. Vegetarian food is very popular here too, especially in the form of thalis which are large plates with different curries, curds, rice and chapattis. Konark offers good vegetarian thalis near to Bikaner Railway Station. Overlooking the Junagarth Fort is Gallops, which is famous for its 'proper' coffee such as cappuccinos which is a rarity in India and they also do vegetarian pizzas.
•
Konark
, Rani Bazar, Bikaner Railway Station •
Gallops
, Opp.Junagarth Fort, Bikaner 334001. Tel: +91 1513200833
Udiapur
As the 'city of the lakes', roof top restaurants are a firm favourite here, where diners can enjoy their food with views of the water. Jaiwana Haveli roof top restaurant serves reasonably priced food while customers enjoy the view over the lakes, especially at sunset and is a firm favourite for traditional Indian food. O'zen which has been fully restored to its former glory serves up local and continental dishes popular with locals and also sells alcohol. It serves Indian, Chinese, Continental and of course Italian food in a peaceful and relaxing atmosphere.
•
Jaiwana Haveli
, 14, Lalghat, Jaiwana Haveli, Udaipur 3131001. Tel: +91 294 2411103 •
O'zen
, 51, Palace Road, Nr Jagdish Temple, Udaipur. Tel: +91 8890291451
Jaisalmer
Full of attractive yet simple vegetarian restaurants enjoy relaxed atmospheres and a wide range of vegetarian food in Jaisalmer. Restaurants offer a mixture of vegetarian and non-vegetarian foods at good value for money away from the tourist trail. Perfect for vegetarians is Natraj Restaurant as the menu is very extensive with simple décor and great food from thalis to chicken tikka masala classics. Trio is another good vegetarian restaurant and its well-known its tandoori thali. Sit underneath the tented roof on comfy cushioned floor seating for great food and music playing in the evenings.
•
Natraj Restaurant
, Town centre. Tel: +91 2992252667 •
Trio
, Gandhi Chowk, Jaisalmer. Tel: +91 2992252733
Discover
Find your perfect holiday in Jaipur
From 920 hotels.