Where to eat in Edinburgh – a food and dining guide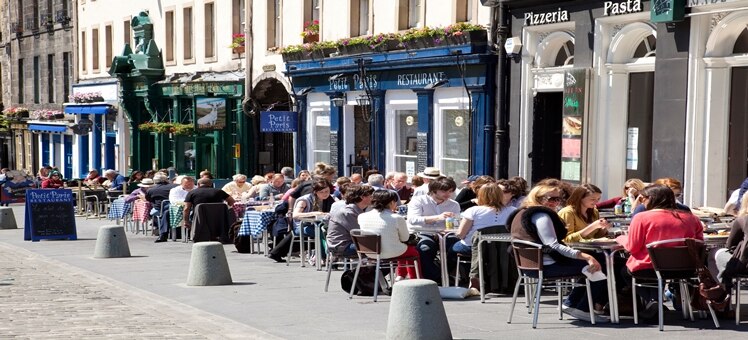 Home of the notorious haggis, Scotland has a reputation for what some might consider 'unsavory dishes'. But if you're not prepared to try what actually amounts to an incredibly tasty delicacy, at least recognize the fresh and rich flavours of the local seafood, steak and spirits. Edinburgh's culinary scene is a dynamic combination of traditional recipes and innovative tastes; never more apparent than in coastal Leith, home of the capital's latest explosion of gourmet dining.
A culinary icon, haggis is a savory pudding of minced sheep's heart, liver and lungs; oatmeal and suet; spices, salt and stock. It's cooked in a sheep's stomach, and then resembles stuffing; Scots love this served traditionally – with 'neeps and tatties' – or more recently, as haggis nachos!
Old Town
Edinburgh's Old Town is the place for rustic dining and hearty Scottish dishes to warm your cockles. The Witchery by the Castle is an iconic restaurant featuring a medieval setting of dark paneled walls, leather banquette seating and a history to rival its neighboring castle. Ideally for fine dining, The Witchery serves gourmet cuisine showcasing the best of Scottish produce. Fancy something a little more low-key? Oink on curved and colorful Victoria Street serves cheap and ridiculously tasty hog roast rolls, complete with crispy crackling and lashings of sauce.
•
The Witchery by the Castle
, Castlehill. Tel: +44 131 225 5613•
Oink
, 4 Victoria Street. Tel: +44 777 196 8233
New Town
Decadent diners know where to head in Edinburgh; the New Town is riddled with elegant restaurants. Number One in the prestigious Balmoral Hotel is such an eatery, serving creative gourmet dishes with fresh local ingredients. Purslane Restaurant – more Stockbridge than New Town – is also worth a mention, taking the pretentiousness away from high-quality cuisine with a passion for 'casual fine dining'. Finally, for the more discerning diners, Henderson's on Hanover Street offers respite from the meat culture with a tasty vegan and vegetarian menu.
•
Purslane Restaurant
, 33a St Stephen Street. Tel: +44 131 226 3500•
Number One
, 1 Princes Street. Tel: +44 131 557 6727•
Henderson's
, 94 Hanover Street. Tel: +44 131 225 2131
West End
For adventurous foodies, the West End of Edinburgh offers a veritable playground of dining delights. Perhaps the most exciting option in this area is Shebeen Bar and Braai, a vibrant South African restaurant on Morrison Street. Shebeen is a modern and innovative marriage of locally sourced meat, traditional flavors and superb South African wine – book a table to sample specialties such as biltong, borerewors sausage and the best steak in town. Another West End favourite is the boutique Angels Share Hotel, where Scottish staples like pork belly with stornaway black pudding grace the menu.
•
Shebeen Bar and Braai
, 8 Morrison Street. Tel: +44 131 629 0261•
Angels Share Hotel
, 11 Hope Street. Tel: +44 131 247 7000
Leith
In recent years, the coastal area of Leith has bloomed with gourmet chefs and succulent new restaurants. Award-winning Scottish chef Martin Wishart runs his Michelin-starred restaurant in the popular Shore area, while Tom Kitchen works with fresh seasonal produce on the other side of the river. If that's not quite to your budget, the good-food mantra is shared by family run restaurant A Room in Leith. With tranquil canal views, an extensive seafood/game menu and a floating pontoon deck, this eatery regularly attracts diners away from the city center.
•
A Room in Leith
, 1a Dock Place. Tel: +44 131 554 7427•
Martin Wishart
, 54 The Shore. Tel: +44 131 553 3557•
The Kitchin
, 78 Commercial Street. Tel: +44 131 555 1755
Discover
Find your perfect holiday in Edinburgh
From 1980 hotels.