Hangzhou Sightseeing Guide - Visit notable attractions and landmarks
Hangzhou Sightseeing Guide - Visit notable attractions and landmarks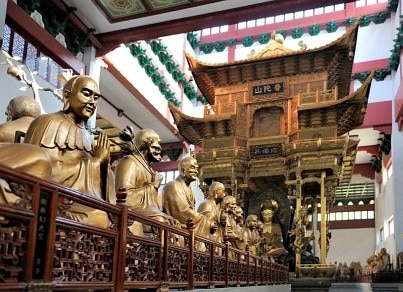 The major sites in Hangzhou are situated around West Lake. There are several parks and gardens, some boasting pagodas, tea houses or temples. Tea is also grown in the area and depending on the season, visitors may see the tea being harvested or processed.
The local tourism board has indicated 10 must-see attractions around the lake. Fittingly calling them the 'Ten Scenes of West Lake', these sites were later joined by 'Ten New Scenes'. Most of them deal with specific ways to look at a site, such as listening to 'orioles in the willows of Guo's Villa'.

For more on Hangzhou attractions see Visit Hangzhou.


Lei Feng Pagoda
Lei Feng Pagoda was built in the 900s AD on the lake's southern shore. It's structurally sound due to a recent rebuild, and visitors can ascend to the observation deck for a fine view over Hangzhou. The local tourism board recommends seeing it in the 'evening glow'.


Museums
Several worthwhile museums are found in Hangzhou, the best of which is the National Tea Museum, which explores the city's most famous product in great detail. The National Silk Museum features interactive exhibits and artifacts dating back as far as 2,000 years. Hangzhou also boasts museums devoted to ceramics and herbal medicine.


Dreaming of the Tiger Spring
Water from this spring is used in making local tea. There are a few historic buildings in the area, and visitors can follow trails through a bamboo forest. Next to the spring is a stone sculpture of a meditating monk, with a tiger slinking past in the background.


Botanical Gardens
The botanical gardens are well landscaped and boast a mix of exotic and local plants. The gardens show a hint of classical influence and are best visited when the spring flowers bloom or when the autumn leaves change. The gardens also include a peacock farm.
Temple of the Soul's Retreat
Lingyin Temple sits alongside the lake at the base of a hill. The temple itself is an active place of Buddhist worship, and Buddhist statues have been carved into the adjacent cliffs. Take the cable car to the top of the hill to see China's third-oldest temple with its spectacular view over West Lake.


Solitary Hill
This volcanic islet is the largest in West Lake, and it has hosted a few imperial residences in its time. Today it hosts a restaurant and a century-old engravers' society with a collection of relics and calligraphy art on display. Zhong Shan Park is in the middle of the islet.


Guo's Villa
There are a few parks and gardens in Hangzhou, and Guo's Villa is praised as the best. Every classical Chinese garden has as defining element, or spirit. It is water in this case, with ponds, streams and unique water features throughout. Stop by the teahouse for a chance to reflect.

Find more information about Hangzhou and hotels in the area:
Hangzhou hotels | China hotels