Kuching Travel Guide - Your destination overview of Kuching, Malaysia
Kuching Travel Guide - Your destination overview of Kuching, Malaysia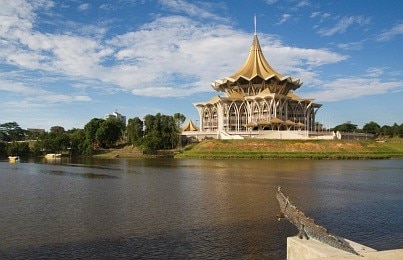 Kuching will not disappoint travelers who love vibrant cities. This large metropolis combines modern convenience with traditional charm and visitors will find plenty to see and do as they explore all that the city has to offer.
Take a walk along the banks of the Sarawak River or perhaps ride the ferry across the waters for good views of this section of the city. Many of Kuching's old buildings have remained undamaged by time or war and this is a good place to discover traditional Malay architecture. A good example is Fort Margherita, which was built in 1879 by Charles Brooke and named after his wife, Rani Margaret.

Kuching's blend of cultures lends itself to every aspect of daily life, not least of which is the food. In addition to a wide range of places to eat, there are also vibrant market places, malls and plenty of places to spend the night.


BDC
Long ago BDC was just another remote housing area, nondescript and very ordinary. Today it is a vibrant business area and of importance even to the non-business traveler because of all the banks that are located here.


Padungan
Padungan is the main center for shopping and entertainment. Chinatown is located here as well as many shopping malls and nightclubs. Hotel luxury abounds with Hilton, Holiday Inn and Crowne Plaza right next to the city's cat statues and waterfront.


Simpang Tiga
Simpang Tiga is an important area in the city, housing not only the federal government complex but also Swinburne University. Just opened is the Spring shopping mall, which offers a delightful selection of western and Asian stores and places to eat.
Satok
Satok is the smallest state legislative area or DUN in Sarawak. But if you ask any visitor this is not what they will remember, for this is home to the bustling bargain laden weekend market where it is possible to shop, look or eat.


Petra Jaya
Petra Java is where most of the population of Kuching lives and is full of low-cost housing schemes, or kumpung as they are known here. Many inhabitants are civil servants as the federal government headquarters located here.


Padawan
Padawan is a small town just on the outskirts of Kuching city. It is made up of traditional bidayuh kampong and longhouses and is home for multicultural communities such as Javanese, Bidayuhs, Chinese, Malay and Iban, and Orang Ulu immigrants.

Find more information about Kuching and hotels in the area:
Kuching hotels | Malaysia hotels