Hua Hin Travel Tips - Helpful hints and advice on local destination information
Hua Hin Travel Tips - Helpful hints and advice on local destination information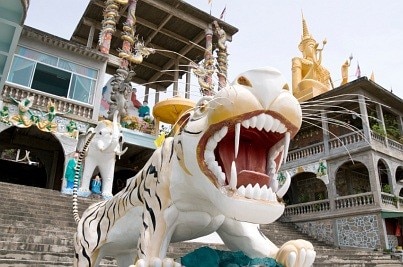 Despite largely catering to Thai tourists, Hua Hin is still very Western-tourist friendly. Most of the staff in restaurants and larger shops speak English and there are plenty of ATMs to ensure that you don't run out of money. What Hua Hin lacks in lively entertainment, it makes up for in charm and it is fast becoming one of Thailand's most desired holiday spots.
Customs and etiquette
Thailand is somewhat complicated when it comes to rules of etiquette; however, tourists and visitors are generally forgiven for any faux pas they make. It is a good idea to remember some of the easier rules though as this will help you gain respect. Always be polite and courteous. Learn the Thai for 'hello' and 'thank you'; these two words will get you a long way.
Avoid getting into arguments in public as this will make you lose face. 'Face' (or pride) is very important to the Thais and you should not cause another person to lose it. Do not discuss sensitive issues like the royal family or politics and if you visit temples, be sure to always wear long sleeves and trousers, and women should never touch monks.
Money
The Thai baht is the local currency. You will not be short of ATMs in Hua Hin and there is also exchange booths found throughout. Credit cards are accepted; however, you may be limited to using them in hotels as most restaurants and bars are cash only. The local produce, clothing, accessories and food are extremely cheap. You can survive on very little a day if you have to, although it is also possible to have five-star service at a very affordable price.
Weather
Hua Hin, like most of Thailand, experiences three seasons: the hot season, the winter season and the rainy season. The hot season begins in March and lasts through until June. Temperatures are extremely hot at this time, although there is usually a pleasant breeze coming off the sea.
The rainy season begins in June, although Hua Hin sees much less rain than other areas of Thailand. The rains last until the end of October, with August and September seeing the most rain. The cool season is the most pleasant and begins in November, lasting until February. Days are warm and nights are cool during this period, making temperatures much more bearable.
Transportation
Hua Hin is easily reached by train from Bangkok with five services to and from the capital per day. It is also possible to take a bus from Bangkok, however, this takes longer. There is a small airport in Hua Hin with limited services from Don Muang Airport (DMK) in Bangkok. The nearest international air gateway is Bangkok's Suvarnabhumi Airport (BKK).
Once in Hua Hin, there are a number of means of transport available for getting around the city. The most common, and the cheapest, is the . These are essentially buses that travel around the city (but not on set routes) and charge per person for their journeys. These are best flagged down in the street and prices should be negotiated in advance.
Motorcycle taxis are another common means of transport, although they are not suitable for anyone who is slightly nervous. Motorcycle taxis are cheap, but metered taxis are safer. Metered taxis may not always use the meter, so a price will need to be negotiated in advance. A final means of transport is the . These are three-wheeled motorized rickshaws which drive around town looking for fares. They can be used for short trips or tours around the city. Always agree on a price before setting off.
Fast facts
Population: 104,318
Spoken languages: Thai, English
Electrical: 220-240 Volts, 50 Hertz
Phone/calling code: +66 32
Find more information about Hua Hin and hotels in the area:
Hua Hin hotels
|
Thailand hotels
Discover
Find your perfect holiday in Hua Hin
From 1180 hotels.