Hua Hin Food and Dining Guide - Restaurants, where to eat, and more
Hua Hin Food and Dining Guide - Restaurants, where to eat, and more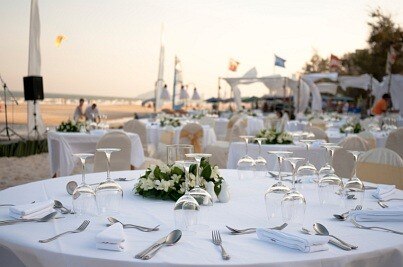 Like most of Thailand, Hua Hin has plentiful dining options. However, the best food can be found by the main markets and also along the main road, close to the main fishing pier.
Seafood is obviously found in abundance (although Chatchai Market offers some of the best seafood restaurants) and traditional Thai fare is found on every corner. Those looking for a little taste of home however will be pleasantly surprised because there are now a number of highly acclaimed international restaurants serving up cuisines from around the world.

Prices range from incredibly cheap to fairly pricey and quality is usually very good. When it comes to Thai food, how much you pay does not determine quality as some of the best Thai restaurants are found on the street corners and are often little more than shacks. This being said, however, there are also some very good upmarket Thai restaurants in Hua Hin.


Central Hua Hin
Without doubt, some of the best restaurants in the province can be found in central Hua Hin. It does not matter whether you are looking for seafood, Thai, Japanese, Indian or Western restaurants, you will find everything on your doorstep. Try as much of the food on offer as possible and you will not be disappointed. Restaurants not only serve food, but many of them have trendy bars and live music and are found in hotels. There are light snacks, three course delights and buffets on offer every night of the week.


Cha-Am restaurants
While quieter than the center of Hua Hin, Cha-Am still has its fair share of Thai and international restaurants. The choice may not be as extensive, but there are some very good eateries to choose from. Seafood restaurants are a must, especially the ones located on the beach itself, and local Thai restaurants should also be visited.


Pranburi restaurants
The choice of restaurants in Pranburi is much smaller than in Hua Hin, but if you like Thai food and seafood you will be in heaven. Some of the area's best Thai restaurants can be found here, serving up cuisine from across the country. Other restaurants to look out for are the ones found in the plush resorts as they offer exceptional food at very reasonable prices.


Khao Takiab restaurants
Khao Takiab is developing at a rapid rate and as a result, the restaurant scene is growing fast. Just a few years ago, the beach was only home to Thai shacks; today it offers international restaurants, beachside seafood restaurants and top-class Thai eateries. The hotels here often have buffets which are eat as much as you like and there are a number of live music venues where you can enjoy a snack or two.
Hua Hin restaurants
Moon Terrace
17 Naresdamri Road, Hua Hin
Phone: +66 32 511 734
This is one of a number of seafood restaurants which can be found along Beach Road; however, it is also one of the best ones. It boasts a beautiful outdoor setting and a number of mouthwatering dishes.

Monsoon Restaurant & Bar
62 Naresdamri Road, Hua Hin
Phone: +66 81 553 1956
Situated in a renovated Thai mansion and finished with colonial Vietnamese fixtures and fittings, this stylish restaurant serves up a variety of Asian delights from India, Thailand and Vietnam. Through the back, guests will find an intimate garden perfect for those who want a romantic meal.

O-Zone
241/119 Roomjit Road, Cha-Am
Phone: +66 81 981 1833
This is a lively bar/restaurant located in Cha-Am which has good crowds every night. Live music is played all night and seafood and other Thai dishes are served. It is located on the main Beach Road and there are wonderful views across the sea.

Chao Lay Sea food
1/66 Khao Takiab Road, Khao Takiab
Tel: +66 32 655 133
Located in Khao Takiab, this seafood restaurant attracts people from miles around. The seafood is caught fresh every day and there are a number of unique specialties on the menu. Prices are very reasonable and the staff is very friendly. It is a must for anyone staying in Khao Takiab.

Find more information about Hua Hin and hotels in the area:
Hua Hin hotels | Thailand hotels
Discover
Find your perfect holiday in Hua Hin
From 1180 hotels.