10 Local Nightlife Experiences in New Taipei
Where Do New Taipei Locals Go at Night?
New Taipei City offers local nightlife experiences that show you the city is even more beautiful after dark than you might expect. After dinner, you can take a stroll and discover the beauty of the city from a different perspective. Have you ever seen flowers and works of art at night? If this is something you would like to experience, try a lotus night in Shuangxi. At Yehliu Geopark, the light show and the performance of the orchestra and the cellists will be an unforgettable experience.
You can also take photos at night from Sanchong New Taipei Bridge, walk along the Sanchong Riverside and enjoy a 360-degree night-time panorama from the observation deck in Xing Fu Water Park. After that, there is the option of visiting Hongludi to see the Taipei 101 skyscraper in Xinshe District. The firefly trail in Tucheng Tonghua Park offers the chance to see fireflies on evenings in April and May. Check out all the great places where New Taipei Locals go at night, below.
1
Night-time bowling
For a fun after-dinner activity with friends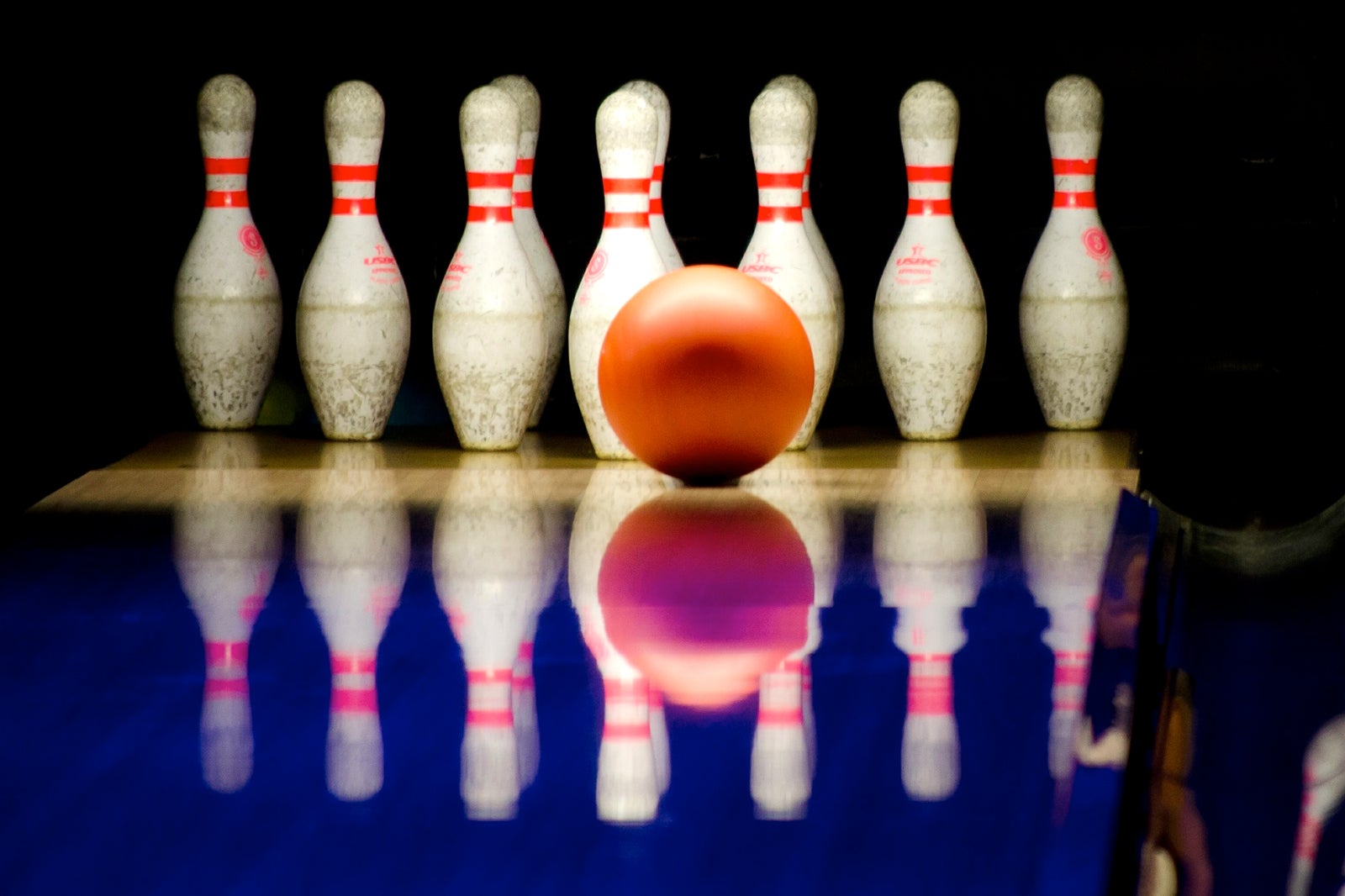 Night-time bowling in New Taipei is a great option when you're looking for a fun after-dinner activity other than walking or taking in the night views. Like in all the other bowling centres, you'll need to first purchase the number of bowling hours you require. When the staff announce the start of the games, all the lights go off and the darkness gives rise to millions of fabulous lights as brilliant as those of nightclubs, illuminating all the bowling alleys and creating a mesmerising atmosphere.
It's a bowling experience like no other. If you manage to knock down a certain number of pins within the time limit, you are entered into the draw organised by the centre with a chance to win a prize. Besides bowling, the stores also offer various ingenious and entertaining activities, such as funny dress-ups and bowling knowledge challenge, guaranteed to make your night both enjoyable and memorable.
Location: New Taipei City, Taiwan
2
City night view at Hongludi
For spectacular cityscapes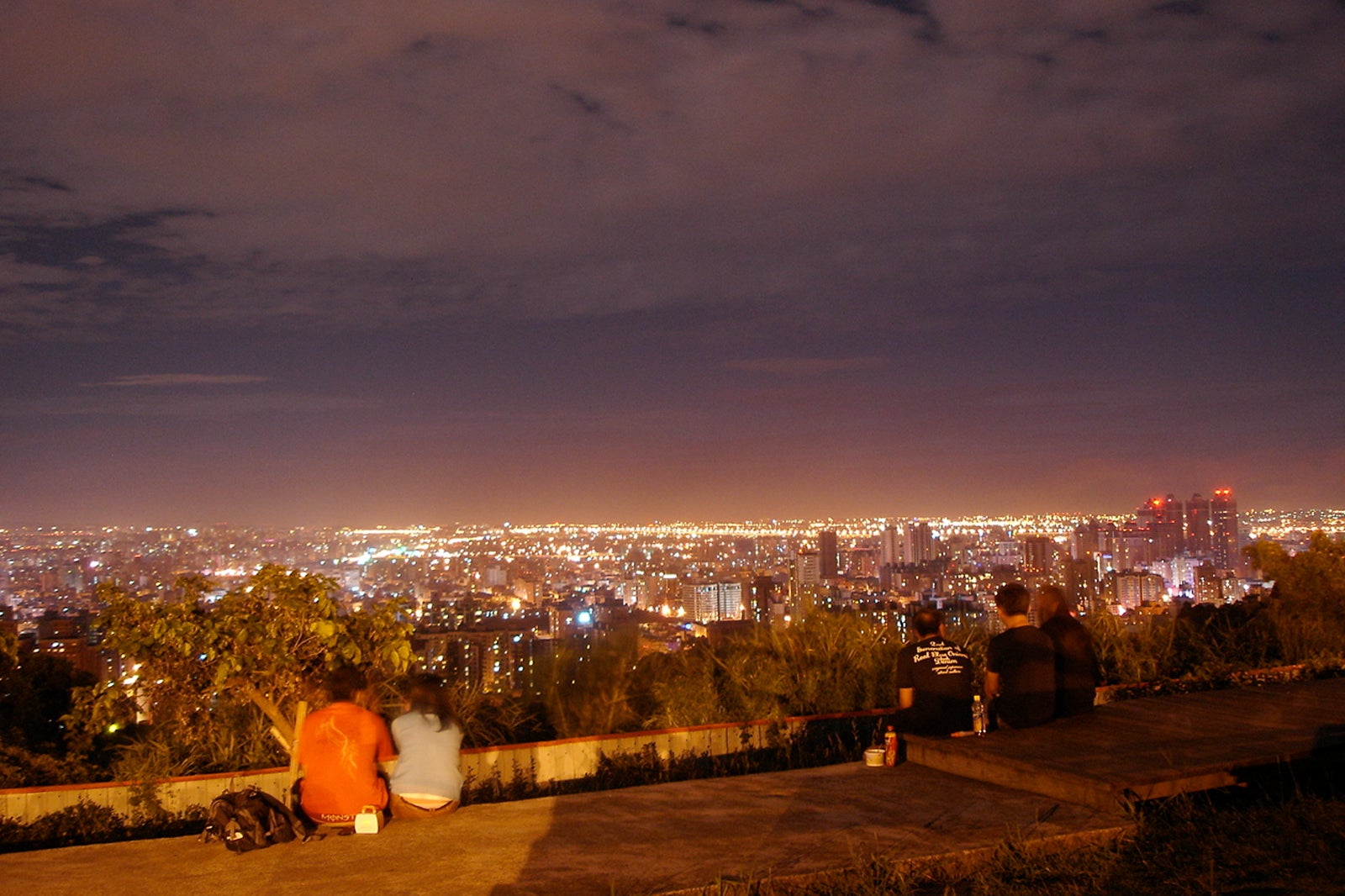 Hongludi is situated in the 302 metre-high Nanshijiao Mountain in Zhonghe District. The many temples that are housed here have turned the mountain into a famous religious site in New Taipei City. Nanshan Fude Temple, in dedication to Tudigong (the tutelary deity), is the most visited temple of all. With a 33 metre-tall statue of Tudigong at the front, this temple has become the most prominent landmark in Hongludi.
There are 2 routes to Hongludi. One is via the steps next to the car park, where you can walk up to get to the Nanshan Fude Temple. Or you can walk along the road by the car park, which will take you just a few minutes. Hongludi is at a commanding height with a panoramic view, an excellent place to enjoy the night view of the city under your feet. The Nanshan Fude Temple is as popular by night as it is during the day. It offers unobstructed views of Taipei and attracts many to capture the spectacular night view.
Location: No. 160-1, Lane 399, Section 2, Xingnan Road, Zhonghe District, New Taipei City, Taiwan 23566
Open: 24/7
photo by Casiocasio (CC BY-SA 4.0) modified
3
Sanchong New Taipei Bridge
Take your evening photos against this iconic landmark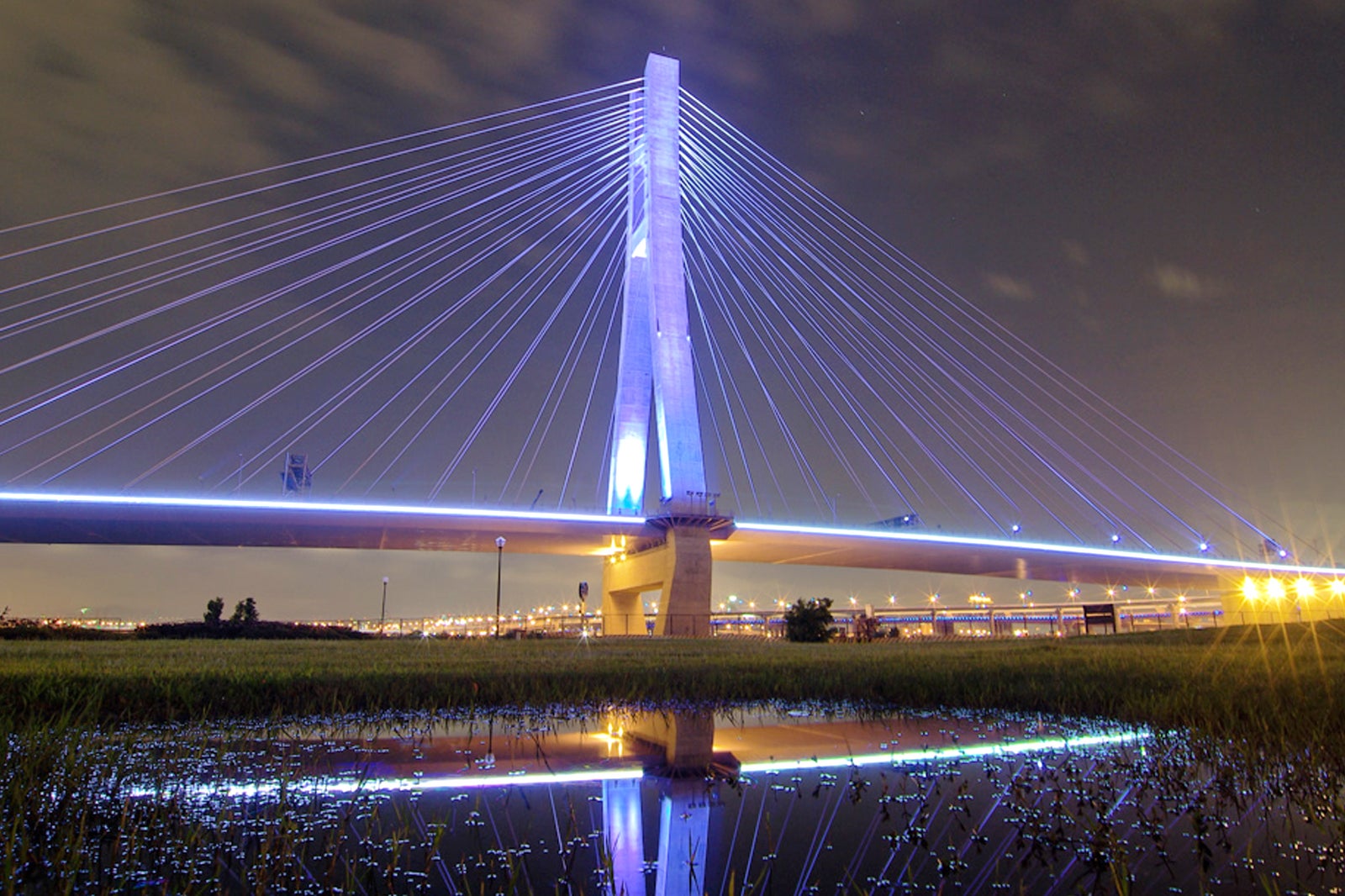 The New Taipei Bridge, approximately 1,100 metres long, is a cable-stayed bridge in Sanchong District that spans over the Erchong Floodway. Connected to the Zhongcui Bridge, it leads to the Banqiao District and carries the New Taipei Huanhe Expressway. During the day, the white inverted Y-shaped bridge tower is one of the most visible landmarks in New Taipei. At night, the bridge and the tower are lit up in a magnificent array of colours.
Coupled with the incredibly beautiful reflection in the water, it attracts a large number of photography enthusiasts to come and capture the breathtaking beauty of light and shadow. Visitors usually get to the New Taipei Bridge before sunset to land a good spot on the pedestrian lane that allows them to enjoy the unobstructed sunset above the Tamsui River. As the sky darkens, the bridge begins to put on a display of charming colours and lighting themes. Together with its mirrored reflection, it creates a stunning picture for your camera to capture.
Location: New Taipei Huanhe Expressway, Sanchong District, New Taipei City, Taiwan 241
Open: 24/7
photo by Brave ‧ ROY (CC BY-SA 2.0) modified
4
Sanchong Riverside
Take a night-time walk along the scenic river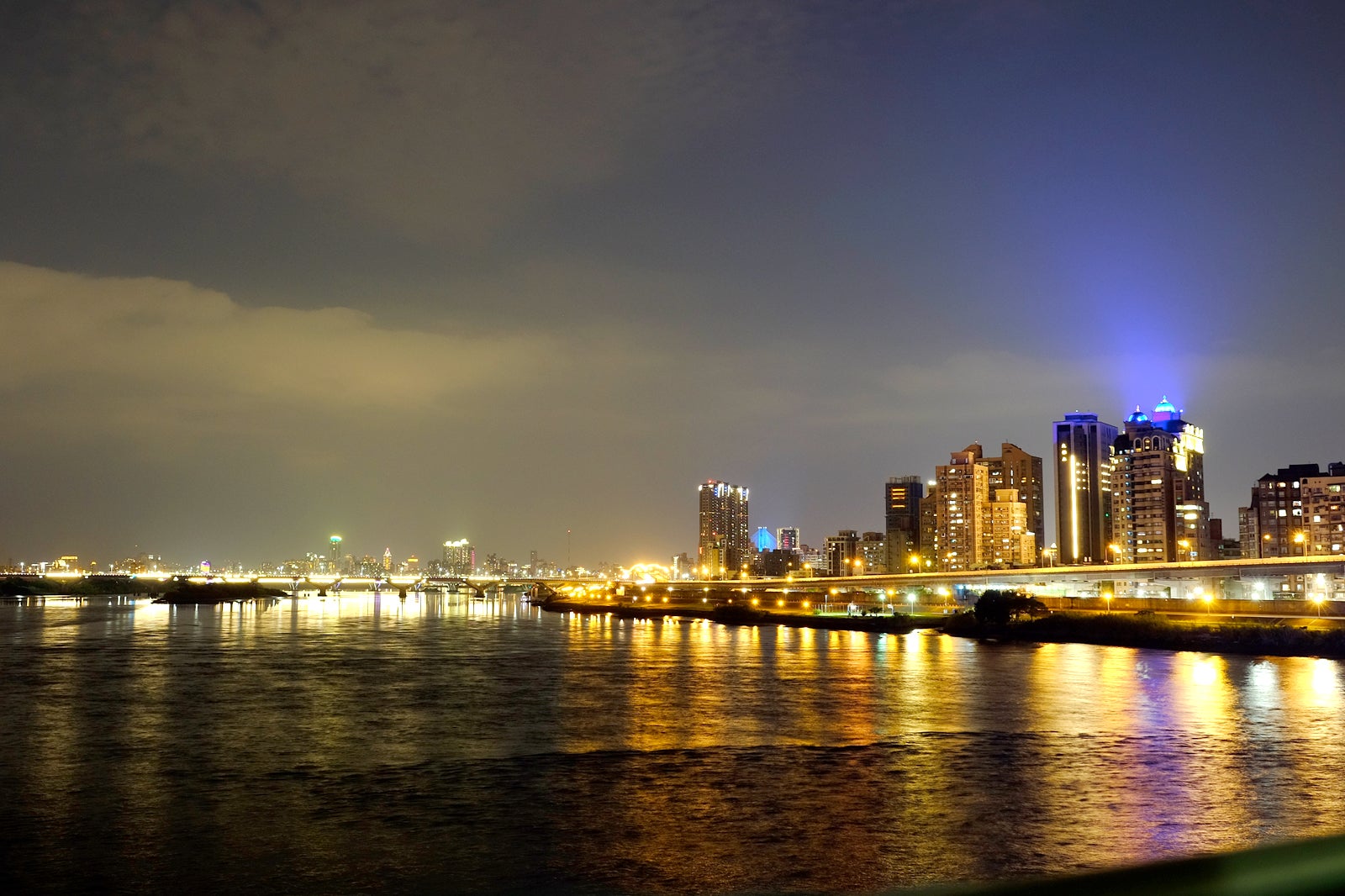 Sanchong Riverside is a great place that offers large grassy areas and many amusement facilities for you to enjoy. As dusk falls at the end of the working day, why not take some time out to enjoy the beautiful sunset? Take a ride on a cycling path that is long enough for a romantic date beneath the rosy-coloured clouds. Want to burn off some calories after dinner? Come and have a stroll along the open and relaxing riverside. Want some exercise to work up a sweat and boost your mood after a busy day? The basketball court is here for you to have a game at any time. Running or race walking are also good options.
If you like the soothing atmosphere of the well-maintained grassy areas, take a walk towards Chongyang Bridge, which will lead you to Daiton Mountain and Shichisei Mountain, where you can escape from the hustle and bustle of the city during the day. Sanchong Riverside and the Tamsui River night view are popular with singletons and couples as well as groups of friends who gather to hang out.
Location: Longbin Road, Sanchong District, New Taipei City, Taiwan 241
photo by Taiwankengo (CC BY-SA 4.0) modified
5
Ju Ming Museum night exhibitions
Artworks to admire in the evening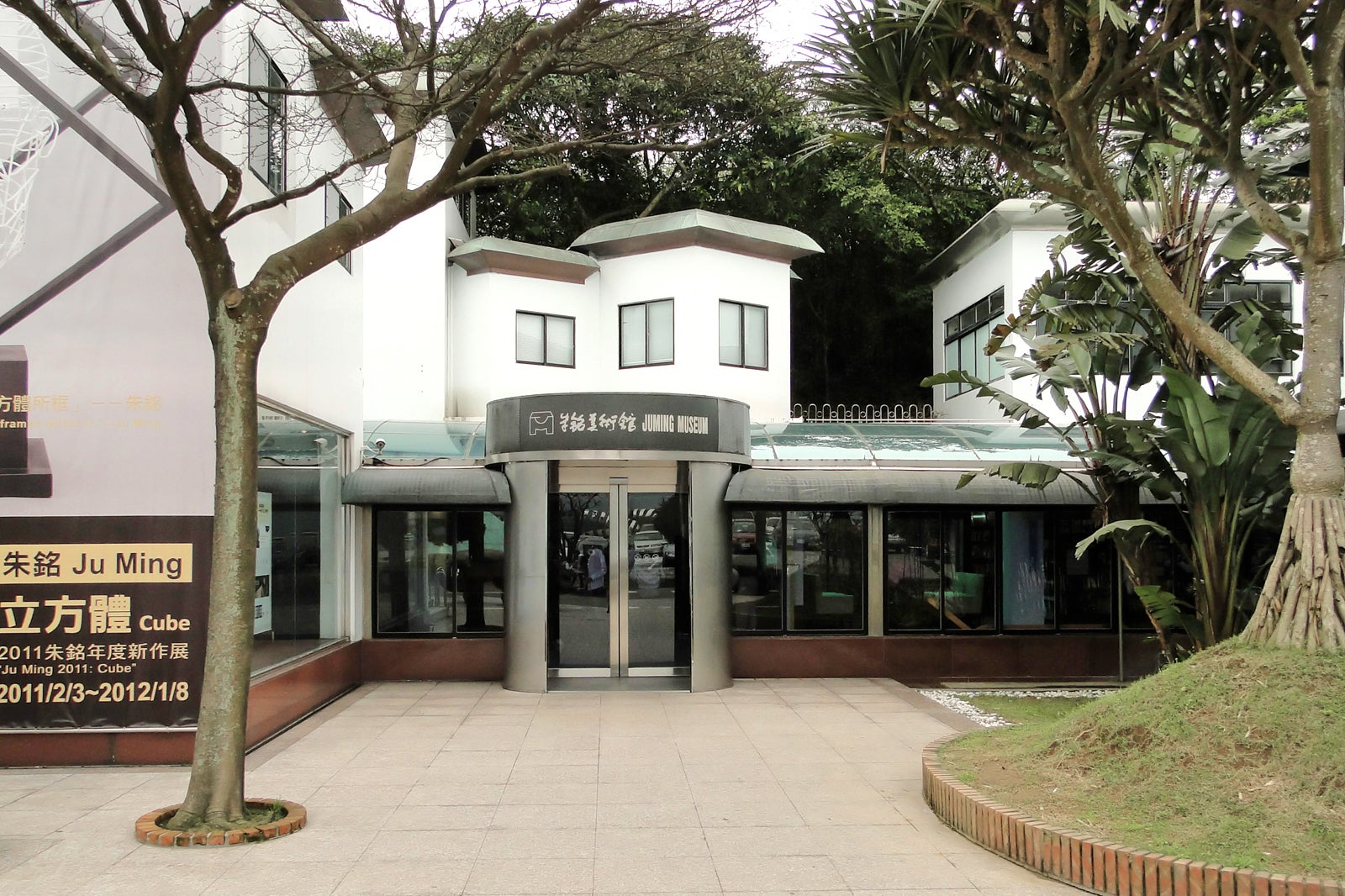 Ju Ming Museum, the largest outdoor art museum in Taiwan, has an exhibition space equivalent to over 250 basketball courts. Ju Ming is a prominent Taiwanese sculptor whose urban public artworks can be seen in the United States, Canada, Britain, France, Japan and other countries. Ever since its foundation in 1999, Ju Ming Museum has enabled children to discover arts and revived a passion for art among grownups. Various artworks like the 'floating parachutists' are displayed in its outdoor areas such as Taichi Square, Living World Square and Sports Square, attracting children of all ages to stop, admire and pose for photos.
Visitors feel as if they're walking into the artworks, literally becoming part of them. The museum collections are made of various materials, such as wood, ceramics, stainless steel, sponge and copper. They are presented in different forms and speak to the beholders by expressing their emotions and touching deep inside their hearts. A summer night tour under the moonlight and the museum lights will give you the chance to appreciate the serene beauty within the artworks that are usually hidden by day. You will be amazed to see how much more expressive and compelling the works are at night. Want even more? There are also art shows and exhibitions waiting for you to explore.
Location: No. 2, Xishihu, Jinshan District, New Taipei City, Taiwan 20842
Open: Tuesday–Sunday from 10 am to 5 pm (closed on Mondays)
Phone: +886 (0)2249 89940
photo by Bernard Gagnon (CC BY-SA 3.0) modified
6
Live music bars
Enjoy evenings with entertainment in New Taipei
Exquisite cuisine and fine wine, accompanied by delightful music, will always make you feel good. No matter what time locals finish work, New Taipei City has plenty of good live music bars where they unwind at the end of a long day. Looking for a place to help you banish feelings of melancholy? Visit a restaurant bar overlooking the city with spectacular night views, where you can order a delicious drink, take a seat by the window, and bury your thoughts as you appreciate the view.
Don't want to spend another night alone? Why not invite friends to meet up at a neon-lit bar and let the live music chase away the dark clouds in your mind? Want to let your hair down? Go to a bar where there is a celebration or birthday party every night and share the joy. Want to cheer up some friends after 9.30 pm? Go to a live music bar where you can watch underground bands hoping to get their big break.
Location: New Taipei City, Taiwan
7
Yehliu Geopark
Catch the mesmerising light show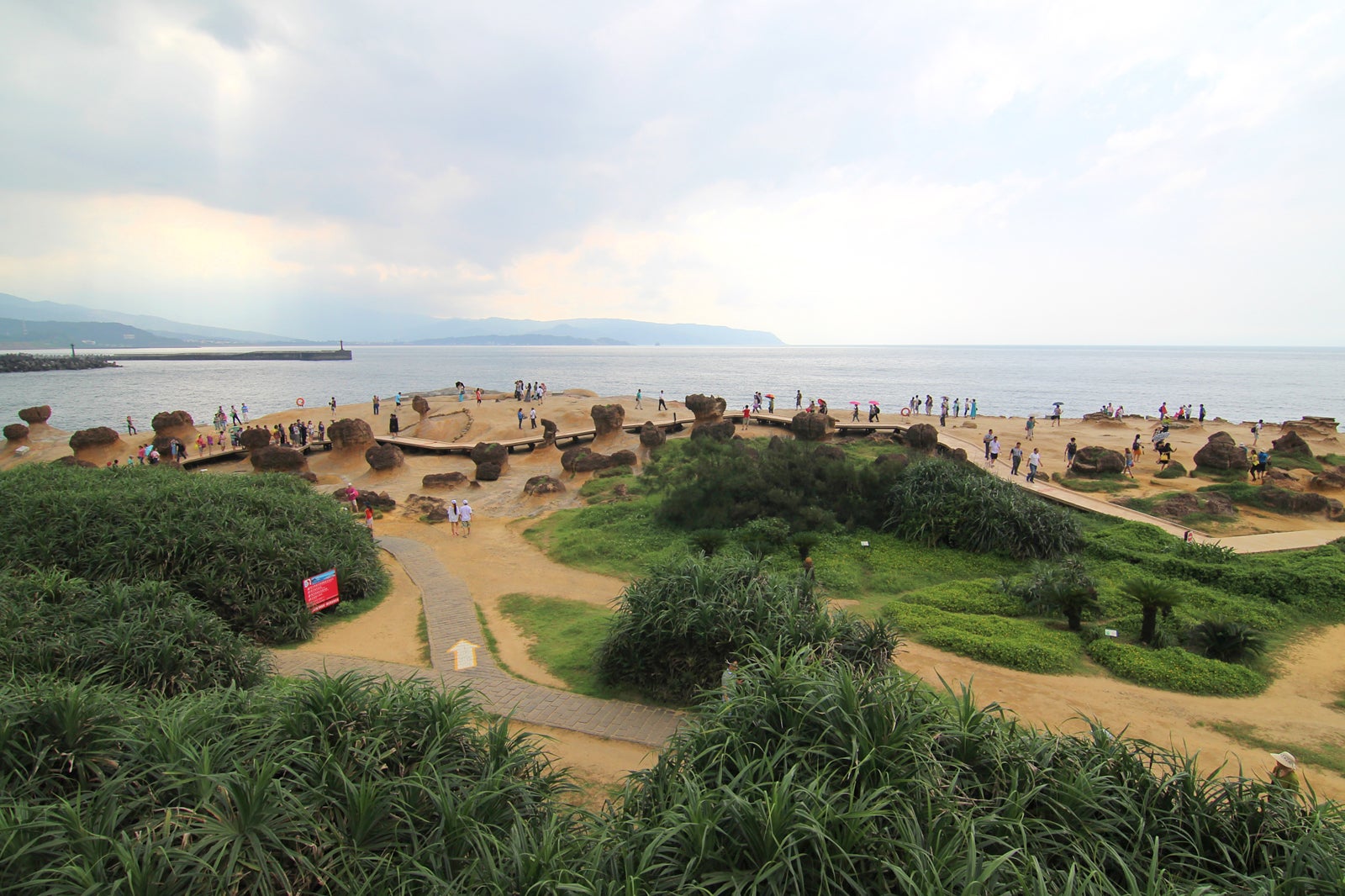 Nightlife
Photo
Adventure
Unusual
Yehliu Geopark is where you can admire an incredible landscape that has formed from years of sea erosion and weathering. The alternation of the sun and the moon creates patterns of light and shade, giving the landscape an entirely new dimension. At night, the Yehliu Cape, mushroom rocks, sea notches, and wave-cut platforms become even more spectacular with the resonating sound of the waves lapping. The bizarrely shaped rocks and stones look even more fascinating under the shining stars.
Every April since 2018, Yehliu Geopark organises a night-time event with restrictions regarding time, visitor numbers, and sessions. The light show and the Queen's Concert create magical sound and light effects in the darkness and are a great opportunity for the Queen's Head, Cute Princess Rock and Linying Lake to showcase a visage completely different from the one seen during the daytime. The waves, fishermen's fire and songs floating over the sea breeze will blow away the loneliness of the night. If you have enough time, you can spend the day appreciating nature's wonderful creations at your leisure and at night feel the mysterious fusion of the sea and the sky, so you get the best of both worlds.
Location: No. 167-1, Gangdong Road, Yehliu, Wanli District, New Taipei City, Taiwan 20744
photo by sodai gomi (CC BY 2.0) modified
8
Tonghua Park
Watch fireflies glimmer in the dark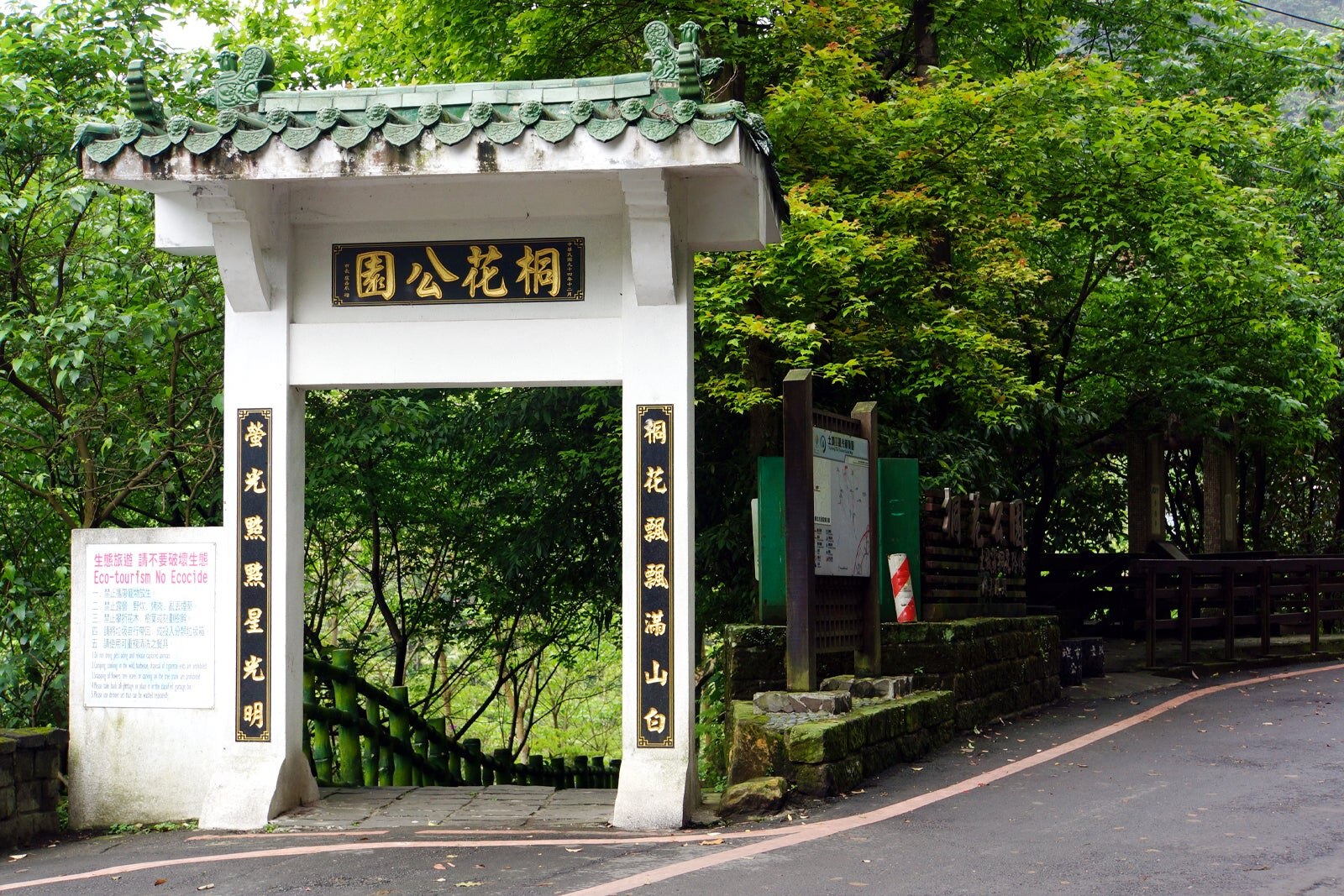 Tonghua Park in Tucheng District, New Taipei City, covers about 7 hectares. The mountainside of Neipo Mountain, the highest mountain in Tucheng District, is a valley formed by Nantianmu Mountain and Huoyan Mountain. In the park, there are observatories, suspension bridges and other facilities, as well as a number of interconnected hiking trails. It's also widely known for its tung trees planted all around the mountain and its large number of fireflies.
Every year come April and May, the season of the tung blossoms, Tonghua Park becomes the focal point of the Tucheng Tung Blossom Festival celebrations. Many visitors come here to go hiking and enjoy the breathtaking snowy peaks and surrounding landscape. Once the sun cedes the stage to the night, fireflies begin to shine timidly in the woods and the bushes, taking the spotlight in the darkened skies of Tonghua Park. Love the idea of a romantic night out surrounded by the gentle glow of fireflies? Come to Tonghua Park in the evening and follow the signs.
Location: No. 90-1, Chengtian Road, Tucheng District, New Taipei City, Taiwan 23674
Open: 24/7
photo by lienyuan lee (CC BY-SA 3.0) modified
9
Xing Fu Water Park
A night out with public art installations
Xing Fu Water Park in Sanchong District is part of New Taipei Metropolitan Park, the largest riverside sports park in New Taipei City. Within the 24-hectares park, there are many happiness-themed public art installations, creating a romantic atmosphere with their vibrant colours and making the park a popular choice among newlyweds for taking wedding photos.
The park's most romantic architectural feature is Chenguang Bridge, whose design was inspired by the Chinese mythical love story of the Cowherd and the Weaver Girl. This bridge spans across Erchong Floodway and its double-layered, double-curvature bridge platforms were inspired by the pursuit of love and happiness. Its expressive constellation light sculpture is very popular with couples who come here to take photos at night. During the day, visitors can enjoy the clear blue skies and vast green space. At night, the park becomes even more wonderful when lit up. Colourful lights on the bridge and around the park turn the entire place into an enchanting wonderland that entices you to stay awhile.
Location: Shuhong 16th Road, Sanchong District, New Taipei City, Taiwan 24156
Open: 24/7
10
Lotus night in Shuangxi
Blossoms in the blue hour
Shuangxi is a village blessed by nature and has been dubbed the Back Garden of New Taipei. On the old street, you can discover more about its century-old buildings, amazing waterfalls around hidden corners and Shuangxi Station, which is a very special treat for railway enthusiasts. It's said that there are 3 treasures in Shuangxi: yam, hairy crabs, and wild ginger lilies. Now, there is a 4th one to add to the list: lotus watching at night. Thanks to the area's green mountains and clean waters, Shuangxi produces pure, flawless pink lotus blossoms that take on a new colour from the sunshine. You can observe the exquisite lotus blossoms as they develop from timid buds to full blooms.
The harmonious composition of lotus leaves and blossoms is exceptionally beautiful. Lotus, stems, leaves and flowers can be used in both cooking and traditional Chinese medicine. Come and fall in love with the mouth-watering dishes made with local, seasonal, organic lotus. The blue hour is a great time to appreciate the lotus blossom. Under the LED lights, Shuangxi's lotus looks incredibly beautiful on a midsummer's night. The ten-mile lotus fields and midsummer's night blossoming are a pleasant distraction during the increasingly hot summer days and long nights.
Location: 16.3K, Provincial Highway 2C, Shuangxi District, New Taipei City, Taiwan 227
Open: June–September
Back to top