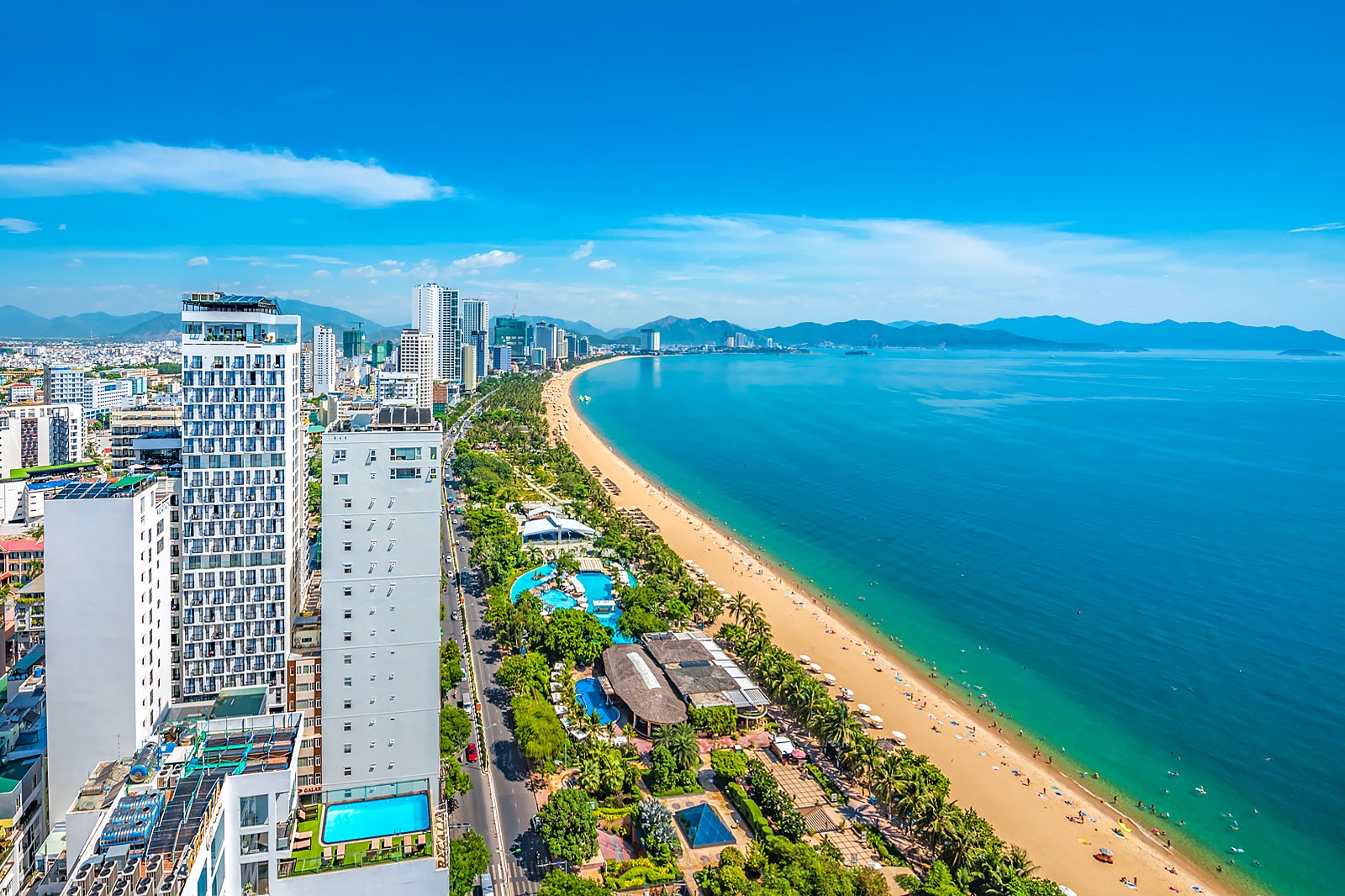 Nha Trang
What you need to know before you go
Nha Trang, also known as the Riviera of the South China Sea, offers a 6-km stretch of beautiful coastline with white sandy beaches. While the shoreline is certainly the star attraction, you can also find clear waters with an abundance of marine life and thriving reefs, verdant mountain ranges at each end, as well as 19 untouched islets that are just a short boat ride away. Offering a myriad of sightseeing and recreational activities, the coastal town itself is steeped with breathtaking structures that date back to the Champa Kingdom, together with Buddhist temples and gothic-style Catholic churches. Nature lovers will also find natural hot springs, salt fields, and unique waterfalls.
Catering to any budget level and preference, Nha Trang restaurants serve up fresh seafood and Vietnamese cuisine while lively bars and pubs along the pristine beach are favourite hangouts for visitors to enjoy the evening by the East Sea. To help you get started on your travel plans, we've compiled all the essential information you need to know about Nha Trang.
Where to shop & what to buy in Nha Trang
5 Best Places to Go Shopping in Nha Trang

The best places to go shopping in Nha Trang range from humble-looking shops to local supermarkets where vendors sell an array of local produce, handicrafts, clothing, and jewellery. Some market visits are one of the best ways to immerse yourself in the local culture during your Vietnam holiday. While goods here are sold at relatively low prices, you can...
Where to go & what to do at night in Nha Trang
5 Best Things to Do After Dinner in Nha Trang

The best things to do after dinner in Nha Trang become good reasons to explore this unique beach town after sunset. Neighbourhood bars and lounges draw in the city's fun-loving backpacker community while Tran Phu's vibrant beach clubs attract more affluent late-night revellers. Boasting plenty of alcoholic offerings, local and international cuisine, as well as varying music genres...
Nha Trang Weather

Nha Trang weather is usually warm and humid for the first 8 months of the year. It's a popular destination for sunbathing and enjoying beach activities. The capital city of Khanh Hoa Province, Nha Trang is located on the southern coast of Vietnam. It has 6 km of sandy beaches and clear waters. There are also quiet islets surrounding the...
Back to top