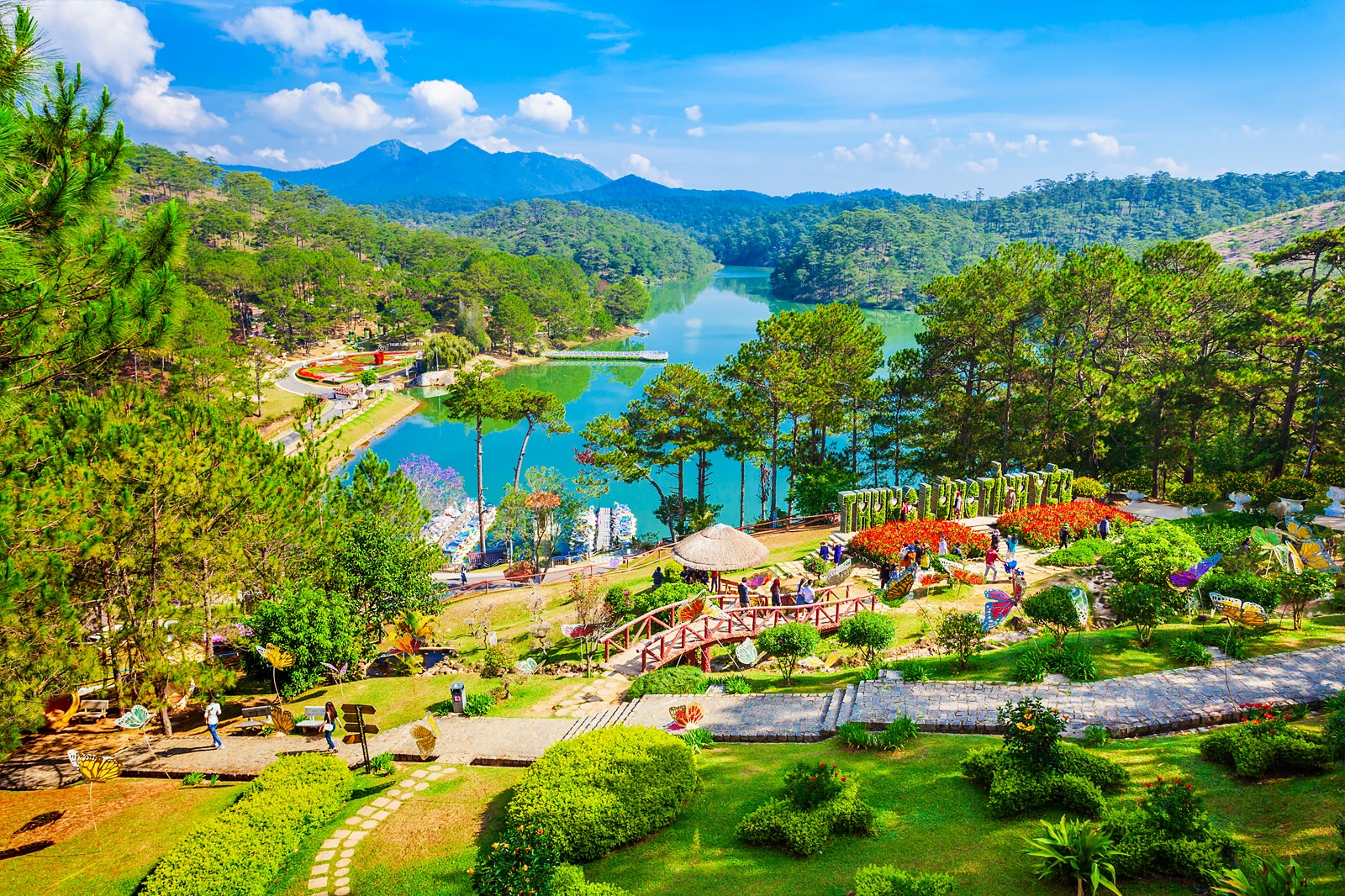 Da Lat
What you need to know before you go
The hill town of Da Lat has long been the most popular location in the region for getaways since French colonial times. Many people call it 'Le Petit Paris' and the town even features a mini-replica Eiffel Tower in its centre! Situated on a plateau 1,500 metres above sea level, this retreat town offers a welcomed change of atmosphere with a refreshingly cool climate – other cities in Vietnam can be very hot and humid, especially during summer. Trousers and jumpers are needed if visiting Dalat from November to around March as temperatures hover at about 10°C (50°F).
Da Lat is famous for its wide variety of flowers, vegetables and fruit harvested from its surrounding farmlands. The town also features countless nature sites with beautiful landscapes, evergreen forests and minority villages. The area's main sources of income are from agriculture and tourism but the city is also very proud of being an education centre that produces multi-field professionals each year, including doctors and architects (Dalat University alone has more than 13,000 students). Therefore, there's a good chance that you'll meet young, enthusiastic and friendly Vietnamese from every corner of the country during your visit here.
What to see & do in Da Lat
Featured stories & fun stuff
10 Best Things to Do in Da Lat

Our list of the best things to do in Da Lat offers a mix of natural and manmade landmarks, all of which showcase the hill town's rich history. Once a favourite retreat among French colonials, Da Lat's expansive forests and waterfalls now attract nature lovers and thrill-seekers from around the world. You can experience the local culture by visiting...
Where & what to eat in Da Lat
9 Best Restaurants in Da Lat

The best restaurants in Da Lat offer a variety of delicacies, using fresh produce sourced from the town's vegetable farms, wineries, and lush forests. Blessed with a cool central highland climate, some of the best locally grown foods in Da Lat include strawberries, asparagus, artichokes, grapes, tea and coffee. You'll find many local markets, restaurants, and street vendors close to...
Where to shop & what to buy in Da Lat
5 Best Places to Go Shopping in Da Lat

These best places to go shopping in Da Lat can add some fun experiences during your getaway in Central Vietnam. This French-built town is known for its colourful flower gardens, fruit farms, and lush forests. While you won't find immense shopping malls selling the latest in international fashions here, you will discover vibrant markets and fruit farms where you...
Where to go & what to do at night in Da Lat
8 Best Things to Do After Dinner in Da Lat

The best things to do after dinner in Da Lat include quite a few interesting establishments at the more upmarket venues. For the most part, the city's nightlife is rather lacking, as it's more famous for its rich colonial atmosphere as well as for having many great natural sites. However, for those determined to enjoy their evenings, you will be...
Back to top