3 Great Restaurants in Korean Town Plaza Bangkok
Korean Arcade on Sukhumvit Road
Korea Town Plaza is a surprising sight in downtown Bangkok. Located between Asok and Nana on the corner of Sukhumvit Soi 12, this 3-storey arcade is full of Korean restaurants, shops and a couple of small bars. Covered in Korean hangul signs and South Korean flags, everything here is very authentic and feels like you have journeyed to the far-eastern peninsula, despite the traffic jams of Sukhumvit just a few metres away.
The arcade was built over 20 years ago and looks a little rough around the edges nowadays, especially when compared to the newer glass-and-steel constructions nearby such as Terminal 21 and Times Square Building. There's a Korean supermarket, a convenience store and a few other speciality shops, but the real reason to come here is to sample some of the best Korean food in Bangkok. Restaurants here all have similar prices, with a meal costing in the range of 600 to 1,000 baht per head. If you're on a budget, consider coming in the daytime to take advantage of the lunch specials available in some restaurants.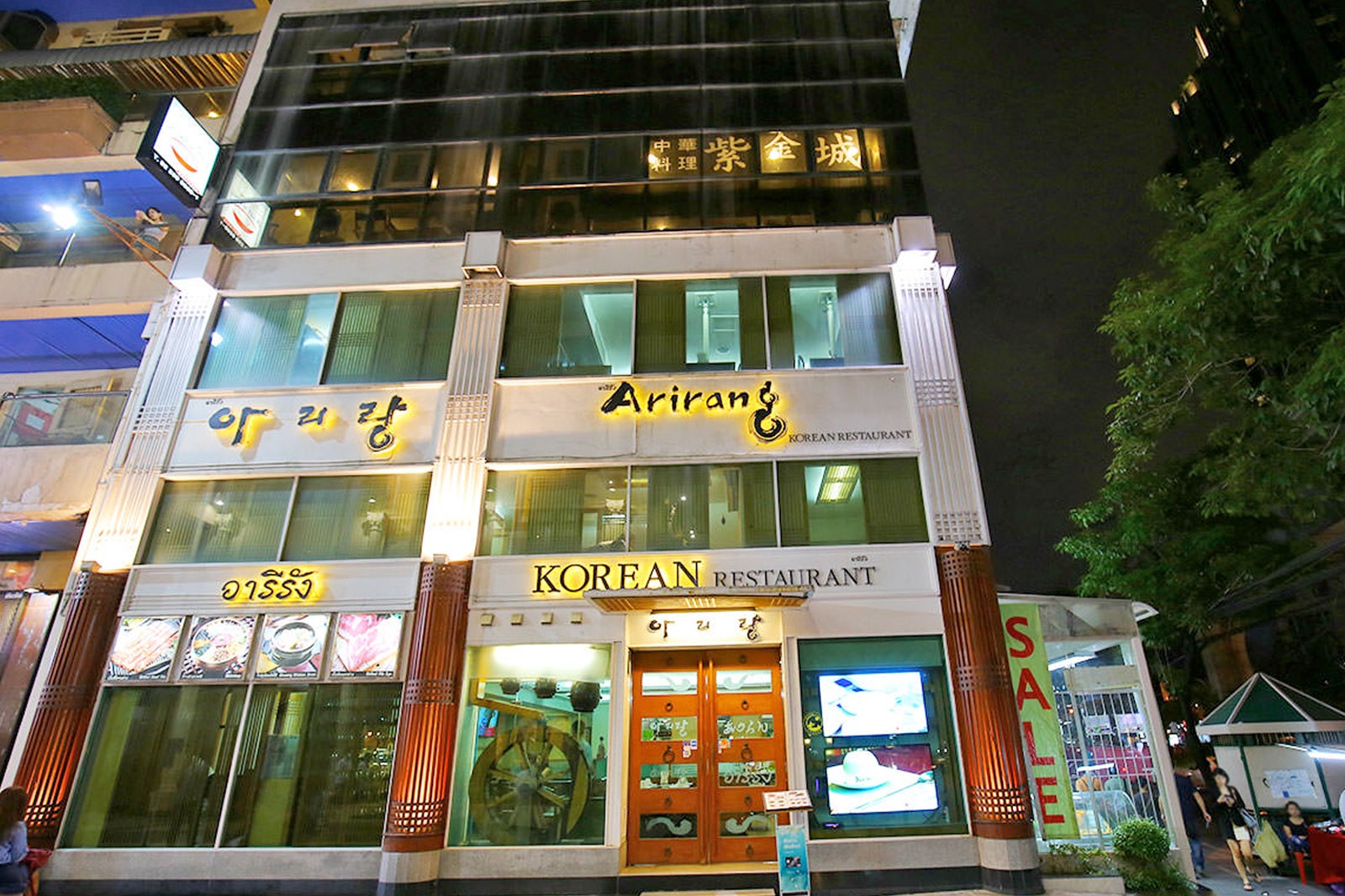 Arirang is the most popular restaurant in Korea Town Bangkok and occupies a large corner space as you first enter the open-air courtyard. You can find both Korean barbecue and a la carte dishes (including the hard-to-find deokbokki) on the multi-page menu, but most people come here for the barbecue experience using a charcoal grill. The restaurant is well-ventilated, sparing you from going home with a strong 'barbecue' smell afterwards.
Location: 212, 4-5 Sukhumvit Rd, Khlong Toei, Bangkok 10110, Thailand
Open: Daily from 11 am to 10 pm
Phone: +66 (0)2 653 0177
Doorae is a speciality Korean BBQ restaurant, which means you order your ingredients raw and cook them yourself on the built-in barbeque in the centre of every table. The menu covers all kinds meat for barbecues and a la carte items, such as bibimbab (sizzling rice with vegetables, meat, raw egg served in a stone pot), kimchi jigae (kimchi stew), yukgaejang (spicy beef stew), hae mool pa jeun (seafood pancake) and more.
Location: 210 Sukhumvit Rd, Khlong Toei, Bangkok 10110, Thailand
Open: Daily from 11 am to 10 pm
Phone: +66 (0)2 653 3815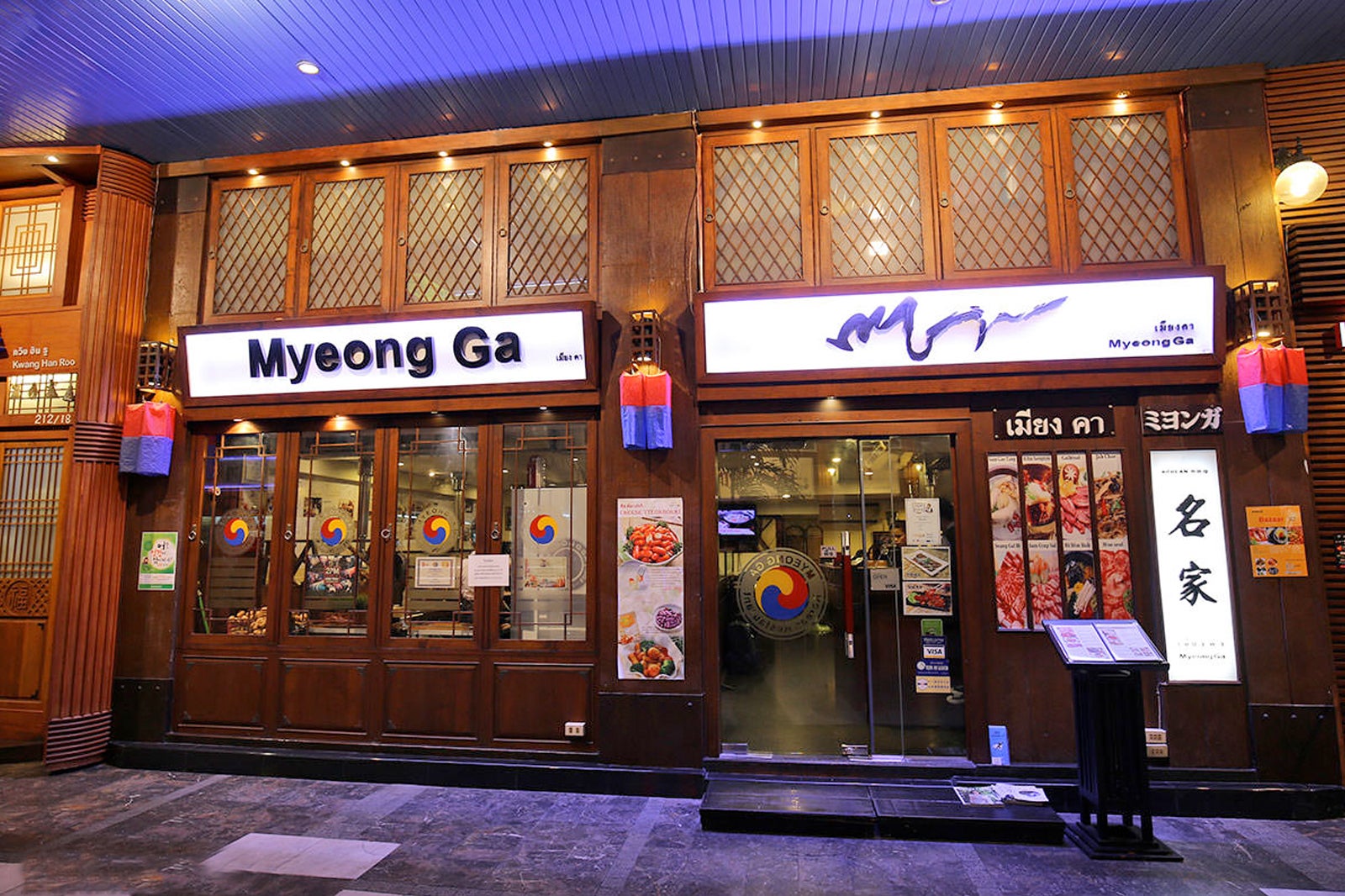 Myeong Ga is one of the cheapest restaurants in Korea Town Plaza, but still maintains a high level of quality. Considering this restaurant is very popular with expat Koreans (to the extent that it's hard to get a table on weekends) it's fair to assume that the food is authentic, although you can be the judge. The seafood chijimi (Korean pancakes) are highly recommended.
Location: Sukhumvit Soi 12, Bangkok 10110, Thailand
Open: Mondays from 3 pm to 10 pm, Tuesday–Sunday from 11 am to 10 pm
Phone: +66 (0)2 229 4658
4
Good to know about Korea Town in Bangkok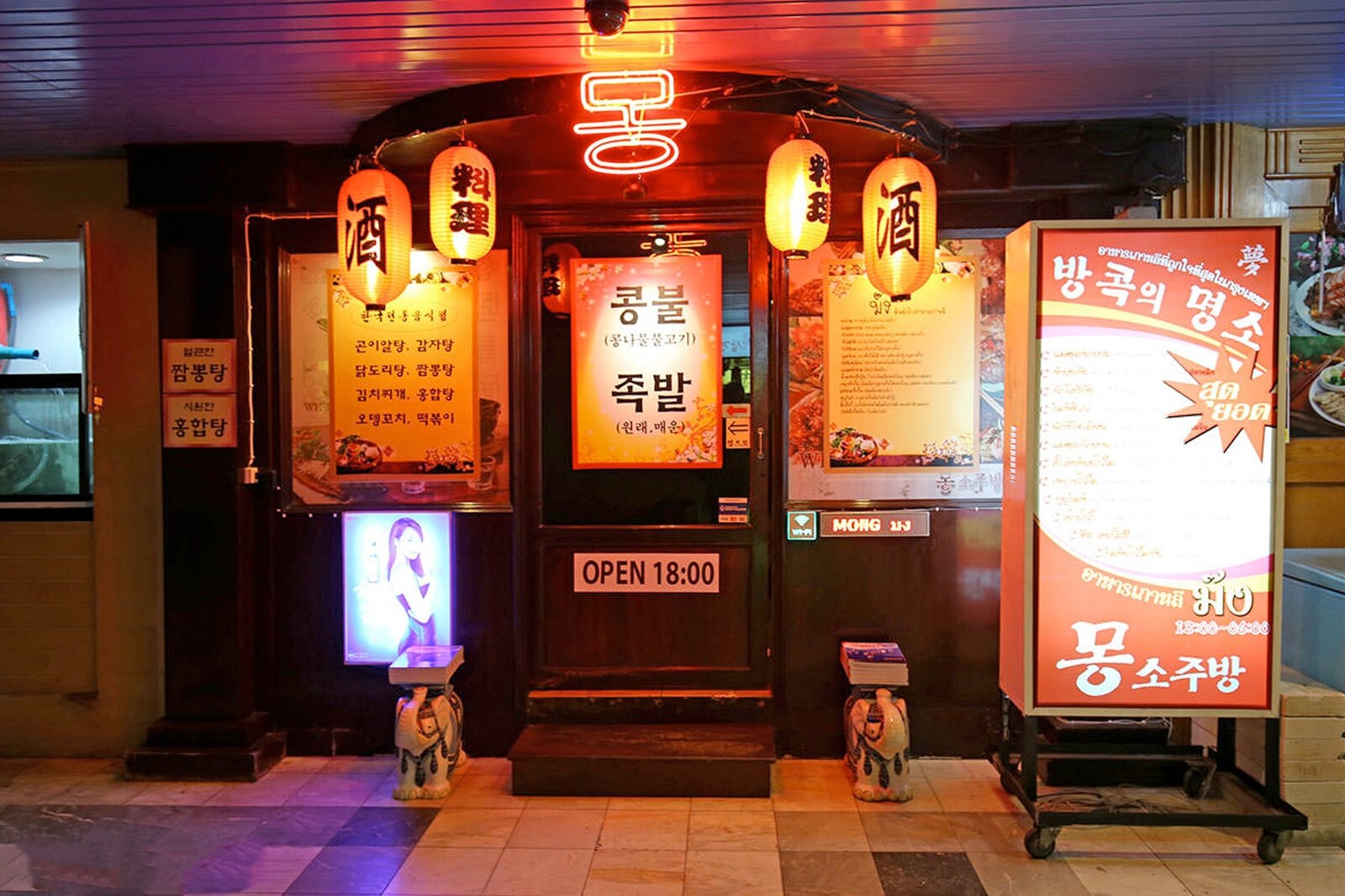 In sticking with the authentic Korean dining experience, most restaurants deliver a selection of complimentary banchan (small appetisers, usually in bowls) before your meal begins. This assortment of tapas-style bites is factored into the cost on the menu so there's no additional fee. Popular banchan include pickled radish, cucumber in vinegar, and the ever-present kimchi (pickled cabbage in chilli).
Korea Town Plaza is located less than 100 metres from Asok junction in the centre of the city, just past Sheraton Grand Sukhumvit when you walk from Asok BTS Station.