10 Great Restaurants in Incheon
Where to Eat in Incheon
The best restaurants in Incheon host a wide range of local cuisines made with fresh ingredients from the sea and land. Since it's close to the sea and islands, a variety of seafood dishes have been developed over the past generations.
With Incheon Chinatown formed in the late Joseon Dynasty, food culture in Incheon was somewhat influenced by Chinese food. During the Korean War and in the post-war period, many North Koreans moved to this area with their local dishes, making them also popular in Incheon. As a port city, Incheon also has great budget meals developed for wharf and factory workers. You'll be spoiled for choice with great eateries across the city.
1
Yeonanbudu Pier Raw Fish Street
The first place that comes to mind when trying to think of a good place to have raw fish in Incheon is Yeonanbudu Pier in Hang-dong, Jung-gu. There are hundreds of raw fish restaurants clustered near the pier where ships and barges arrive and depart, including fish markets, raw fish shops, and food stalls. Every restaurant on this street offers fresh raw fish at a reasonable price.
Restaurants on the Yeonanbudu Pier Raw Fish Street are famous for the generous amount of side dishes they offer. Some of them even have more than 60! There's another raw fish street specialised in sliced raw large-eyed herring seasoned with vinegar (Baendaengyi hoemuchim) nearby.
Location: Chinatown-ro 52beon-gil, Gaho-dong, Jung-gu, Incheon, South Korea
2
Soraepogu Port Raw Fish Street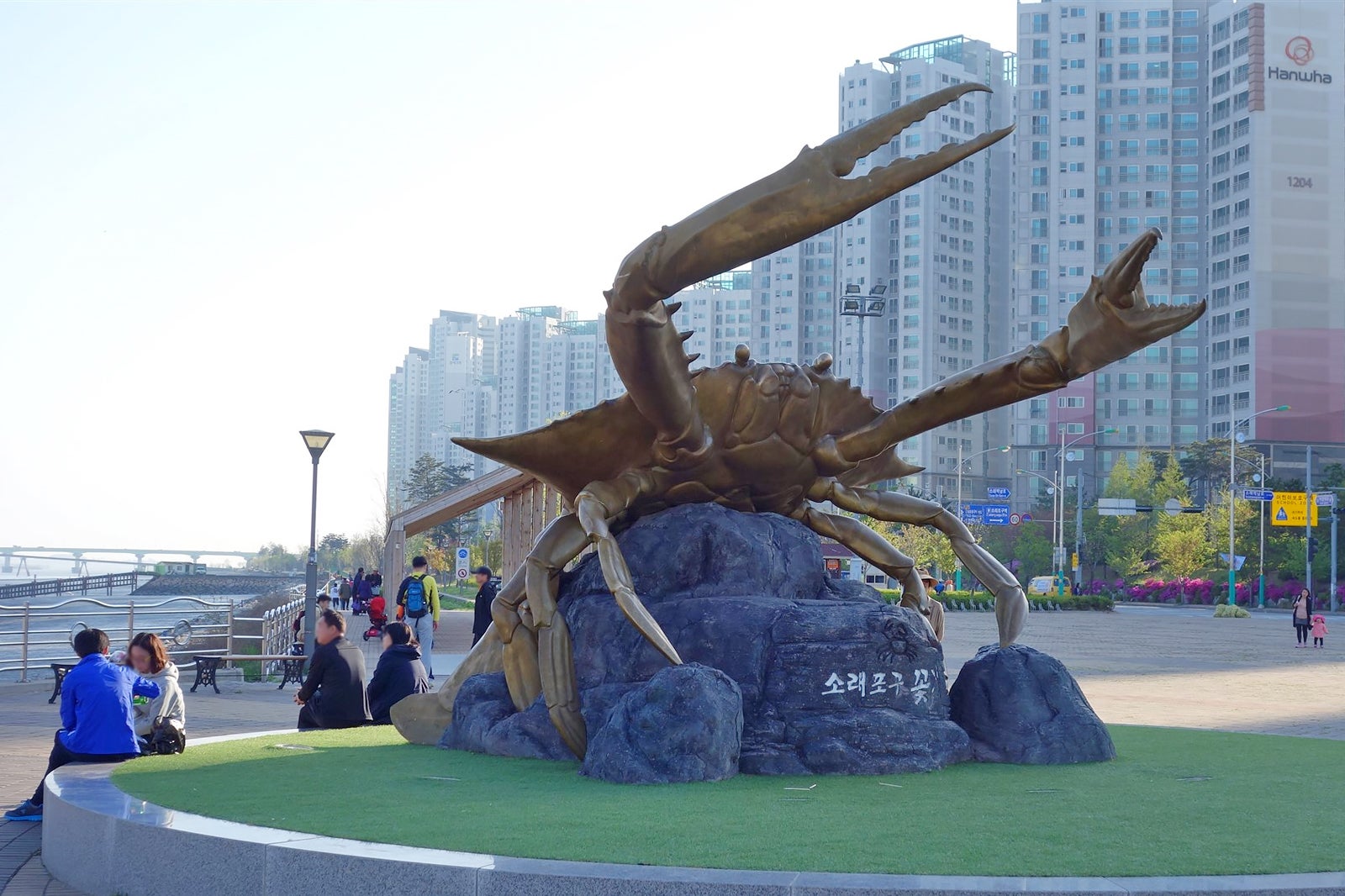 Soraepogu Port has many raw fish restaurants where you can enjoy fresh meals at reasonable prices. Visit the traditional fish market and nearby stores and enjoy the market's unique vitality and hearty welcome.
At Sorae Fish Market, located across the street from the traditional fish market, you can choose raw fish yourself from the market on the first floor and enjoy the sliced raw fish dish at the restaurant on the second floor by paying a table fee. Just pick any restaurant, and you'll be treated to a variety of raw fish dishes and generous side dishes at a low price.
Location: 107-1, Gajeong-Ro, Incheon, South Korea
photo by Ken Eckert (CC BY-SA 4.0) modified
3
Bukseong-dong Jajangmyeon Street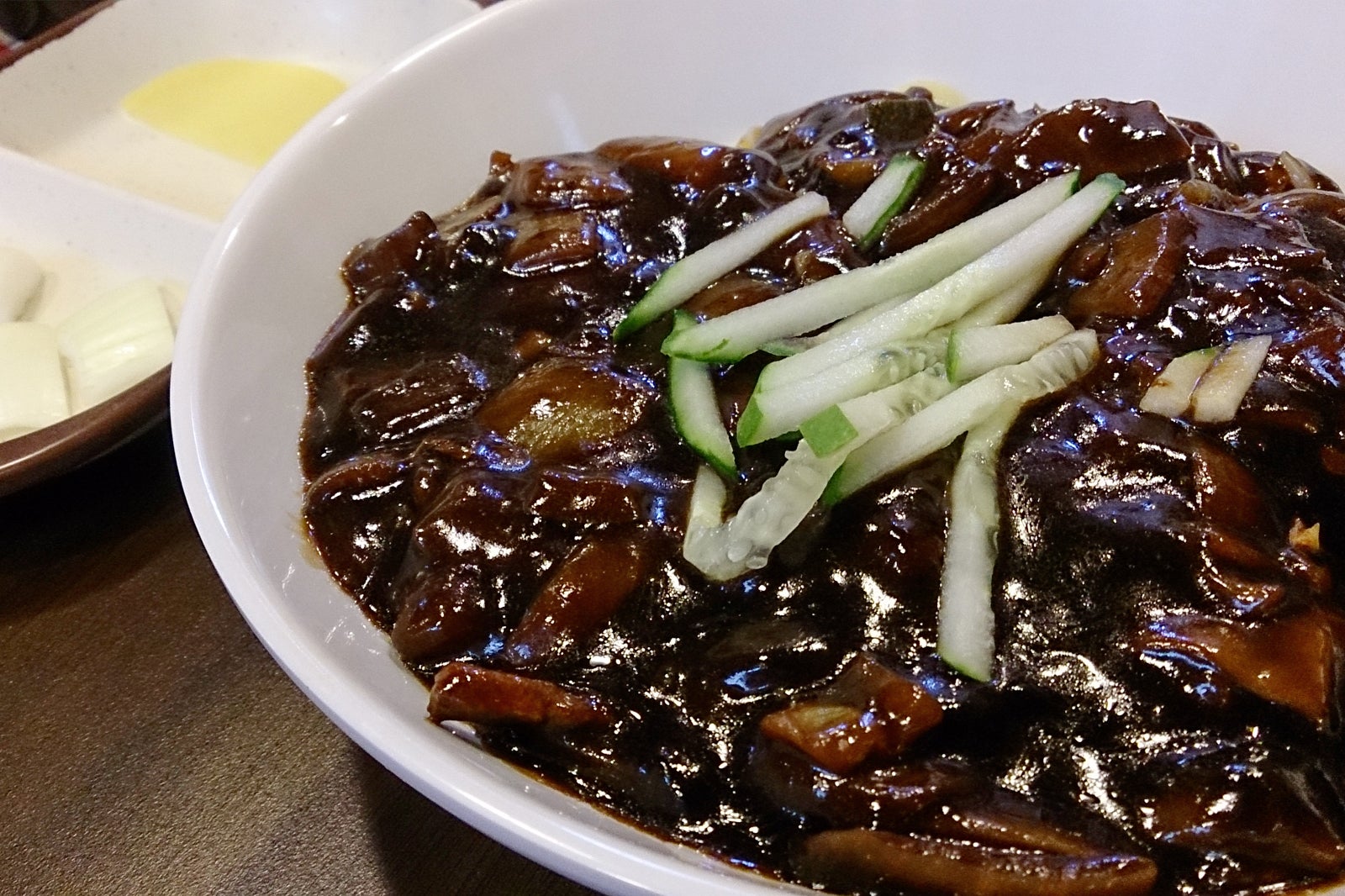 If you're travelling to Incheon, don't miss the chance to enjoy the original flavour of black-bean-sauce noodles (jajangmyeon) in Chinatown. The dish is said to have first been a cheap and easy meal for Incheon wharf workers, but its popularity has made it loved across South Korea.
The large and small restaurants on the black-bean-sauce noodles street have a long history and unique recipes from house to house. The Jajangmyeon Museum nearby is worth visiting.
Location: China town-ro, Seollin-dong, Jung-gu, Incheon, South Korea
photo by ProjectManhattan (CC BY-SA 3.0) modified
4
Yeonghyeon-dong Multeombeong Street
Multeombeong Street located near Yonghyun Market in Michuhol-gu is famous for blackmouth angler dishes. In the past, blackmouth anglers were thrown back to the sea by fishermen because they considered them useless. They also nicknamed the fish 'Multeombeong-yi' after the sound it made when entering the water. Blackmouth angler dishes began as a cheap appetiser served with drinks for workers near Dongincheon Station in the 1960s and are now a popular speciality of Incheon. They use freshly caught blackmouth anglers from Incheon Port, so the meat is soft and light, and melts in your mouth.
You can enjoy various dishes such as braised blackmouth anglers (agwi-jjim), blackmouth angler stew (agwi-tang), deep-fried blackmouth angler (agwi-twuigim), and sweet and sour blackmouth angler (agwi-tangsuyuk). The taste of the rice fried in the remaining braised blackmouth anglers is also fantastic.
Location: Yonghyeon-dong, Nam-gu, Incheon, South Korea
photo by stu_spivack (CC BY-SA 2.0) modified
5
Manseok-dong Webfoot Octopus Street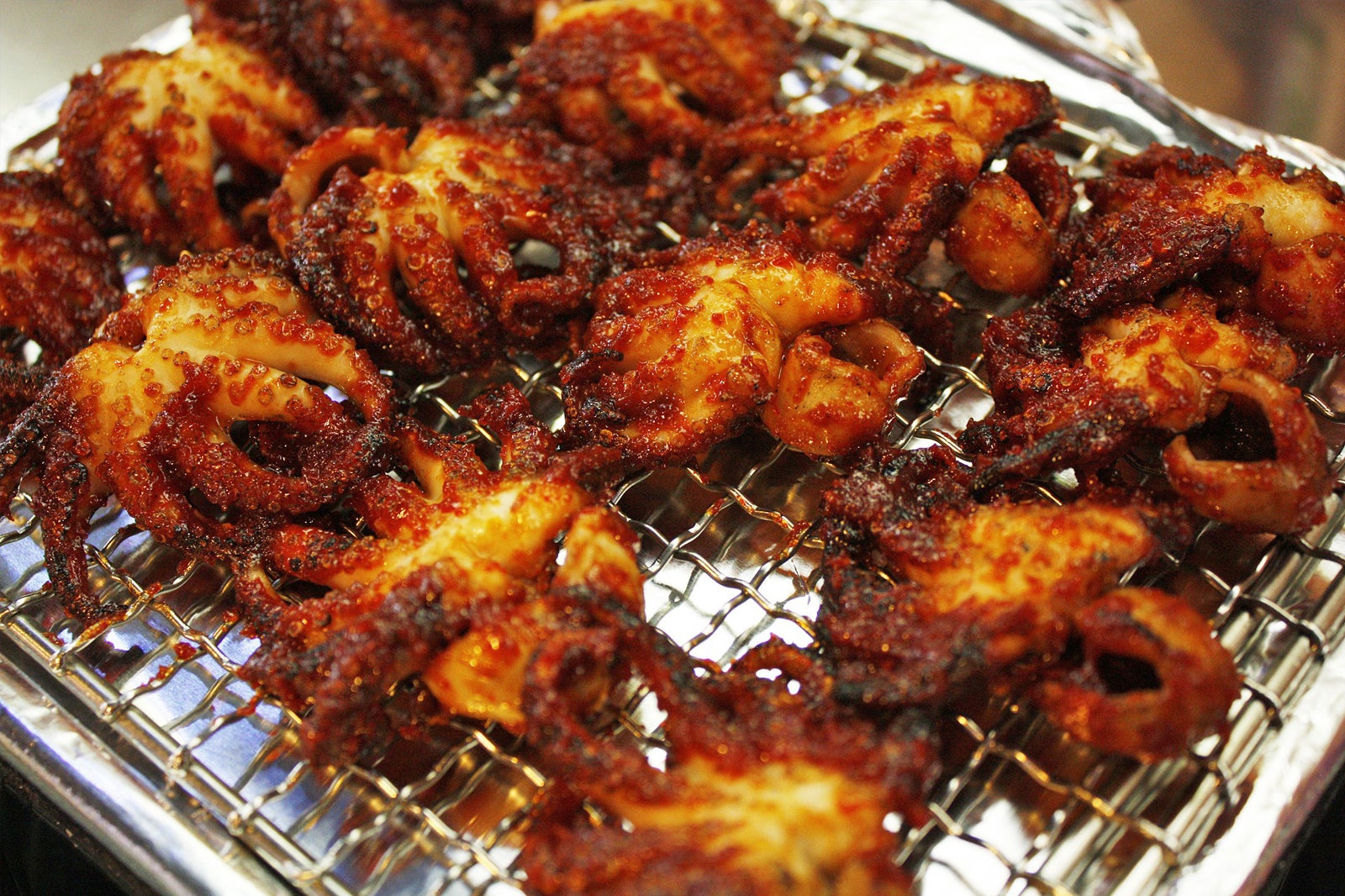 Located close to Incheon Port and Manseokbudu Pier, it's easy to get fresh webfoot octopus in Manseok-dong, Dong-gu. Webfoot octopus restaurants with a long history are clustered together near Manseok Bridge. As the local saying goes "webfoot octopus in spring and small octopus in autumn", so webfoot octopus is especially delicious in spring. Their flesh is chewy at this time, and the more you chew, the more flavour you get.
You can dip the blanched webfoot octopus in red chilli paste with vinegar or enjoy it as stir-fried webfoot octopus (jukkumi bokkeum). The spicy and sweet taste of the stir-fried dish with red pepper sauce and water parsley will make your day!
Location: Manseok-dong, Dong-gu, Incheon, South Korea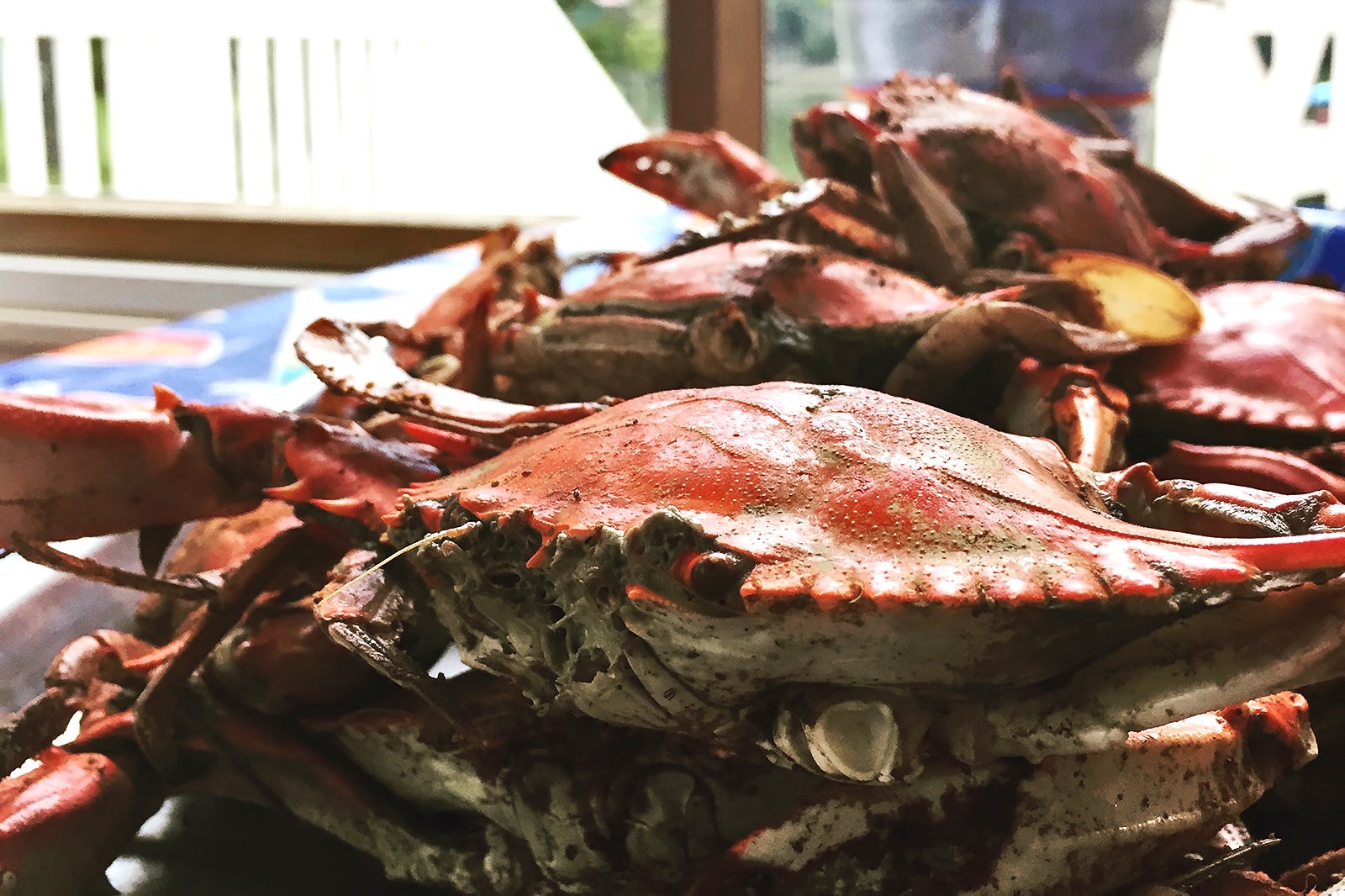 Around 20 blue crab restaurants are clustered around Songdo Amusement Park in Yeonsu-gu. The history of Songdo Blue Crab Street started from the stalls where blue crabs were sold at the roundabout in front of the amusement park a long time ago. You can now enjoy a variety of blue crab dishes here, such as spicy blue crab stew (kkotge-tang), braised blue crab (kkotge-jjim), seasoned raw crab (saeng-ge muchim), spicy blue crab with vegetables (kkotge bumbeok), soy-sauce-marinated crab (ganjang-gejang) and spicy marinated crab (yangnyeom-gejang).
In autumn, male blue crabs with plump flesh are best served as a stew or braised dish, and female blue crabs with eggs before the spawning season in June should be eaten as a marinated crab dish. Restaurants on the Songdo Blue Crab Street keep blue crabs harvested in the peak season frozen, so you can taste fresh crab dishes here all year round.
Location: Neungheodae-ro, Ongnyeon-dong, Yeonsu-gu, Incheon, South Korea
7
Yeonrakgol Loach Village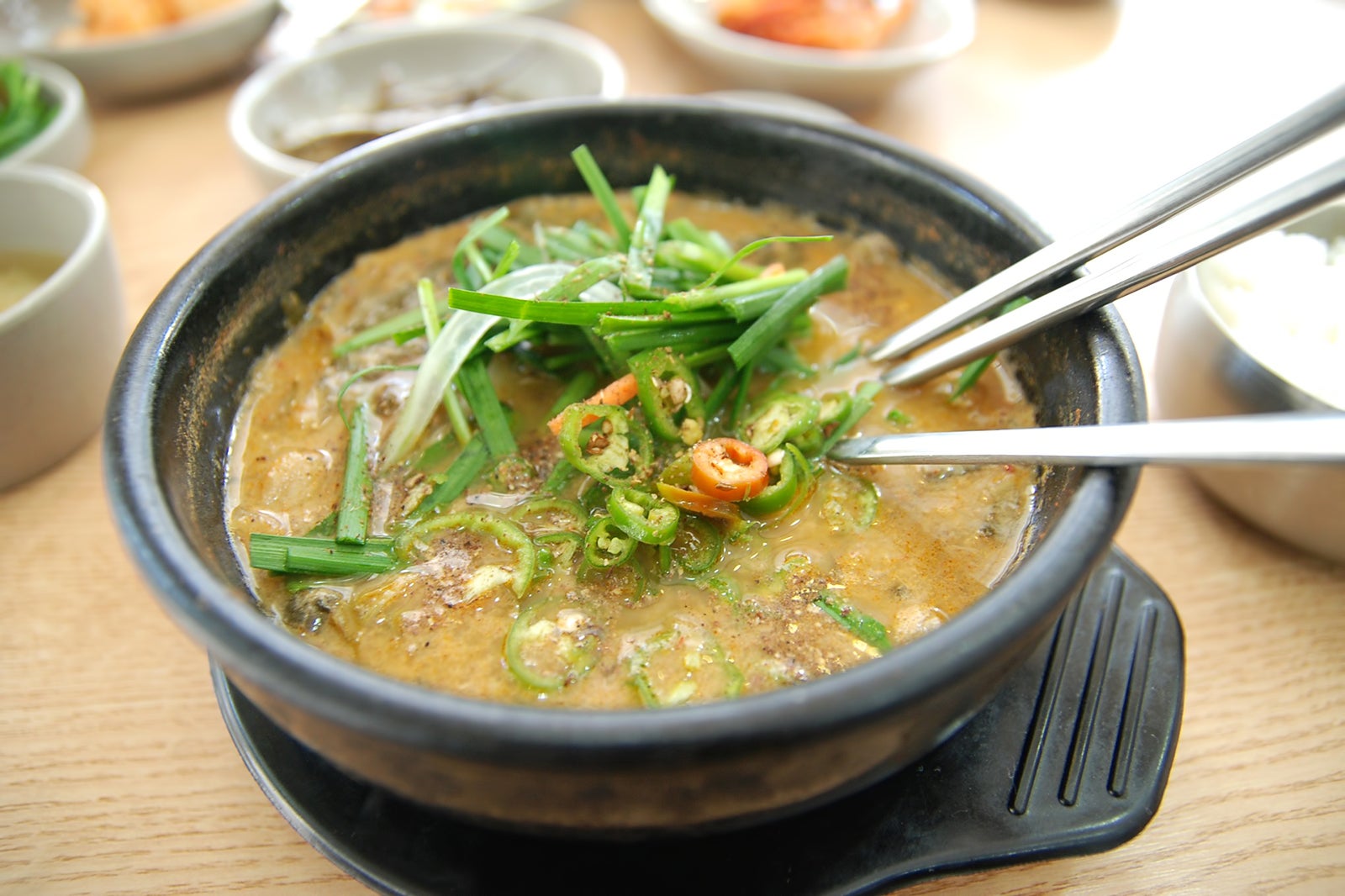 Unyeon-dong in Namdong-gu is home to many loach soup (chueo-tang) restaurants. This village was called Yeonnakgol in the past, and it was an ordinary farming village whose residents enjoyed loach soup as loaches were abundantly caught. Instead of the typical fermented soybean paste broth, restaurants here use a spicy red pepper paste broth with small pieces of dough for the loach soup. By adding generous amounts of dough, noodles, courgettes, potatoes, and garlic, the soup tastes rich and savoury. Loach soup is a popular stamina food in summer and said to be good for your skin.
Location: Jangsuseochang-dong, Namdong-gu, Incheon, South Korea
8
Songhyeon-dong Sundae Alley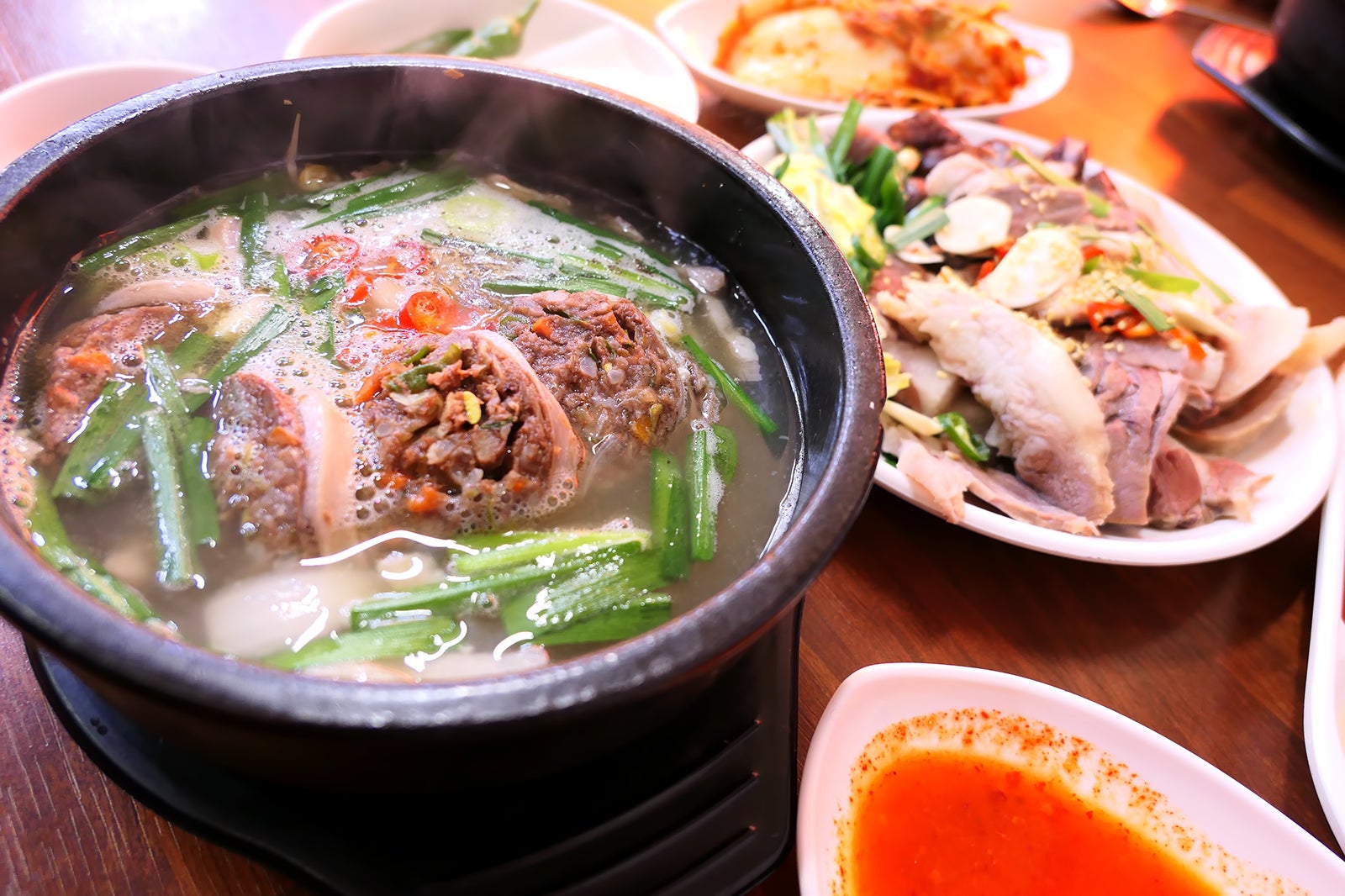 Songhyeong-dong Sundae Alley is located opposite to Songhyeon Market in Songhyeon-dong, Dong-gu. Its long history dates back when Sumuntong Market opened in the 1960s and restaurants began selling Korean sausage and rice soup (sundae gukbap) as a cheap and easy meal for port and factory workers.
The secret of the soup in Sundae Alley is that the sausages are made with plenty of meat and glutinous rice. You can feel the tradition of 60 years from the way they combine the spicy and rich broth, savoury head meat and internal organs, and chewy and plump Korean sausages (sundae). Diced radish kimchi (kkakdugi) and regular kimchi also complement its rich flavour.
Location: Songhyeon-dong, Dong-gu, Incheon, South Korea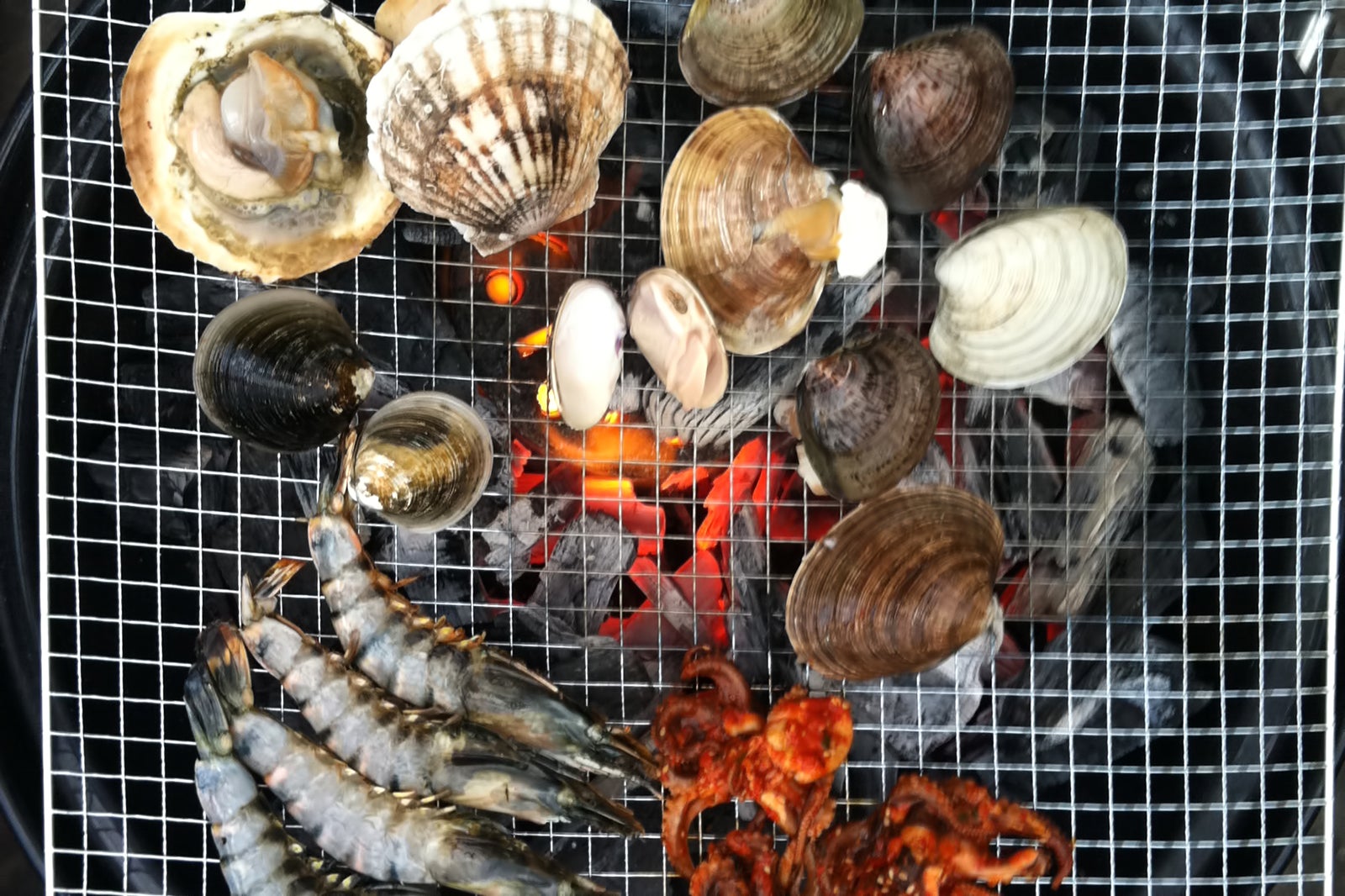 Yeongjongdo Eulwangri Beach is a popular destination for all seasons and grilled clams is a popular dish you can enjoy there. The beach is close to the metropolitan area and has beautiful natural scenery. Since many restaurants around Eulwangri Beach specialised in grilled clams, it has become a speciality of this place.
You can enjoy various clams such as scallops, big clams and cockles grilled on a plate and dipped in sauce. Clams will lose their texture if you cook them too long, so it's best to eat clams when they just opened their mouth. Having grilled clams with a drink while listening to the sound of the night sea will be a memory to remember.
Location: 717-3 Yongyu-dong, Jung-gu, Incheon, South Korea
10
Hwapyeong-dong Cold Noodle Street
Incheon's cold noodles (Incheon naengmyeon) are so famous that they are even named along with Pyongyang Naengmyeon and Hamheung Naengmyeon, and that reputation originated from the Cold Noodle Street in Hwapyeong-dong. This place is known for its washbasin-sized cold noodle servings. At first, it was sold as regular cold noodles, but the factory workers kept asking for more refills, so they started to serve more generous servings of cold noodles from the beginning. This became the dish named sesut-daeya Naengmyeon, or 'washbasin-sized cold noodles'.
Hwapyeong-dong cold noodles are cold buckwheat noodles with young summer radish kimchi (yeolmu naengmyeon), and the spicy and dry taste of young summer radish blends with the chewy texture of the noodles to create a special dish. The price is cheap compared to the generous amount, so you can enjoy it casually as a budget meal.
Location: Hwapyeong-dong, Dong-gu, Incheon, South Korea
Back to top