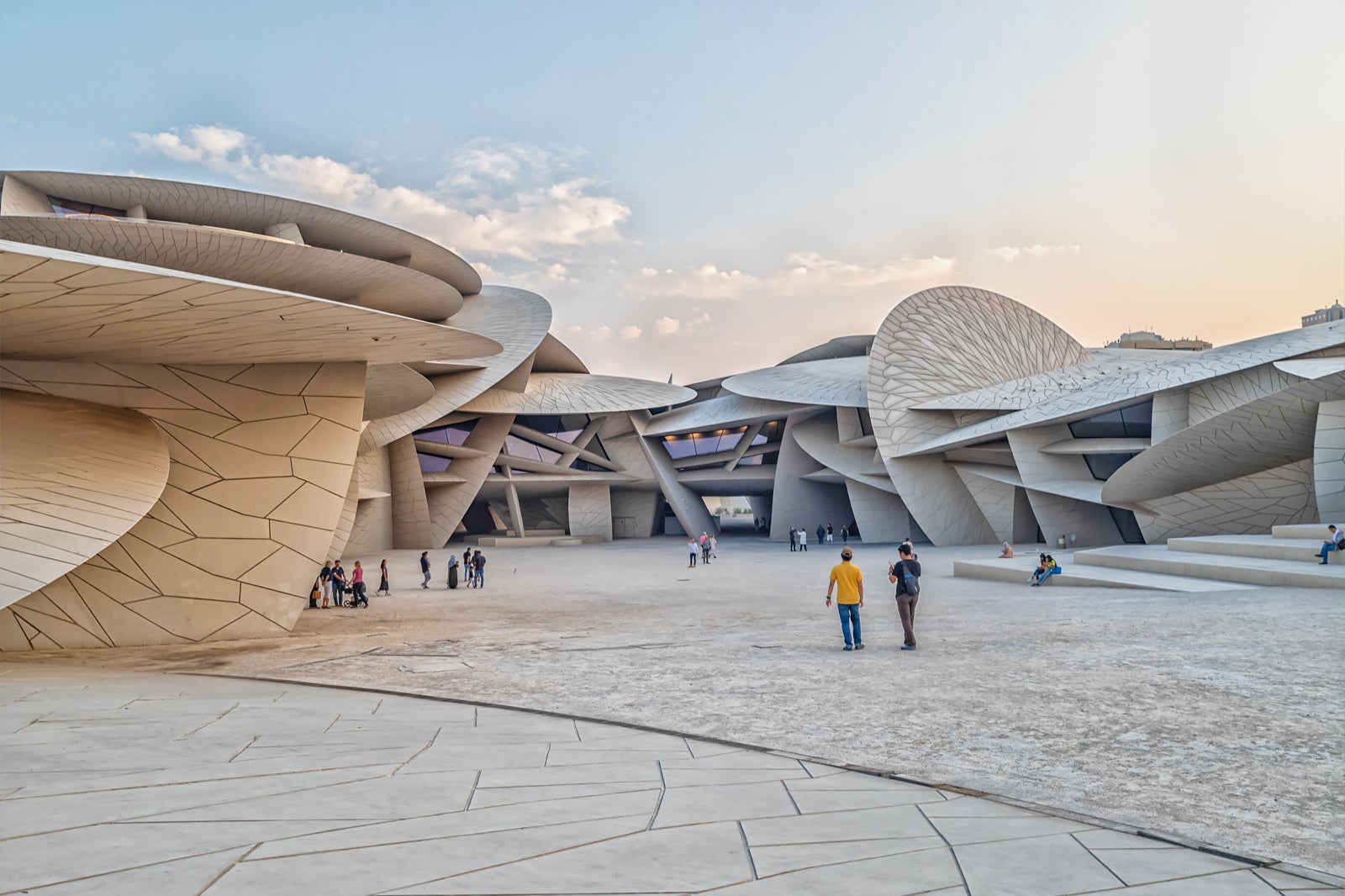 11 Best Art Galleries and Museums in Qatar
Qatar's Must-See Museums and Art Galleries
Many know Qatar for its conservative customs, but that hasn't stopped it from exploring even the most controversial artworks. Qatar simply loves art. In fact, it's the world's biggest contemporary art buyer. From Arabic calligraphy and spot and spin paintings to massive bronze sculptures, Qatari art is influenced by both tradition and exposure to foreign cultures.
Ultimately, the goal is to make Qatar the artistic centre and cultural capital of the Middle East. The emir's sister herself is determined to achieve that by challenging the country's traditional notions through modern art. In recent years, Qatar's art industry has flourished through the increased number of art spaces in Doha. Here are some of the top galleries that currently embody the culture and history of Qatar.
1
Msheireb Museums
Explore Doha's fishing roots from 4 historical houses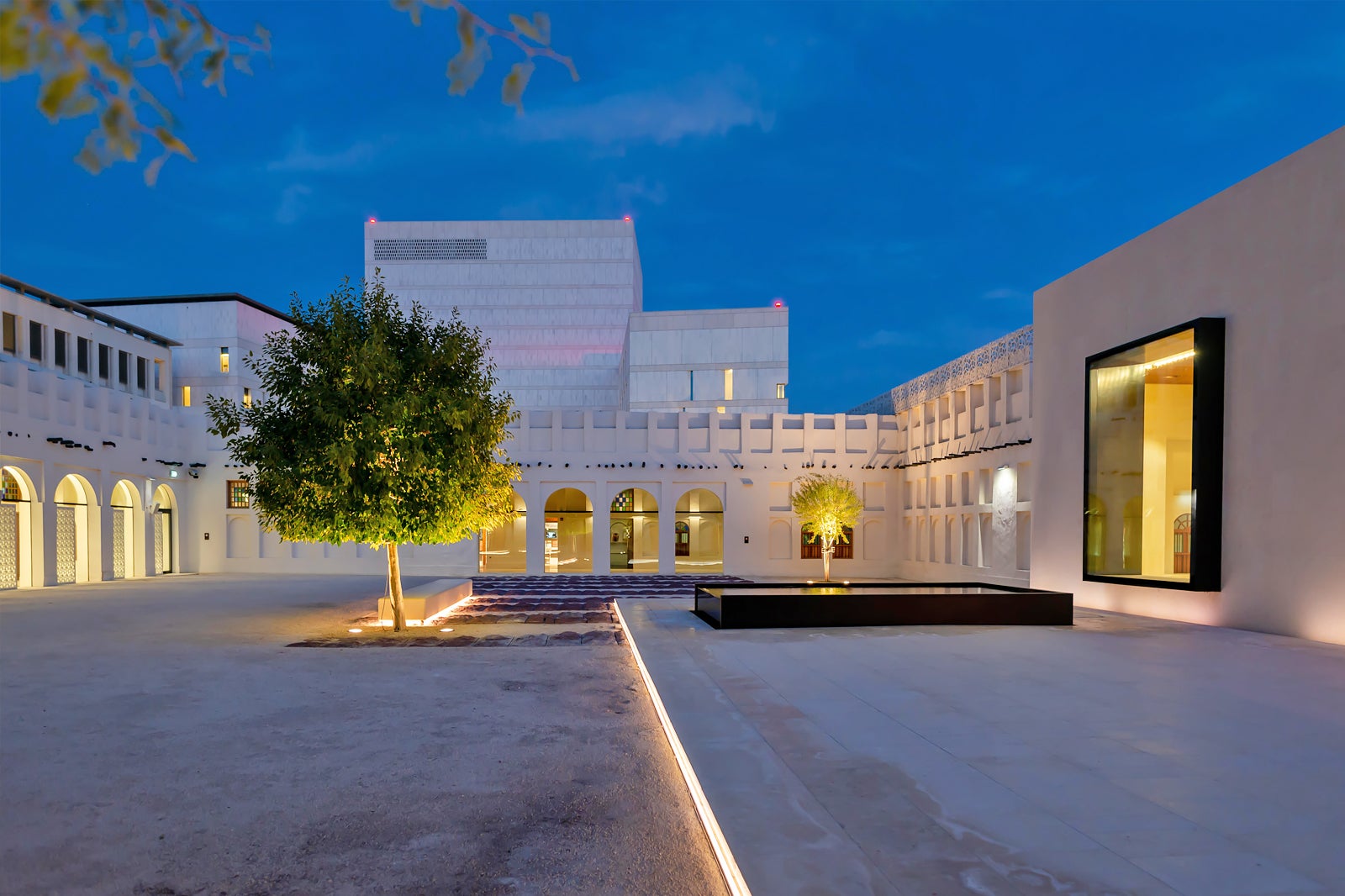 The Msheireb Museums trace Doha's history from its humble beginnings as a small fishing village. The museums pay homage to 4 historic heritage buildings in the oldest part of the capital: the Bin Jelmood House, Company House, Mohammed Bin Jassim House, and Radwani House.
Each building focuses on different aspects of Qatar's history, including ancient slavery, the discovery of oil and gas, traditions, and the development of Arabian Gulf countries. After your tour, you can extend your stay at the museums' gift stores and restaurants. You can go to the Al-Fai Restaurant or Empire Café to sample modern Qatari cuisine.
Location: Msheireb Downtown Doha, Doha, Qatar
Open: Monday–Thursday from 9 am to 5 pm, Friday from 3 pm to 9 pm, Saturday from 9 am to 5 pm (closed on Sundays)
Phone: +974 4006 5555
2
National Museum of Qatar
Experience Qatar's history in a heartbeat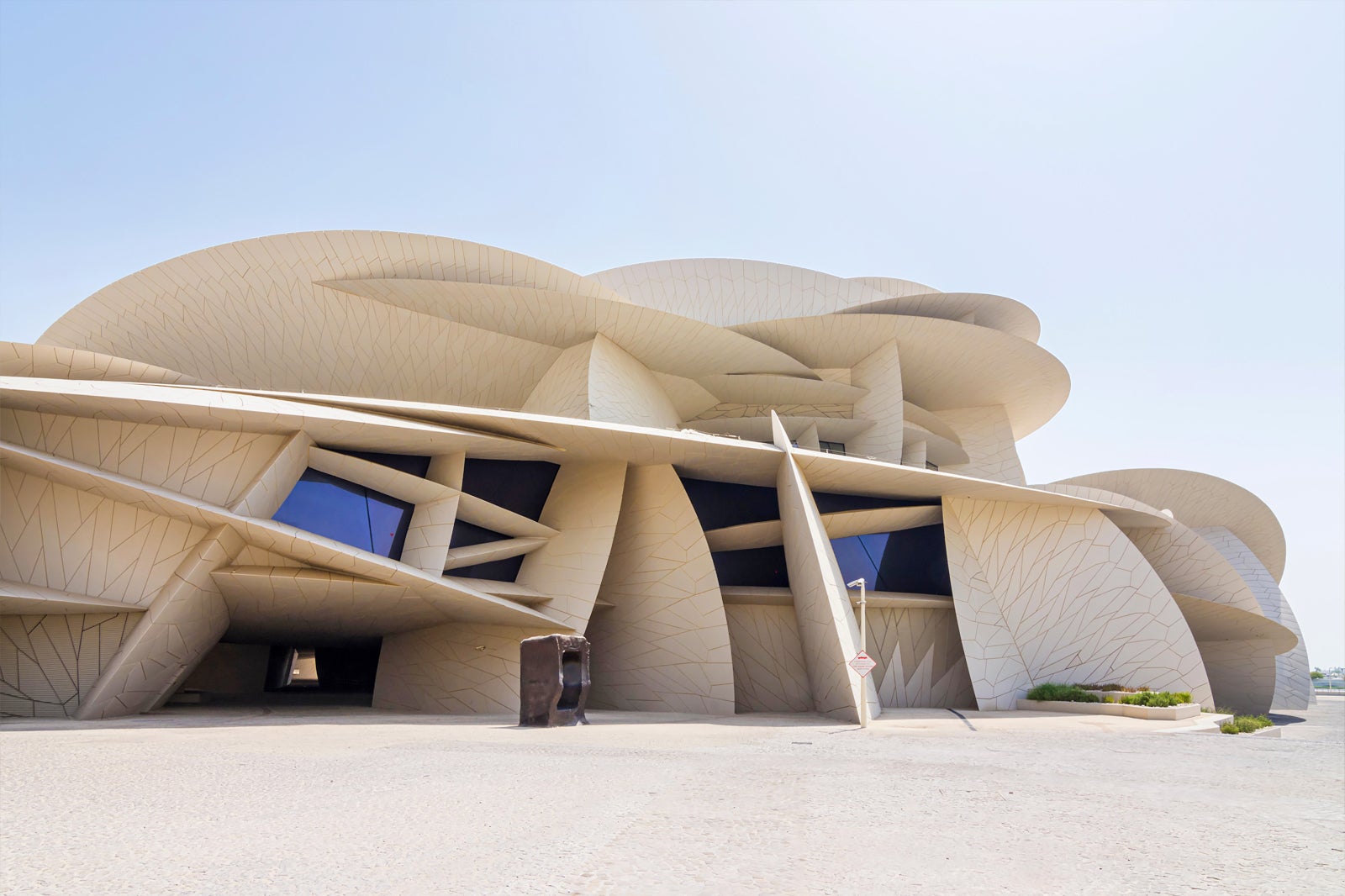 The National Museum of Qatar offers an immersive and informative experience of Qatar's history. Just off the waters of Doha Corniche, this architectural marvel offers a vibrant space with an incredible view across the bay.
The museum tells Qatar's unique story in 3 parts: Beginnings, Life in Qatar, and The Modern History of Qatar. Most notably, it displays the Pearl Carpet of Baroda, which features 1.5 million hand-embroidered pearls, sapphires, and diamonds. A fully landscaped park allows you to learn about Qatar's indigenous plants. After your tour, head over to the museum's café to experience a traditional food forum.
Location: Museum Park St, Doha, Qatar
Open: Sunday–Wednesday from 9 am to 7 pm, Thursday and Saturday from 9 am to 9 pm, Friday from 1.30 pm to 9 pm
Phone: +974 4452 5555
3
Museum of Islamic Art
Journey through 1,400 years of Islamic culture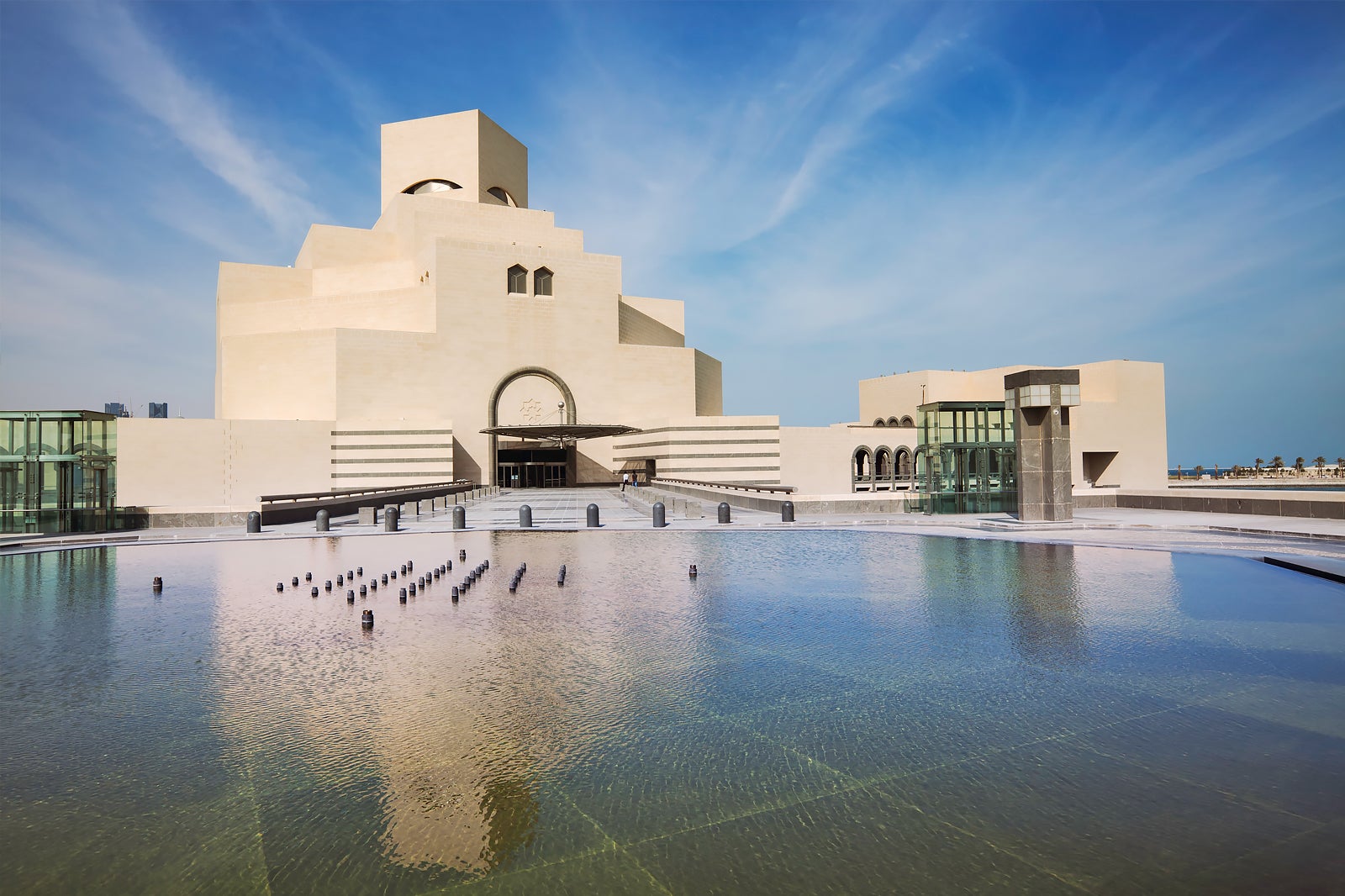 Tradition meets modernity at Qatar's Museum of Islamic Art (MIA). An iconic building in the Doha waterfront, this limestone structure emphasises art's connection to Islam without necessarily focusing on religious items.
The MIA's collection accommodates Islamic craftsmanship across 3 continents over 1,400 years. Possessing traditional styles and techniques from across the Middle East and Asia, each piece's origin story completes a visual narrative of Qatar throughout the centuries. The museum also holds a library that houses more than 15,000 rare manuscripts and texts from around the world, including a Quran from the 7th century.
Location: Doha Port, Doha, Qatar
Open: Saturday–Thursday from 9 am to 7 pm, Friday from 1.30 pm to 7 pm
Phone: +974 4422 4444
4
Mathaf: Arab Museum of Modern Art
Explore a world-class collection of modern and contemporary Arabian art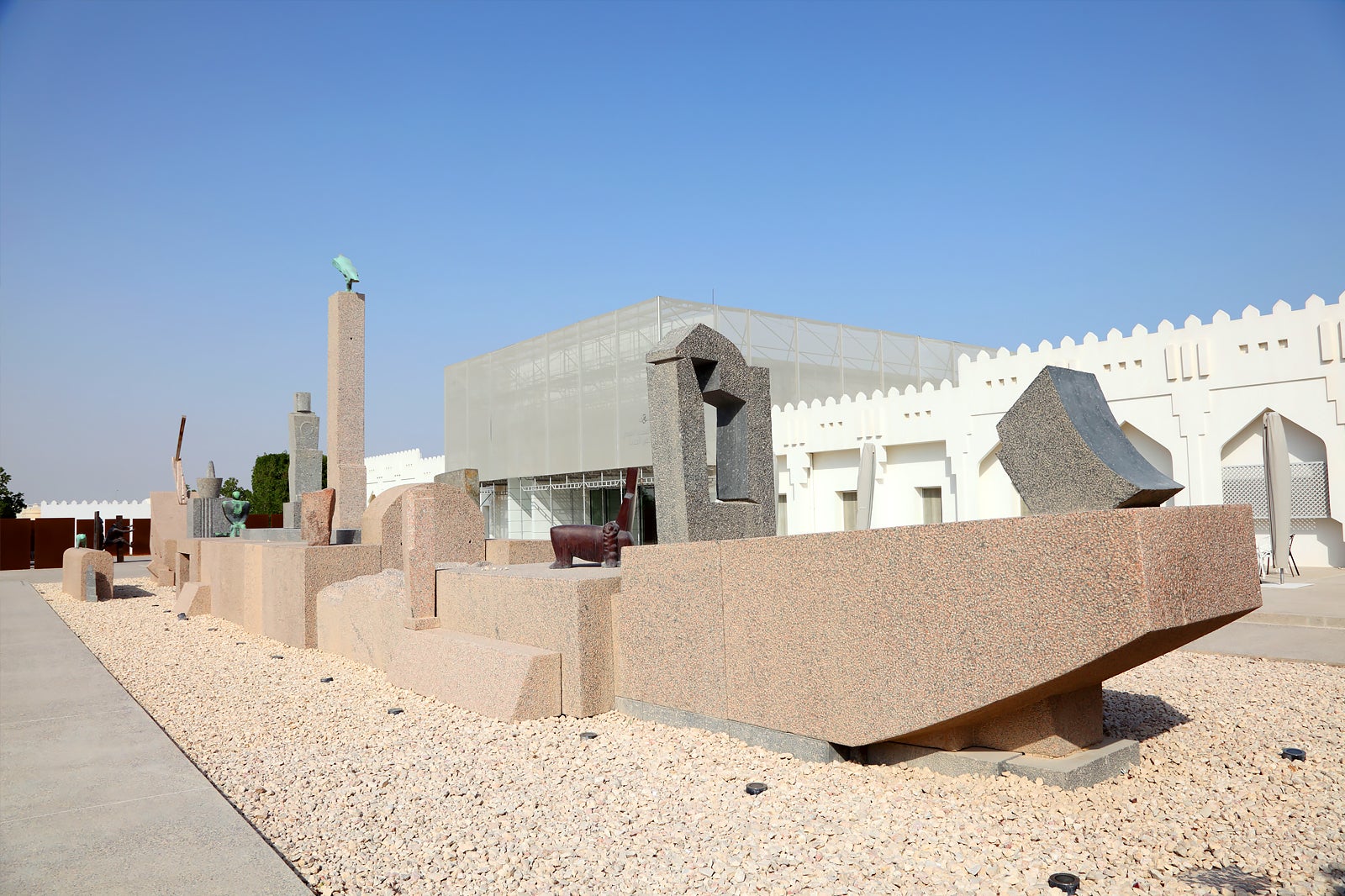 Mathaf: Arab Museum of Modern Art is a converted school building in Doha's Education City. Housing the largest collection of Arab art in the region, Mathaf exhibits 9,000 pieces that were collected over the past 25 years and trace the changes in Qatari society.
The museum includes a notable exhibit on Horoufiyah (the use of Arabic letters and calligraphy in art). It comes with a free guided tour that tells the story behind every piece in its collection. For easier travel and access to the museum, ride their Mathaf Bus, which is a free shuttle bus service.
Location: Education City, Doha, Qatar
Open: Friday from 1.30 pm to 7 pm, Saturday–Thursday from 9 am to 7 pm
Phone: +974 4402 8855
5
Katara Art Centre
Enjoy unconventional art in a bustling village
Katara Art Centre is recognised as a cultural hub that explores art beyond the traditional form. Located in a developing art space of Katara Cultural Village, it covers modern and unconventional artwork. While the medium used for each artwork varies, many of the pieces use a transdisciplinary approach to showcasing art.
The Katara Art Centre also develops art events and concepts, helping emerging artists in the Arab region build local and international networks. The centre holds regular talks, classes, and workshops. Topics vary from basic brush calligraphy and recycled art to caricature clay sculpture.
Location: Katara Cultural Village, Building 5, Doha, Qatar
Open: Sunday–Thursday from 10 am to 9 pm, Friday–Saturday from 4 pm to 9 pm
Phone: +974 4408 0244
6
Sheikh Faisal Bin Qassim Al Thani Museum
Experience one man's love for Qatari art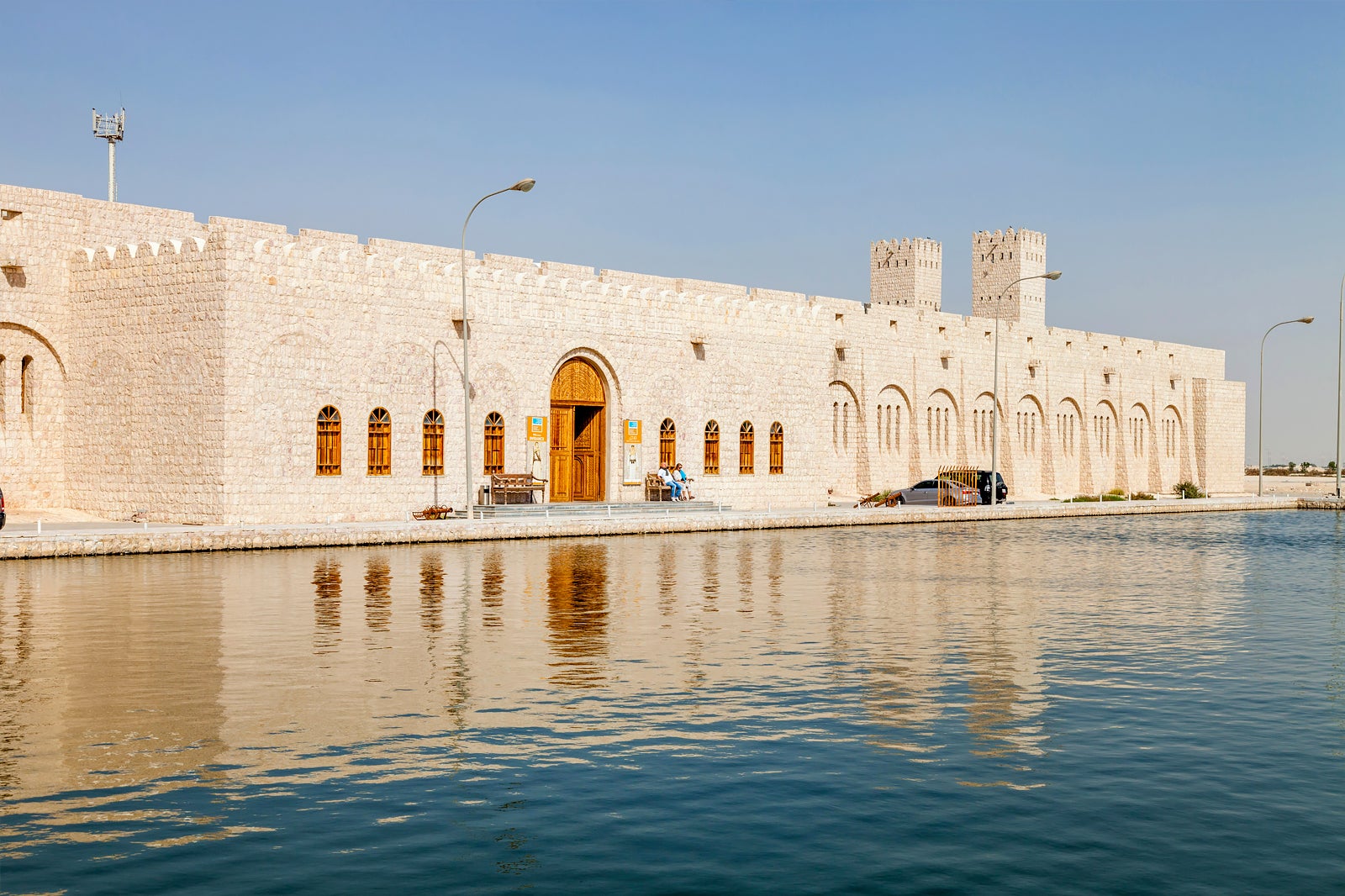 Sheikh Faisal Bin Qassim Al Thani Museum, or simply FBQ Museum, contains the private art collection of one of Qatar's most eminent businessmen. Located at Al Samriya Farm, this cultural estate has a unique exterior of local stone and traditional turrets.
Collated over more than 50 years from 4 continents, every gallery piece preserves Islamic and Qatari customs from the Jurassic age to the present day. With 15,000 artefacts in 15 halls, the museum is divided into 4 themes: Islamic Art, Vehicles, Coins & Currency, and Qatar Heritage. Expect to see treasures, fossils, rare coins, manuscripts, and textiles.
Location: Al Samriya, Qatar
Open: Monday–Thursday from 9 am to 4.30 pm, Friday from 2 pm to 7 pm, Saturday from 10 am to 6 pm, Sunday from 9 am to 4 pm
Phone: +974 4486 1444
7
Virginia Commonwealth University Qatar Gallery
Discover an academic approach to Qatari art
The Virginia Commonwealth University (VCUarts Qatar) is the Middle Eastern branch of Virginia's prestigious art school. It's located in Education City, a 12-sq-km campus that houses multiple educational institutions. While exhibitions take place on campus, they're all open to the public.
A research and education hub, VCUarts is home to Qatar's finest graphic and interior designs, as well as art history. It includes artworks from international artists and from VCU students and faculty. Many of these pieces tackle art from an academic standpoint. Without your own transportation, VCUarts might be an elusive destination, so it's a good idea to plan ahead.
Location: Al Luqta St, Education City, Doha, Qatar
Open: Sunday–Thursday from 9 am to 5 pm (closed on Fridays and Saturdays)
Phone: +974 4402 0555
photo by VCUarts Qatar (CC BY-SA 4.0) modified
8
Public art in Doha
See world class art out on the streets
As you move around Doha, you're bound to see some fantastic modern art created by a group of local and international artists. Curated by the Qatar Museums Public Art Department, among the many artists who have contributed sculptures to this endeavour include Damien Hirst (The Miraculous Journey) and Louise Bourgeois (Maman). Other prominent public art in Doha includes graffiti by El Seed and photography by Anne Geddes.
9
Fire Station Artist in Residence
Explore new artwork by emerging local talent
Once a civil defence building occupied by Qatar's fire brigade, Fire Station Artist in Residence is now one of Doha's main artistic hubs. This reused adaptive space receives the patronage of the Emir of Qatar himself.
The museum's brightly lit galleries have housed avant-garde pieces and socially relevant exhibitions. It also hosts a 9-month artist residency programme. Inside the museum is Cafe #999, which offers an assortment of organic and gluten-free food and drinks. Grab a bite of its famous camel burger while enjoying a tranquil view of the west bay.
Location: Mohammed Bin Thani St, Doha, Qatar
Open: Saturday–Thursday from 9 am to 7 pm, Fridays from 1.30 pm to 7 pm
Phone: +974 4422 4222
10
East Wing
Encounter art through the lens
Doha's East Wing is known in the Qatar art scene as a platform for international contemporary photography and practice. The East Wing does not have a permanent physical space that accommodates all the artworks. However, many attend its events and exhibitions once they're set up.
The gallery specifically covers photography, videography, and other unique publications. Its main goal is to showcase socially relevant and thought-provoking images. East Wing supports emerging to mid-career artists both locally and internationally.
Location: (Various venues) Doha, Qatar
11
Anima Gallery
Engage in Qatar's contemporary art scene
Anima Gallery holds 5 contemporary exhibits every year. Situated on a manmade island off the coast of Doha, the gallery showcases a broad range of styles and mediums of art, including painting, sculpture, and print. Aside from local, regional, and international artworks, the exhibitions also include gallery talks and lectures for professionals, students, and visitors.
Anima has an online gallery that gives you a glimpse of the art pieces you'll find within the actual venue. A popular hangout after tours is the museum's Anima Lounge, a contemporary restaurant where you can enjoy both international artworks and gourmet meals.
Location: 30 La Croisette, Porto Arabia, The Pearl, Qatar
Open: Daily from 10 am to 11 pm
Phone: +974 4002 7437
Back to top