10 Best Things to Do in Brussels
What is Brussels Most Famous For?
Brussels is Belgium's quintessential capital city, full of Art Deco taverns, unique Flemish art, towering Gothic cathedrals, and quaint guild houses. Buzzing with activities all year around, discover the parks with blooming flowers, architectural monuments, historic culture and art while filling up on the famous Belgian chocolates and the huge choice of local beers.
Brussels is also one of the best European cities to go shopping in thanks to its 19th-century shopping arcade. This arcade houses a range of high-end brands some of which have designed clothes for the Belgian Royal Family. The cobbled lanes of the city centre are lined with Michelin-starred restaurants and wood-panelled Art Deco brasseries. From what to eat and drink, to historical sights you shouldn't miss out on, make the most of your holiday with our guide of things to do in Brussels.
What are the best things to do in Brussels?
1
Brussels Grand-Place
Check out the gilded statue of St Michael, Brussels' patron saint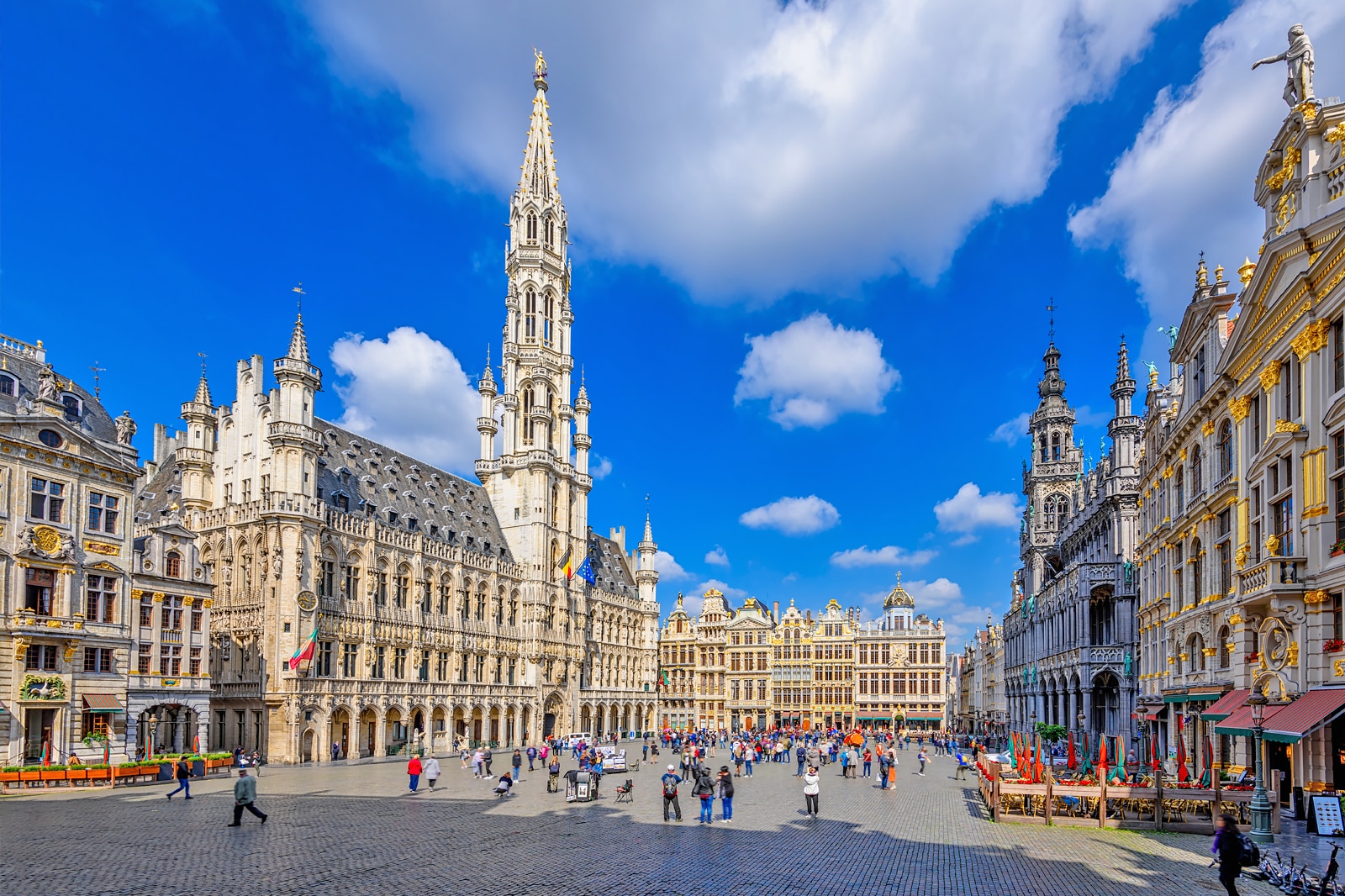 Brussels Grand-Place, the city's central square, has been a UNESCO World Heritage Site since 1998. Here, you can visit the Town Hall which features a striking façade with long columns. These columns feature lots of gold detailing, including a mixture of gothic, baroque and Louis XIV architectural styling, with a tall rising tower in the centre. Located in the central square, it's part of the most visited area in the city and was rebuilt in 1695 after an attack by the French army.
Location: Grand-Place, 1000 Brussels, Belgium
2
Manneken Pis
See Brussel's bronze mascot in quirky costumes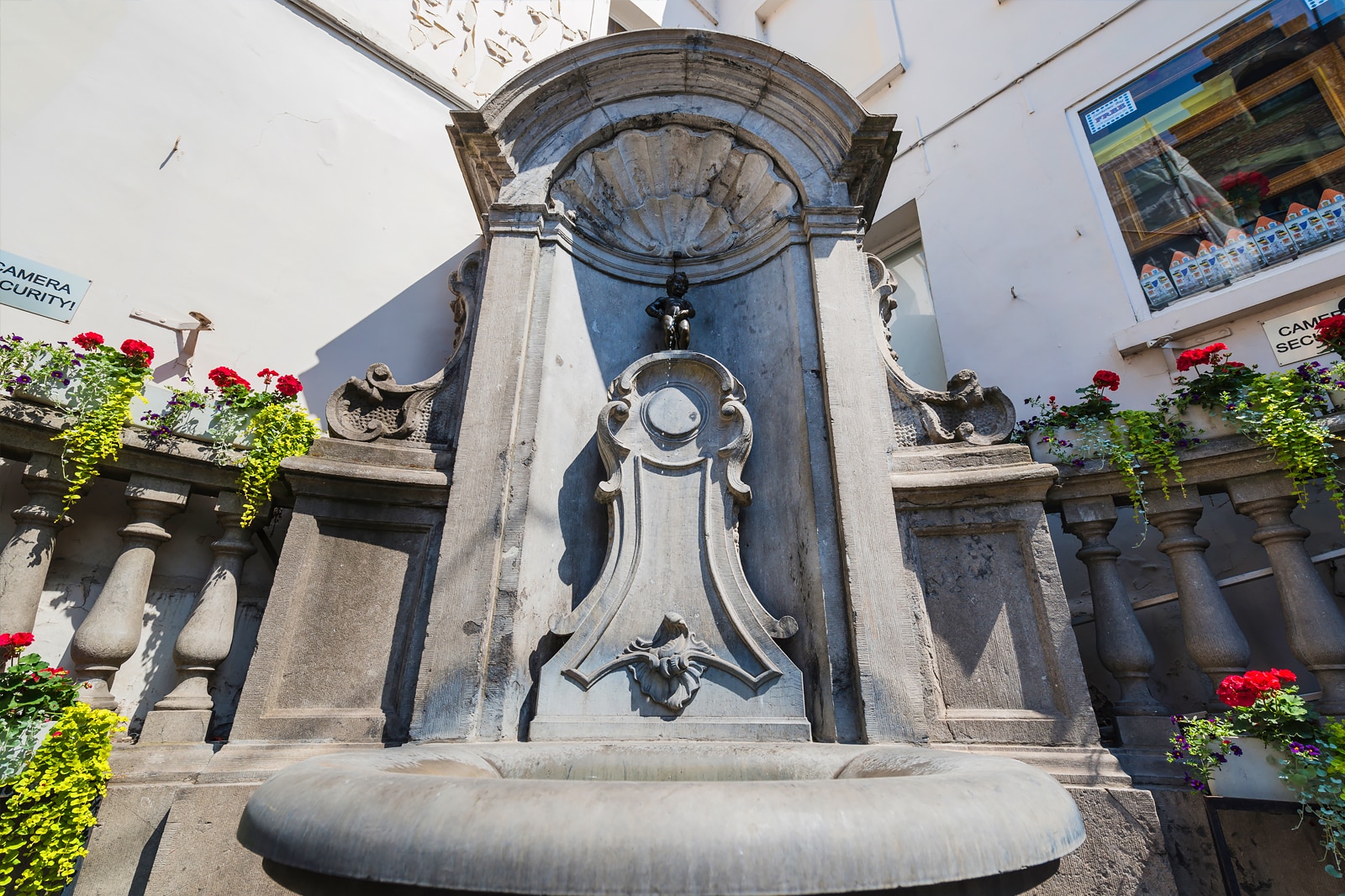 Mannekin Pis is a 61-cm statue of a peeing boy located southwest of Brussels' Gothic Town Hall. The one you see today is a bronze replica of the original 17th century sculpture, which is displayed at the Brussels City Museum.
Despite being stolen twice in the 18th century and destroyed in the 19th century, Mannekin Pis still pees proudly today and is now Brussels' humorous mascot. Mannekin Pis changes costumes several times a week, especially during special occasions.
Location: 1000 Brussels, Belgium
3
Parc du Cinquantenaire
Visit the Temple of Human Passions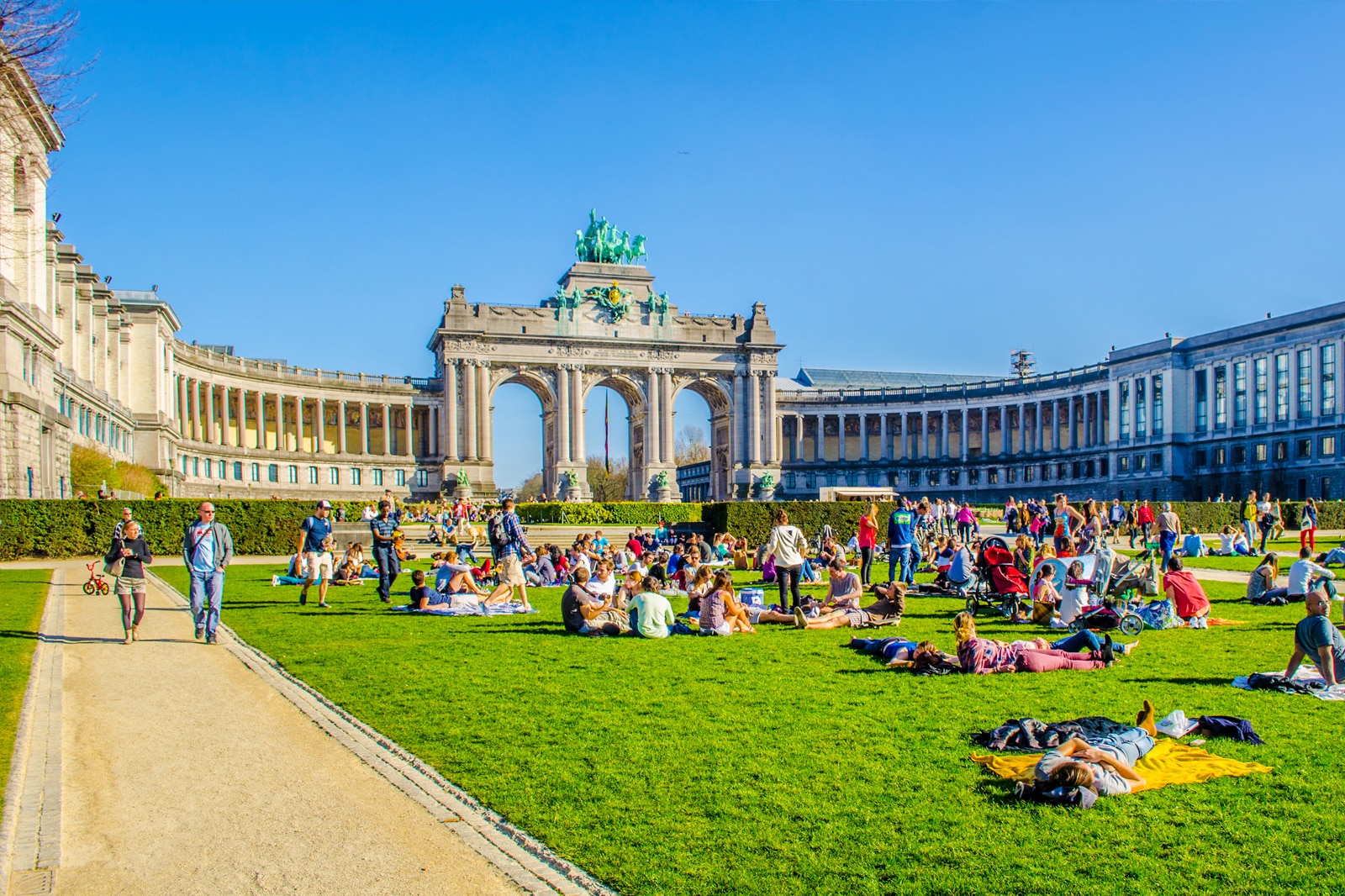 Couples
Families
Photo
Budget
Located in the easternmost part of Brussels' European Quarter, Parc du Cinquantenaire is a 19th-century urban park commemorating 50 years of Belgian independence.
It has an impressive U-shaped arcade that houses the AutoWorld Museum, Royal Military Museum, and Jubelpark Museum. Head over to the north-western end of Parc du Cinquantenaire to visit the Great Mosque of Brussels and the Temple of Human Passions.
Location: Parc du Cinquantenaire, 1000 Brussels, Belgium
4
Galeries Royales Saint-Hubert
Browse high-end brands at this upscale shopping arcade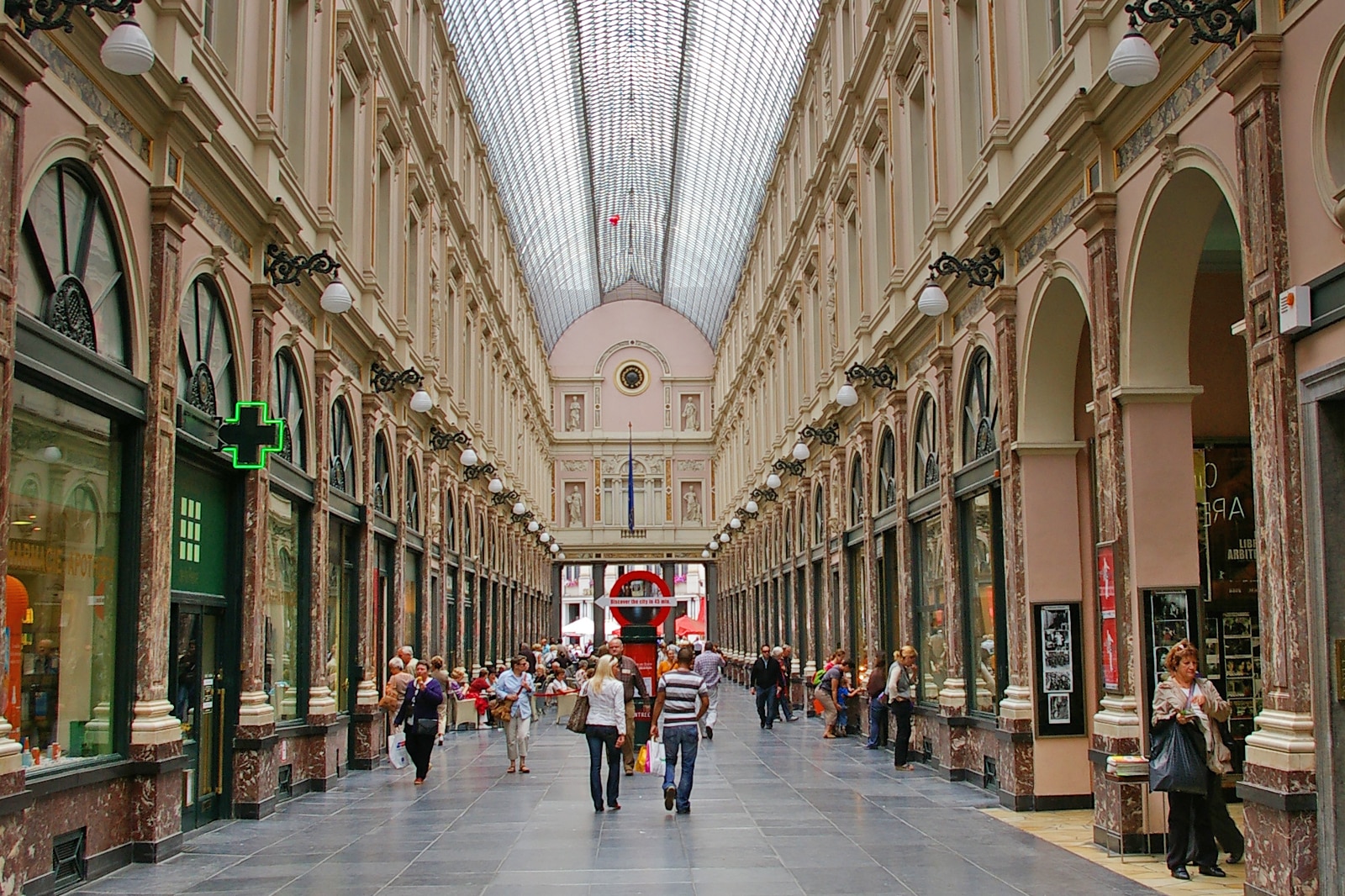 Galeries Royales Saint-Hubert is an upscale shopping arcade near Brussels Grand-Place. Built during the mid-19th century, this glass-covered venue houses many boutique fashion designers, including some who have designed clothes for the Belgian Royal Family.
If you're a fan of Belgian chocolate pralines, Neuhaus's original store has been a tenant in Galeries Royales Saint-Hubert since 1857. Classical plays and operettas are performed at the Théâtre des Galeries, one of Brussels' royal theatres.
Location: Galerie du Roi 5, 1000 Brussels, Belgium
Phone: +32 (0)2 545 09 90
5
St Michael and St Gudula Cathedral
Join a free guided tour of this Gothic church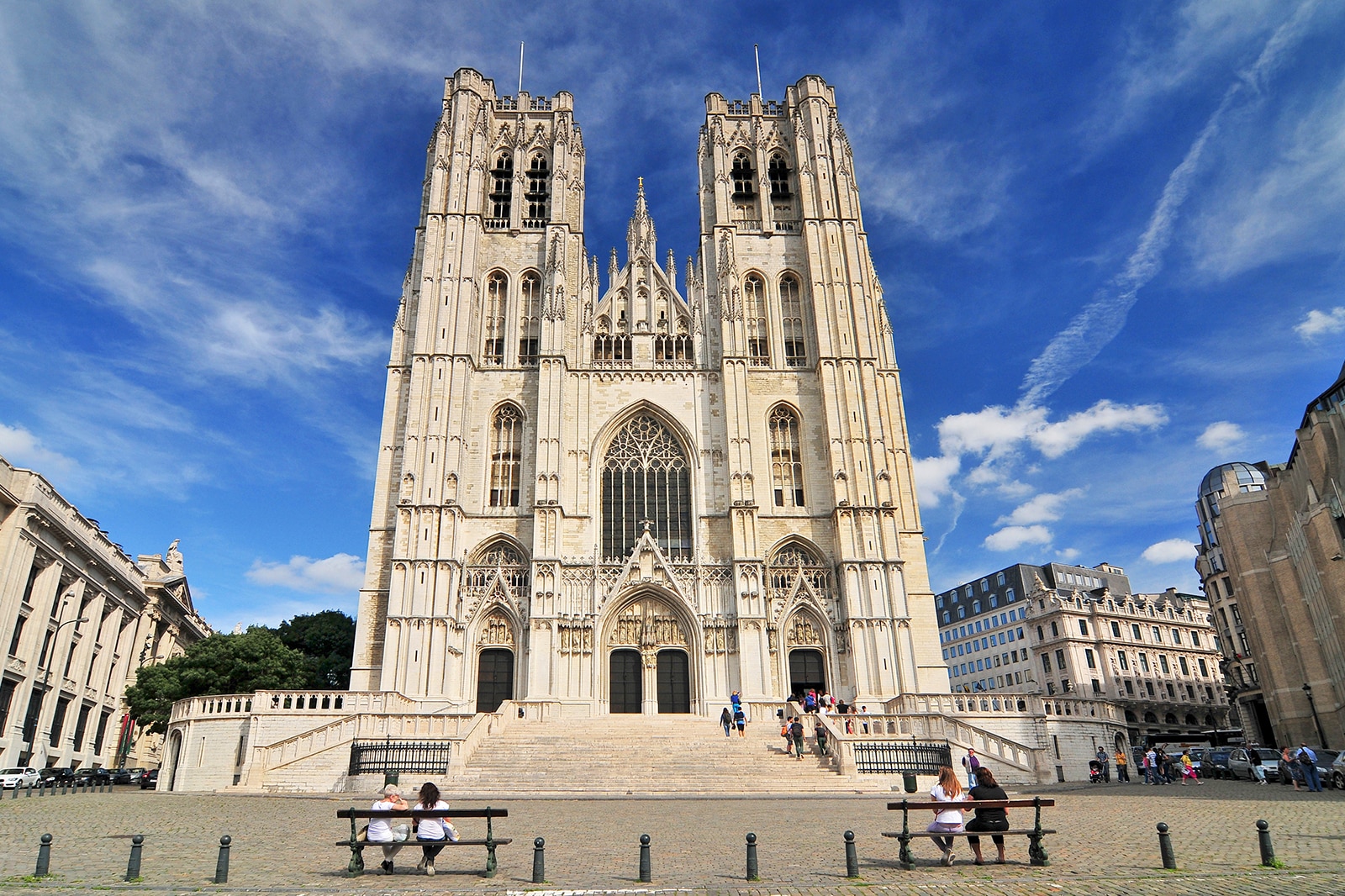 Couples
History
Photo
Budget
The Cathedral of St Michel and Gudula dates back to the 9th century, making it one of the oldest buildings in Brussels. Inspired by Paris' Notre Dame, this hilltop church features a vaulted interior with 16th-century stained-glass windows with views of Brussels' skyline.
There are several archaeological remains that are open to the public, including a well-preserved Romanesque crypt located beneath the choir. If you want to learn about the history of St Michel and Gudula Cathedral, you can arrange for a free guided tour with Eglise et Tourism (Church and Tourism of Brussels).
Location: Place Sainte-Gudule, 1000 Brussels, Belgium
Open: Monday–Friday from 7 am to 6 pm, Saturday–Sunday from 8 am to 6 pm
Phone: +32 (0)2 217 83 45
6
The Atomium
See views of Belgium from the top sphere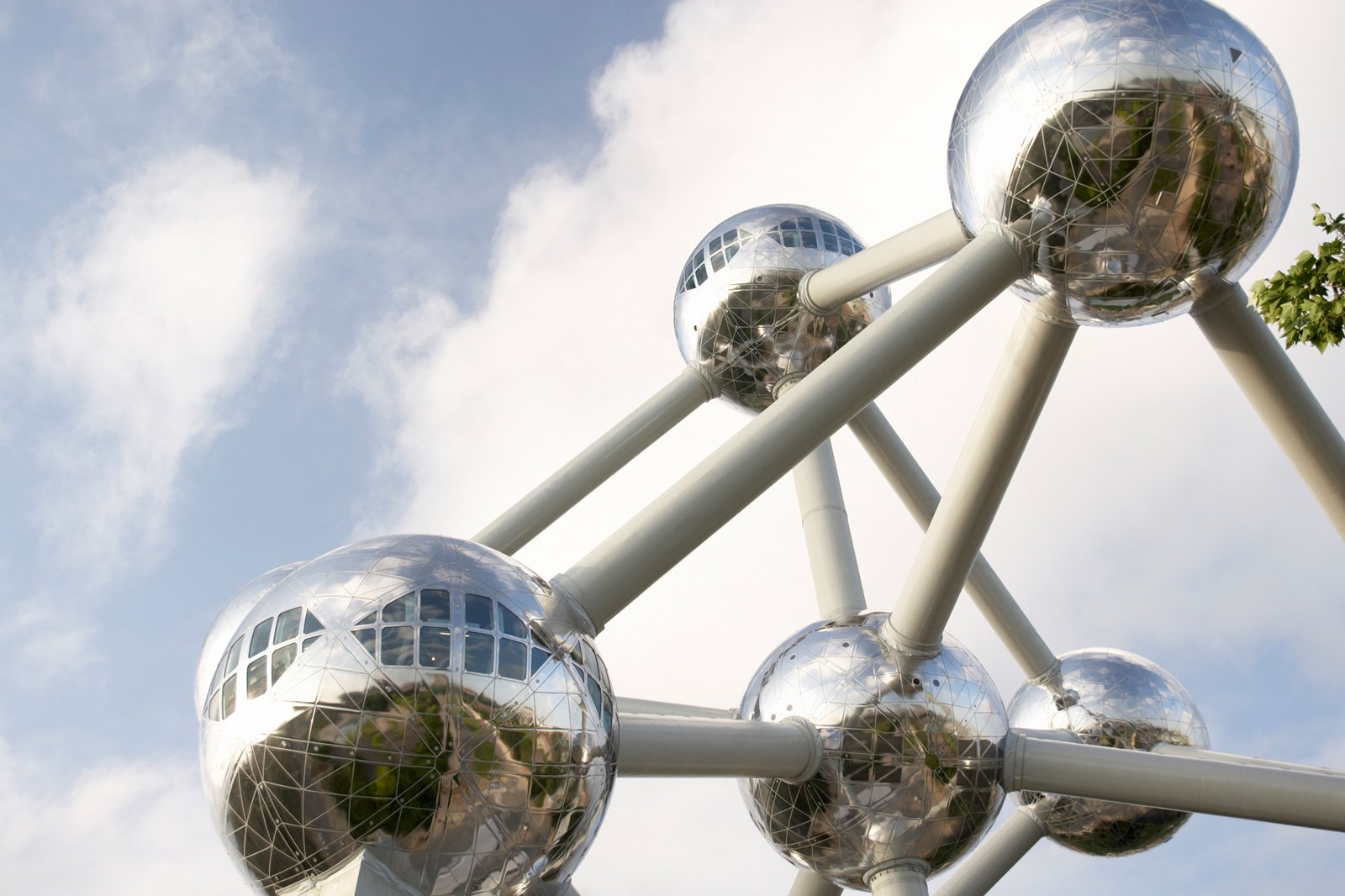 The Atomium, built in 1958, is one of the most popular attractions in Belgium. The 102-metre-tall structure has 9 spheres that are interconnected, 6 of which display exhibitions on Belgian history as well as science, design, and society.
Take a lift up through the central tube of the building and walk through tubes and spheres that are designed to represent a body-centred cubic unit cell of an iron crystal – albeit magnified 165 billion times. Take the elevator to the Atomium's topmost sphere where you will find a restaurant with panoramic views of the city skyline. Return at night to see the approximately 3,000 lights that illuminate this iconic building.
Location: Square de l'Atomium, 1020 Brussels, Belgium
Open: Daily from 10 am to 6 pm
Phone: +32 (0)2 475 47 75
7
Horta Museum
Explore the home of Belgian architect, Victor Horta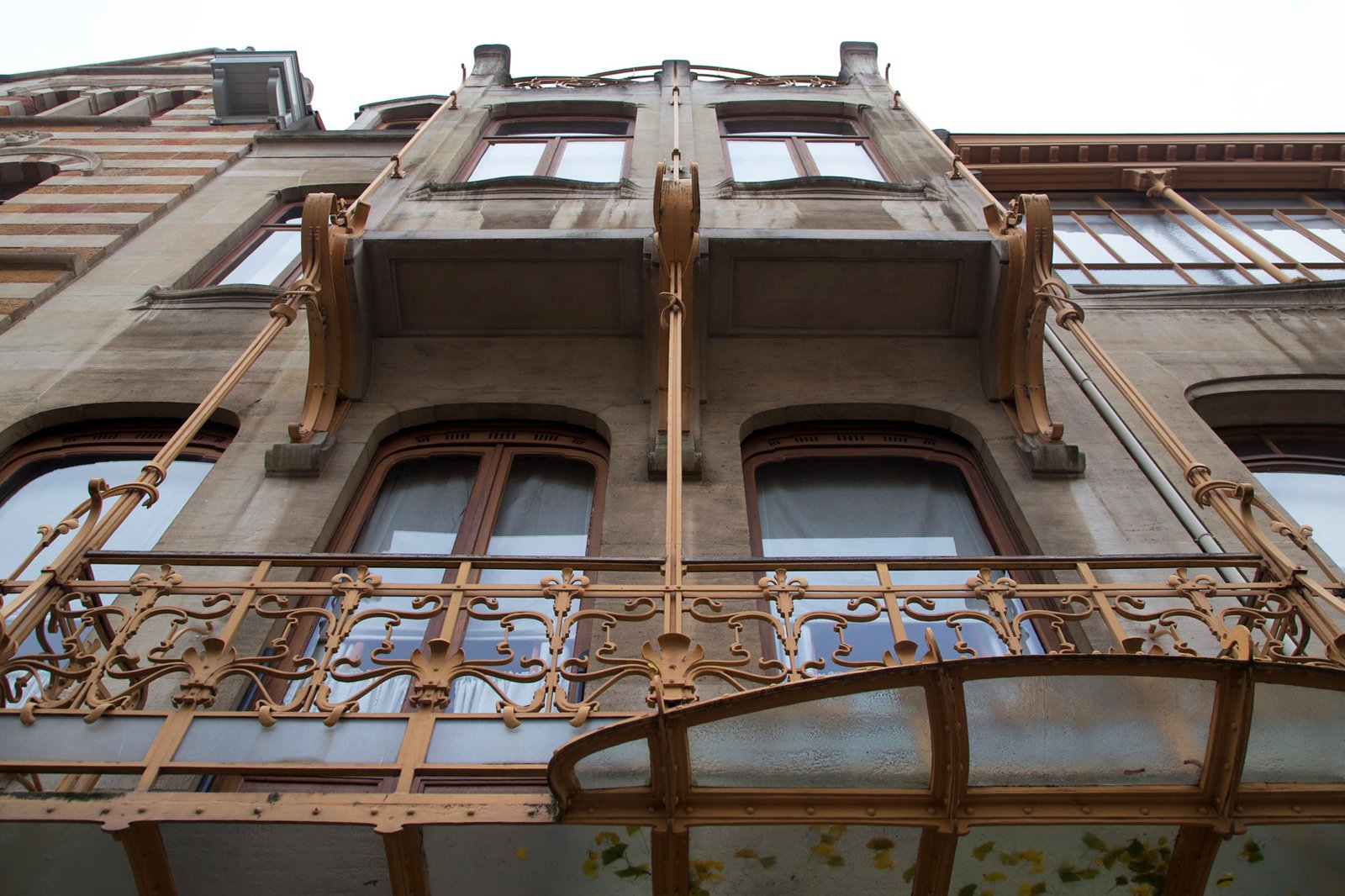 Once the home and studio of Belgian architect Victor Horta, his namesake museum epitomises the romance of early 19th-century Art Nouveau. Climb the spiral iron staircase and explore rooms decorated with stained glass windows, furniture, utensils, and art objects designed by Horta himself.
This prominent figure is often associated with some of Brussels' most iconic buildings, including its UNESCO-listed townhouses and the Temple of Human Passions in Parc du Cinquantenaire. Guided tours (usually in French, English, Dutch, and German) take place from 9am to 12pm and from 2pm and 4.30pm.
Location: Rue Américaine 25, 1060 Brussels, Belgium
Open: Tuesday–Sunday from 2 pm to 5.30 pm (closed on Monday)
Phone: +32 (0)2 543 04 90
photo by Tom Parnell (CC BY-SA 2.0) modified
8
Marché du Midi
Shop for handmade chocolates at this foodie market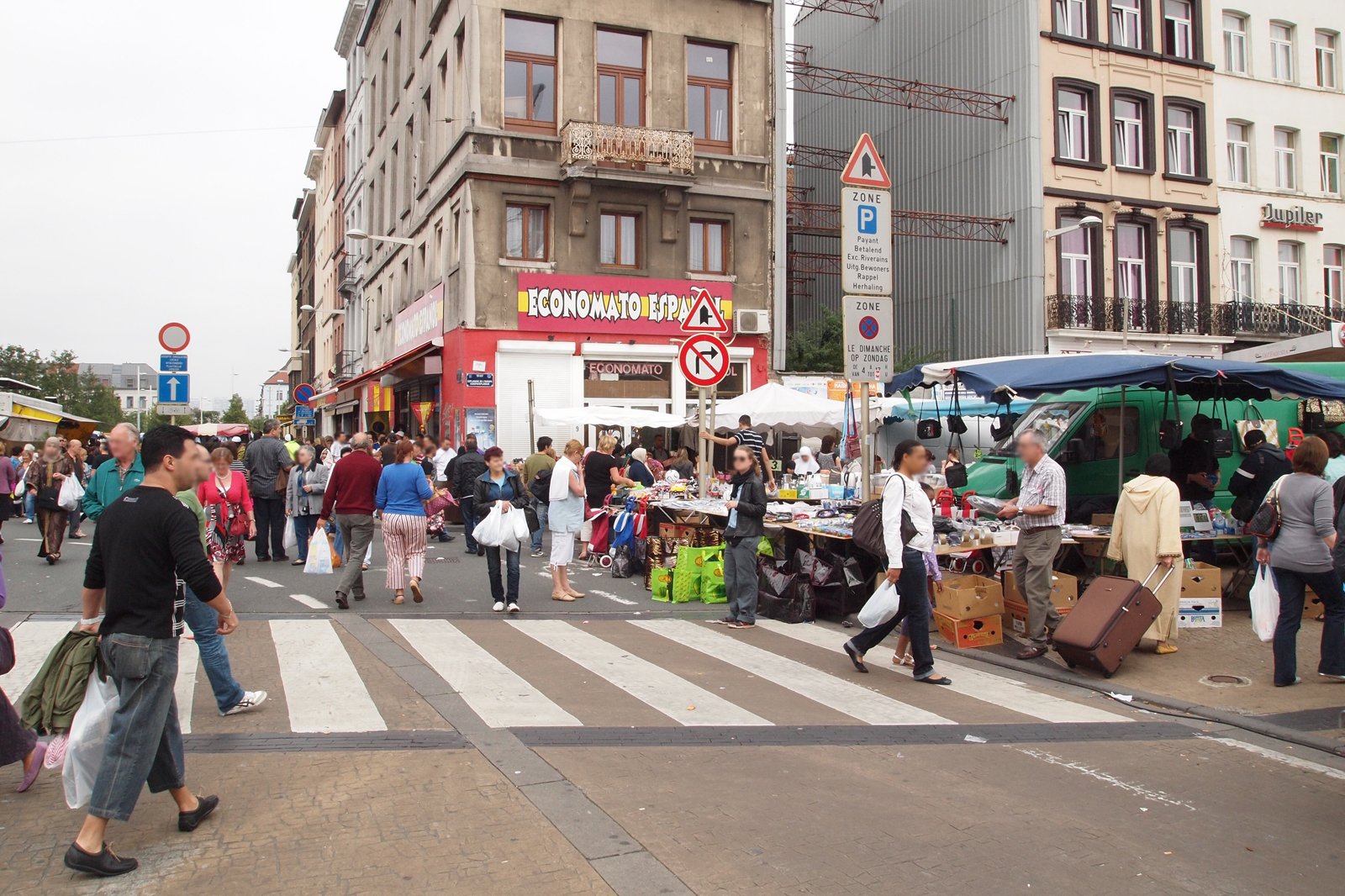 Marché du Midi draws marketgoers with its extensive collection of fresh produce and food stalls. Every Sunday morning, this open-air market takes place outside the Brussels-South railway station.
Marché du Midi sells delicacies of a wide variety of foods from 450 vendors. Take your time browsing these stalls for free samples of European delicacies, including Belgian chocolates and cheese.
Location: Avenue Fonsny, 1000 Brussels, Belgium
Open: Sundays from 6 am to 1 pm
photo by Francisco Gonzalez (CC BY 2.0) modified
9
Eat moules et frites
Fresh mussels steamed in white wine with thick-cut fries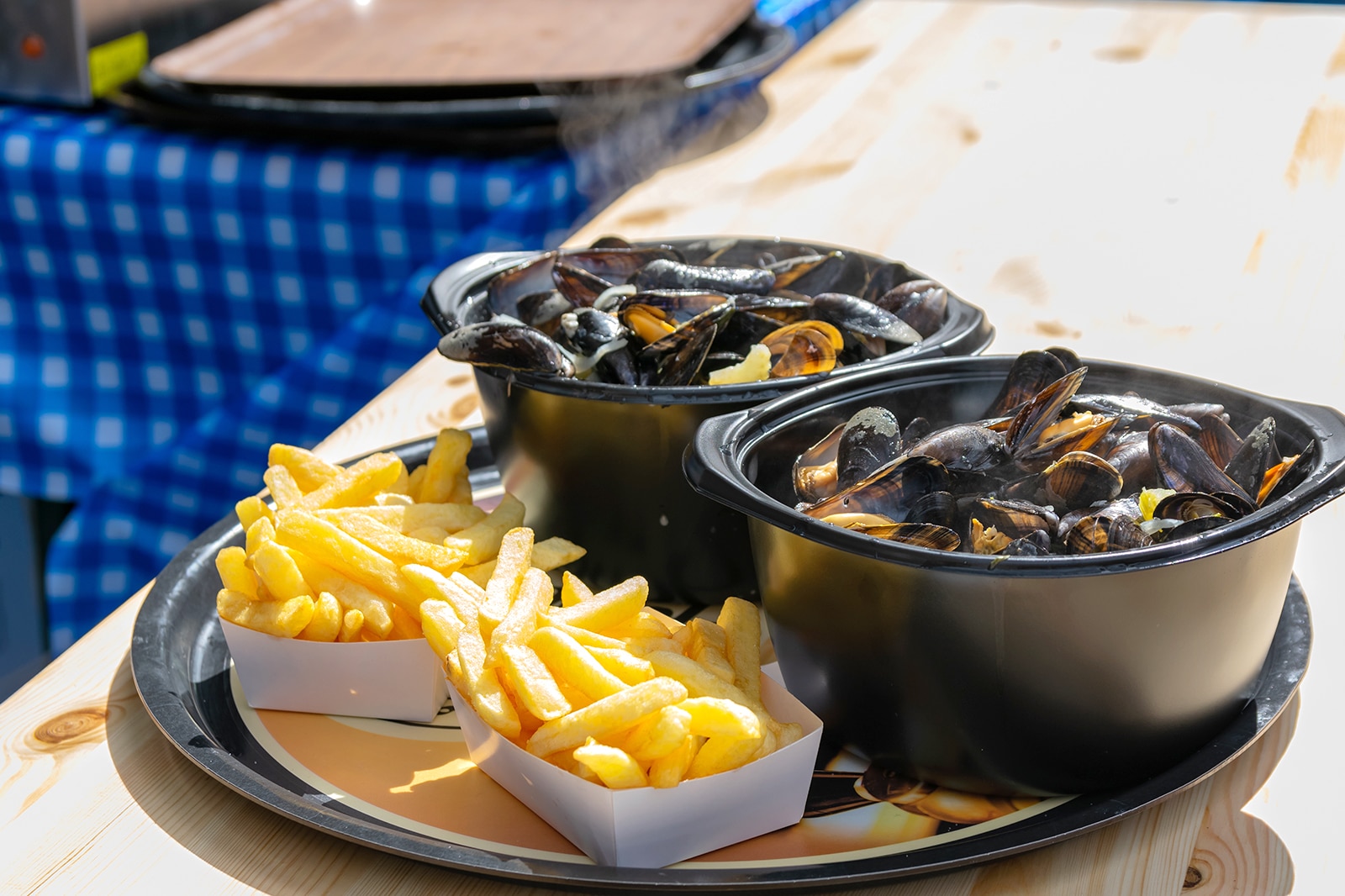 Moules et frites combines 2 of Brussels' specialities – steamed mussels and crispy fries. It typically comes in a pot with about a dozen mussels steamed in white wine, shallots, parsley, and butter accompanied by thick-cut fries.
The best time to enjoy this Belgian staple is from September to December, but you can find it at most brasseries all year round. Locals often recommend Au Vieux Bruxelles (a historical tavern dating back to 1882), Le Zinneke (choose from 70 variations), and Le Chou de Bruxelles (for its homemade fries).
10
End the day drinking Belgian beer
Choose from over 400 types of draught beer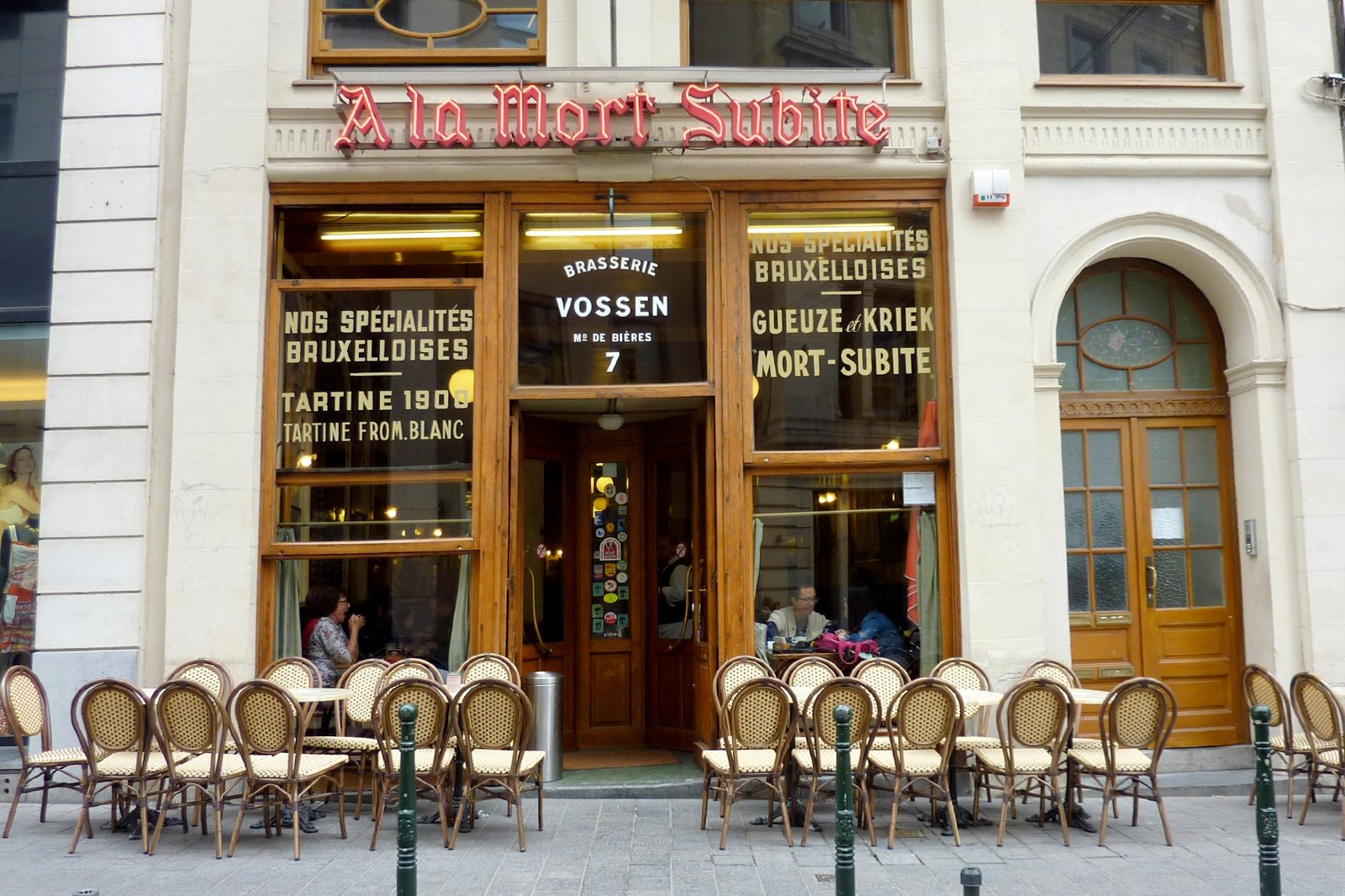 With over 400 types of draught beer to choose from, it's safe to say that Brussels is a popular destination among beer lovers. The city has plenty of traditional taverns and brassieres if you want to down a pint (or two) with the locals.
Try cherry-flavoured Lindemans Kriek beer at A La Mort Subite, a classy Art Deco tavern outside Galeries Royales Saint-Hubert, or take your pick from around 3,000 beers at Delirium Café.
photo by Patrick Despoix (CC BY-SA 4.0) modified
Back to top