10 Most Romantic Places in Buenos Aires
Get Swept Off Your Feet in the Paris of South America
Buenos Aires is a cosmopolitan European city in South America, with well-preserved structures and grand designs. In this breezy port city, the vintage charm of the boom days can still be seen with heavy French and Italian influences in its many landmarks. Architecture aside, though, it's a really romantic place, where many a marriage proposal and honeymoon has taken place.
Its romanticism is celebrated through the rich history of social movement, the opulent architecture, the diverse cuisine, the Gaucho culture of the noble nomads, and the sensual dance of heartbreak and longing. With its history and culture told through the many small alleys and walkways, along with the kindred spirits of the different ethnicities, Buenos Aires can make anyone reminisce and fall in love.
1
Caminito in La Boca
European diversity reflected in colourful row houses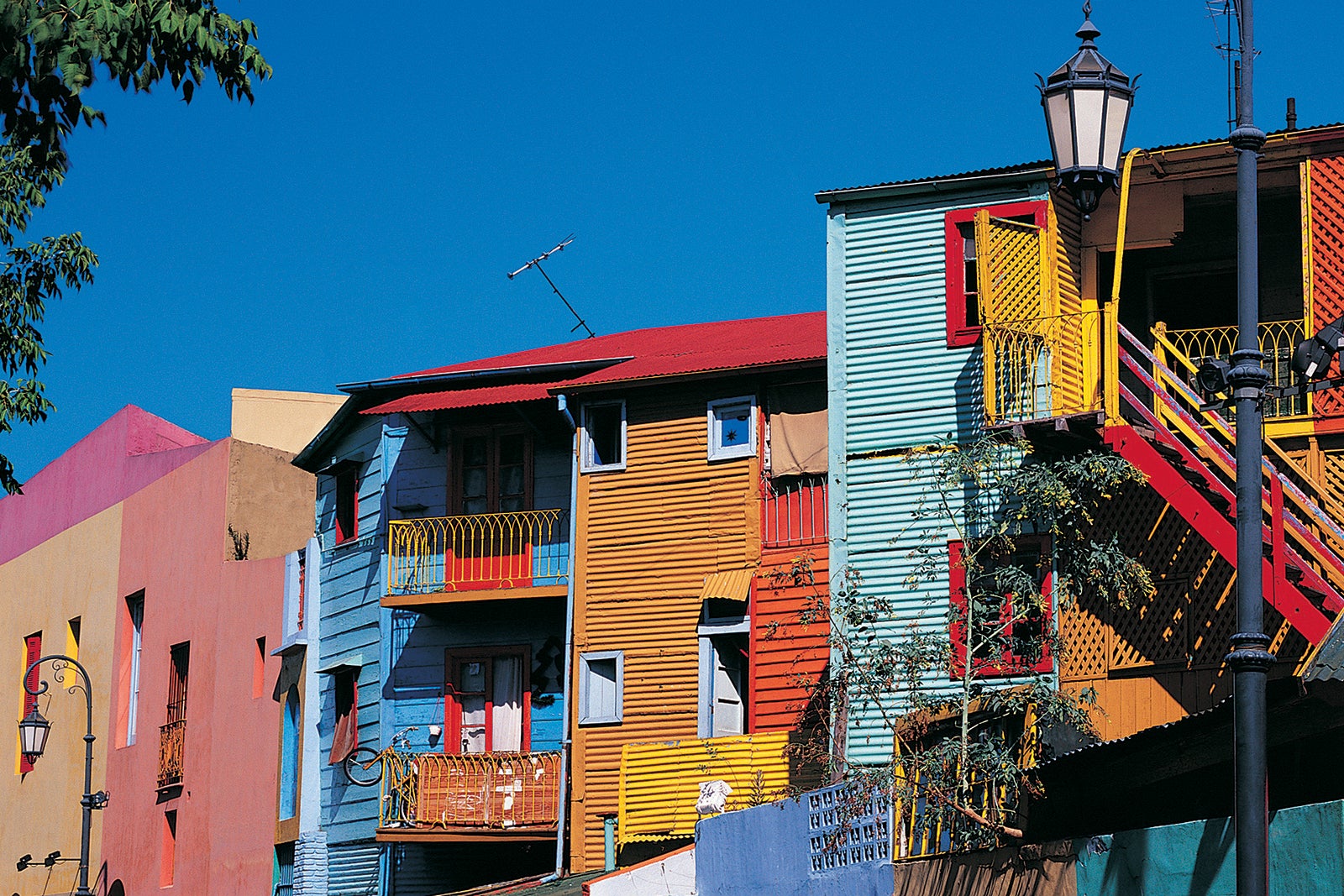 Caminito (or 'little path') is claimed to be the birthplace of the Tango. It's also the name of a Tango song, the forlorn lyrics of which express the wistful and longing heart and stories of the working-class struggles. Visitors will find this bright neighbourhood filled with a rich history of immigrants, cobblestone paths, colourful row houses, photogenic details, and its lively people.
Over a century ago, Caminito was a shelter for political exiles, European immigrants looking for opportunities, as well as other South American migrants. The area was once an abandoned railway that was revived by artist Benito Quinquela Martín, who grew up in the neighbourhood. Today, Caminito is a popular site for tourists and has become the world's first outdoor pedestrian museum, with Tango dancers seducing the visitors, as do craft markets, and nostalgic cafés.
2
El Ateneo Grand Splendid
Gorgeous book store with an old-world sparkle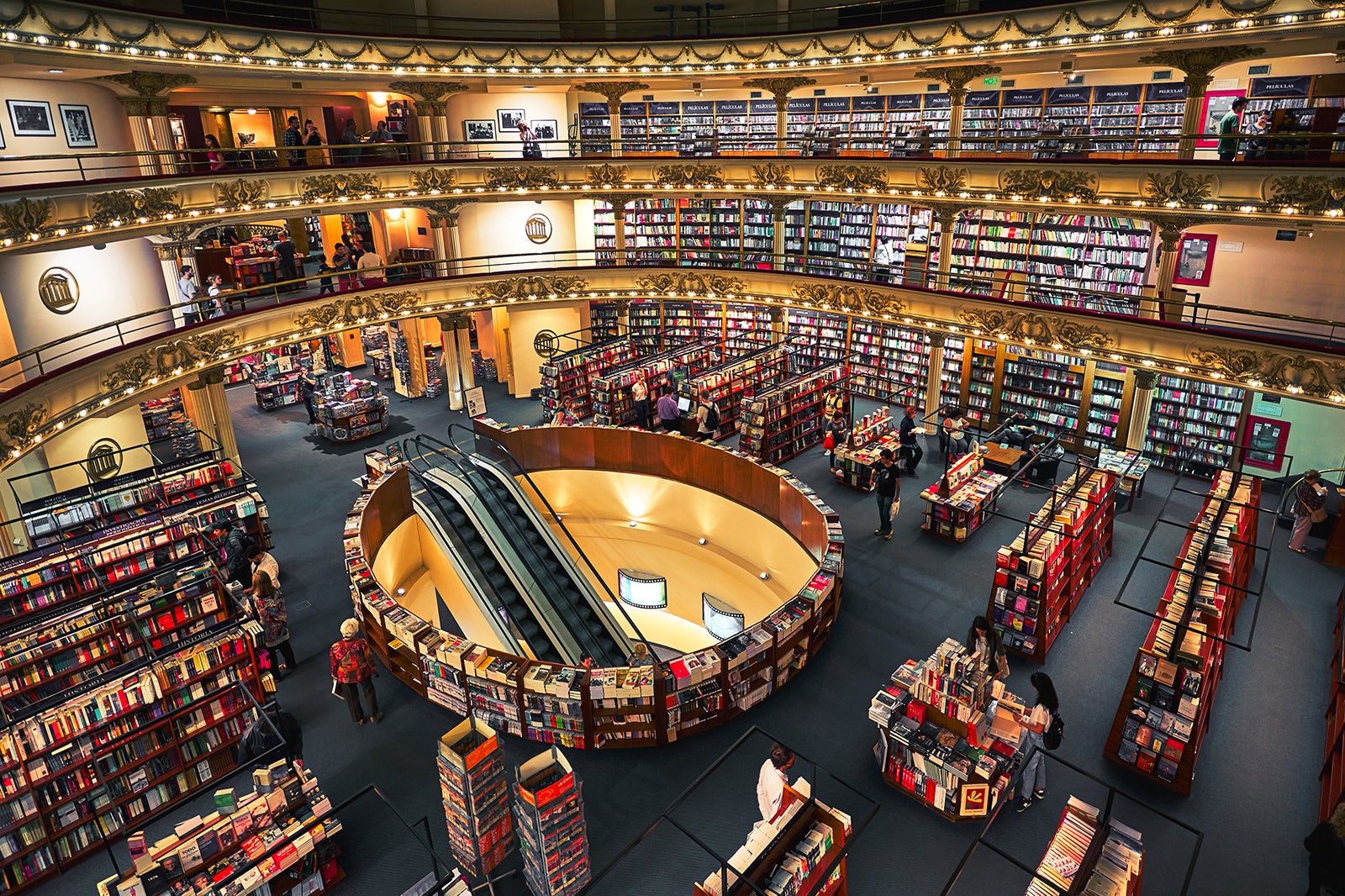 Couples
Shoppers
History
Photo
This Buenos Aires landmark has been called the world's most beautiful bookstore. This century-old bookstore looks like a theatre out of a Wes Anderson film and was, in fact, a 3-level performance theatre in a former life. Built in 1919, it hosted many Tango shows, concerts and plays, and became a movie theatre in 1929. Its original artwork can still be seen on the ceiling, painted by a local Italian-Argentine artist, along with its well-preserved wooden floors and marble columns.
Some sections of the bookstore are used for art exhibits. The stage that's been converted to a café, where patrons are encouraged to enjoy their coffee while skimming over a book or 2. Visitors can actually stop here for a full meal, and the menu is pretty extensive, with coffee, pastries, salads, and sandwiches that are well-priced. A Frappuccino costs about 185 pesos and a tuna pasta salad is about 300 pesos.
Location: Av. Santa Fe 1860, C1123 CABA, Argentina
Open: Monday–Thursday from 9am to 10pm, Friday–Saturday from 9am to midnight, Sundays from noon to 10pm
Phone: +54 (0)11 4813-6052
3
Shopping in Palermo
Chic designs on tree-lined streets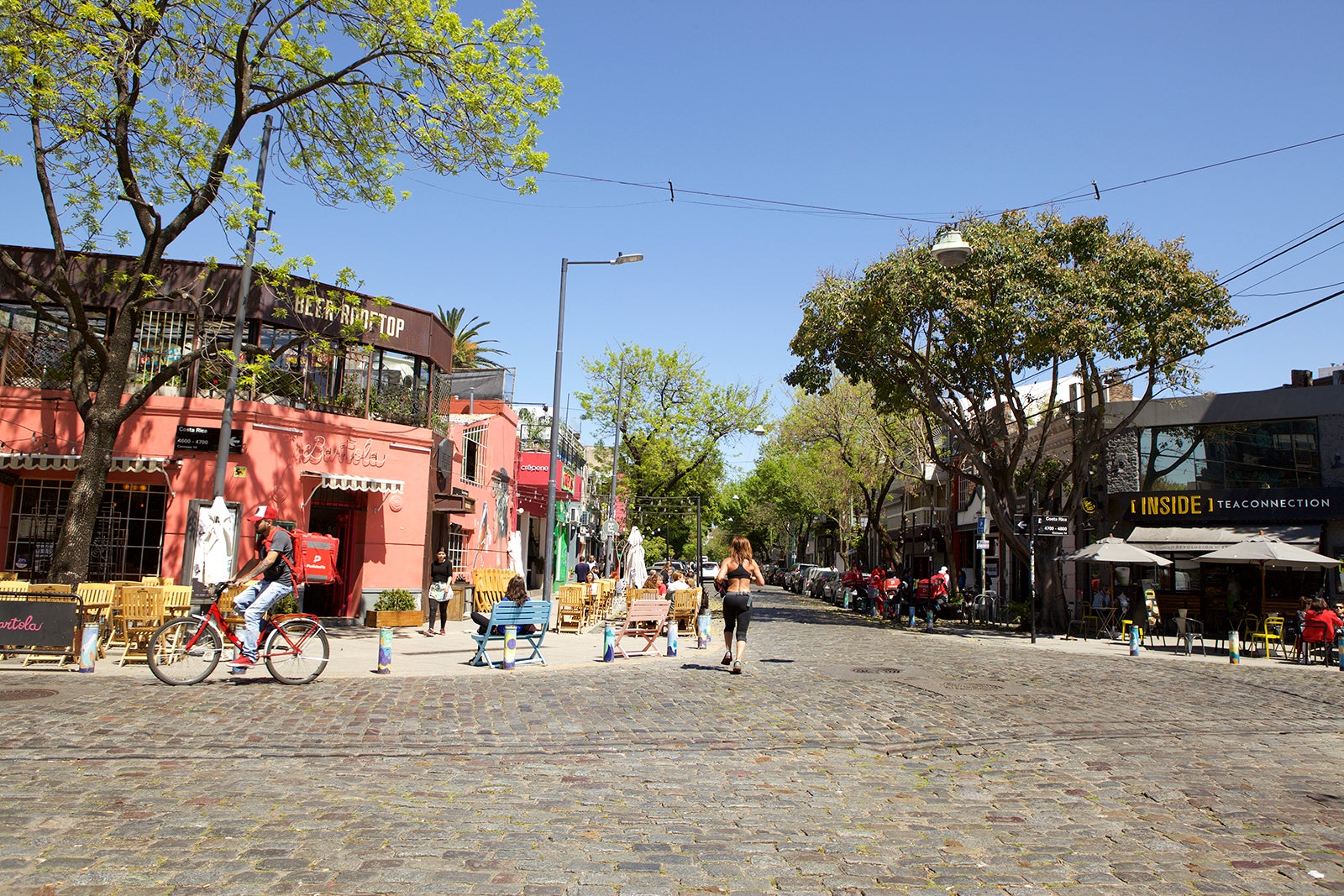 Buenos Aires is not all nostalgic charm and vintage houseware. Palermo is an up-and-coming neighbourhood where younger families, artists, the new posh crowd, and hipsters unite. Visitors come here to see the colourful and creative graffiti, along with rows of colourful shops. The graffiti and street art tell the stories of the social movements and the power of the people that helped form Argentina's strength and diversity.
Shoppers in Palermo Soho can find unique items from mom-and-pop boutiques as well as upscale designer shops. You can stop at a few cafés in between. This district is home to some of the best Italian cuisine in the city, from pizzerias, wine bars and Mediterranean seafood to home-made profiteroles and tiramisu.
4
Learn to Tango
Practise the high-art of the Tango swoon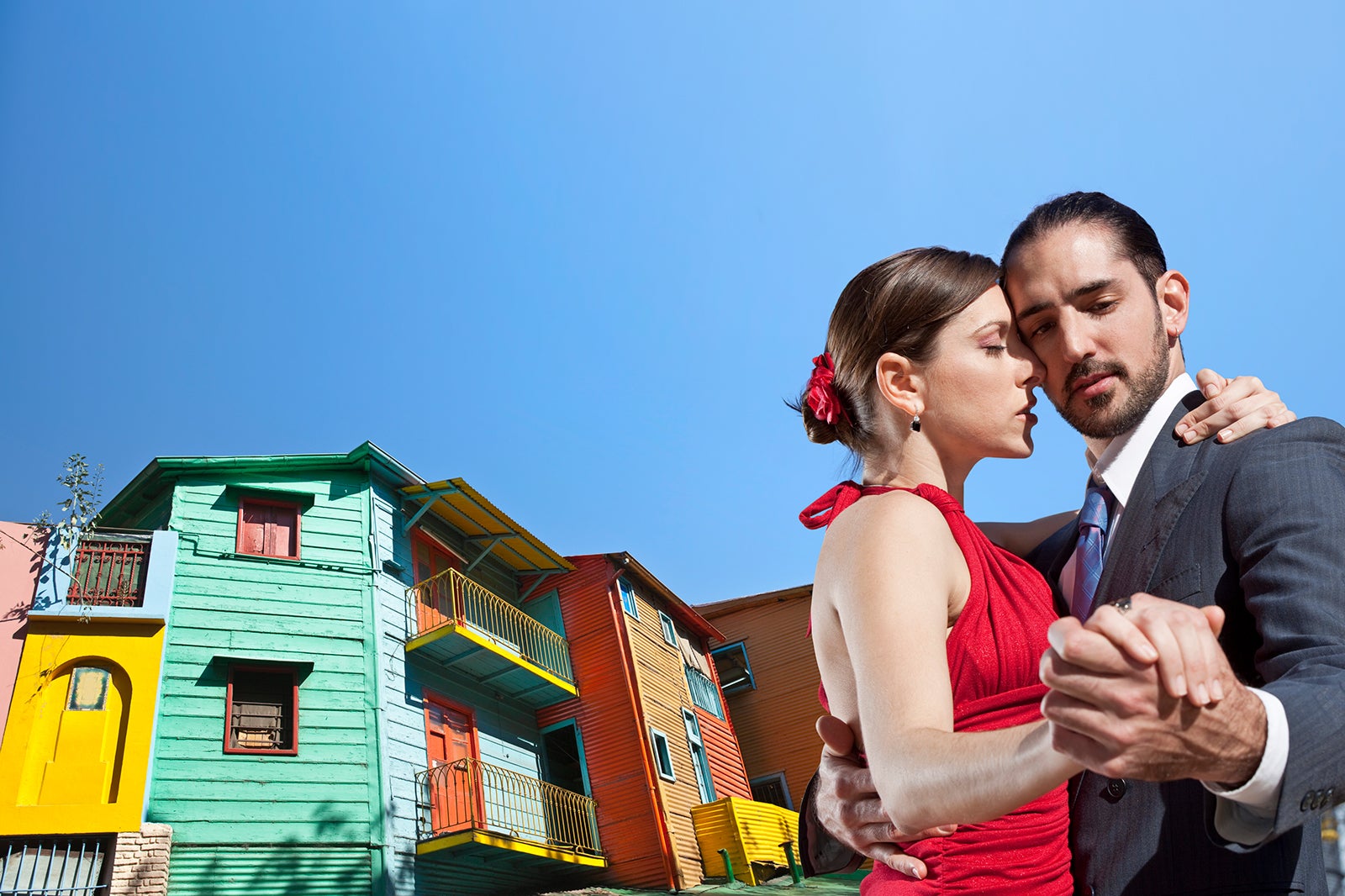 This dance form is not your basic waltz. If you're confident of your fancy footwork, try a few sessions of Tango. It requires grasping the 5-step, the 8-step, alignment, agility, and a good ear for rhythm. Most importantly, it's the expression of passion that makes this art so magnetic to watch.
Born in the 1880s from the impoverished working-class districts of Buenos Aires and Montevideo, the Tango is made up of African rhythms, the Polka and the Spanish Habanera. In the early 1900s, when Argentina was one of the wealthiest countries in the world, the elites sent their sons to Paris for education and the Tango entered French societies and became a European craze.
Places like La Viruta Tango studio offers a judgement-free zone that's affordable, fun, and fast-paced, with professional dancers. The Divino Abasto Escuela de Tango offers a more thorough, methodical way of learning, covering how to align the body, the different postures, and how to ease yourself into the rhythm. All in all, there are more than 15 studios in Palermo that offer various Tango classes, depending on how much time you're willing to spend.
5
Café Tortoni
Coffee and conversations for great thinkers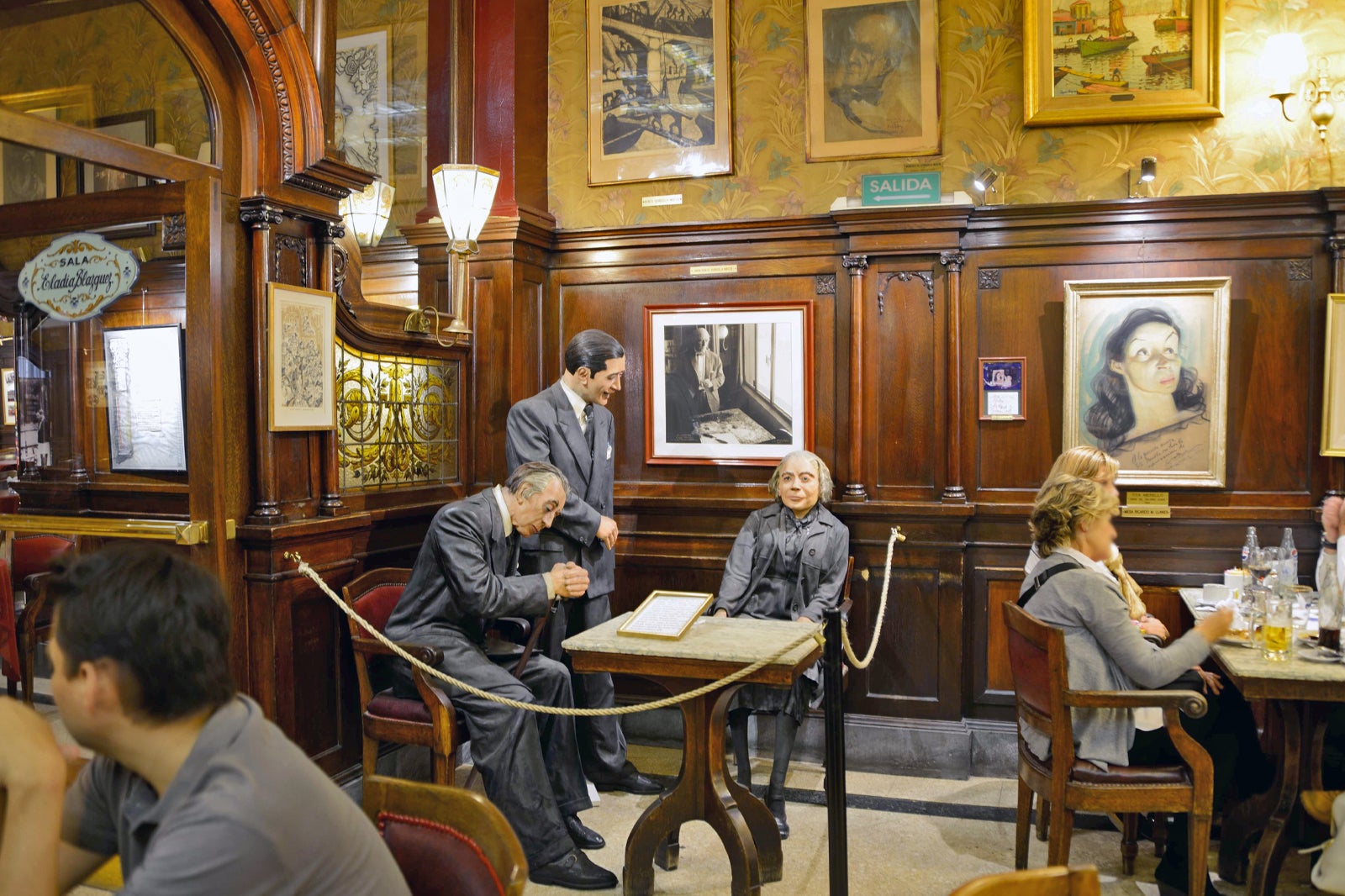 This place has a mix of both tourists and locals that come here to enjoy the highbrow atmosphere. Inspired by the turn-of-the-century sentiments, this café was opened in 1958 as a utopian thinking ground for authors, politicians, and artists. Famous visitors include Albert Einstein, Robert Duvall, Jorge Luis Borges, and the original Tango crooner, Carlos Gardel. Black and white images on the wall tell stories of writers, singers and great artists of its time.
The additional space in the basement, La Peña, was later constructed in 1926 to host performance artists in jazz, Tango and Gaucho music, and still serves as a Tango studio for its weekly shows. The café has a long menu with very decent prices, such as the Cuban coffee at about 120 pesos, the cognac-flavoured hot chocolate at 140 pesos, the continental breakfast at about 200 pesos and an impressive wine list.
Location: Avenida de Mayo, 825, Buenos Aires 1084, Argentina
Open: Monday–Saturday from 8am to 1am, Sundays from 9am to 1am
Phone: +54 (0)11 4342-4328
photo by Ramon Corvera (CC BY-SA 3.0) modified
6
Puerto Madero art galleries
Drinks, tapas, and gallery-hopping on the Rio de la Plata waterfront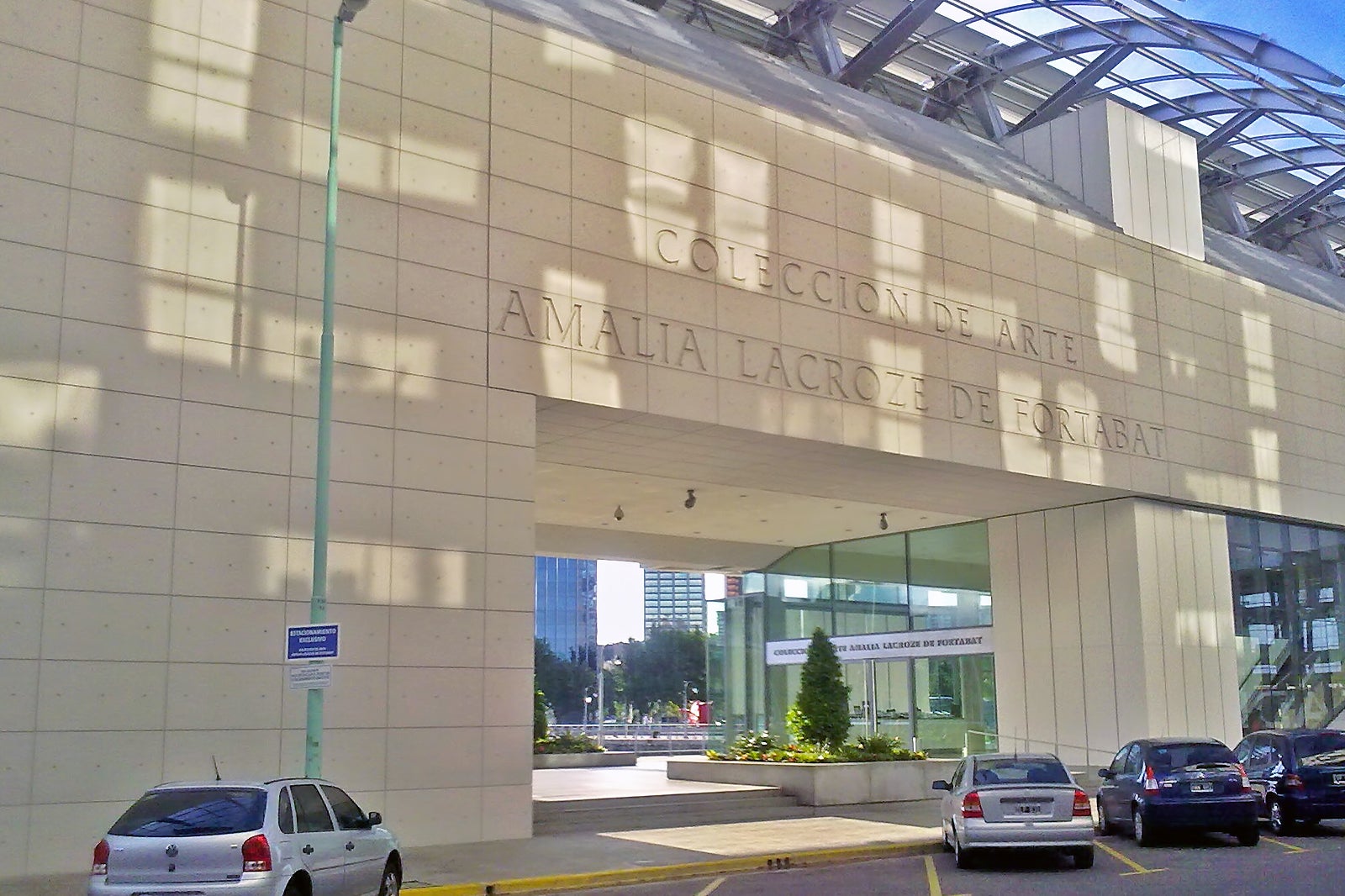 Puerto Madero was redeveloped to honour the beloved leading ladies of Argentina. Along with this development are numerous art galleries and museums to showcase its art and architecture. The Colección de Arte Amalia Lacroze de Fortabat is a fine arts museum in the north part of Puerto Madero that houses international masterpieces as well as contemporary exhibits, with 6,000 sq m of art space. Other galleries surrounding the area are independent and boutique sized, but with whimsical exteriors and great conversation pieces.
In between your gallery-hopping, visit some notable bars such as the Kraken Bar Oficial, that serves wine, mixed drinks and American bar food with an Argentinian flair in an al fresco space, right on the dock. The Lupita is another popular restaurant that serves Gaucho-style Mexican cuisine that's also on the waterfront.
Location: The Colección de Arte Amalia Lacroze de Fortabat, Olga Cossettini 141, C1107CCC CABA, Argentina
Open: Tuesday–Sunday from 12pm to 8pm (closed on Mondays)
Phone: +54 11 4310-6600
photo by Roberto Fiadone (CC BY-SA 3.0) modified
7
Alvear Palace Hotel
High tea, fine wine and panoramic views of Buenos Aires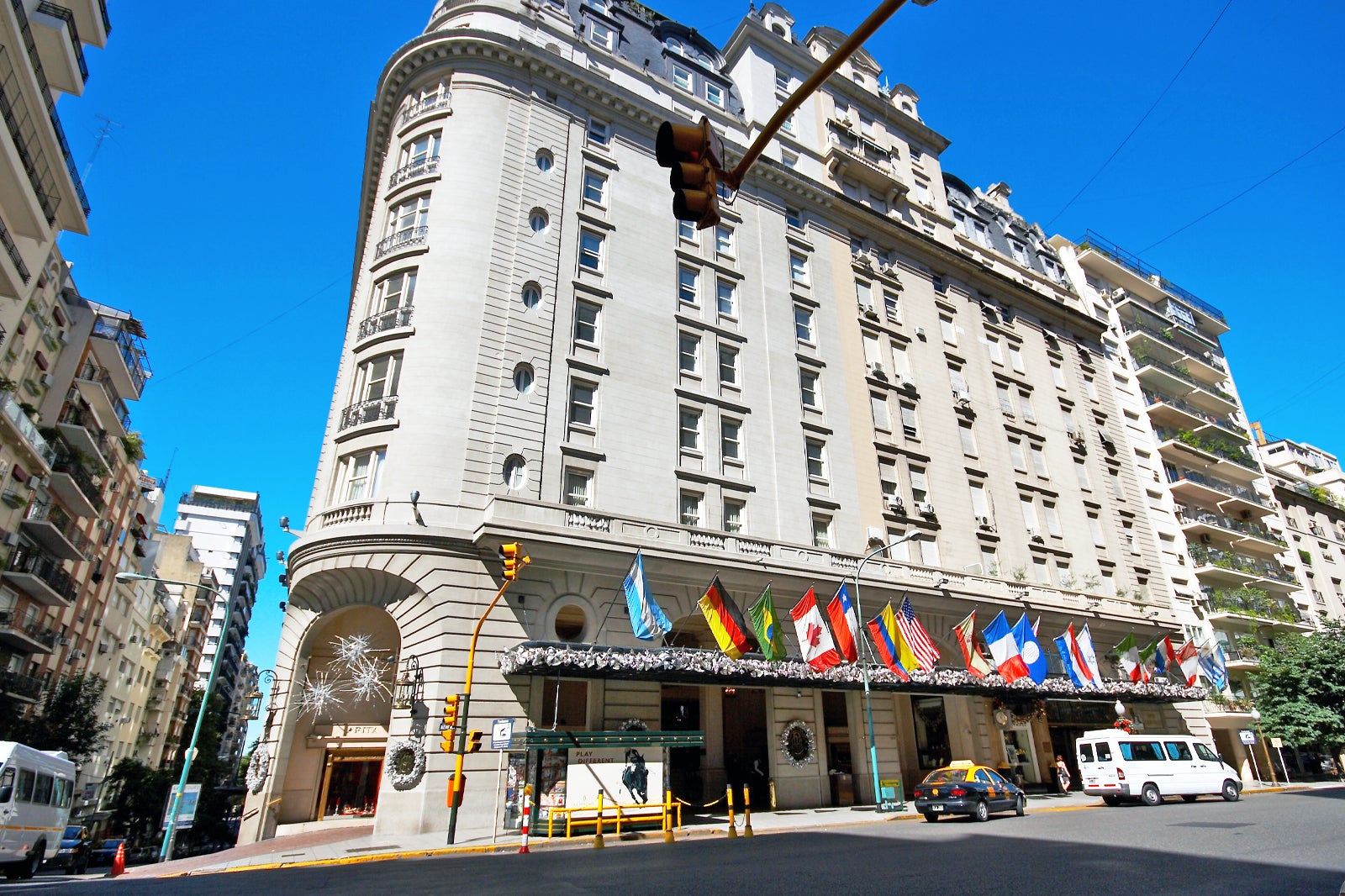 Built in the boom days of the 1920s for the high-society crowd of Argentina, the Alvear Palace Hotel is located right in the Recoleta district, a short walk from restaurants, significant sites, markets, piers and parks. This establishment is a 5-star hotel with French-inspired interiors and endless delicacy and culinary selections.
Because of its upscale accommodation, many honeymooners pick this hotel as their destination stay. Even if you already have your lodgings booked, go there for a fine-dining experience at their breakfast and lunch buffet at the L'Orangerie, averaging about 955 pesos per person. For sunset dining, the Alvear Roof Bar offers great views of Buenos Aires, including the Cultural Centre, the Recoleta cemetery, the Carlos Thays Botanical Garden, and the waterfront horizon. Prices for the rooftop bar can be a bit higher than the lunch buffet.
Location: Avenida Alvear 1891, Buenos Aires C1129AAA, Argentina
Phone: +54 11 4808-2100
photo by Barcex (CC BY-SA 3.0) modified
8
Riding in Caballos A La Par
Horse riding in scenic pastures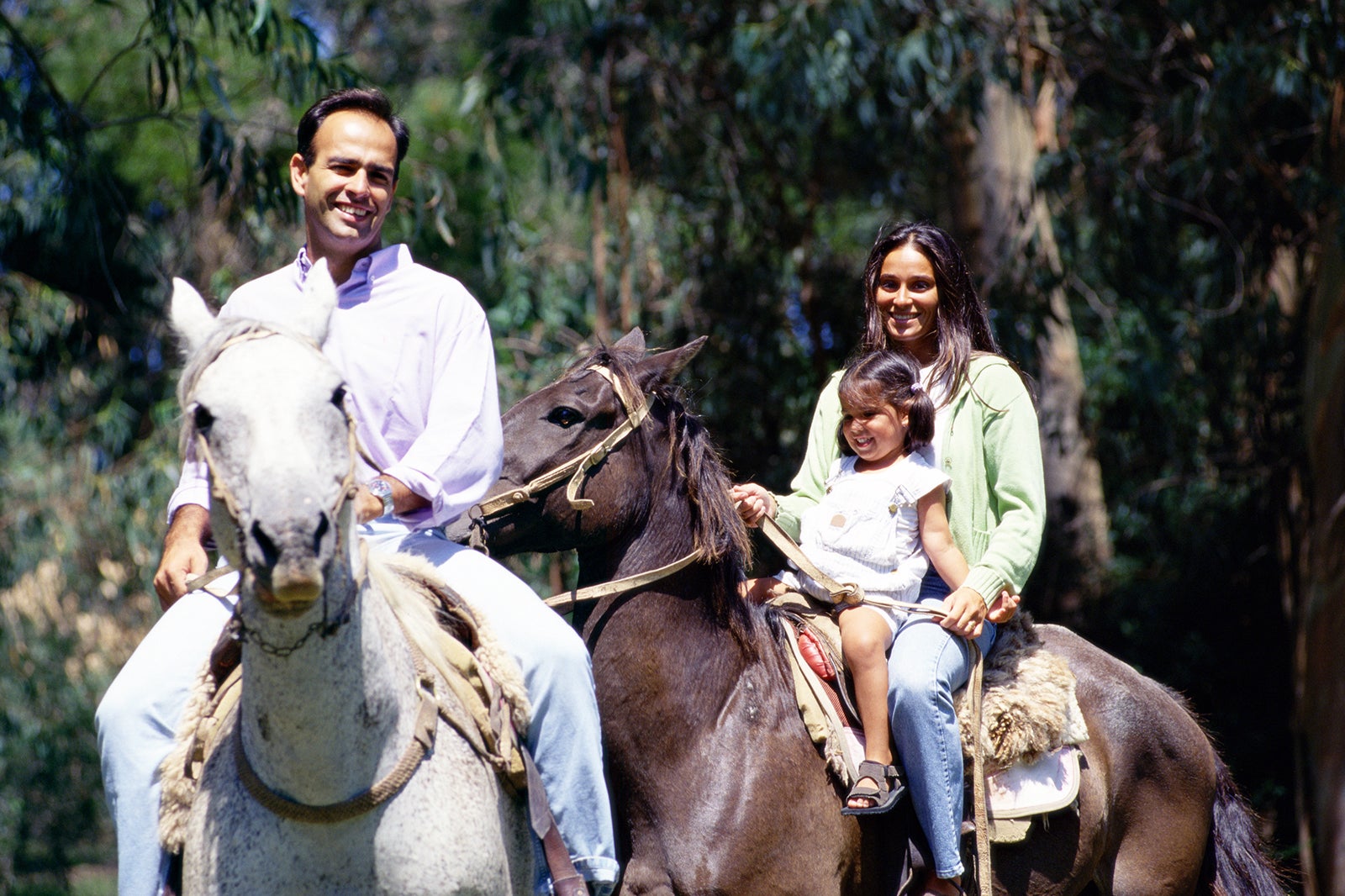 Caballos A La Par is about a 35-minute drive west of Buenos Aires. The park is a pasture of about 10,100 hectares located in Northern Pampas. Visitors can enjoy a guided riding session. The horses selected for their mellow temperament and are suitable for all levels of learners.
Enjoy local baked goods and delicacies known as facturas, and some of the best empanadas in Buenos Aires. There may be some bugs and insects, so jeans and long sleeves are recommended. Riding prices average at 3,500 pesos per person. Most sessions last about 2 hours.
Location: Caballos A La Par, Lima 549, Buenos Aires, C1073AAK, Argentina
Phone: +54 (0)9 11 5248-3592
9
Jardin Japones
Stroll through cherry blossoms, Zen gardens, and tranquil streams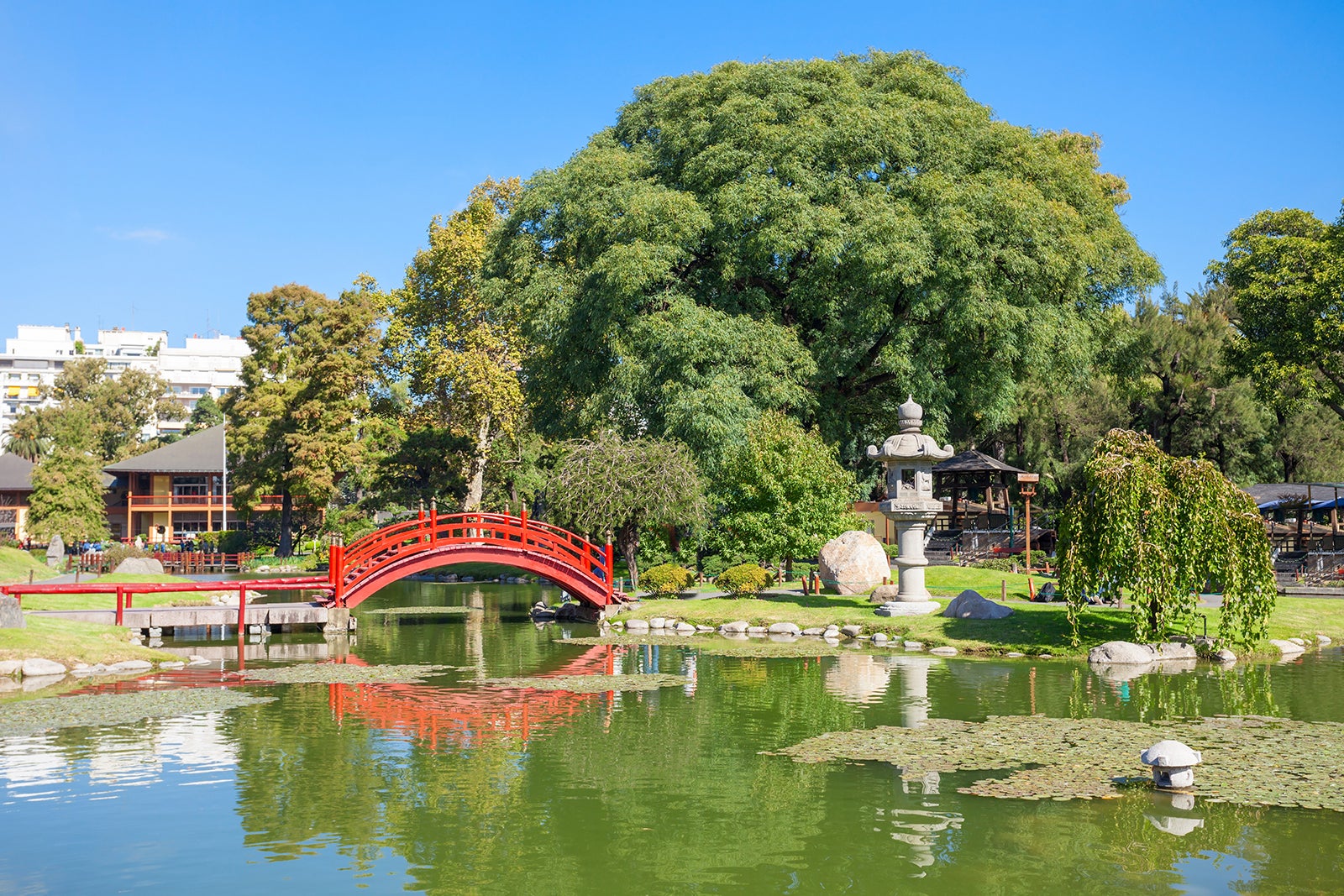 This 2-hectare Japanese Garden was created to express appreciation to the government of Argentina for extending their home to Japanese immigrants. As a friendship gift that symbolises peace and harmony from Emperor Akihito, this garden was built in 1967, and took less than 50 days to create. Since then, the garden has been thriving with Japanese blossoms, pond lilies, bonsais, koi fish and gingko trees, along with large Buddhist sculptures and Zen ornaments.
There's also a restaurant that serves sashimi and sushi, as well as tea and desserts that range from mochi to ice cream. The Kobe Wagyu beef entrée is priced at 700 pesos, while other dishes such as the tonkatsu is 315 pesos. The park entrance fee is 150 pesos.
Location: Av. Casares 2966, Buenos Aires 1425, Argentina
Open: Daily from 10am to 6pm
Phone: +54 (0)11 4804-4922
10
Cruise along the Tigre Delta
Rivers, streams and quaint towns on the Rio de la Plata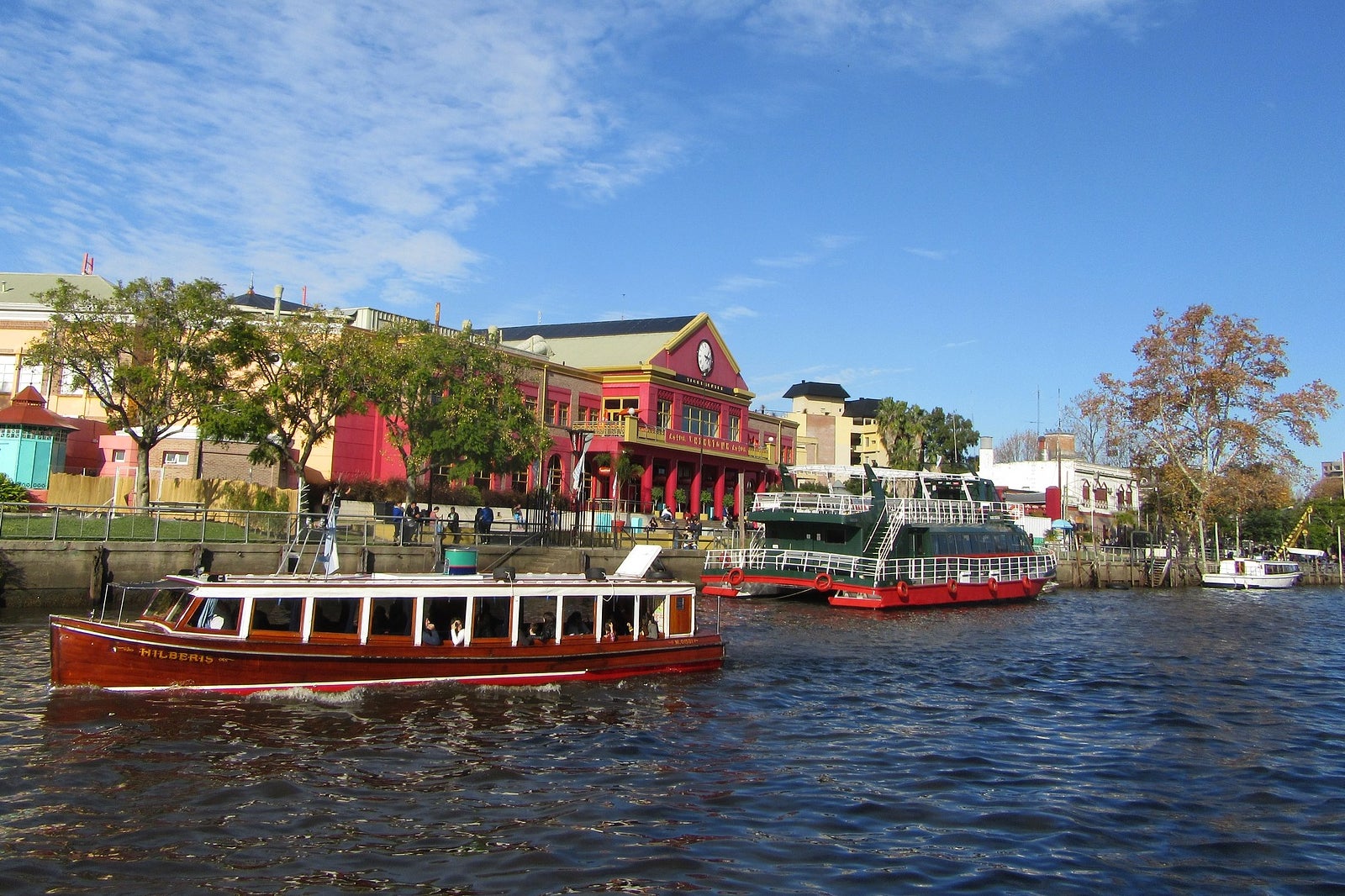 A boat trip along the Rio de la Plata can be a refreshing experience. Tigre is a quaint, enchanting town on an island with surrounding streams and rivers that connects to the Rio de la Plata. As referred to in the name, this place was once a hunting ground for jaguars, but is now a thriving port for timber processing and transportation.
Located in the northern part of the city, there are a few cruise companies that can take you out to the Tigre Delta to get a peek at how the locals live in their river communities. Visitors will pass the beautiful wooden homes, stilted houses, the famous football stadium, waterfront mansions, the San Isidro Cathedral, and get dropped off the island to visit local shops, cafés, and markets. Also note that this place can get busy on weekends with tourists and canoeing activities.
Back to top