Bahamas Travel Essentials
Useful Information to Help You Start Your Trip to The Bahamas
Our Bahamas Travel Essentials lays out the essential information you need to help you plan your trip to one of the most popular destinations in the Caribbean. No matter how frequently you travel, some questions will always need answers: What's the weather like? How can I get from Lynden Pindling International Airport to my hotel? What currency and type of plug do I need?
We have all these answers plus other basic info about the best time to go, getting there, getting around, and a few useful travel tips. You'll learn about the most popular landmarks in The Bahamas such as the Cloisters, Blackbeard's Tower, and Queen's Staircase. You'll also learn about the most popular seaside towns and resorts around The Bahamas such as Nassau, Paradise Island, and Freeport. It's all compiled in this Bahamas Travel Essentials. After going through this short and easy-to-read guide, you'll be a little more prepared to start your trip to The Bahamas.
1
What are the main towns and resorts in The Bahamas?
The Bahamas is a group of 2,000 islands in the Caribbean with its main islands being New Providence, Grand Bahama, Bimini, and San Salvador. Many believe the last of these to be where Columbus and his ships landed in 1492. Most of The Bahamas' population resides in the capital of Nassau on New Providence and Grand Bahama's main city of Freeport. The rest of the islands are known as the Out Islands.
Nassau, New Providence
Bahama's capital city of Nassau is the most developed of the nation's cities and it's where the majority of the country's population resides. It's also where a great selection of The Bahamas' luxurious hotels are, with top attractions, dining, and entertainment to match. Nassau has great beaches and offshore reefs popular among snorkellers and divers. You'll also find rich history through the pastel-coloured colonial buildings in the city. Nassau is connected to neighbouring Paradise Island by the Nassau Harbor bridges.
Paradise Island, New Providence
Paradise Island is just a 15-minute drive north of Nassau. It's where visitors would usually go for golfing or gaming at the huge Atlantis Bahamas resort. The relatively compact island has a great collection of white-sand beaches with plenty of watersports. Some of the best resorts, dining, shopping, and nightlife are found on the island. Top sights like the Versailles Gardens and French Cloister call Paradise Island home.
Freeport, Grand Bahama
The main city of Grand Bahama, Freeport is where you can enjoy lovely beaches with fun water sports as well as plenty of other oceanfront activities that the whole family can enjoy. There's Pirate's Cove Zipline and Water Park for all the thrills, as well as tranquil places like Garden of the Groves with its manicured gardens and labyrinth. Those looking for nature adventures can head up to Lucayan National Park for its extensive underwater caves and nature trails.
2
When is the best time to travel to The Bahamas?
The Bahamas has a subtropical climate with warm and humid weather year-round. Average temperatures range between 17°C and 32°C.
August is often the wettest month in The Bahamas, but it's also the hottest with an average temperature of 32°C. January is the driest month with the least rainfall.
The warm summer months in The Bahamas are from May through October. The low season is usually between April and December, which is also among the best times to visit if you're hoping to avoid the usual crowds. Resort prices are generally down during this period.
Hurricane season in The Bahamas usually occurs between June and November with peak winds in August and September. Factor in the season accordingly as you plan your travels to the islands to avoid harsh weather conditions.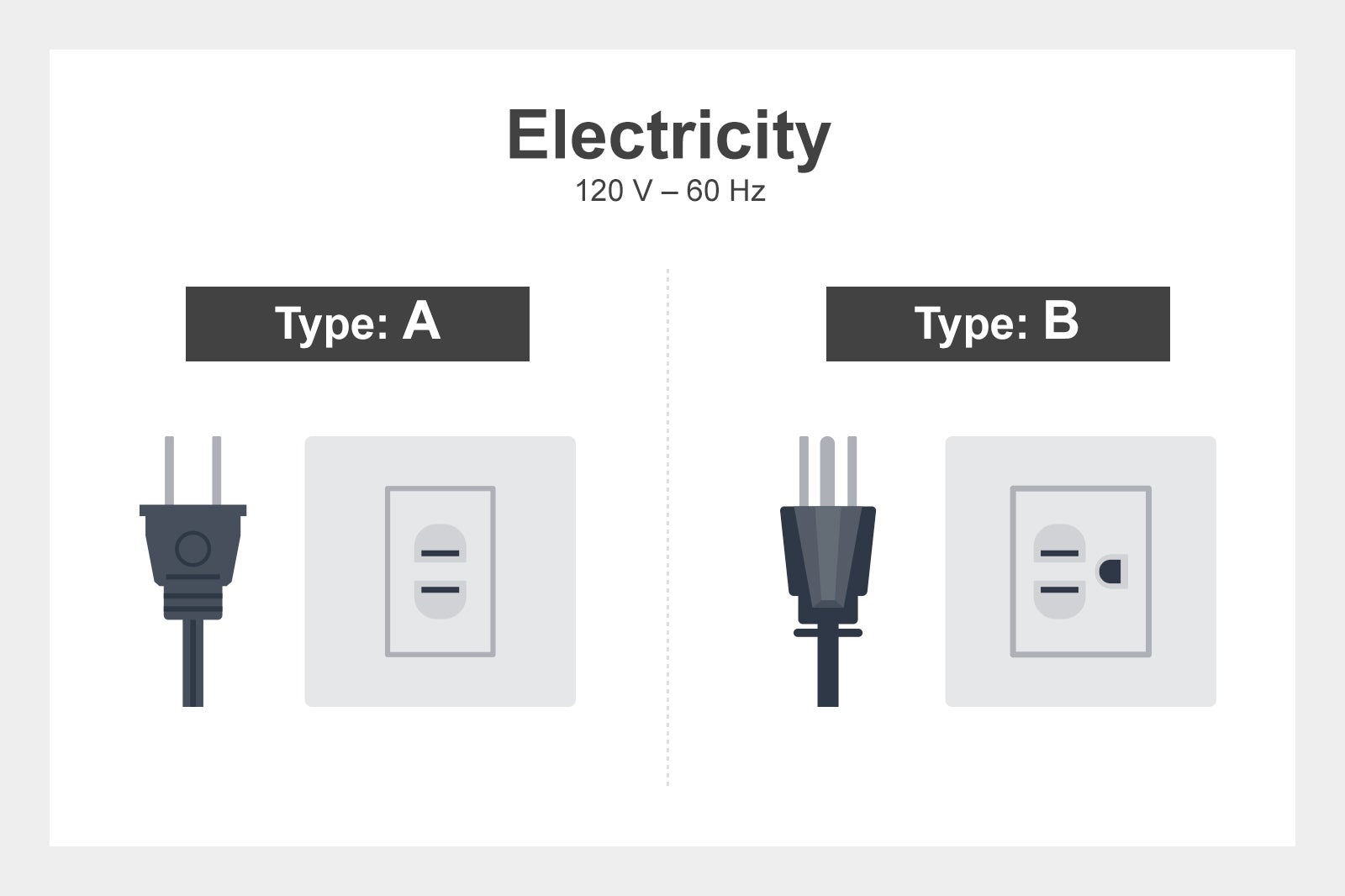 Plug type: A and B
Electricity: 120 V – 60 Hz
Currency: Bahamian Dollar (B$)
International dialling code: +1 242
Emergency telephone number: 911 / 919
4
How to get to my hotel in The Bahamas?
Lynden Pindling International Airport in Nassau is the main international gateway to The Bahamas. The airport is located near the northwestern edge of New Providence – about 13 km west of Nassau's city centre.
If you're headed to Freeport on the island of Grand Bahama, Grand Bahama International Airport would be your main gateway to the town. There are 5 international airports in total in The Bahamas. Over 30 others serve domestic flights.
All the major islands in The Bahamas are popular ports of call for cruises through the Caribbean. Nassau has a busy port with many cruise ships arriving from Florida. Freeport Harbour is a port of call for cruises and ferries, many of which voyage from Port Everglades in Fort Lauderdale, Florida.
Lynden Pindling International Airport (NAS), Nassau
Lynden Pindling International Airport is the 4th busiest airport in the Caribbean and the major airport of The Bahamas. Getting to Nassau city centre from the airport is about a 15-minute drive via the Tonique Williams-Darling Highway. The airport serves flights from various major cities in Canada, Europe, and the US.
There are plenty of taxis lined up and readily available outside the US, International, and Domestic terminals of Lynden Pindling International Airport. They can take you to your hotel in the various designated zones with rates based on 2 passengers, and with each additional passenger and their additional luggage charged extra.
You can also rent a car from the airport with various major international rental companies offering most types of vehicles, ranging from SUVs to sedans. Companies include Avis, Budget, Thrifty, and Hertz. Advanced bookings will smoothen your experience.
Grand Bahama International Airport (FPO), Freeport
Grand Bahama International Airport is your international gateway to Freeport and it also has daily flights to other islands in The Bahamas like Nassau, Marsh Harbour, and Bimini. The airport serves various flights from Fort Lauderdale and Miami and even seasonal flights from Milan, Italy.
The airport is about 8 km west of downtown Freeport or roughly 8 minutes' drive via East Settlers Highway. The Grand Bahama Taxi Union operates at Grand Bahama International Airport, ready to take you to your hotel in Freeport.
Car rental firms Avis and Hertz have offices near Grand Bahama International Airport. If you've pre-booked a car, a rep will lead you to the curb and drive you to the pickup location.
Prince George Wharf, Nassau
As a cruise ship passenger, this main seaport will be your port of call in Nassau. The port is conveniently located only a short walk from downtown. It serves many regular cruise liners such as Royal Caribbean, Carnival Cruise Line, and Bahamas Paradise. Up to 7 cruise ships can dock at the gorgeous harbour at the same time. It's lined with various shops, bars, and tour operators. If you need a taxi, you'll find them readily available. Be sure to agree on prices upfront for non-metered ones.
Port Lucaya, Freeport
Port Lucaya is the port of call for cruise ships bound for Freeport on the island of Grand Bahama. It's only a 5-minute drive south of downtown via East Sunrise Highway and Sea Horse Road. From the port, you can either take a shuttle or hire a taxi for a quick ride into town. Right by the harbour is the famous Port Lucaya Marketplace, with its outdoor shops and casual restaurants and bars.
5
How to get around The Bahamas?
Travel tips
First-time travellers to The Bahamas more than likely have the 3 main destinations – Paradise Island, Freeport, and Nassau – on their itinerary. Flying between Nassau and Freeport is a breeze as they are home to The Bahamas' 2 main airports. Paradise Island is simply a 13-minute drive or taxi ride from Downtown Nassau via Kemp Road and across Potters Cay.
If you wish to explore beyond the main islands and see more of the Out Islands such as Eleuthera and the Abaco Islands, more planning is required. It may involve flights, boat rides, or a combination of both in most cases.
Taking a taxi
It's easy to find a metered taxi in the main destinations such as Nassau, Freeport, and Paradise Island. Most taxi drivers, however, don't accept credit cards, so you'll have to be ready with some Bahamian dollars and small change. Taxi fares in The Bahamas are known to increase during the high season. In any case, it's always a good idea to share the cost of the ride with up to 3 other passengers.
Among the notable taxi operators in Nassau that can also take you across to Paradise Island are Cheryl's Bahamas Taxi (+1 242-423-4982), Oliver Taxi Service (+1 242-431-2882), and Supernova Taxi (+1 242-455-9190). In Freeport, there's Grand Bahama Taxi (+1 242-352-7101).
Though taxis aren't as common on the Out Islands, they're mostly available outside the airport terminals and marinas. They're also most likely non-metered, so remember to negotiate the cost of the ride and fix a deal with the driver before getting in.
Renting a car in The Bahamas
Most of the time, you won't really need to rent a car in The Bahamas, especially if your stay is short and you'll only be exploring the resort areas. If you do need to, though, notable car rental companies in Nassau include Budget (+1 242-325-8154), Avis (+1 242-326-6380), Hertz (+1 242-377-8684), and Virgo (+1 242-377-1275). In Freeport and Grand Bahama, there's Bullseye (+1 242-373-2277), Hertz (+1 242-352-3297), and C&V (+1 242-442-0224).
Flying between islands
Inter-island flights in The Bahamas, especially among the Out Islands, are convenient and efficient but they do require better planning. Private charter flights are also available and are great if you're travelling as a family or a group. Charter flights are the only option if you're planning to visit the more remote islands in The Bahamas.
Below are the airlines that offer regularly scheduled inter-island flights, along with their main destinations:
Bahamasair (+1 242-702-4140) and SkyBahamas (+1 242-702-2600): Nassau, Abaco, Andros, South Bimini, North Eleuthera, Exuma, Freeport, Inagua, Long Island, and San Salvador
Pineapple Air (+1 242-702-7133): Nassau, and North Eleuthera
Western Air (+1 242-377-2222): Nassau, Bimini, Congo Town, Exuma, Grand Bahama, Cat Island, San Andros, and Marsh Harbour
Flamingo Air Charter (+1 242-377-0354): Nassau, Grand Bahama, South Andros, Cat Island, Exuma, Inagua, and San Salvador
Southern Air Charter (+1 242-377-2017): Nassau, Long Island, and Eleuthera
Boating between islands
One of the more traditional ways of getting around the islands in The Bahamas, especially the Out Islands, is by boat. This is the slowest method and their schedules can be disrupted by weather conditions, making this approach only recommended if you have ample time.
Colourfully painted mail boats run regularly between the inhabited islands, carrying passengers and goods – even livestock. From Nassau, they depart from Potter's Cay between Nassau and Paradise Island. Depending on the distance between the islands, some boat trips can take up slightly over 4 hours or even more. Schedules are available at the dock in Nassau.
6
What are the main annual events in The Bahamas?
Junkanoo Carnival
Boxing Day, New Year's Day, and Saturdays throughout summer
One of the Caribbean's most celebrated carnivals presents colourful costumes and high-energy dance performances. The vibrant street parades take place throughout the major islands in The Bahamas, but the largest Junkanoo celebration takes place on Bay Street in downtown Nassau.
Where: Nassau and elsewhere in The Bahamas
All Andros Crab Fest
June
This annual festival celebrates the crab-catching tradition of Andros Island, nicknamed "The Land of Crabs" for its successful crab harvesting. It's the best time of year to feast on crabs as the rainy summer months bring a bountiful harvest. You'll be able to experience Bahamian cuisine through crabs cooked in various ways.
Where: Queen's Park, Central Andros
Eleuthera Pineapple Festival
June
This festival celebrates the many decades of the pineapple industry that has thrived on the thin island of Eleuthera. It's celebrated in summer, over the first weekend of June, with farmers bringing their harvested bounty of pineapples into Gregory Town with festive music, pageants, and pineapple-eating and cooking competitions.
Where: Gregory Town, Eleuthera
7
What are the main landmarks in The Bahamas?
The Cloister
The beautiful remains of a 14th-century French monastery with imposing stone columns and arches. Adjoining The Cloister is the Versailles Gardens, its manicured grounds overlooking Nassau harbour.
Nassau Harbour Lighthouse
This lighthouse sits at the western tip of Paradise Island and is accessible from the beach. It is in ruins but you can still climb to the top for beautiful sea views.
Queen's Staircase
A major landmark of Nassau, this walkway of 66 steps was carved out of solid limestone rock by hundreds of slaves in the 18th century as an escape route from the fort above it.
Fort Montagu
This grand limestone fort with 4 cannons on the eastern end of New Providence was built in 1741 by the British and offers wonderful views over Nassau Harbour.
Back to top