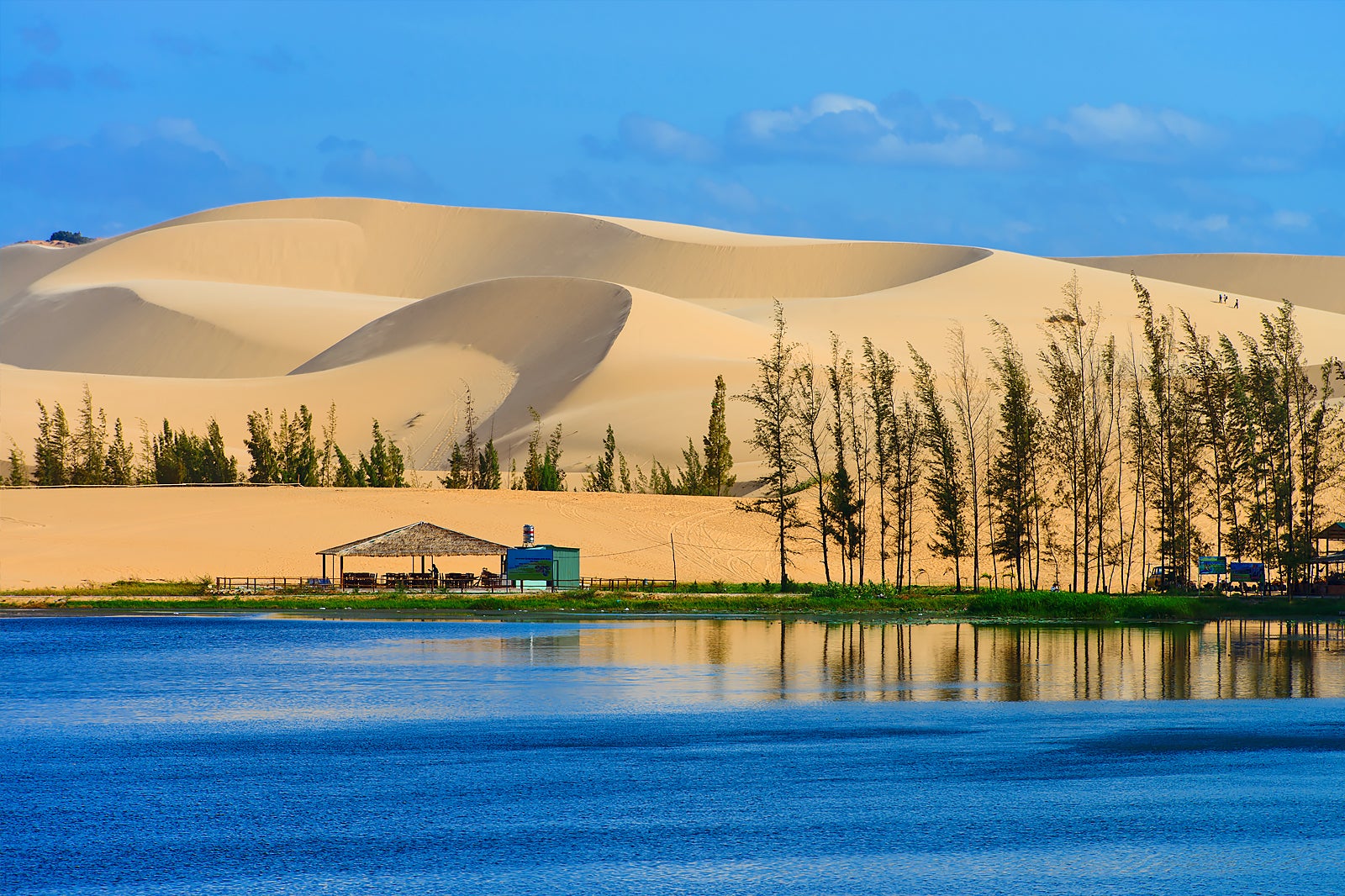 Mui Ne
What you need to know before you go
Mui Ne and Phan Thiet are located on the Vietnamese coast, about 200 km north of Ho Chi Minh City. Together, these traditional fishing villages are fast becoming popular leisure destinations. Resort-style developments have been rising along the coastline, though so far the lives of the fishing communities remain unchanged and Mui Ne's long beach is quiet and serene – great for walks, jogging and spectacular sunsets.
Phan Tiet, which is rather larger than its neighbour, is famous for its fish sauce, an ingredient in most Vietnamese dishes. It, too, has a beautiful beach. There's a wide range of accommodation, and restaurants offer a huge selection of seafood at very affordable prices. There are golf courses, beautiful pagodas, spectacular red and white sand dunes, and a variety of water sports to enjoy in Phan Tiet.
What to see & do in Mui Ne
Featured stories & fun stuff
10 Best Things to Do in Phan Thiet and Mui Ne

The best things to do in Phan Thiet and the beach of Mui Ne comprise geographical wonders, traditional fishing villages, pristine beaches and verdant mountains. Also prominent are ancient structures that date back as far as the 9th century. Needless to say, you have plenty to see and do during your holiday in the capital of Binh Thuan province and...
Where & what to eat in Mui Ne
9 Great Restaurants in Phan Thiet and Mui Ne

Great restaurants in Phan Thiet and Mui Ne offer authentic regional specialities and fresh seafood from the East Sea plus cuisines from all over the world. As a prominent coastal town in Vietnam, Phan Thiet is basically a paradise for seafood lovers. After all, fishing in the South China Sea is still the main source of income for the locals...
Where to shop & what to buy in Mui Ne
9 Best Places to Go Shopping in Phan Thiet and Mui Ne

When it comes to shopping in Phan Thiet and Mui Ne, the local markets are must-visits for travellers looking to experience the local lifestyle of this seaside town. Open from dawn onwards, you'll find marketgoers bargaining for the freshest seafood, meat, vegetables and fruits while food stalls prepare mouthwatering Vietnamese dishes such as fish pho, banh xeo, and spring...
Where to go & what to do at night in Mui Ne
5 Best Things to Do After Dinner in Mui Ne

The list of the best things to do after dinner in Mui Ne and Phan Thiet is fairly short – there just isn't that much to do in the evenings here. Even so, most of the nightlife highlights consist of hotel bars, late-night restaurants, and hippy lounges set along Mui Ne Beach. Exuding a more relaxed ambience, these establishments feature...
Phan Thiet and Mui Ne Weather

The weather in Phan Thiet and Mui Ne is influenced by its tropical monsoon climate. The rainy season falls between April and October and the dry season is from November to March. This coastal town is also prone to drought due to its close proximity to the Binh Thuan Desert, making it the driest region in Southeast Asia. As a...
Back to top