10 Best Things to Do in San Francisco
What is San Francisco Most Famous For?
San Francisco is one of Northern California's most vibrant financial and cultural centres. You can find a cool mix of sightseeing, shopping, as well as culinary journeys in the city. The Golden Gate Bridge, for one, is among the world's most iconic landmarks and is simply not to be missed. It's home to the world's last manually operated cable cars, which to this day offer scenic city rides.
This alluring city offers a cultural kaleidoscope: you can find enclaves such as Little Italy, one of the country's oldest Chinatowns, and a vibrant Japanese community in San Francisco. If you're a foodie, head to Fisherman's Wharf, with the great bridge and the notorious Alcatraz prison island in view. We hope this list of great things to do in San Francisco in a day or two can help you plan your visit and experience the very best of the city.
What are the best things to do in San Francisco?
1
Start your day at the Golden Gate Bridge
San Francisco's unmissable icon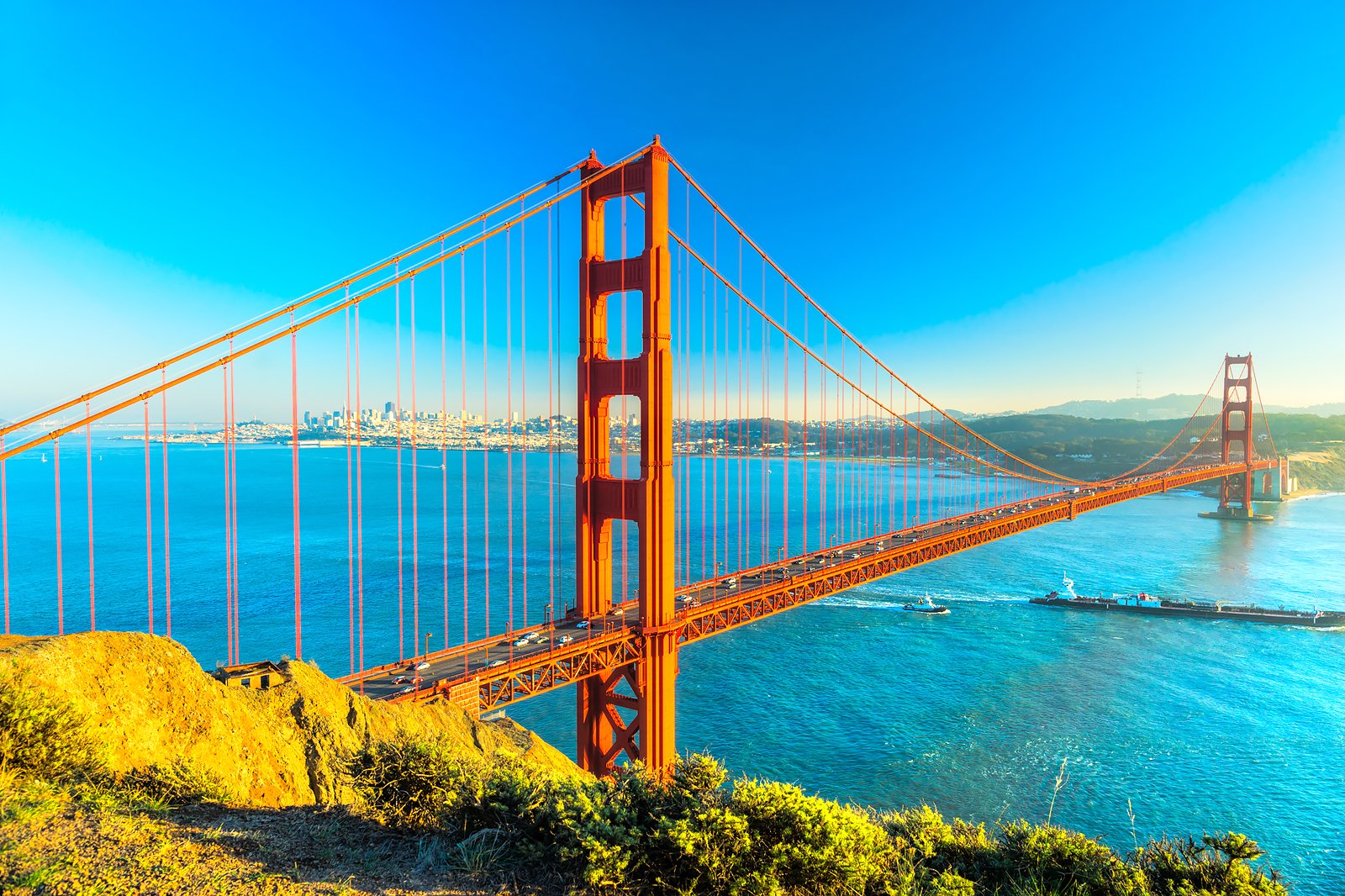 Consider your trip to San Francisco incomplete without getting a snap of this iconic, Art Deco suspension bridge. The Golden Gate Bridge spans the namesake mile-wide strait where the waters of San Francisco Bay meet the Pacific. One of the best spots to admire and shoot the bridge is on top of high Hawk Hill in the Marin Headlands. Another is Battery Spencer, on top of an old concrete artillery unit. The occasional fog at dusk or dawn makes it truly magical. Even at night, you'll have spectacular views with the bridge illuminated against the city lights.
Location: Golden Gate Bridge, San Francisco, CA, USA
Phone: +1 415-921-5858
2
Shop at Union Square
An upscale and upbeat shopping scene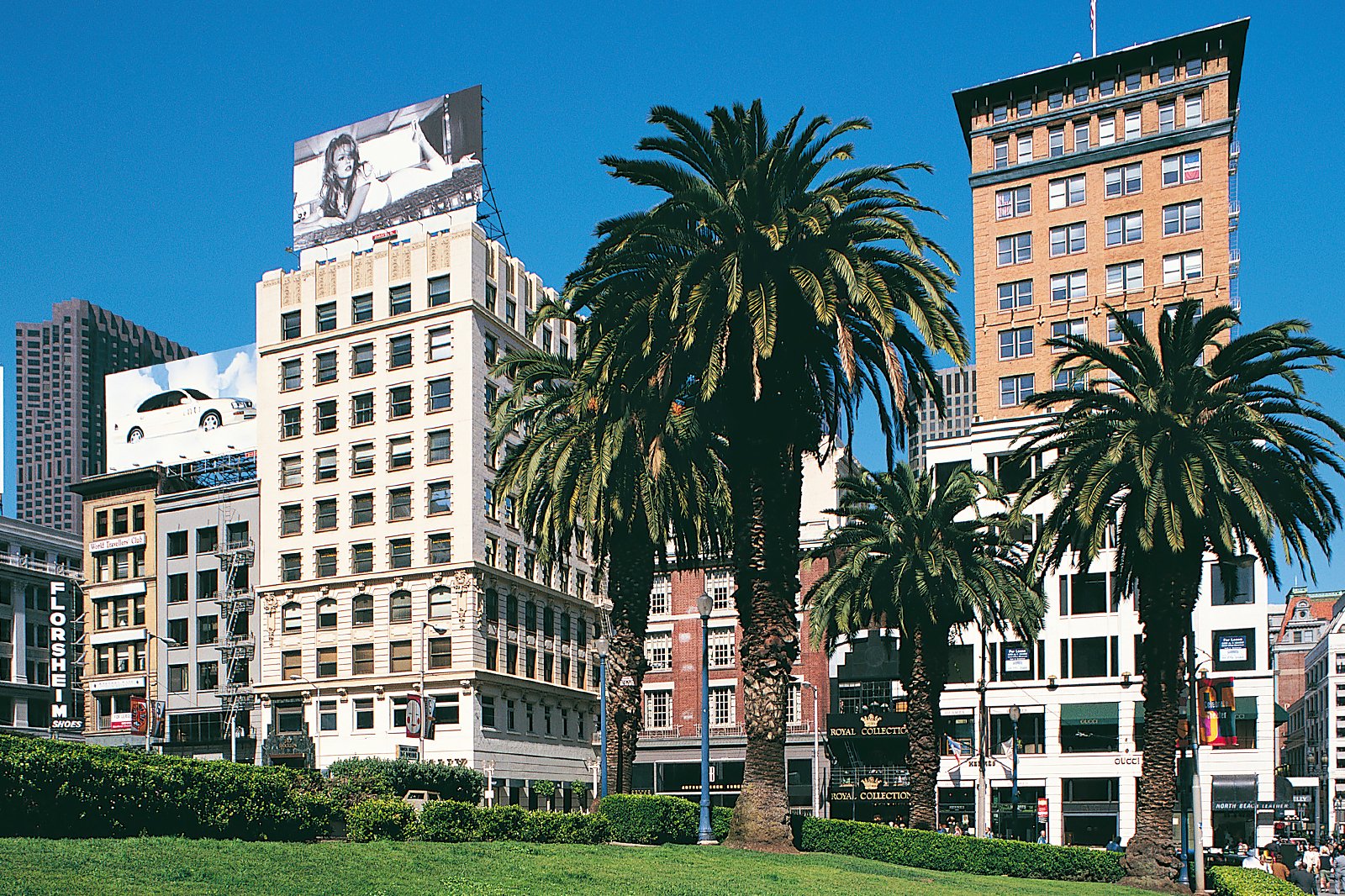 Macy's, Tiffany & Co., Gucci, and Bulgari are just a few of the big luxury fashion names gracing San Francisco's main commercial hub, Union Square. Most are housed in the many buildings that surround the square, along Post Street and Geary Street. Macy's dominates most of the southern side of the square. Your shopping walks here make for great urban sightseeing. Several buildings feature beautiful Victorian architecture and parades occasionally take place throughout the area. It's also the turnaround site for the city's famous cable car on Powell Street.
Location: 333 Post St, San Francisco, CA 94108, USA
Phone: +1 415-781-7880
3
Ride the San Francisco cable car
It's the last of its kind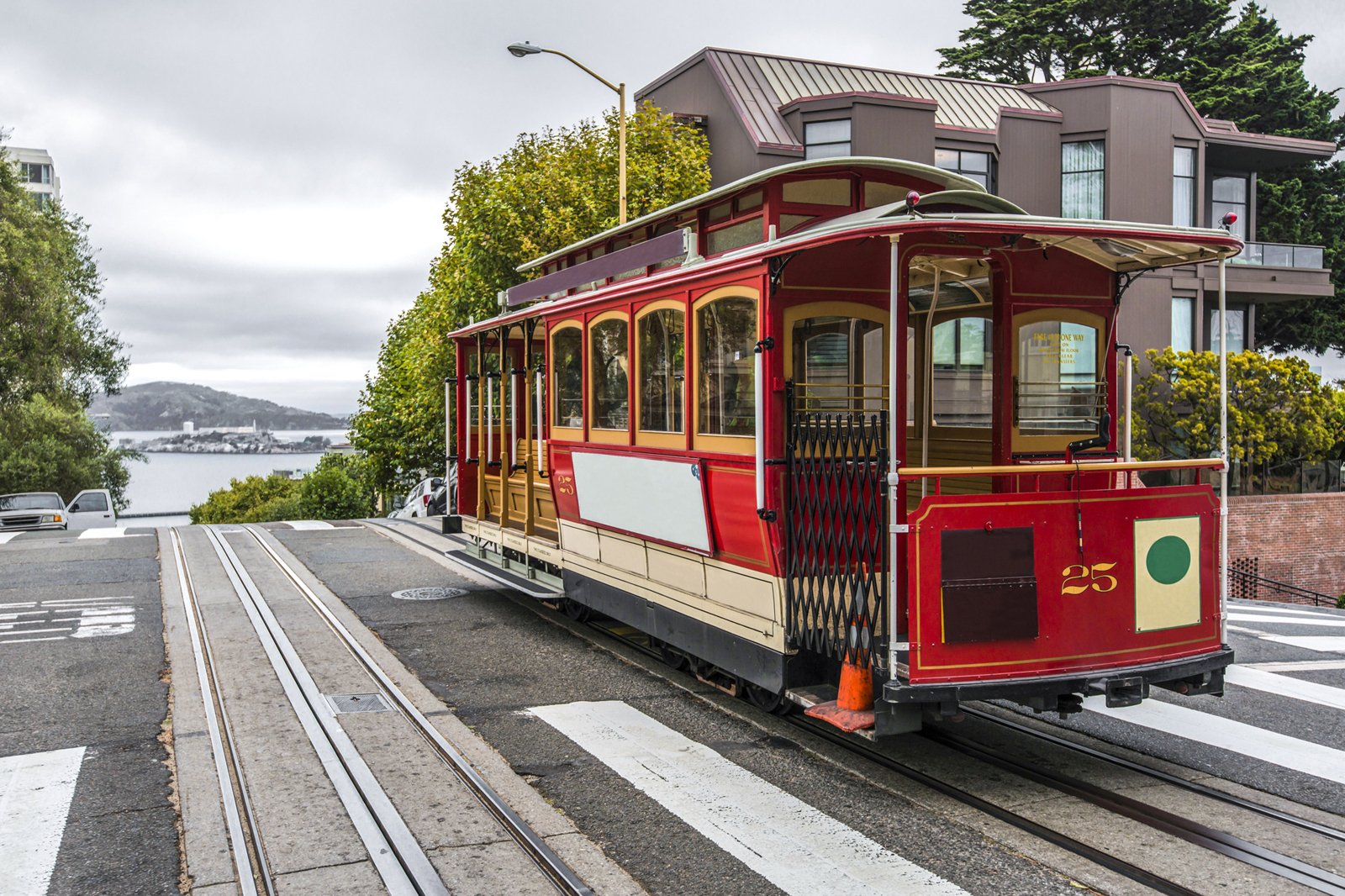 Historical yet timelessly fun, the San Francisco cable car or "trolley" system takes you on a sightseeing ride through the city. The system offers 3 different routes to choose from, but the 2 most famous ones go from Union Square to the Fisherman's Wharf. These are popular due to the series of steep uphill climbs which make for great city views along the way. Seats face outwards on each side. If you're in for the best views, it's best to pick a side that faces eastward to the San Francisco Bay. Tickets are $5 for each trip.
Location: Powell St, San Francisco, CA 94102, USA
Open: Daily from 6 am to 12 am
Phone: +1 415-701-2311
4
Explore Chinatown
The oldest in North America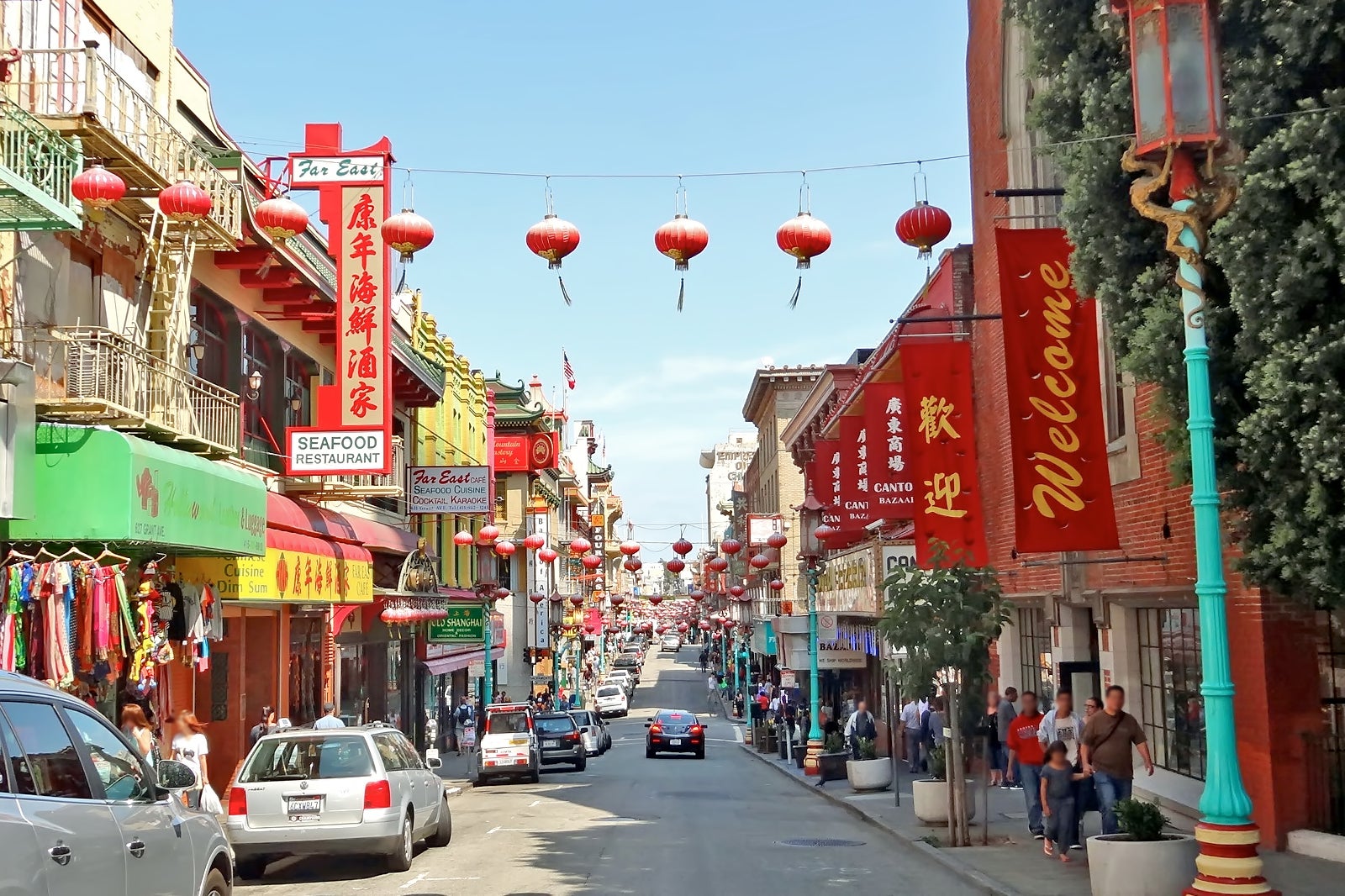 San Francisco's Chinatown is one of the country's oldest. You can find it on Grant Avenue and Stockton Street, with its southern entrance near Union Square. This entrance is known as the Dragon Gate, and is photo-worthy on its own. Shops and restaurants bearing dragon lampposts and signs written in elegant calligraphy dominate the district's urban landscape. On walks through the enclave's streets and narrow alleys, you'll see banks, seafood restaurants, herbal shops, and bakeries huddled closely together, mostly topped with distinctive pagoda-like roofs.
Location: Stockton St Tunnel, San Francisco, CA 94108, USA
Phone: +1 888-212-3203
5
Hit up a café at Little Italy
Discover Italian flavours in North Beach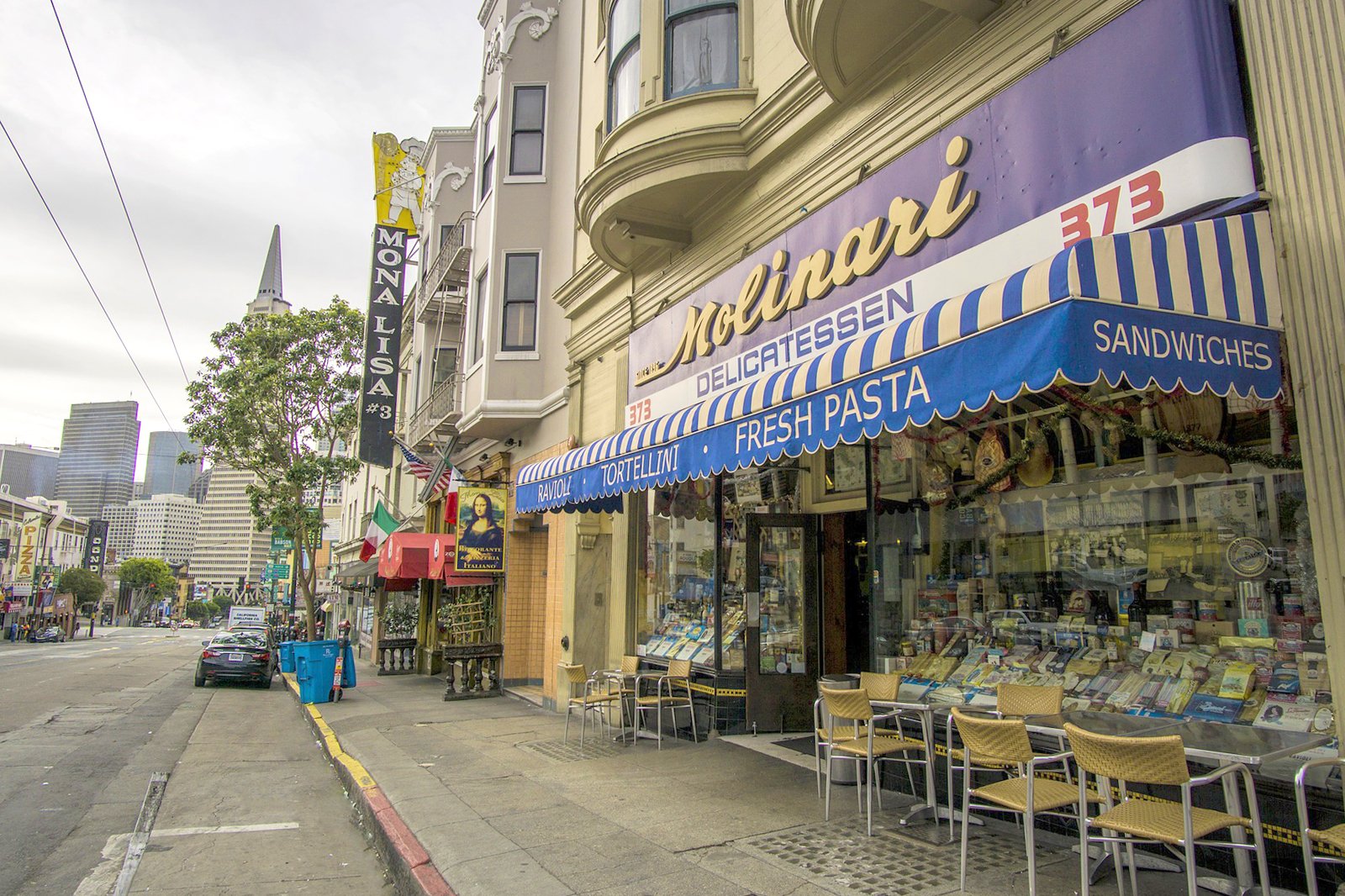 Shoppers
Photo
Food
Nightlife
Just north of Chinatown, San Francisco's neighbourhood of North Beach offers a glimpse into San Francisco's Italian heritage. It's nicknamed "Little Italy", as you can find everything from Ligurian family-owned delis and bakeries selling focaccia and pizzas, longstanding traditional cafés and trattorias with chequered-tableclothed tables, to retro bars filled with Italian memorabilia. Some of the best bars are along Columbus Avenue or Little Italy's portion of Grant Avenue. Climb up the steep Filbert Street towards Coit Tower for some beautiful cityscapes.
Location: Telegraph Hill Blvd, San Francisco, CA 94133, USA
6
Enjoy seafood at Fisherman's Wharf
San Francisco's vibrant waterfront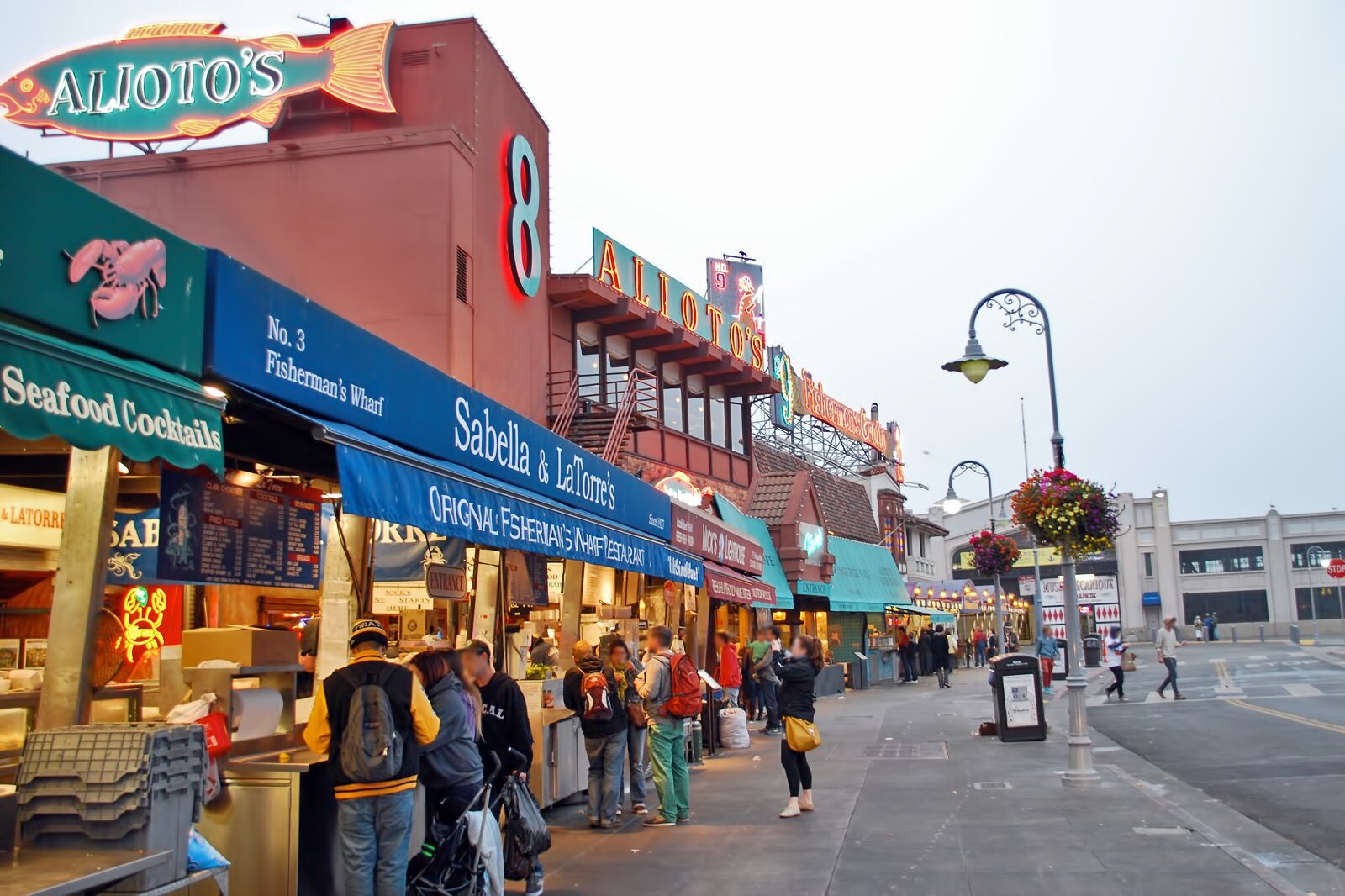 A place for seafood lovers, San Francisco's northern waterfront, just north of Little Italy, is home to Fisherman's Wharf. Various seafood stands line the streets that lead to several piers, where you can try shrimp salads, clam chowders and seafood cocktails, or settle for a big family lunch with the views of the bay. Many come here just for the views. The Golden Gate Bridge and Alcatraz are on the horizon, while historical naval vessels and old ships with towering masts bob around in the bay. You can also find maritime museums and an aquarium nearby.
Location: 2905 Hyde St, San Francisco, CA 94109, USA
Phone: +1 415-447-5000
photo by FASTILY (CC BY-SA 3.0) modified
7
Ride a Segway through Golden Gate Park
Enjoy the most of the city's large, feature-filled green oasis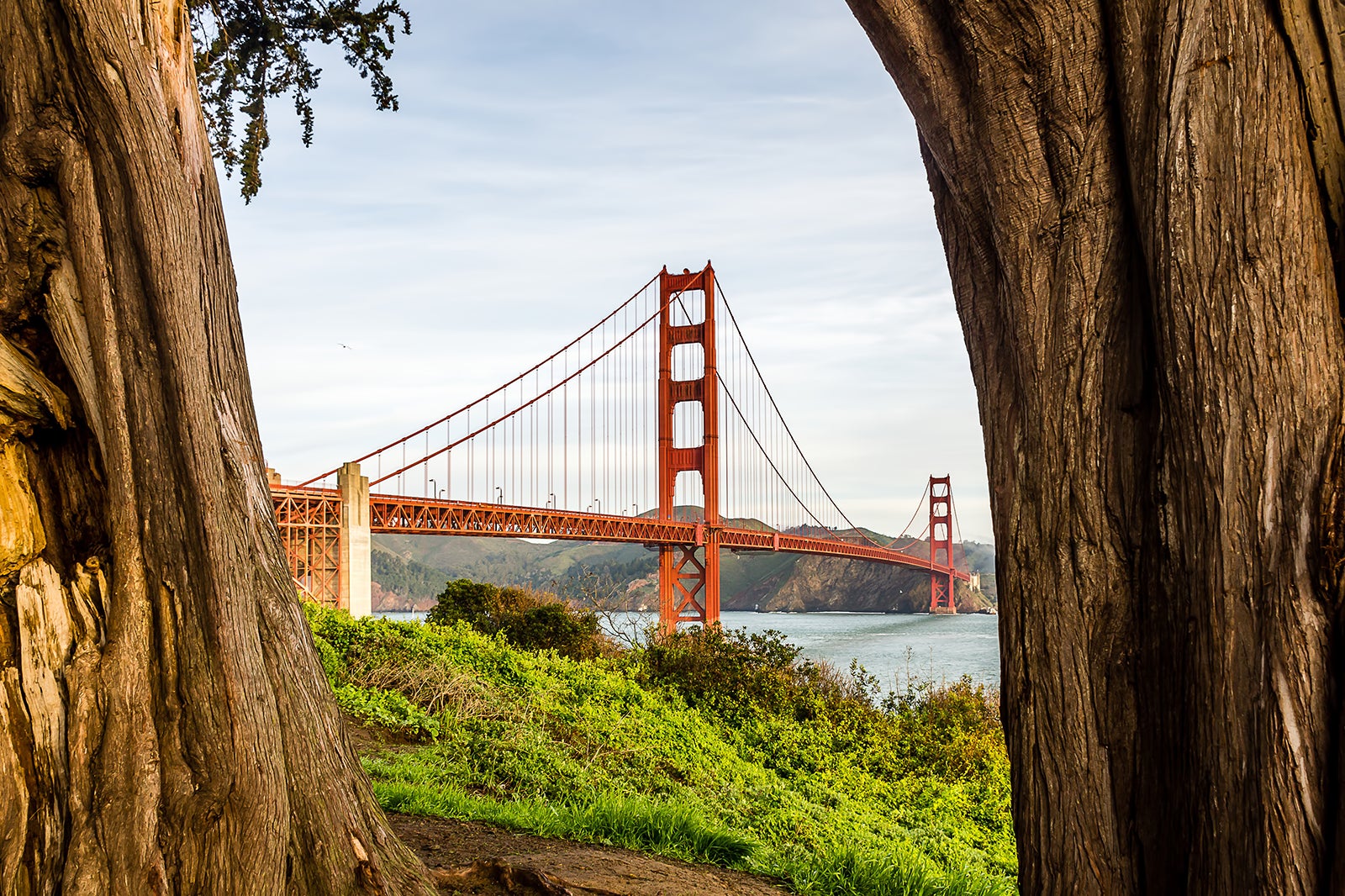 Couples
Families
History
Photo
Segway rides can be a great way to cover most of San Francisco's vast green oasis, the Golden Gate Park. Within the park, you'll find the tranquil Japanese Tea Garden with its torii gate, pagodas, moon bridge, and teahouse. There's the California Academy of Sciences inside, which features an aquarium, planetarium, and a natural history museum. The de Young Museum displays American art and history. Take the kids, and they can have fun at America's oldest public playground, the Koret Children's Quarter, with its hillside slide and century-old carousel.
Location: 1000 John F Kennedy Dr, San Francisco, CA 94122, USA
Phone: +1 415-831-2700
8
Ferry to Alcatraz
Tour one of the world's most notorious prisons
A 15-minute ferry ride from San Francisco takes you to this notorious prison island where well-known mob boss, Al "Scarface" Capone, did his time. Also nicknamed The Rock, Alcatraz is now a museum with many features to see. The walkways around the island can be steep, and some of the points are far and wide, therefore it's unsuitable for those with mobility issues. Several stops around the island do provide you with breath-taking views. Several cruise operators service Alcatraz, with informative audio guides available in 10 languages.
Location: Alcatraz Island Light, San Francisco, CA 94133, USA
Phone: +1 415-561-4900
9
See the Painted Ladies
Beautiful Victorian rowhouses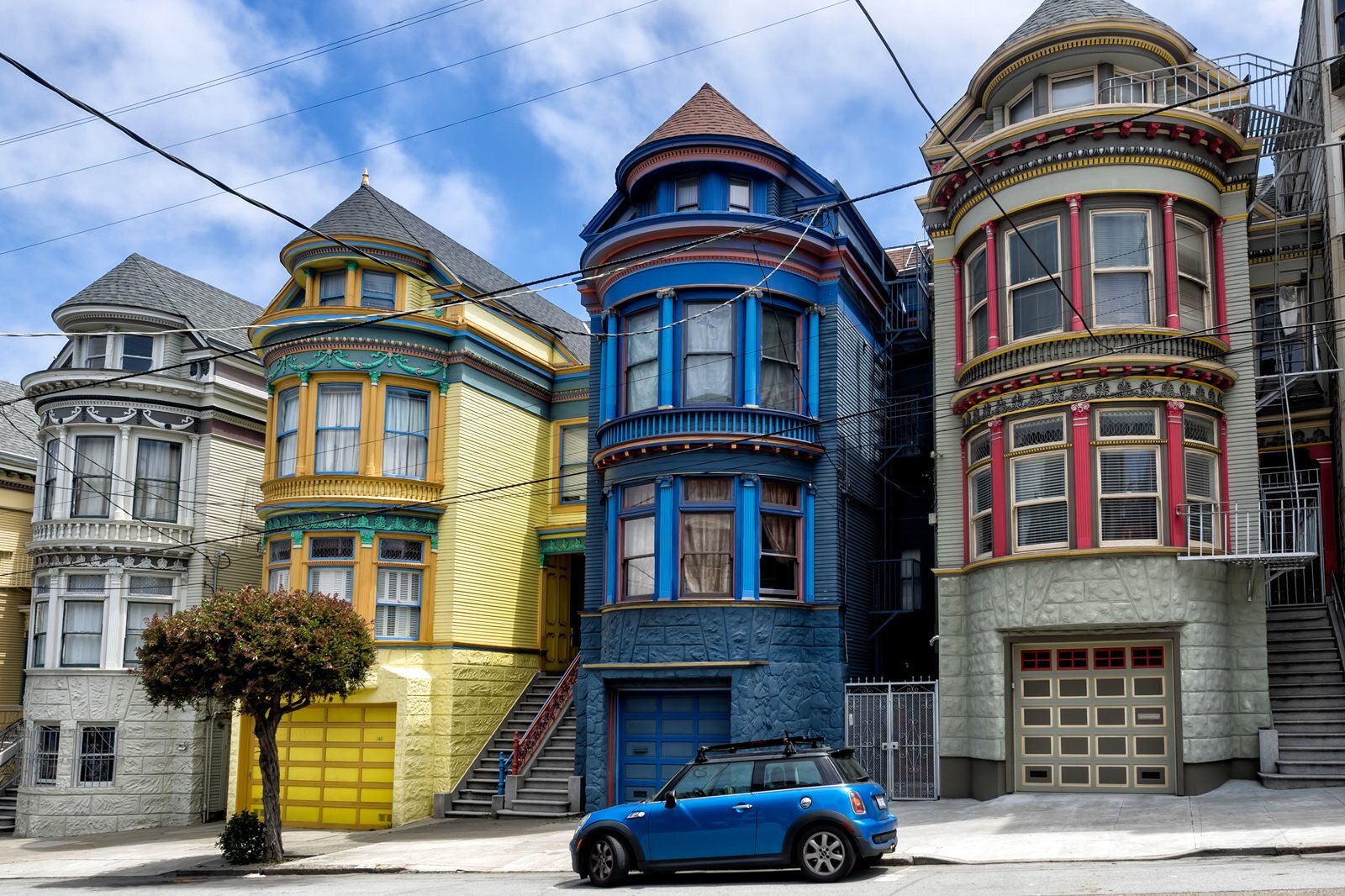 Between the 19th and 20th centuries, Victorian and Edwardian rowhouses were built along San Francisco's Steiner and Hayes streets, near Alamo Square. It's now one of the most iconic and picture-postcard-pretty blocks in the city, frequently depicted in television, movies and ads for depicting quaint neighbourhood scenes. Many visitors on their drive out of San Francisco or on their way to the Golden Gate Park make a stop here for a walk in the park while taking in the pretty view.
10
End the day partying in the Bay Area
Enjoy the nightlife scenes of San Francisco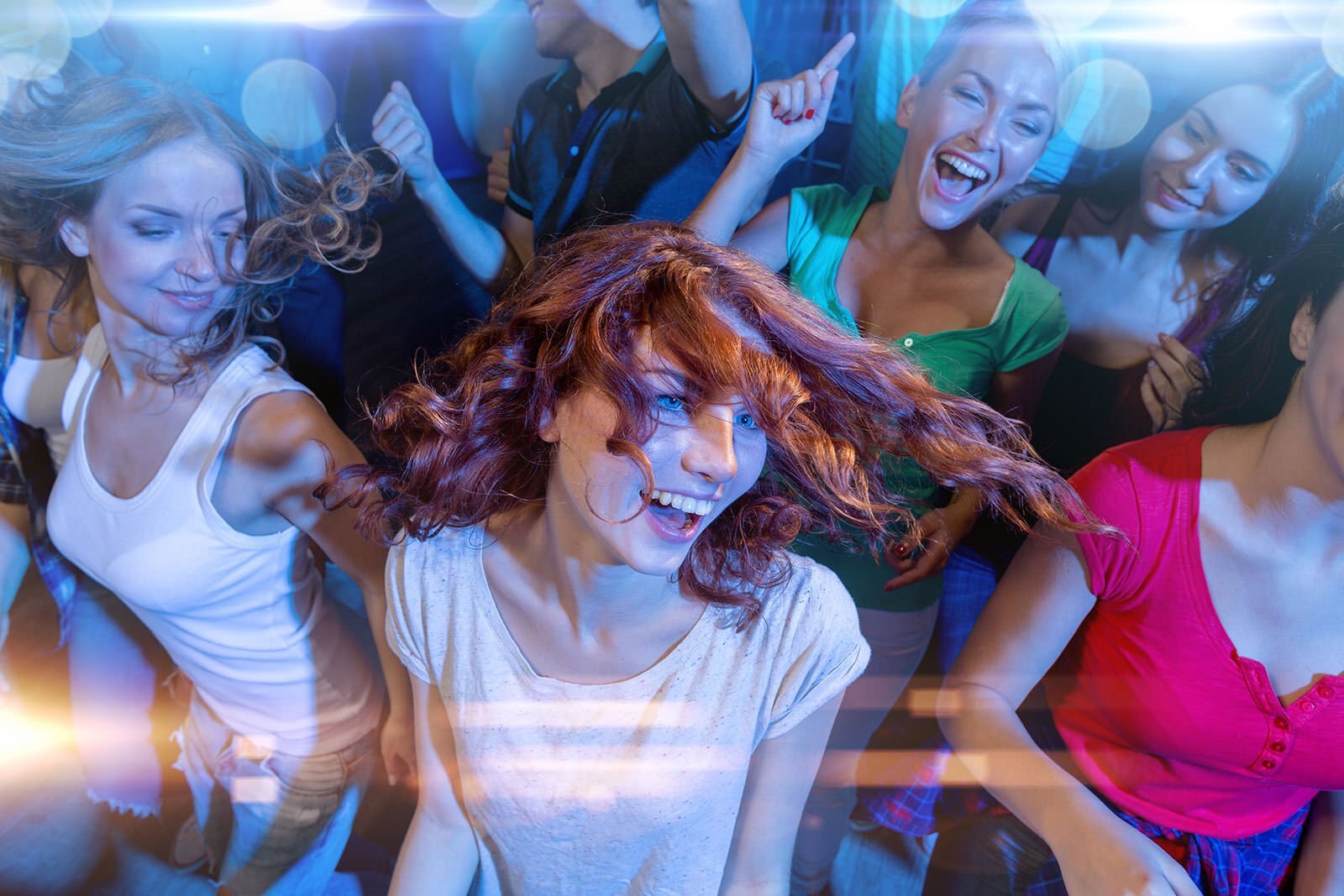 San Francisco's Bay Area is peppered with hotspots for drinking and partying, ranging from brewer's bars, pirate-themed Tiki bars, upscale cocktail lounges, and dance clubs. You can find some of the best spanning south of Chinatown and down to the Lower Haight area. Top names include Smuggler's Cove, a buccaneering-themed bar serving Tiki cocktails and boasting a selection of over 200 types of rum. Monarch on 101 6th Street features a cocktail bar and a hip basement dance club. For rave parties with a cool DJ line-up, live bands and even drag shows through the wee hours, check out DNA Lounge on 375 11th Street.