12 Best Things to Do in Miami
What is Miami Most Famous For?
Miami offers a good mix of things to see and do among its skyscraper-strewn cityscape, with plenty of options for families and couples, some of which are free to access and enjoy. A great way to tune into the city's busy foot traffic is by doing the Miami Riverwalk, which allows you to take in the views of the city at your own easy pace. A unique cultural scene that Miami is most famous for is Little Havana. This neighbourhood offers vivid Cuban sights, sounds, and flavours.
Great family attractions just a short drive out of Downtown Miami includes Jungle Island. This theme park is filled with activities like ziplines and a petting zoo. Shoppers will love the Bayside Marketplace overlooking Biscayne Bay, and night owls looking for a great clubbing scene are well catered for with the cool rooftops and hip nightspots available. Check out these things to do in Miami to help you make the most out of your visit.
What are the best things to do in Miami?
1
Start your day on the Miami Riverwalk
Pleasant riverside stroll through Downtown Miami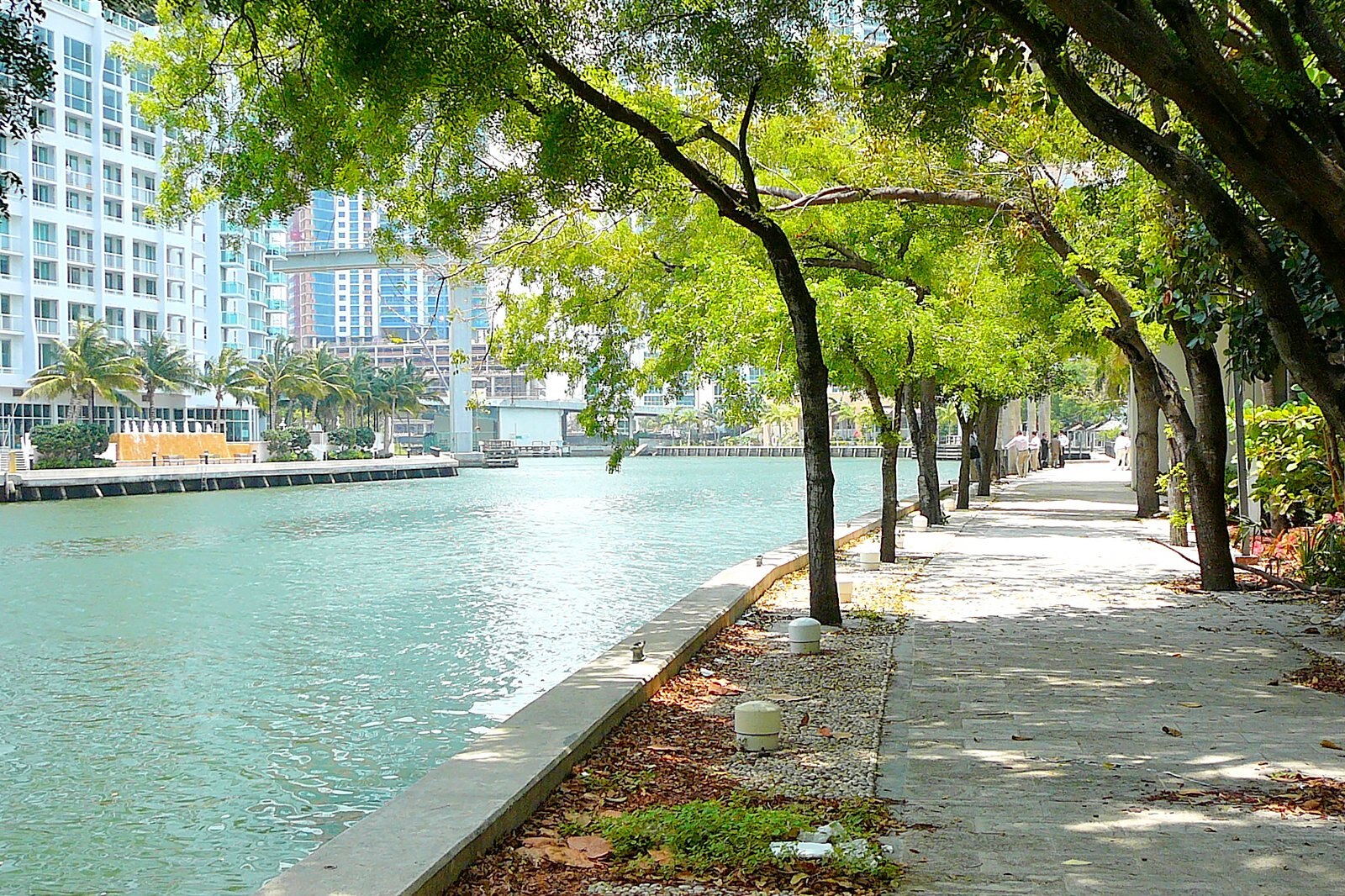 This pedestrian walkway along the Miami River allows you to take in Downtown Miami's urban landscapes from a different perspective, and at your own pace. You can start off at either end of the Riverwalk, be it at the Bayfront Park just north of the downtown area, or at the Riverwalk Metromover station near the Government Center. Come around November and you can expect a host of cultural shows held through the Miami Riverwalk Festival. The Riverwalk is also pleasant in the evening, with city lights shimmering on the water's surface.
Location: S Biscayne Blvd, Miami, FL 33131, USA
2
Go on adventures at Jungle Island
Miami's fun, activity-filled theme park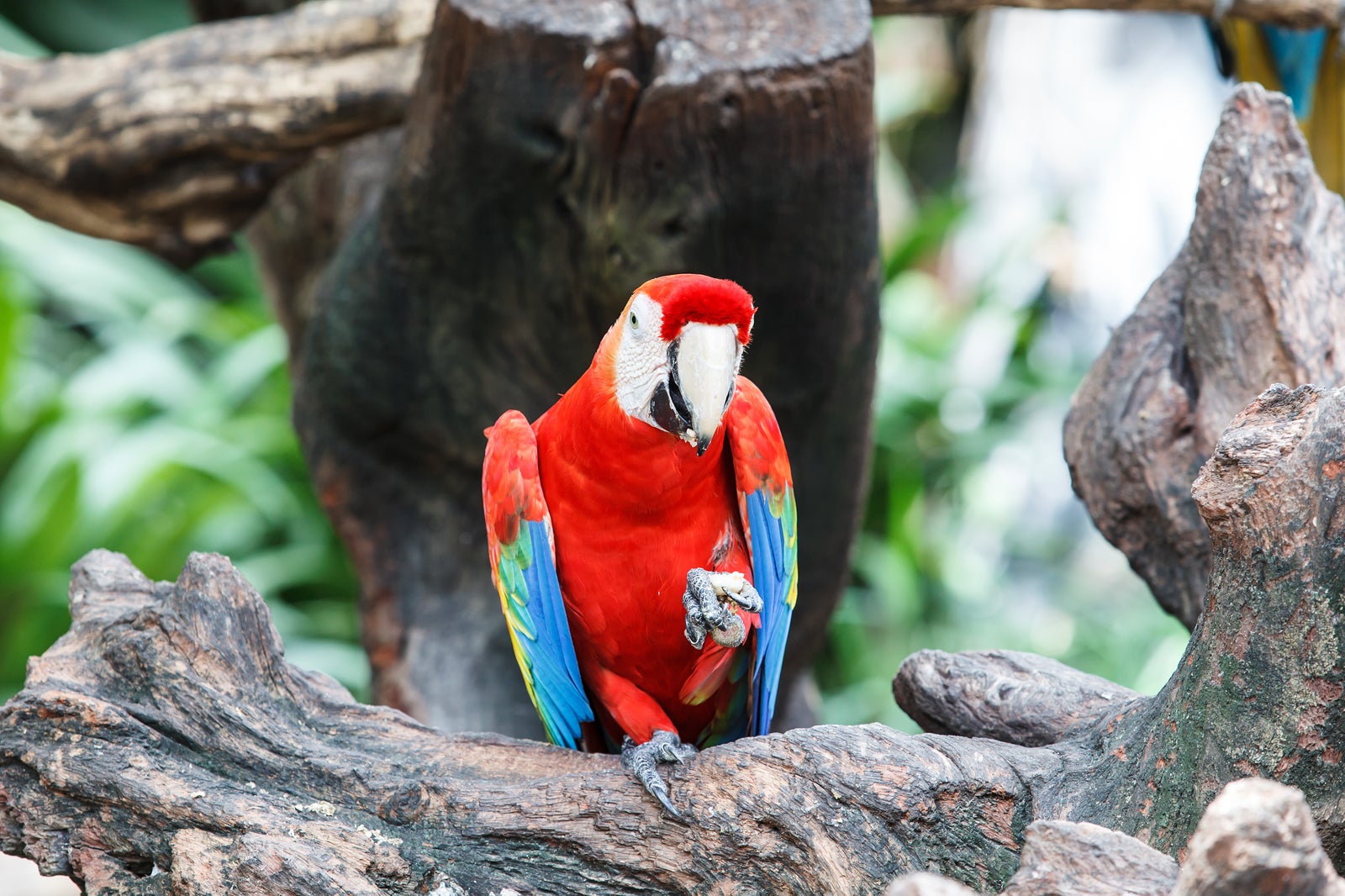 You can reach the manmade Watson Island with around 10 minutes' drive east from Downtown Miami, along the MacArthur Causeway. It's home to Jungle Island, a family-oriented eco-adventure park filled with a good variety of activities. Younger kids can find a petting zoo or slide down inflatable waterslides. Older kids can zoom down ziplines, and settle any sibling rivalries at the Nerf gun battle stadium. An outdoor wind tunnel, the SuperFlight Aerodium, is for those willing to experience the freefall sensations of skydiving.
Location: 1111 Parrot Jungle Trail, Miami, FL 33132, USA
Open: Daily from 10 am to 5 pm
Phone: +1 305-400-7000
3
Shop and dine at the Bayside Marketplace
Downtown Miami's premier shopping centre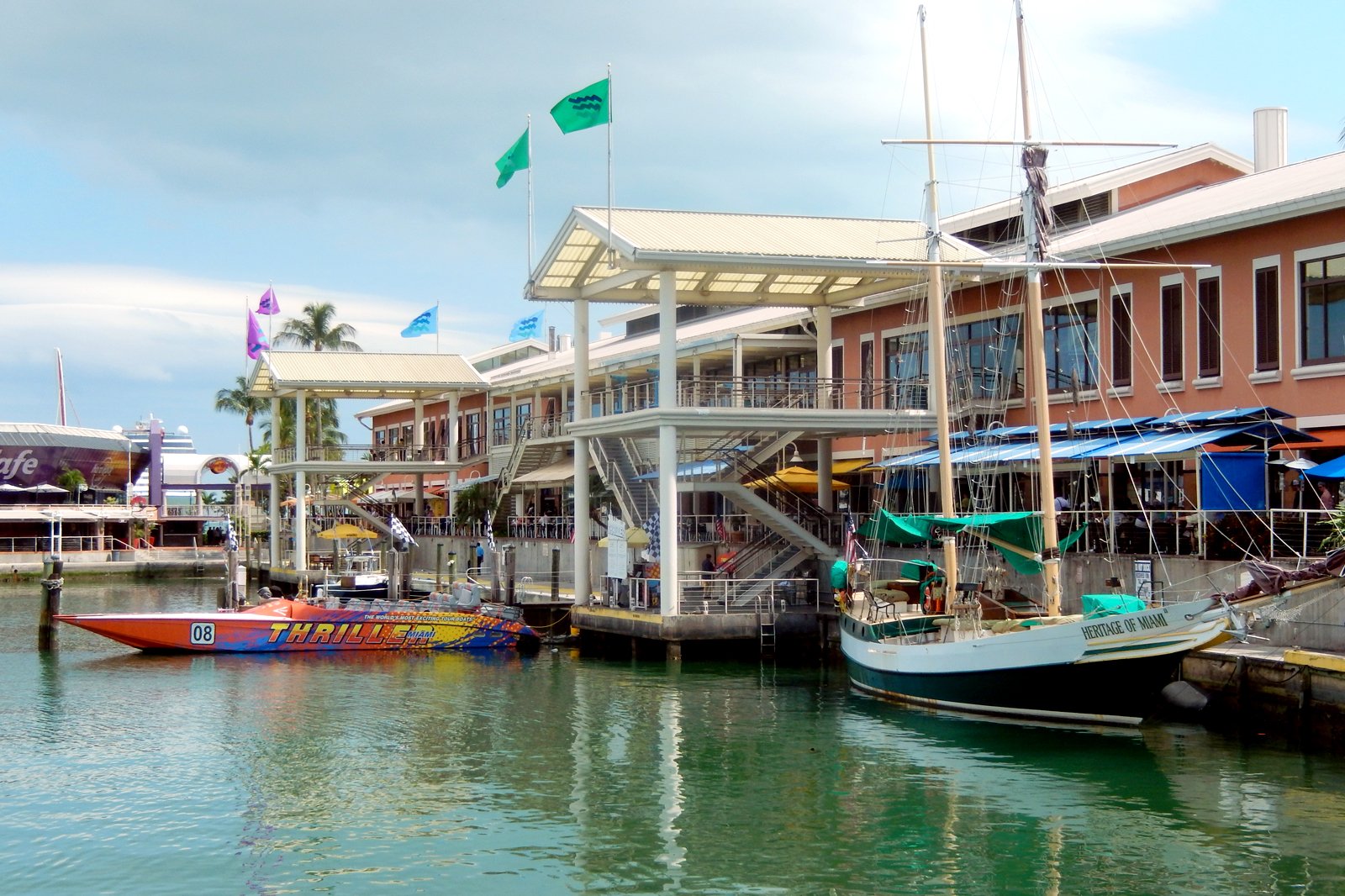 Housed in a 2-storey building overlooking Biscayne Bay and the marina, the Bayside Marketplace offers a scenic shopping experience in Downtown Miami. Various independent shops and chain fashion outlets make up most of the shopping scene here. For dining, you have plenty of options, ranging from seafood to Latin American, with seating indoors and out. At the marina, you can opt for a sightseeing or sunset boat cruise. The Marina Stage is a big draw, with live bands performing daily.
Location: 401 Biscayne Blvd, Miami, FL 33132, USA
Open: Monday – Thursday from 10 am to 10 pm, Friday – Saturday from 10 am to 11 pm, Sundays from 11 am to 9 pm
Phone: +1 305-577-3344
photo by Bohao Zhao (CC BY 3.0) modified
4
Enjoy walks through The Vizcaya Museum and Gardens
Beautiful Tuscan-style villas in Italian Renaissance gardens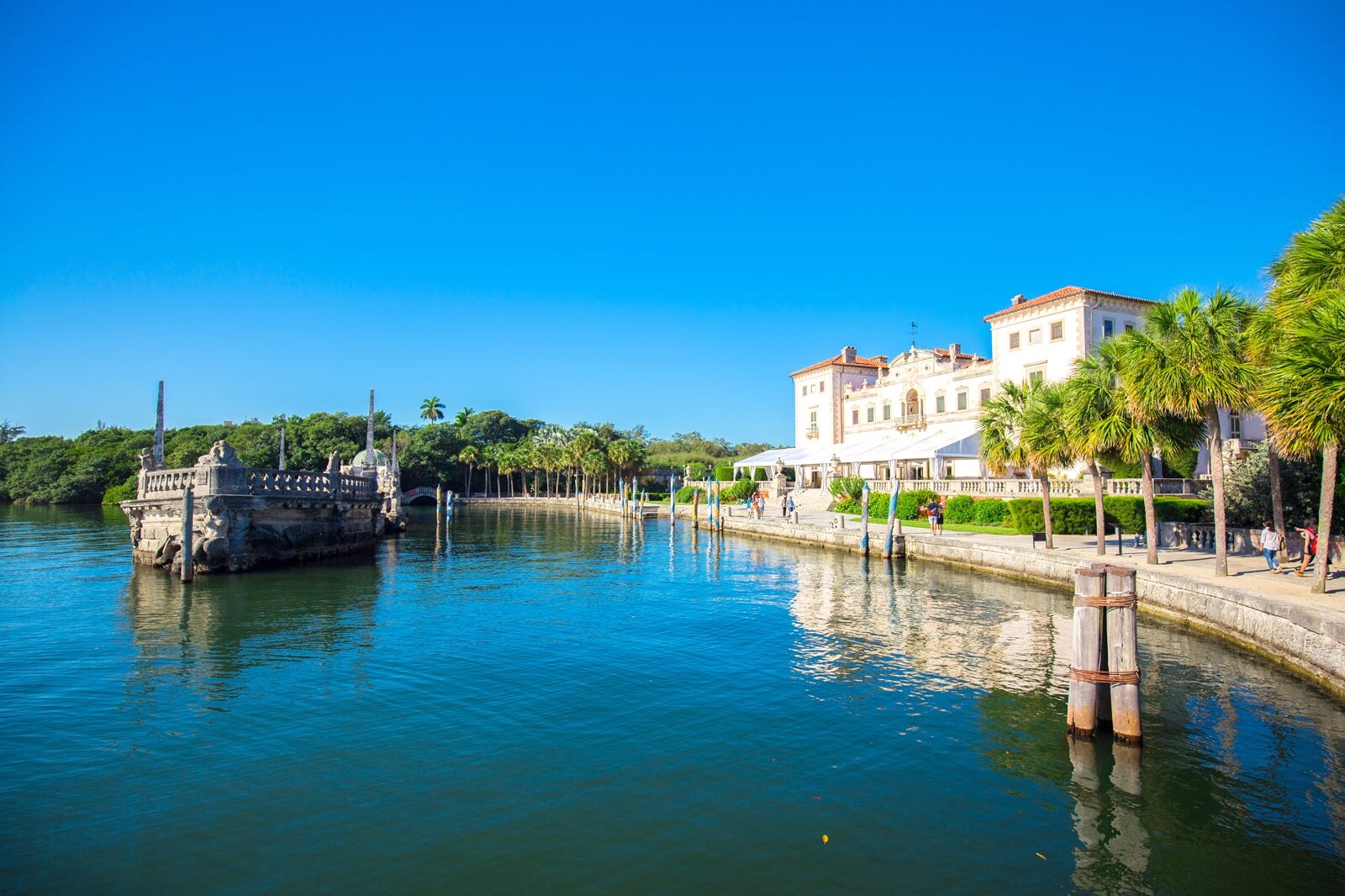 This beautiful estate in Miami's Northeast Coconut Grove neighbourhood is reminiscent of an idyllic Tuscan villa. The Vizcaya Museum and Gardens is the former estate of a rich Miami businessman. The palatial villa has lavishly furnished interiors filled with arts and treasures. It is now open to the public as a historical site. The extensive Italian Renaissance gardens are tranquil, with shaded pathways under large trees. It's surrounded by native woodlands and overlooks Biscayne Bay. Admission is $18 for adults and half the price for kids under 12.
Location: 3251 S Miami Ave, Miami, FL 33129, USA
Open: Wednesday – Monday from 9.30 am to 4.30 pm (closed on Tuesdays)
Phone: +1 305-250-9133
5
Go on a safari at Zoo Miami
Feed a giraffe!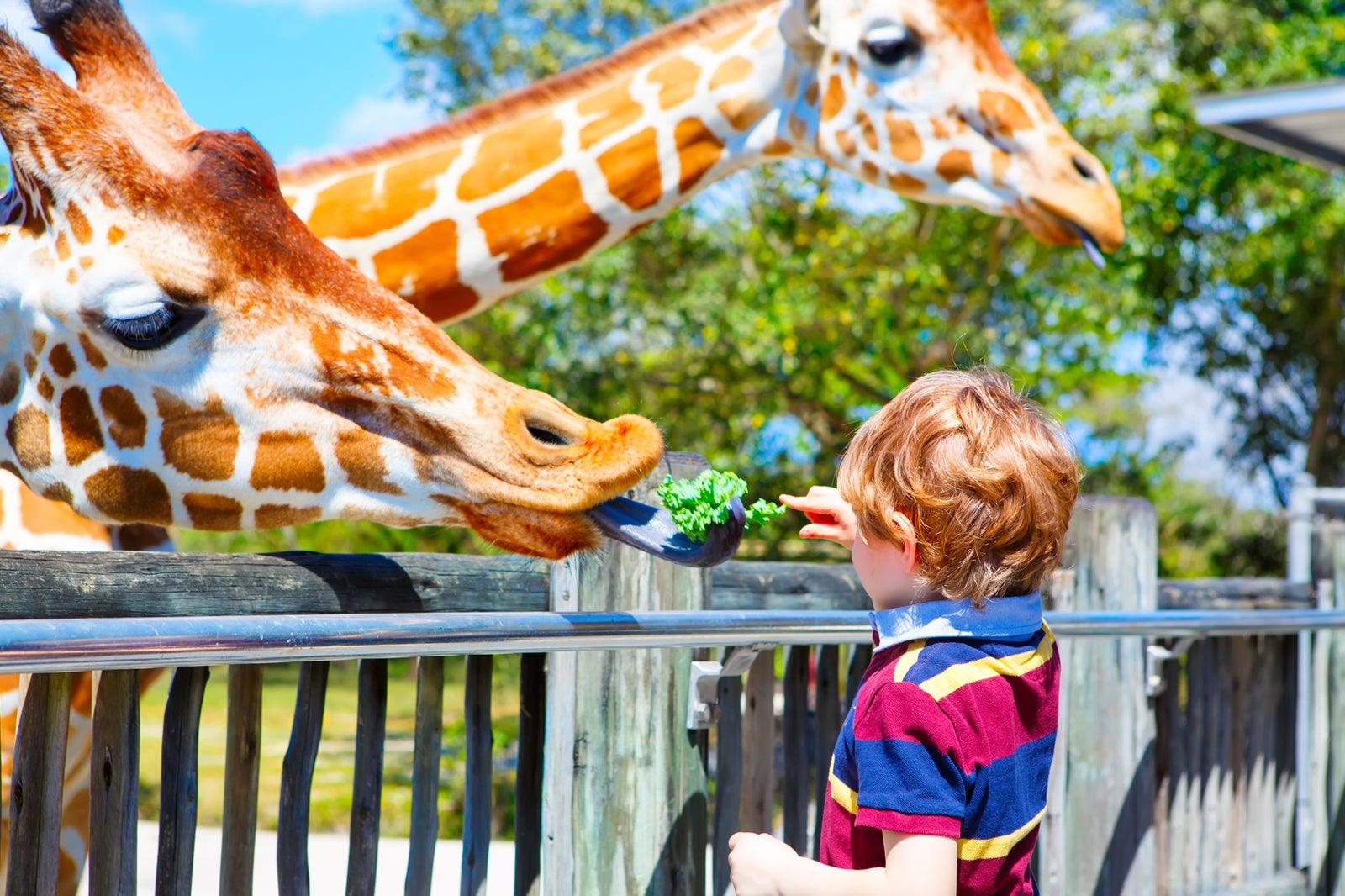 Officially known as the Miami-Dade Zoological Park and Gardens, Zoo Miami is Florida's largest zoological park. Established in 1948 and having undergone significant expansions in the '80s, the zoo now occupies over 750 acres in the neighbourhood of South Miami Heights, an hour's drive southwest from Downtown Miami. It's home to over 3,000 animals from Asia, Africa, Australia, the Amazon River basin, and Florida's own Everglades region. Kids will love the petting zoo, as well as the chance to feed the giraffes at certain times.
Location: 12400 SW 152nd St, Miami, FL 33177, USA
Open: Daily from 10 am to 5 pm
Phone: +1 305-251-0400
6
Admire street art at Wynwood Walls
An open showcase of first-rate urban graffiti arts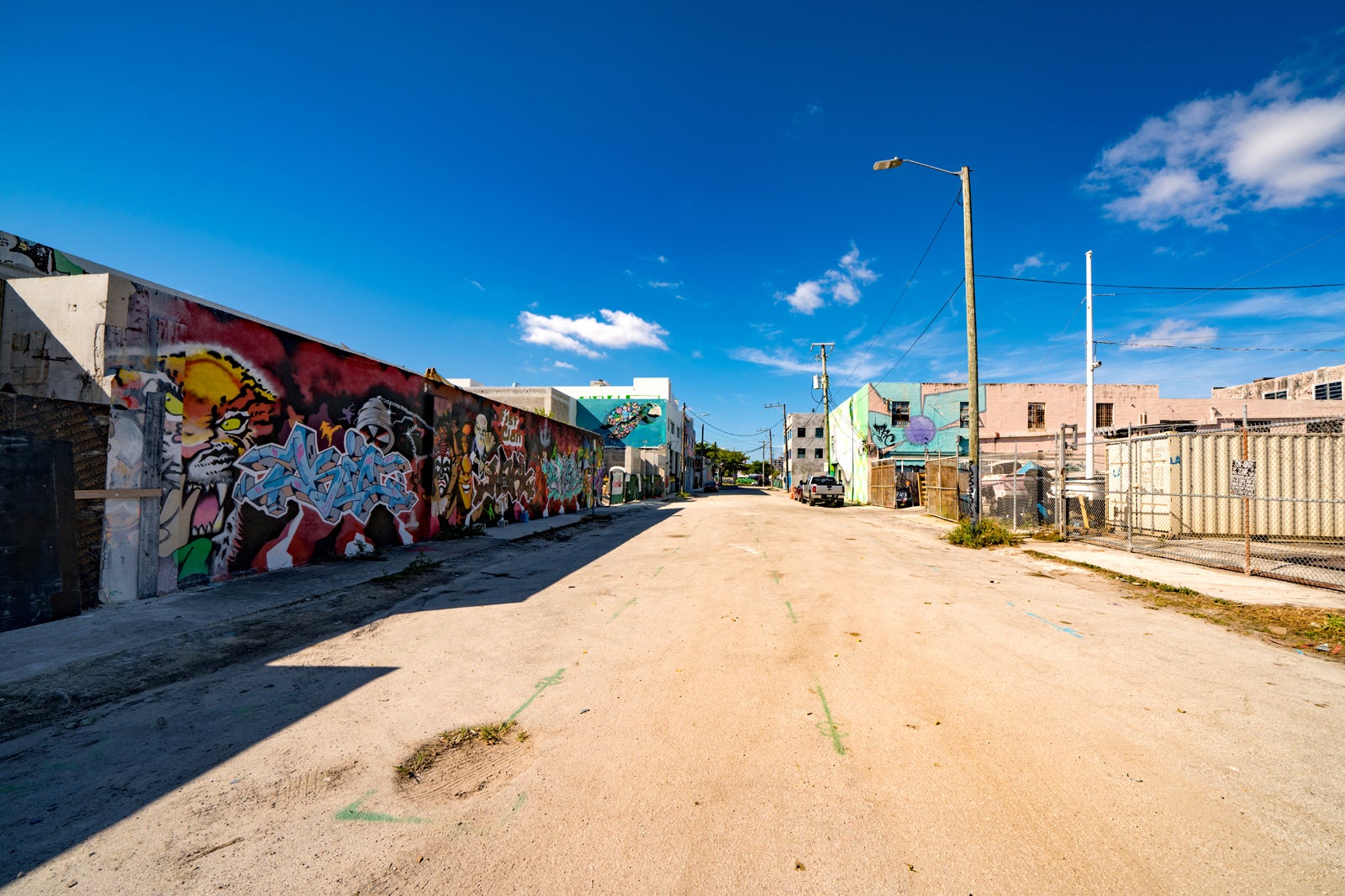 Strolling through Wynwood is a feast for the eyes. One of Miami's most hip and happening districts is home to Wynwood Walls, an outdoor gallery of colourful murals and dazzling street art. Besides the Walls, you can also find the Wynwood Doors, featuring around 176 feet of roll-up storefront gates adorned in strokes and splashes of colour in similar fashion. The area's main open green space serves as the centrepiece, featuring successive artworks from different international artists each year.
Location: 2520 NW 2nd Ave, Miami, FL 33127, USA
Phone: +1 305-531-4411
7
Experience Cuba in Little Havana
Cuban sights and flavours in Miami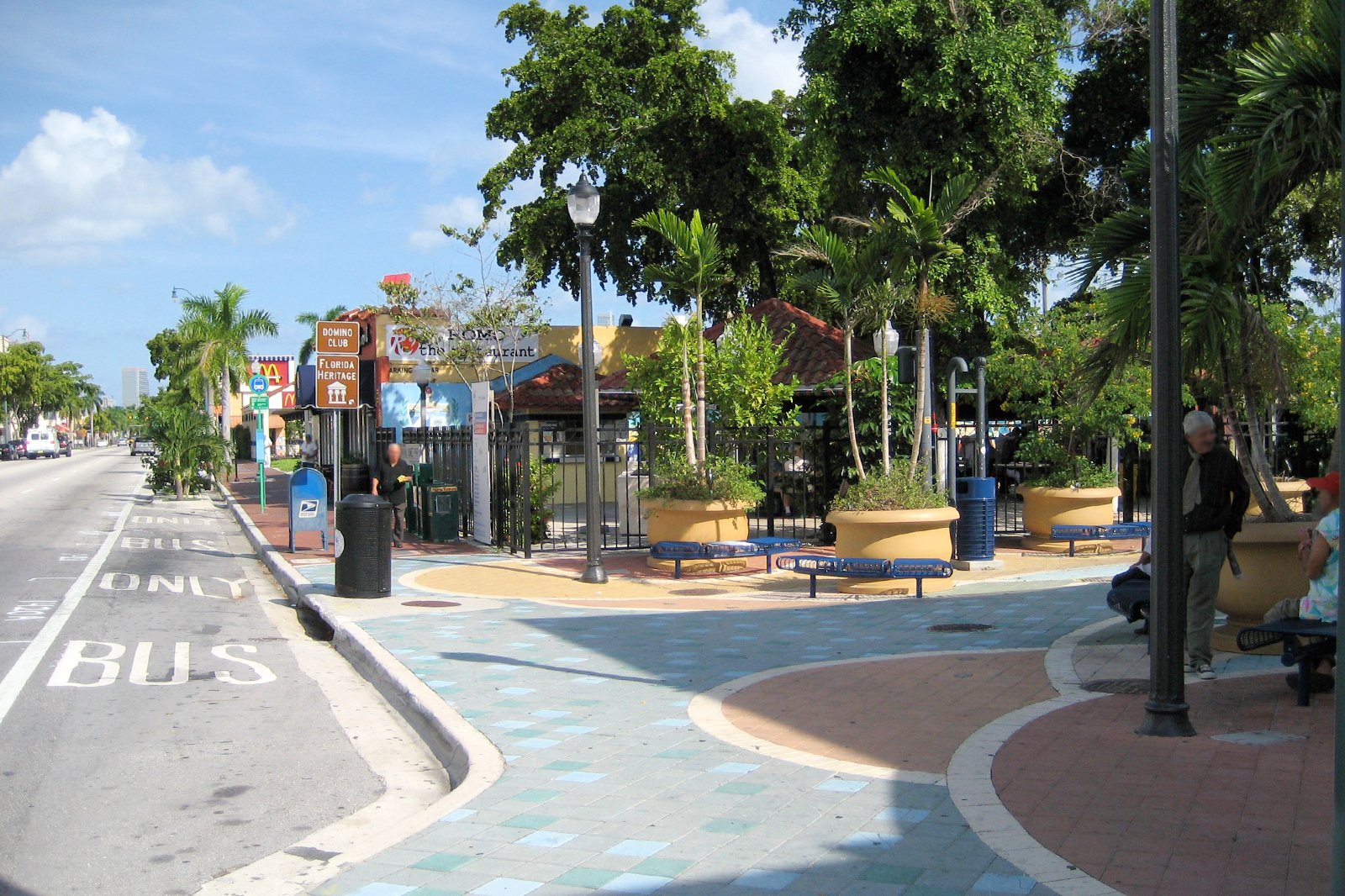 If you're looking for a unique cultural scene in Miami, Little Havana can be a great destination. This lovely neighbourhood just west of Downtown Miami is home to the famous Calle Ocho strip, where most of Miami's best Cuban restaurants can be found. Besides dining and shopping, Little Havana teems with art, and you can enjoy strolls along streets with brightly painted bins, statues, and murals. Beautiful Latin music can be heard throughout the area, with the aromas of coffee, fresh unlit Cuban tobacco, and grilled chorizos permeating the air.
Location: 1600 SW 8th St, Miami, FL 33135, USA
photo by Infrogmation (CC BY 2.5) modified
8
Try Cuban Sandwiches at El Mago De Las Fritas
Must-try wholesome burgers and sandwiches in Miami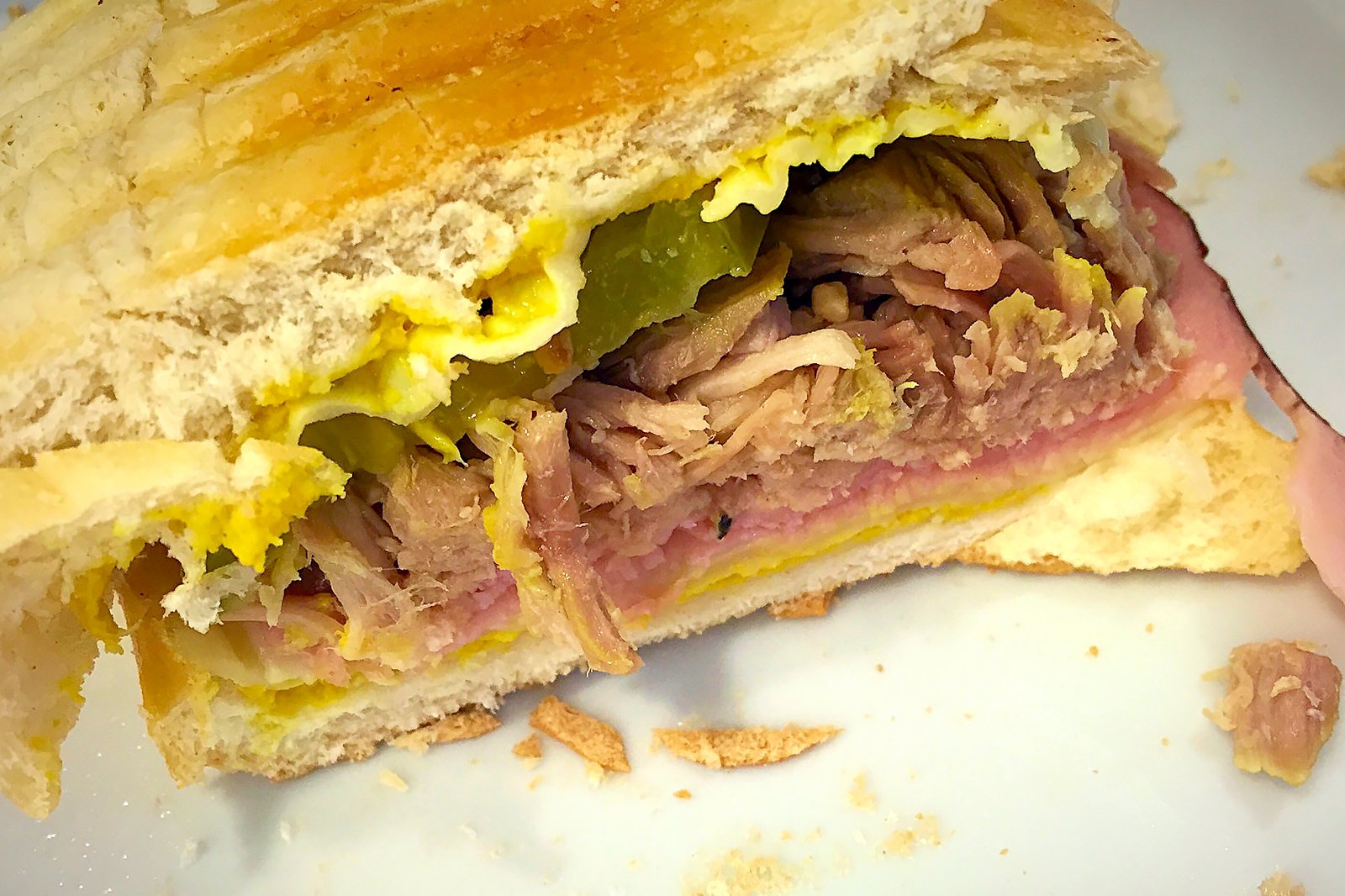 The most notable of Cuban dishes are the wholesome burgers and sandwiches known as fritas. Miami's Little Havana neighbourhood is undoubtedly the best place to find this hearty treat. A legendary diner serving fritas is El Mago De Las Fritas, where the fritas are tasty and juicy, and said to have been favourited by Barack Obama. The patties aren't too big, but just right to allow their homemade sweet-tangy pineapple and mayo sauce to infuse through.
Location: 5828 SW 8th St, Miami, FL 33144, USA
Open: Monday – Thursday from 10 am to 8 pm, Friday – Saturday from 9 am to 9 pm (closed on Sundays)
Phone: +1 305-266-8486
9
Tour the city on the Metromover
A great way to see the City of Miami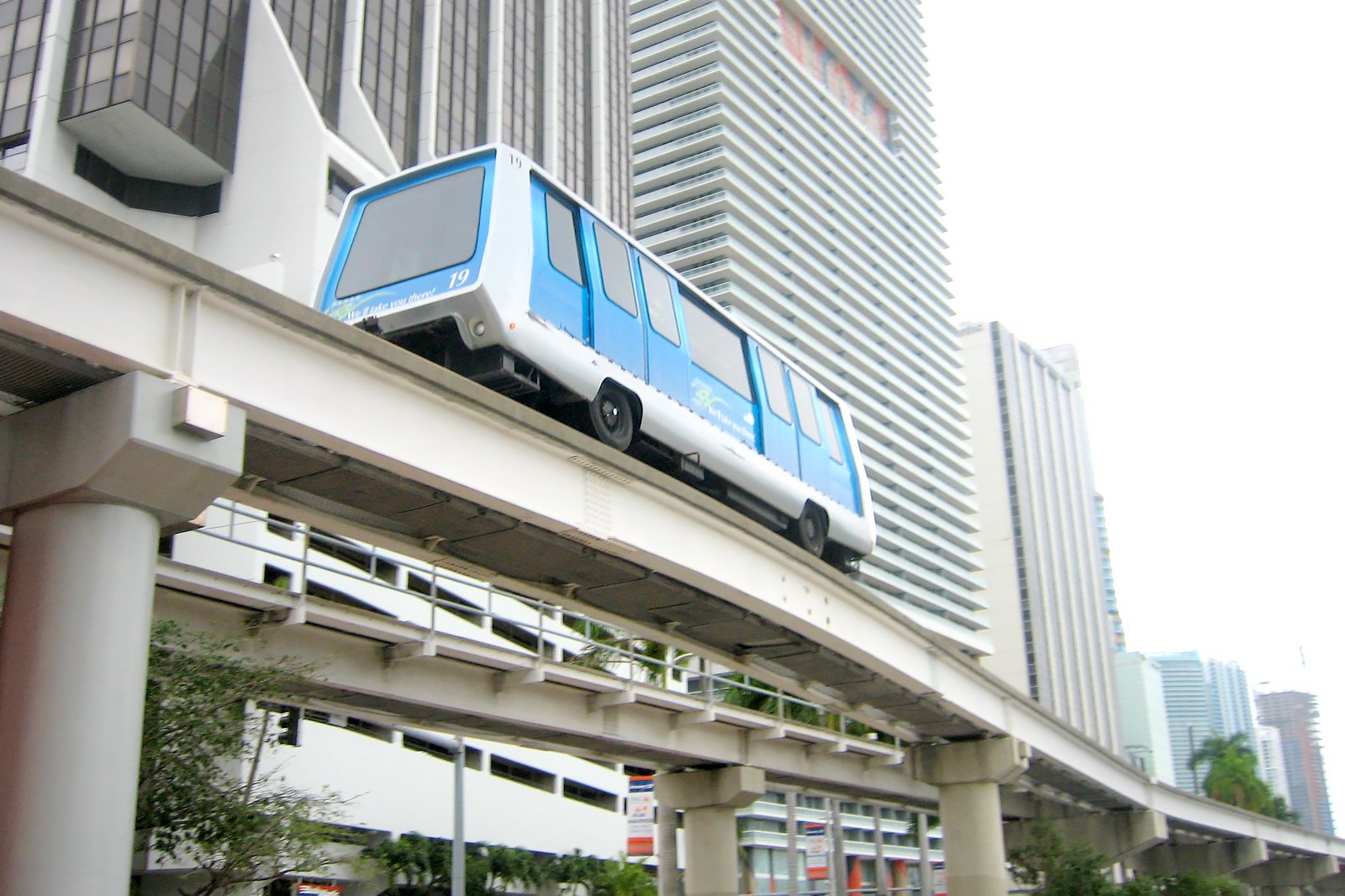 For a free and convenient sightseeing ride throughout the City of Miami, hop on the Metromover. This elevated electric bus system takes you on different routes of your choice through the Downtown area. The rides are completely automated, without any drivers, and you'll be able to catch a glimpse of Miami life and how some locals commute. It's a great alternative to walking, taking you through various "loops" around the town, and you can transfer to any Metromover train while inside the small Downtown loop.
Location: Miami, FL 33128, USA
Open: Daily from 5 am to midnight
photo by Joedamadman (CC BY-SA 3.0) modified
10
Ride an airboat through the Everglades
Nature and wilderness right on Miami's doorstep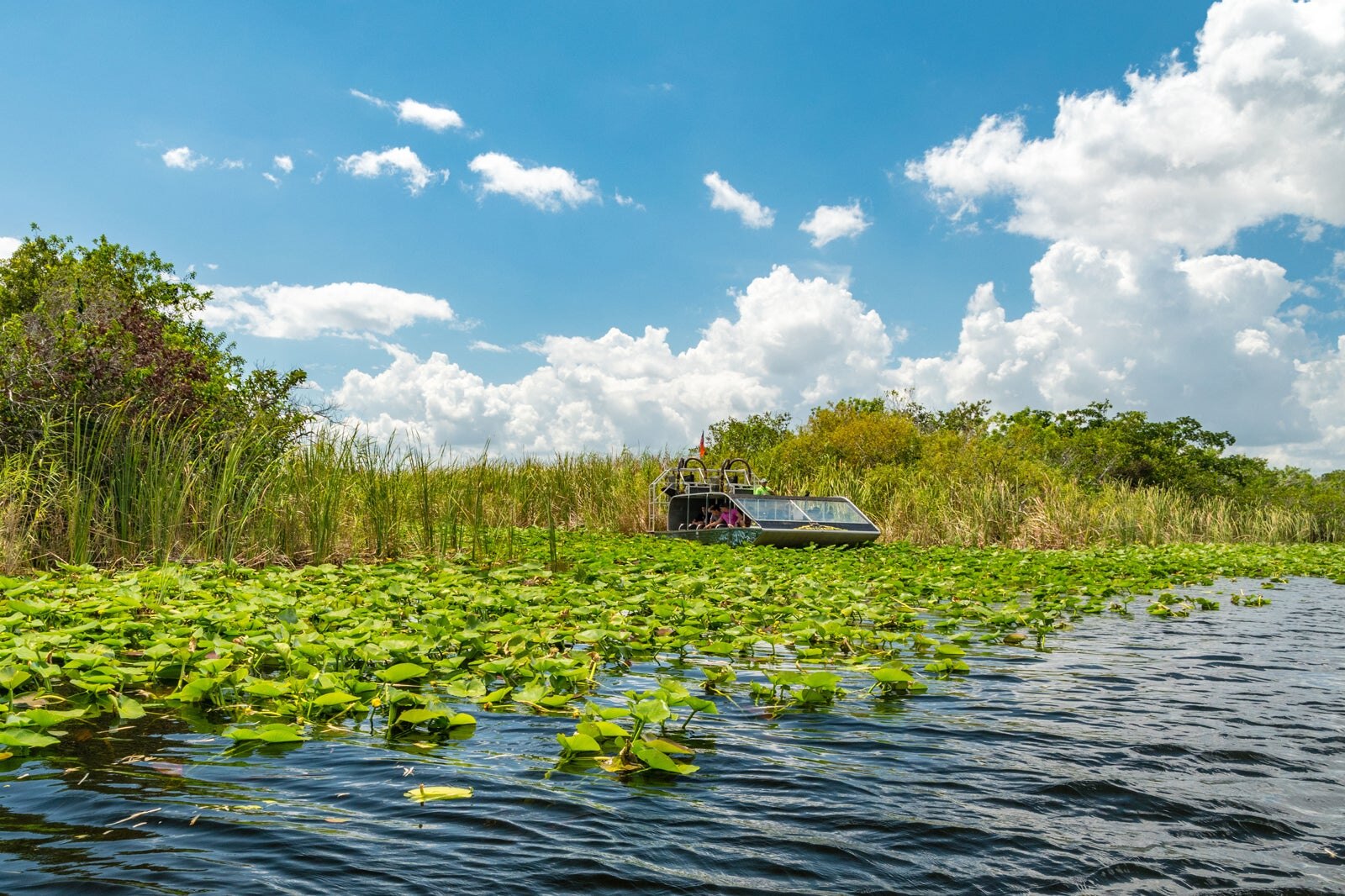 Couples
Families
Photo
Adventure
Many visitors to Miami enjoy the chance to explore the Everglades – the tropical wetlands of Florida with its scenic sawgrass prairies and mangrove-forested estuaries. A great way to explore the Everglades is by airboat, a propeller-powered craft that skims swiftly over the grassy rivers. Various stops enable you to take in the beauty of nature. Wildlife sightings along the way include alligators with their nesting grounds nearby. Back at the base, you can even get the chance to hold a baby gator and chat with local handlers.
Location: 26700 SW 8th St, Miami, FL 33194, USA
Open: Daily from 8 am to 6 pm
Phone: +1 305-226-6923
11
Chill on a rooftop
Cocktails and city views at Miami's heights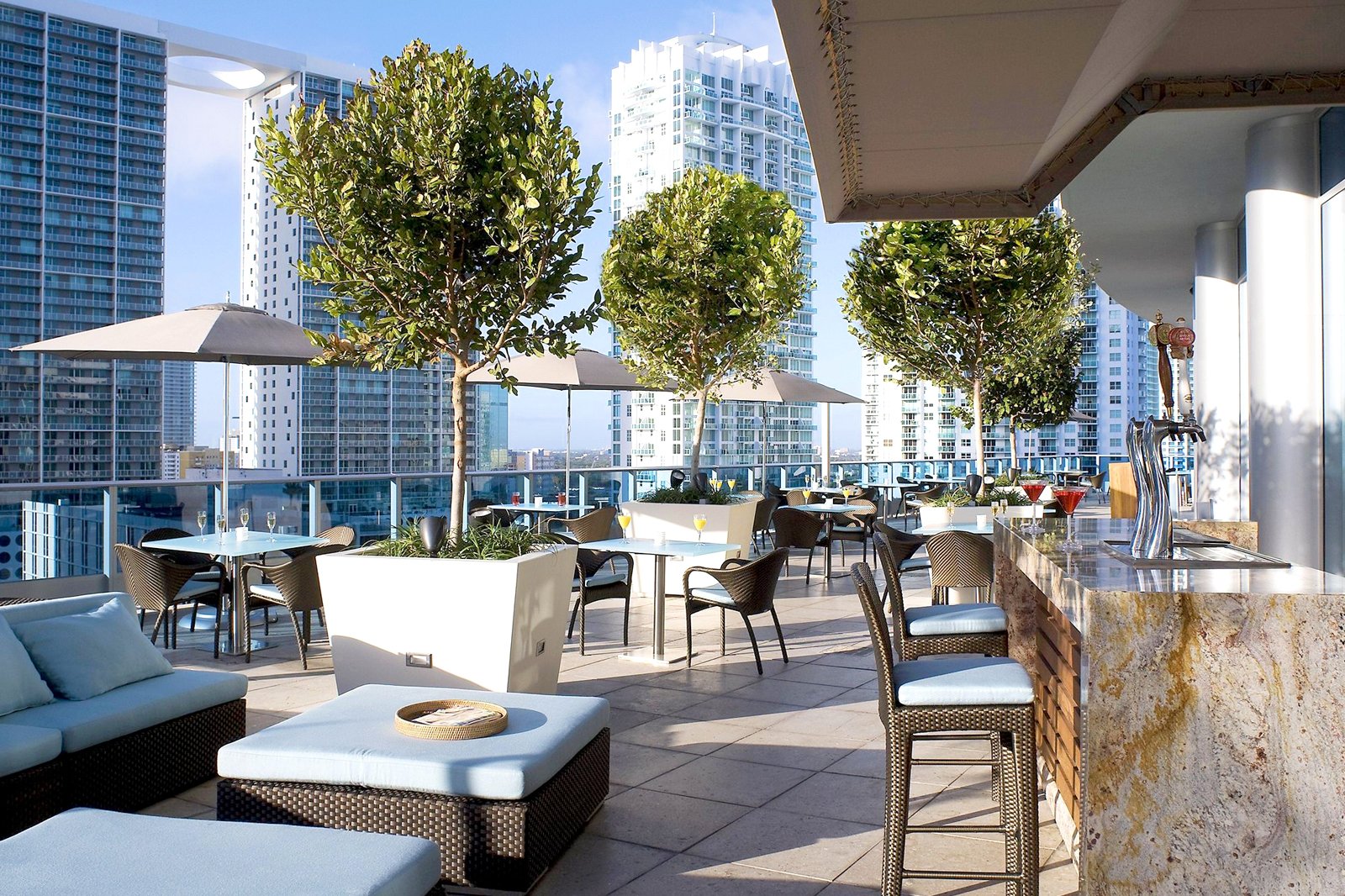 Downtown Miami offers a few great rooftops where you can make the most out of the city's great year-round weather and sip cocktails with the city's breathtaking cityscapes in view. Area 31, a restaurant and bar on the 16th floor of the Kimpton EPIC Hotel, is a good start, with the Miami River meeting the waters of Biscayne Bay down below. Rooftop at E11EVEN on 11th Street brands itself as an all-inclusive nightlife destination, featuring an outdoor hardwood deck where a giant LED screen with surround sound shows sports by day and serves as a backdrop for weekly live music and DJs at night.
12
End the day partying at a Miami nightclub
Discover Downtown Miami's nightlife hotspots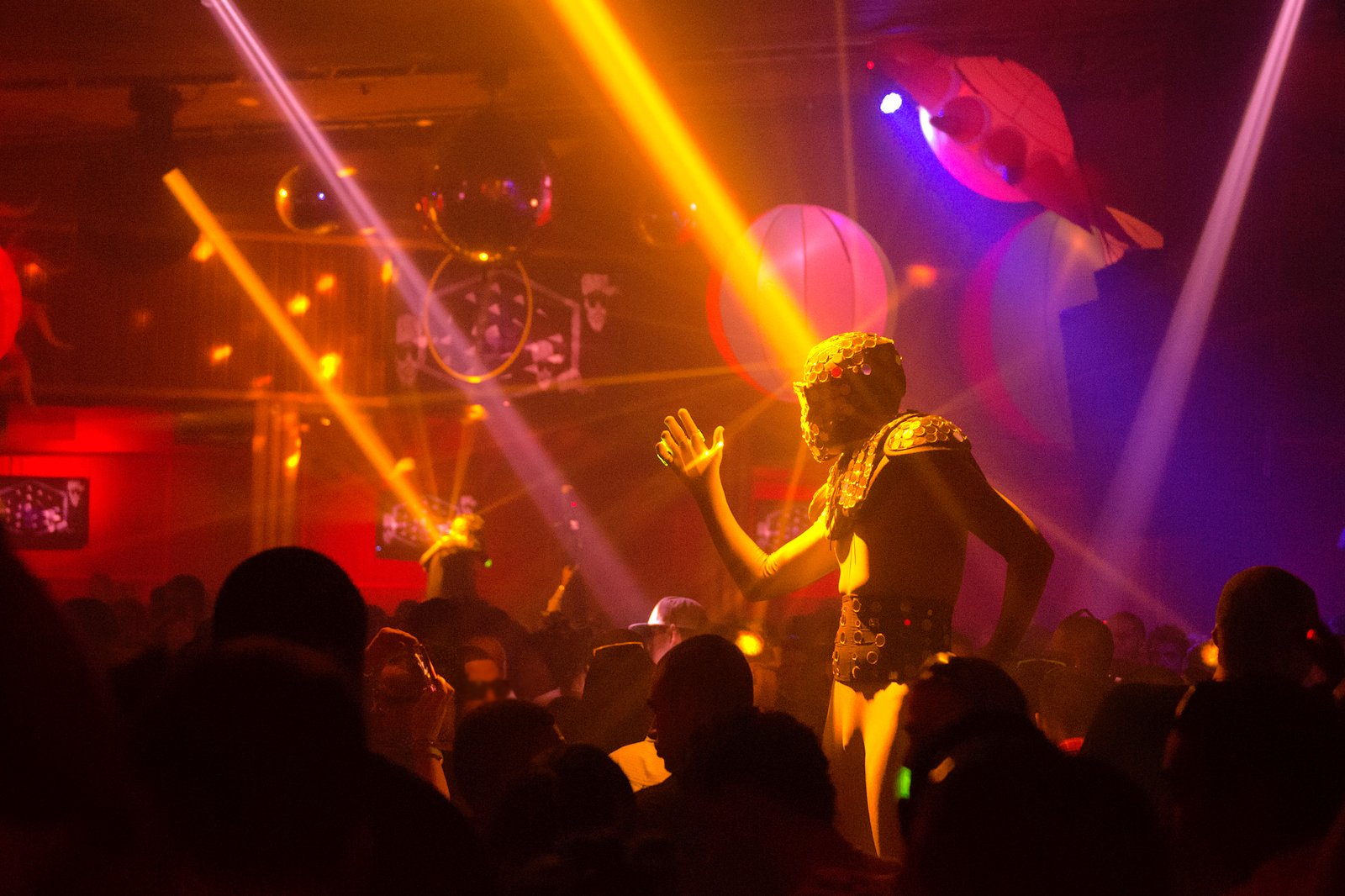 Many associate Miami with glamour, and Downtown Miami indeed offers a glitzy clubbing scenes. To name a few, there's Club Space on 34 NE 11 Street, a warehouse space where all-night weekend rage fests are held. Head down here Saturdays from 11pm and dance away to house and techno, well into Sunday's wee hours. Blume Nightclub on Miami Avenue has an attached Garden Bar Terrace. This enables you to choose between hard partying on the dance floor under a 16-foot LED chandelier or chill outdoor atmospheres.
photo by maria izaurralde (CC BY 2.0) modified