11 Romantic Ideas for a Honeymoon on Hawaii Big Island
What to Do on a Couples' Trip to Hawaii Island
Hawaii's Big Island is the ideal paradise for a couple's getaway. For visitors wanting to mix romance and repose with adrenaline and adventure, the island boasts a diverse landscape offering unique opportunities to reconnect with your beloved in an exquisite setting.
Whether it's strolling hand-in-hand along a glittery green sand beach, night time swimming with massive manta rays or watching the sunset aboard a helicopter or catamaran, there are countless, incredibly romantic places to visit and activities to enjoy with your partner. Here's a selection of the most romantic ideas for a honeymoon on Hawaii Big Island.
1
Hit Big Island's secluded beaches
Soak up the tropical sun on remote beaches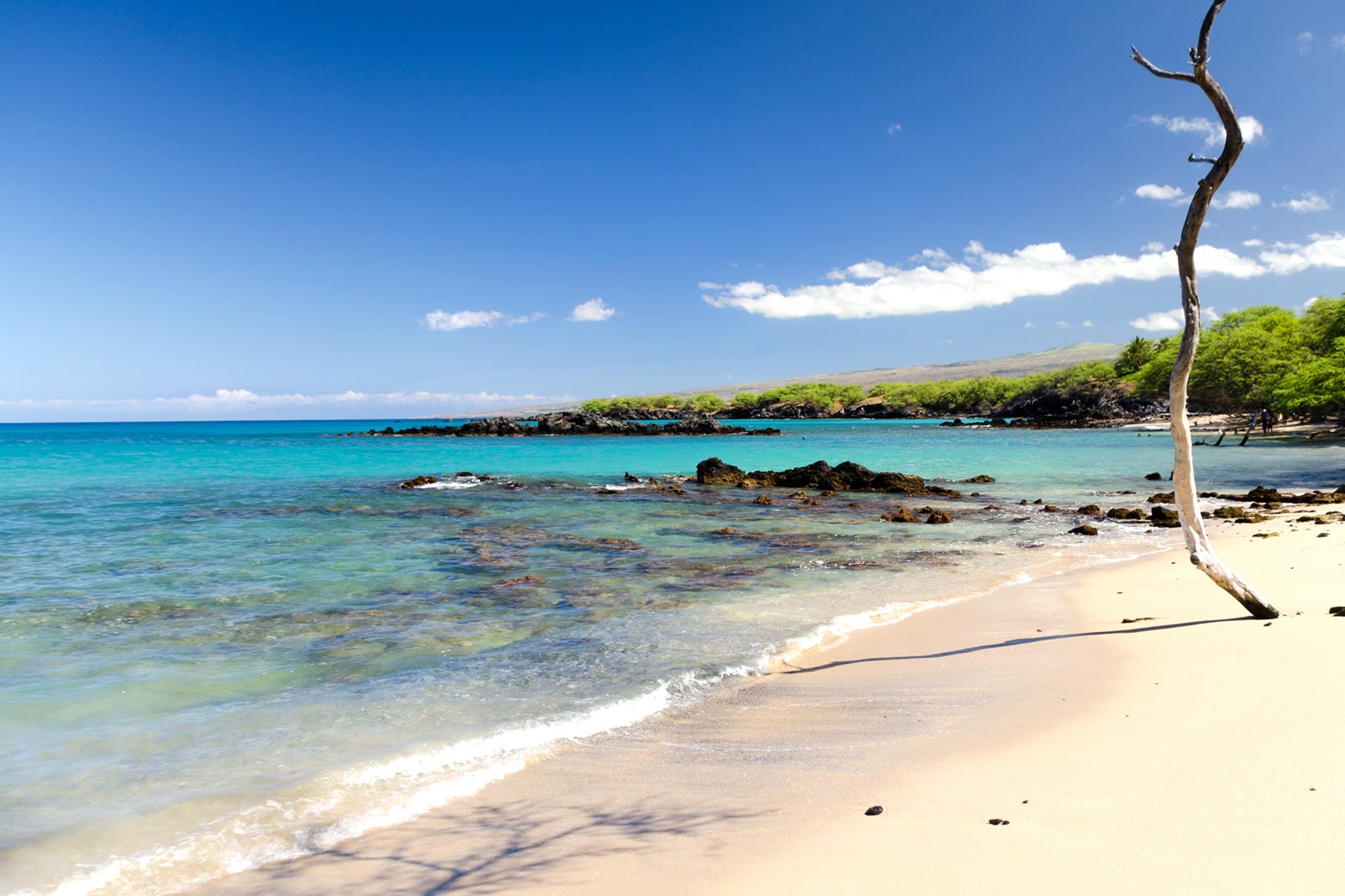 Couples looking for a romantic beach day can consider Waialea Bay, also known as Beach 69, located on the gorgeous Kohala Coast. This rugged and charming golden-sand beach is lined with ancient kiawe trees which divide the sand into separate coves; creating a semi-private, all-day shady spot for couples seeking quality time together. There is also a mix of tide pools and rock formations teeming with sea life, so bring along your snorkelling gear.
For an adventurous day with stunning scenery, enjoy an 8-km roundtrip hike to Green Sand Beach situated inside the remains of an eroded volcanic crater, near the southern tip of the island. The beach's magical and peculiar green sand is due to fragmented olivine crystals. If you arrive early, the remoteness of this beach means you may have the beach all to yourselves.
2
Pololu Valley Lookout
Enjoy panoramic views and a hike to a black sand beach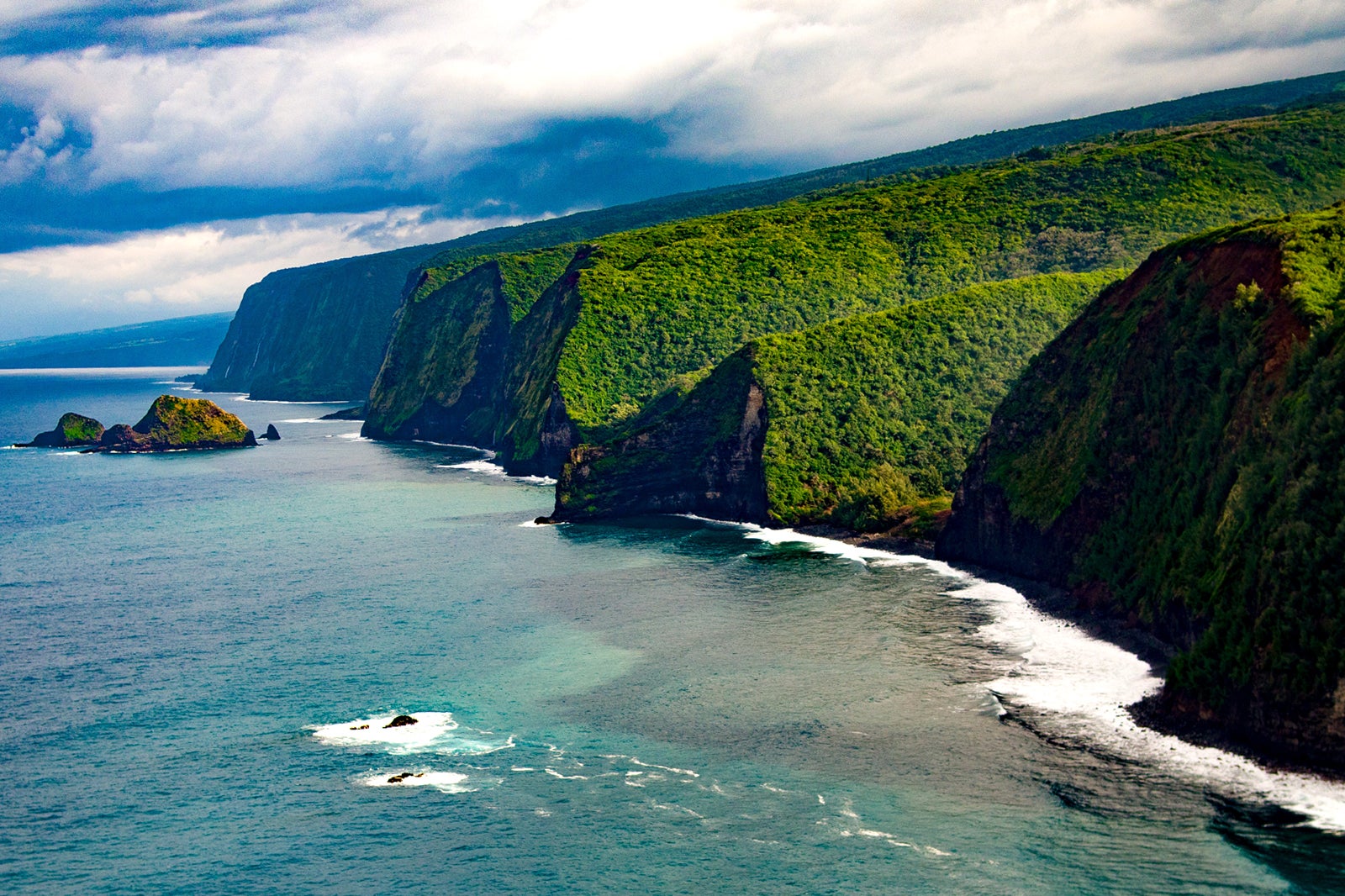 Drive to Pololu Valley Lookout for spectacular views of Big Island's dramatic northeastern Kohala coastline. The viewpoint lies at the end of Highway 270 in North Kohala. From here, you can see the blue ocean crashing into jagged rocks and enjoy inspiring vistas of the impressive, verdant sea cliffs.
Couples wanting a touch of adventure can take a short (25-minute) but steep hike past rows of ironwood trees down to a black-sand beach on the valley floor. The unspoilt shoreline and powerful waves will leave you awe. Inside tip for early-bird couples: the lookout is a superb spot to watch the sunrise. Arriving early also means you'll have a chance of snagging a coveted parking space.
Location: 52-5100 Akoni Pule Hwy, Kapaau, HI 96755, USA
3
Waipio Valley
For an extraordinary Hawaiian adventure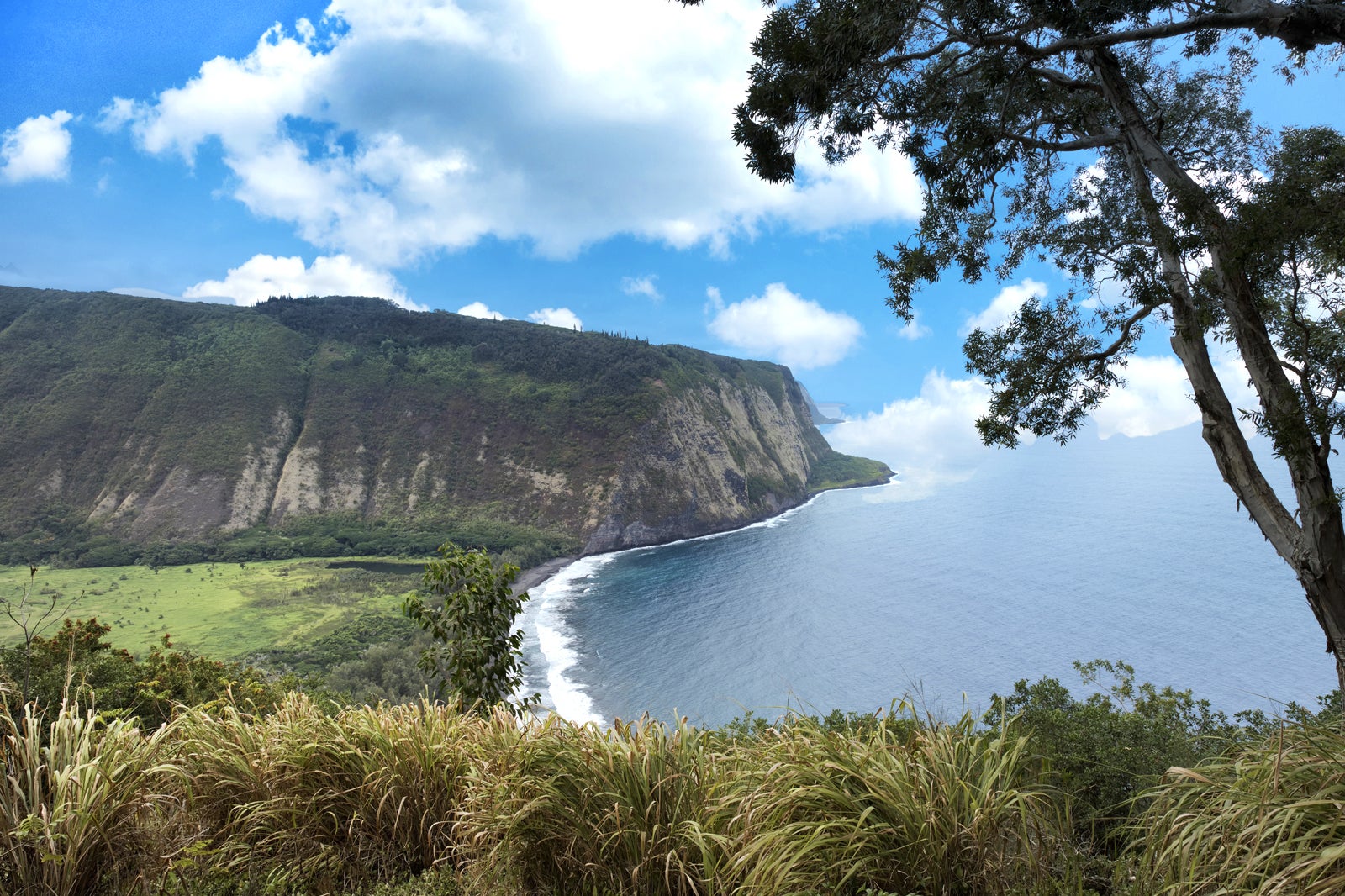 Waipio Valley was once the permanent home for Hawaiian royalty and is a breathtaking setting on the northeastern coast of the island. With untamed beauty of 600-metre cliffs, sublime beaches, wild horses, and spellbinding waterfalls and swimming holes, it's perfect for a romantic excursion.
From the Waipio Valley lookout point, couples can hike down through the valley to reach a secluded black-sand beach. The 10-km roundtrip includes several vertical metres and isn't for the faint of heart – but the trek does promise majestic vistas of this sacred place.
Location: 48-5561 Honokaa-Waipio Rd Honokaa, HI 96727, USA
4
Liliuokalani Park and Gardens
Picnic in a tranquil Japanese garden with ocean views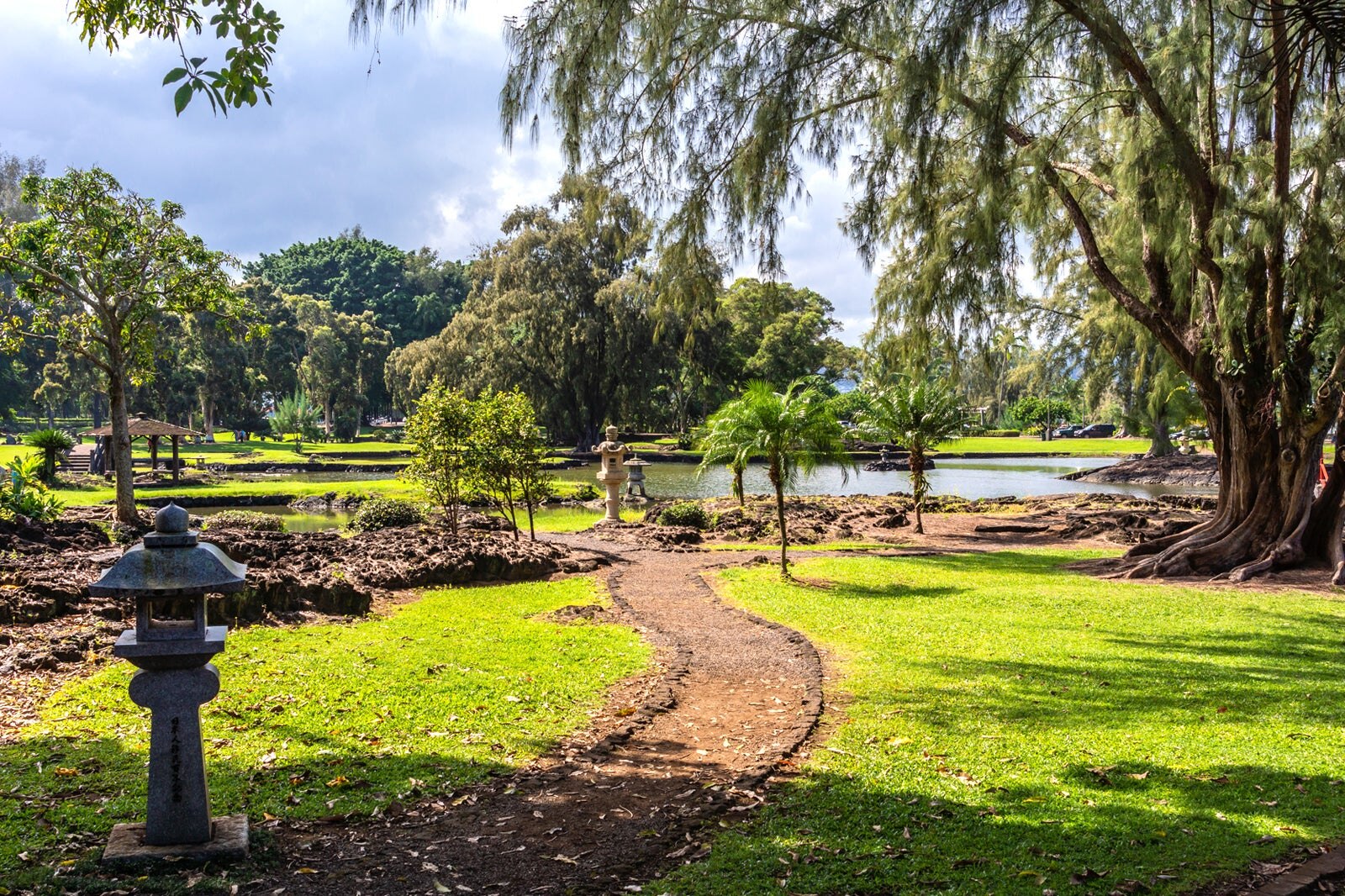 Liliuokalani Gardens in Hilo is a beautiful Japanese-inspired park featuring rock gardens, pagodas, stone lanterns, arching bridges over koi ponds, and even a traditional teahouse. Couples can pack a picnic and stroll through the peaceful 34-acre garden before finding a spot to spread a blanket on the vast lawn.
Enjoy panoramic views of Hilo Bay from the edge of the garden or use the picturesque backdrop of bridges, ponds and sculptures to take memorable photos. Admission to the garden is free. For a more solitary experience, plan a visit during the week because the garden is popular with local folk on weekends.
Location: 49 Banyan Dr, Hilo, HI 96720, USA
Open: 24/7
5
Get an oceanside spa treatment
Splurge on a traditional Hawaiian massage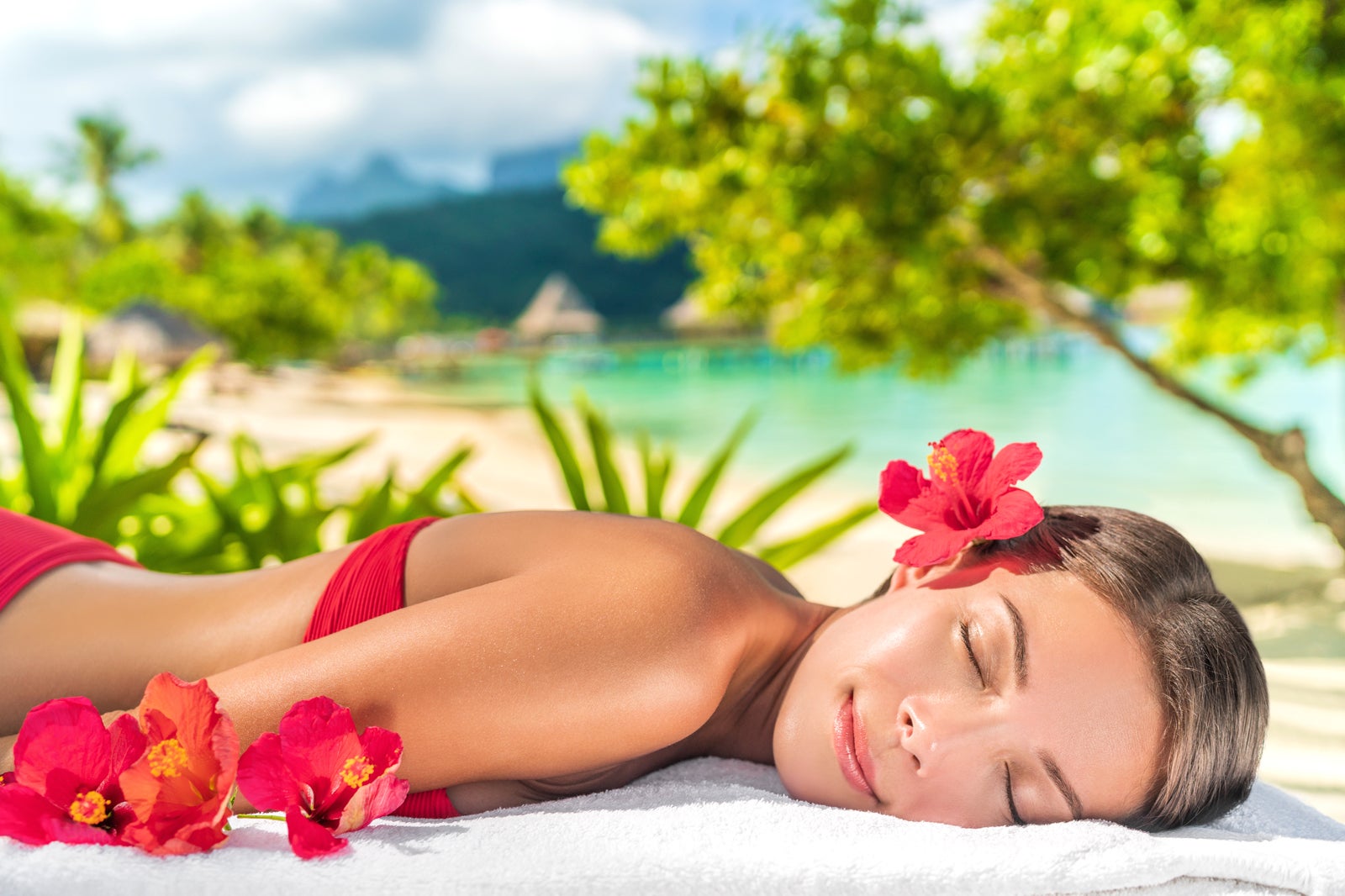 Hawaii's Big Island is home to some of the best spas in the world. Treatments here are unique since they incorporate local ingredients, tropical fragrances and even lava rocks. Couples wanting to escape their everyday routine and replenish their soul amid a backdrop of Hawaii's stunning natural beauty can book a rejuvenating outdoor spa treatment at the ultra-luxurious Fairmont Orchid's "Spa Without Walls".
With the soothing sounds of waves crashing in the background, you and your partner will be treated to a Hawaiian Lomi Lomi massage and an exfoliation of the back and feet. Up the romance factor and enjoy a bottle of bubbly after your massage.
6
Find Big Island's gorgeous waterfalls
Discover cascading falls surrounded by verdant and peaceful nature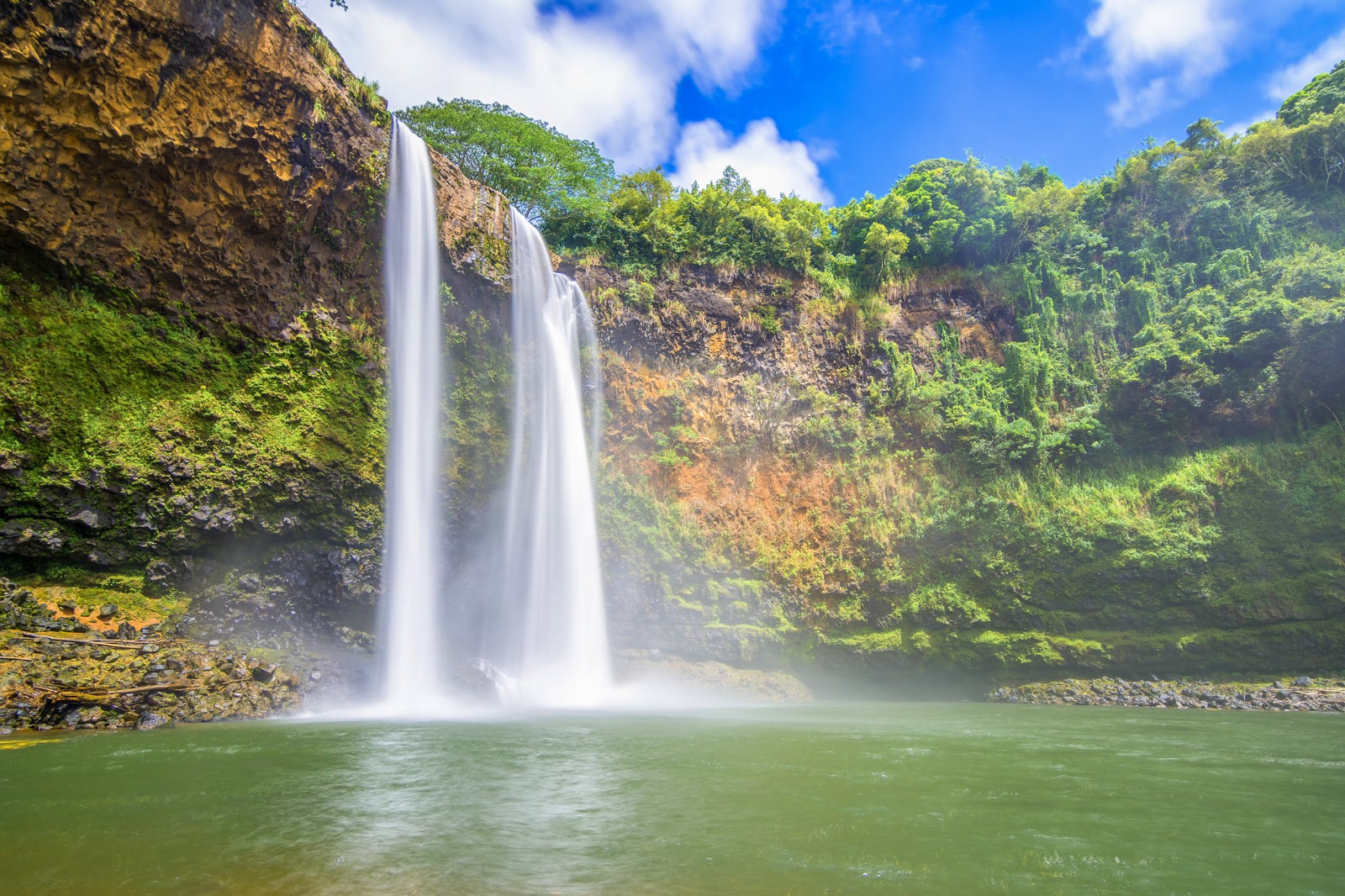 Couples
Photo
Budget
Adventure
Hawaii Big Island boasts several impressive waterfalls. You can see 2 of the island's most incredible waterfalls at Akaka Falls State Park. The 800-metre loop trail takes you through fantastic greenery to reach the 134-metre Akaka Falls which fiercely cascades into a deep gorge. Continue further along the path to observe the smaller yet beautiful Kahuna Falls.
Head to Rainbow Falls, just 5 minutes from Hilo's historic downtown, in the early morning, and you might witness a rainbow in its waters. The picturesque spot with tropical vegetations makes it ideal for a romantic picnic. Adventurous couples can hike into the lush Waipio Valley to see the 440-metre Hi'ilawe Falls, one of tallest waterfalls in Hawaii, in all its glory as it tumbles over rocky outcrops into the valley.
7
Join a private helicopter tour
See the Big Island's remarkable scenery from the sky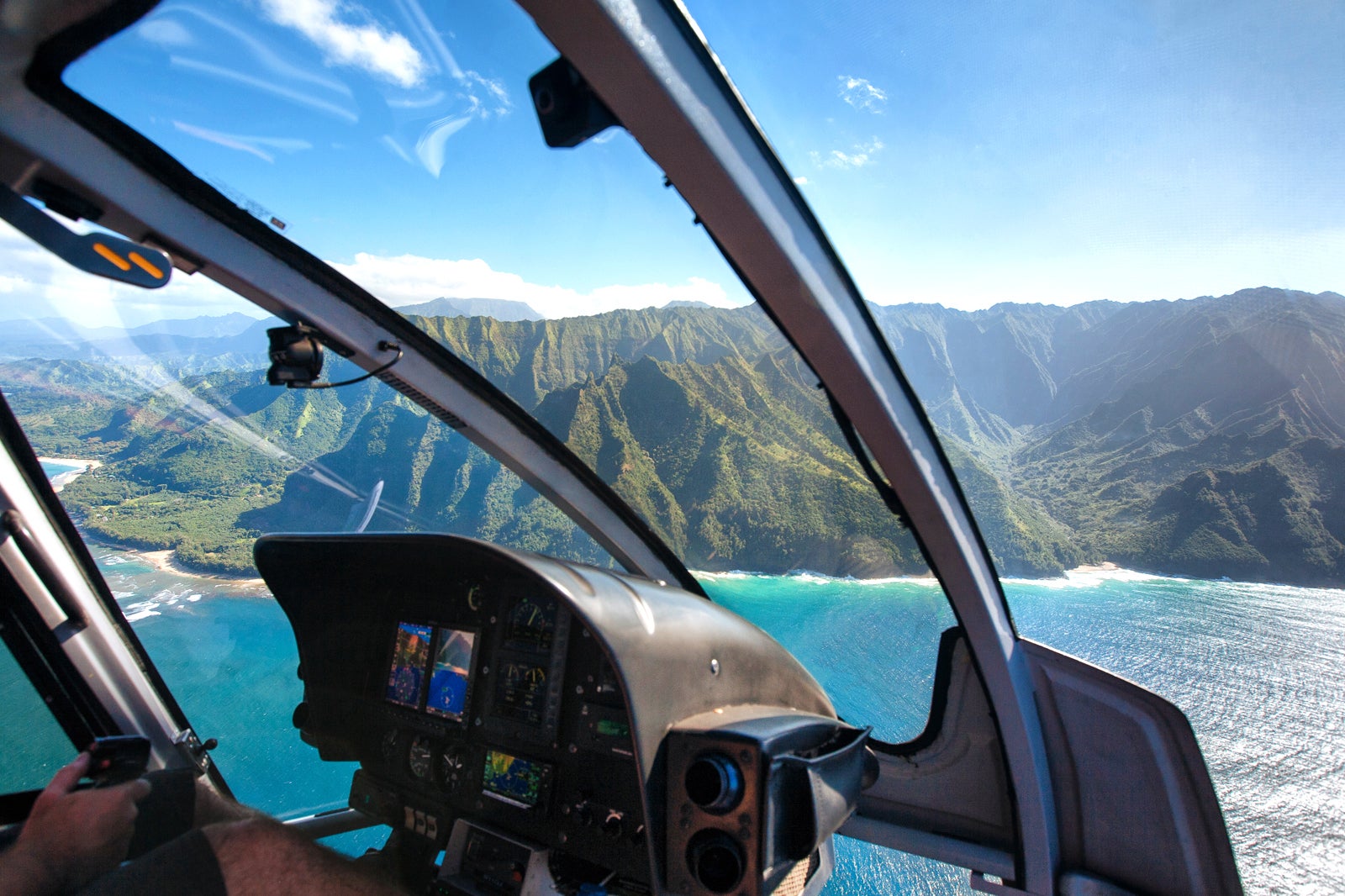 Couples
Photo
Luxury
Adventure
A private helicopter tour of Big Island is a once-in-a-lifetime adventure that is best shared with your other half. From high above, you can discover the Big Island's diverse landscape from an entirely different vantage point and see sights that are difficult to explore from the ground.
Tours last 1 to 2 hours and you can come face-to-face with dramatic sea cliffs, hover over fiery lava and secluded valleys and dart up to hidden waterfalls. Couples can enhance the magical experience – and the quality of your photos – and pick a tour with the "doors-off" option. Make sure the trip flies over the west coast to see the dazzling sunset.
8
Enjoy a romantic sunset cruise
Fall in love again on a comfortable catamaran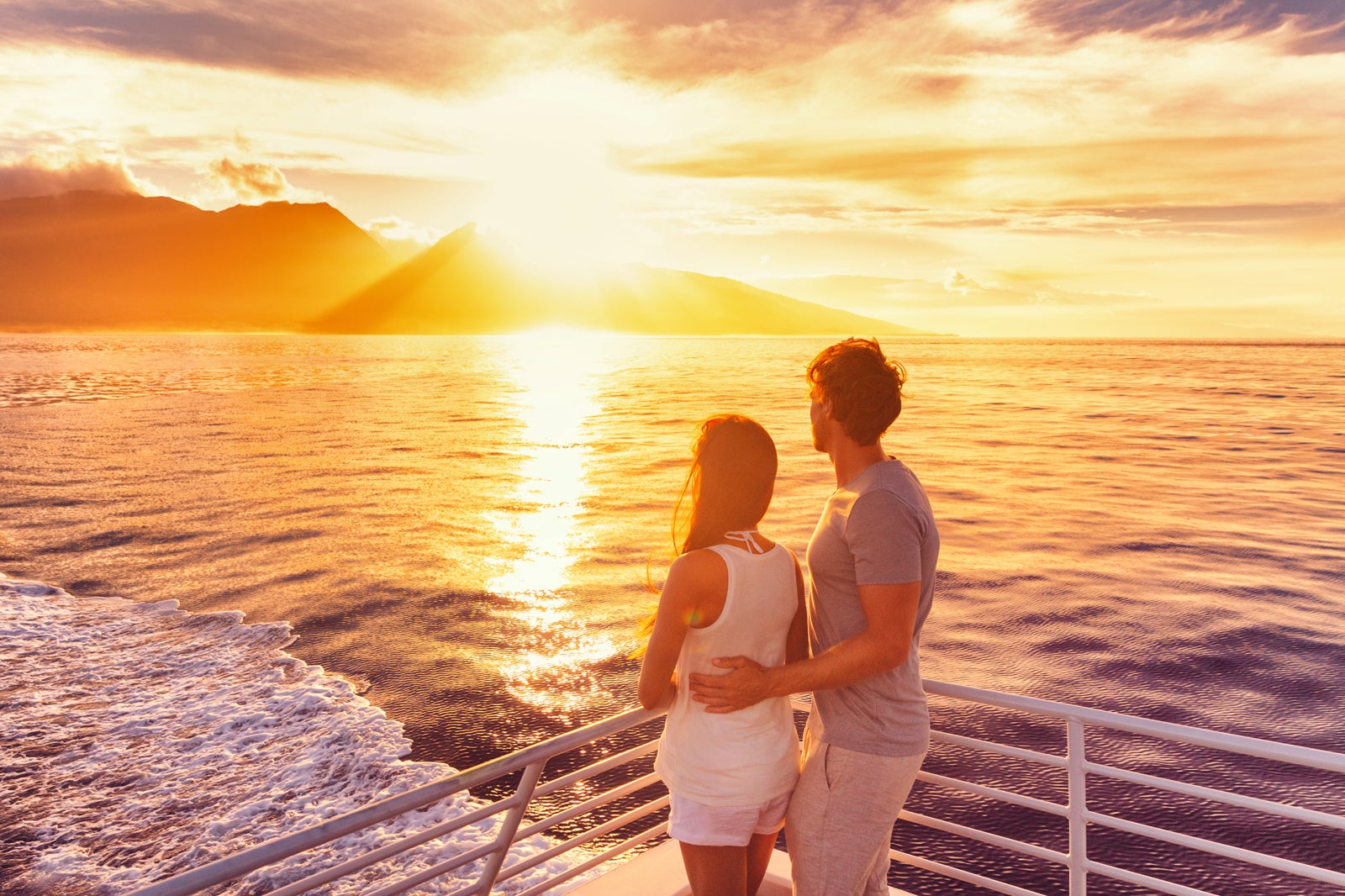 A couple's trip to Hawaii won't be complete without a cruise to see the world-famous Kona sunset with your beloved by your side. During the unforgettable journey aboard a smooth-sailing catamaran, you can share a kiss or take photos of the fabulous Kona coastline as the golden orange sun sinks into the shimmering blue waters of the Pacific Ocean. If you're lucky, you can watch dolphins racing alongside the boat. With a cocktail in hand, this is the perfect start to an evening in paradise.
9
Kauna'oa (Mauna Kea) Beach
For some of the best stargazing in the world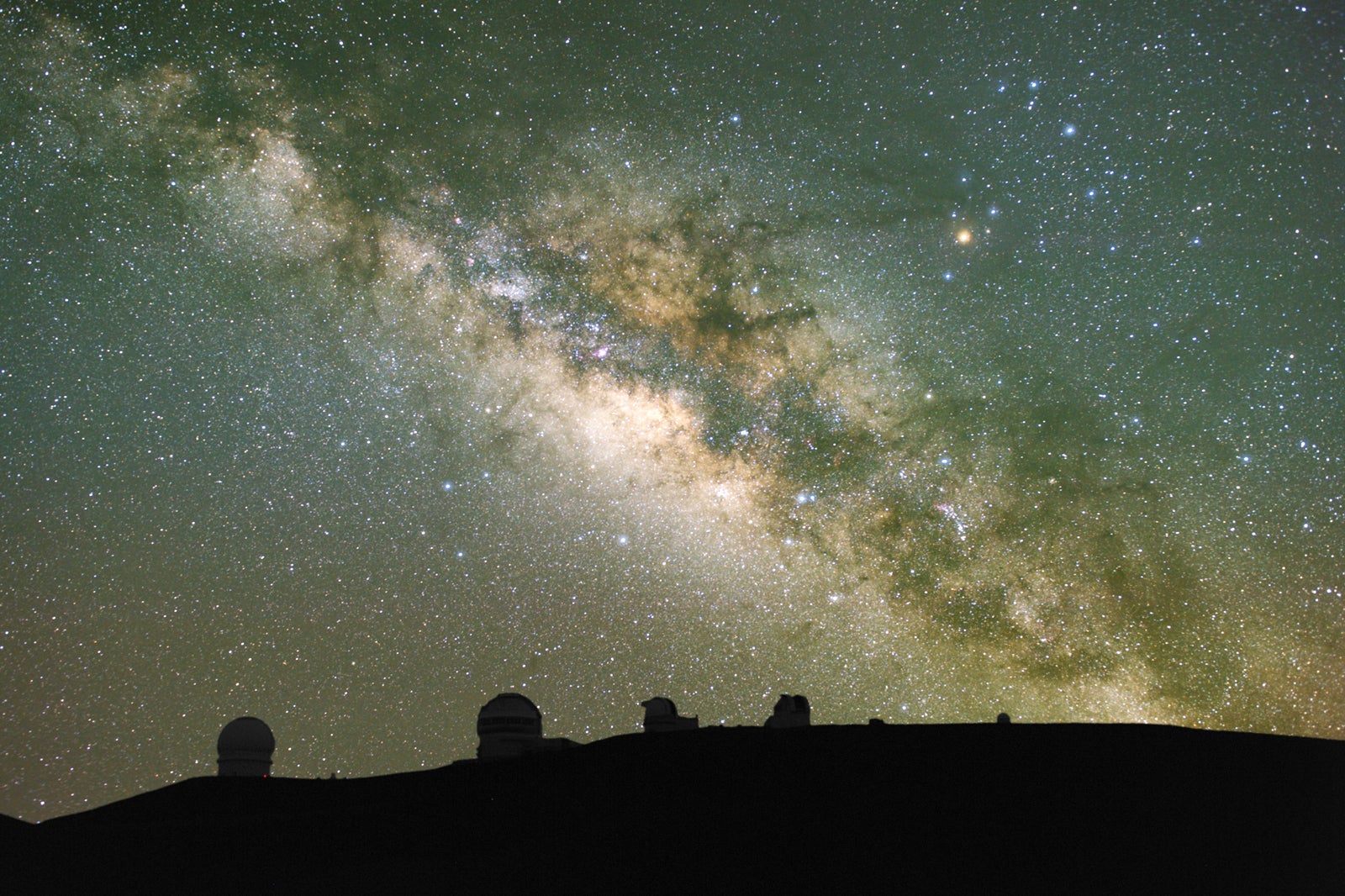 At Mauna Kea, you need only look up at night to see Hawaii's other great natural attraction: a dazzling display of twinkling stars. Favourable atmospheric conditions and a lack of light pollution make the Big Island one of the top stargazing destinations on Earth, and the tip of its tallest mountain is the top spot to marvel at this heavenly display.
Stargazers can either jump on an organised tour to the snow-capped summit of Mauna Kea or drive up themselves (you'll need a 4x4 with a full tank). At the peak, the Visitor Information Station welcomes you with a free stargazing session given by a group of knowledgeable and enthusiastic volunteers. Be sure to arrive in time to watch the sunset over the clouds.
Location: Mauna Kea Access Rd, Hilo, HI, USA
Open: Daily from 8 am to 3.30 pm. Stargazing every Tuesday, Wednesday, Friday, and Saturday from 6 pm to 10 pm
10
Go night swimming with manta rays
A magical snorkelling or diving excursion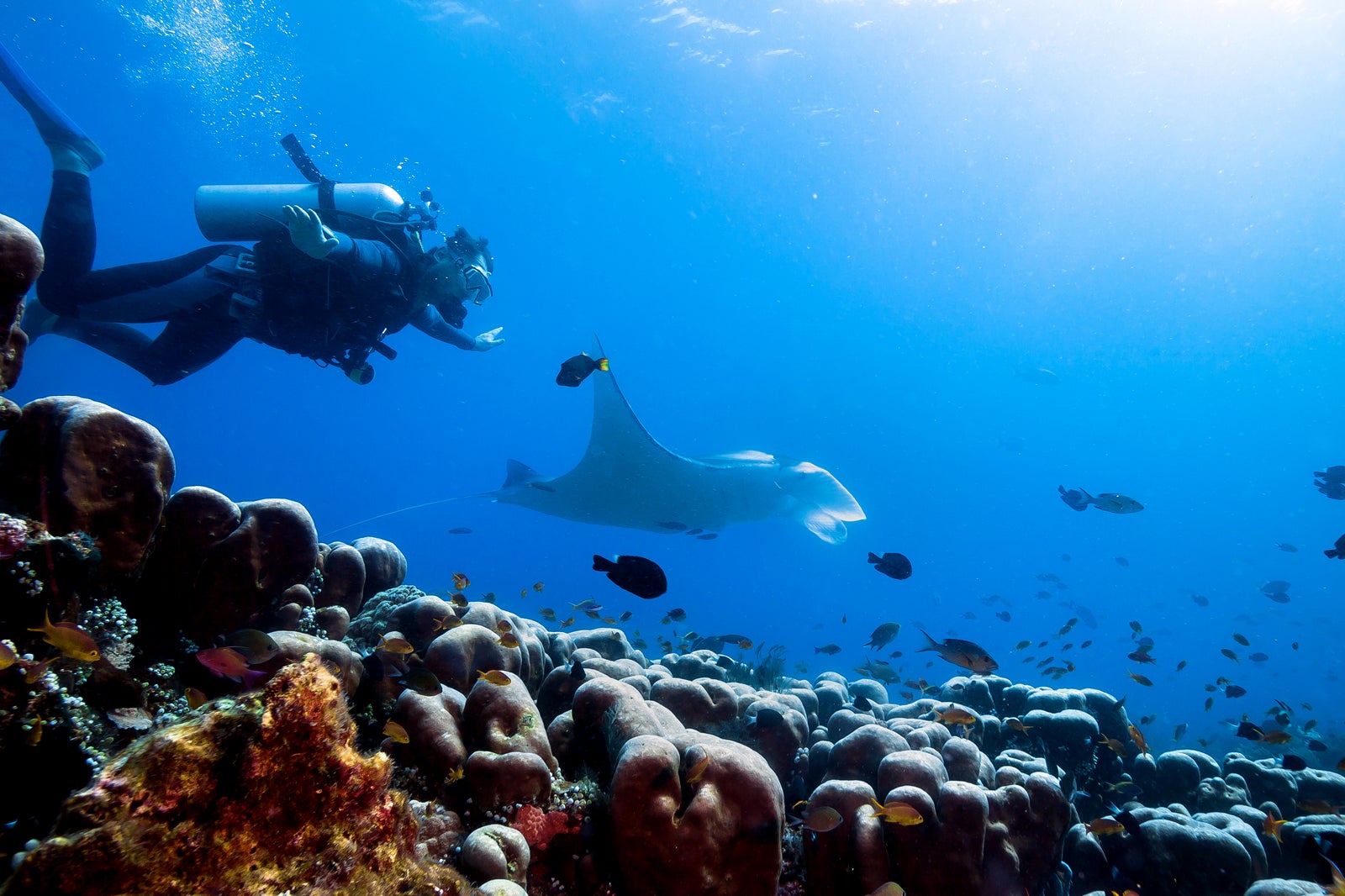 With a wingspan reaching up to 5.5 metres, swimming with manta rays at night in their natural habitat is a thrilling experience – one that you and your partner will talk about for years to come. After a late afternoon boat ride along the Kona coast, you'll reach one of the viewing sites. The manta rays feed on planktons which are attracted to the bright light brought by tour operators and come very close to the surface.
You'll jump into the water with your snorkel guide and float while the majestic manta rays swim, somersault and perform a graceful nighttime ballet in the light below. Scuba divers often sit on the ocean floor and enjoy the action from below. Only certified scuba divers can join a night dive.
11
Book an authentic Hawaiian Luau
Experience a grand celebration of food, music and culture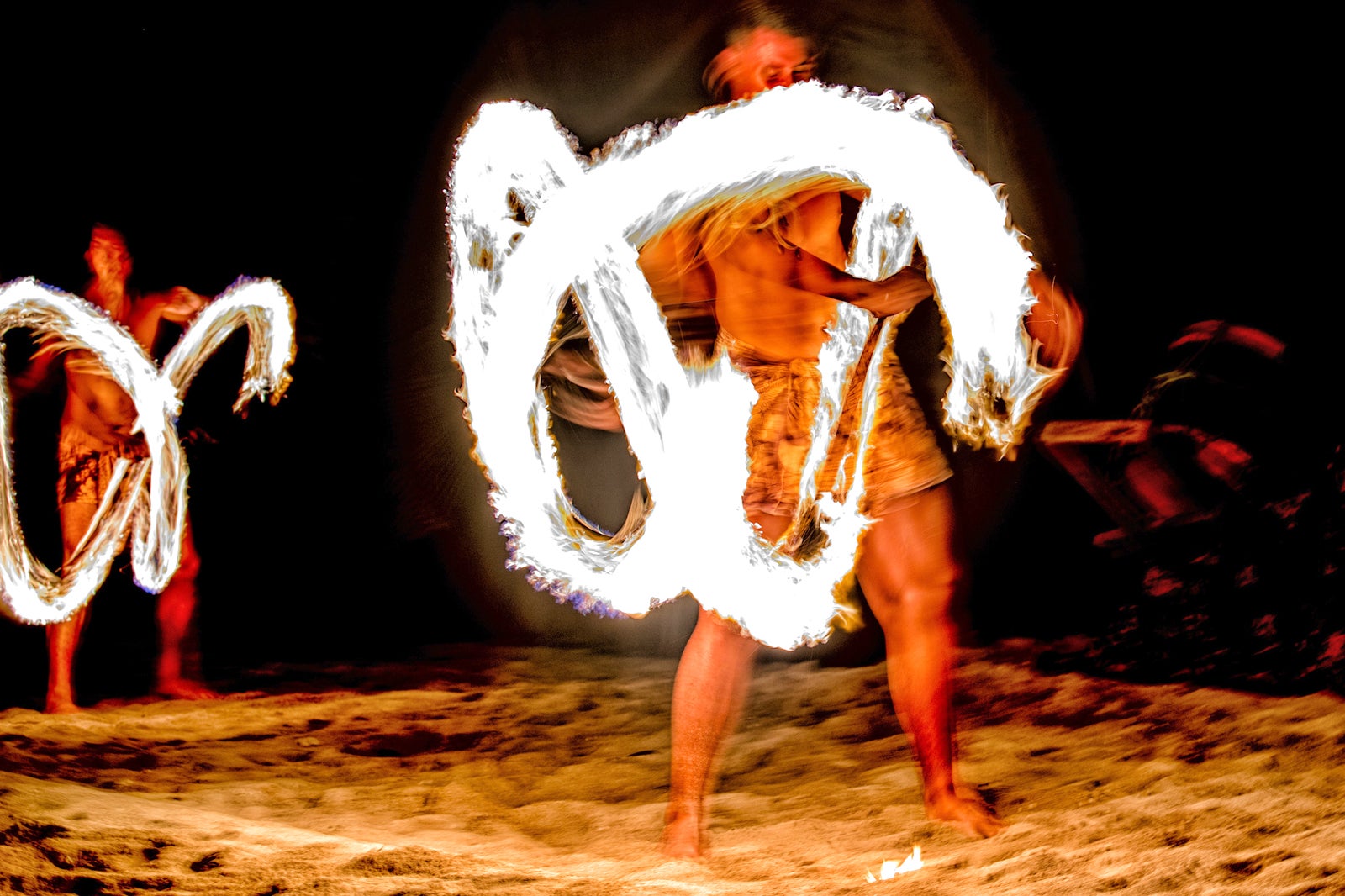 An evening spent at a traditional Hawaiian Luau is a must for any couple's trip to the Big Island. As the sun sets into the Pacific Ocean, you can enjoy energetic live music, watch fire dancers and hula performances and listen to ancient songs that tell stories of Hawaii's culture.
You'll dine on typical Hawaiian cuisines such as fresh pineapple, poi, poke, lomilomi salmon, and the famous kalua pig. Resorts on the Kohala coast and in Kona on the west coast organise most of the luau shows on the Big Island.
Back to top