10 Ways to Save Money on Hawaii Big Island
How to Enjoy Hawaii Island on a Budget
Enjoying Hawaii Big Island on a budget is truly possible as the largest Hawaiian island is full of beautiful sights and scenery that don't cost a thing. Some of these include jet-black sand beaches, crystal-clear ocean coves, and cultural performances you won't soon forget.
While highlights like Hawaii Volcanoes National Park will still cost an entry fee, the deals are easily affordable for budget travellers and families. There are also plenty of city-break activities to check out, like a hula dance in a market square or a trip to a local brewery. Elsewhere, a vineyard-style coffee plantation offers a free tour. Get ready for your first luau; Hawaii is calling. Here are great ways you can save money on Hawaii Big Island.
1
Kona Joe Coffee
Enjoy coffee unlike any you've had before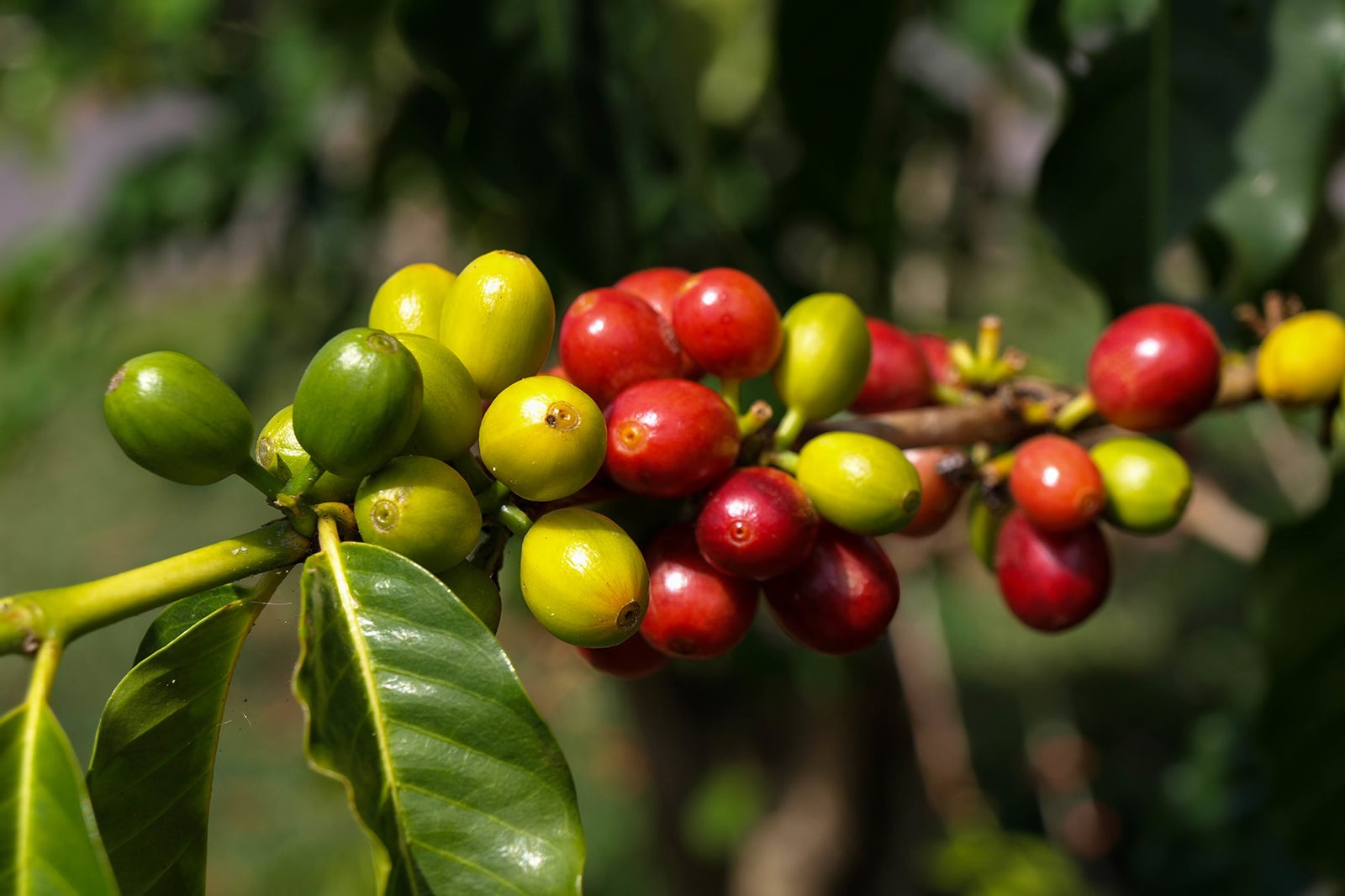 Kona Joe Coffee is the first coffee plantation in the world that produces its coffee like wine. The beans are grown using a trellis system, providing better aeration and resulting in a difference you can taste.
The plantation offers a free tour, allowing you to make your way through the grounds as leisurely as you would like. You can see all the different stages of the process this way, not to mention the unexpected colour and shape of unripe coffee beans. All the while, enjoy stunning views in the distance, and finally, a fresh cup of Kona Joe.
Location: 79-7346 Mamalahoa Hwy, Kealakekua, HI 96750, USA
Open: Daily from 8 am to 4.30 pm
Phone: +1 808-322-2100
2
Great Hawaiian Mac Nut Trail
Taste your way along the free trail
Take the Great Hawaiian Mac Nut Trail on Hawaii Big Island to tour macadamia nut farms and try delicious artisanal recipes. You'll learn more than you ever knew you could know about this healthy, flavourful nut, and you'll be amazed at how many creative uses Hawaii has found for them.
The great trail isn't just about the macadamia nut, either. It's actually a great way to see the whole island! Starting at Big Island Candies, this trail takes you through the diverse landscapes of the island and puts in your path an array of coves and beaches (why not stop for a dip?). Some farms even offer bed-and-breakfast services, allowing you to see a local attraction and experience Hawaiian hospitality.
Location: 585 Hinano St #4428, Hilo, HI 96720, USA
Open: Daily from 8 am to 5 pm
Phone: +1 808-935-8890
3
Hawaii Volcanoes National Park
Spend a week in a volcanic wonderland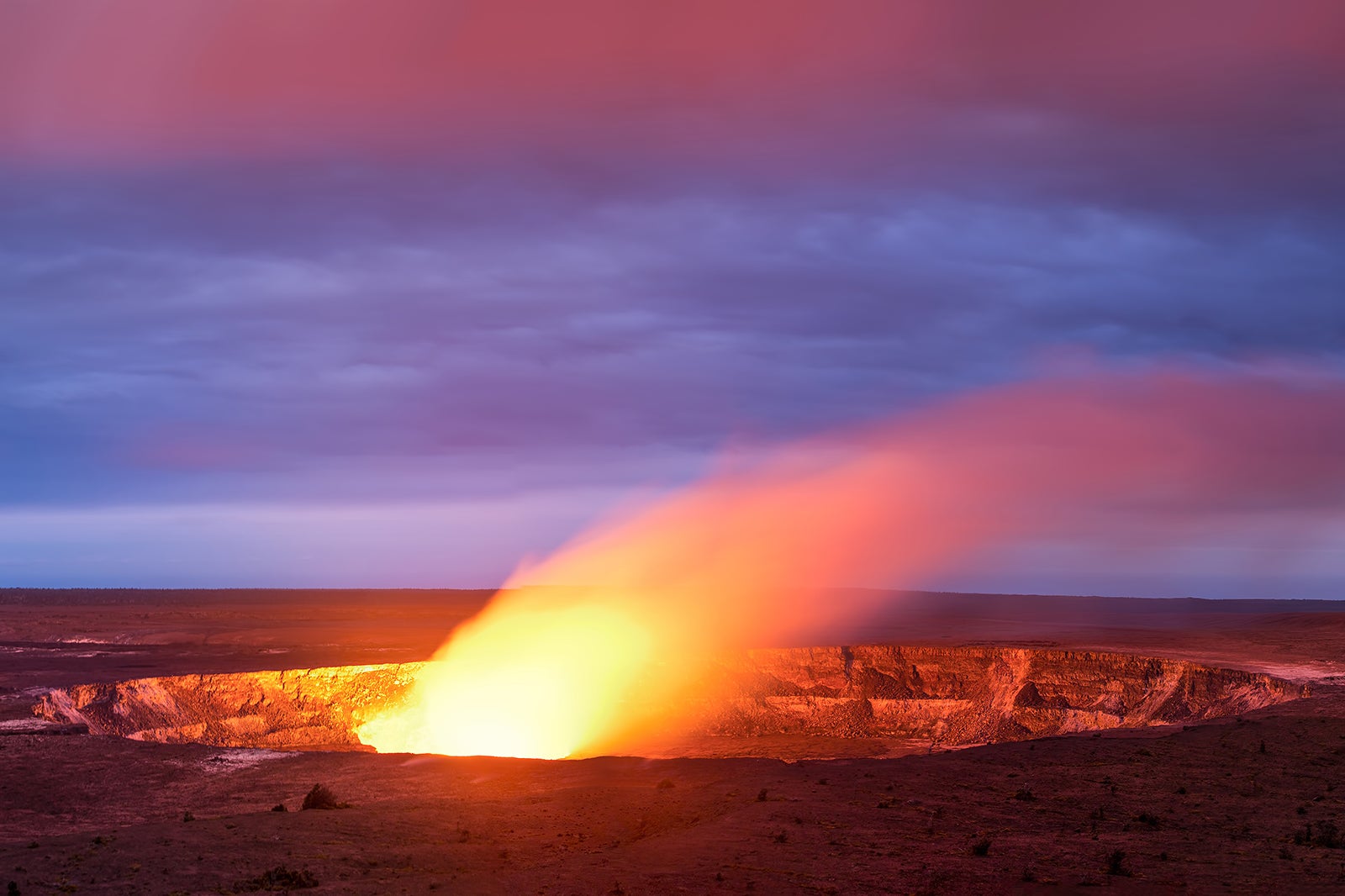 At Hawaii Volcanoes National Park, you can get a pretty big bang for your buck enjoying one of Big Island's top highlights. Around $30 per vehicle grants you full 7-day access. Don't wonder if you'll want to spend an entire week here – you will. Hike through otherworldly landscapes of solidified lava, visit a sprawling crater, and squeeze through tight tunnels. Don't get too close to the steam vents!
With so much to do, it's easy to think of this as a natural theme park. With a car that seats 5 individuals, you're looking at a potential $6 per head for an entire week of sights and activities you can't find anywhere else. This park is not to be missed on Big Island, especially for those travelling on a budget.
Location: Hawaii Volcanoes National Park, HI 96718, USA
Open: Park: 24/7. Visitor centre: daily from 9 am to 5 pm
Phone: +1 808-985-6000
4
Cruise the Kohala Coast
Explore a gorgeous corner of an exotic island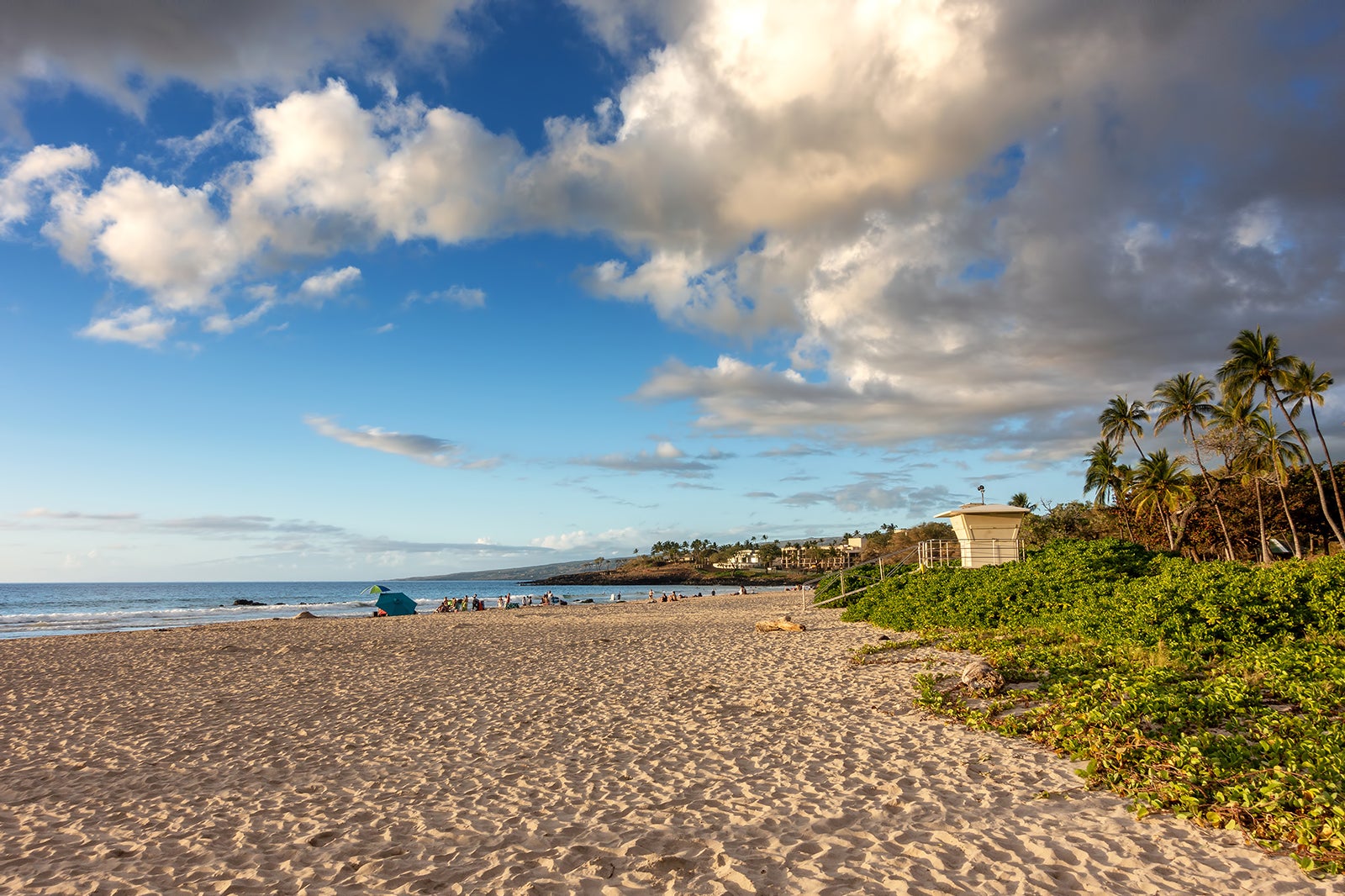 The Kohala Coast is one of the many beautiful spots on Big Island and has plenty of sights to enjoy at no cost. These include the rolling hills of Waimea, the quaint town of Hawi, the statue of the 19th-century King Kamehameha, and the Lapakahi State Historical Park, just to name a few. Even if you're not on a budget, just imagine the rare opportunity to explore this wild and free coastline.
After you've ticked off most from your checklist, retreat to one of the many beaches along the Kohala Coast. Hapuna Beach is a good choice, with its white sand, while the trees of Waialea Beach offer a relaxing canopy for those who want to escape the sun.
Location: Kohala, HI 96738, USA
5
Spend time on Big Island's coloured beaches
You've never seen beaches like these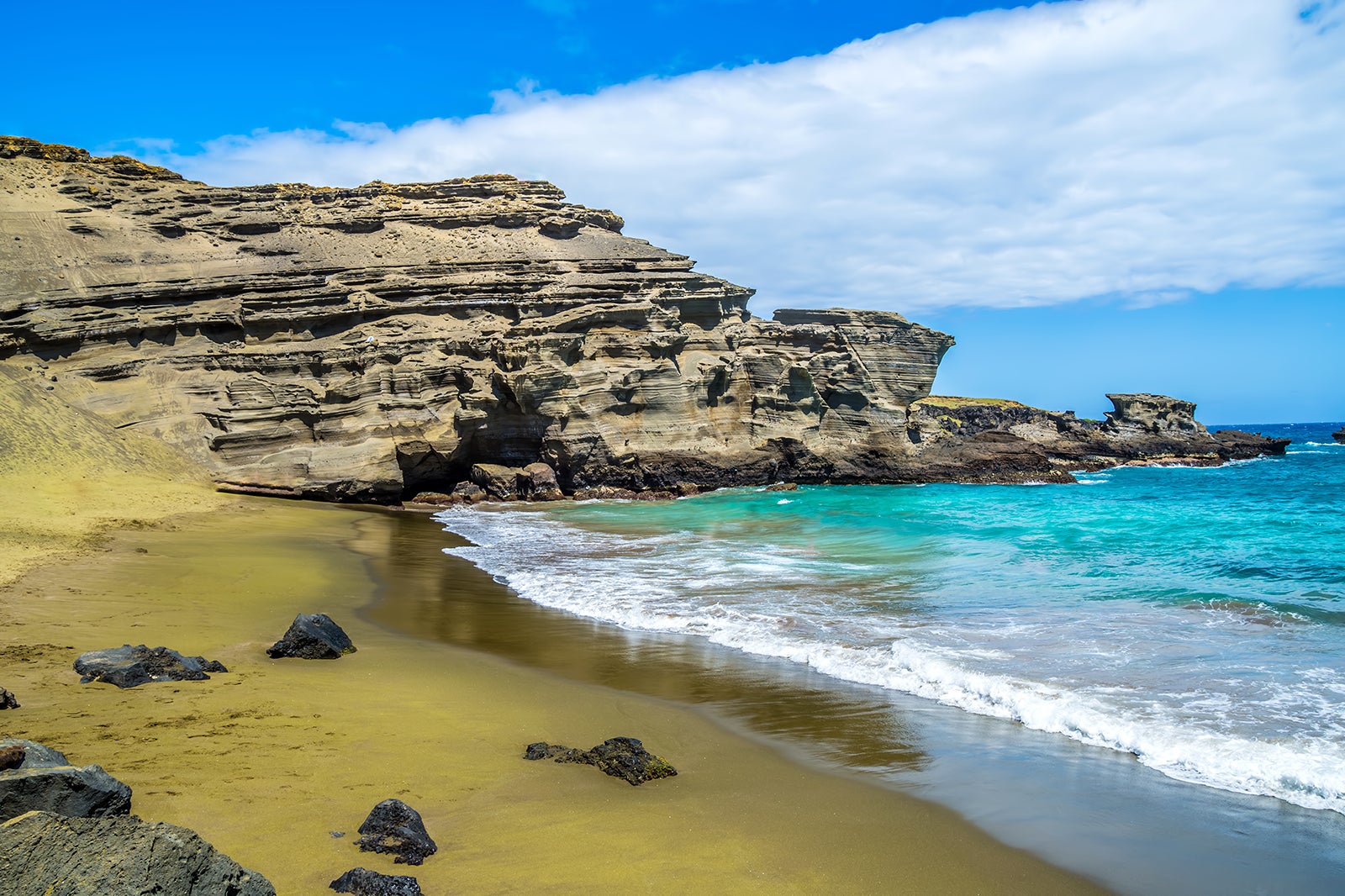 Sure, Hawaii Island is home to plenty of shining white sands, like that of Hapuna Beach. But imagine picking up a handful of obsidian-black sand, the remains of magma flowing into the ocean. Punaluʻu Beach is a great one to visit; its alternate name is even Black Sand Beach. Black sand beaches are also where you're most likely to catch a glimpse of wild sea turtles.
For a beach of a different colour, Papakōlea Beach is where a lot of the mineral olivine ends up, giving it its distinctive green hue. This beach features a hiking path which can be quite challenging, for those up for a little adventure.
Location: Hawaii Island, HI, USA
6
Explore forgotten sugarcane plantations of Ka'U
Visit a 19th-century plantation town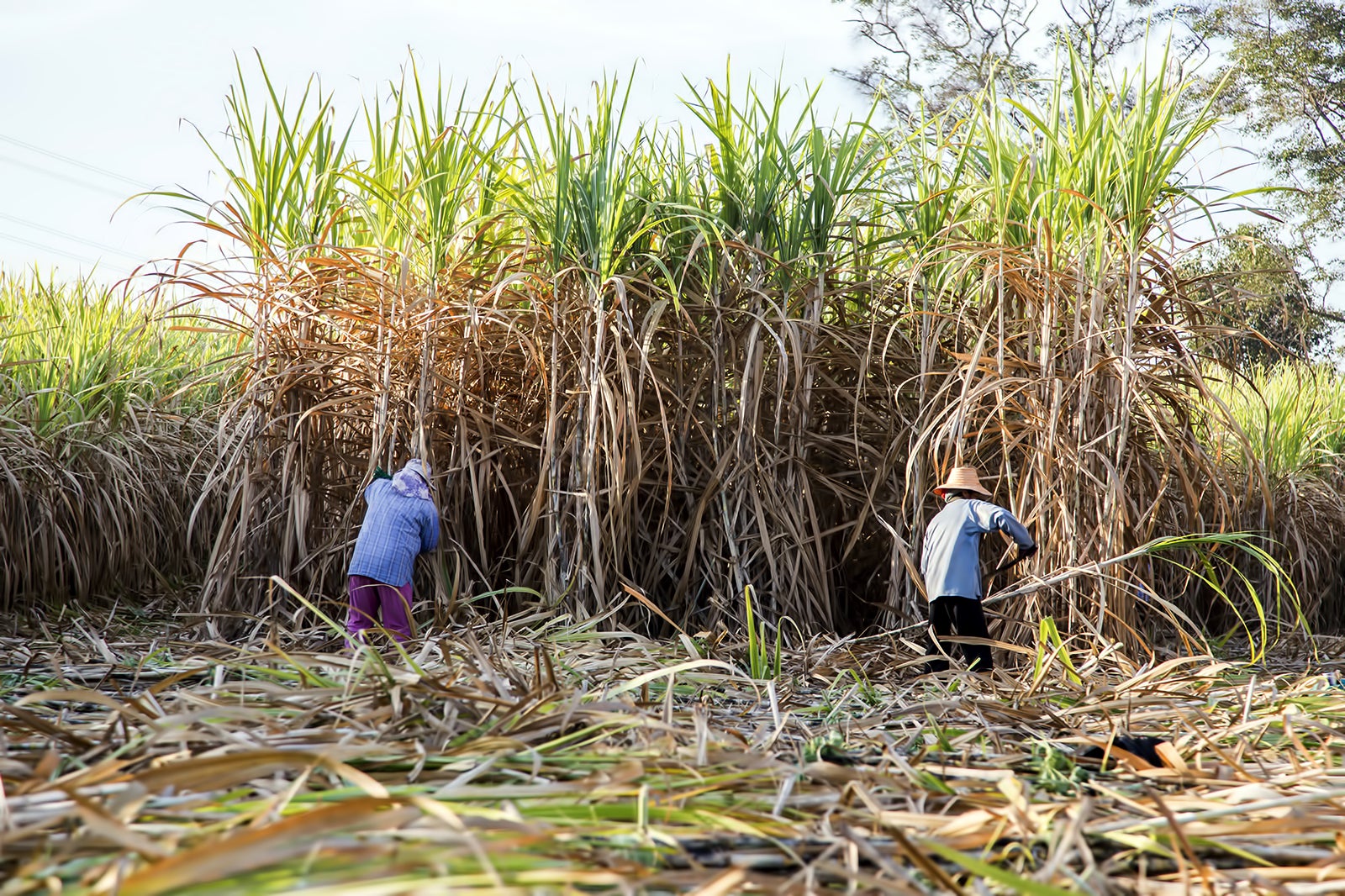 The sugarcane plantation on Hawaii's Big Island is a relic of a bygone era. You won't see fields of sugarcane when you visit Kaʻū, but you can take a tour of an old plantation which has since been repurposed as the Kaʻū Coffee Mill.
The town of Pahala was built around a sugarcane plantation. Parts of it are still much the same as they were back then, so come here to see a more charming and tucked-away part of the island. Pahala even allows you to stay the night in plantation cottages, making this spot suitable both as a place of interest and a place to stay!
Location: Pahala, HI 96777, USA
7
Go snorkelling at Honaunau Bay
Like a natural aquarium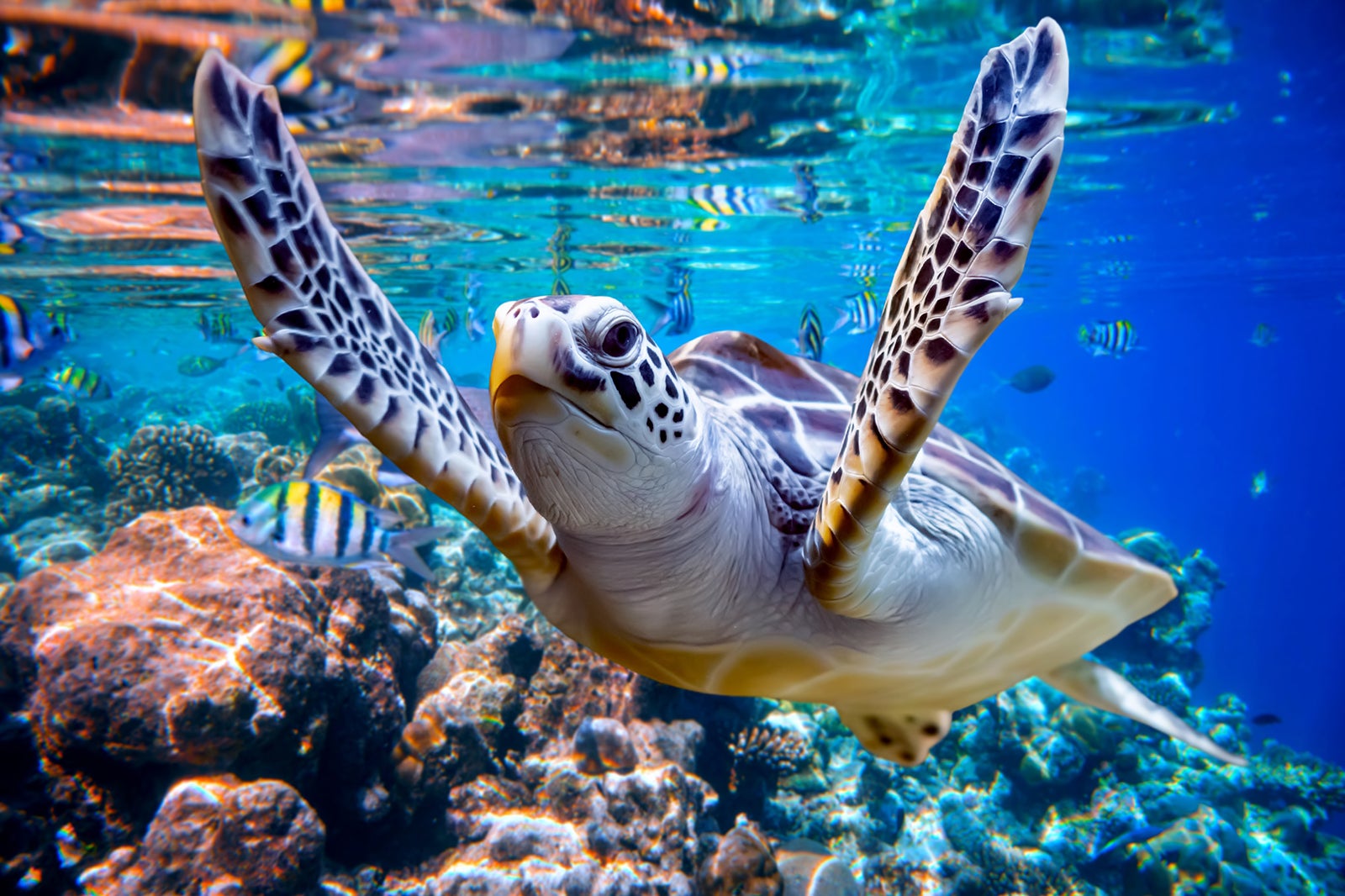 Snorkelling at Honaunau Bay costs you nothing but a parking fee of around $5 and the snorkelling gear you bring or rent. To make things even easier, the bay is also known as "Two Step" after the cooled lava which has formed two steps leading comfortably into the water.
The real reason for visiting will become apparent once you go underwater. You can see sprawling, multi-coloured coral formations on the ocean floor in addition to many kinds of rare fish. Come on a sunny day so you can see through the water with striking clarity. Expect to see creatures like dolphins, seals, and turtles hanging around. With the diversity of life seen here, you could almost think of this as a natural aquarium!
Location: Honaunau-Napoopoo, HI 96704, USA
8
Sample local flavours at Hilo Farmers Market
Bring home a little taste of Hawaii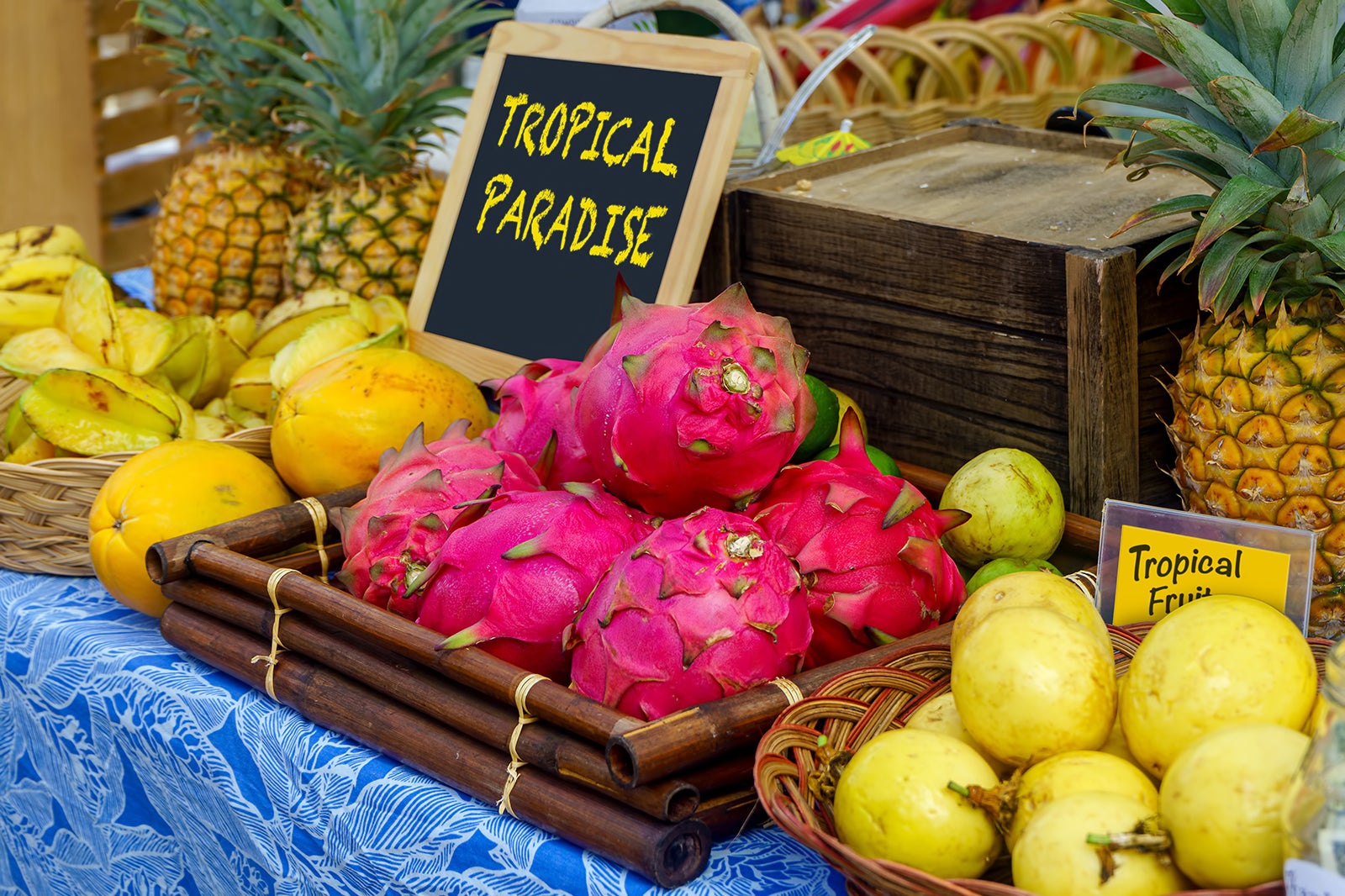 At Hilo Farmers Market, you can get your gift-buying chores done early and inexpensively. This market is a treasure trove of items waiting to be brought home to your friends and family. Far from mass-produced souvenirs, these artistic creations impress and cost less.
While you're at it, stock up on a ton of tropical fruits and condiments. Entire kiosks are devoted to dressings like hot sauce and balsamic vinaigrette, so be sure to scan the whole selection before you make your pick. You'll also want to try some street food like pastries and poke bowls. The local cuisine is truly out of this world and won't break the bank!
Location: Corner of Mamo St & Kamehameha Ave, Hilo, HI 96720, USA
Open: Sunday–Tuesday and Thursday–Friday from 8 am to 3 pm, Wednesday and Saturday from 7 am to 3 pm
Phone: +1 808-933-1000
9
Kona Brewing Company
Imbibe at a brewery full of Hawaiian spirit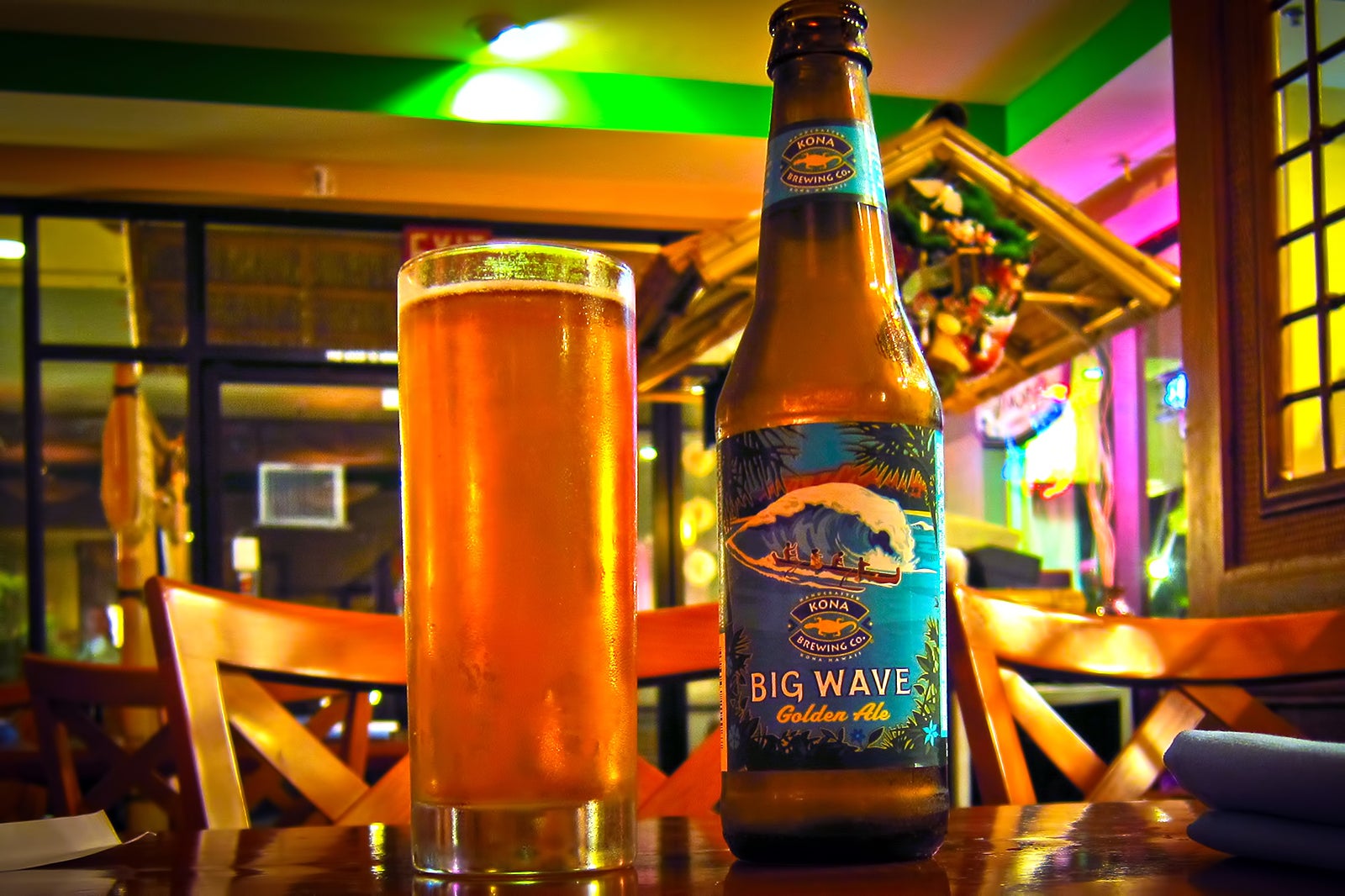 Kona Brewing Company is a great place to sip a pint full of local character. Make sure you get the beers that are brewed in-house, as this is the only place where you can have these special beers on tap. Luckily, they have a wide variety of beers, no matter your preference. You can even order a beer flight to sample a range of brews for a steal.
What's the best way to cap off a day full of hiking and swimming? Unwind with a night out at Kona and you will soon find out. There's nothing better than affordable local pub fare at the end of a long day.
Location: 74-5612 Pawai Pl, Kailua-Kona, HI 96740, USA
Open: Daily from 11 am to 10 pm
Phone: +1 808-334-2739
photo by Nan Palmero (CC BY 2.0) modified
10
Catch a hula performance at The Shops at Mauna Lani
Watch a piece of Hawaiian culture unfold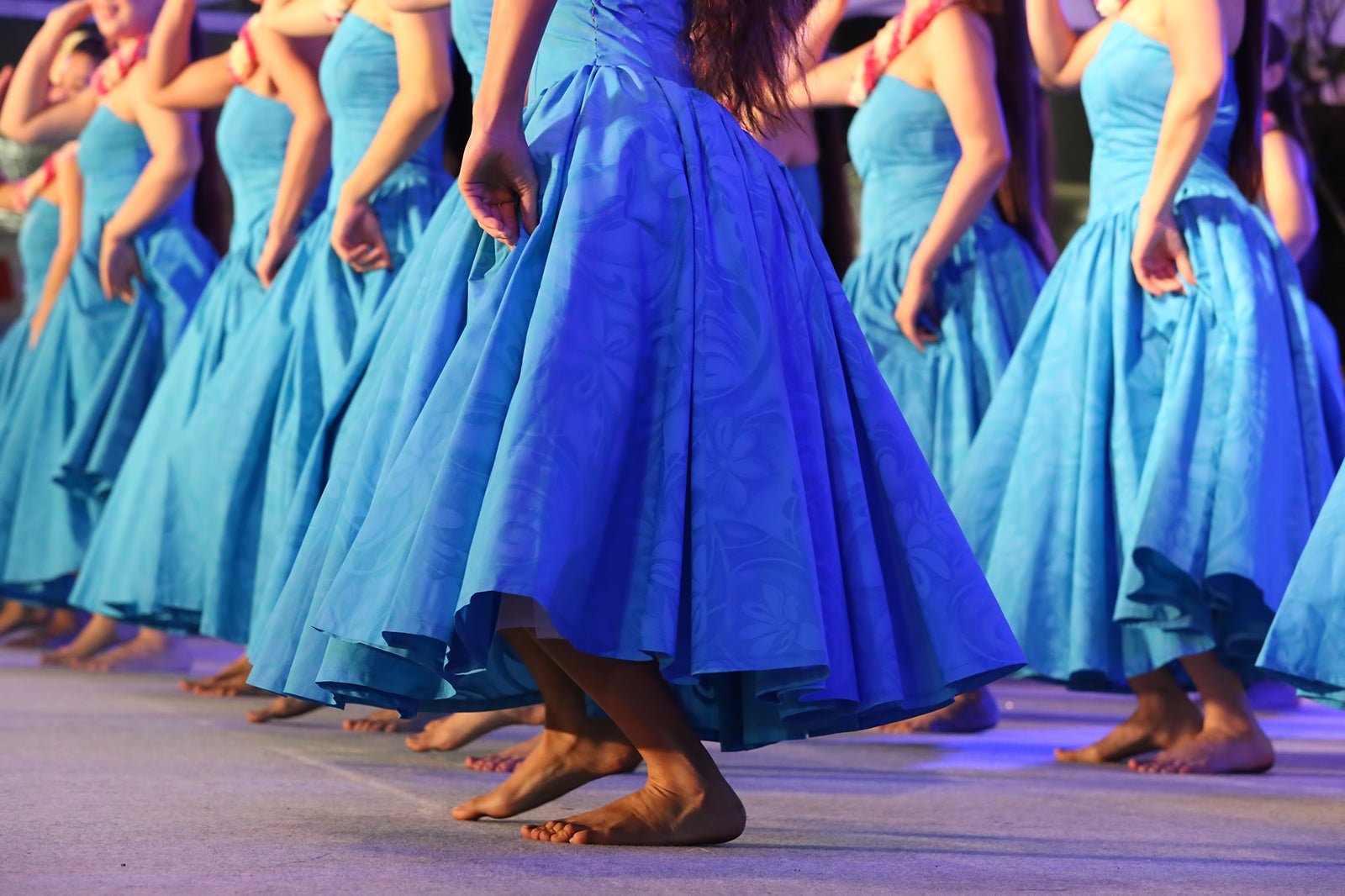 Visit the Shops at Mauna Lani at the right time for an experience that is both culturally enriching and free. Dancers dressed in elaborate and evocative costumes tell stories with their bodies in this traditional Hawaiian art form. Not only is it a way to use your time cost-effectively, but it is also one of the most interesting things to do on the island.
The complimentary Hula show usually happens on Monday and Thursday evenings, but Mauna Lani is a hub when it comes to shopping and cultural entertainment, so be sure to stop by regardless.
Location: 68-1330 Mauna Lani Dr #100, Waimea, HI 96743, USA
Open: Daily from 10 am to 9 pm
Phone: +1 808-885-9501
Back to top