9 Ways to Bring the Past to Life in Georgia
What Makes Georgia, USA So Special?
Georgia is a state known for its natural landscapes of mountains and rivers, sitting right above Florida on the Atlantic coast. Aside from the stunning scenery, Georgia has an old soul. You'll likely be struck by its Southern charm, eerie beauty, emotive blues music, and stately architecture.
Named after King George II, the state was once a British colony. The state has played an important role in history, including wars, plantations, high-society scandals, and several pivotal events in America's modern history. There's so much to look back at, reflect, and reminisce. Here are 9 interesting ways to catch a glimpse into the history and culture of Georgia and the United States.
1
Sweet tea and Southern hospitality
Comfort food served with a Southern charm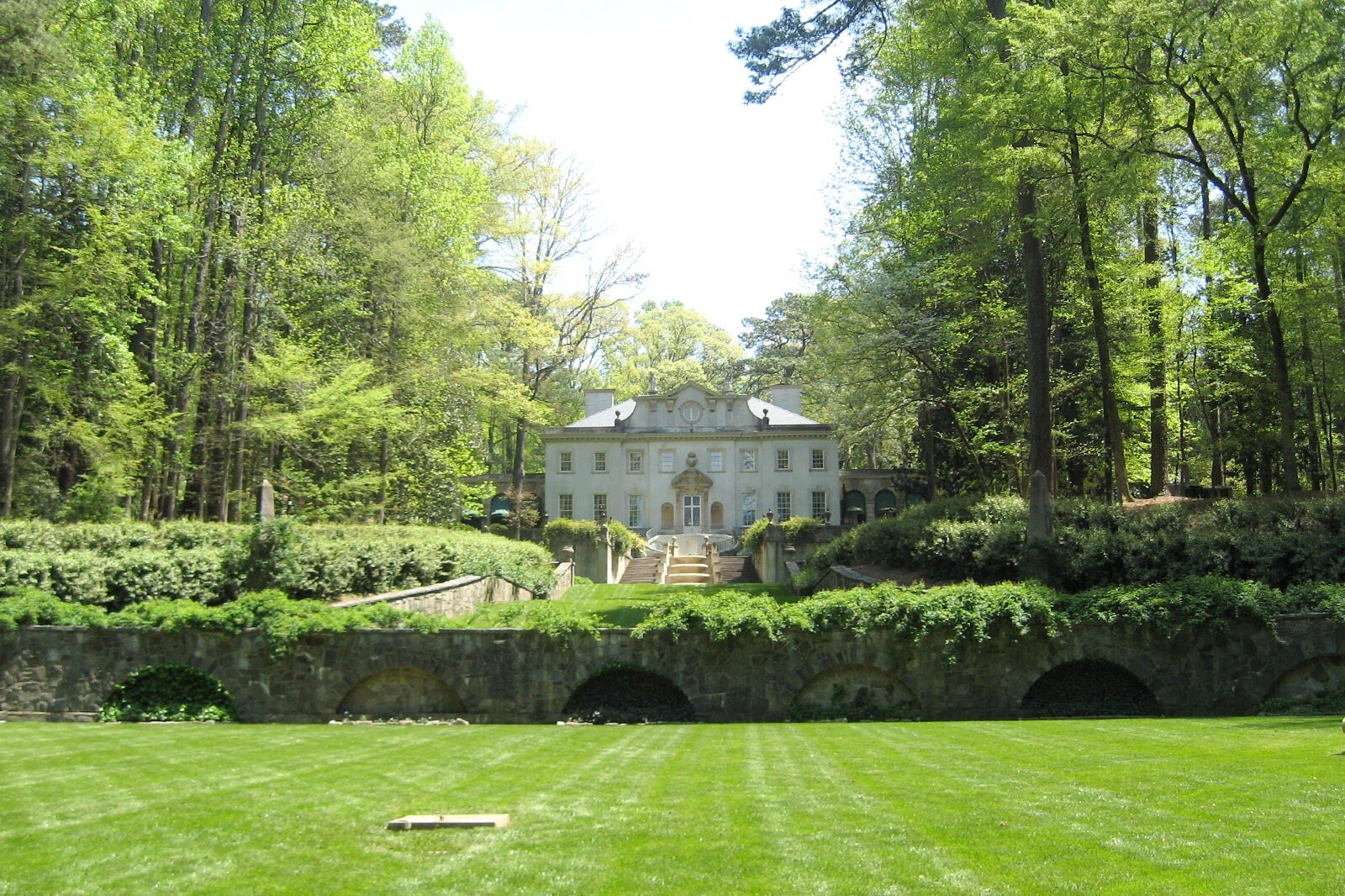 Here in the warm South, you'll be greeted with kind strangers, friendly service, and a slower pace of life. For some Southern flair, Mary Mac's tea in Atlanta serves homemade staples like fried green tomatoes and sweet tea, while the Swan Coach House makes proper crab cakes and a strong Georgia Peach screwdriver. For a traditional high tea assortment, head east to the Madison Tea Room in Madison and the Gryphon Tea Room in Savannah.
As the weather can get hot during the spring and summer days, a lot of its markets are set up indoors. The most concentrated areas for a one-stop food experience are located in and around Atlanta. Visit the Ponce City Market, once the Sears-Roebuck retail store with modern indoor kiosks, outdoor farmer's market, and shops with recipes unique to the South, like the Honeysuckle gelato that serves local flavours like Honey Lavender, Bourbon and Brown Butter.
Location: Mary Mac's, 224 Ponce De Leon Ave NE, Atlanta, GA 30308, USA
Phone: +1 404-876-1800
photo by Hellohowareyoudoing (CC BY-SA 3.0) modified
2
Get lost in Georgia's natural landscapes
From intricate rivers to sunny coasts
Located on the east coast of the USA, right above sunny Florida, Georgia's landscape can vary from mountains to waterfalls, rivers to coastlines. The state has more than 70,000 miles of waterways weaving across the region. Ideal for trekkers and campers, Georgia is also known for the famous Blue Ridge mountain range lining the northern part of the state, about 2 hours' drive north of Atlanta.
Visitors can enjoy a day's hiking and rafting at the Chattahoochee National Forest. Nearby is the Amicalola Falls or "tumbling waters" in Cherokee, the tallest waterfall in Georgia (730 feet), with many hiking trails and pet-friendly accommodation.
Moving south, closer to Florida, Driftwood Beach on Jekyll Island is nature's exhibition of dead trees in abstract forms – a by-product of eroded soil. This is where you start to find the warmer ocean current and the presence of diverse wildlife. Namely, Tybee Island is a great place to study marine life like turtles, manatees and shorebirds.
3
The cuisine of deep-fried everything
The deep-South tradition of soul food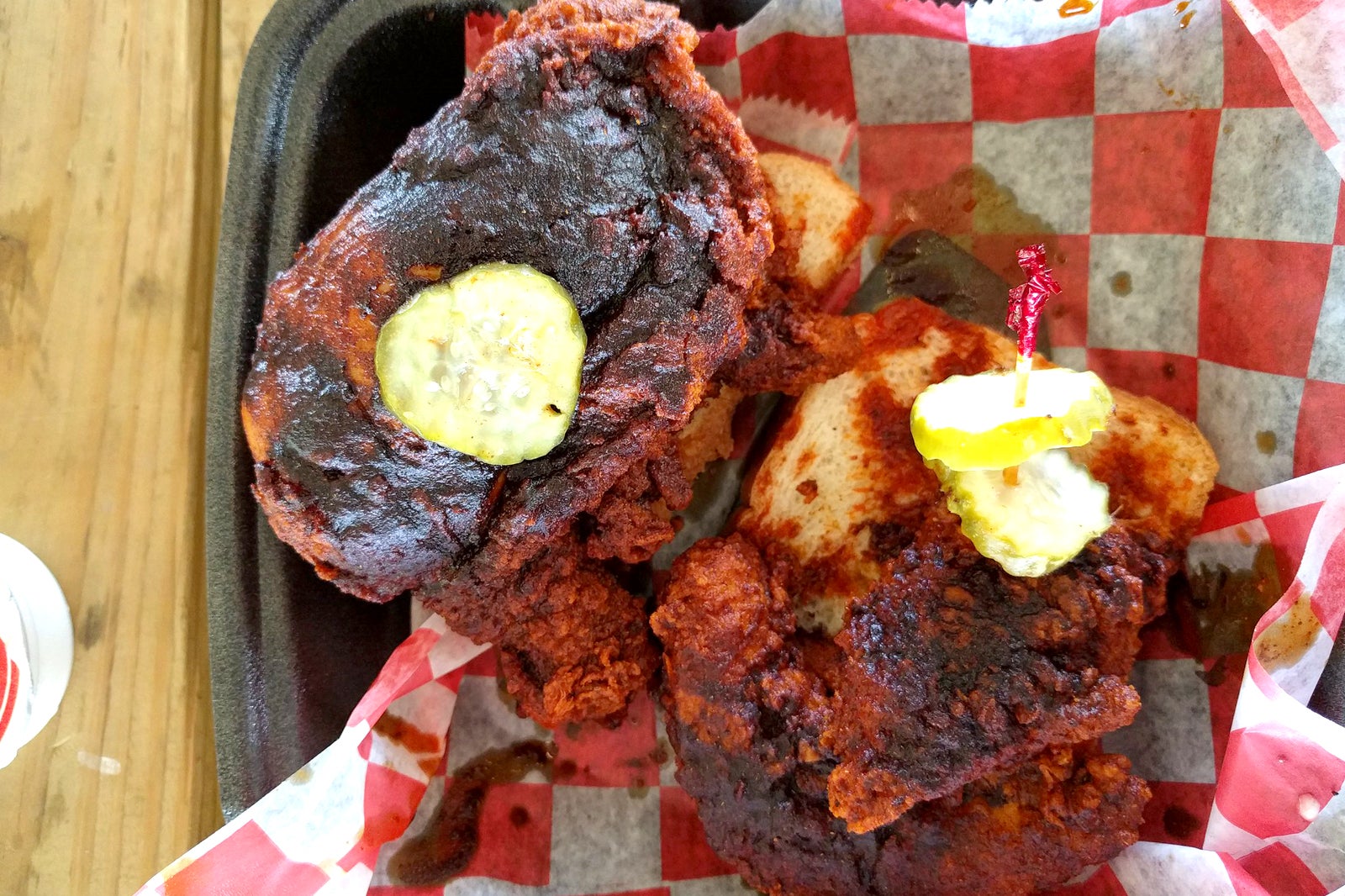 Soul food is another name for Southern comfort food with recipes based on methods passed down by African Americans during the slavery period. The cooking later evolved into macaroni and cheese, sweet potatoes, corn bread, fried chicken, fried fish, and also pigs' intestines, locally known as "chitterlings.'' They even deep-fry their peach cobblers.
Hattie B's Hot Chicken is known for their chicken and waffles, pimento mac and cheese, and fried chicken with all kinds of spices. The restaurant has 5 levels of hotness: mild, medium, hot, damn hot, and shut the cluck up. Paschal's is Atlanta's crowd-favourite fried chicken spot. Look out for their acclaimed peach cobbler.
Location: Hattie B's Hot Chicken, 299 Moreland Ave NE, Atlanta, GA 30307, USA
Phone: +1 678-888-4884
photo by amanderson2 (CC0 1.0) modified
4
The art of having fun in the hot weather
Swim, canoe and camp in the great yonder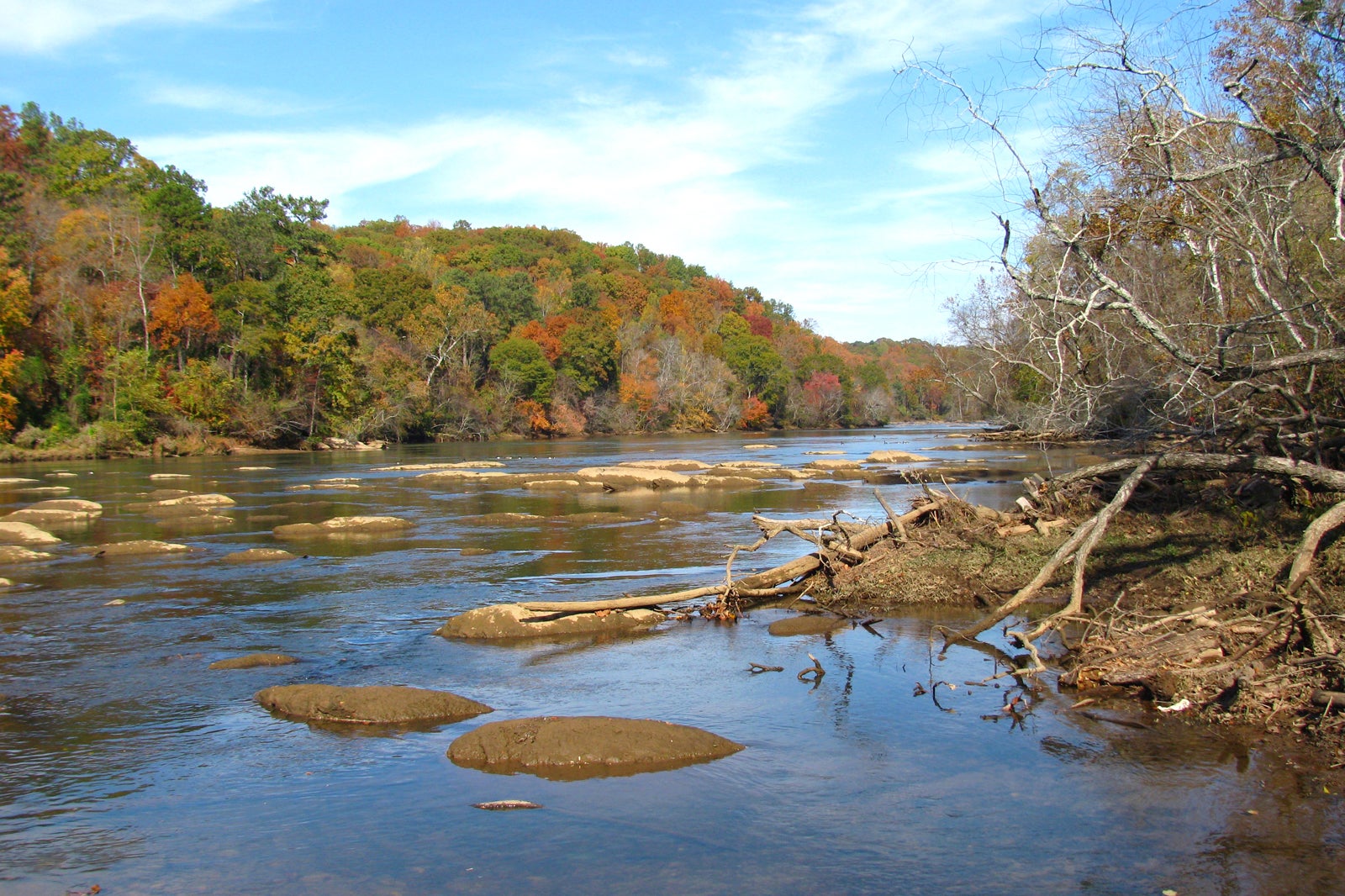 Because the weather can reach the high 90s F (over 30 degrees Celsius), Georgians know how to keep cool and have a good time doing it. This state has more than 70,000 miles of waterways to keep locals content and comfortable. The Chattooga River, located right on the very border of Georgia and South Carolina, is a favourite camping area for both locals and out-of-state kayakers. This 92-km-long river offers different levels of white water rafting for all ages.
Along most river trails are a number of outposts that offer different activities, from floating to canoeing to zip lining. For a quick getaway, the Chattahoochee river trail is 48 miles long and only 30 minutes' drive north of Atlanta. Looking east, the Augusta River in Savannah is also great for level 3 rafting. The lower half of the state has the Ocmulgee River Trail, a 200-mile water trail that starts from Macon and flows to the eastern coast. Also, where the Savannah River meets the ocean, you can kayak along the softer streams close to where manatees set up home.
photo by niksnut (CC BY-SA 2.0) modified
5
The old Southern architecture
There's a haunting beauty about historic homes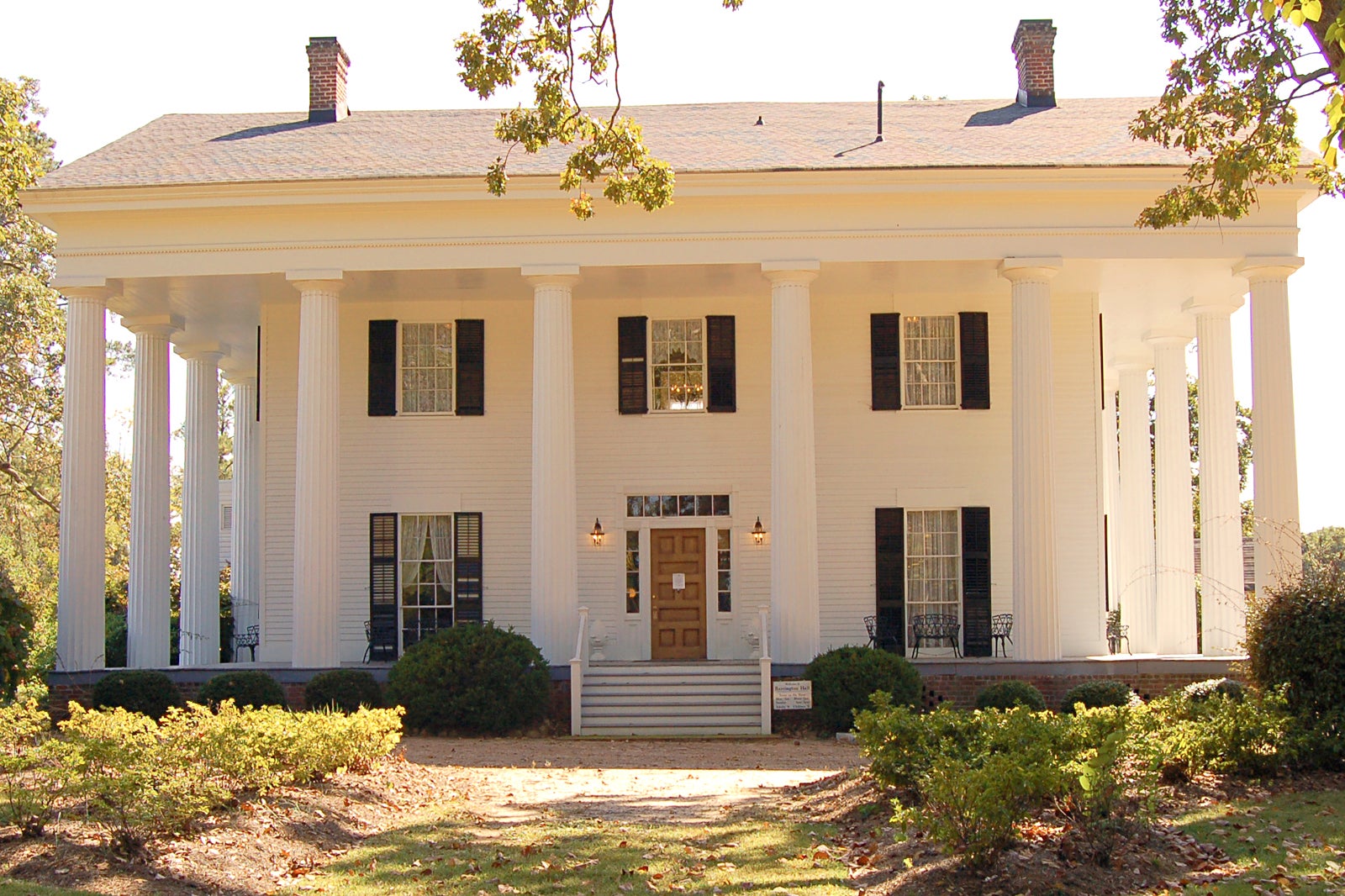 Georgia has a dormant architectural beauty hidden in its woeful past, with 16 districts preserved since the Confederation days. Those were the times of the plantation society, when cotton production was booming. Historic homes can be found throughout the state, not just the famous Savannah quarters. In fact, there are more than 5,500 buildings alone in Macon that are listed under the National Register of Historic Places.
The Antebellum trail stretches for 100 miles, starting from Athens, and passing Watkinsville, Madison, Eatonton, Milledgeville, and Macon, respectively from north to south. Introduced by European migrants in the 1800s, the Southern style, known as Antebellum architecture, comprises signature large pillars, large porches and balconies, symmetrical windows and a central door for the 'grand entrance' effect.
Location: Antebellum Trail at the Athens Welcome Center, 280 E. Dougherty St. Athens, Georgia, 30601, USA
Phone: +1 866-455-1820
photo by Galen Parks Smith (CC BY-SA 3.0) modified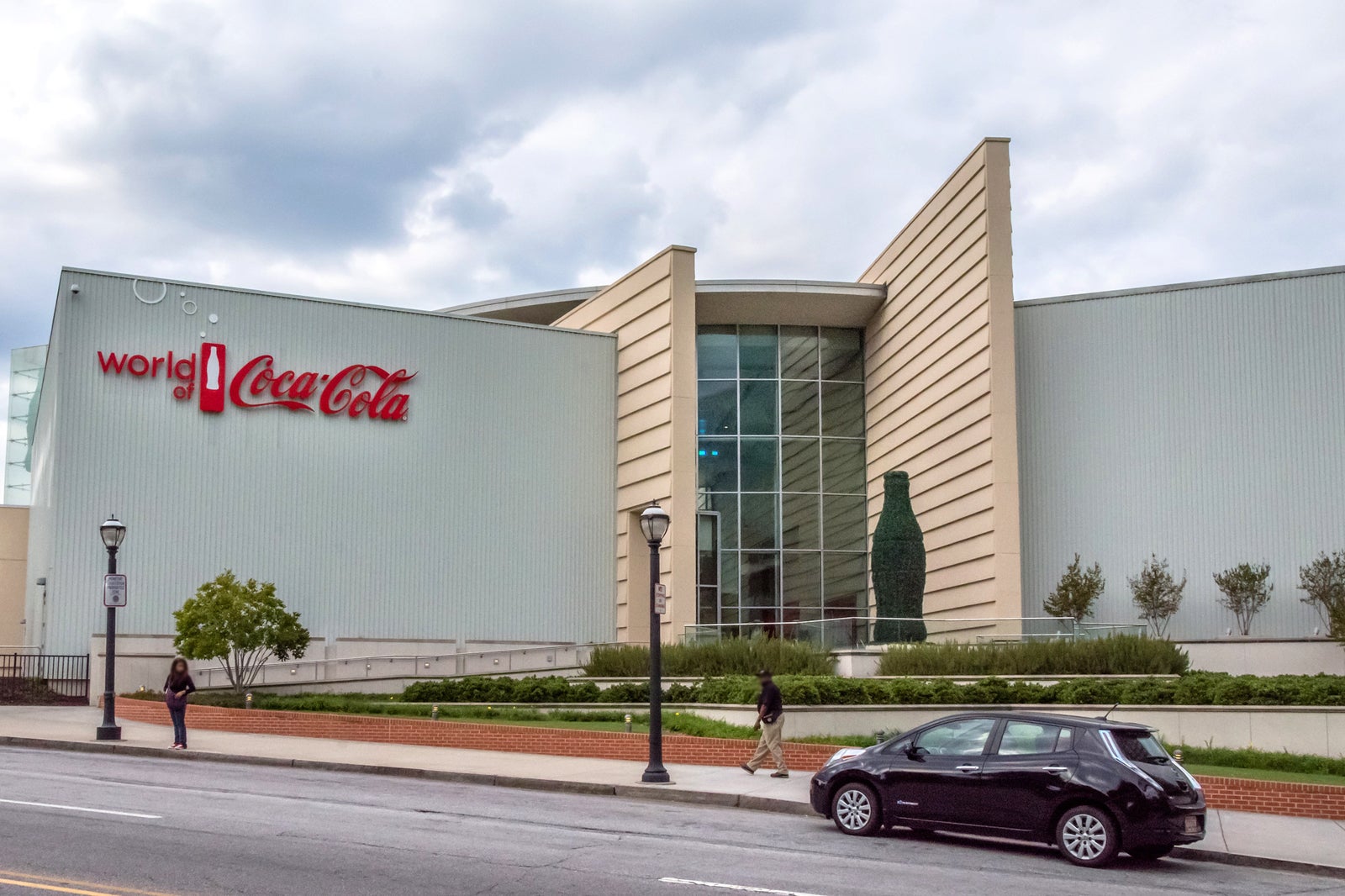 The famous beverage Coca-Cola was conceived here as a patent medicine intended for combating morphine addiction and as an alternative to alcohol. Plan your visit to the World of Coca-Cola and learn about the secret vault of recipes, the vintage bottles, the mixed feelings on the Cherry Coke edition, and sample more than 100 different flavours of their concoctions.
Also found in Atlanta, the headquarters of American news network, CNN, offers a tour of their recording studios. Located next to the Centennial Olympic Park, this CNN building was formerly an indoor theme park that was part of Ted Turner's studios. Visitors will get to see the production behind the cameras, how the broadcastings are prepared, and how to read from the teleprompter. However, just don't expect to meet the news anchors or view the live broadcast.
Read more
Location: The World of Coca-Cola, 121 Baker St NW, Atlanta, GA 30313, USA
Phone: +1 404-676-5151
photo by dconvertini (CC BY-SA 2.0) modified
7
Relive milestones of American history
The people and places that made America great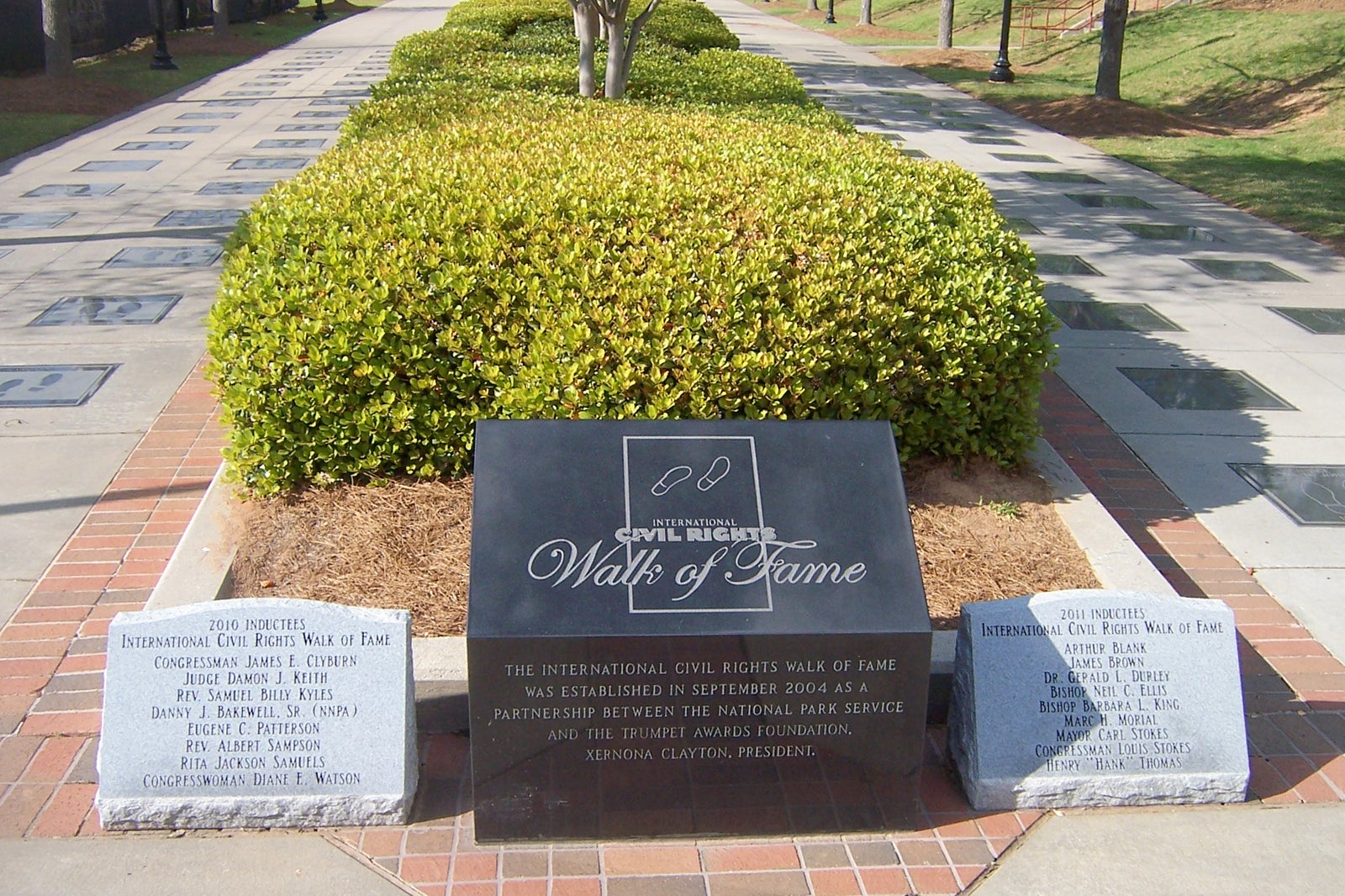 Atlanta is where the country's great leader, Martin Luther King Jr., was born. This city has been fondly dubbed as "The City Too Busy to Hate," since the 1960s. Walk through history of segregation, the post-Civil War strife, and the civil rights movement at the International Civil Rights Walk of Fame.
At the mouth of the Savannah River, Tybee Island is a quaint resort town that has seen 7 wars, 4 lighthouse reconstructions, and many revolutionaries gathered here on this eastern coast. The Tybee light tower still functions to aid the mariners navigate towards the shore. Learn about the different day and night signals, and walk 178 steps to the top of the lighthouse. About 18 miles west is the Saint John Baptist Cathedral, the state's first Roman Catholic Church built by the French immigrants from Haiti. The church served the growing Catholic population in the 1790s. Built in a French-Gothic style, the structure is known for the beautiful twin spires and stained glass windows, and was called the "Sistine of the South."
Location: International Civil Rights Walk of Fame, 14 -0046-0011-082, 2, Atlanta, GA 30312, USA
photo by Jonathan Schilling (CC BY-SA 3.0) modified
8
Georgia's creepy superstitions and spirits
Hunt for the lingering souls of Savannah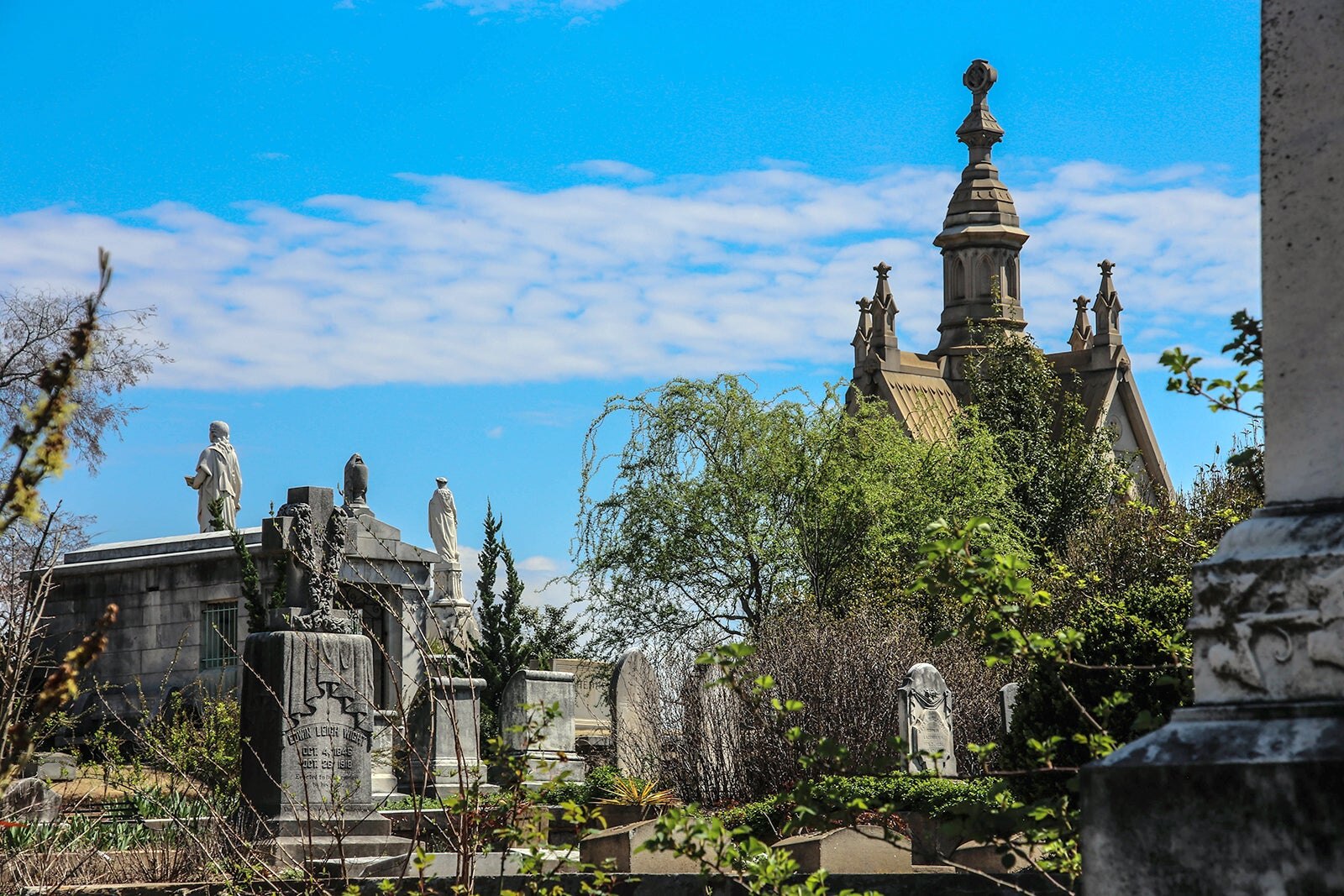 Savannah is Georgia's oldest city, founded on the eastern seaboard. It was the first line of defence during the American Revolution. The city is filled with beautiful homes, abandoned structures, historic plantations, and a sombre past. Places such as the Pirate's House, now a restaurant, was once a hangout for smugglers and criminals. It's claimed the ghost late Captain Flint and a few drunk sailors can be seen from time to time. The Olde Pink House is also known for its regular ghost sightings. One of the original owners, James Habersham Jr., can be seen walking around to make sure his house is neat and tidy, as there have been reports of rearranged furniture and lit candles.
Bonaventure is one of the most beautiful cemeteries with ties to the local elite. The previous mansion was burnt down and the land was turned into a cemetery. Visitors can hear sounds of chattering wine glasses, and the laughter of John Mullryne and his party guests. The Marshall House, Savannah's oldest hotel, was made a temporary hospital during the Civil War. The hotel discovered many human bones during the 1999 renovation, with reports of injured soldiers in uniforms being spotted in the corridors and freshly amputated limbs on the grounds.
photo by Paul Sableman (CC BY 2.0) modified
9
The fragrant farms of the Peach State
You've got to try peaches when in Georgia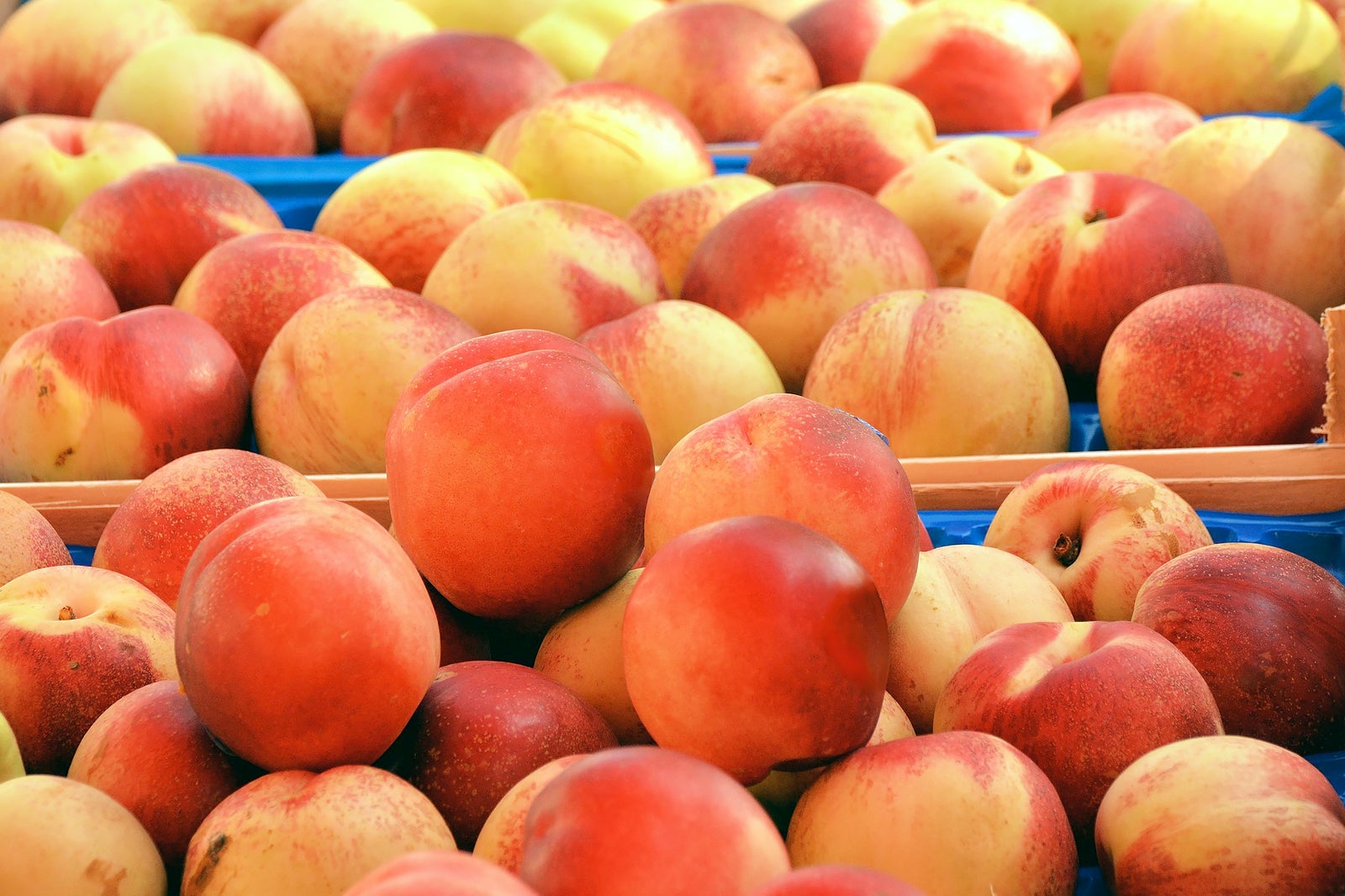 Georgia's peach industry has been thriving since the end of Civil War and eventually replaced the cotton production. Surprisingly, peaches were not native to the Georgian soil, but was brought in by Spanish monks during the 16th century. The 'Peach Belt' is concentrated in and around Macon. June to August is the opportune time to go peach-picking. You can also catch the bright pink peach blossoms in bloom around mid-March.
At Pearson Farm, try their famous peach ice cream and get a short tour of their packing house, along with their pecan production. Visitors can sample their peach recipes, from the traditional dishes like the cobbler, to the trendy peach salsa, or the peach basil crostini with goat cheese. Lane Southern Orchards has a large market selection, from wine, jam, chutney, hot sauce, fried peach pies and other Southern goodies alamode. Jaemor Farms has been around for over a century, and has much more than just peaches, from blackberries to strawberries to fresh corn.
Location: Pearson Farm, 5575 Zenith Mill Rd, Fort Valley, GA 31030, USA
Phone: +1 478-827-0750
Back to top