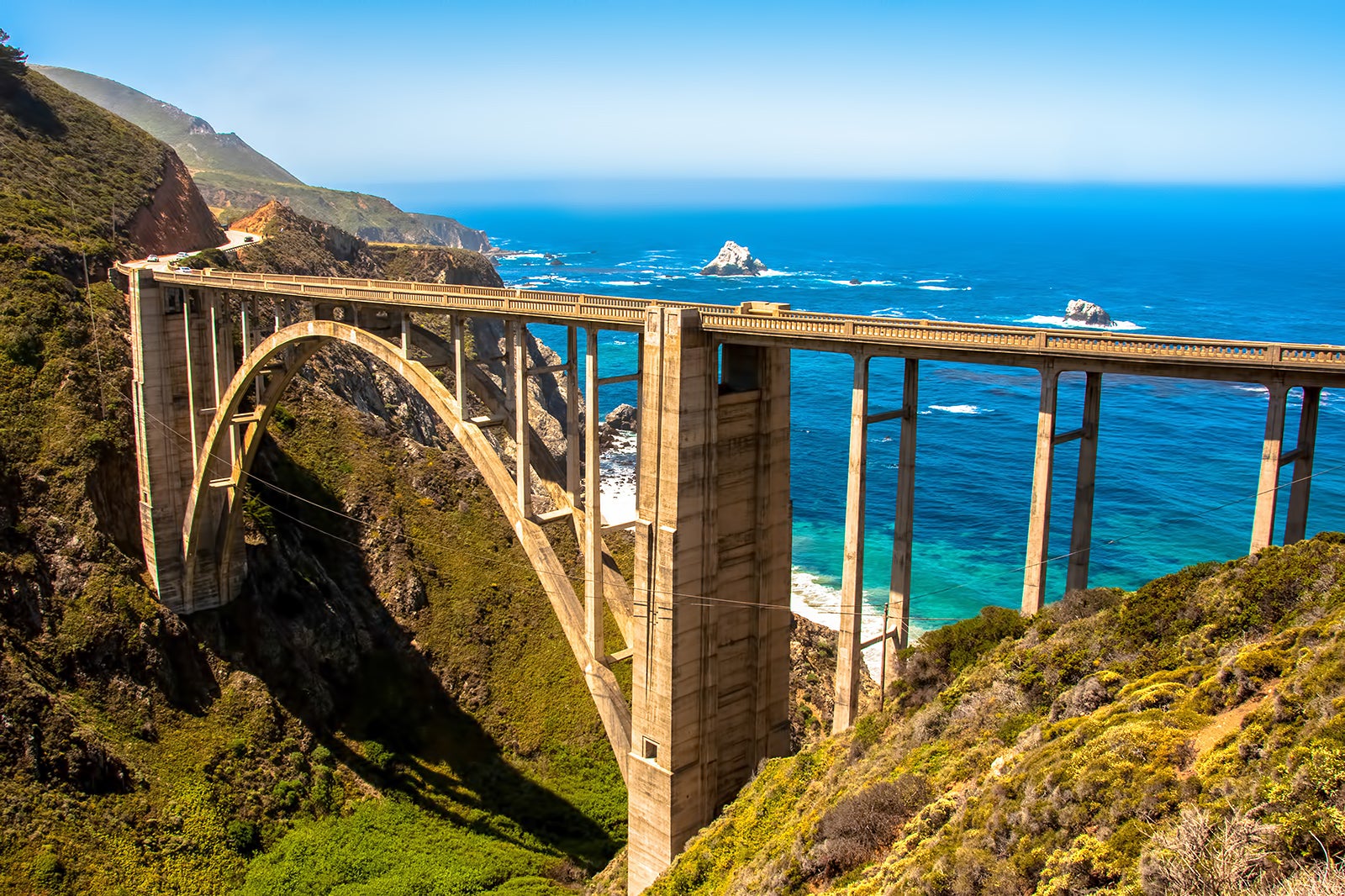 10 Best Things to Do in Monterey
What is Monterey Most Famous For?
There are plenty of things to do in Monterey, a quintessential north Californian ocean town in the USA. Facing wide Monterey Bay, it's famed around the globe for its abundance of marine wildlife and uber-fresh seafood. Dinners of shrimp, oysters, and clam chowder can cap off days of sailing the Pacific in search of killer whales and dolphin pods. And there are beaches too, of course, from rugged coves to small and idyllic marine protected areas.
But the nautical side of things is only 1 chapter. This corner of the West Coast also offers stunning drives along clifftops laced in cypress forests and pines. There are world-leading golf courses next to exclusive wineries. You can delve into rich historical neighbourhoods filled with heritage buildings, Mexicana adobe cottages, and quaint plazas.
What are the best things to do in Monterey?
1
Monterey State Historic Park
Mexican cantinas and old adobe houses take you back in time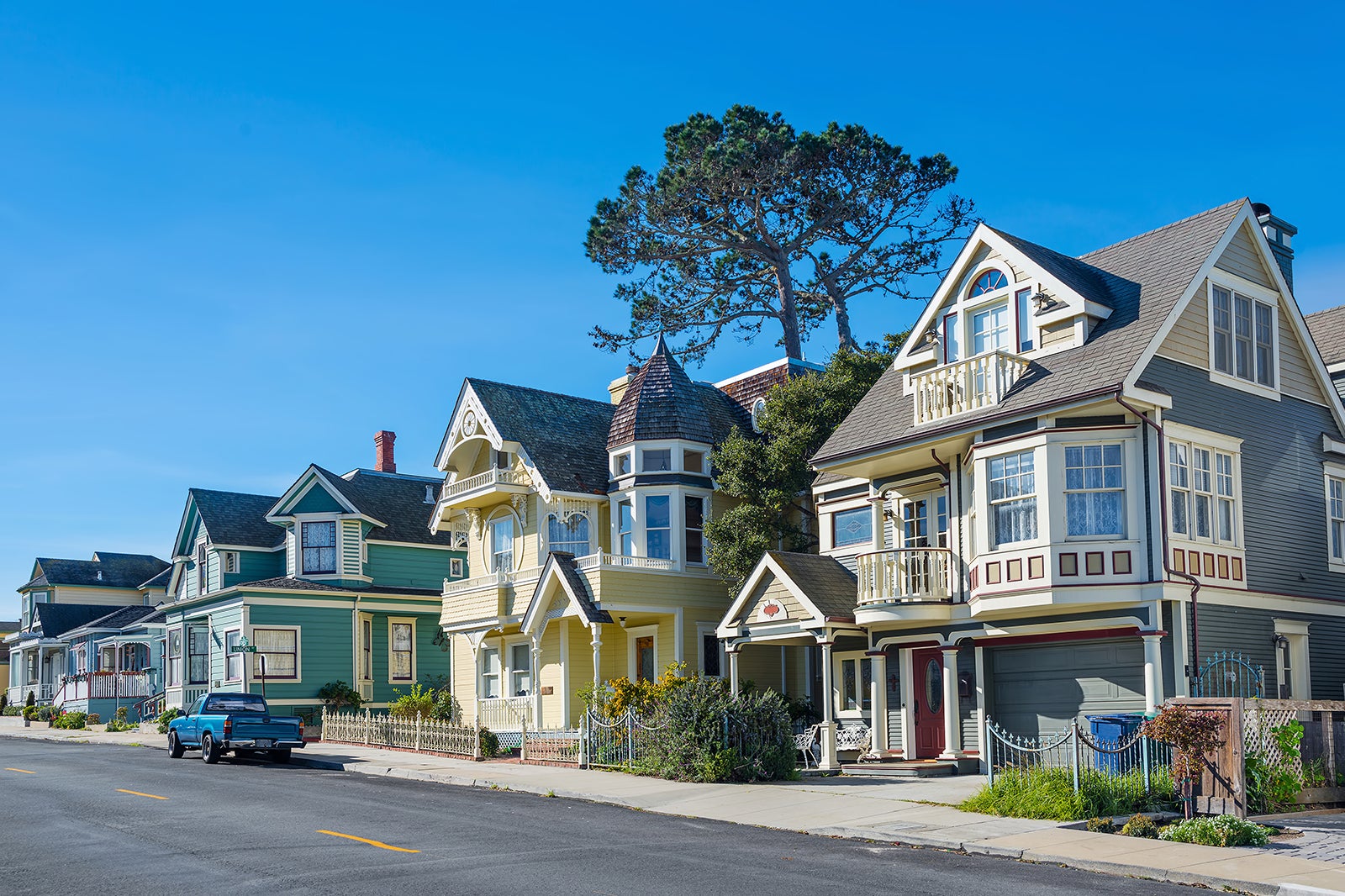 The Monterey State Historic Park is the oldest corner of town. You can find it stretching from the wharves and the clam chowder stalls, along Pacific Street to the south. It unfolds in a medley of heritage buildings and curious adobe cottages, some of which date back to the mid-19th century.
Points you won't want to miss include the Larkin House, which is thought to be the first 2-storey house ever built in California. Then there's the Custom House, a National Historic Landmark that was constructed by the Mexican government but became the first place to fly the stars and stripes when the state was claimed by the USA in the 1840s.
Location: 20 Custom House Plaza, Monterey, CA 93940, USA
Open: Daily from 8 am to 10 pm
Phone: +1 831-649-2907
2
Old Fisherman's Wharf
Get your fill of Cali clam chowders and deep-fried fish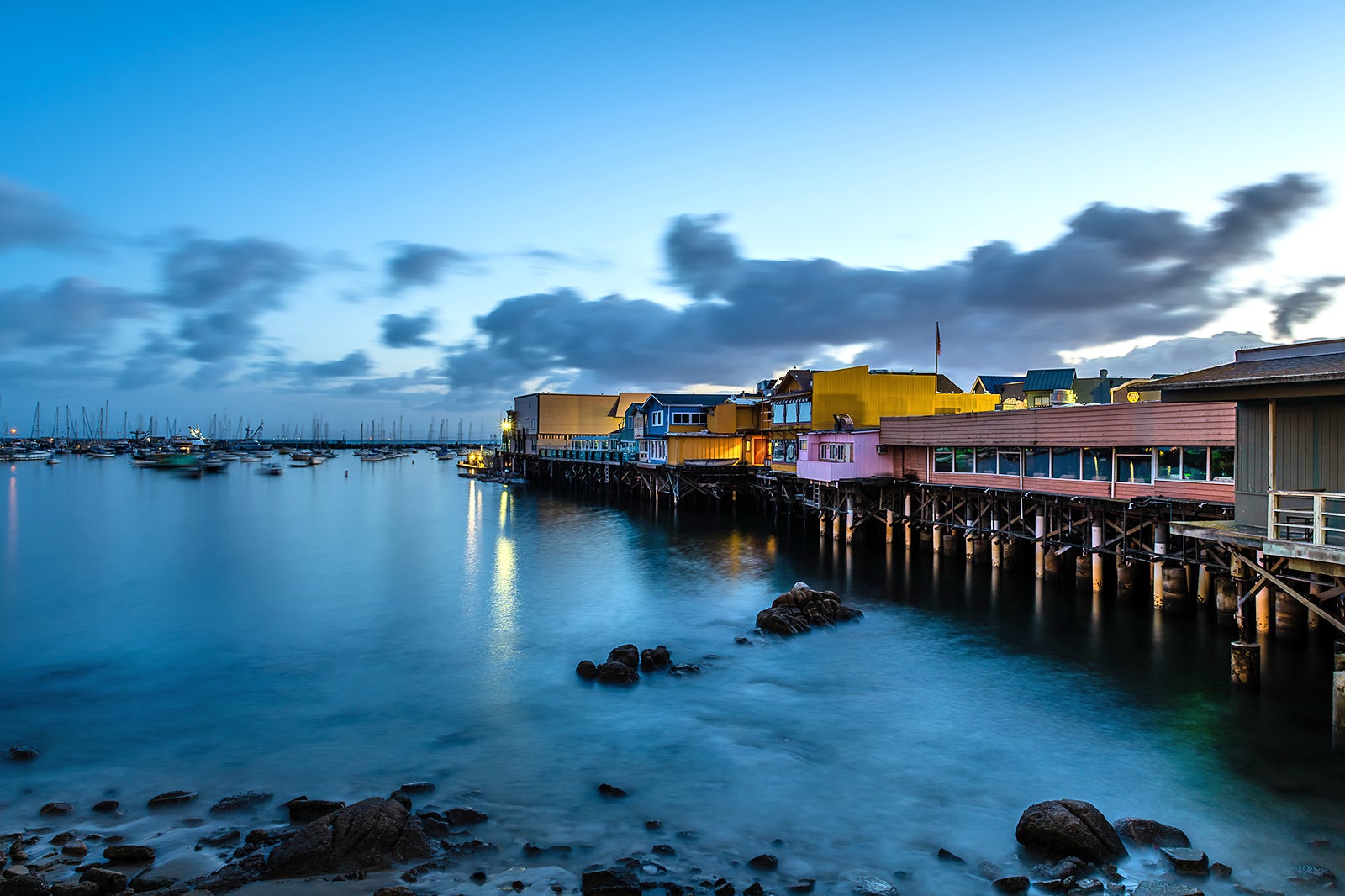 Old Fisherman's Wharf is a must-visit as a trip to Monterey would be incomplete without sampling the seafood dishes on offer. A medley of cafés and crab shacks, it can be found poking into the Pacific Ocean from the side of Lighthouse Avenue. It should be easy to find – just follow the scents of deep-frying shrimp and oysters.
Legendary names on the wharf include the 2-storey Crab House and the Old Fishermen's Grotto, both of which sport traditional painted-wood facades and 180° views of Monterey Bay. If in doubt, try the clam chowder. It's the county's speciality, best served in a chunky sourdough bread bowl with cream.
Location: Old Fisherman's Wharf, Monterey, CA 93940, USA
3
Whale watching
Be awed by splashing humpbacks, blue whales and dolphins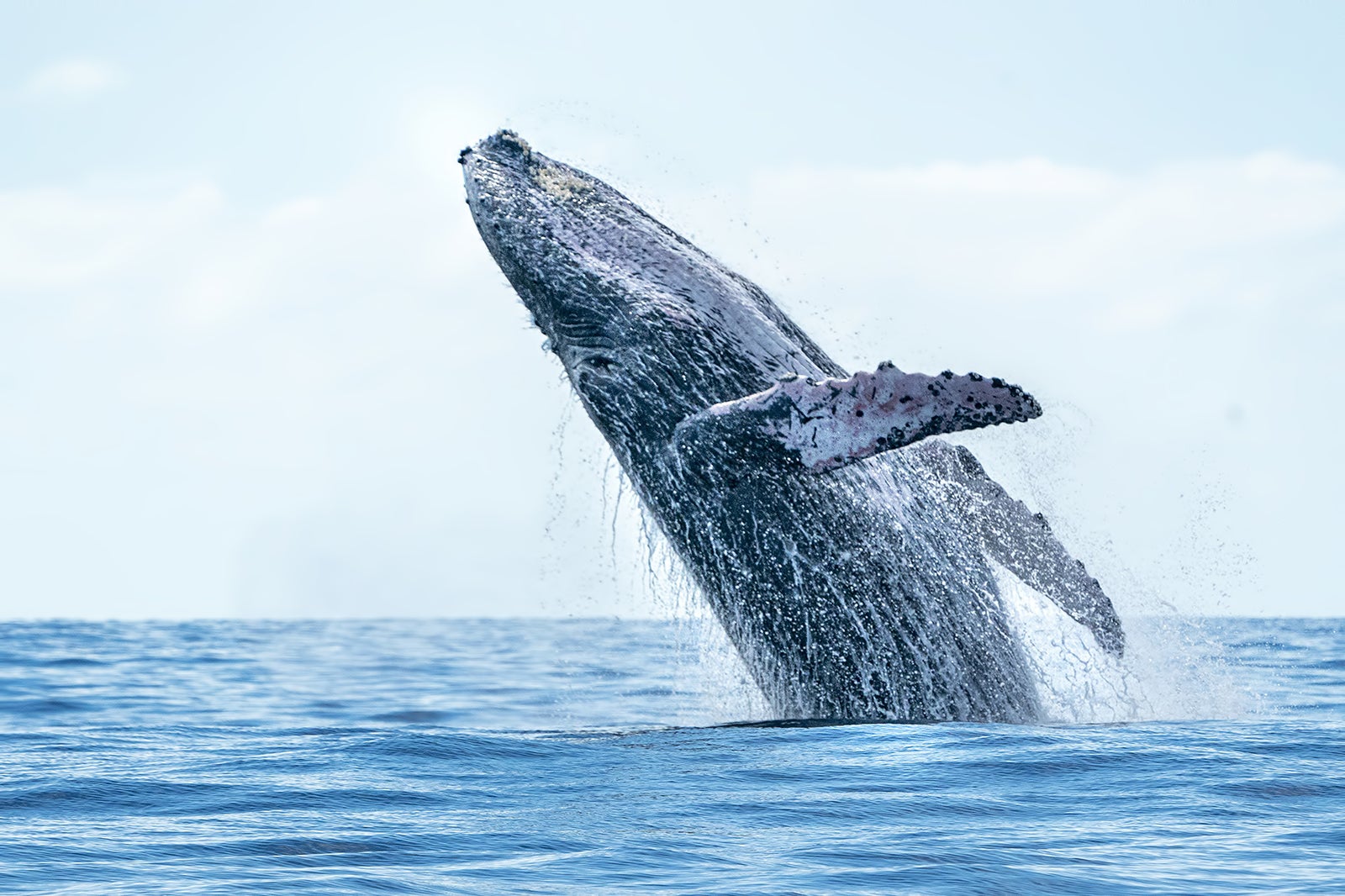 Monterey is one of the West Coast's whale-watching meccas. Head to the end of Old Fisherman's Wharf and you'll find loads of outfitters ready and waiting to take you out across the Pacific in search of the giants of the ocean.
Talking of the giants… the whales that frequent this corner of California include humpbacks and – the largest of the lot – blue whales. You'll want to organise your trip for the summer or fall months to be in with a chance of seeing those. In winter, you're more likely to see grey whales. Also, be sure to keep your eyes peeled for dolphins and sea lions – they're both residents of the rich waters near Monterey, too.
4
Monterey Bay Aquarium
Encounter sea otters and leopard sharks
Monterey Bay Aquarium is a family-friendly spot at the top end of bustling Cannery Row. Exhibits include recreations of the Californian ocean kelp forests, stingray touch pools, tanks with blacktip reef sharks, and inlets filled with rare sea otters.
For many, the top highlight actually awaits just outside. That's where you can meet the boisterous, barking California sea lions. They're often basking in the sun on the jetties and rocks alongside the aquarium itself. There's even an onsite café where you can settle with a coffee and enjoy their company.
Location: 886 Cannery Row, Monterey CA 93940, USA
Open: Daily from 10 am to 5 pm
Phone: +1 831-648-4800
5
Lovers Point
Feel the sand between your toes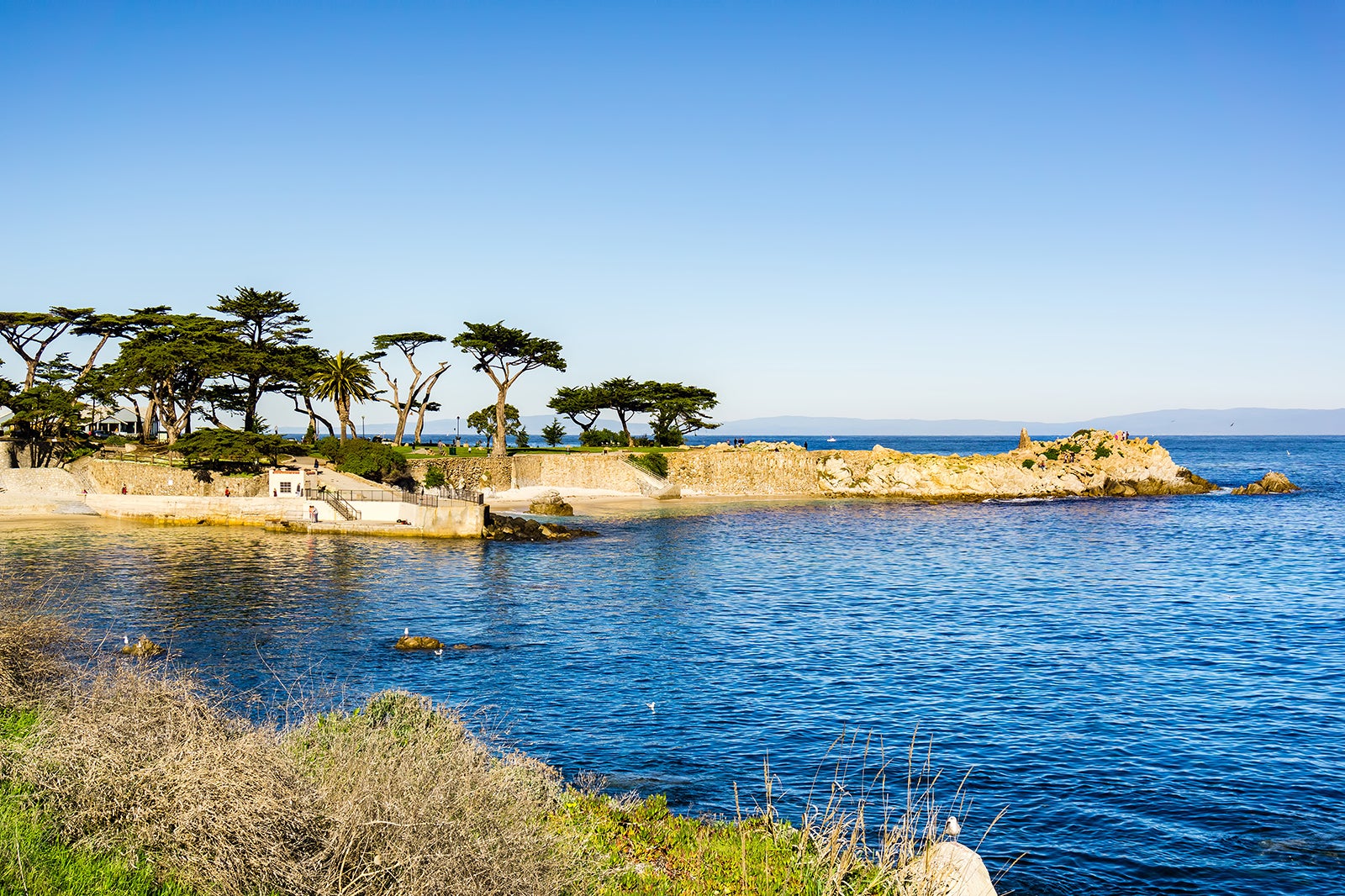 Lovers Point is an apt name for this charming little cove midway up the Monterey shoreline. Capping off the salt-sprayed walks of Ocean View Boulevard, this small marine protected area meets the Pacific with short headlands of craggy stone and glowing white sand. A few gnarled cypress trees and pines stand behind, casting their shadows across light waters that are crystal clear in the summertime.
It's hardly a wonder that it's a favourite spot for hand-in-hand couples on meditative strolls. But swimmers also come here to cool off, as do surfers and kayakers, who enjoy bouncing over the light swells that roll in off the headland.
Location: 631 Ocean View Blvd, Pacific Grove CA 93950, USA
Phone: +1 831-648-3134
6
Pebble Beach Golf Links
18 holes on one of the world's top courses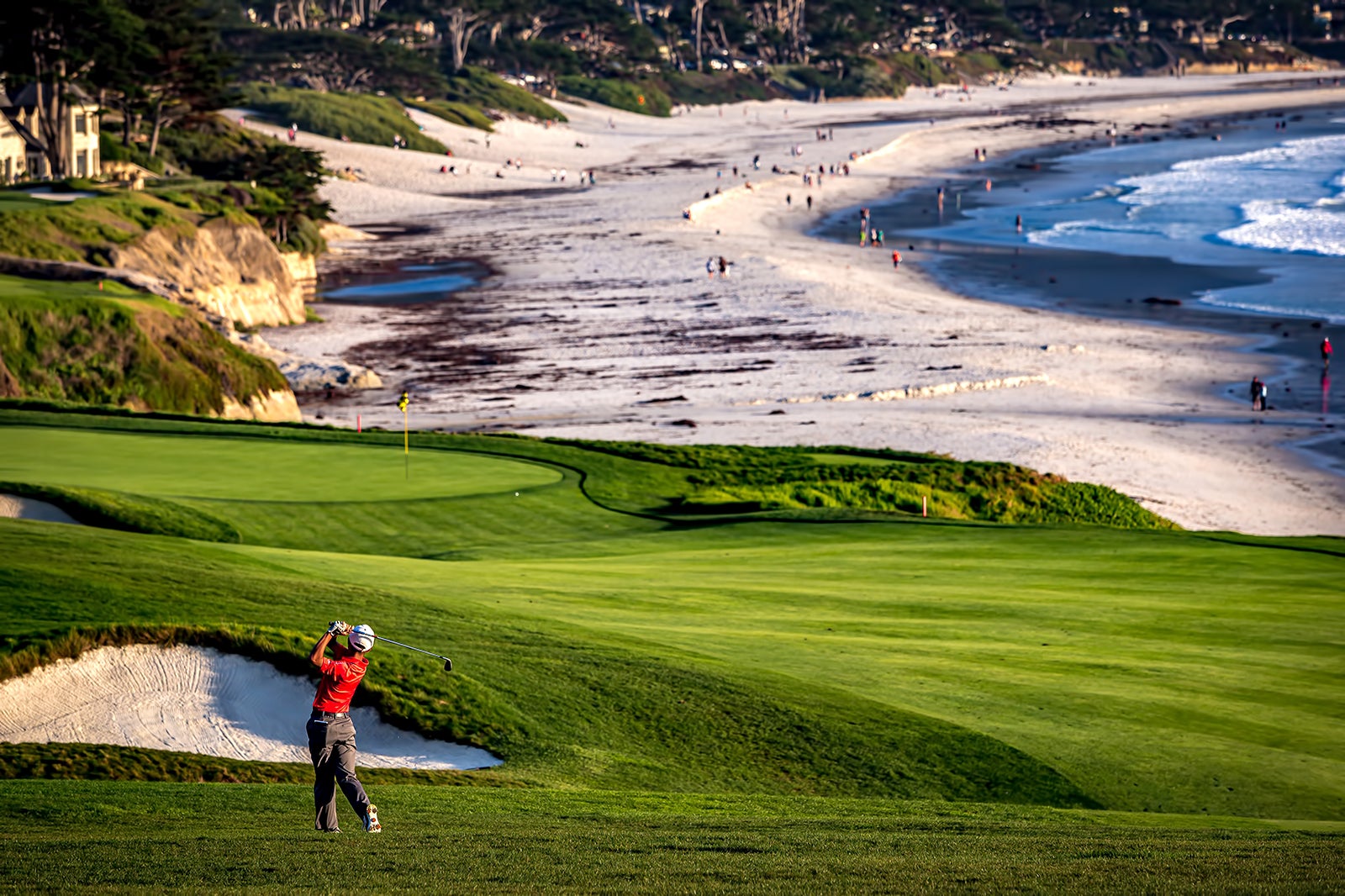 Regularly rated as the single best golf course in the USA, Pebble Beach is up there with Augusta National and Pine Valley. It strings along the side of gorgeous Carmel Bay, occupying the softly rolling coast hills around 3.5 miles south of Monterey's Old Fisherman's Wharf. You can't miss it – just look for the perfectly manicured fairways and white-sand bunkers perched above the waves.
Green fees cost is in the region of $550 for that legendary course, but there are plenty of budget-friendlier alternatives to enjoy. Poppy Hills Golf Course is just to the north, with handsome holes designed by Robert Trent Jones. Closer to the town again is the Links at Spanish Bay, which has undulating dunes right before the Pacific.
Location: 1700 17 Mile Dr, Pebble Beach CA 93953, USA
Phone: +1 831-574-5609
7
Big Sur
Drive one of America's most legendary roads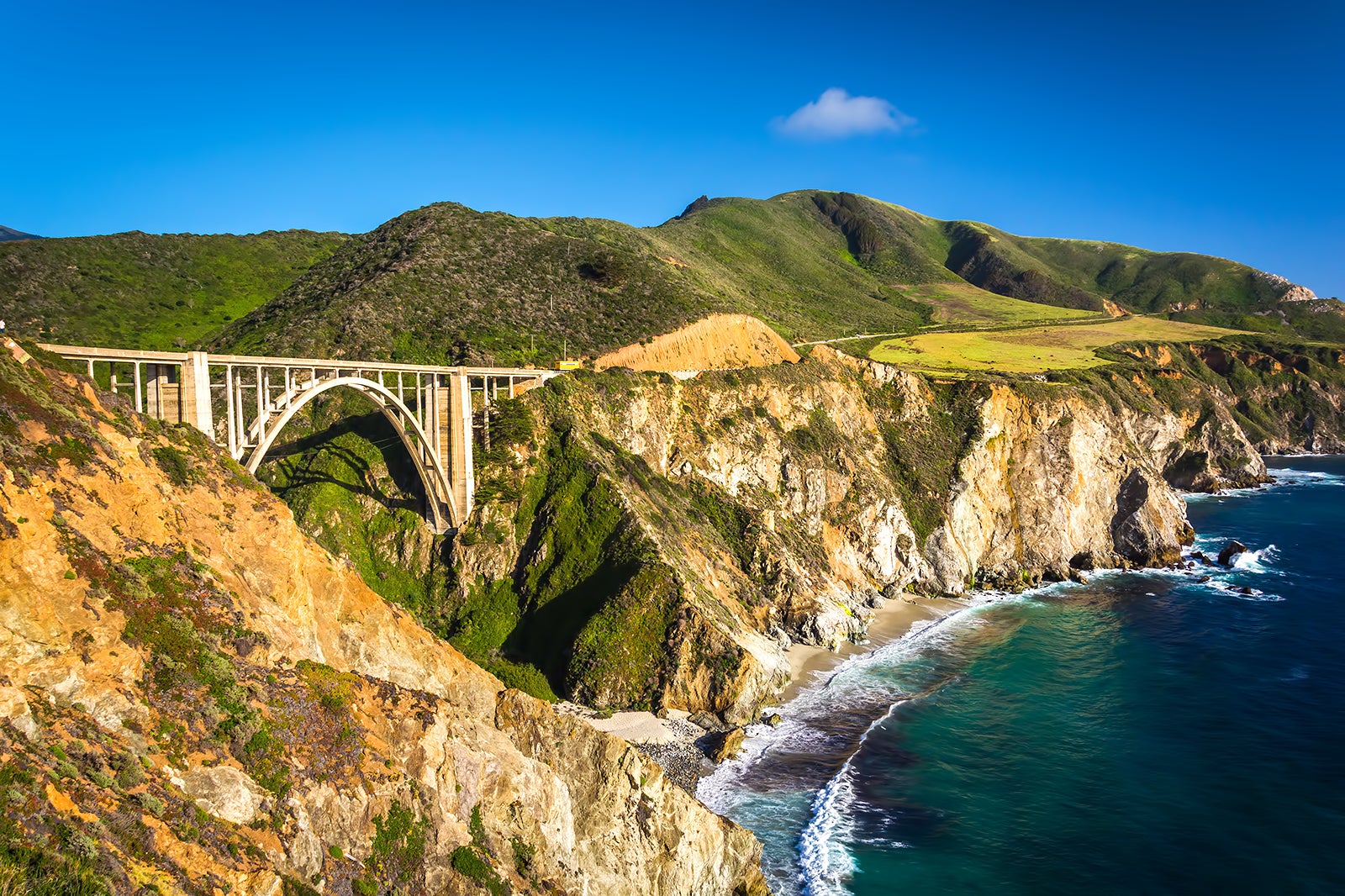 The Big Sur is set in the shadow of the chaparral-topped Santa Lucia Mountains, around 40 minutes' drive to the south of Monterey. Beckoning adventurers from around the world, it's known as one of the most dramatic sections of coast and roadway in North America. So, be sure to have your camera at the ready as you approach on the wave-washed Pacific Coast Highway.
Stops you simply won't want to miss here include the Julia Pfeiffer Burns State Park, where the McWay Falls gurgle straight into the ocean, and wild Pfeiffer Beach itself, where jagged rocks with natural tunnels shoot straight from the swells.
Location: Big Sur, California, USA
8
Dennis the Menace Park
Where families can see locomotives and loveable geese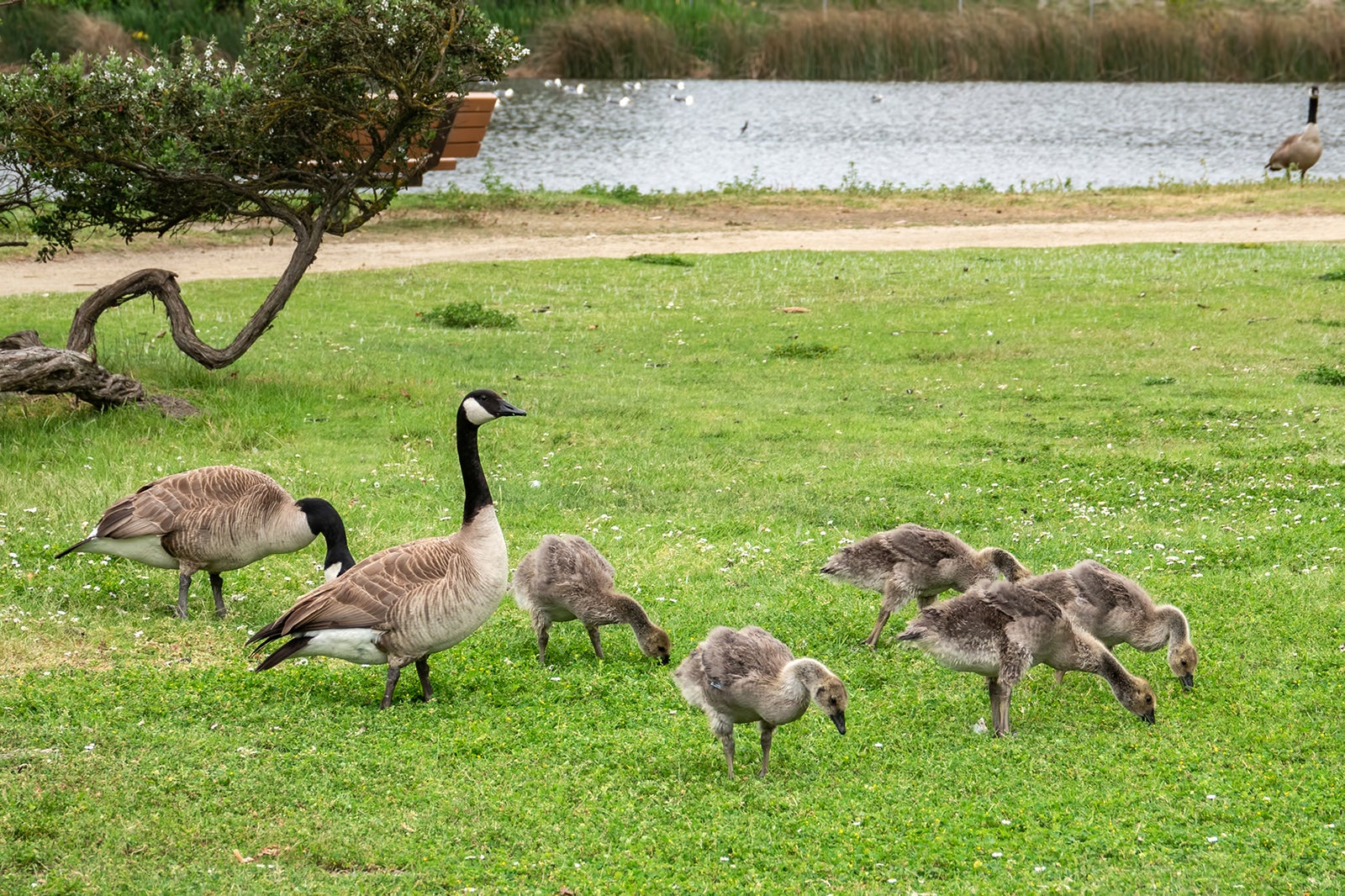 Dennis the Menace Park presents a world of hands-on fun for you and your little ones. Just a single block back from Del Monte Beach, it's easy to get to from the bustling promenades of Monterey. Inside, you've got tunnels and swinging bridges and challenging climbing frames with corkscrewing slides to keep the more energetic travellers busy.
History buffs will also love it, mainly for that vintage Southern Pacific locomotive. It takes pride of place, showcasing its classic steel chassis from the 1920s. To the north, you can hop on curiously themed pedalo boats on the El Estero lake to cycle the waters on an oversized rubber ducky.
Location: 725 Pearl St, Monterey CA 93940, USA
Phone: +1 831-646-3860
9
Carmel
Where historic Spanish missions meet talcum-white beaches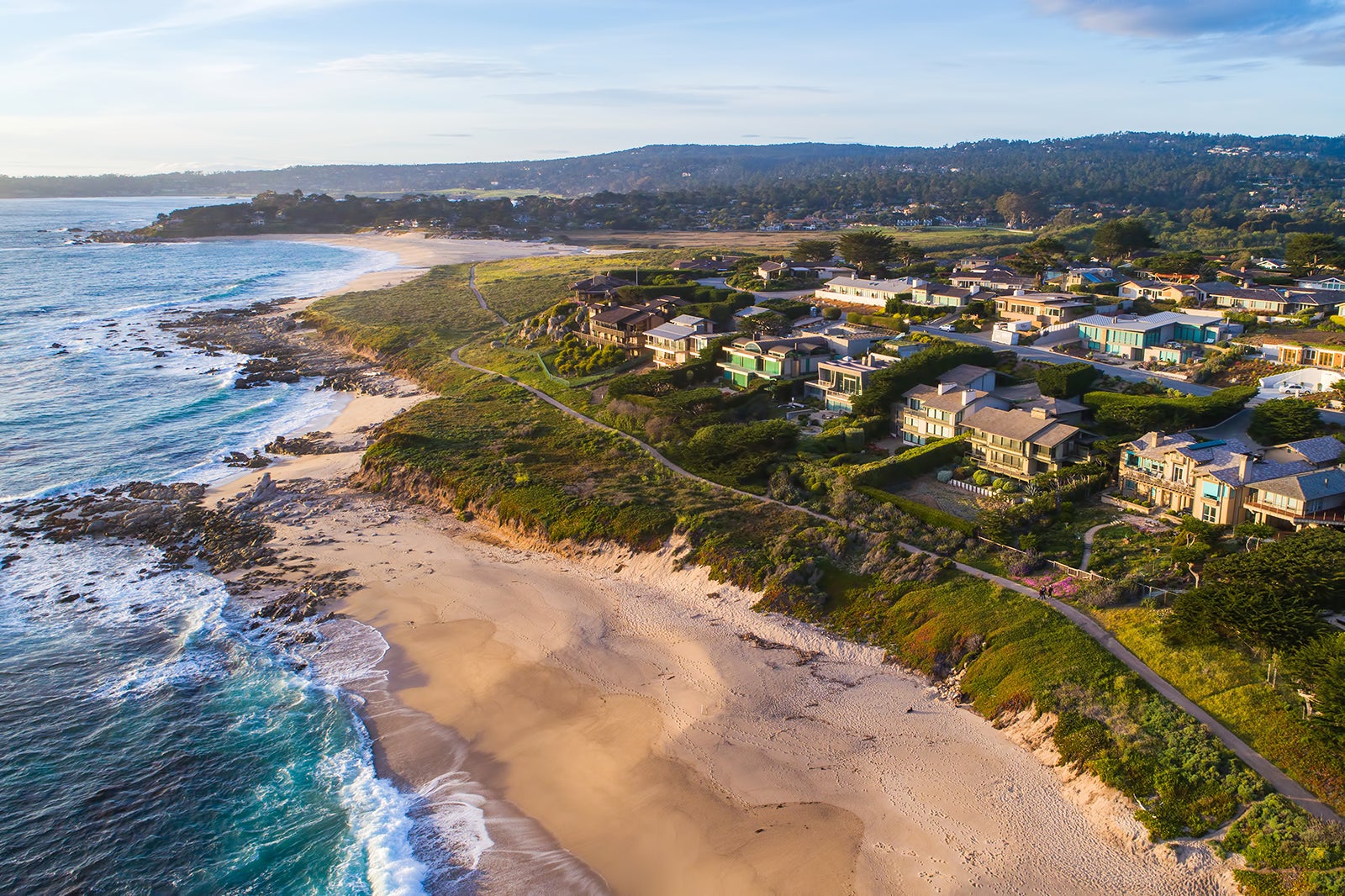 Carmel is a well-to-do seaside resort that occupies a beautiful little corner of the Cali coast, between Point Lobos and Pebble Beach. You can get there within a 15-minute drive from Monterey's centre. It's an excursion worth making, if only for the glowing white hue of the local beach.
However, Carmel also has some curious quirks up its sleeve. For starters, the local dogs are treated like royalty – some are even pretty accomplished surfers when they get on the waves. Dotting the blocks are kitschy little Comstock cottages, most of which have fairy-tale-like roofs and high stone chimney stacks.
Location: Carmel-By-The-Sea, California 93923, USA
10
Cannery Row
Stroll the buzzing district made famous by John Steinbeck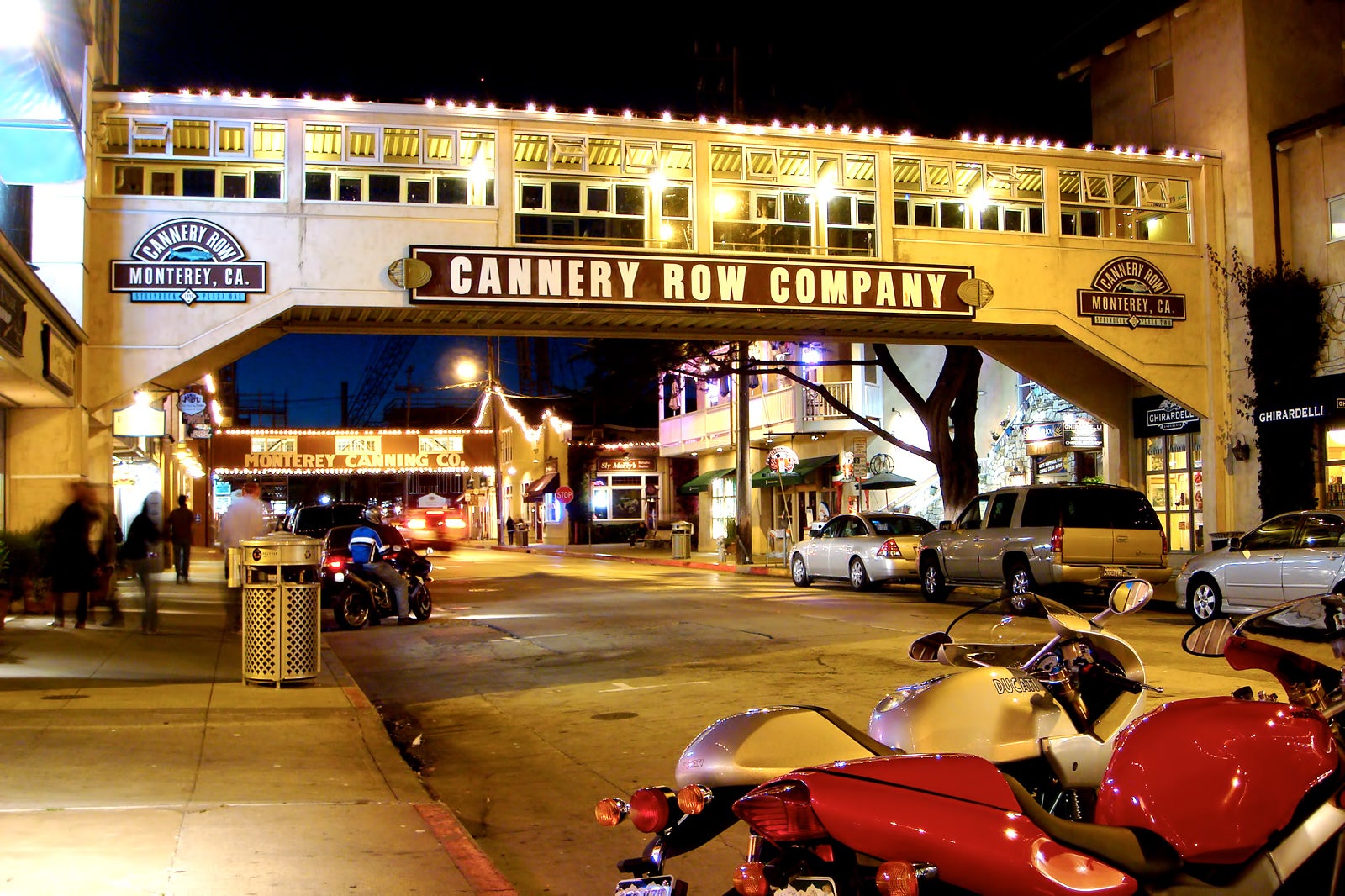 Once known as Ocean View Avenue, Cannery Row was the gritty industrial heart of Monterey's fish port. It strings along the side of the city, facing the Pacific with its old depots and factories, all of which were made famous by John Steinbeck's 1945 novel that gave the street it's new moniker.
These days, it's a must-see spot for all visitors to Monterey. A hubbub of funky eateries and slick hotels, food festivals and farmer's markets, the strip beats with life. During the day, drop in for strolls down to McAbee Beach for encounters with starfish and crabs. By night, come for the neon-lit cocktail bars and craft beer pubs.
Location: Cannery Row, Monterey, CA 93940, USA
photo by Amadscientist (CC BY 3.0) modified
Back to top