10 Best Shopping in Albuquerque
Where to Shop in Albuquerque… and What to Buy
The best shopping in Albuquerque, New Mexico, draws from a has a very diverse scene, ranging from large shopping malls offering popular brands to quirky shops selling handcrafted souvenirs and clothes. The city has a distinctive New Mexican identity, which is reflected in the adobe shops and art galleries of the historic Old Town. Here, you can shop for quality Native American jewellery and local artwork at excellent prices.
Modern stores dot the city's bustling neighbourhoods like Uptown and Downtown, while indie boutiques are concentrated around the Nob Hill area. If you're travelling (and shopping) with kids in tow, the city's shopping malls often have indoor entertainment centres, such as games arcades, bowling alleys and playgrounds to keep them busy. Check out our guide to the best shopping in Albuquerque – we've also included a couple of must-buys if you're on the hunt for unique mementoes of your visit.
1
Old Town
Check out shops selling antique jewellery and pottery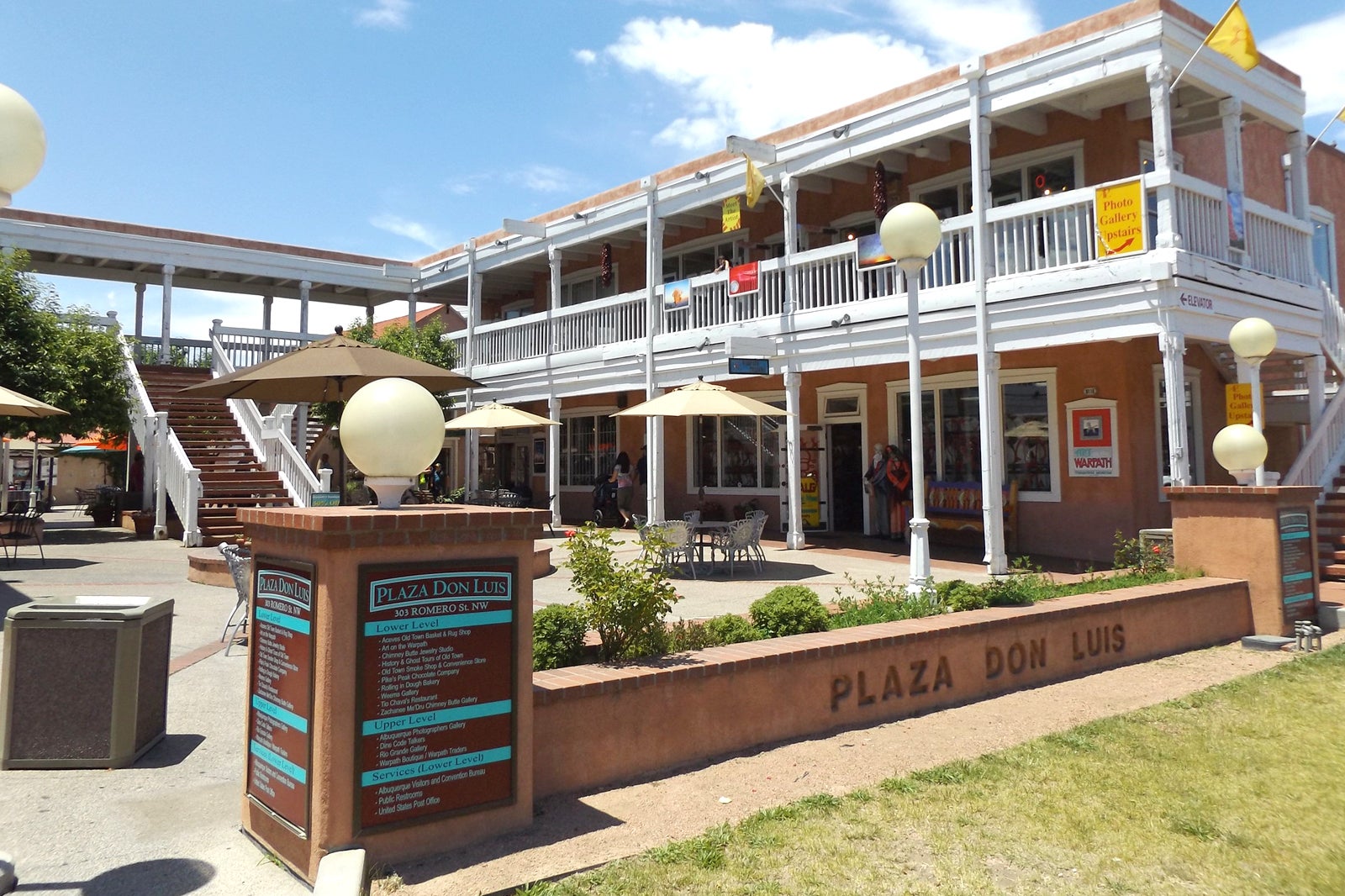 Albuquerque's Old Town has dozens of shopping and dining options surrounding its plaza, located between Rio Grande Boulevard and Downtown. The historic district attracts photographers with its adobe and territorial-style buildings, many of which are converted into restaurants, shops, and fine art galleries. Must-visits include the Albuquerque Photographers Gallery, Blue Portal Gallery, and the Penfield Gallery of Indian Arts.
If you're looking for unique souvenirs, Gertrude Zachary and Hacienda Gifts are excellent for handmade Native American jewellery, while books by local authors are available at Treasure House Books & Gifts.
Location: Old Town, Albuquerque, NM 87104, USA
photo by Doug Kerr (CC BY-SA 2.0) modified
2
Nob Hill
Indie shopping with alternative fashion and antique stores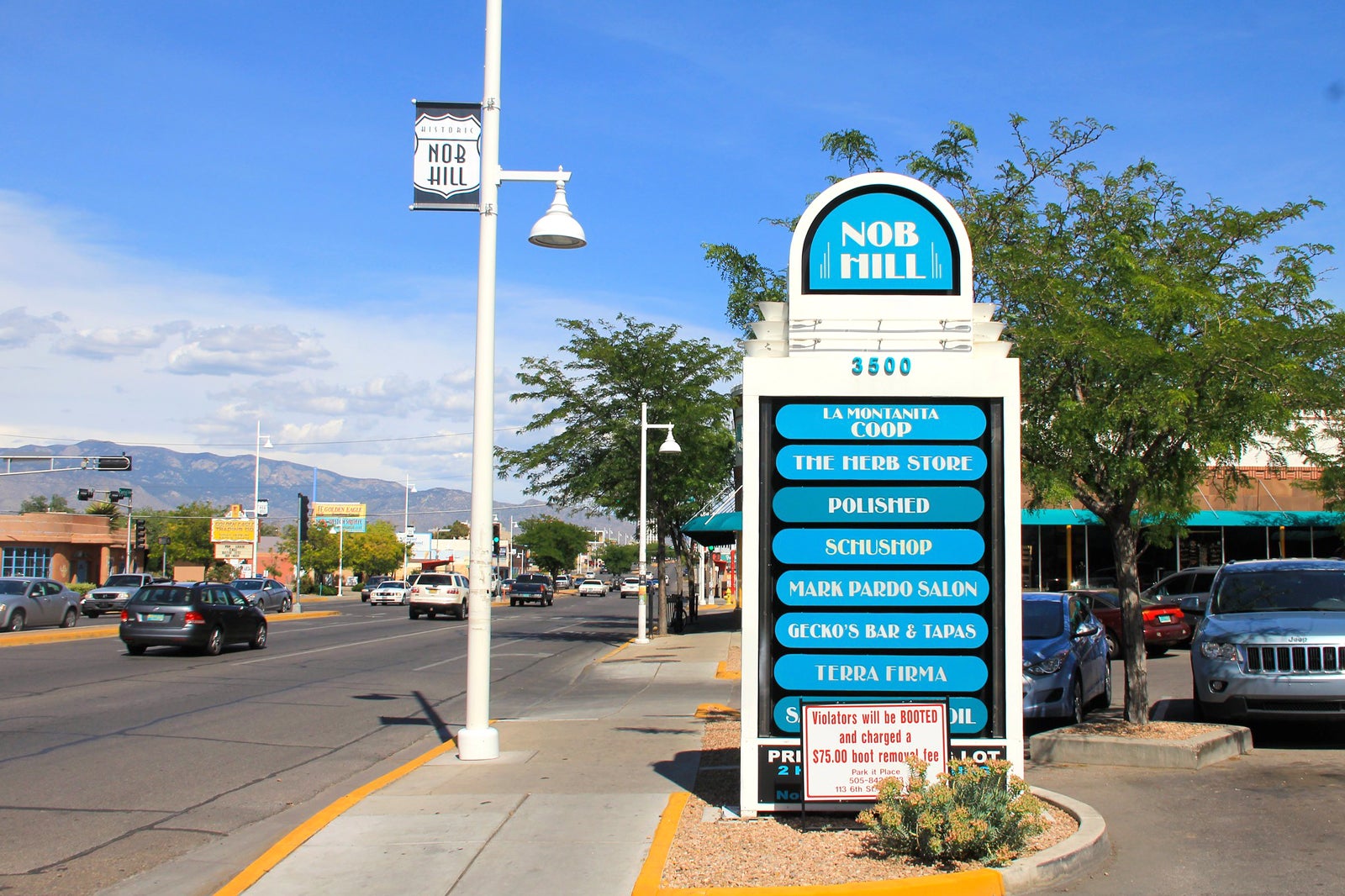 Nob Hill is a shopping district on Central Avenue (or Route 66) in Albuquerque. Shops dotting this youthful area are geared towards those looking for alternative and unique gifts. There are plenty of quirky fashion outlets and galleries to explore – Mariposa Gallery, founded in 1974, exhibits modern artworks and crafts by local artists.
In the evening, you can rest your legs by catching an independent film at Guild Cinema or enjoying a few drinks at one of Nob Hill's many brewpubs. Many events take place in the neighbourhood, including the Route 66 Summerfest in July and the Nob Hill Shop and Stroll in December.
Location: Nob Hill, Albuquerque, NM, USA
photo by Daniel X. O'Neil (CC BY 2.0) modified
3
ABQ Uptown
Shop for upscale brands at this Midtown mall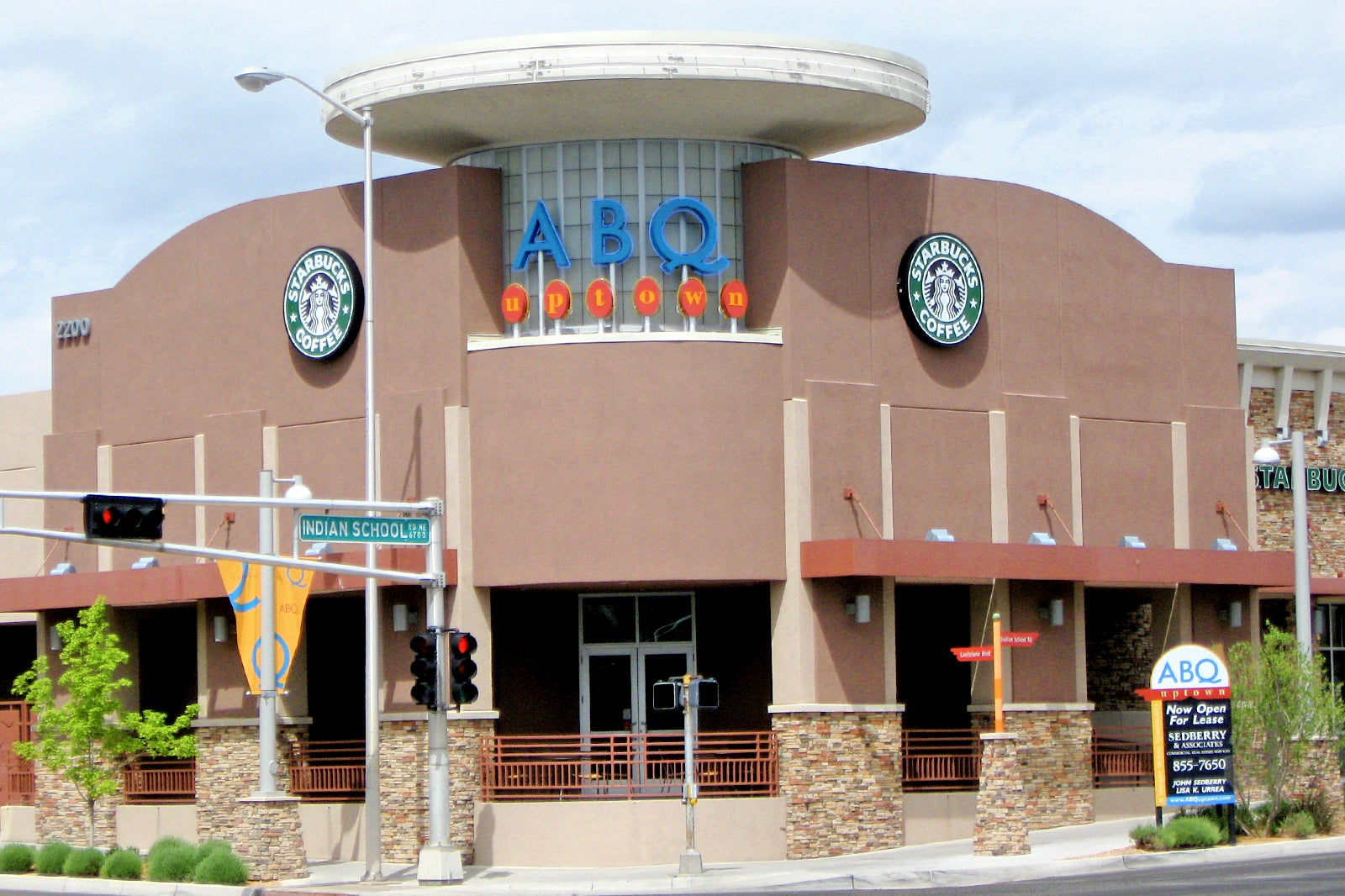 ABQ Uptown is an upscale open-air mall in Albuquerque's Midtown district. It covers around 220,000 sq ft with luxury shops, restaurants, and entertainment outlets, making it one of the largest shopping malls in the city. Popular stores include Lululemon, BCBG, Bebe, Williams Sonoma, and J Crew, just to name a few.
It's very pedestrian-friendly, with most of its restaurants offering alfresco dining sections. On warmer days, kids can enjoy the mall's outdoor splash fountain – be sure to bring a change of clothes and towels. You can find ABQ Uptown on Louisiana Boulevard, less than half a mile southeast of Coronado Center.
Location: 2200 Louisiana Blvd NE, Albuquerque, NM 87110, USA
Phone: +1 505-792-1929
4
EXPO New Mexico Flea Market
The oldest market in Albuquerque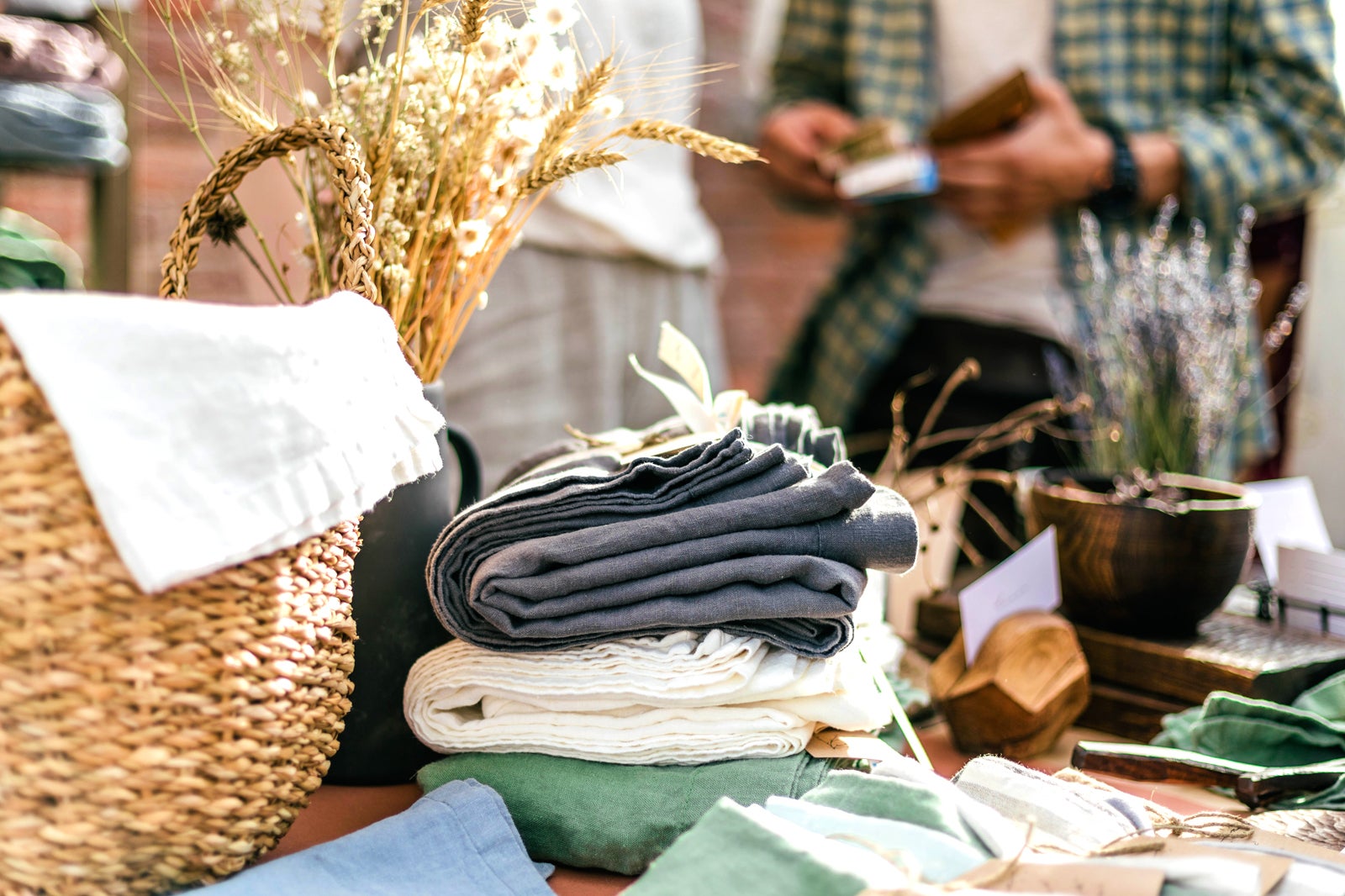 The EXPO New Mexico Flea Market is one of the state's largest open-air markets, with over 1,300 vendors selling their wares at the 25-acre Expo New Mexico Fairgrounds. It takes place on weekends and gets very busy around midday, so it's a good idea to get there early in the morning to avoid crowds.
You can find a huge variety of wares here, from handmade jewellery, home décor and clothes to fresh produce, baked items, and ready-to-eat meals. To make shopping accessible for everyone, the EXPO New Mexico Flea Market offers wheelchairs, wagons, and walkers for rent.
Location: EXPO New Mexico, 300 San Pedro NE, Albuquerque, NM 87108, USA
Open: Saturday–Sunday from 7 am to 3 pm (closed Monday–Friday)
Phone: +1 505-319-2849
5
Winrock Town Center
An open-air mall in Midtown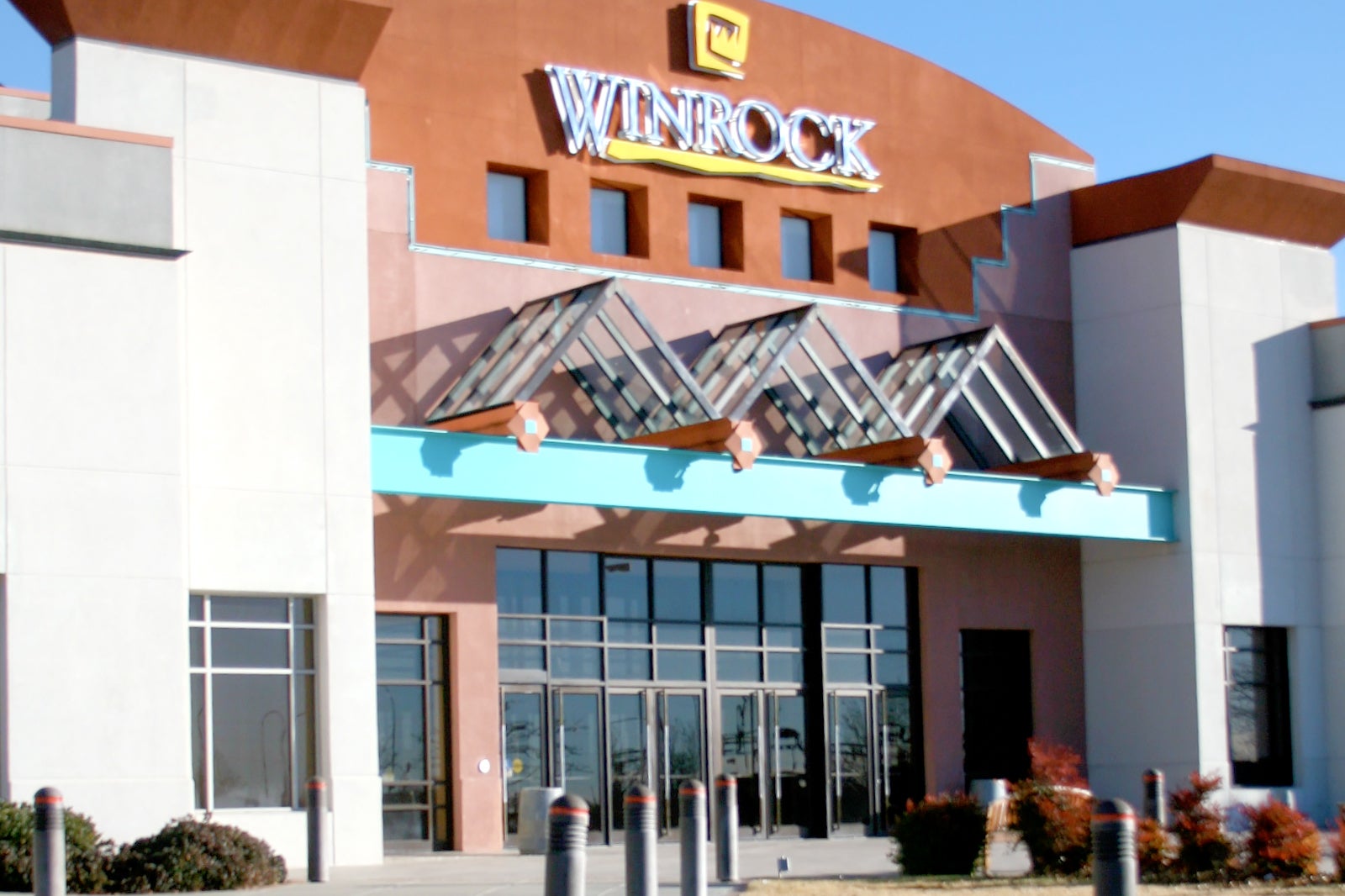 Winrock Town Center offers a wide range of shopping, dining, and entertainment options in the Midtown neighbourhood of Albuquerque. This open-air shopping mall has prominent fashion stores like Nordstrom Rack, Skechers, Dillard's and TJ Maxx, along with the 16-screen IMAX and RPX Theatre, an outdoor concert venue, and a park.
Restaurants can be found within a 220,000-sq-ft building called The Corner at Winrock. Enjoy excellent pizzas at Sauce Pizza & Wine, upscale Japanese cuisine at Takumi Restaurant, and classic American burgers at Burger 21.
Location: 2100 Louisiana Blvd NE #51, Albuquerque, NM 87110, USA
Open: Monday–Saturday from 10 am to 9 pm, Sunday from 10 am to 6 pm
Phone: +1 505-883-6132
photo by Neutralsurface (CC BY-SA 3.0) modified
6
Cottonwood Mall
A shopping centre near the Petroglyph National Monument
Cottonwood Mall is one of the largest shopping outlets in New Mexico, housing over 100 stores covering fashion, household items, sporting goods, toys and hobbies. The mall's anchor tenants include the JCPenney and Dillard's department stores. Familiar brands include American Eagle Outfitters, Old Navy, Victoria's Secret, and Sephora.
For dining, there's a food court and various chain restaurants such as Auntie Anne's Pretzels, Dairy Queen, Burger King, and Johnny Rockets. You can also catch the latest films at Regal Cinemas. Families with kids can take a break from shopping at the onsite Animal Park & Ride and Build-A-Bear Workshop. You can find Cottonwood Mall around 6.4 miles northeast of the Petroglyph National Monument.
Location: 10000 Coors Bypass NW, Albuquerque, NM 87114, USA
Open: Monday–Saturday from 11 am to 7 pm, Sunday from 12 pm to 6 pm
Phone: +1 505-897-6571
7
Rail Yards Market
Shop for handicrafts at this art market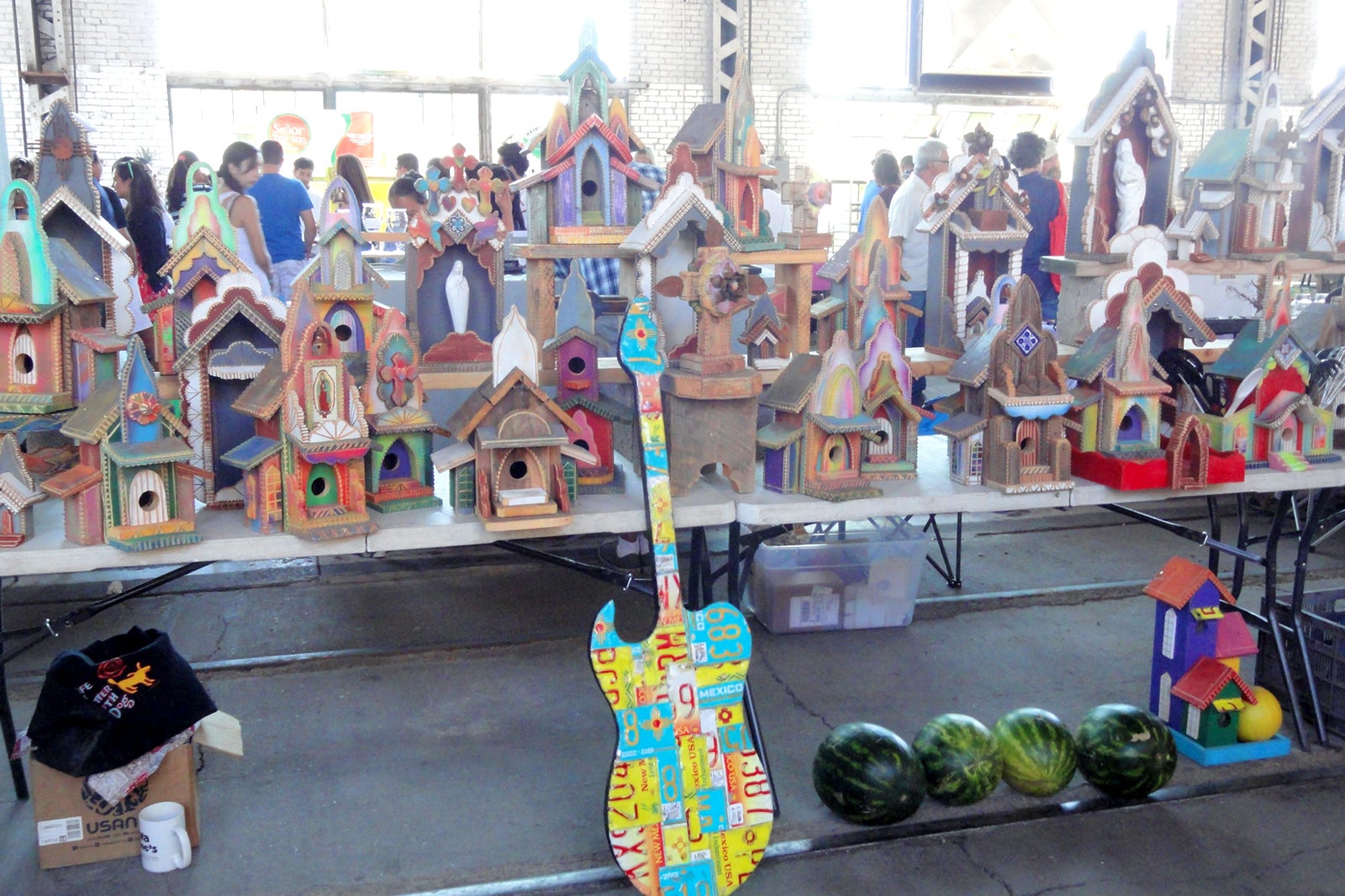 The Rail Yards Market is only open on Sundays from May to October, occupying a former railroad repair shop in Albuquerque. Local artisans often gather and showcase their handmade creations, such as T-shirts, jewellery, home décor, and organic beauty products.
The Rail Yards Market also hosts local farmers selling fresh fruits and vegetables – it's a good idea to bring your own bag and carry cash with you. Food trucks and stalls dot the marketplace, making it a popular spot for lunch in Albuquerque. There are live music performances, as well as healing and demonstration zones for everyone to enjoy.
Location: 777 1st St SW, Albuquerque, NM 87102, USA
Open: May–October: Sunday from 10 am to 2 pm
Phone: +1 505-600-1109
8
Downtown Albuquerque
Browse dozens of art galleries along Central Avenue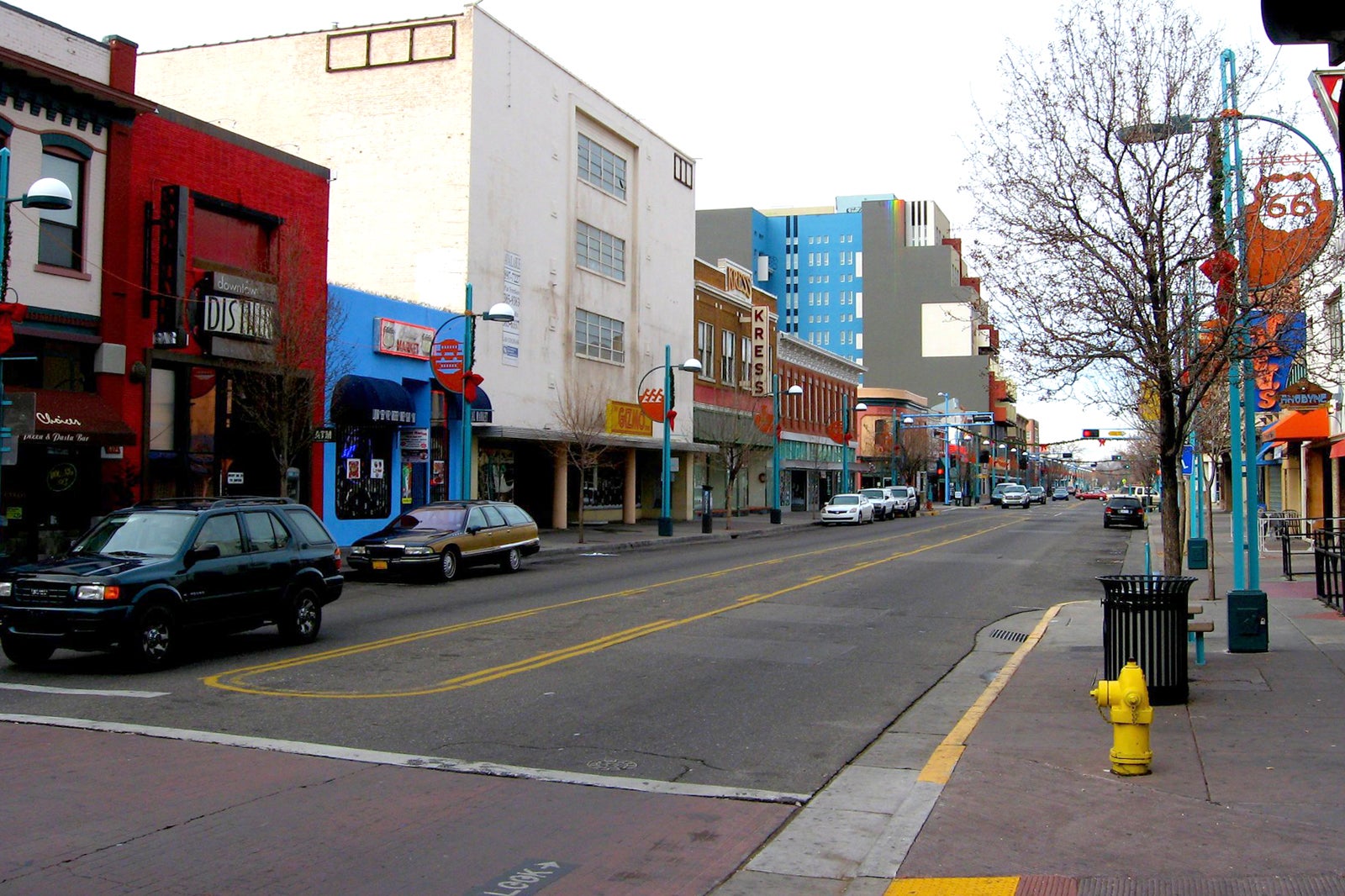 Downtown Albuquerque is the city's business hub, where you can experience a vibrant dining and nightlife scene, as well as diverse shopping opportunities. During the day, you can explore many contemporary art galleries – Sumner & Dene and Richard Levy Gallery, located on Central Avenue, both display cutting-edge artworks by established and new artists in rotating exhibitions.
If you're looking for antiques, check out Paradise Club's extensive range of vintage home decor or Sunwest Silver Company for handmade Native American jewellery. At dusk, Downtown Albuquerque offers a wealth of activities, including open-air film screenings at Civic Plaza and concerts at Kimo Theatre.
Location: Downtown, Albuquerque, NM, USA
photo by Ken Lund (CC BY-SA 2.0) modified
9
Coronado Center
A lifestyle mall with indoor entertainment in Uptown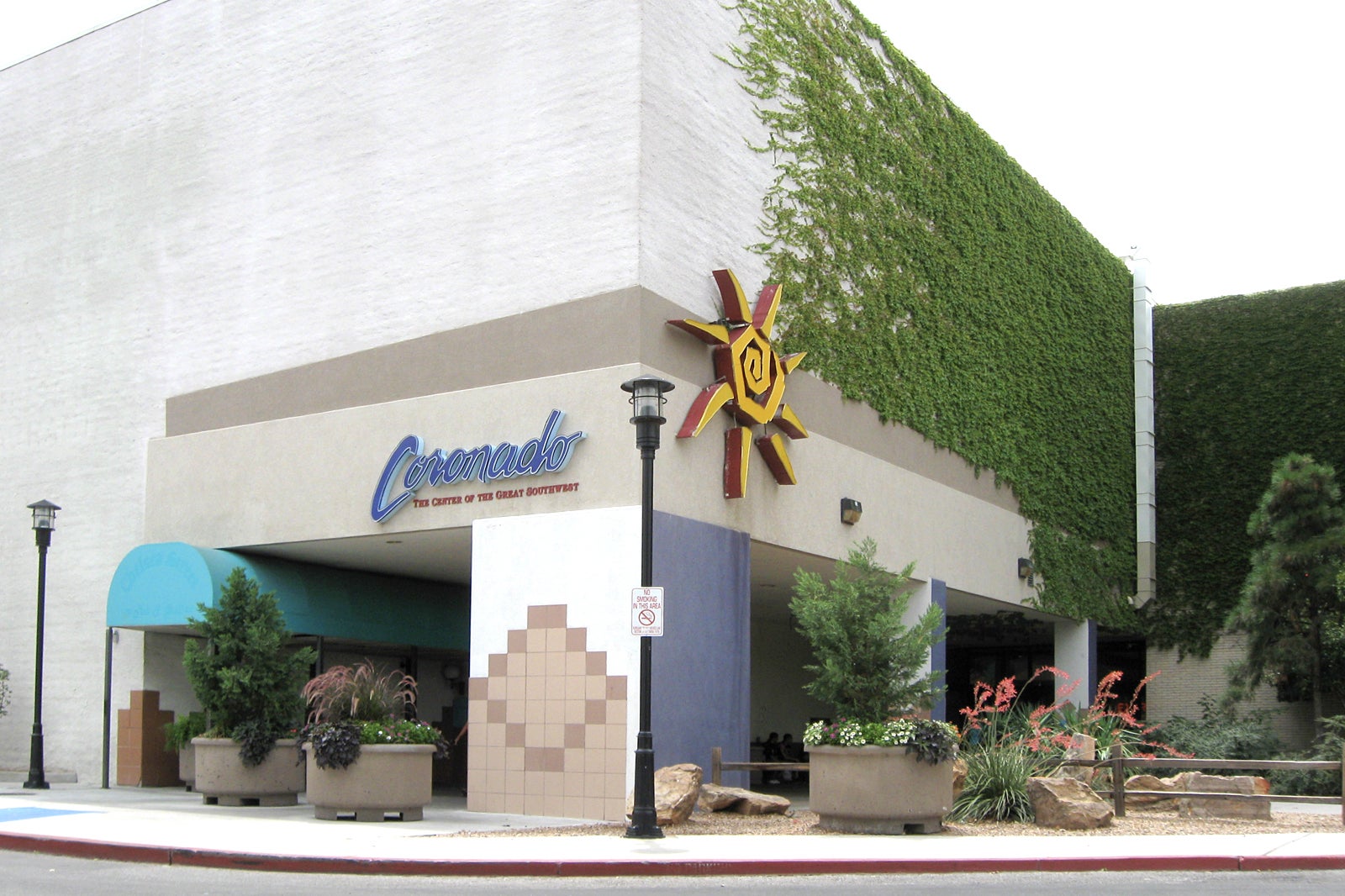 Coronado Center has around 150 retailers and 4 anchor department stores within its 2-storey premises. Along with Macy's, JCPenney, and Dick's Sporting Goods, you can find popular fashion brands such as Aerie, Forever 21, Hollister, and Urban Outfitters, as well as jewellery stores like Pandora and Kay Jewelers.
Kids can spend time at Round1, which has a bowling alley, karaoke rooms, arcade games, billiards, darts, and ping pong tables. There's also an escape room on Level 2, offering hour-long immersive puzzle room games. Coronado Center is in Albuquerque's Uptown neighbourhood, about 2.1 miles north of Expo New Mexico.
Location: 6600 Menaul Blvd NE, Albuquerque, NM 87110, USA
Phone: +1 505-881-2700
10
Downtown Growers' Market
A seasonal farmers' market in Downtown Albuquerque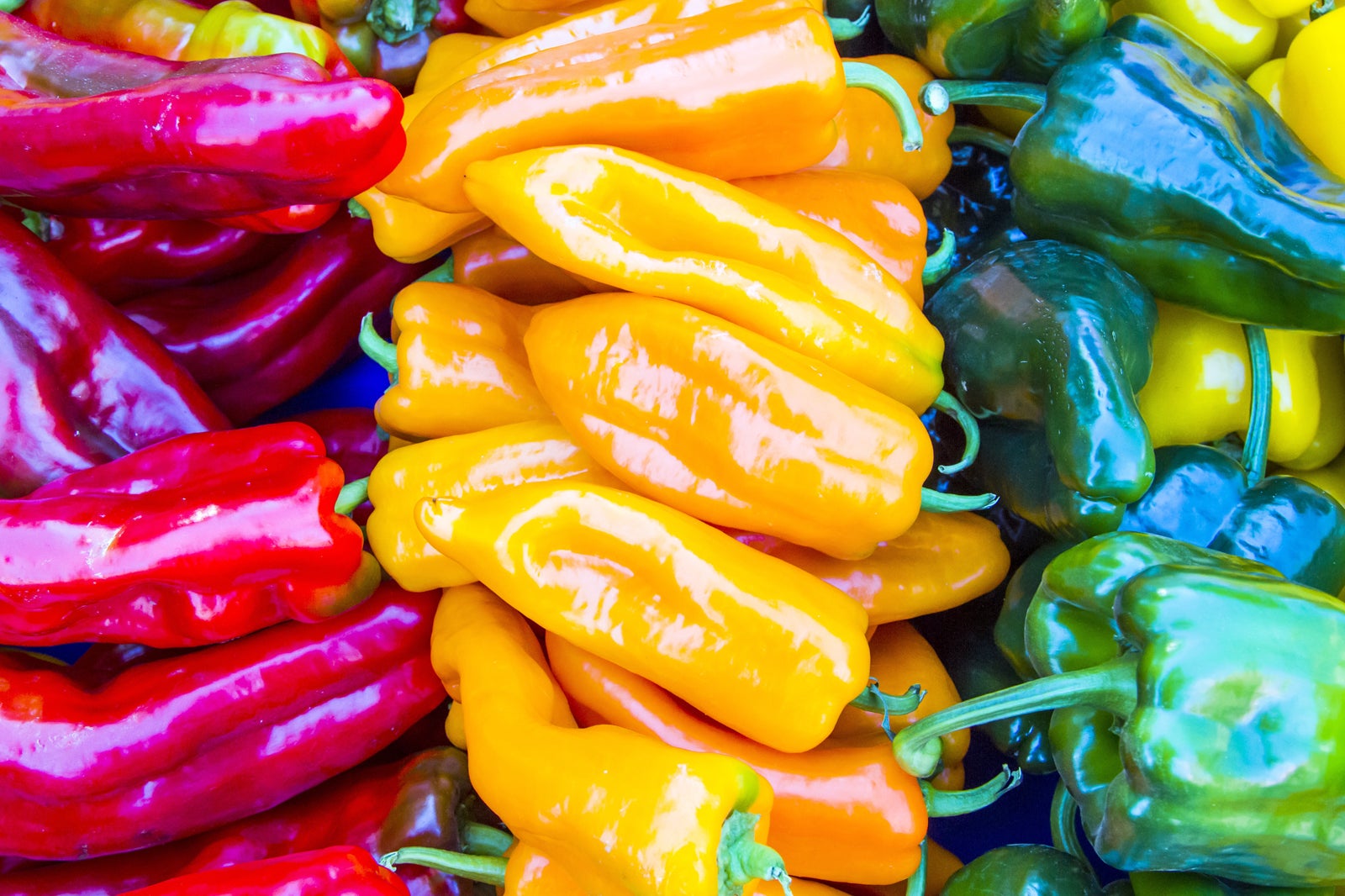 The Downtown Growers' Market takes place in Robinson Park on Saturdays from mid-April to October. It hosts dozens of booths selling fresh fruits and vegetables that come from the vendors' farms. There are also several food stalls offering baked goods and fresh juices at affordable prices. Locals often come here to shop, before unwinding on the grassy lawns and enjoying live music performances.
The market gets very packed towards the afternoon, but you can avoid crowds by getting there when it opens at 8 am. Albuquerque has a plastic-free policy, so bring your own bag and carry cash as most vendors don't accept card payment. The Downtown Growers' Market is just a short walk of Albuquerque's prominent concert venues, including Kimo Theatre and The Historic El Rey Theater.
Location: 810 Copper Ave NW, Albuquerque, NM 87102, USA
Open: Mid-April–October: Saturday from 8 am to noon
Phone: +1 505-252-2959