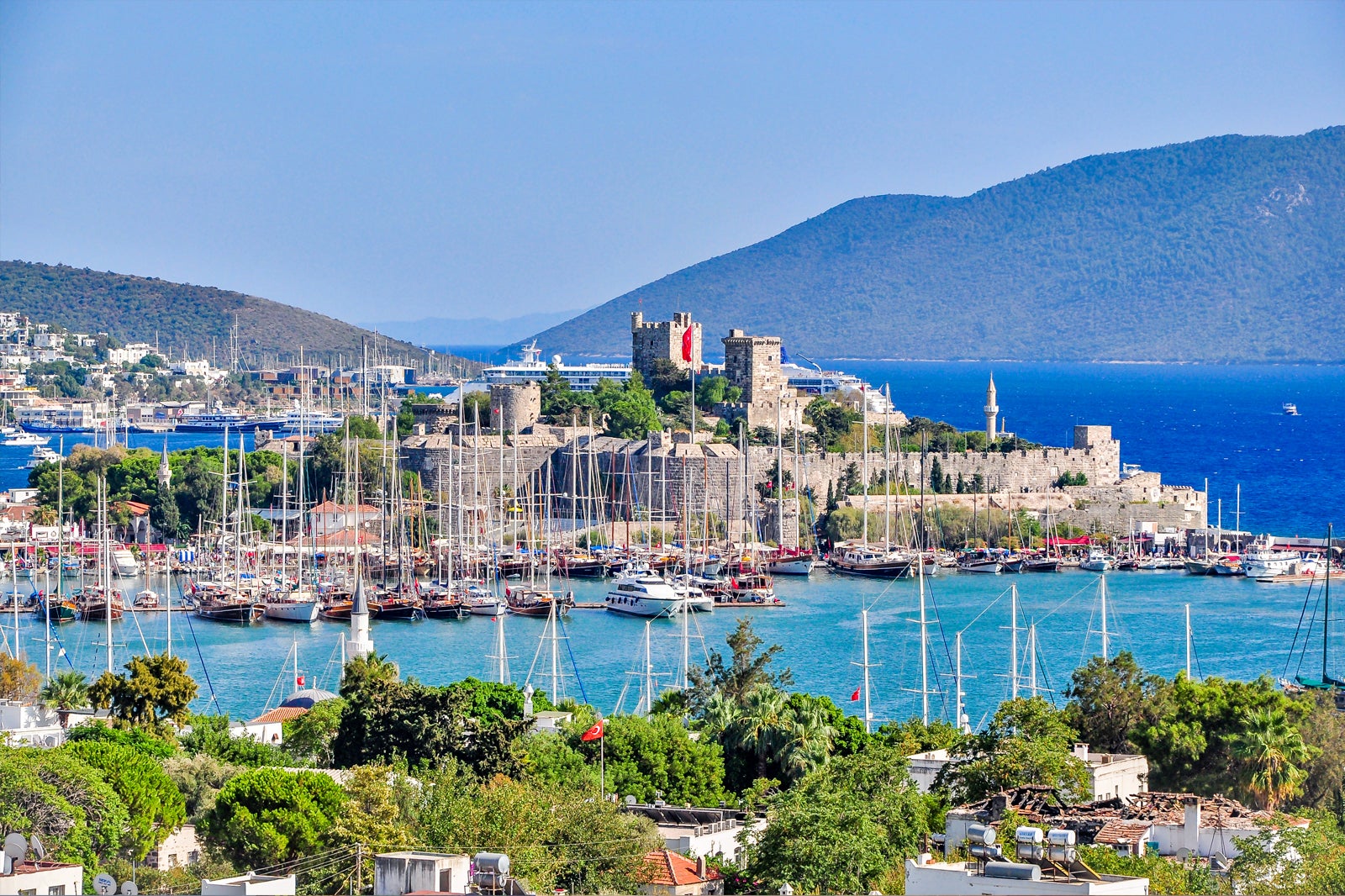 10 Ways to Save Money in Bodrum
How to Enjoy Bodrum with a Small Budget
Exploring Bodrum on a budget requires a bit of planning in advance – after all, it's among the most exclusive destinations in Türkiye. But that doesn't mean the savvy traveller can't find bargains galore in this sun-kissed seaside resort. You just have to know where to look.
And that's where we come in, with our comprehensive guide to visiting Bodrum on the cheap. From mastering public transport to finding fresh street food and exploring affordable ancient sites, read on to know how to enjoy Bodrum without breaking the bank.
1
Stock up for the week at a Migros supermarket
Shop for supplies for your entire stay
Picture Migros as kind of like Türkiye's answer to Tescos: quality goods at rock-bottom prices. And the Swiss mega-retailer has certainly made serious inroads into Bodrum, with almost a dozen different branches in and around the city. Outlets range from cosy corner stores to warehouse-sized mega markets, all of which offer very reasonable prices.
If you've got the option to self-cater in your accommodation or you're prone to packing a picnic lunch, then a trip to Migros at the start of your trip will save you a considerable amount of lira.
photo by Josbert Lonnee (CC0 1.0) modified
2
Check out Bodrum's museums
Admire arts and history for around 25 lira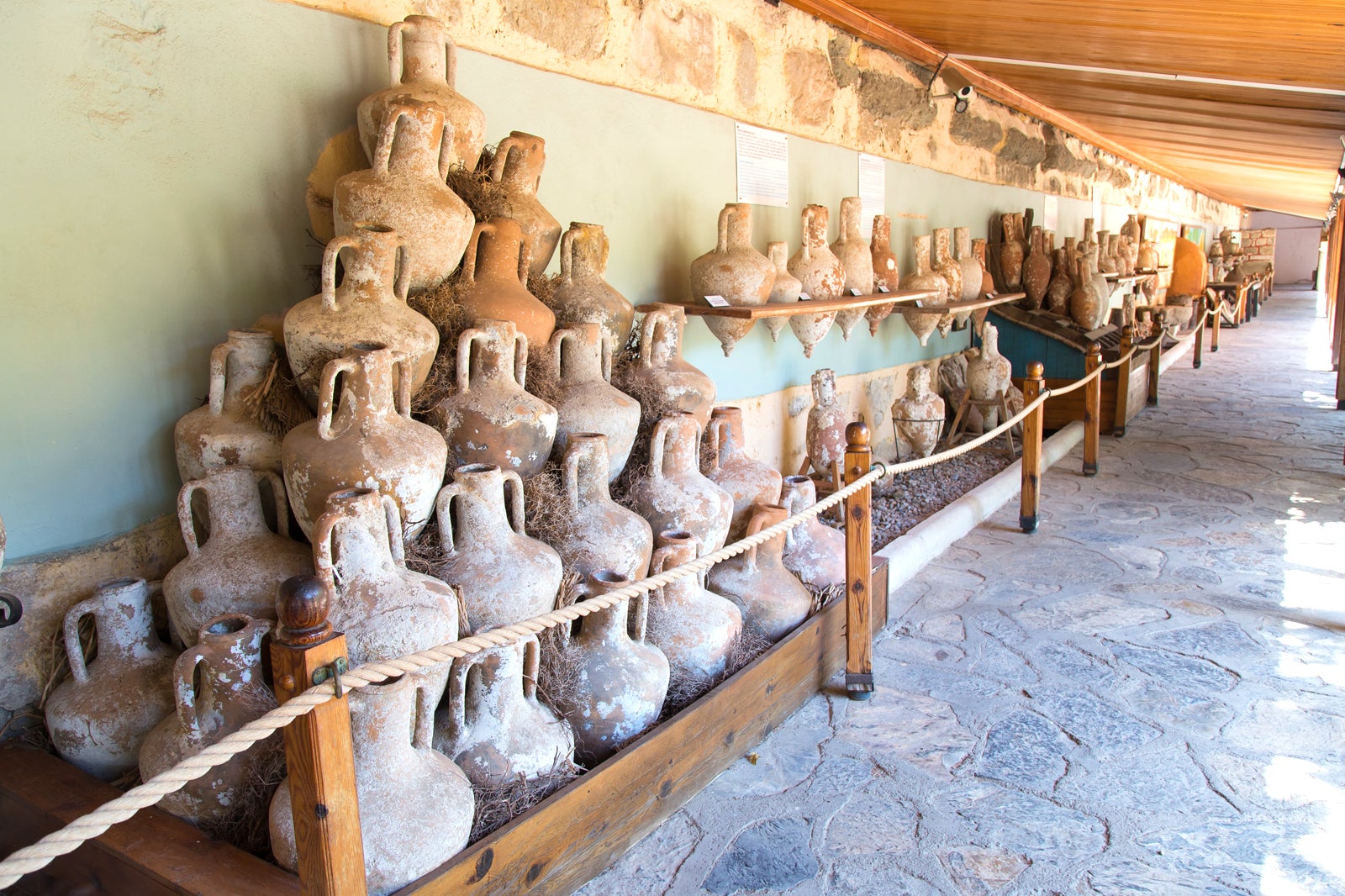 Bodrum's museums are as interesting as they are abundant – the port city played a pivotal role during the reign of the Persian Empire. But these museums are more than just an ode to its ancient past – you'll find just about everything, from art galleries to nautical exhibitions around town.
The Museum of Underwater Archaeology is a hit for its collection of seafaring artefacts and time-worn shipwrecks. Music lovers would be mad to miss the Zeki Muren Arts Museum, where eccentric exhibits pay homage to Türkiye's greatest pop star. And then there's the Bodrum Maritime Museum, with its aquatic species, conical seashells, and contemporary sailing ships.
3
Visit Bodrum's ancient sites
See magnificent landmarks around the peninsula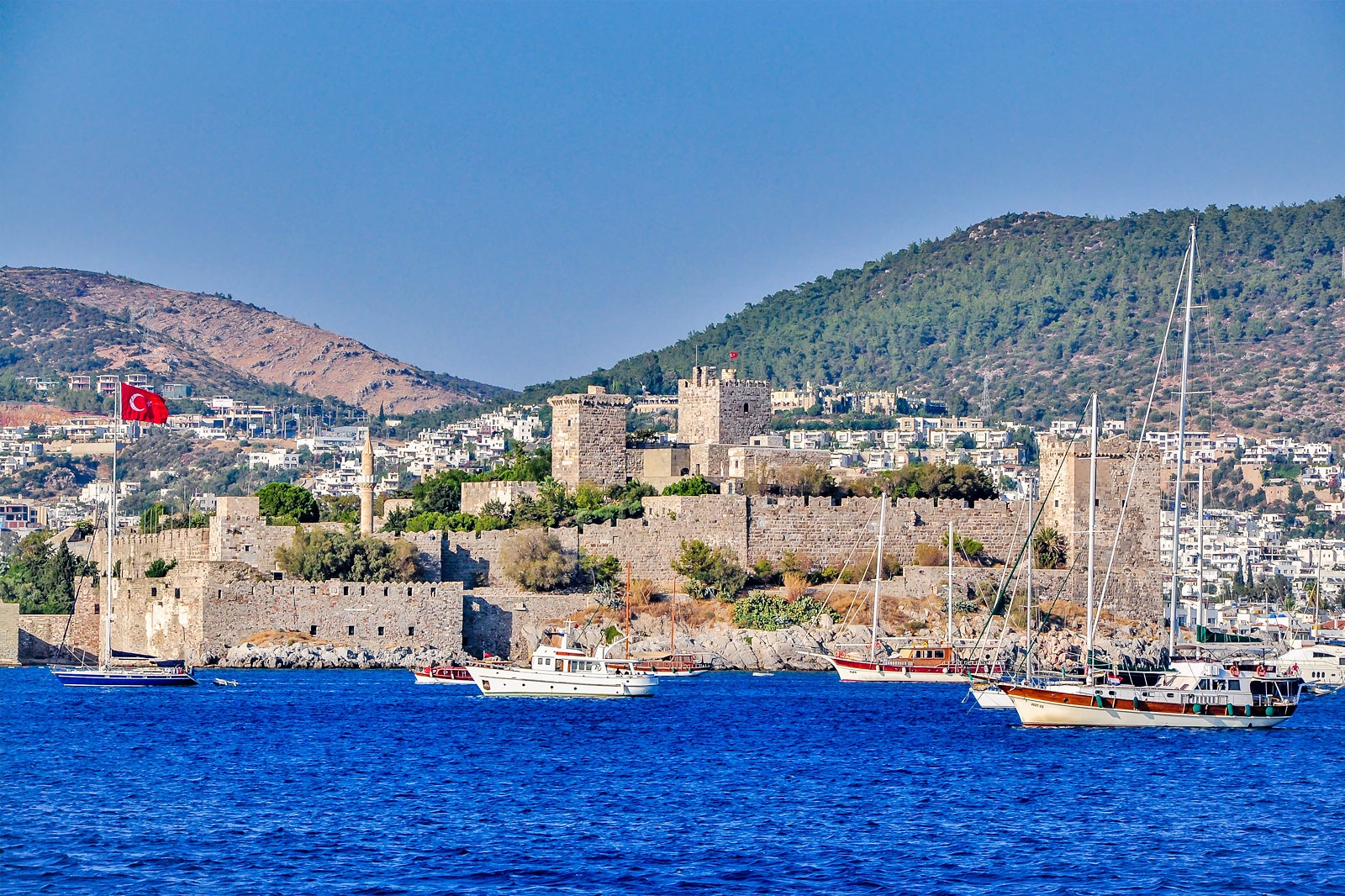 Bodrum's historic sites are refreshingly budget-friendly, even though some are world-famous and date back 2 millennia or more.
The Castle of Saint Peter, also known as Bodrum Kalesi, occupies a picturesque position on a peninsula overlooking the Aegean Sea. The 15th-century construction is steeped in history, serving as a prison, a fortress, and a village over the years. Another must-visit is the Tomb of Mausolus, which was built way back in the 4th century BC – it's recognised as one of the Seven Wonders of the Ancient World. Be sure to check out the Bodrum Amphitheatre as well, which was erected in the same era and remains one of the best-preserved buildings of ancient Halicarnassus.
4
Bodrum bazaars
Bargain hard for fashion items and souvenirs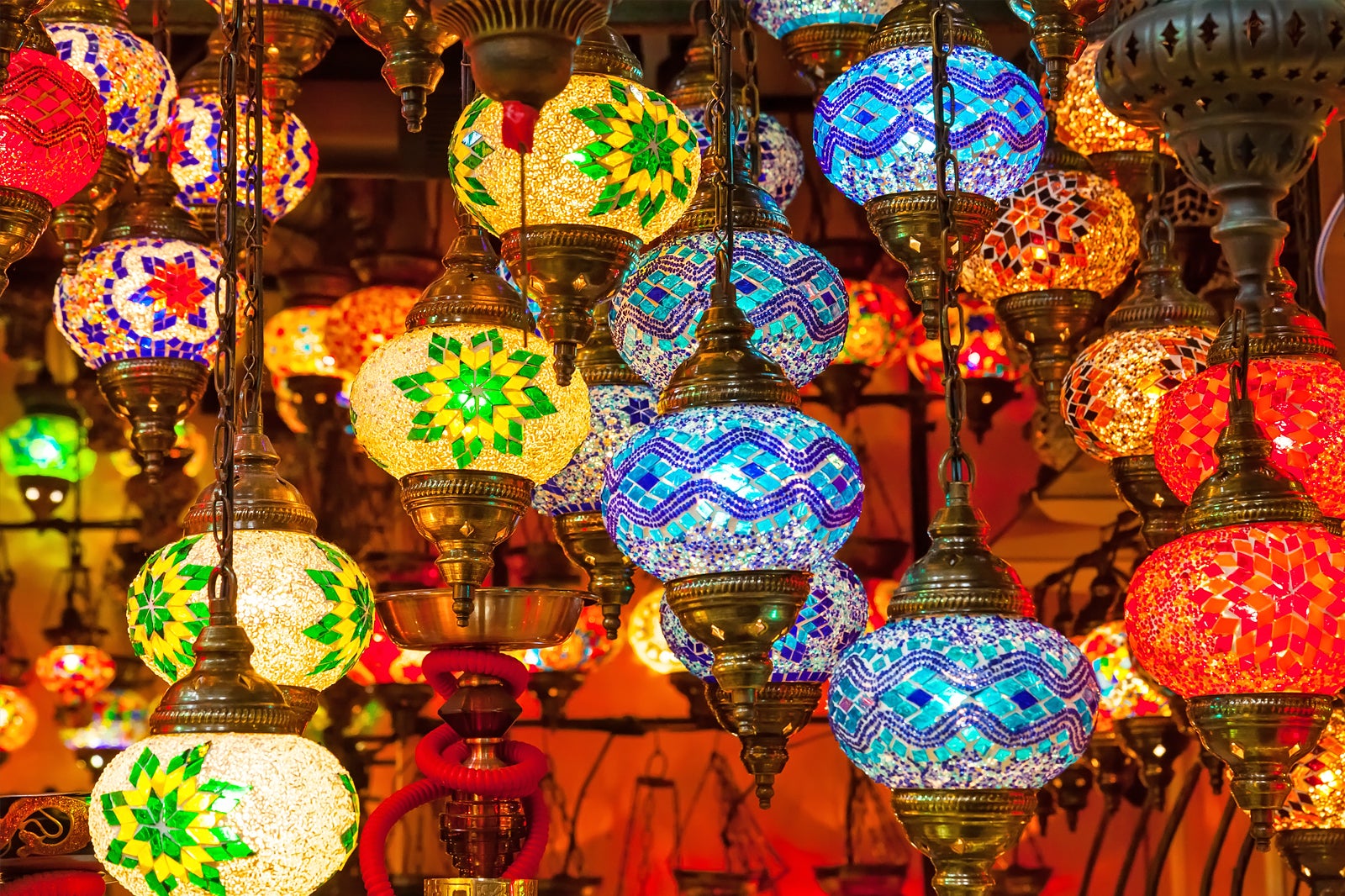 Bodrum bazaars are among the top spots in the city for budget travellers to get their retail fix. It takes place at a different part of Bodrum City on each day of the week, so it's a good idea to check with a local beforehand. You'll find all sorts of goodies within this haphazard ensemble of frantic shops and stalls, from artisanal souvenirs to knock-off fashion, and everything in between.
Of course, you'll need to bargain hard to snag a deal as the vendors expect a stiff negotiation to accompany every sale. But with a little patience and perseverance – and don't forget to crack a smile – you'll find the wares here to have the best value in the city. So give Bodrum's designer boutiques and upmarket malls a miss and check out its bustling bazaar instead.
5
Hit up Bodrum Peninsula's beaches
Seaside getaways on the Aegean coast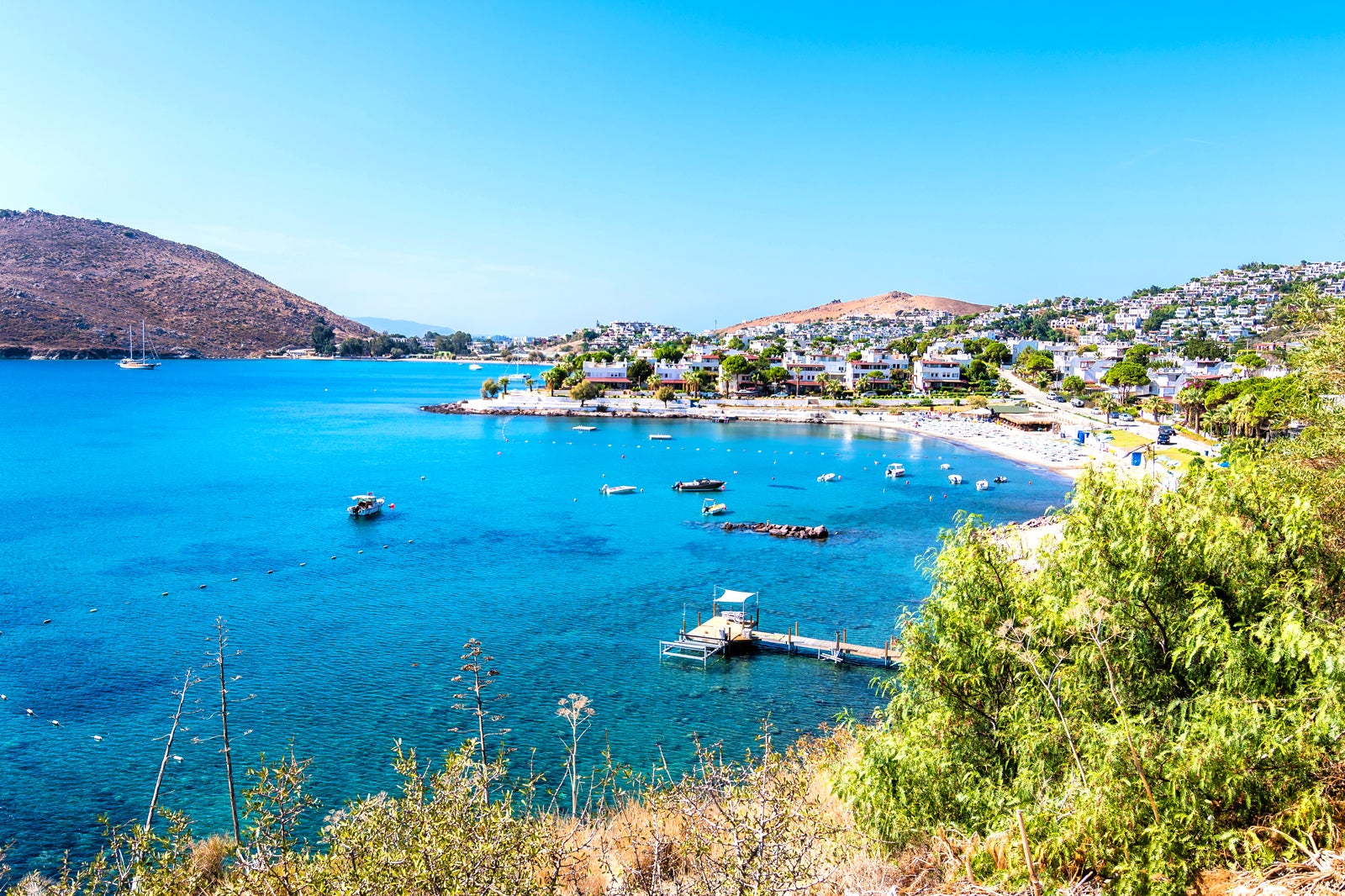 Beach bumming is one of Bodrum's best pastimes, with several golden sandy stretches for you to lay a towel down. The region has an impressive 67 Blue Flag beaches – pristine coastlines come standard just about everywhere you go in this part of Türkiye.
Try Gümüşlük for a local vibe and tasty seafood, Fener beach for adrenaline-pumping kitesurfing, and Karaincir or Gümbet for calmer waters and family-friendly fun. Long-distance taxis are expensive in Bodrum so rent a car or jump on a dolmus (shared taxi) instead. Beachfront restaurants are also on the pricey side – you'll save a lot of lira by packing a picnic lunch.
6
Have an affordable hamam experience
From the many Turkish spas around town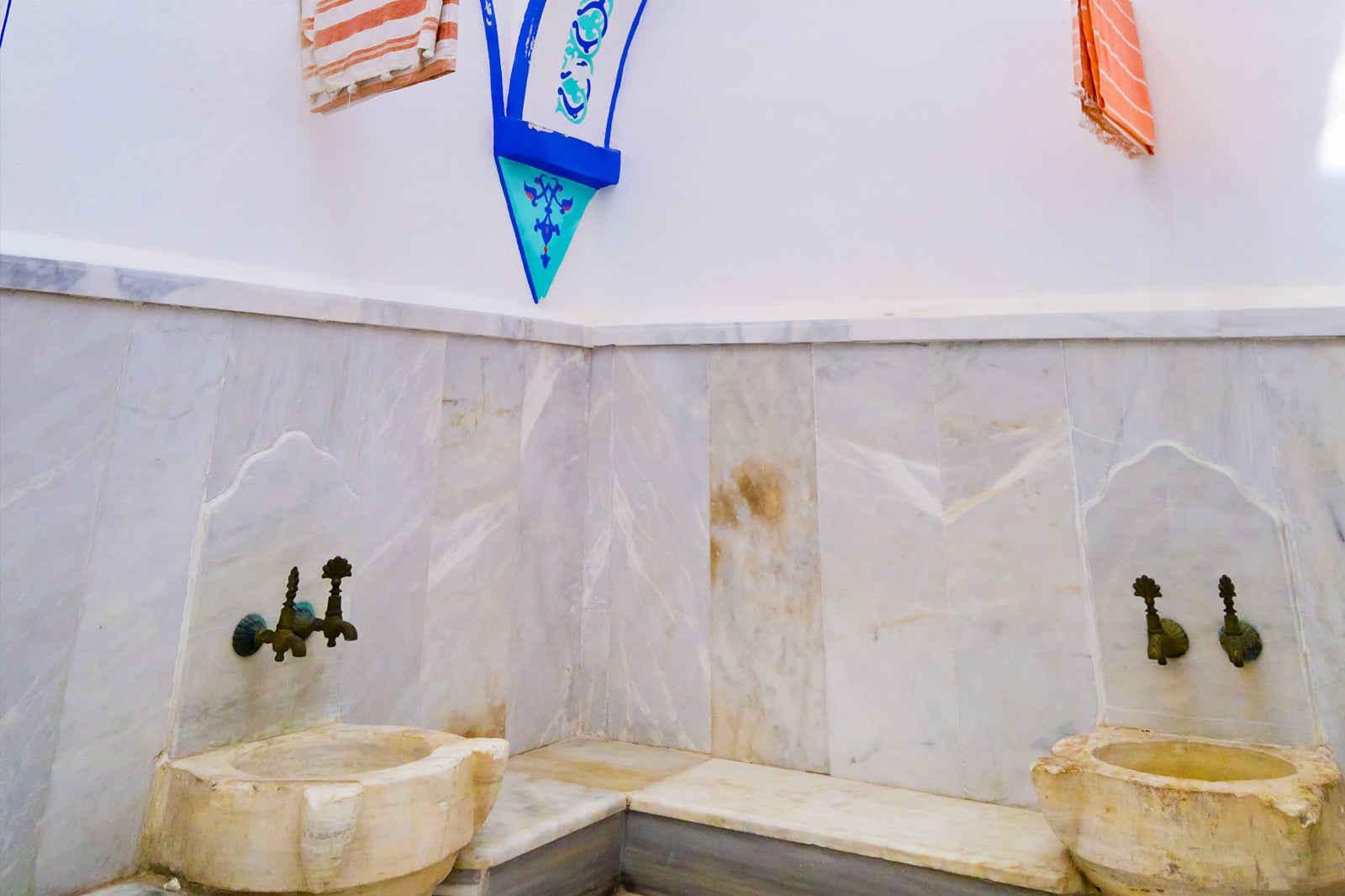 A traditional Turkish hammam provides a proper good pampering, and the process is probably less expensive than you think. Just avoid the luxury spa facilities of the big hotels as these services certainly don't come cheap.
A more authentic and budget-friendly option is Bodrum Hammam, where curt masseuses doll out no-nonsense treatments to a mostly local crowd. But the cream of the crop is Bardakçı Hamam, a charming establishment that's been operating as a Turkish bath since the 1700s – the oldest in Bodrum. This unassuming locale isn't exactly luxurious, but it's affordable and 100% authentic.
7
Take the dolmus
Get around Bodrum as the locals do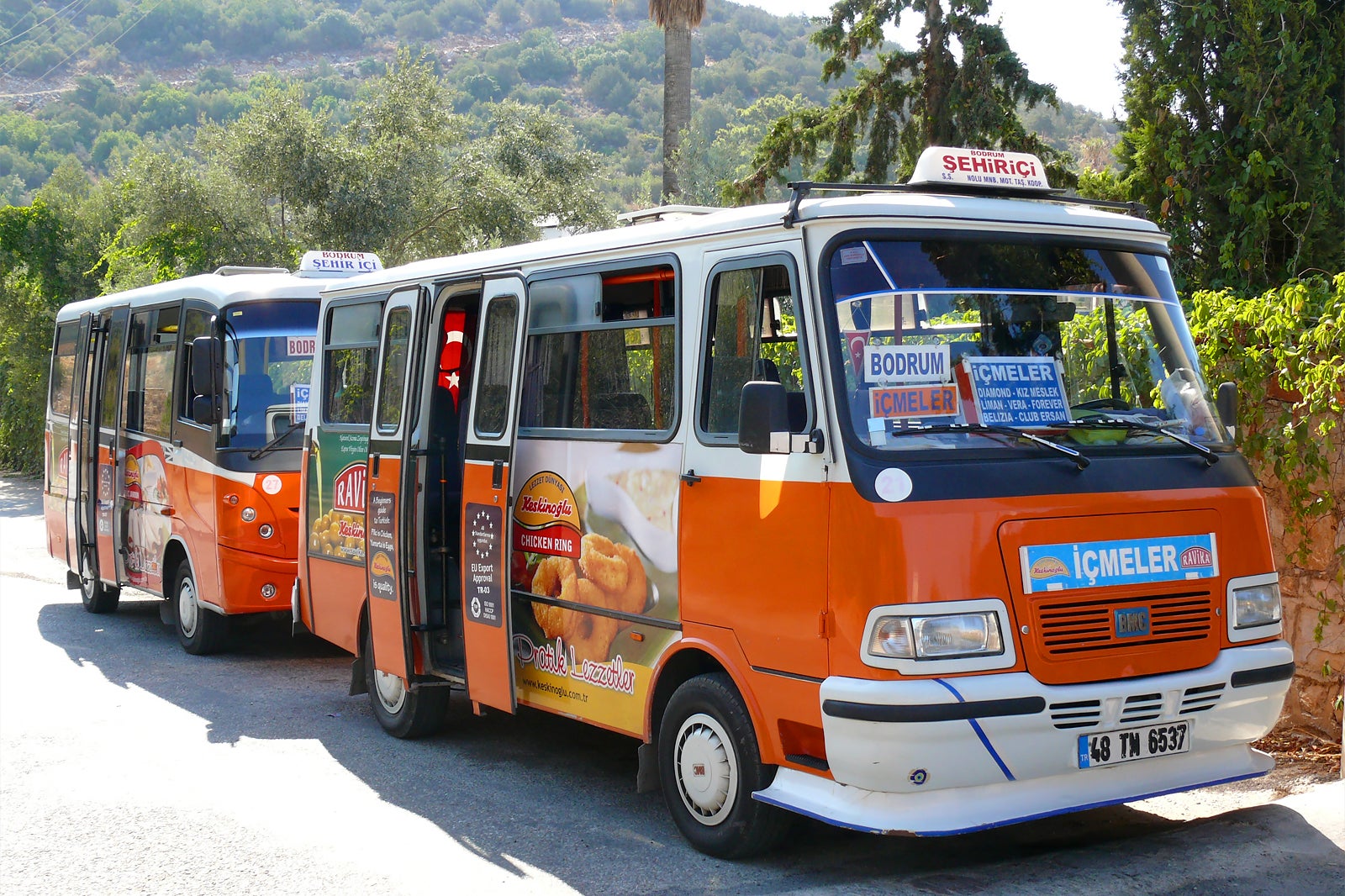 The dolmus (pronounced 'doll-moosh') is a shared taxi that serves as the primary form of public transportation between Bodrum's provincial towns. Its name translates to 'stuffed,' so don't expect a whole lot of legroom in these ram-packed rides. Of course, they're charmingly authentic and incredibly cheap (think under 5 lira per trip).
The dolmus follows a fixed route, and you have to hop on or off at the pre-defined bus stops. Bring small change and keep an eye out for signs on the windshields which dictate the routes and fares. The government-run Muğla Büyükşehir buses operate on similar routes, offering a more orderly but sterile option.
photo by Ad Meskens (CC BY-SA 3.0) modified
8
Book an apart-hotel in Bodrum or Bitez
Staying in Bodrum doesn't have to be expensive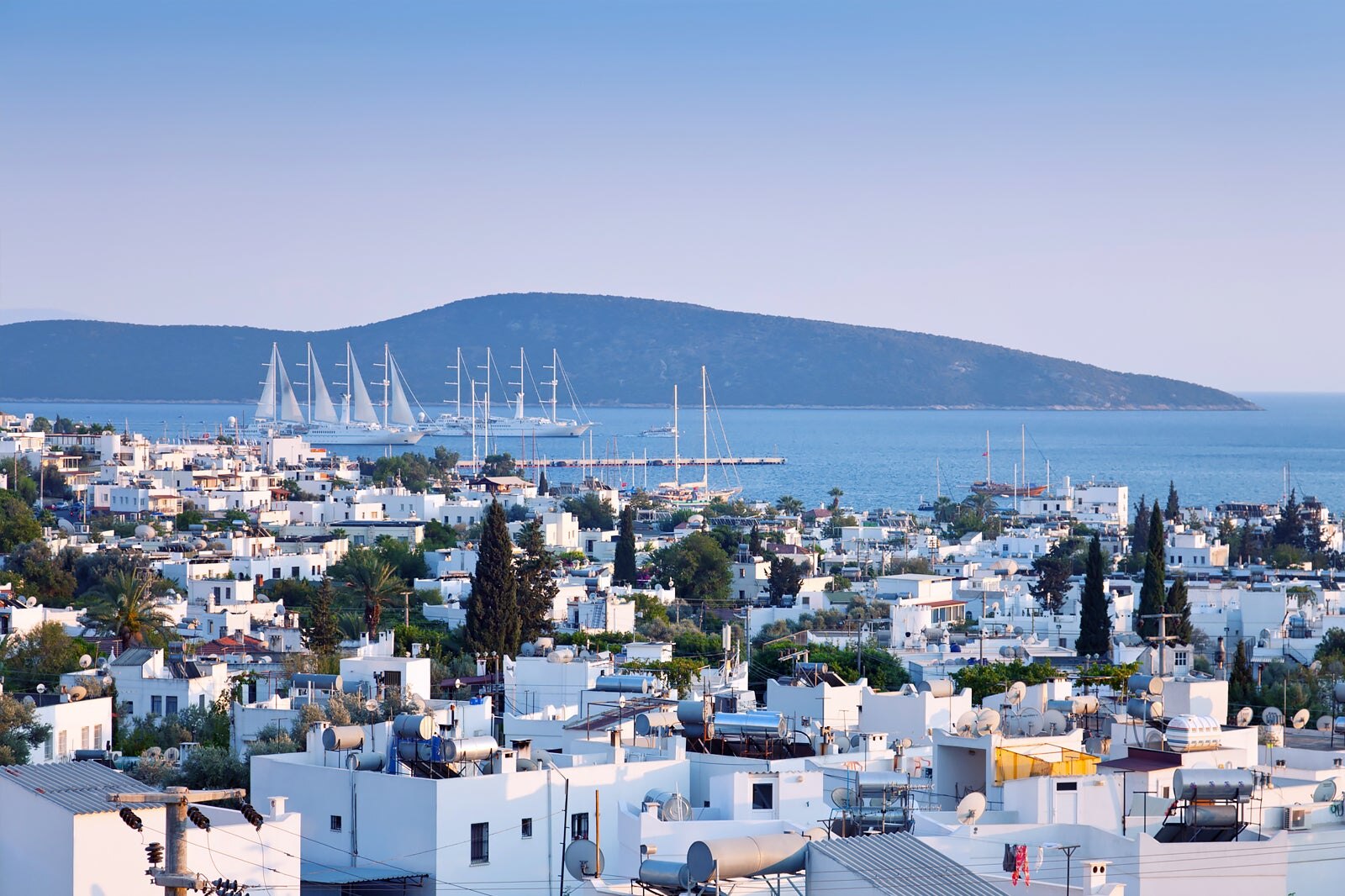 Apartment hotels in Bodrum provide budget-conscious travellers with a more affordable alternative to the city's notoriously upmarket villas and hotels. And the savings really start to stack up for families and bigger groups, who enjoy an abundance of space for a low nightly rate. But perhaps the biggest perk of an apart-hotel is the self-catering facilities, which allow the savvy traveller to save big on food.
A wide array of fully-equipped apart-hotels is peppered around the city centre and suits all budgets and tastes. If you're more interested in a beach holiday, opt to stay in the adjacent seaside town of Bitez instead.
9
Use the Havas Airport bus instead of a taxi
Head right to the city centre after you land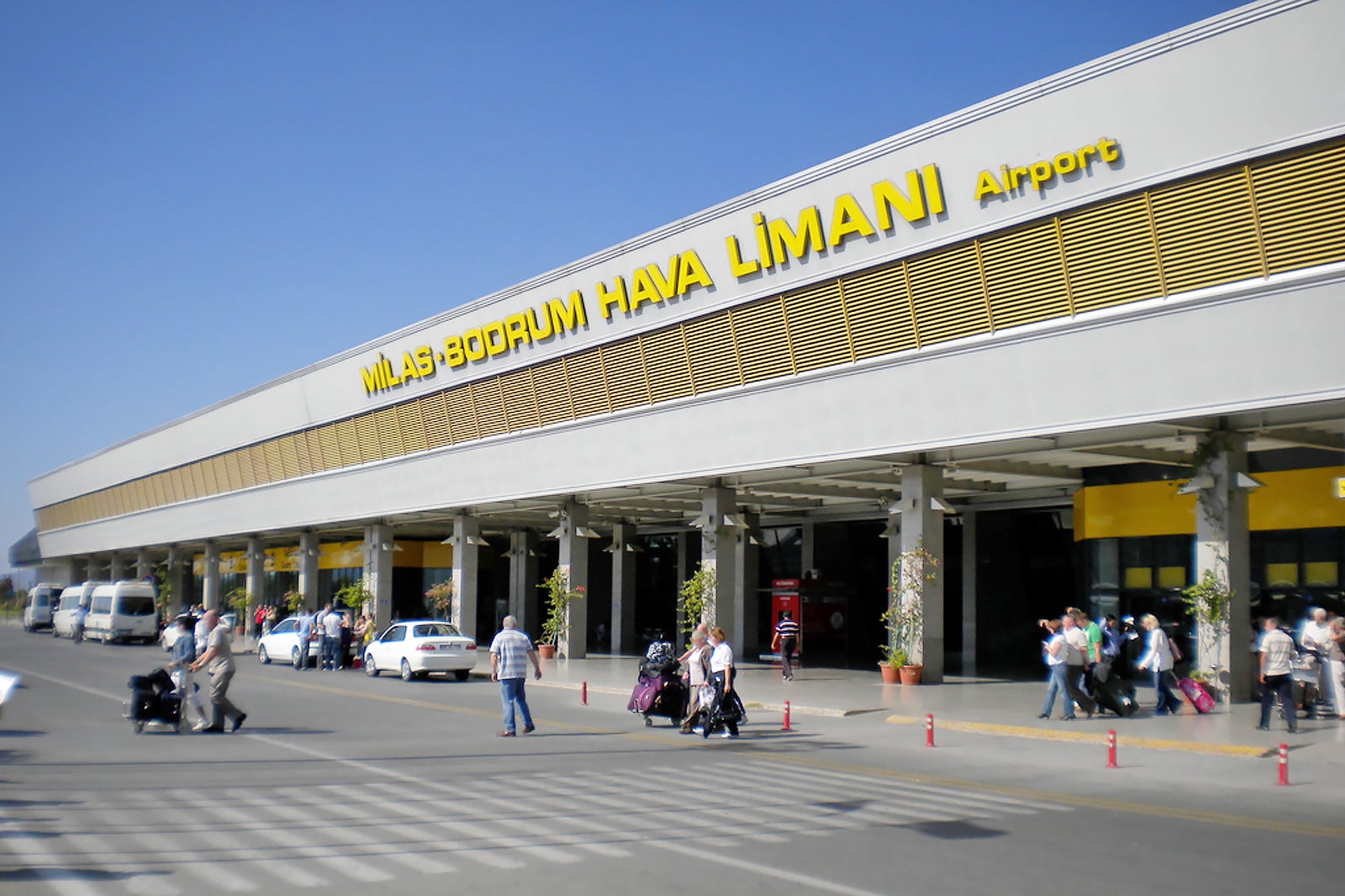 Take advantage of the Havas Airport bus to save money as soon as you step off the plane. Rather than haggling for an overpriced taxi fare, this privately-run airport shuttle service will bring you to the city centre in air-conditioned comfort for just a few dollars per head.
The bus meets almost all domestic and international arrivals and drops passengers off at the City Centre Bus Station. It stops at Güvercinlik, Club Blue Dreams, Hotel Samara, Hotel Etap Altınel, and Torba Road along the way. Buses leave 2 hours before every domestic departure, ensuring the 45-minute ride between downtown and the airport will get you there with plenty of time to spare.
10
Eat street food along Ataturk Cad
Choose your favourite kebabs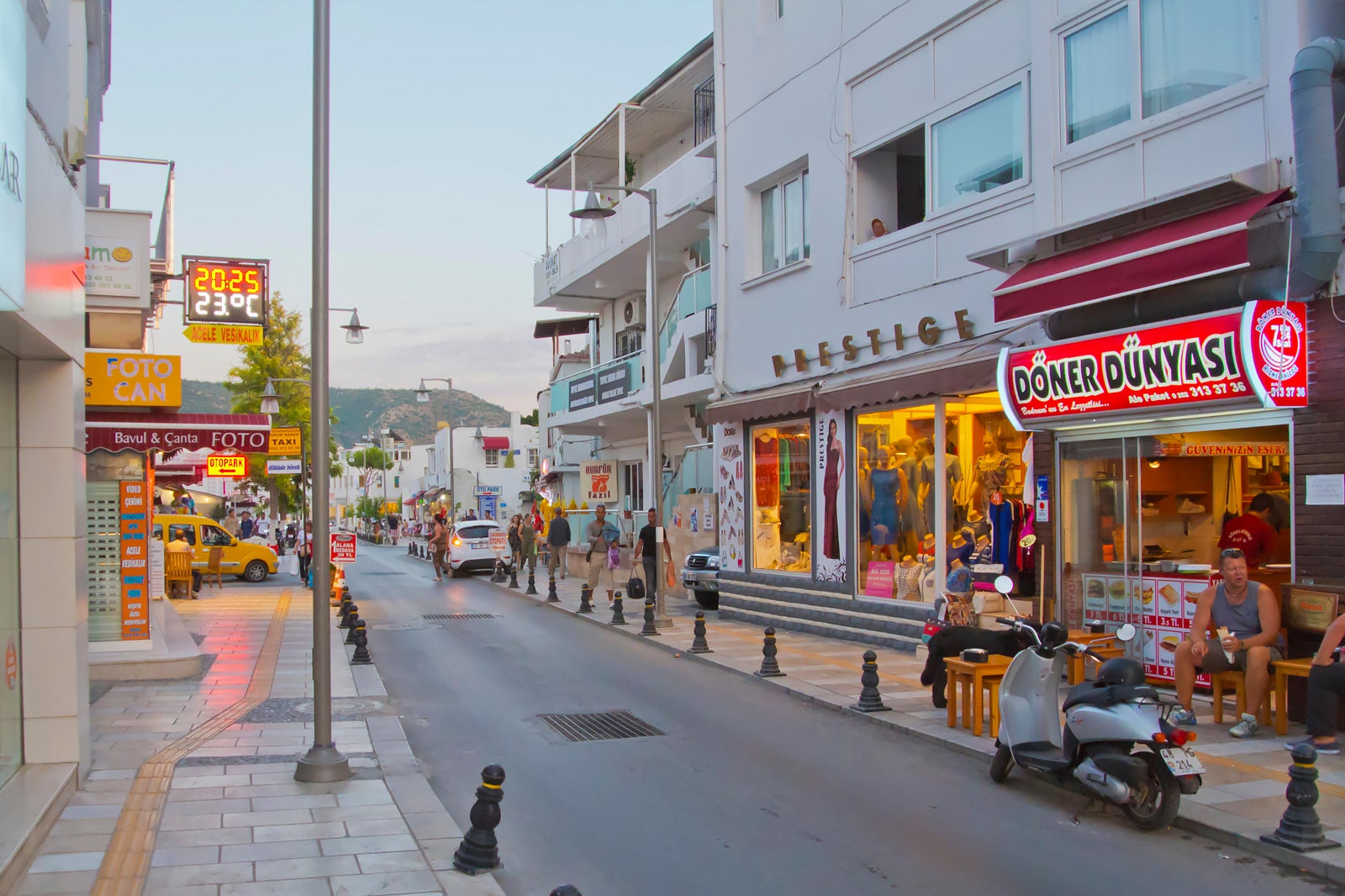 You'd be mad not to sample the mouthwatering local cuisine on a trip to Türkiye. But when you're travelling on a shoestring, you need to be selective about where you eat. Luckily, Bodrum has a selection of affordable street food to savour – the best venues line the Ataturk Cad street, around 1 block inland from Bodrum Beach.
If you've only got time to devour 1 dish, make it the classic tavuk doner, a traditional chicken delicacy marinated with yoghurt, onion, garlic, and spices. Most places serve up delicious doners for under a buck, so you can really go eat incredibly well for dirt cheap when in Bodrum.
Back to top