10 Best Things to Do in Kemer
What is Kemer Most Famous For?
Many of the best things to do in Kemer revolve around the town's fantastic beaches. You're spoilt for choices right near the town with its beautiful, pebbly, crescent-shaped beaches. Right in the town square, you're treated to the beautiful backdrop of the Tahtali mountain range and the gorgeous marina. Follow on the boulevard and you'll come across Kemer's popular weekly markets.
Beyond the town and further south along this beautiful Mediterranean coastline in southern Turkey, magnificent nature and historical highlights that hark back to the ancient Lycian era await your call of adventure. There's even a plateau enshrouded in myth – you can hike up to see for yourself what inspired a legendary creature. From ancient ruins to modern pleasures, here are top things Kemer is most famous for.
What are the best things to do in Kemer?
1
Kemer beaches
Different coasts to suit your preferences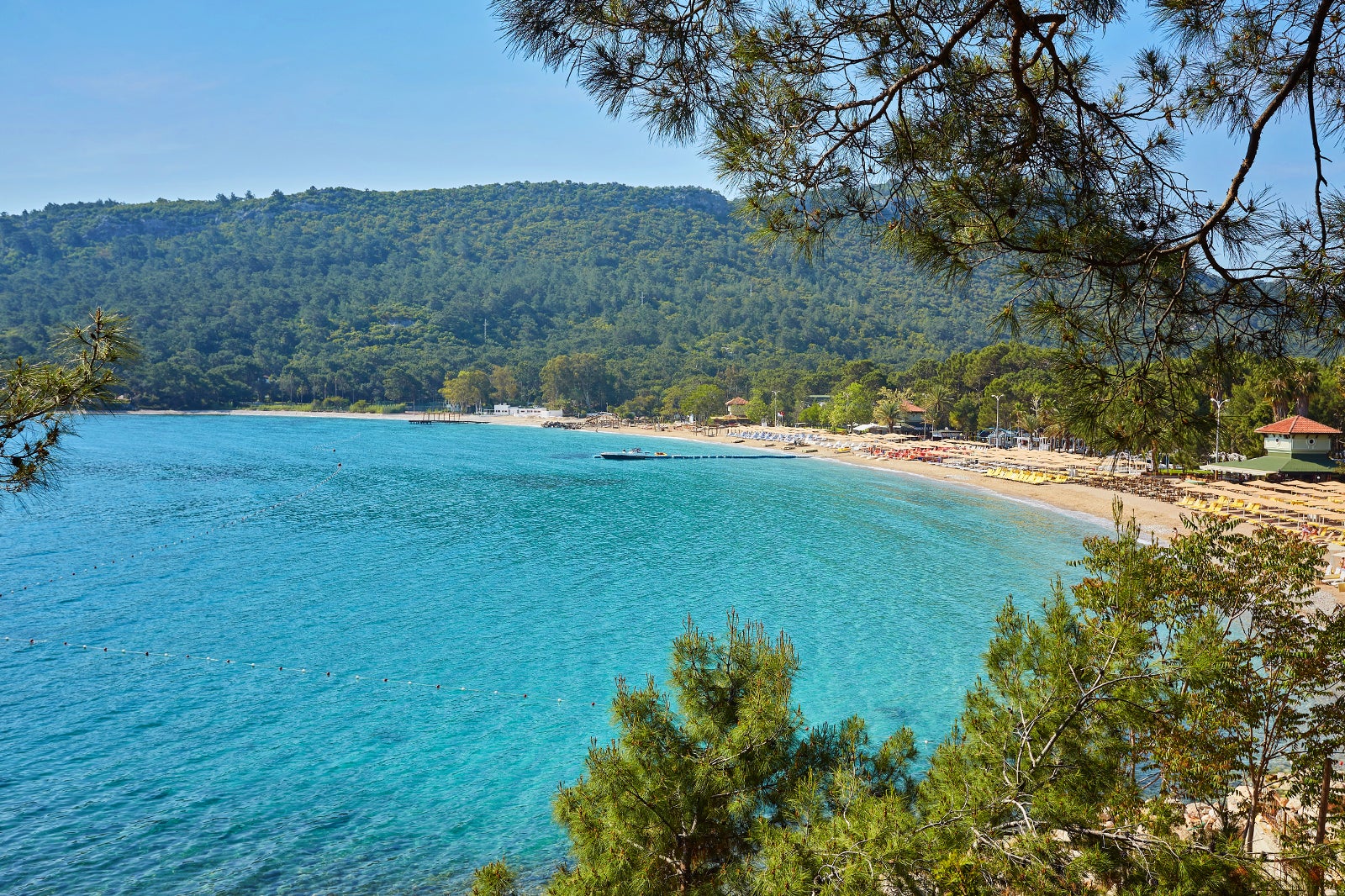 Beautiful beaches grace Kemer's coastline, with the nearest to the town being Kemer Beach (Kemer Plajı to the locals). The pebbly beach is scenic with a backdrop of the forested Tahtali mountains. Just a 10-minute stroll to the south is Kemer Halk Plajı 4 and if you're up for some great swimming in crystal-clear waters as well as water sports action, go past the marina and Yoruk Park to Moon Light Beach.
Beyond Kemer town, there are even more beautiful coasts to discover and escape the crowds. Alacasu of Paradise Cove, a 20-minute drive south, is one of the many rugged and hidden coves along this eastern coastline. Then there's the beach of Phaselis with its ancient Greco-Roman ruins for when you want to add a bit of history to your coastal road trip. Adrasan Beach near the southern tip of the peninsula offers a truer escape – uncrowded but with great infrastructure.
2
Phaselis
Discover remnants of Lycian history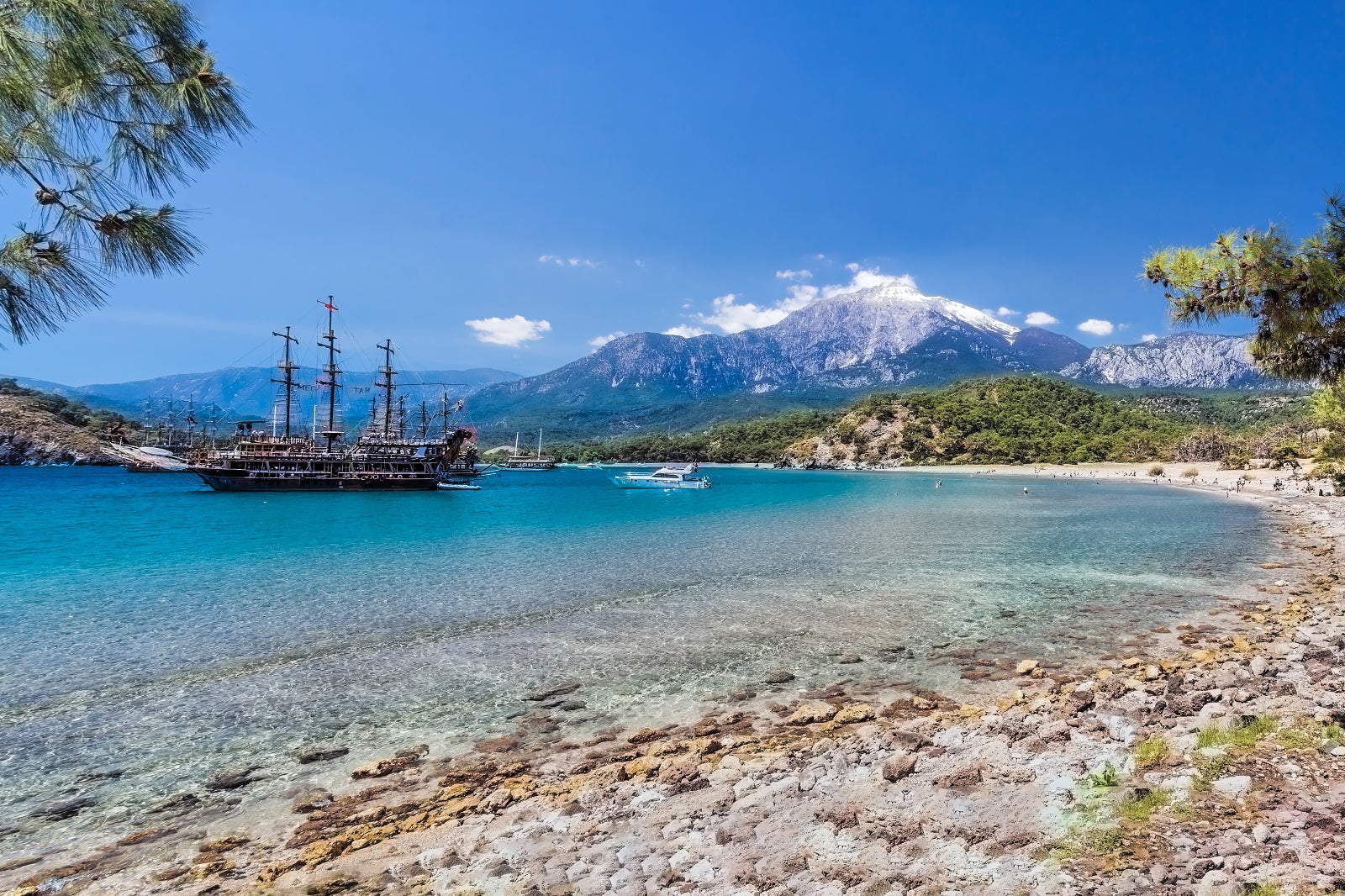 Families
History
Photo
Budget
Phaselis is a beautiful and remote beach just a 15-minute scenic drive south from Kemer. It's a secluded coastal area where you can escape the town crowds but is best known for being home to one of southern Turkey's important archaeological sites. Getting to Phaselis along the Kumluca Kemer Road, you'll drive through forests that are peppered with ruins dating back to ancient Lycia.
Ancient Greco-Roman ruins of what once was a 7th-century BC seaport. Bask on the golden sand on one side of Phaselis Beach and swim in the calm and clear Mediterranean water. Explore ruined stone houses, dried canals, marketplaces and baths – and even a grand theatre – all a short stroll from the sand.
Location: Kumluca Kemer Yolu, Çamyuva, 07980 Kemer, Antalya, Turkey
3
Olympos Cable Car
Ride up the Tahtali mountains for breathtaking scenery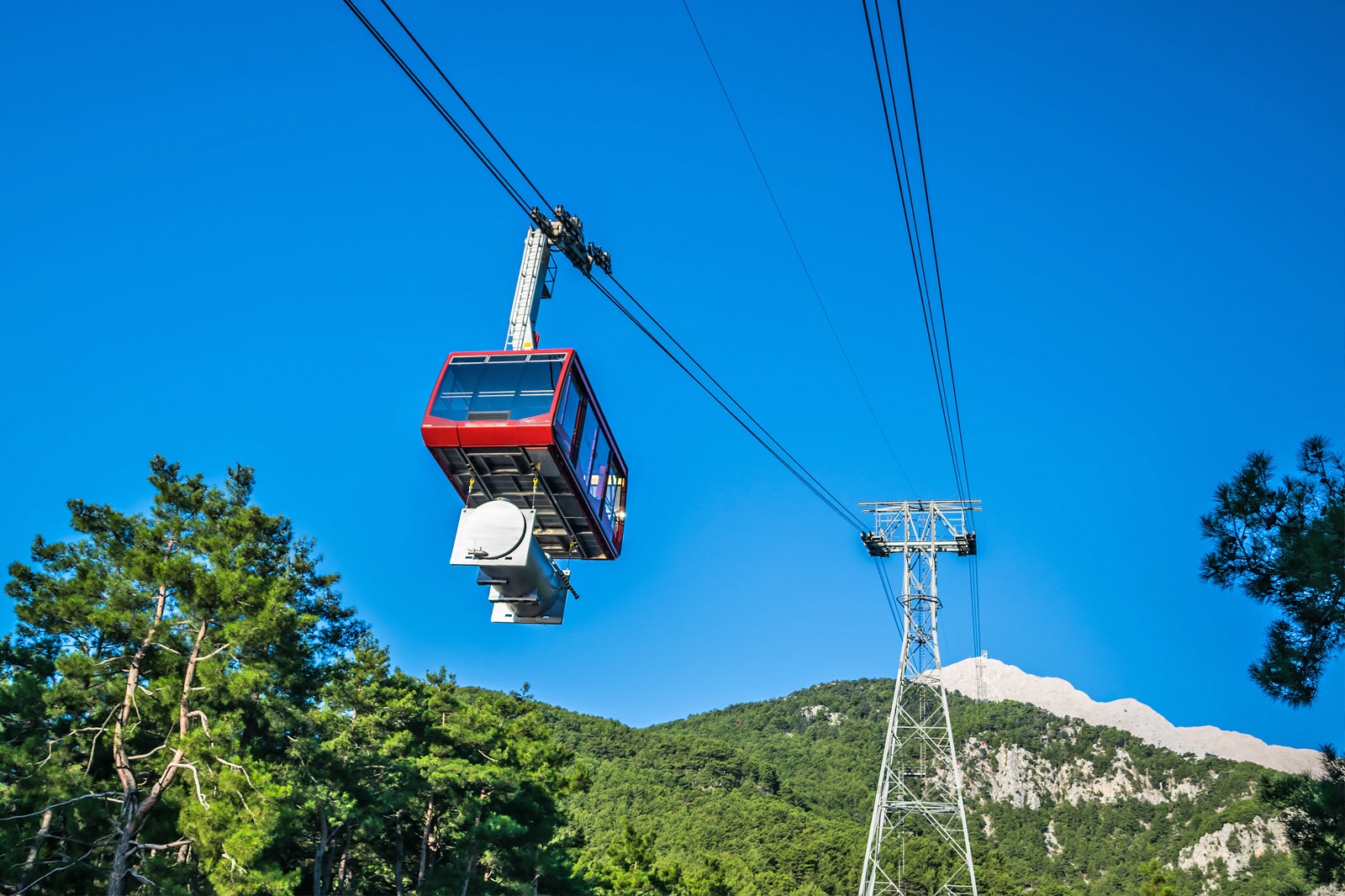 Book a seat on the Olympos Teleferik (Olympos Cable Car) for a steady cruise over the Tahtali mountains towards the summit at 2,365 metres above sea level. The uphill ride starts at the base in Tekirova, around a half-hour drive southwest from the seaside town of Kemer.
Along the journey up, you'll be able to truly take in the beauty of the Lycian region with stunning views of the forested slopes and undulating hills below, accompanied by the vast seascape afield. It's a great way to escape the summer crowds down by the seaside, and if you come in the winter you're treated to even more spectacular scenery of the snow-capped peaks and slopes. It can be freezing up there, though, so be prepared with your winter gear.
Location: Tekirova Mahallesi, Kumluca Kemer Yolu, Tahtalı Teleferiği Yolu No. 2, 07995 Kemer, Antalya, Turkey
Open: Monday–Friday from 9.30 am to 4.30 pm, Saturday–Sunday from 9.30 am to 5 pm
Phone: +90 (0)541 814 30 21
4
Mount Chimaera
A mountain hike highlighted by perpetual flame spouts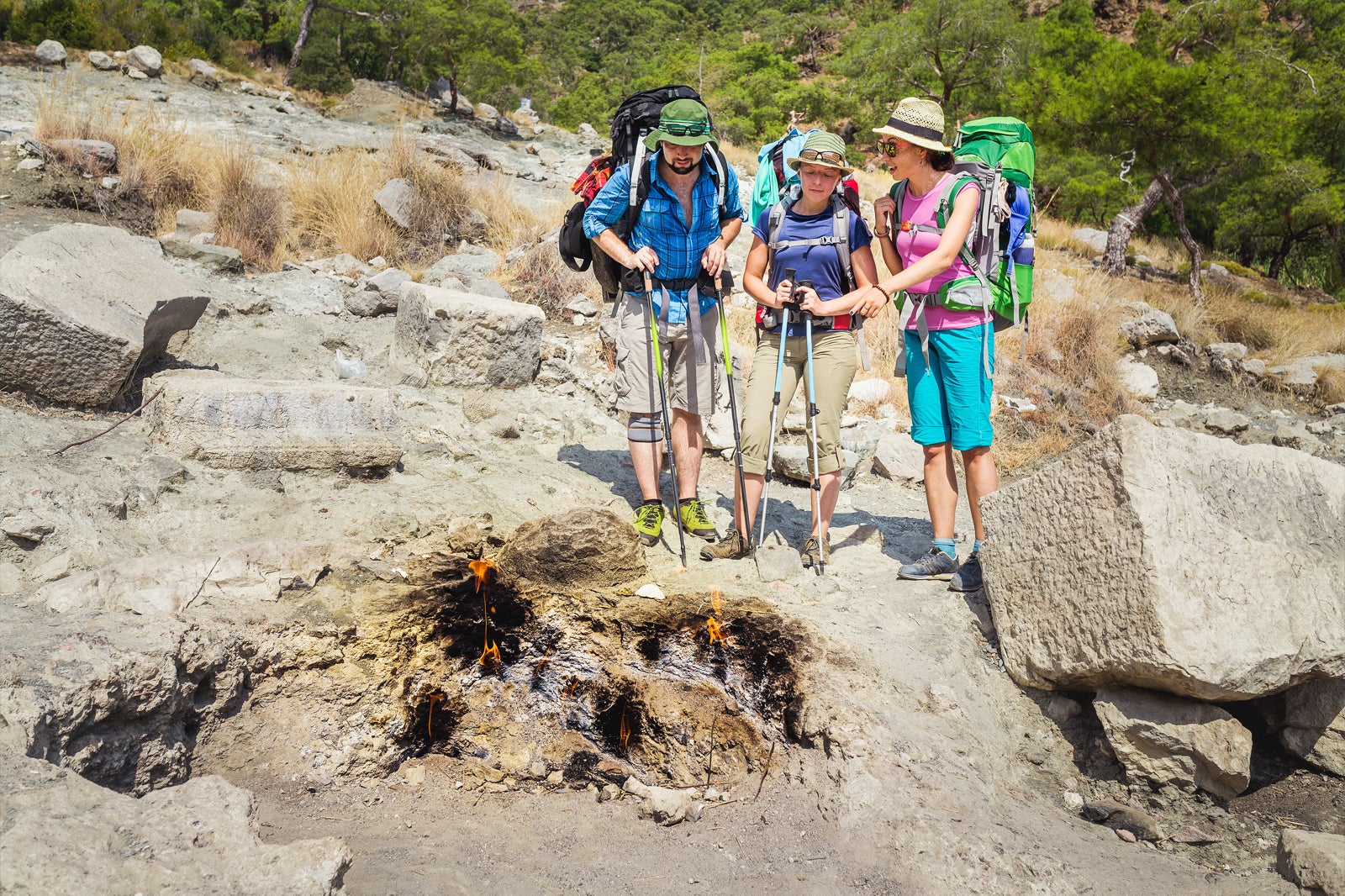 Even though Mount Chimaera is the mythological name of an ancient Lycian region that's known for its eternal flames, Yanartas is where you can see it in real life. These perpetual flames are a result of geothermic activity in the region that gave birth to the mythical fire-breathing hybrid beast known none other than as the chimaera.
To see the perpetual flames, otherwise known as the fires of Yanartas, you'll first need to take the long 45-minute drive south from Kemer. Then, continue with an approximate 1-km hike up the mountain along rocky trails. Some of the flames flicker out from rocky crags, while others are small flares that lick the sooted rocks laid on soft soil out in the open. While the morning hikes are recommended, many prefer the evenings to fully admire the fiery sights.
Location: Kuzdere, 07980 Kemer, Antalya, Turkey
5
DoluSu Park Kemer
For a family outing with splashing thrills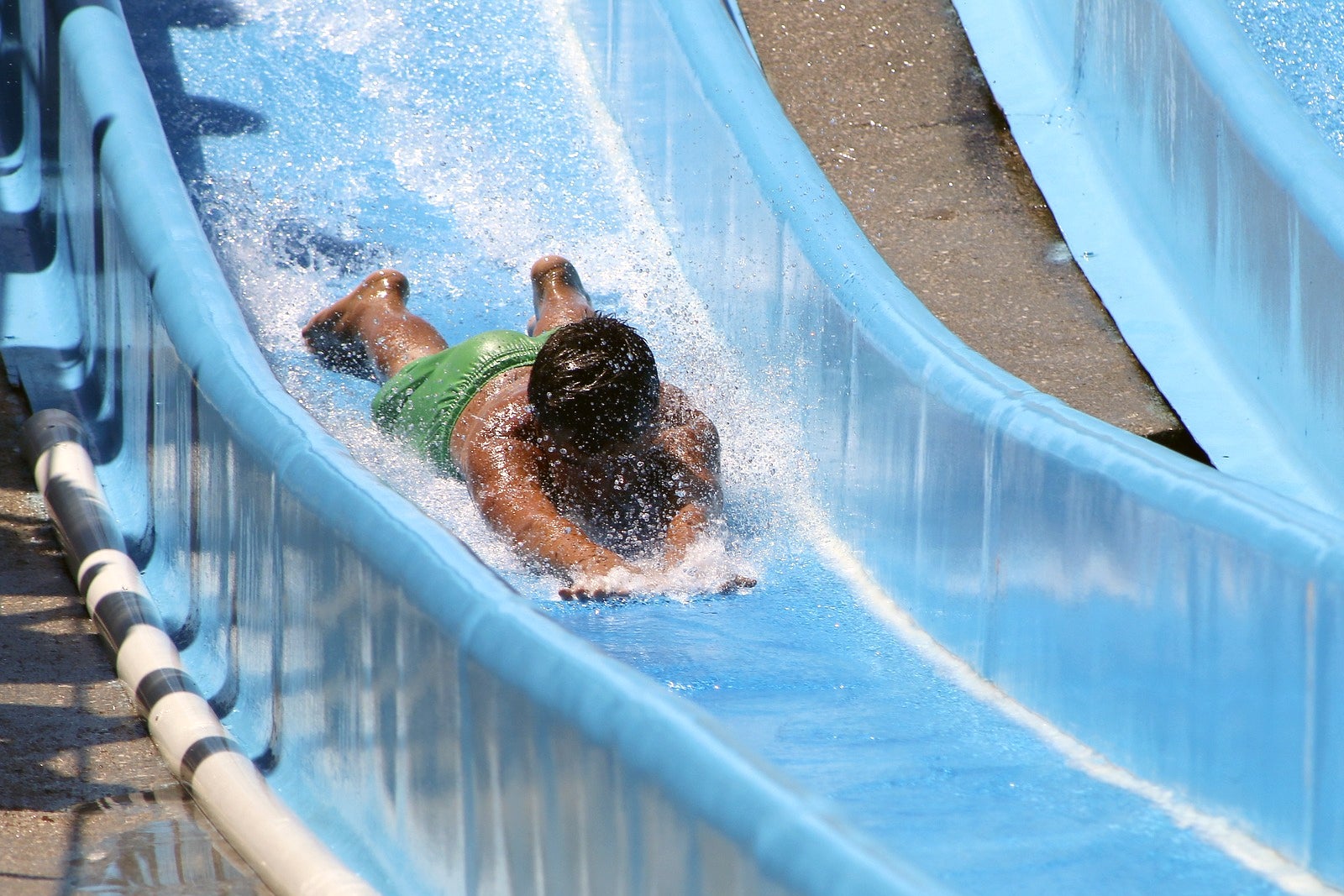 DoluSu Park is high on the list of great things to do in Kemer for families thanks to its collection of thrilling waterslides and rides. Slides to give you an adrenaline rush range from the 80-metre-long Tunnel, the speedy 40-metre-long Bullet to the open-air counterpart called Kamikaze which will send you right into the pool. If you simply want to relax, you can take the River that takes you on a 75-metre-long steady slide down with great views of the whole waterpark and the sea beyond.
The waterpark also presents a regular mermaid show in its 'aquatorium' where models in mermaid suits swim in sync to laser lighting effects and theatrical music. They even offer mermaid swimming courses if you fancy gliding through the water in a monofin.
Location: Kiriş, Sahil Cd. No. 15, 07980 Kemer, Antalya, Turkey
Open: Hours vary by season
Phone: +90 (0)242 824 77 07
6
Kemer weekly markets
Browse from fresh vegetables to souvenirs certain days of the week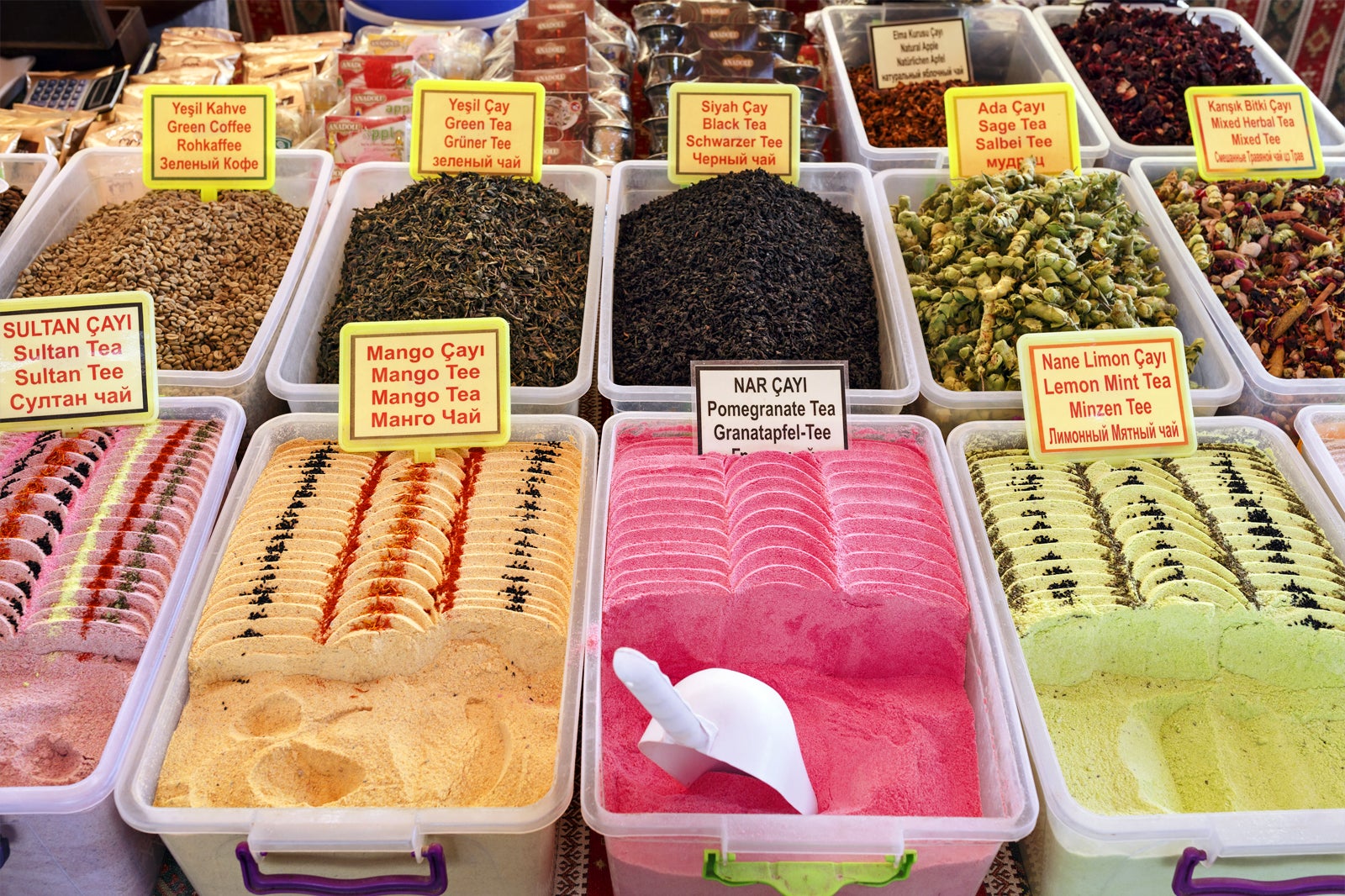 Markets and bazaars are common occurrences in Kemer with some of the popular weekly markets selling distinct items and opening on certain times of the week. If you set out on a Monday from the Republic Square and stroll south along Ataturk Boulevard, you'll stumble upon the so-called Monday Market which is the largest place for groceries in town.
If you're looking for great Turkish textiles, you can set out along the same area on the following day and browse the so-called Tuesday Market, which also features vendors selling very affordable clothing items and decent accessories. The next day, you can head out of town to Camyuva Neighbourhood Market which features both textiles and local fresh goods.
7
Eat lahmacun
Kemer' take on pizza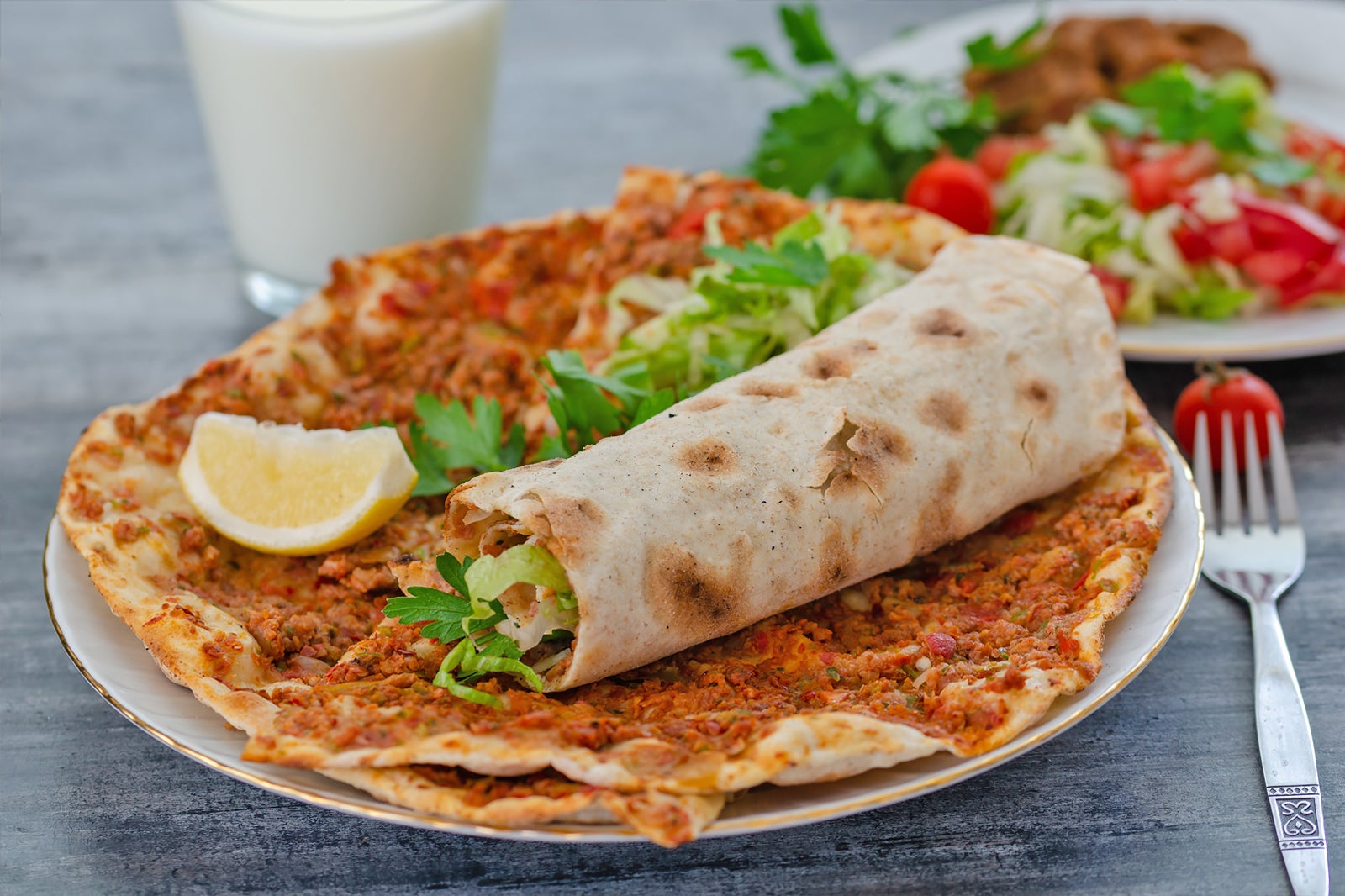 Lamahcun is one of the local must-tries in Kemer. It's basically a local version of thin-crust (pita-bread-like) pizza, topped with a spicy mix of tomatoes and minced meat. Eat it like a local: sparingly squeeze lemon juice over a slice, roll it like a burrito then bite off either end.
The best places in town to try lahmacun? There's the popular Has Restaurant on Merkez Mh Lise Caddesi whose lahmacuns and kebabs are served in generous portions. Kemer Pide Kemer Lokantasi is another laidback local favourite that is great for families with kids. For a finer option, you can consider Pasa Kebap Salonu on the Ataturk Boulevard where you can book a table for your evening date.
8
Dakapo Beach Club
A Kemer top spot for dining, lounging and beach parties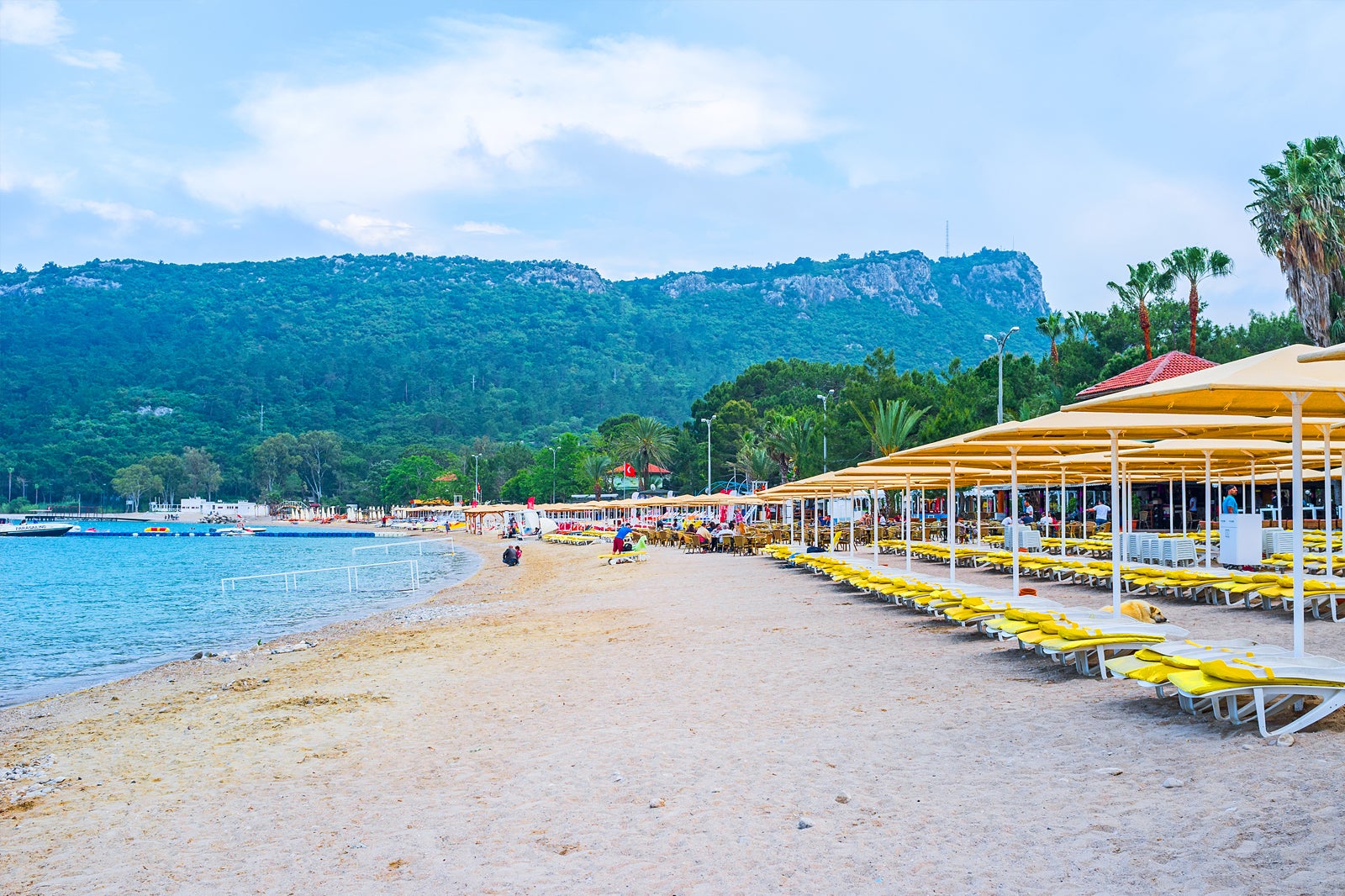 Dakapo Beach Club enjoys a superb location on Moonlight Beach in Kemer, where you can drink and dine while overlooking the gorgeous crescent beach. The beach club has plush-top rattan sofas and tables laid out right on the beachfront and even a small lawn with cabanas. There's a small stage with lighting and sound system rigs on the sand where live performances turn up the vibe during special gigs and beach parties.
On any regular day, you can claim a spot, enjoy a Mediterranean lunch, go for a dip in the calm and tempting waves and go back for refreshing cocktails, ice cream or crack a cold beer. The restaurant's kitchen is busy throughout the day, serving breakfast, lunch and dinner.
Location: Merkez Mah Yali Caddesi, 07980 Kemer, Antalya, Turkey
Open: Daily from 7 am to 2 am
Phone: +90 (0)533 658 20 00
9
Folkloric Nomad Park
An open-air museum by the sea
Families
History
Photo
Budget
Folkloric Yoruk Park Open Air Museum, or simply Nomad Park, is a great go-to if you wish to catch up on the local history and culture of Kemer. From Moonlight Beach, simply follow the path north to Yoruk Park. It's just past the marina (which looks gorgeous seen from the forested park) if you're coming from the northern coast. It's known as Folklorik Yörük Parkı Açık Hava Müzesi to the locals. Yoruk means 'nomad' in the local tongue and the people trace their long lineage from Central Asia. Their main livelihood came from raising livestock.
At the museum, various exhibits and intricately designed dioramas depict the way of life of the people of Kemer, together with traditional handwoven tents furnished with textiles and kilims made from wool. You can also learn how they made good use of plants to create different dyes.
Location: Merkez, 07980 Kemer, Antalya, Turkey
Open: Daily from 9 am to midnight
Phone: +90 (0)242 814 17 77
10
Kemer Republic Square
The charming heart of town
Kemer's Cumhuriyet Meydanı (Republic Square) is the ideal spot for getting your first feel of this Turkish seaside resort. The large and clean square at the intersection of Ataturk Boulevard and Hukumet Street has an imposing white clock tower and sculpted gardens to its northeastern side.
There's the statue of Ataturk and pretty fountains near the western side where the little ones can chase spouts and splash to their heart's content. The view of the square is complemented by the impressive backdrop of the rugged Olympos mountains. Benches line the square's perimeter where mum and dad can relax and watch over the little ones. For a bite and refreshments, choices abound with fast-food franchises and a whole variety of local cafes and restaurants just outside the square.
Location: Yeni, Atatürk Blv., 07980 Kemer, Antalya, Turkey
Back to top