10 Best Things to Do in Kas
What is Kas Most Famous For?
Among the best things to do in Kas are soaking up the sights of its beautifully rugged beaches and going beyond the Turkish-Greek border, just a boat trip away. This charming seaside town on the Mediterranean coast in southwestern Turkey offers a cool combination of ancient history that traces back to the Lycian kingdom and modern leisure around its 2 harbours.
Not far from the Old Town lies the ancient Antiphellos, from where you can take in stunning views of the town, the Mediterranean Sea and gorgeous sunsets from the top of the Hellenistic theatre. Beyond the town, the wealth of historical treasures continues around the shores of exotic islands – with sunken relics that you can see in shallow depths.
What are the best things to do in Kas?
1
Kas beaches
Pick a beautiful Mediterranean coast to swim, snorkel or sunbathe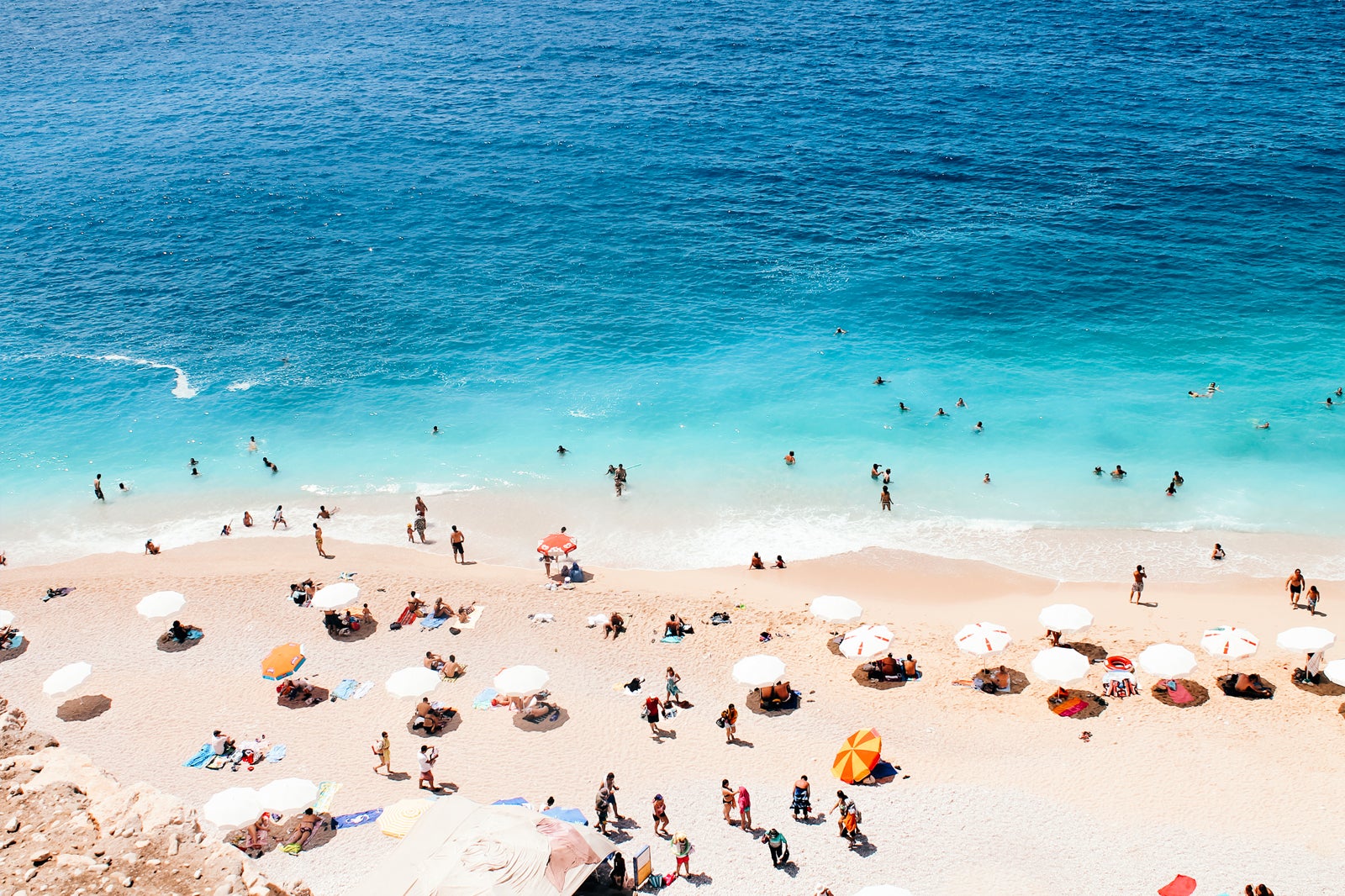 The beaches of Kas come in a varied mix but they all share one thing in common: rugged seascapes of karst and cliffs bordering turquoise waters. With crystal-clear waters, thanks to the coast being mostly pebbly, they're the stuff of postcards. Even so, there are also sandy beaches great for families with toddlers in tow.
One picture-postcard beach in Kas is Patara, a sliver of golden sand between gigantic, towering limestone cliffs. Akcagerme Beach, close to the town centre, is one of the typical pebbly beaches that's beautiful and has calm, swimmable waters. Then there are the more remote beaches such as Limanagzi, which is a snorkeller's delight with waters home to diverse marine life.
2
Blue Grotto
An out-of-this-world sight a boat ride out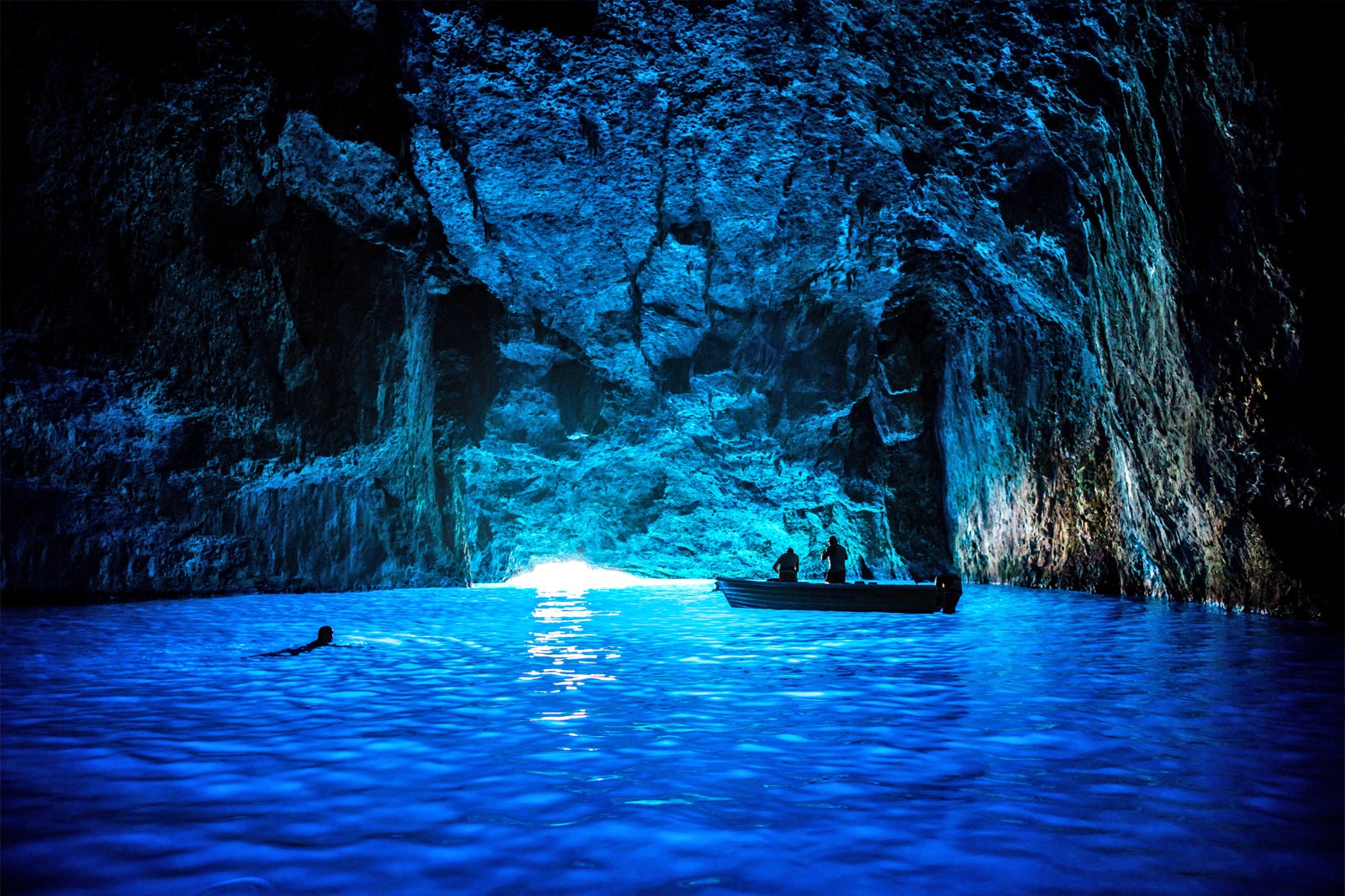 Blue Grotto is the name of a sea cave on the Greek island of Kastellorizo, which is just a boat trip southwest from Kas. The cave itself is on the far southeastern side of the island and you'll usually be able to hop off your boat and swim through a narrow opening to take in the spectacular cave in all its glory.
The water is crystal clear, with the shimmering shades of blue from the refracted sunlight. You might consider booking a boat trip to the Blue Grotto from Kas outside dates coinciding with a full moon to avoid high tides. The sea voyage takes approximately 1 hour. Also, since the island is part of Greece, you may need to check for visa requirements applicable to your nationality.
Location: Blue Grotto, Megisti 851 11, Greece
3
Assi Island
A tiny island that's big on underwater wonders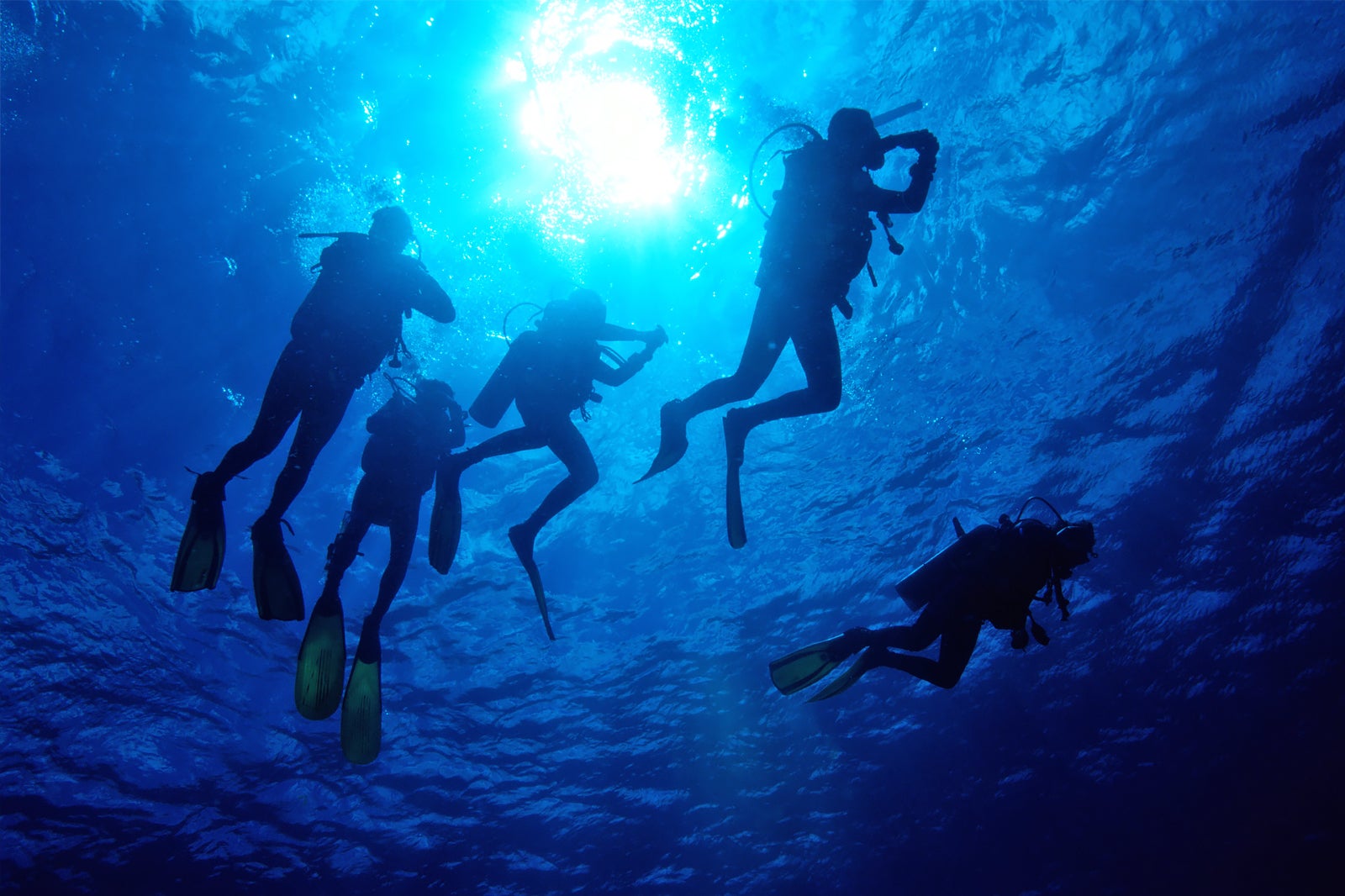 Assi Island is one of the many top dive sites you can tick off your list in Kas. It's a tiny island only a half-hour boat ride from Kas that you can practically swim around on a single dive trip. Highlights include 2 long reefs that are home to a diverse range of marine life, with frequent sightings of octopuses and sea turtles. Beyond the natural features, you may also try to spot ancient sunken relics such as amphorae and anchors.
Most dive trips from Kas voyage out from either the new marina or the old port near the town centre, with most of the major dive centres having been established and based at the old port.
Location: Mesogios Thalassa, Greece
4
Antiphellos Ancient City
Take in scenic panoramas of Kas of the past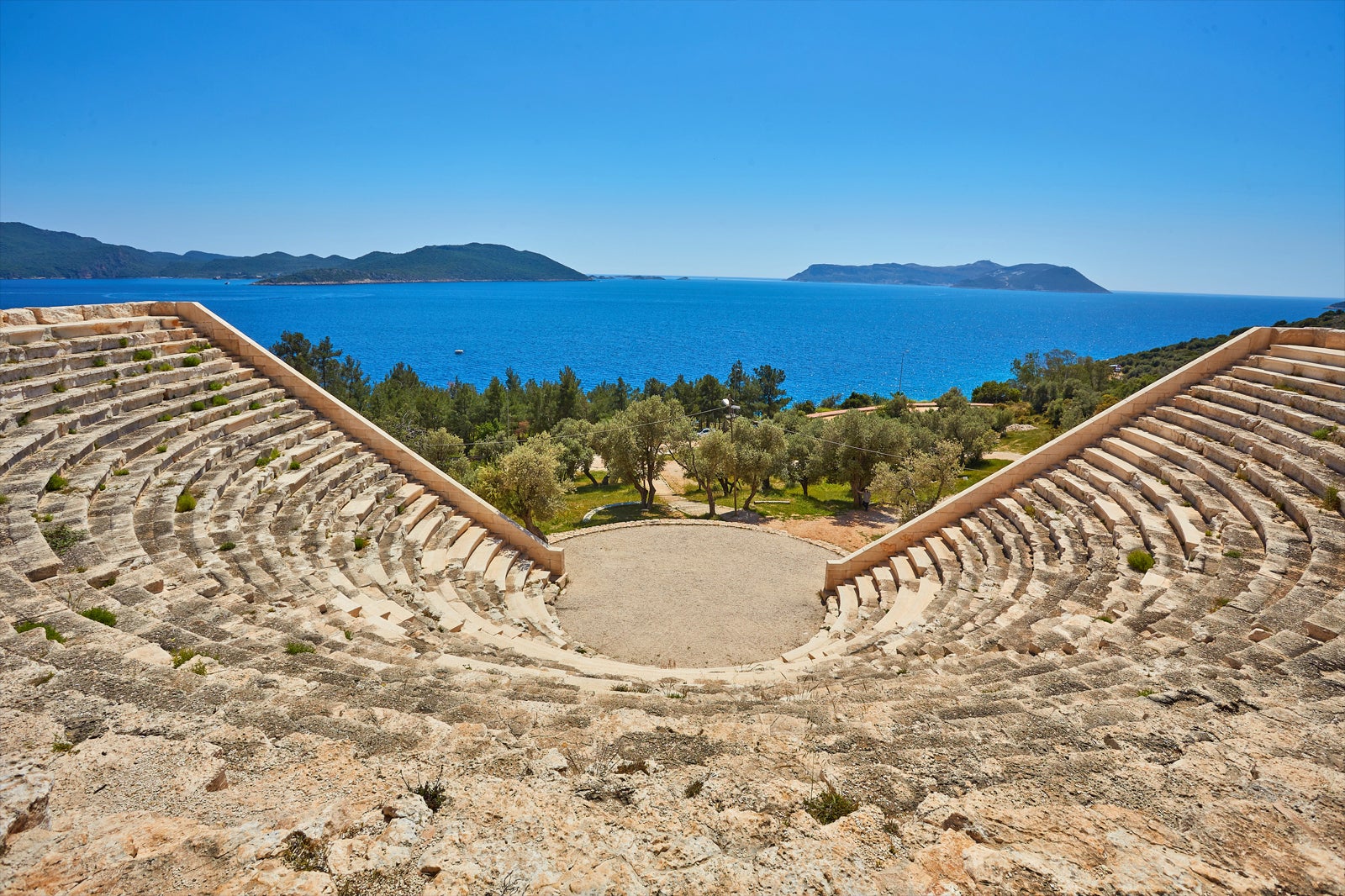 Antiphellos Ancient City, with its grand centrepiece of a Hellenistic amphitheatre just west of the town centre, is one of Kas' main icons. The amphitheatre overlooks the sea and surrounding mountains. One of the most spectacular sunsets in Kas is to be enjoyed from the top – you'd have to climb over the 50 or so rows of seating to reach it, though.
Antiphellos itself was a tiny port town and the Hellenistic theatre, which dates back to the 1st century BC, was designed and built with the seats following the sloping hillside. Nowadays, it's one of the great outdoor events and performances venues in Kas, though you'll have to check with the schedules beforehand to find which ticket purchases are required. It's free to enter on regular days, when there are no special events.
Location: Andifli, 07580 Kas, Antalya, Turkey
5
Kas Bazaar
Stroll and shop… and find an amazing stone tomb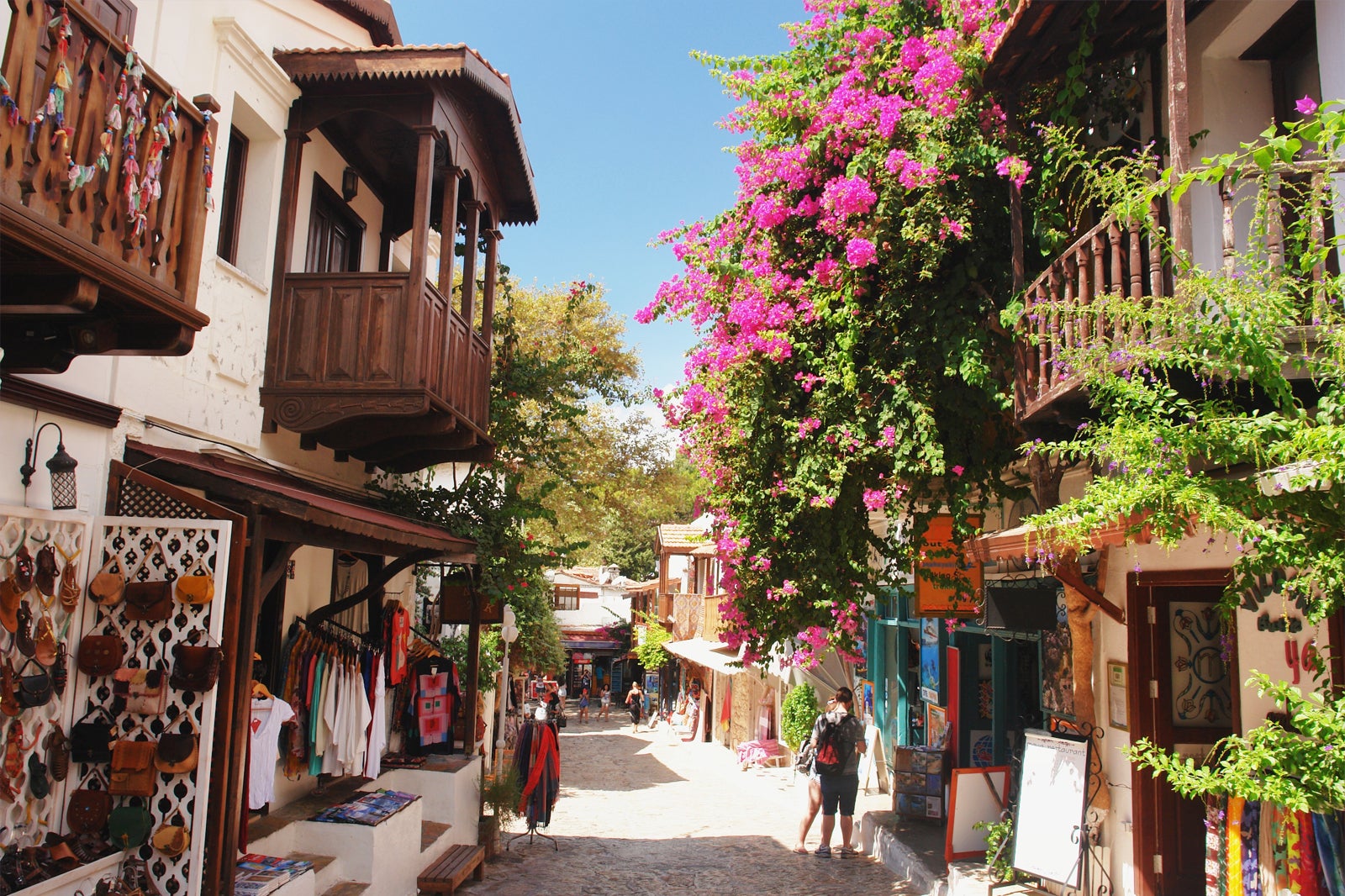 Kas Bazaar, also known as the Long Bazaar, refers to the shopping street of Doğruyol Caddesi in the Old Town. The uniquely textured concrete walking street slightly slants following the sloping hillside, with a colourful variety of shops, stalls and boutiques on both sides. Vendors sell everything from fashion and locally handcrafted silver jewellery to Turkish rugs and Lycian carpets and glassworks.
Besides browsing and bargaining, Kas Bazaar offers a pleasant amble with the charming rows of traditional houses between the shops that have wooden balconies overflowing with bougainvillaea. The streets of Kas are peppered with historical landmarks, and once you reach the top of this street, you'll come across the well-preserved 4th-century-BC Kral Mezarı (King's Tomb), with its neat inscriptions.
Location: Andifli, Doğruyol Cd. No. 10, 07580 Kas, Antalya, Turkey
6
Kekova Island
Kayak over a sunken city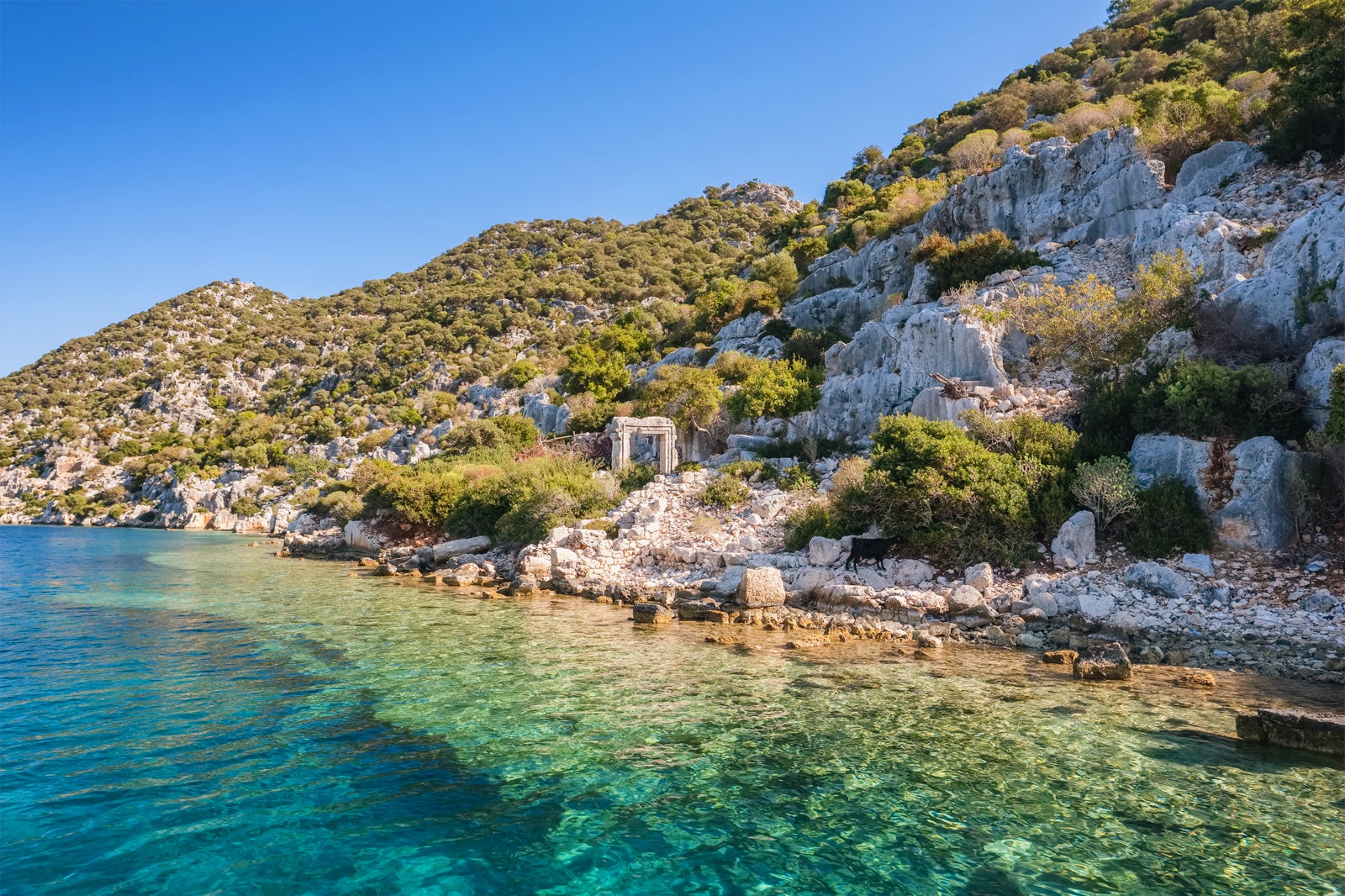 Kekova is a highly popular day trip from Kas, offering an island escape with spectacular sights on land and in the surrounding azure waters. The island is within an hour's drive east from Kas, with stunning scenery to take in along the road trip. Before crossing, you should pay a visit to the fortress ruins of ancient Simena.
Even more impressive are the sunken ruins of the ancient town of Dolchiste, off the northern shore of Kekova, which you can easily view by kayaking over them thanks to their shallow depths in crystal-clear waters. Some of the ruins are bits from a Lycian shipyard. Overland, explore ancient towns or hike the mountain for stunning panoramas.
Location: Kekova Island, 07570 Demre, Antalya, Turkey
7
Lycian Rock Tombs
Trace Kas' history along the Lycian Way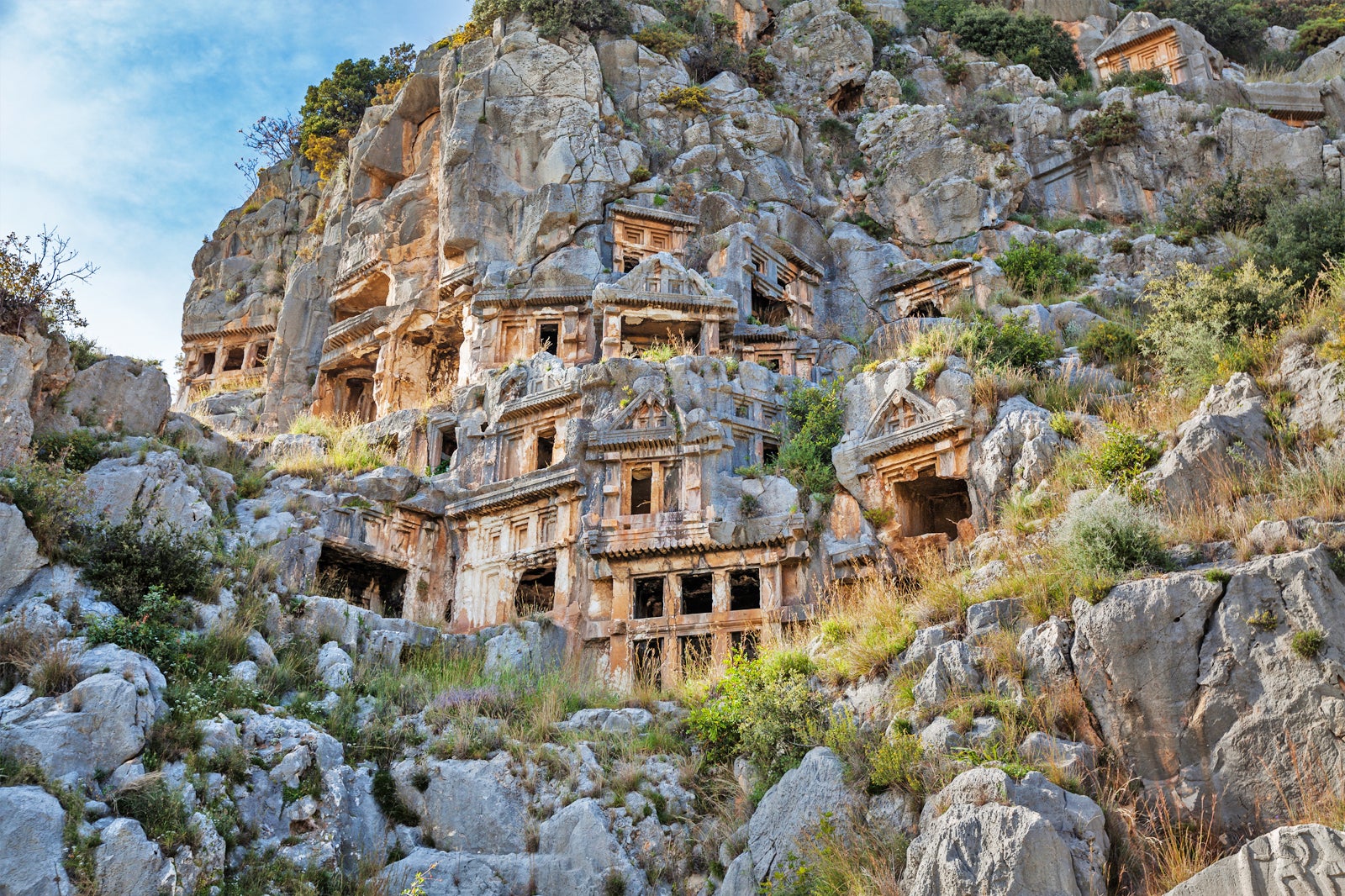 The Lycian Rock Tombs (Likya Kaya Mezarları) are one of Kas' ancient landmarks, which you can find just above the Old Town. Some are cut into the hillside while others are in plain sight, just like the King's Tomb at the top of the bazaar street in the heart of the Old Town.
Many historical trails of the ancient kingdom vein throughout Antalya's southwestern region. These are collectively referred to as the Lycian Way. Only serious hikers take the more challenging routes, such as the one between Kas and Fethiye. Even the shortest trail from Kas, which continues on from the rock tombs and up north towards the Phellos Ancient City, takes 2 hours. But the hilltop views – and the historical finds – can be truly rewarding.
Location: Andifli Mahallesi, 07580 Kas, Antalya, Turkey
8
Kas Republic Square
Start your day in the town hub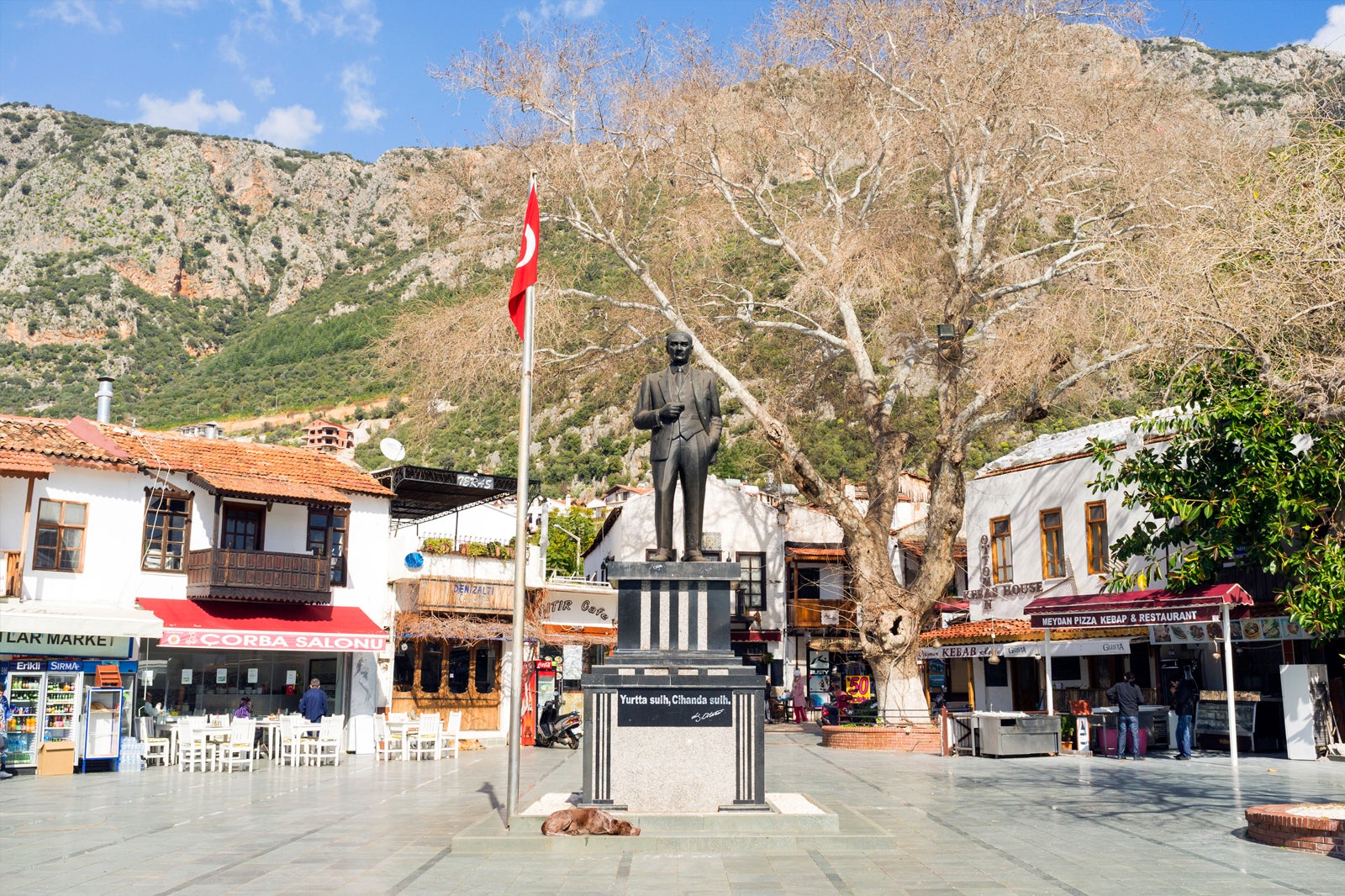 Republic Square is a great place to get a first feel for Kas and make a start on your strolls through the Turkish town. The town square is colourful and surrounded by many different cafés, bistros and bars where you can choose a seat, enjoy a drink or meal and people-watch. Consider yourself lucky when occasional public events coincide with your visit.
The statue of Ataturk – with a plaque underneath bearing the words "Yurtta Sulh, Cihanda Sulh", meaning "Peace at Home, Peace in the World" – is at the centre of the square, overlooking the harbour lined with boats.
Location: Andifli, Süleyman Sandıkçı Sk., 07580 Kas, Antalya, Turkey
9
Try meze at a meyhane
Go for a true traditional Turkish dining experience
You can't consider your visit to Kas complete without trying out the local flavours and vibes. Head to a meyhane (a traditional Turkish restaurant) and treat yourself to a meze – a serving of small dishes or mezedes similar to Spanish tapas – alongside shots of raki, the Turkish national spirit.
Among the top meyhane where you can enjoy this authentic Turkish dining experience include Voyn Meyhane just east from the old harbour, Üzüm Kızı Meyhane Kaş, which has a top deck offering glorious views over the harbour, and the popular Ruhi Bey Meyhanesi 1949 – its cosy, bright and varied setups include tables in a garden under a leafy pergola.
10
Kas Old Town bar-hopping
Where to cool down during and after Kas' glorious sunsets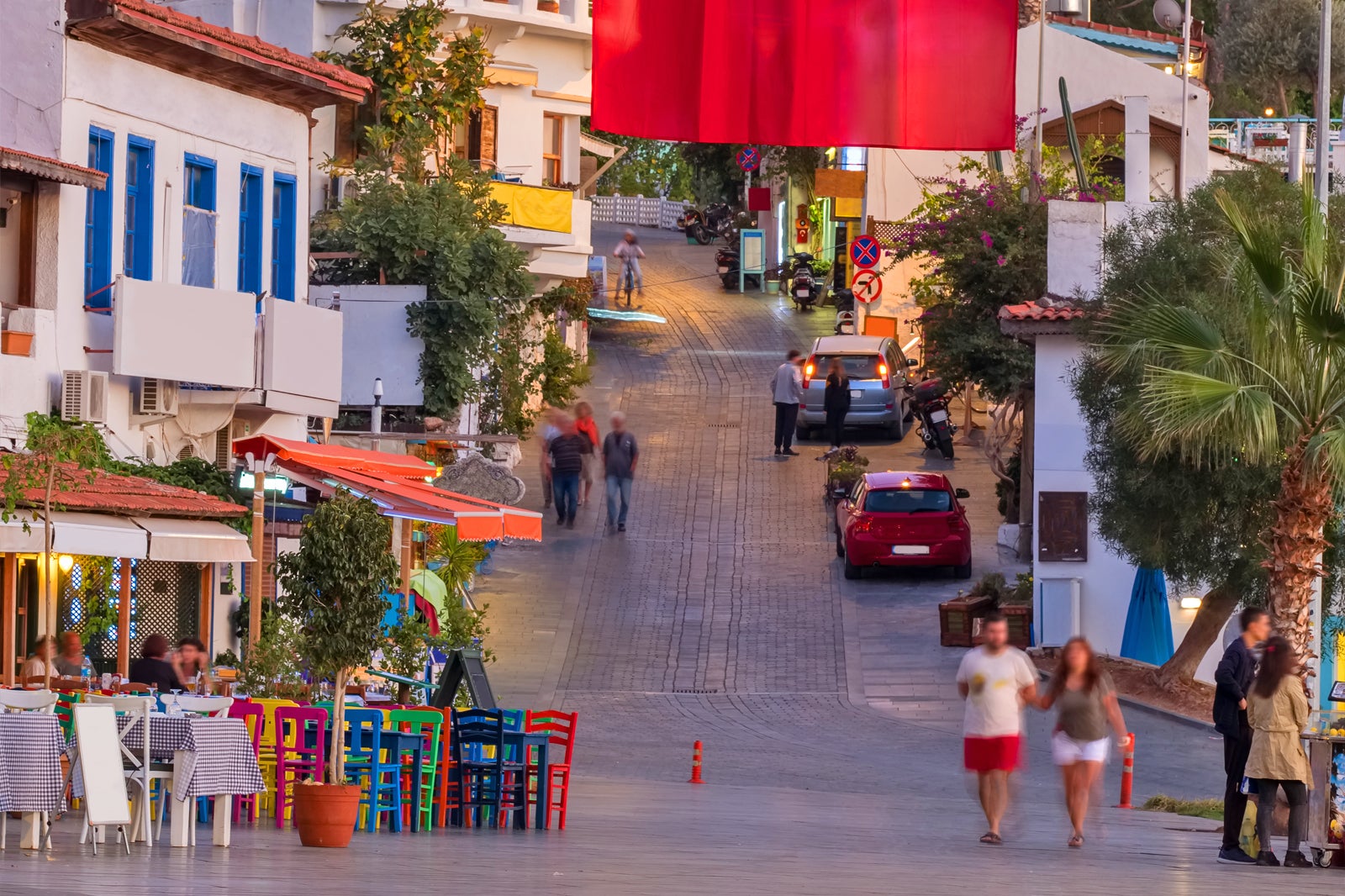 Kas Old Town is the place to kick back and crack a cold one after the sun sinks behind the hills and the ancient theatre to the west. There are well over a dozen small bars lining the old harbour and some hidden down the smaller branching streets like Topçu Sokak and Öztürk Sokak.
Head up to the slightly sophisticated Red Point Café & Bar for a great combo of skilfully crafted cocktails and Turkish food. Café Barcelona has a fully stocked bar and is a cool spot to gather with good company – their owner occasionally going around to spread some local cheers. For live music, Echo Bar on the opposite side of the old harbour is a good bet, with beer on tap and regular jazz and blues 'festivals'.
Back to top