6 Best Nightlife in Kemer
Where to Go at Night in Kemer
Kemer's nightlife scene is small, but it packs a punch. Besides the bar street where you can drink and party to your heart's content until 4am, there's also a pre-party or after-hours karaoke bar where you can sing your heart out until dawn.
The bars are concentrated along the beachfront promenade and in central Kemer, allowing you to see a different side of the city as night falls. Besides taking part in the lively evening fun at the town's top nightlife venues, you can also take in a panoramic view of Kemer from a rooftop terrace or go on a lovely sunset dinner cruise. Whether you're a party animal or not, Kemer offers various activities for a fun night out in town. Here's where to go at night in Kemer.
1
Go bar-hopping on Kemer's bar streets
Drink your way along Deniz Caddesi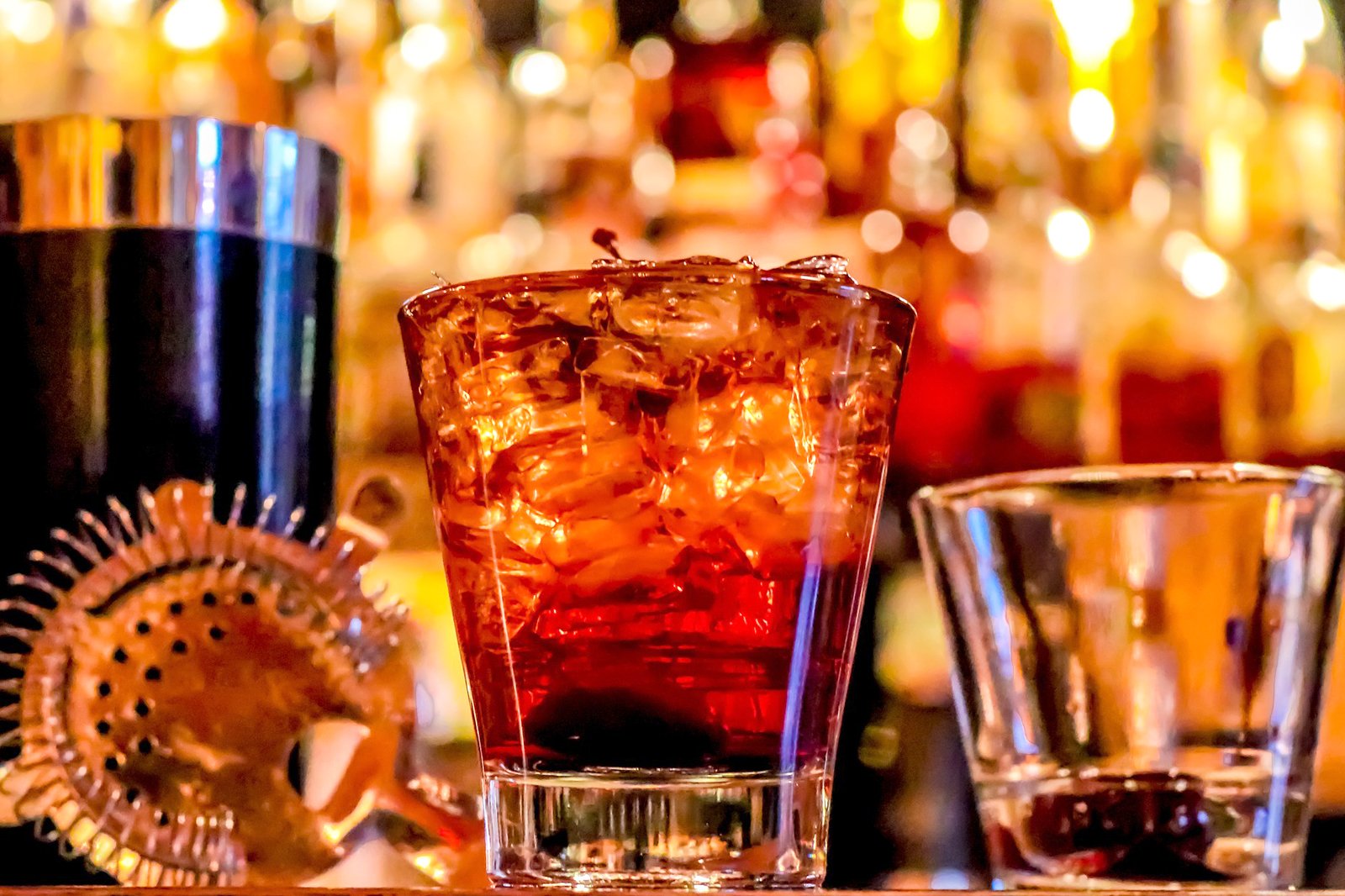 There's a street dominated by bars in almost every beach town and city in Turkey, and the same goes for Kemer. Although there isn't a street that's officially named Bar Street, most of Kemer's nightspots are lined up along the coastline, the promenade close to Kemer Marina and in central Kemer.
Besides alcohol, most bars also serve food and shisha so you could easily spend hours in one spot. While exploring Kemer at night, we recommend checking out the nightlife in town by hopping from one bar to another. Check out the street of Deniz Caddesi, where some visitors' favourites include Kapris Bar, Leon Restoran Bar and Captain Pirate Restaurant Bar.
2
Dakapo Beach Club
A Kemer top spot for dining, lounging and beach parties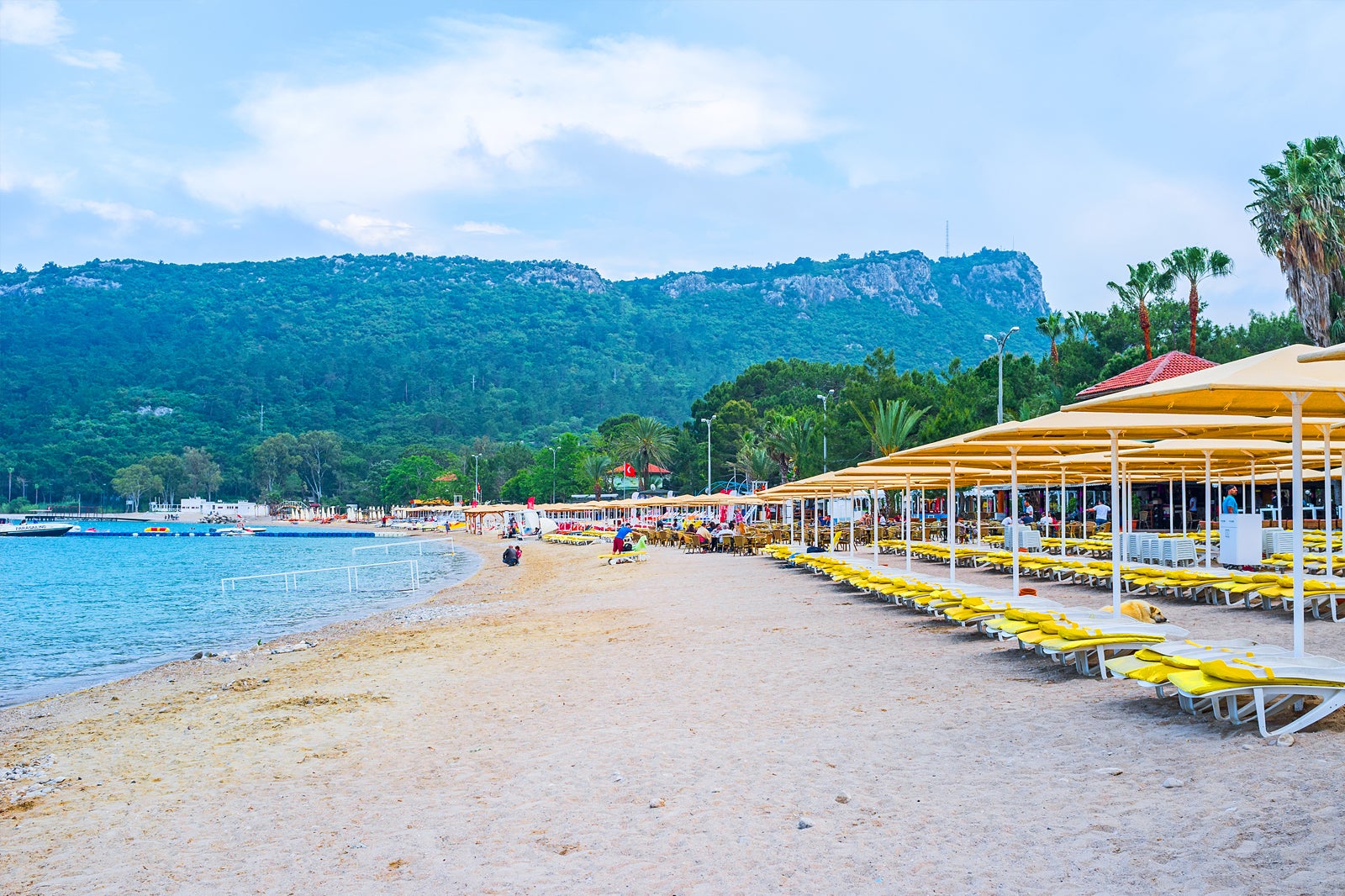 Dakapo Beach Club enjoys a superb location on Moonlight Beach in Kemer, where you can drink and dine while overlooking the gorgeous crescent beach. The beach club has plush-top rattan sofas and tables laid out right on the beachfront and even a small lawn with cabanas. There's a small stage with lighting and sound system rigs on the sand where live performances turn up the vibe during special gigs and beach parties.
On any regular day, you can claim a spot, enjoy a Mediterranean lunch, go for a dip in the calm and tempting waves and go back for refreshing cocktails, ice cream or crack a cold beer. The restaurant's kitchen is busy throughout the day, serving breakfast, lunch and dinner.
Location: Merkez Mah Yali Caddesi, 07980 Kemer, Antalya, Turkey
Open: Daily from 7 am to 2 am
Phone: +90 (0)533 658 20 00
3
Barby Karaoke Bar & Boutique Hotel
Sing your heart out at this karaoke bar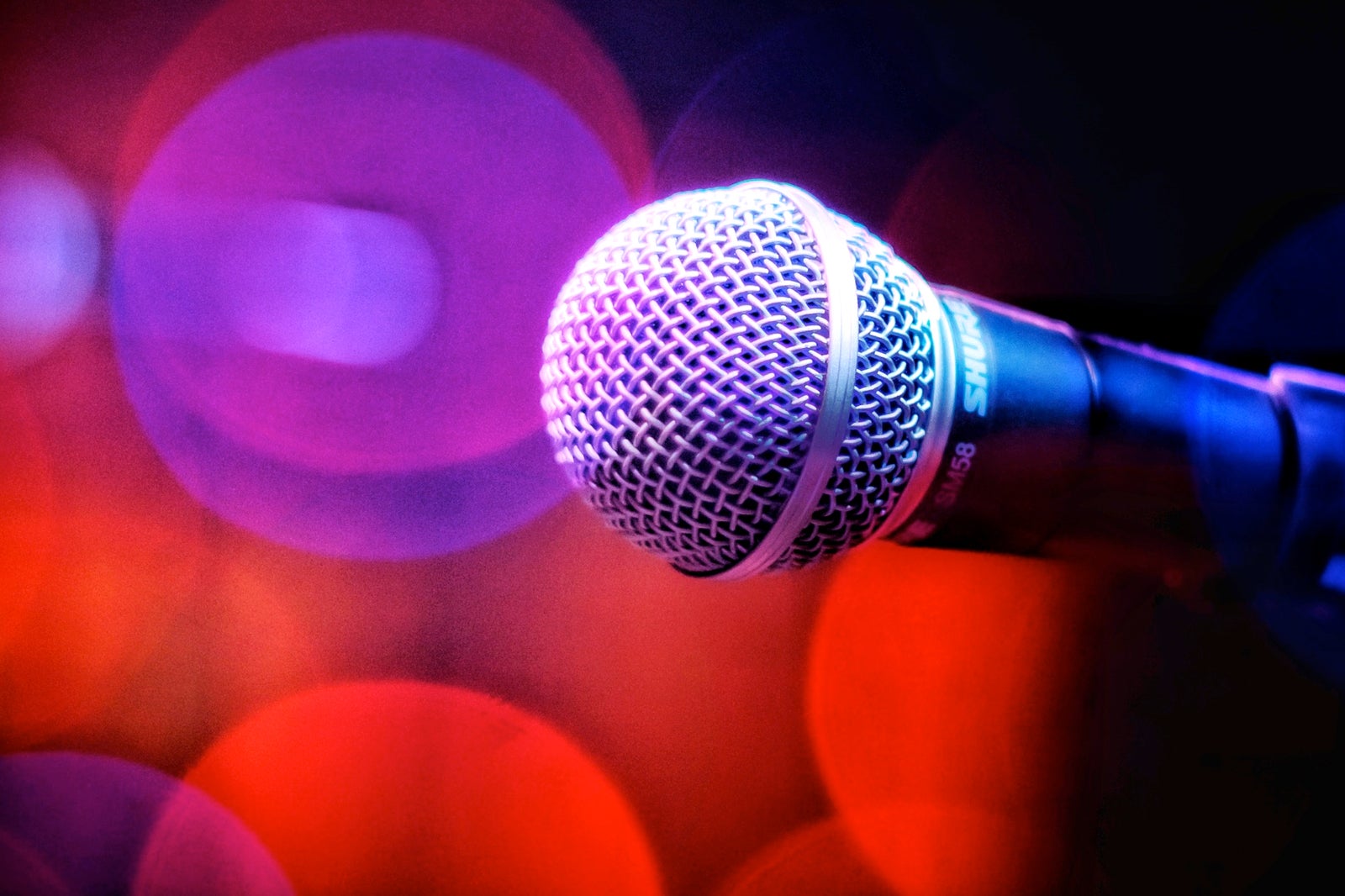 Barby Karaoke Bar is the place to go if you're not into loud music and huge crowds or if you're looking for an after-hours spot to continue your night in Kemer. Only operating in spring and summer, this bar is where you can come with a group of friends and have fun singing your favourite pop hits until dawn. There are no private karaoke booths here. Instead, there's one public karaoke system where your singing can be heard by every guest in the bar.
As guests take turns to sing, you'll have to wait your turn for the mic. Too shy to let everyone hear you sing? Just knock back a few more drinks to muster up some liquid courage. Do take note of the prices when ordering your drinks and carefully check your bill before paying, though.
Location: Merkez, Deniz Cd. No. 3, 07980 Kemer, Antalya, Turkey
Open: Daily from 7 pm to 6 am
Phone: +90 (0)532 797 39 35
4
Kemer Tower
For a panoramic view of Kemer at night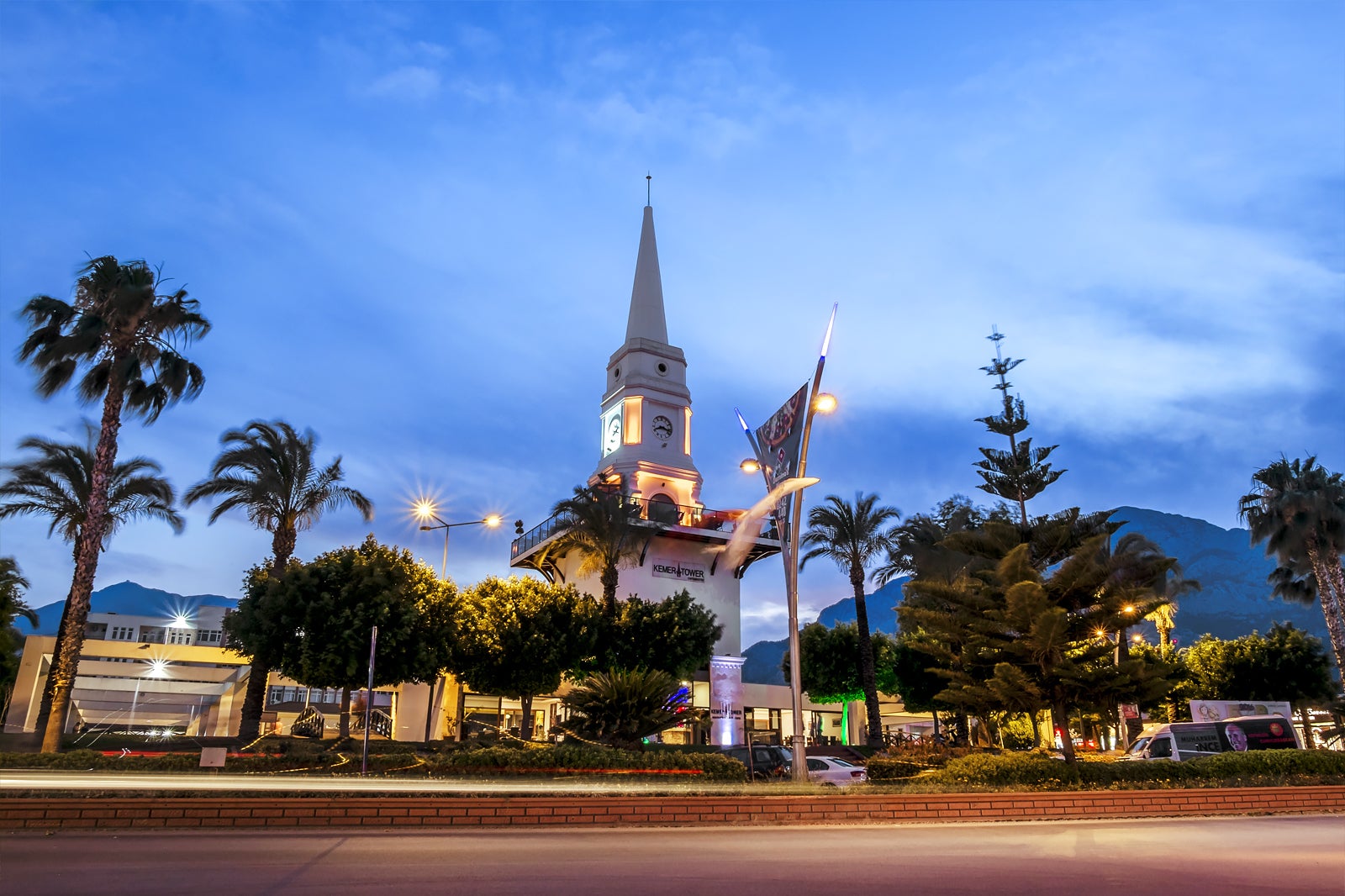 Kemer Tower, right in the heart of Kemer near a meticulously landscaped park lined with coconut trees, is the best spot to take in a beautiful view of Kemer's skyline. Be prepared as there's no lift here. The climb up 3 to 4 floors of stairs to the top is well worth it though, as you'll be rewarded with a 360° panorama of the city and the Taurus mountains.
From the open-air rooftop terrace, you can rest your feet, have a quiet drink and watch the world go by. You can also have a romantic dinner under the stars, as the tower's restaurant serves grilled meat, seafood and Mediterranean cuisine, which you can enjoy right on the terrace.
Location: Yeni, Atatürk Blv. No. 5, 07980 Kemer, Antalya, Turkey
Open: Daily from 10 am to 12 am
5
Club Inferno
Heat up your night in Kemer's biggest club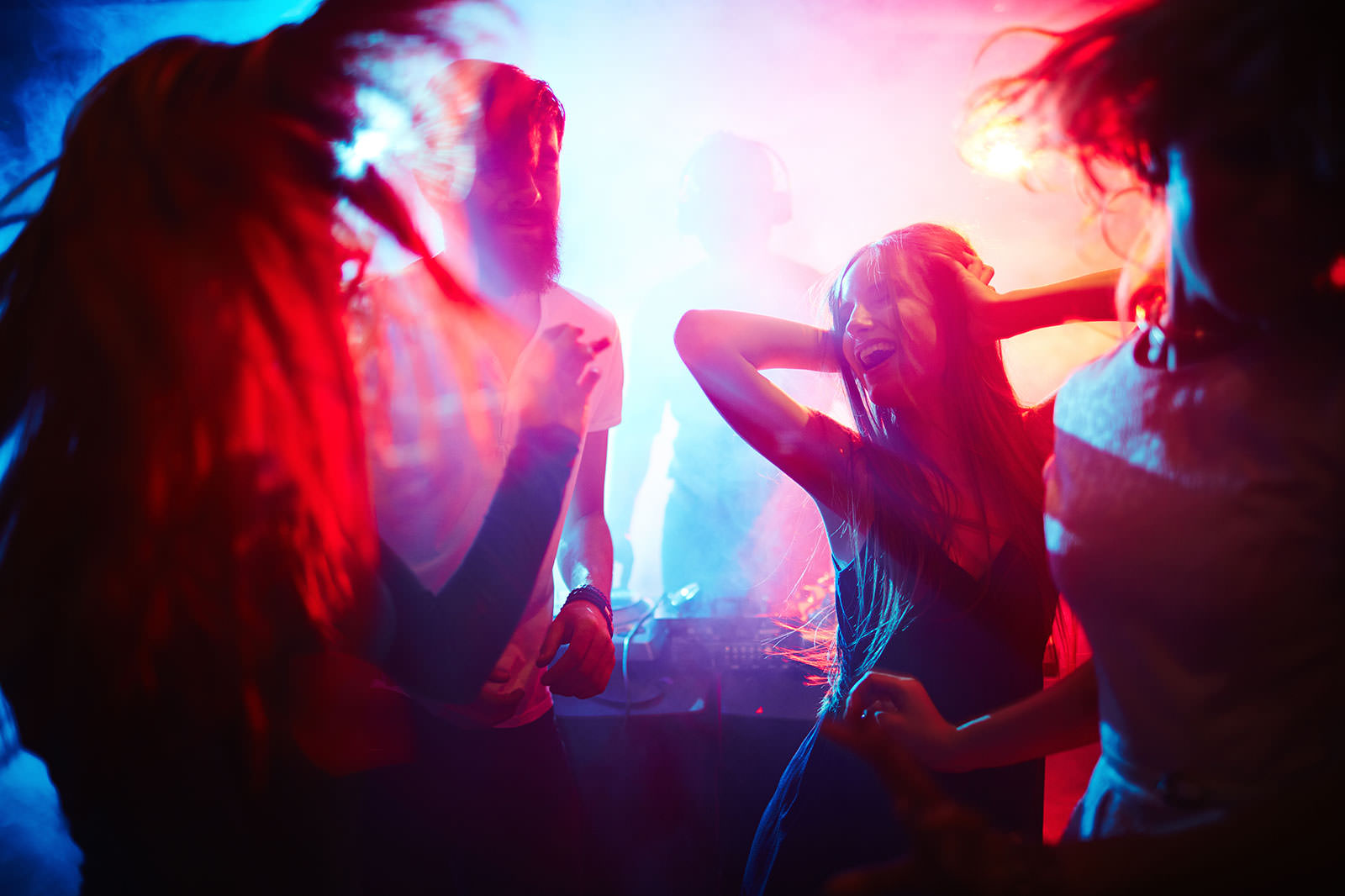 Club Inferno is where you can head to if you wish to really check out what Kemer's club scene has to offer. With a capacity of 3,000, Club Inferno is dotted with different bars that operate independently in the venue. On most nights, local DJs play the latest dance hits while dancers move along to the music. Live performances by local singers and bands are held here on occasion. You can people-watch from the bar tables or dance with other clubbers on the dancefloor.
You'll be offered a VIP table package as soon as you enter the club, but if that's not what you want, you can just make it clear that you'd prefer normal tables and regular drinks from the bar menu.
Location: Merkez, Deniz Cd. No.1, 07980 Kemer, Antalya, Turkey
Open: Daily from 10.30 pm to 4 am
Phone: +90 (0)242 814 53 32
6
Book a sunset dinner cruise in Kemer
Tuck into a sunset dinner close to a waterfall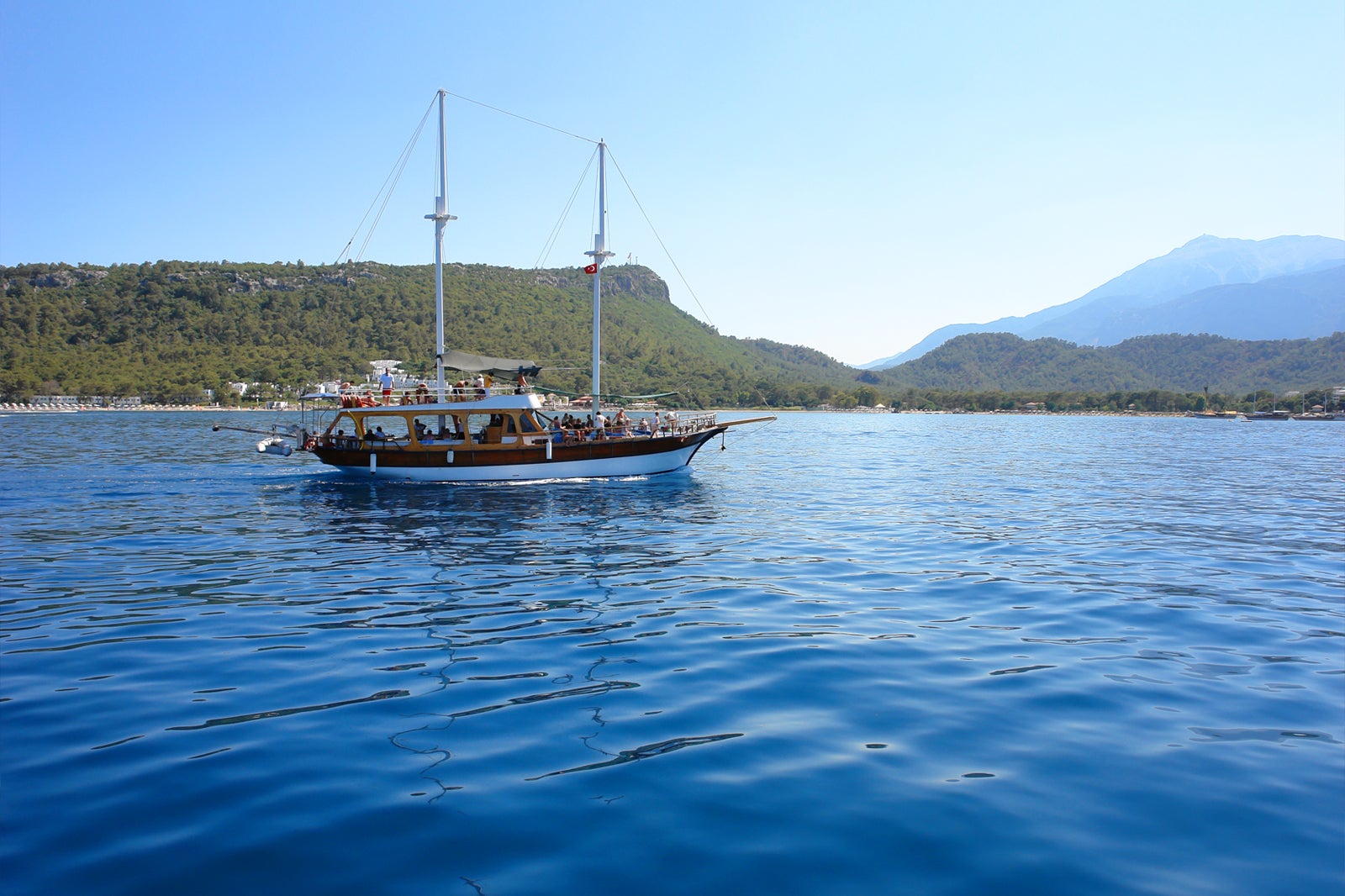 Book a sunset dinner cruise in Kemer for a fun and exciting evening out on the open sea. Some cruises set sail across Antalya, with stops that take you to a jewellery centre where you can shop for gold and silver and wander cobblestone streets in the old town of Kaleici. The evening then begins with a cruise during which you can jump into the water for a swim, or enjoy a delicious dinner along with soft drinks, beer and wine as the boat passes the Karpuzkaldiran Waterfalls.
You can also party under the stars along with your cruise mates to the music playing on board, as the boat sails back to shore. Pickup points are available in various hotels and locations around Kemer.
Back to top