11 Best Thai Food for Kids in Phuket
Popular Phuket Dishes for Your Children
Thai food is world-renowned for its exotic flavours, which is a mix of sweet, spicy, salty and sour. Thanks to the heavy use of chilli in most local dishes, it can be challenging for kids who are unaccustomed to the heat. While an easy option is to stick with western cuisine, you'll be missing out on the rich and varied flavours that are unique to Thailand.
When it comes to ordering Thai food for kids in Phuket, a useful expression to remember is, "mai pet" (not spicy). It's also worth noting that milk is effective at stifling the heat of spicy food compared to water. We have picked out a selection of very tasty Thai dishes with mild to zero spice for children (and adults who can't handle spicy food) to enjoy in Phuket.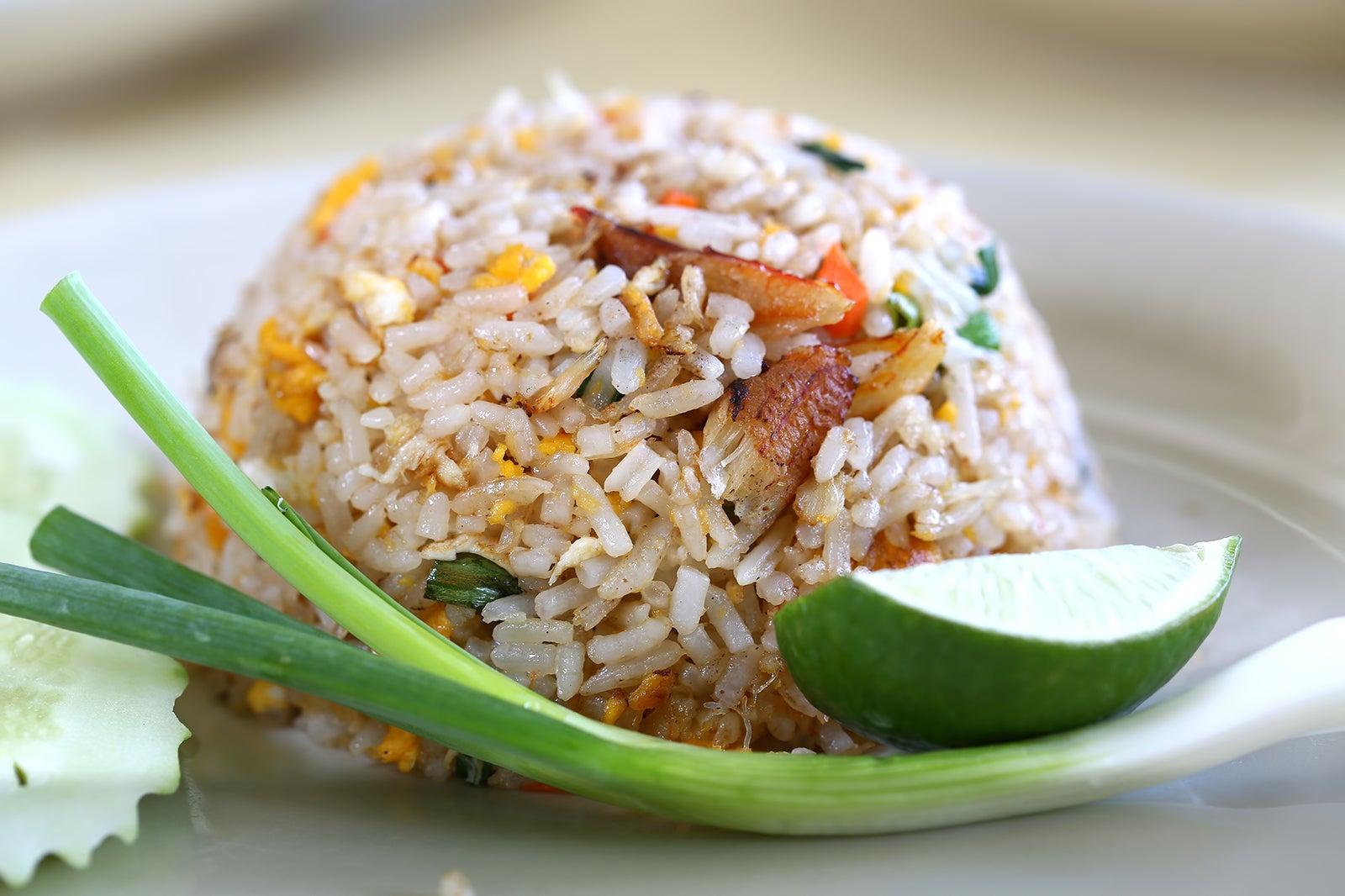 The simple and tasty khao pad (fried rice) is a staple of Thai cuisine. There are many different variations on the dish, such as chicken, vegetables, and seafood. One of the best-known versions is called the American fried rice (sometimes called egg fried rice), which comes with a fried egg on top. Most fried rice comes without chillies, making it a safe yet satisfying introduction for those new to Thai food.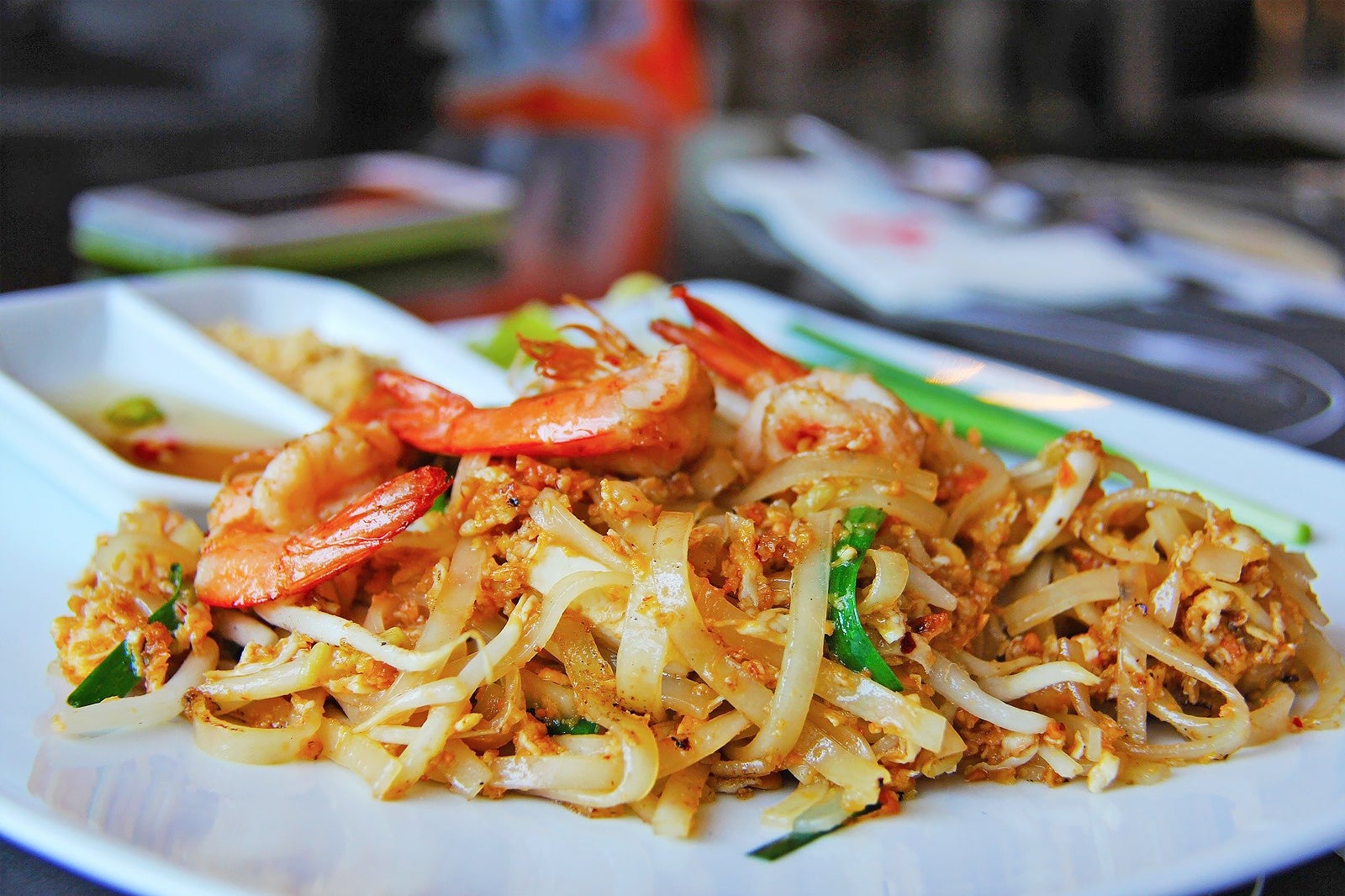 Pad Thai is such a quintessentially Thai dish, it even bears part of the country's name. Some versions might come with very mild sliced chillis, but this is extremely rare, especially if you're dining in a hotel restaurant. This fried noodle dish contains crushed peanuts, sugar, and seafood, along with a slightly sweet and tangy sauce.
3
Deep-fried chicken with sticky rice (gai tod khao neaow)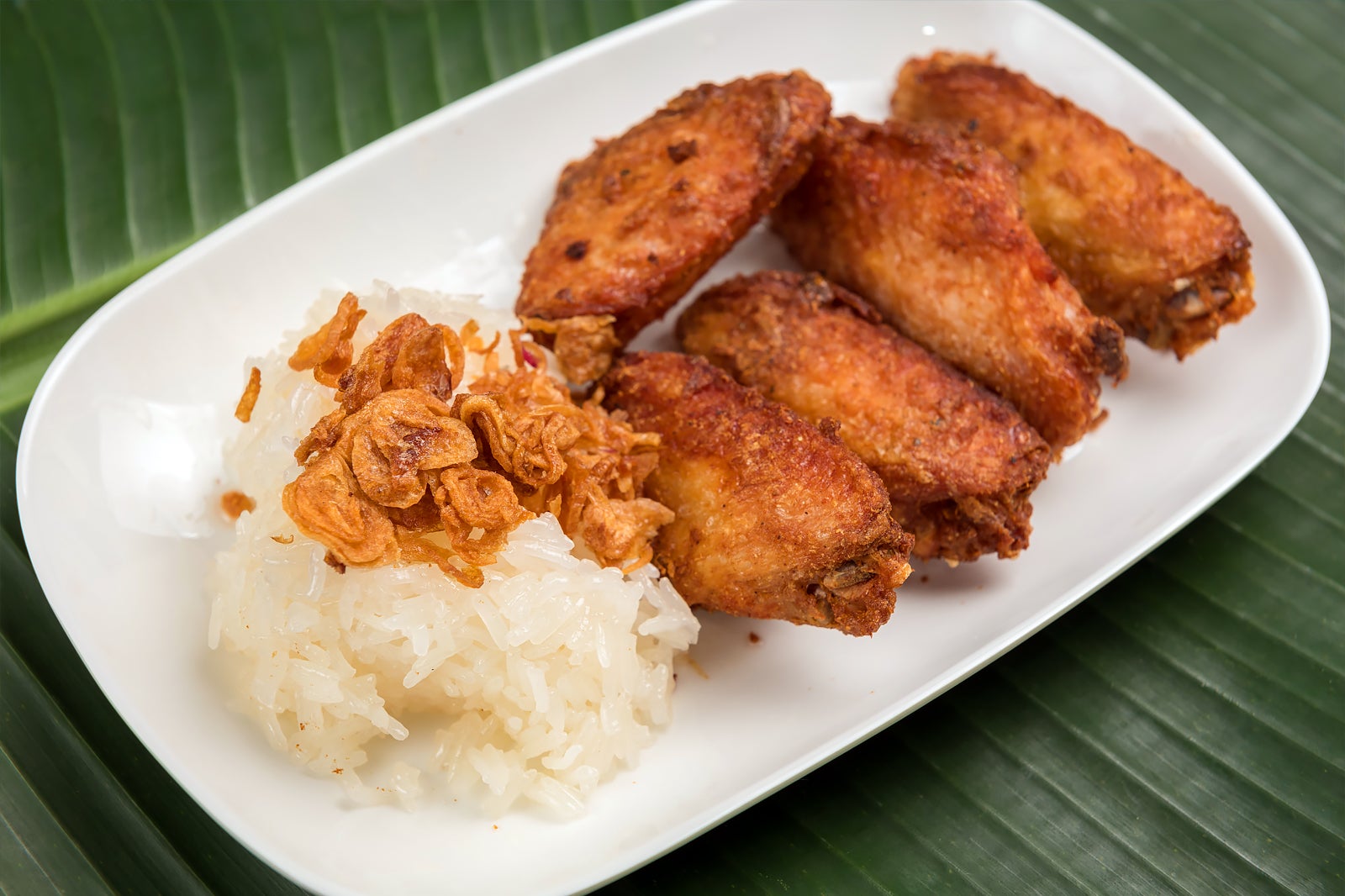 A fuss-free meal in Phuket, you can find many food stalls serving deep-fried chicken with sticky rice. Vendors often chop an entire fried chicken up with a meat cleaver, so look out for occasional shard of bone if you're planning to enjoy this dish with kids.
4
Mango sticky rice (khao neaow mamuang)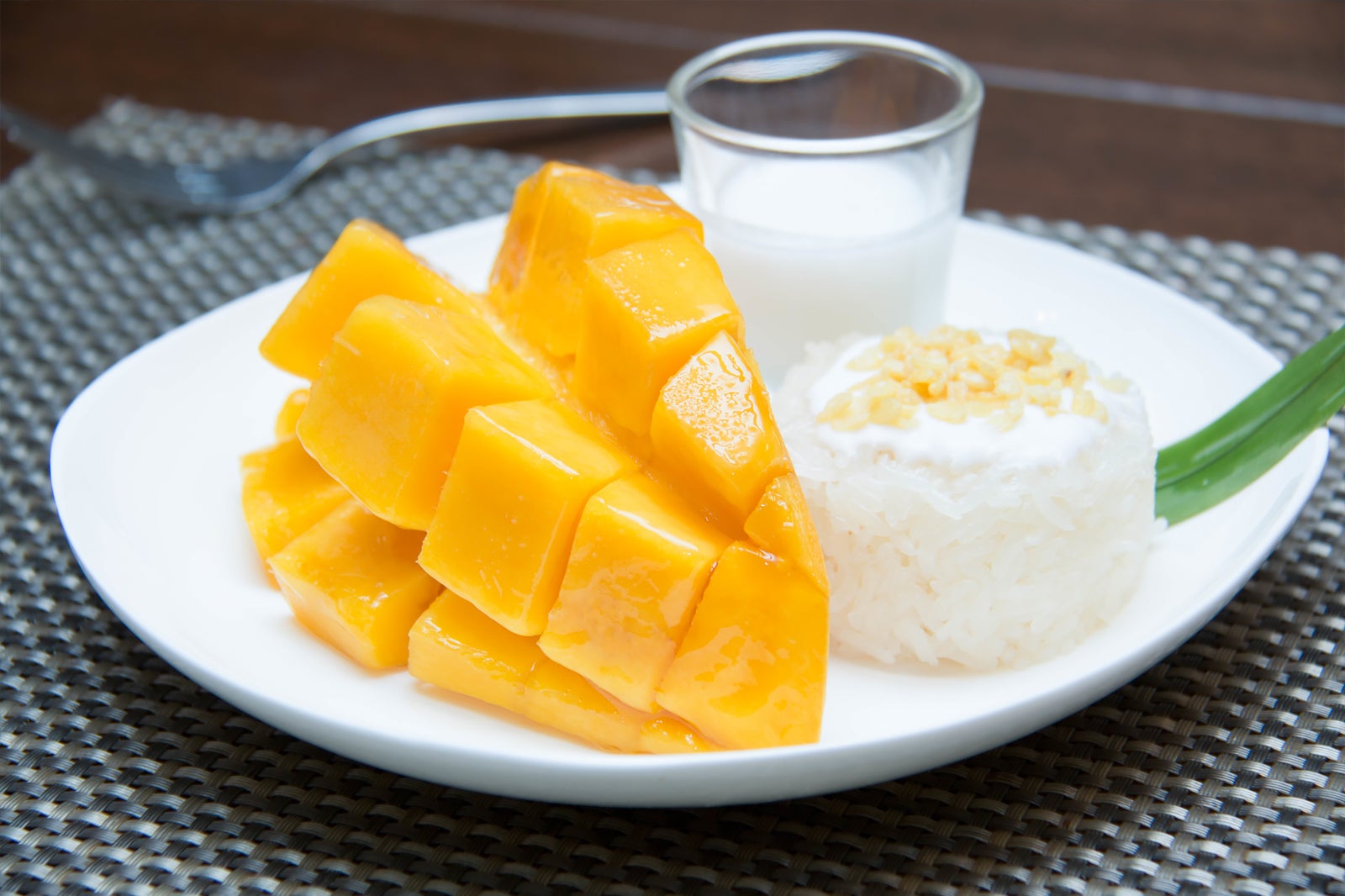 Mango sticky rice is one of the most popular desserts in Southeast Asia. Thai mangos are known to be extremely sweet and juicy – locals take it a step further by covering sticky rice and mango chunks in super-sweet coconut milk. You can find this iconic treat just about everywhere in Phuket, from high-end restaurants to street markets.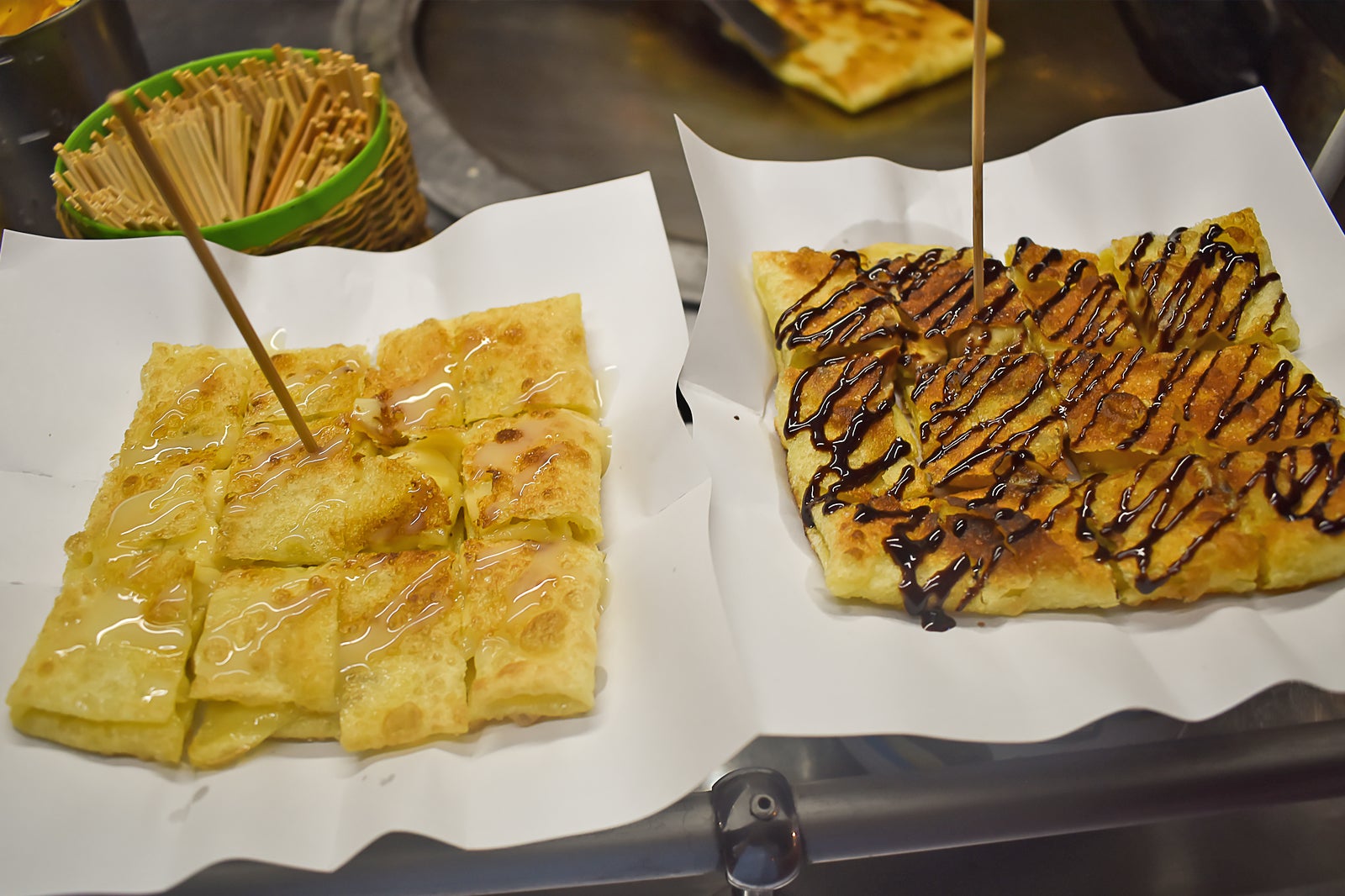 Banana pancakes are commonly found at street vendors and small local eateries in Phuket. This rather filling dessert is popular with both grown-ups and kids. You can find many variations of roti – fillings include chocolate syrup, Nutella, strawberries, and eggs. The pancake is also cut into bite-sized squares and coated in condensed milk.
Satays are skewered and marinated meat, with chicken being the most common version. It's served with a tasty peanut sauce – which tastes like crunchy and savoury peanut butter – and small squares of toast. Some vendors might make their peanut sauce a little spicy, but it's often mild enough for those with a low tolerance for spice.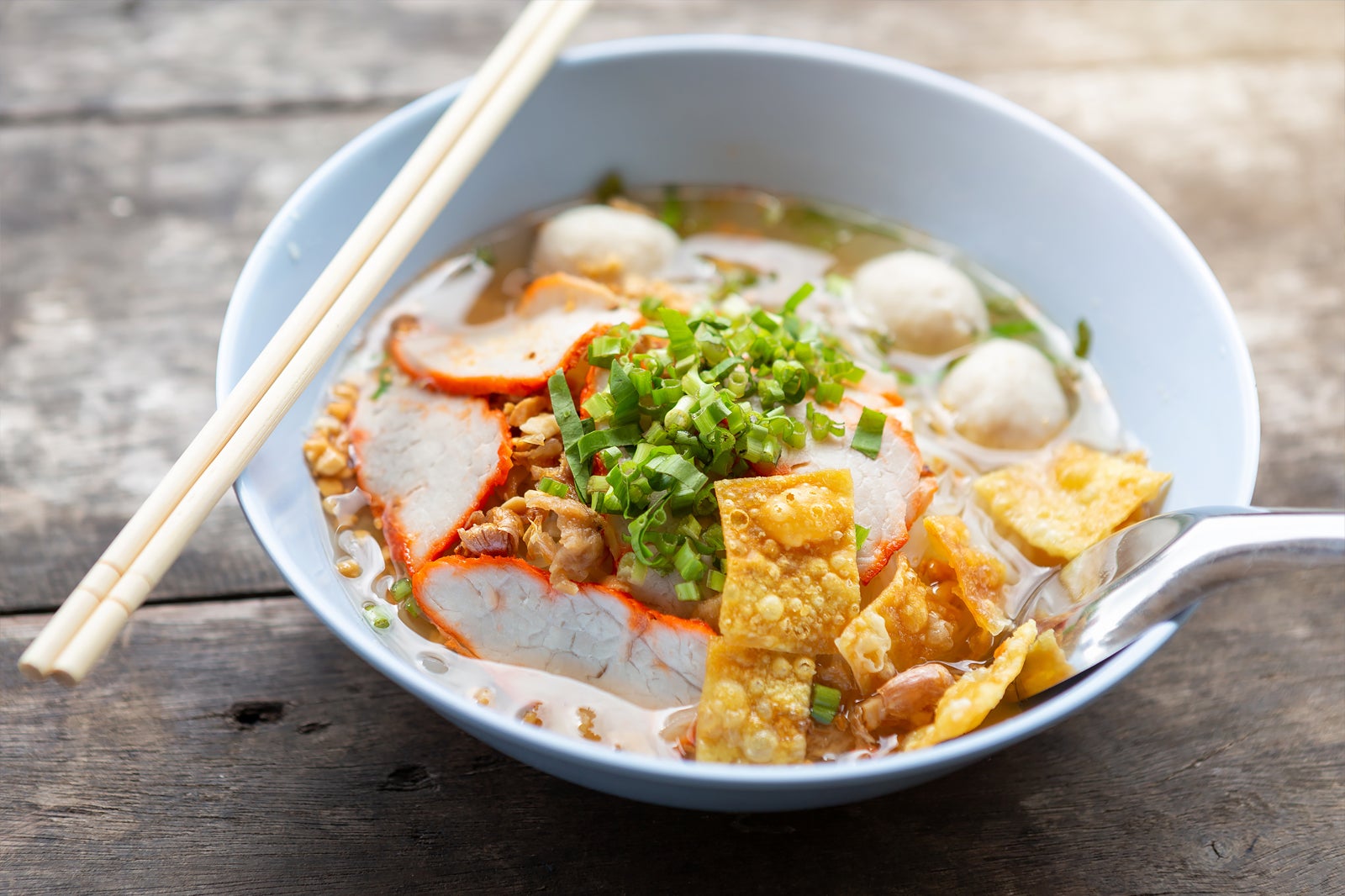 While Thai noodle soup isn't particularly common in many hotel restaurants, it's very popular with local Thais. This dish is only as spicy as you decide to make it, making it suitable for kids. Hokkien noodle soup is a Phuket speciality, which combines traditional Thai flavours with influences brought in by Chinese immigrants. Thai noodle soup consists of round yellow noodles served with vegetables and seafood in a light soup.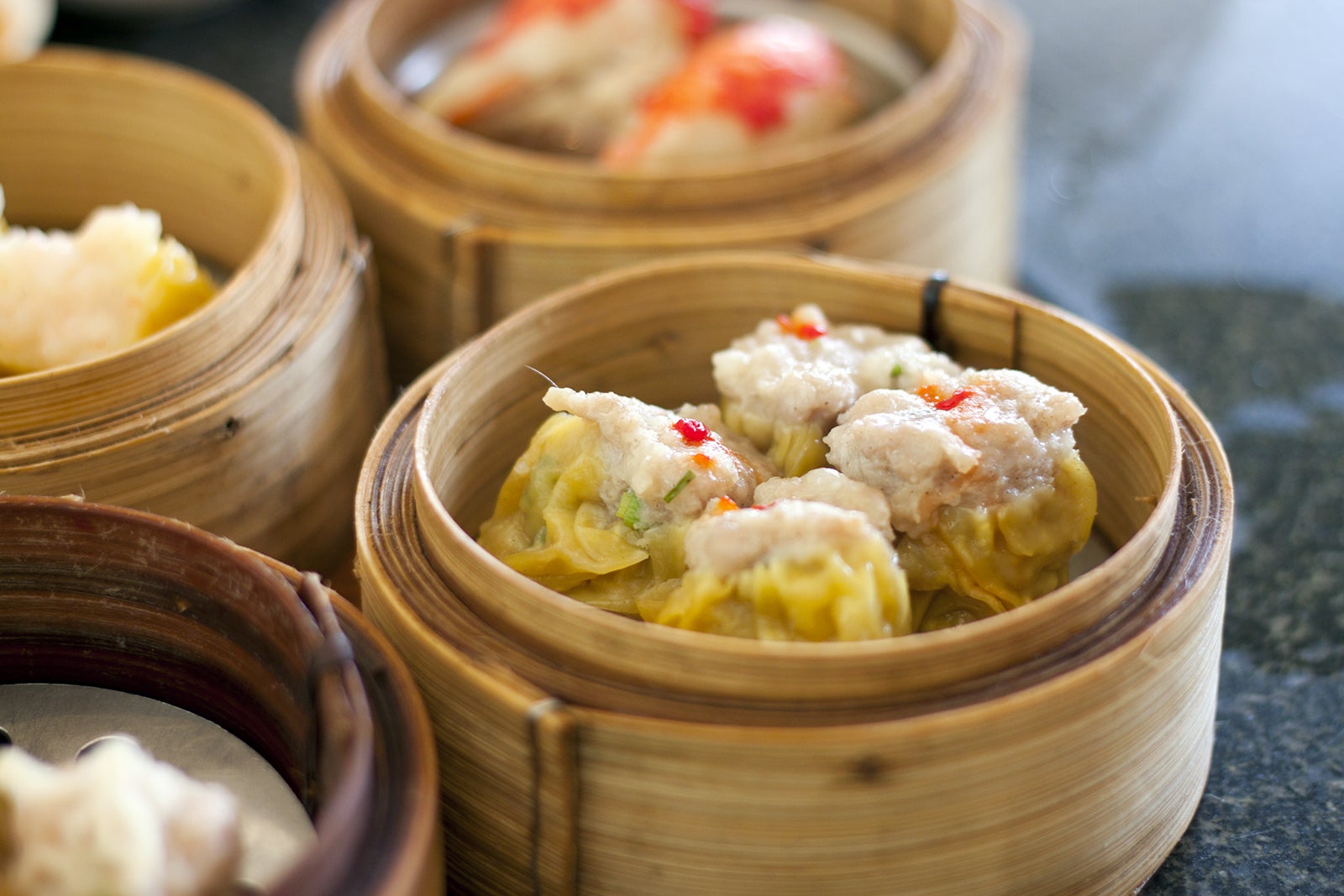 Dim sum is a Chinese dish that's become a firm favourite, especially in Phuket Town. The little steamed packages are served in tiny bowls, which you can pick and mix as you please. You can find small local restaurants serving dim sum for breakfast. They are generally smaller than Hong Kong-style dim sum but come in just as wide a variety of fillings, virtually none of which are spicy. The local favourite is Phuket-style shumai – pork dumpling wrapped in a noodle wrapper.
9
Steamed chicken rice (khao man gai)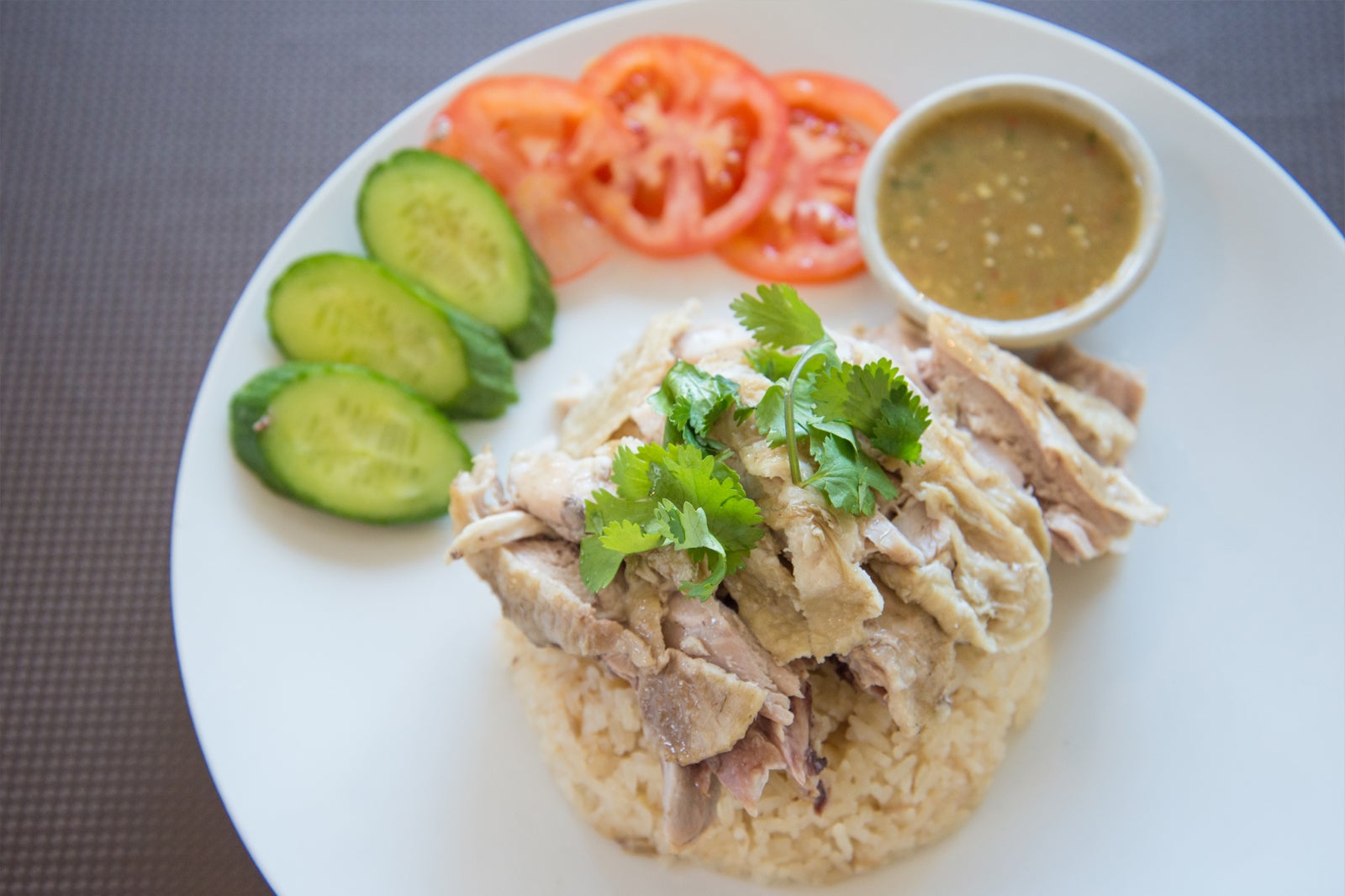 Khao man gai is a simple staple food across Thailand. Originally a Chinese dish that's particularly popular in Chiang Mai, the dish has poached chicken and steamed rice, usually with thin cucumber slices and a small bowl of chicken stock soup. You can add more flavour by dipping the chicken in a very mild sauce made from tauchu (fermented bean sauce), thick soy sauce, chilli, ginger, garlic and vinegar.
10
Thai omelette (kai jeow)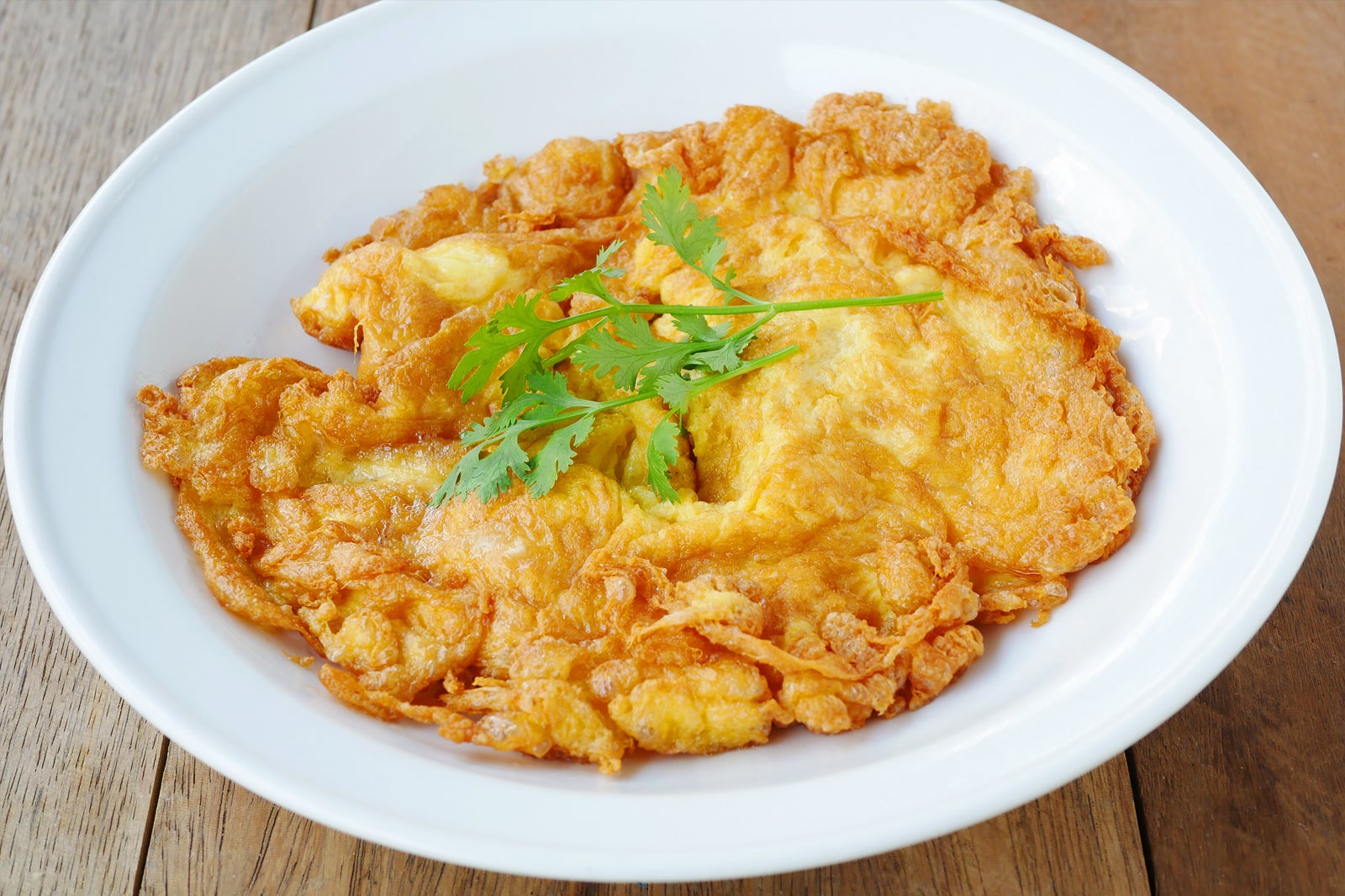 Thai omelette might be less fluffy than what you usually have back home. Instead of milk, fish sauce and spring onions are added to the savoury recipe. Kai jeow is often enjoyed with steamed rice, making it a simple and relatively healthy (and spice-free) meal in Phuket.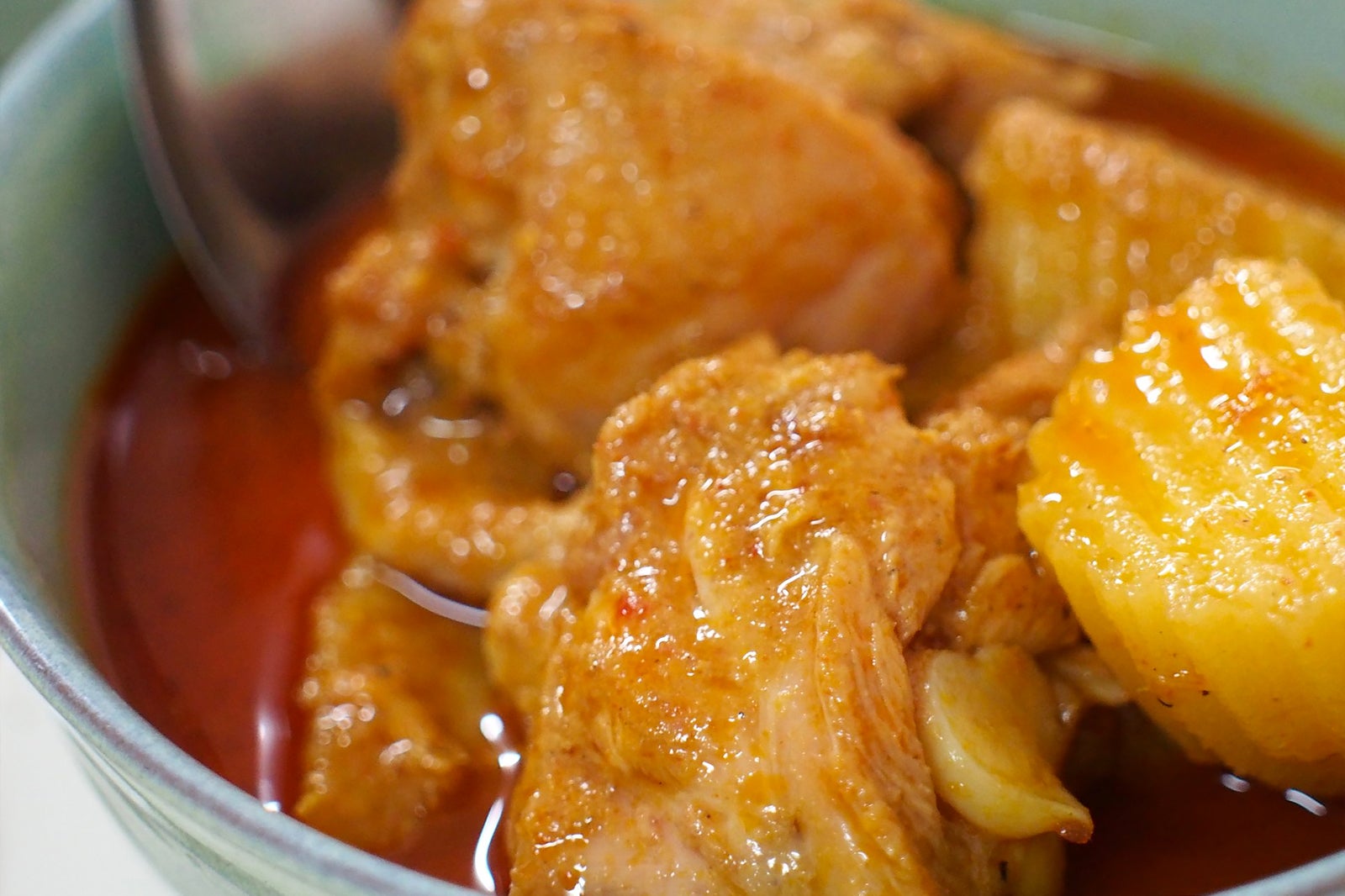 Massaman curry is a good option if you're feeling a little adventurous and want your children to try a spicy Thai dish. The heat comes from cinnamon, star anise, tamarind and a small amount of chilli. It's the mildest of all Thai curries, but still has a bit of spice to help your kids ease into traditional local dishes.
photo by Takeaway (CC BY-SA 3.0) modified