10 Best Thai Food in Phuket
Local Foods You Must Try When Visiting Phuket
Thai food – as exotic as it is – needs no introduction. While you'll probably find at least 1 Thai restaurant in most western towns, authentic Thai food in Phuket (and Thailand) itself is quite a different experience.
The juxtaposition of sweet, sour, hot and salty flavours is what makes Thai cuisine so distinct. It's most noticeable in tom yum, Thailand's national soup. Thai chefs are also very talented in appropriating foreign dishes and making them their own, such as in a typical salad or noodle dish. Check out our list of the best Thai food you should try in Phuket, below.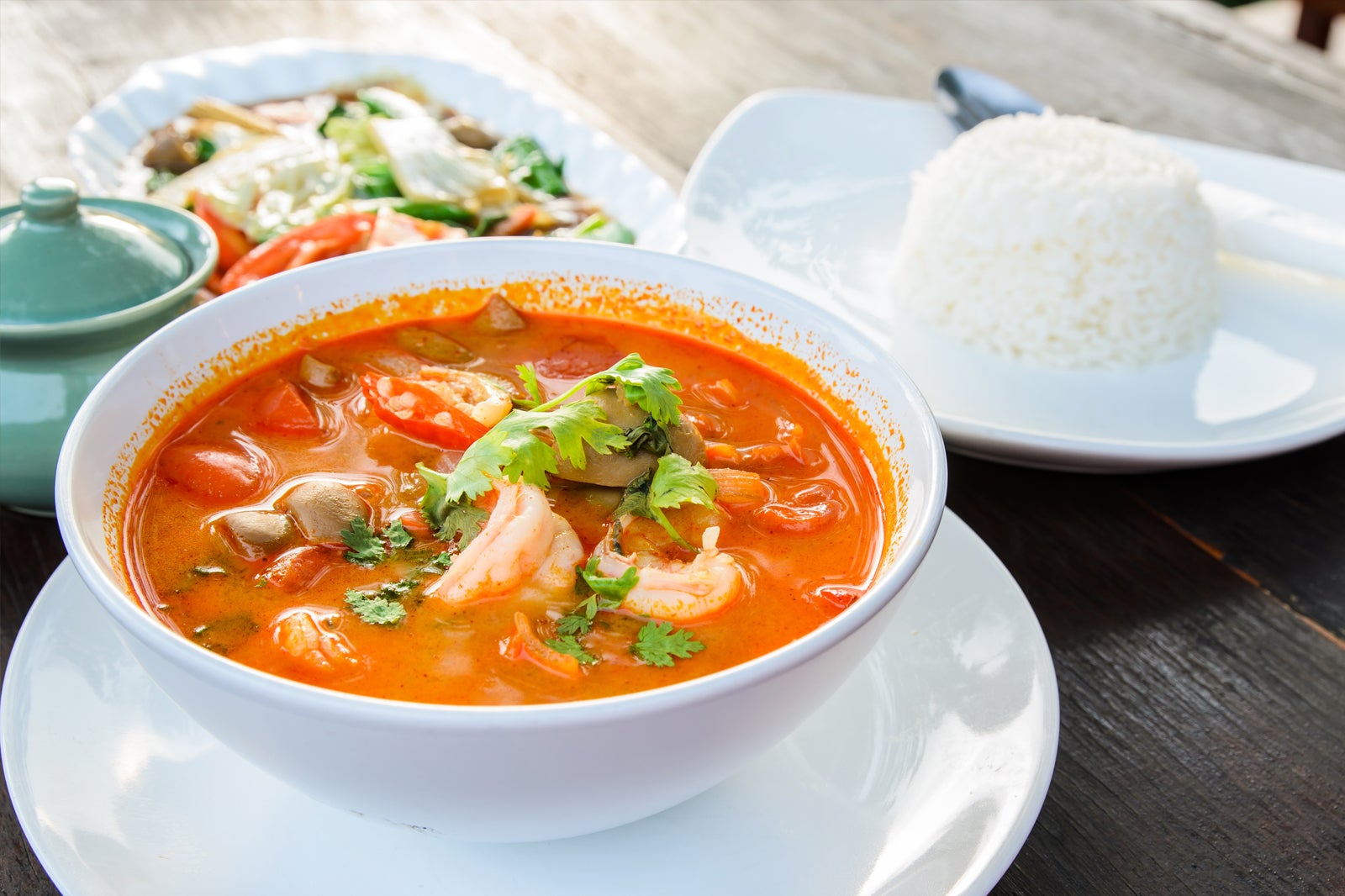 Tom yum goong is the national dish of Thailand. Generous use of fragrant herbs like lemongrass, lime leaves, galangal, and shallots provide a memorable aroma, while chilis and fish sauce give you that spicy kick. The soup also has jumbo shrimp (goong) and mushrooms. As a result, tom yum goong's flavour is a unique combination of spicy hot and sour. It makes for an excellent start to a meal or a filling main dish when paired with rice.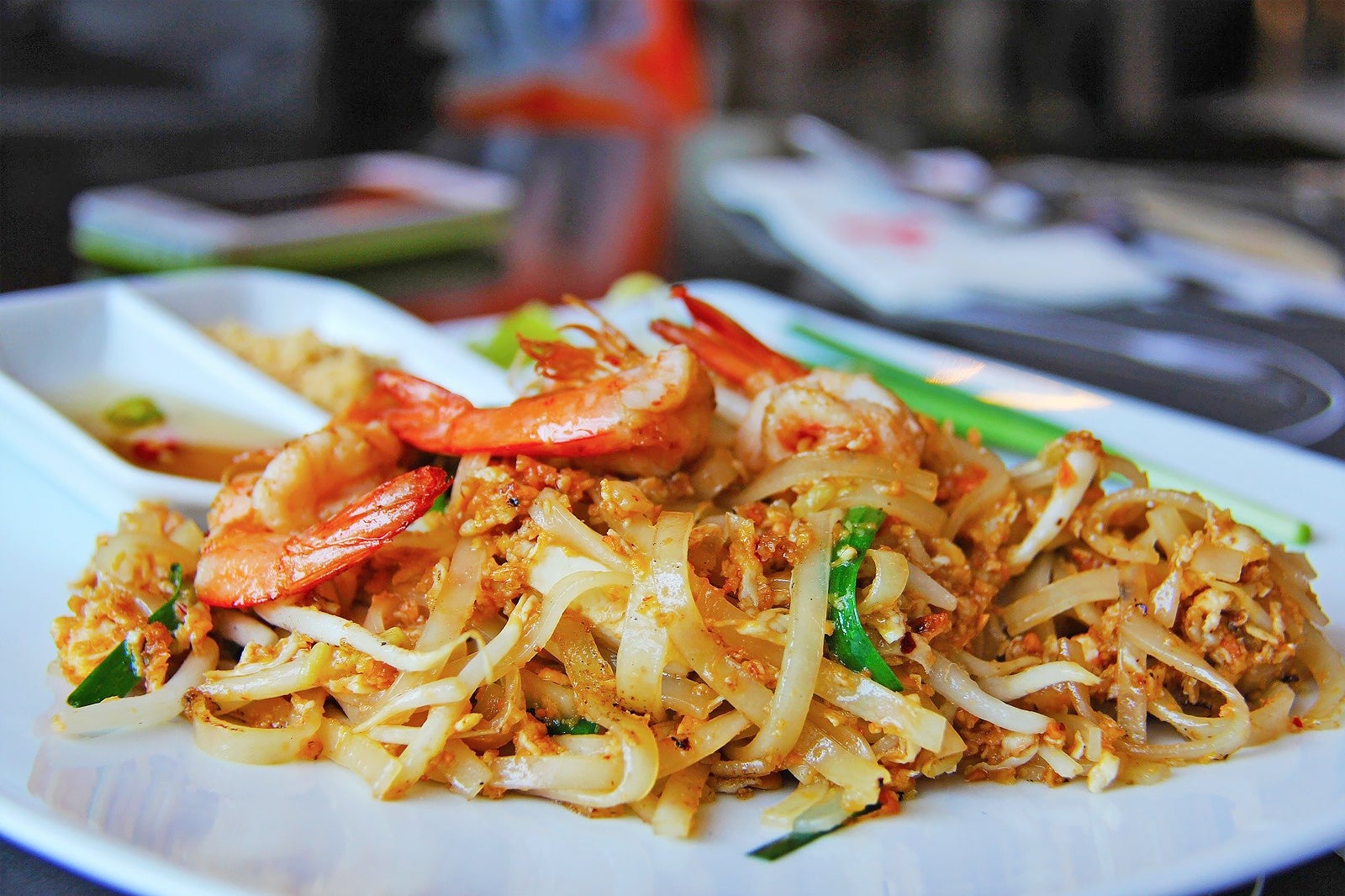 Pad Thai is widely recognised not just in Thailand, but in most parts of the world. There are so many variations on this iconic noodle dish but usually consist of tofu, bean sprouts, onion, and finely ground peanuts. Pad Thai is a diner-participation meal – you put on the finishing touches of fish sauce, sugar, chilli powder, and crushed peanuts to suit your taste.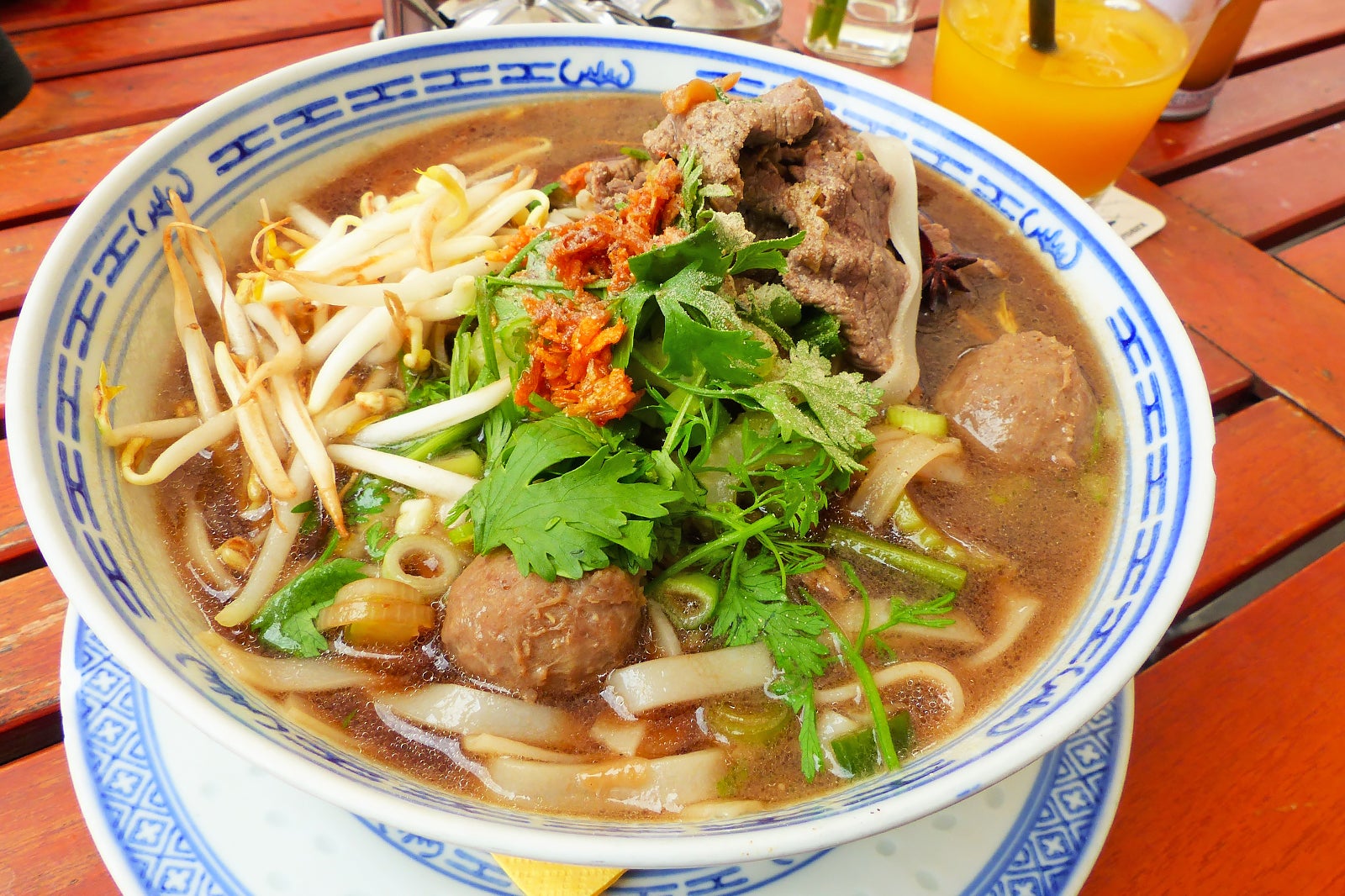 Kuay tiew (noodle soup) is a quick and easy staple of the Thai eating experience. Variations in ingredients mean 10 different vendors could serve it 10 different ways, making it nearly deserving of its own top 10 list. Noodles – usually thin, occasionally broad – are served up in a broth with just about any edible meat, including pork, chicken, beef, duck, and seafood.
photo by Dr. Bernd Gross (CC BY-SA 4.0) modified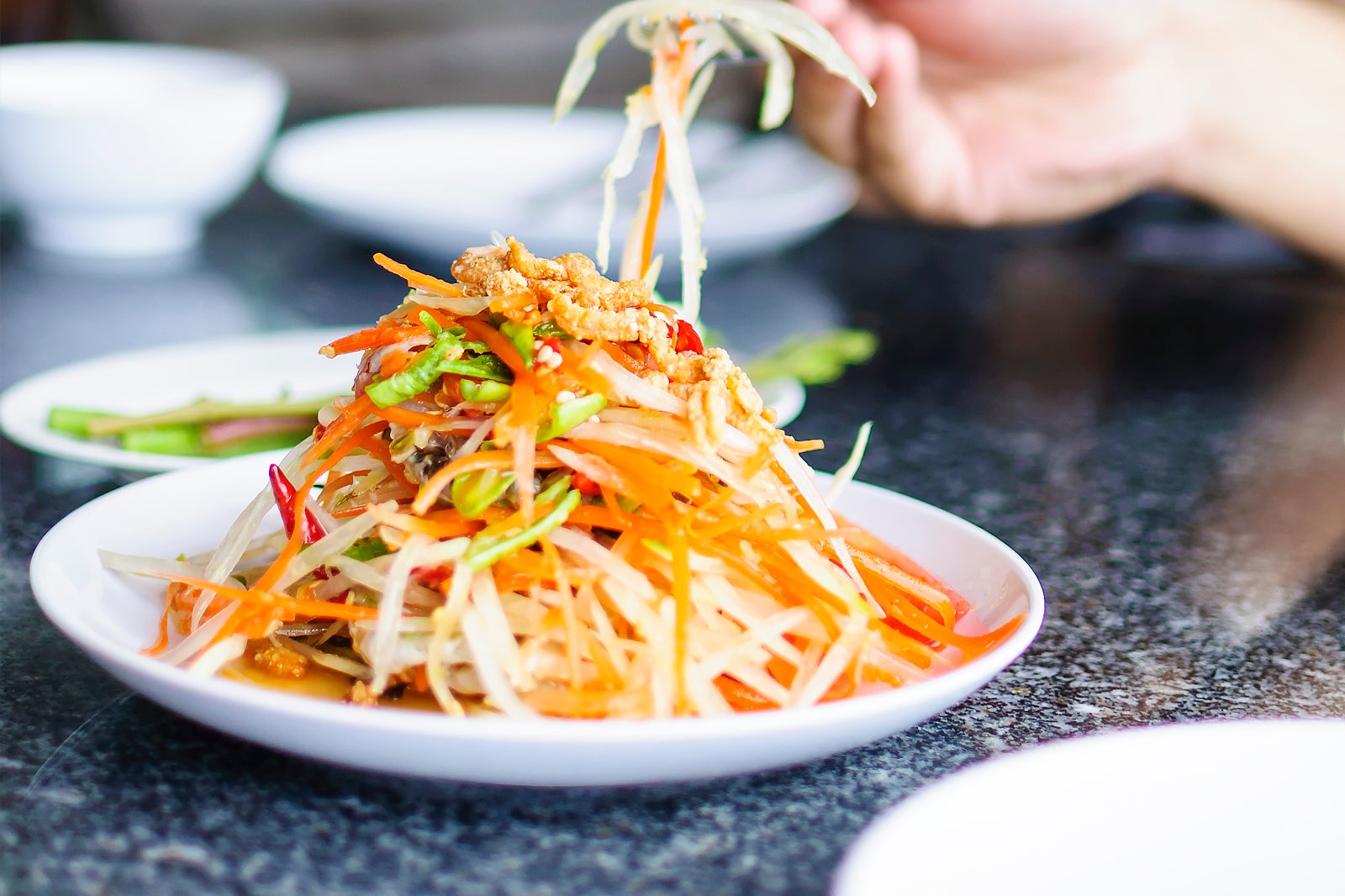 Som tam (spicy papaya salad) comes from northeast Thailand, but it's reached near-cult status throughout the rest of the country. Slight regional differences in ingredients mean that the sweet-or-sour scale might vary greatly between restaurants. This dish of shredded green papaya has a healthy dose of heat, depending on the amount of red chilli added. Som tam is best paired with barbequed chicken and sticky rice.
5
Gai pad med ma muang (stir-fried chicken with cashew nuts)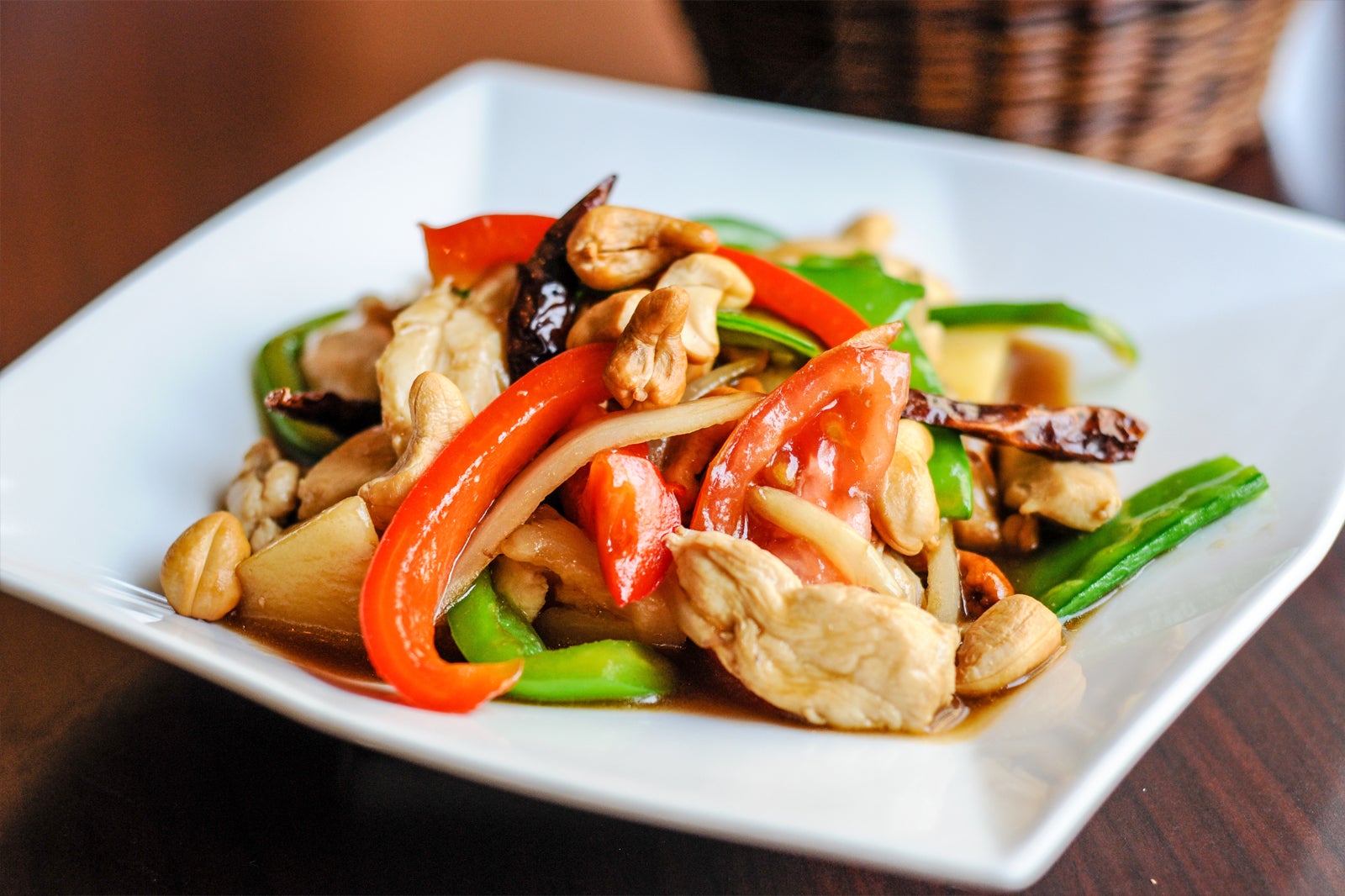 Phuket is known for supplying some of the world's best cashew nuts, so you'll find many restaurants serving gai med ma moung. This dish of stir-fried chicken with cashew nuts is excellent if you have a rather low tolerance for spice. It also contains sweet soy sauce, honey, garlic, and a few dried chilis. Enjoy it for lunch or dinner by pairing it with steamed rice.
6
Geng kheaw wan gai (green curry chicken)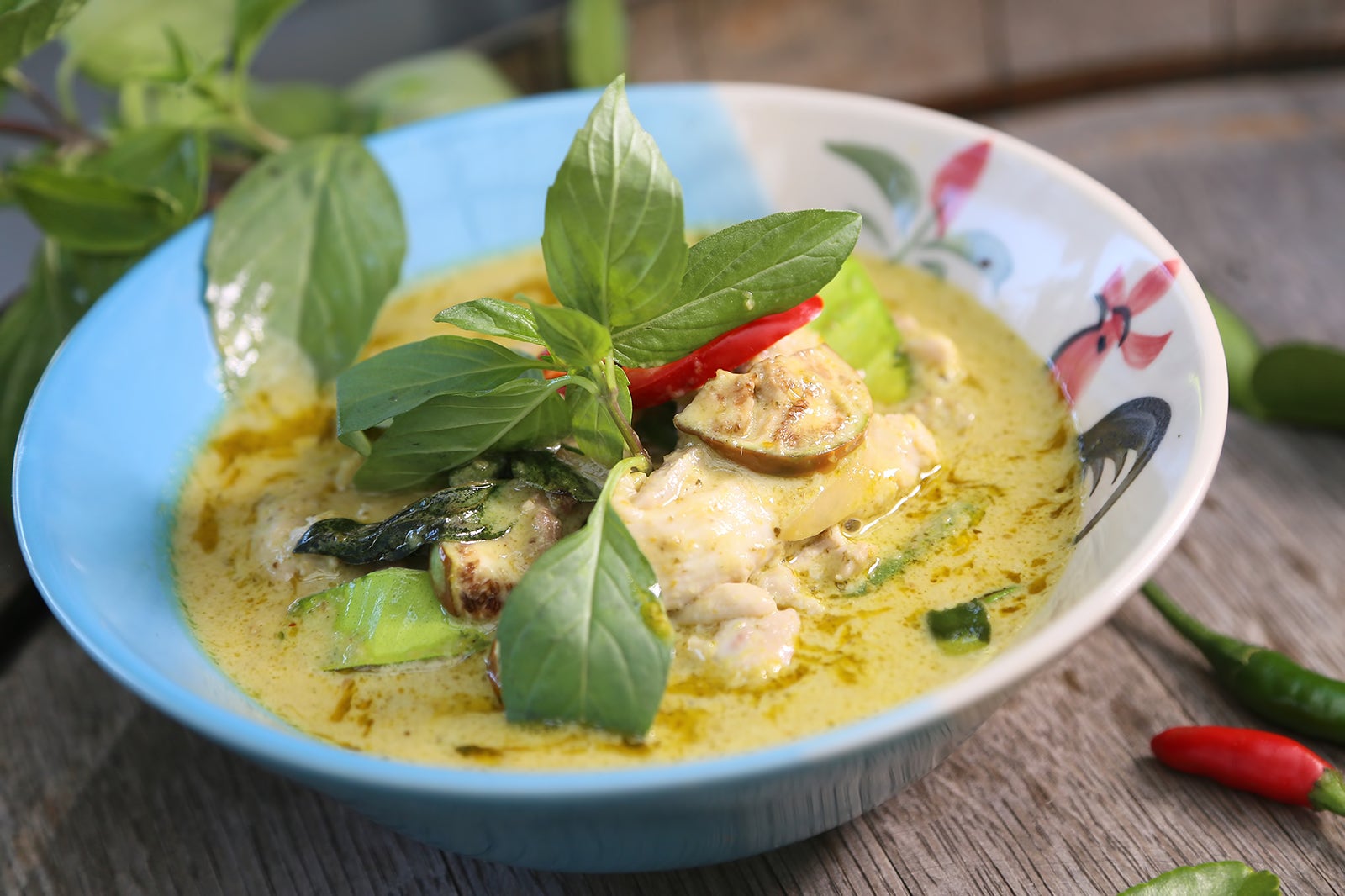 Green chicken curry contains coconut milk, cherry-sized eggplants, bamboo shoots, galangal, lemongrass, coriander and sweet basil. It gets its distinct colour from green chillies, though some restaurants use green curry paste. This dish is richer and sweeter than the classic tom yum, and pairs well with flatbread or steamed rice.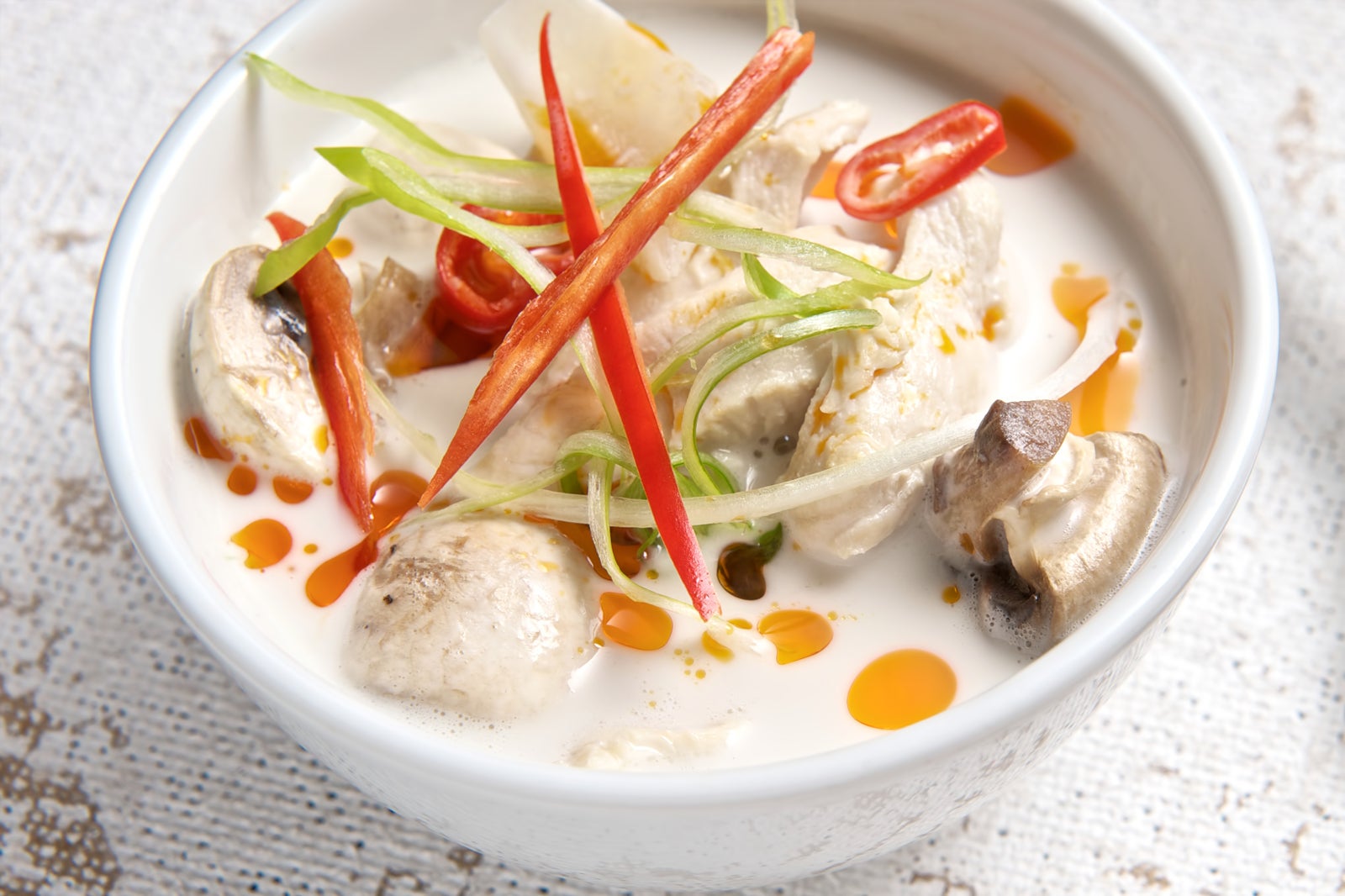 Tom kha gai (chicken in coconut soup) combines coconut milk with lemongrass, galangal (ginger's Asian sister), and chicken. It's a sweet, tame twist on tom yum goong (spicy shrimp soup). Like most Thai-style soups, it's best enjoyed with a plate of steamed rice.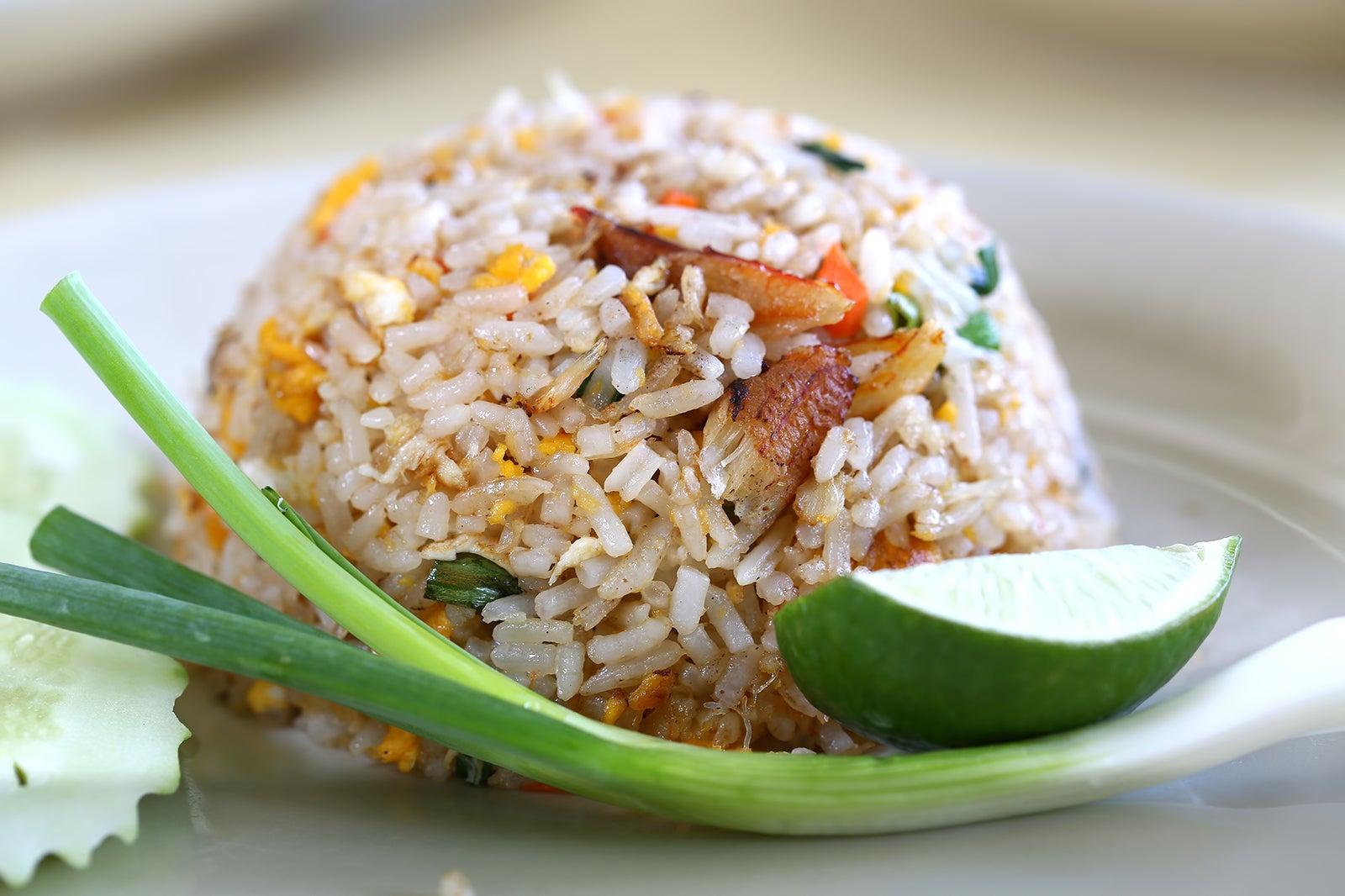 At first sight, kao phad appears to be little more than a big heap of rice. However, it's actually made up of various ingredients, including your choice of meat (shrimp and chicken being the most popular), eggs, onion, cilantro, garlic, and tomatoes. A side of chilli is often served along with fried rice, in case you like it spicy.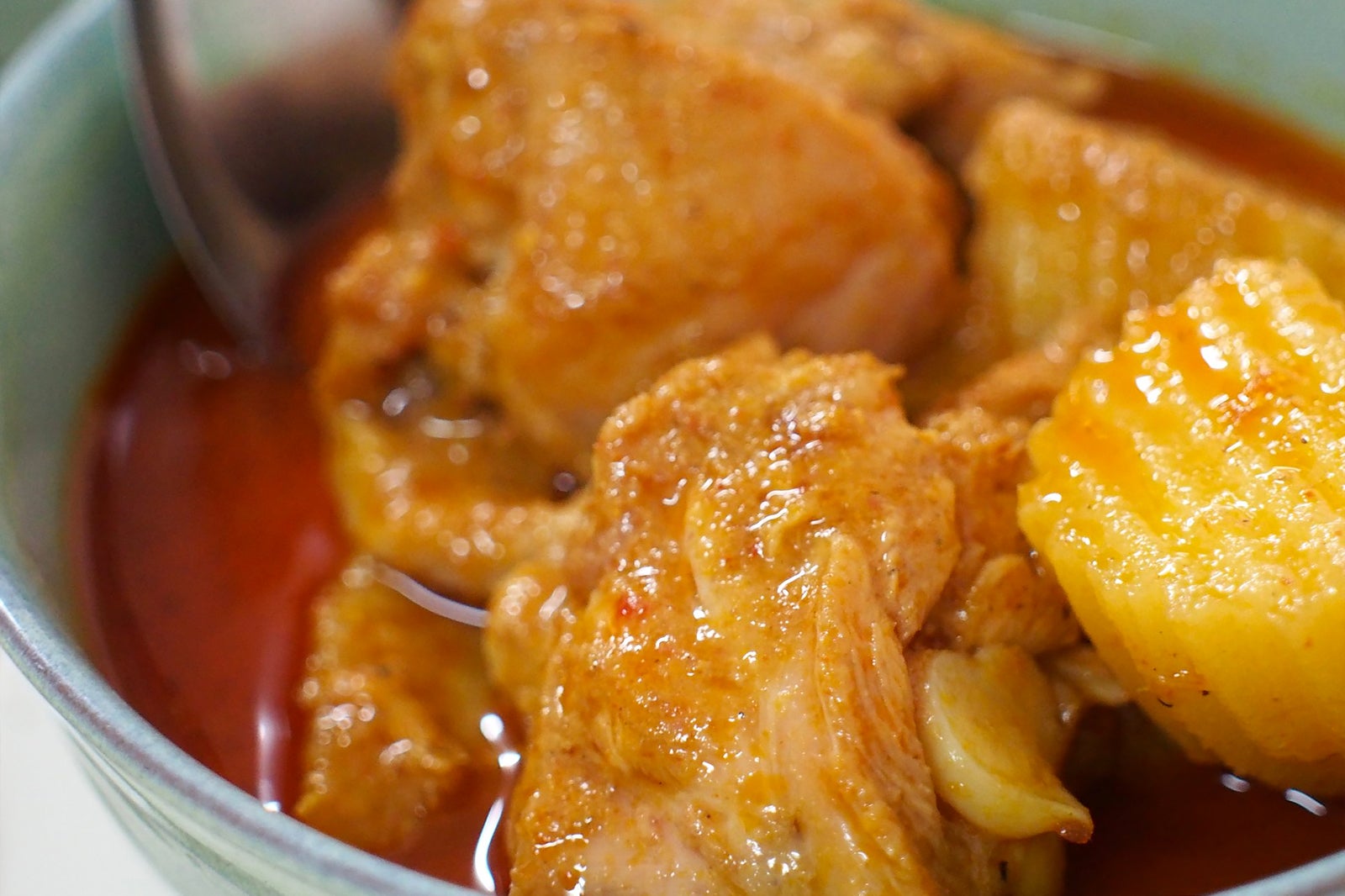 Massaman is the Thai word for Muslim, which is the community that's responsible for this unique curry. It contains coconut milk, potatoes, roasted peanuts, bay leaves, sugar, cinnamon, and tamarind sauce. The meat of choice is often beef or chicken, but because it's been embraced by the Thais, some restaurants serve the massaman curry with pork.
photo by Takeaway (CC BY-SA 3.0) modified
10
Khao man gai (steamed chicken rice)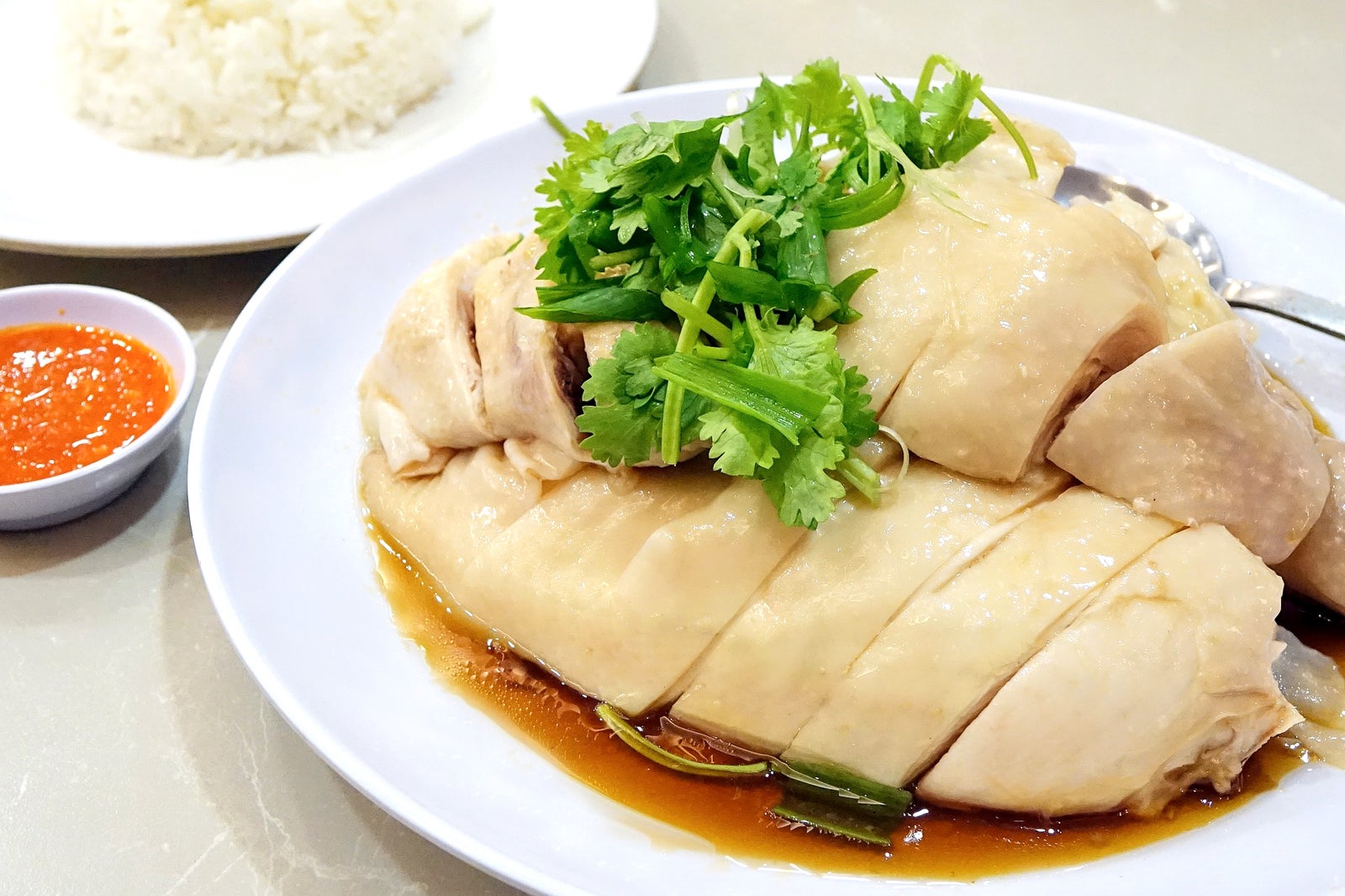 Khao man gai (steamed chicken rice) is a ubiquitous meal served mostly at special stalls and restaurants during the day. The chicken is gently boiled until tender, after which the water is used to prepare the rice. Khao man gai is usually served with chicken broth and a sweet-and-spicy sauce.