6 Massages to Try in Bangkok
Bangkok Spa and Health Guide
There are several ways you can enjoy a massage in Bangkok. Soothing treatments can range from an aromatherapy and oil massage that's widely thought to enhance memory, amongst other things, to facial massages that will make your skin glow radiantly, or a Thai foot massage that will ensure your feet and legs are lavished with the attention they deserve. Whatever the treatment, a proper massage can be beneficial for everyone.
Here are some of the different types of massages available in Bangkok, and the recommended places to go where you can enjoy them and be pampered the Thai way.
1
Aromatherapy and oil massage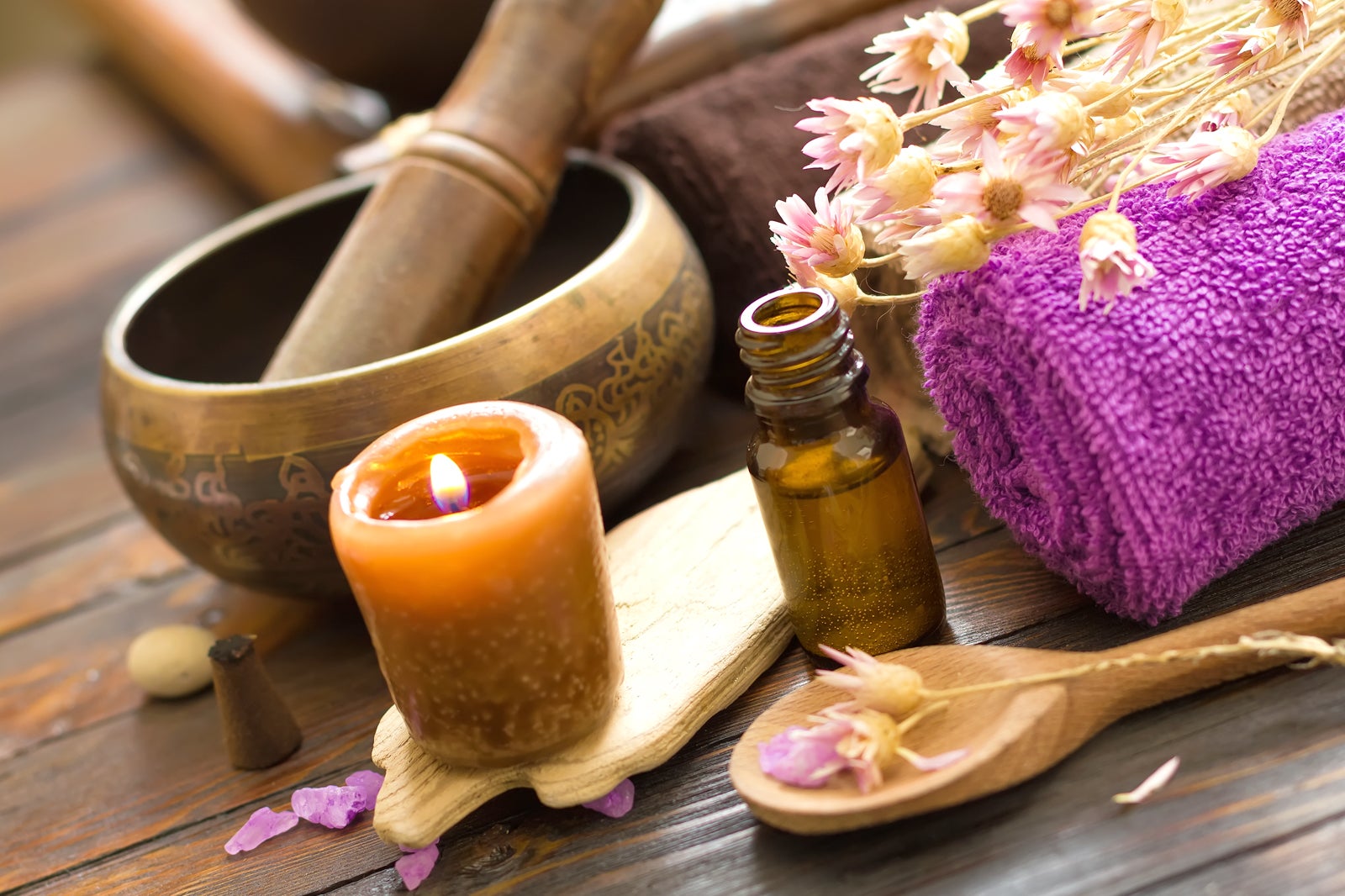 Aromatherapy and oil massage includes the external application of water, lubricants, salt scrubs and other topical preparations and devices that mimic or improve the actions of hands. Essential oils are a common supplement to Thai massage – incorporating aspects of aromatherapy may provide further benefits.
Many establishments in Bangkok offer aromatherapy separately or as an addition intended to enhance another style of massage. Distinct fragrances are thought to trigger memory and enhance an individual's responses to the aroma – perhaps calming, inducing relaxation, or restoring energy. The oils used in each session are usually determined with input from both the masseur and client, seeking to remedy specific needs.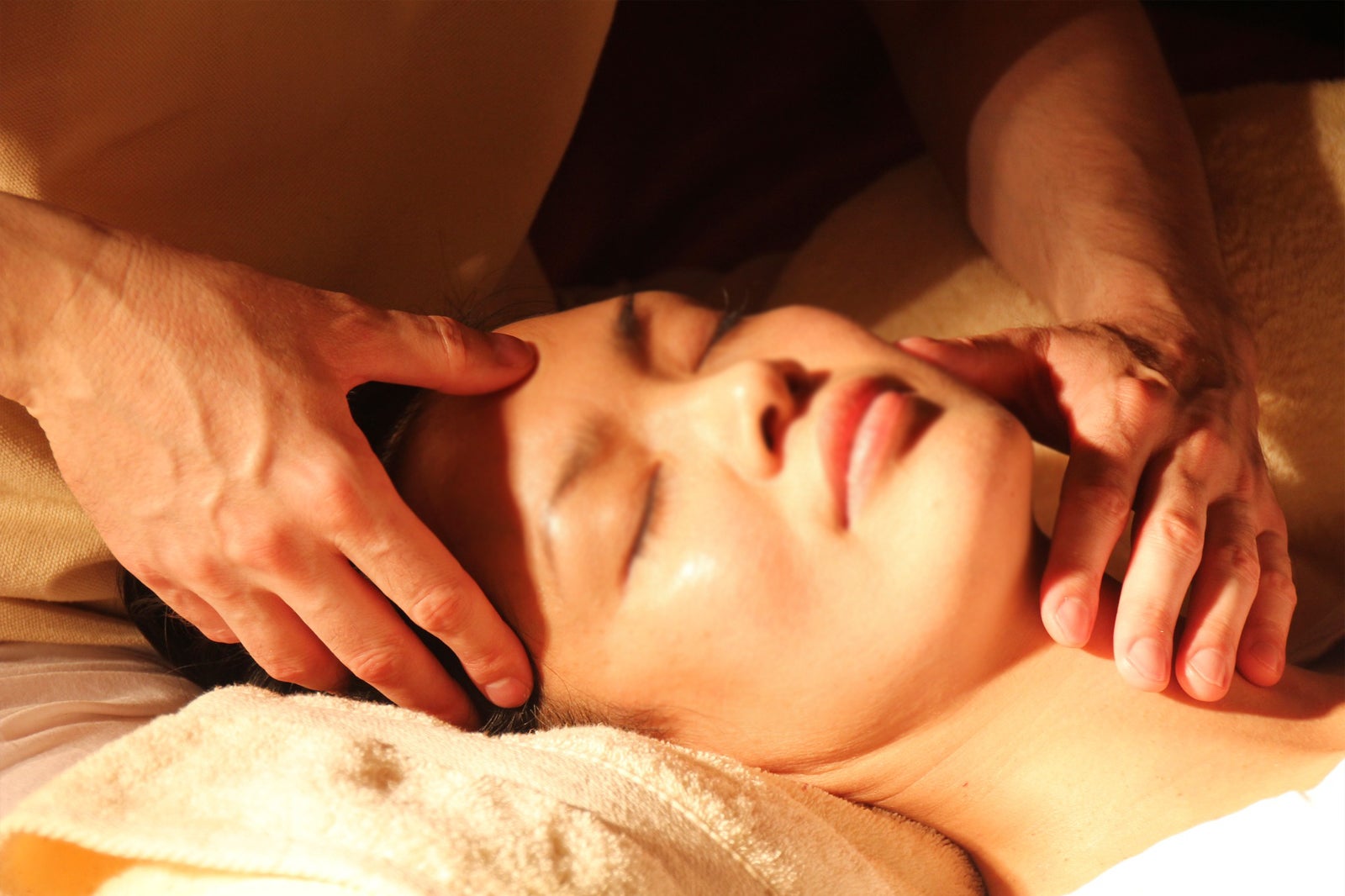 Facial massage relieves tension, promotes relaxation, and restores energy to the face by increasing blood circulation. During sleep, circulation is decreased in the body, meaning less blood flow to the face which results in puffiness and a drained complexion. Facial massage stimulates blood flow in facial tissue, restoring a healthy glow and maintaining a firm and smooth appearance.
Thai facial therapy uses gentle, circular strokes along different regions of the head, face, and neck. Finger movement is always in an upward motion and, when performed regularly, keeps skin appearing tight and youthful. With gentle fingers gliding over closed eyes, Thai facial massage makes relaxation virtually inevitable and couples the experience with improvements in skin texture and appearance.
Thai foot massage options appear almost everywhere Thai massage therapy is available. Though the title implies only feet are tended to, in actuality, legs, lower thighs, hands and forearms also receive attention during a traditional Thai foot massage. After cleansing, skin lotion or oil is applied to the feet. Reflex points are stimulated with fingers and occasionally a small wooden stick.
Each part of the foot is reputably linked to another, often distant part of the body, with influence extending to vital organs and muscles. Thai foot massage ensures that feet and legs are lavished with the consideration and attentiveness they deserve. They are the pillars of the human body, after all.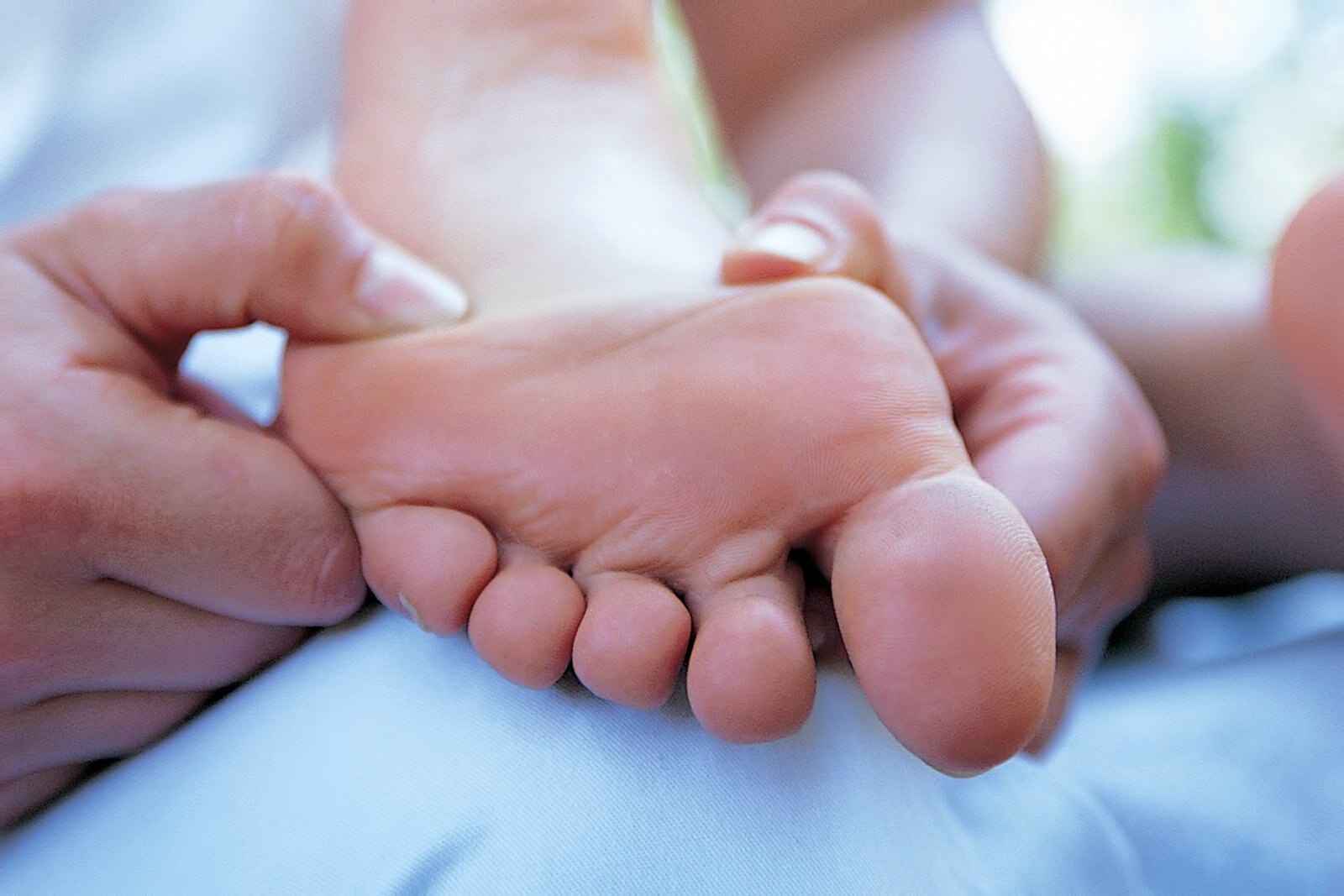 Reflexology is the practice of stimulating points on the feet, hands, or ears, in the belief it will have a beneficial effect on some other parts of the body or will improve general health. The most common form is foot reflexology.
Practitioners believe the foot to be divided into several reflex zones corresponding to all parts of the body, and that applying pressure to tight or 'gritty' areas of a person's foot will stimulate the corresponding body part and encourage it to start healing itself.
5
Thai massage spas and salons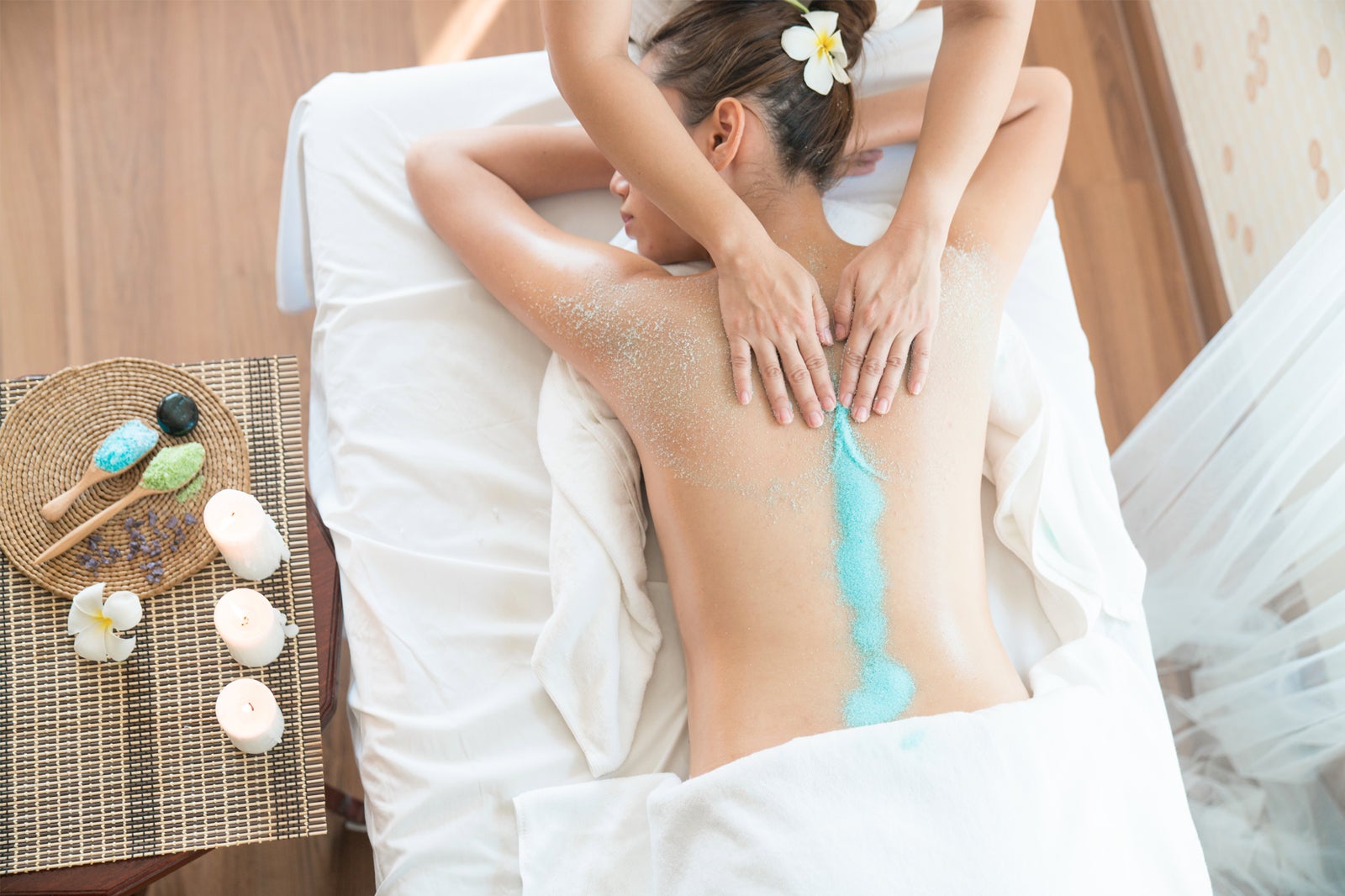 Spas and salons offering traditional Thai massage are as common in Bangkok as fruit vendors and hawker stalls. Finding a location isn't difficult, though discovering a high-quality place that suits your particular fancy sometimes requires a bit of guidance. Many of the city's fine hotels sport their own lavish in-house spas, where you'll be able to enjoy a wide range of spa and massage treatments.
Frequently perceived as indulgent and intended only for those accustomed to luxury, traditional Thai massage manages to disprove this preconception, performing bodywork to promote health. Escape pressure from everyday life and take pleasure in one of Thailand's most illustrious forms of healing and rejuvenation.
6
Wat Po traditional Thai massage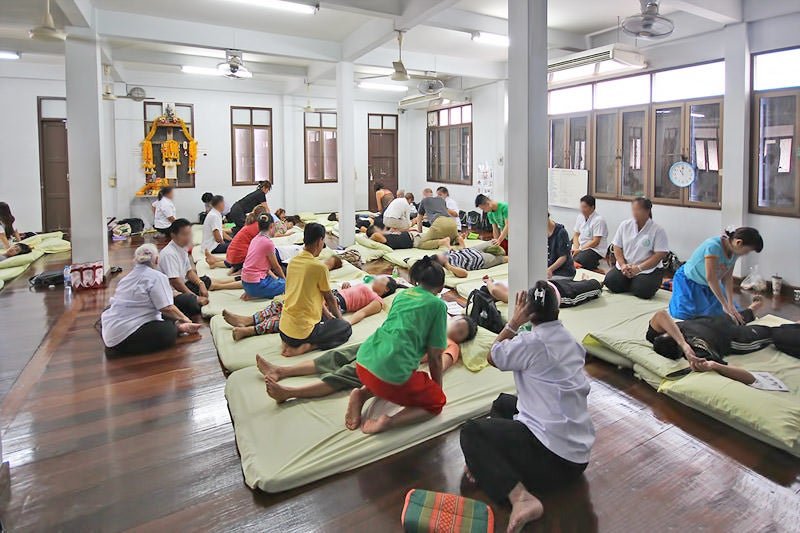 Wat Po (The Temple of the Reclining Buddha) offers Thai massage in its most traditional form, taken from the original inscriptions in stone commissioned by King Rama V.
If you're interested in learning the techniques, the Wat Po Traditional Thai Medicine School offers massage courses ranging from basic to advanced levels. Simply contact the school located in the temple compound. The easiest way to get to Wat Po is by boat. Take the Chao Phraya River Express to Tha Thien Pier, then walk through the market and up the short street. Wat Po is right across the intersection, on your right.
Location: 2 Sanam Chai Rd, Phra Borom Maha Ratchawang, Phra Nakhon, Bangkok 10200, Thailand
Open: Daily from 8 am to 5 pm (massage available until 6 pm)
Phone: +66 (0)2 226 0335