10 Crazy Things to Do at Night in Bangkok
One Night in Bangkok: The Bucket List
This guide to one night in Bangkok presents the ultimate itinerary for your first-ever jet-lag, alcohol-fuelled night-out in (perhaps) the craziest city in the world. We're not talking about exploring majestic temples or bargain hunting at night markets here. This list of 10 nighttime activities in Bangkok is far less family-friendly.
From whizzing around the Old City in the back of a 3-wheeled tuk-tuk to sipping infamous Thai whiskey buckets on the backpacking mecca of Khao San Road, this one night in Bangkok guide will leave you with lasting memories and a sore head in the morning (at the very least).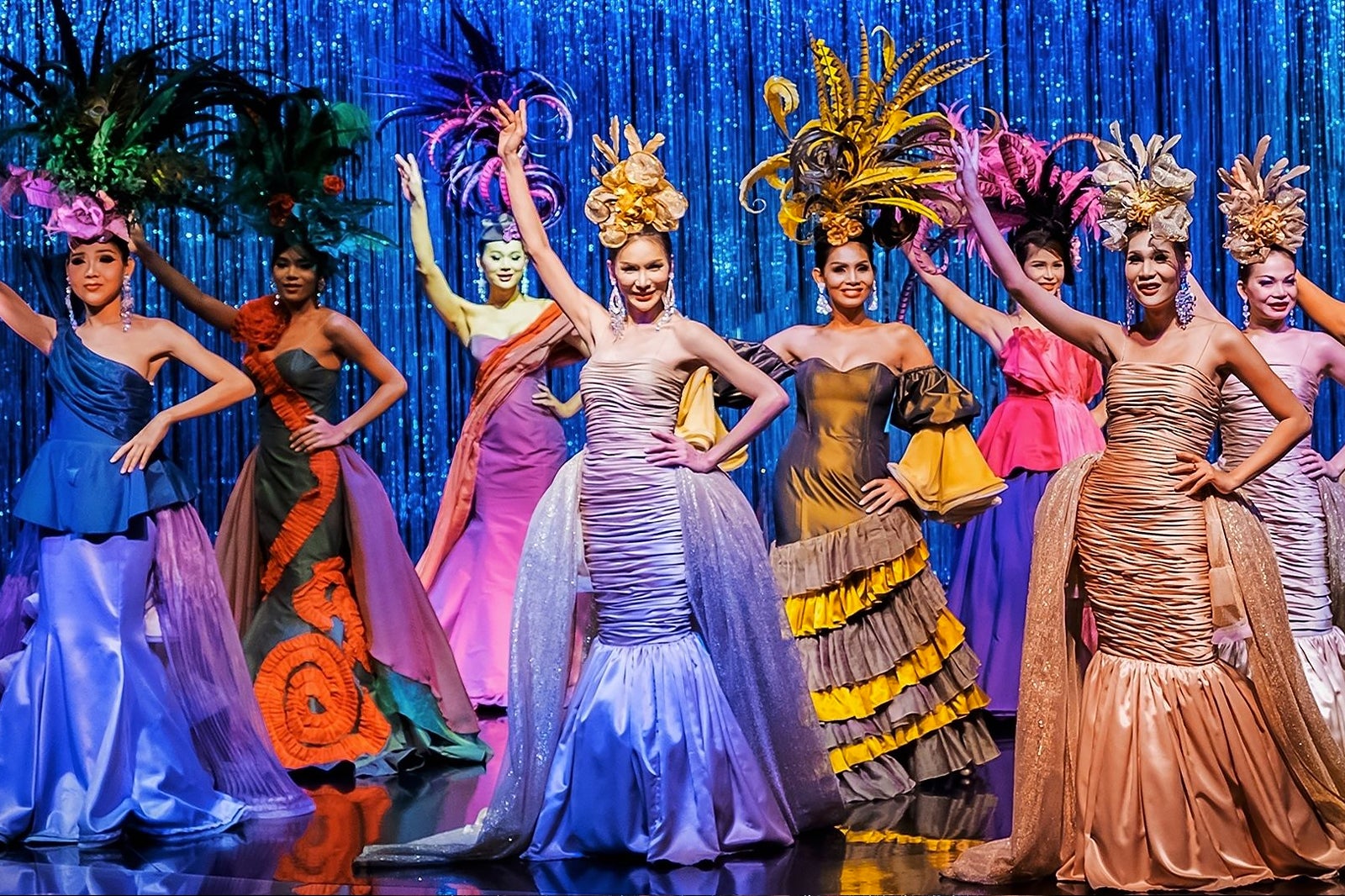 Everybody knows Bangkok is famous for its ladyboys. You may as well get it out of your system early on, so going to see a ladyboy show is a perfect way to satisfy that burning curiosity inside.
If you only have 1 night in Bangkok, head to the popular Calypso Cabaret to see some of the most beautiful and talented katoeys in town, who dance, sing, mime and parade around a stage for 90 fun-filled minutes.
Down a bucket on Khao San Road
Branded 'Chang' vest? Check. Flip-flops? Check. Wallet full of mysterious monopoly-looking money? Check. You're suited and booted to hit the most famous backpacking strip in the world, Khao San Road, and there's no better way of starting off a raucous night out than ordering yourself Thailand's most famous cocktail: the whiskey bucket.
At around 300 baht you get a neon bucket full of (usually) Sangsom whiskey, M-150 energy drink, and Coca-Cola. The street-side bars such as Khao San Center and Golf Bar are hot, fun and cheap, while The Club is the best place rave the night away.
Whizz home in the back of a tuk-tuk at 3am
The iconic tuk-tuk really is the only way to get around town if you're an unashamed tourist and is a definite must-do at night in Bangkok. Sure, the BTS Skytrain is faster and taxis are cheaper, but whizzing around the city streets in these 3-wheeled rickshaws is as fun as it is scary.
A tuk-tuk technically seats 3 people, although the hilarity of the journey directly correlates with the number of extra passengers you manage to squeeze in.
photo by Marco Nürnberger (CC BY 2.0) modified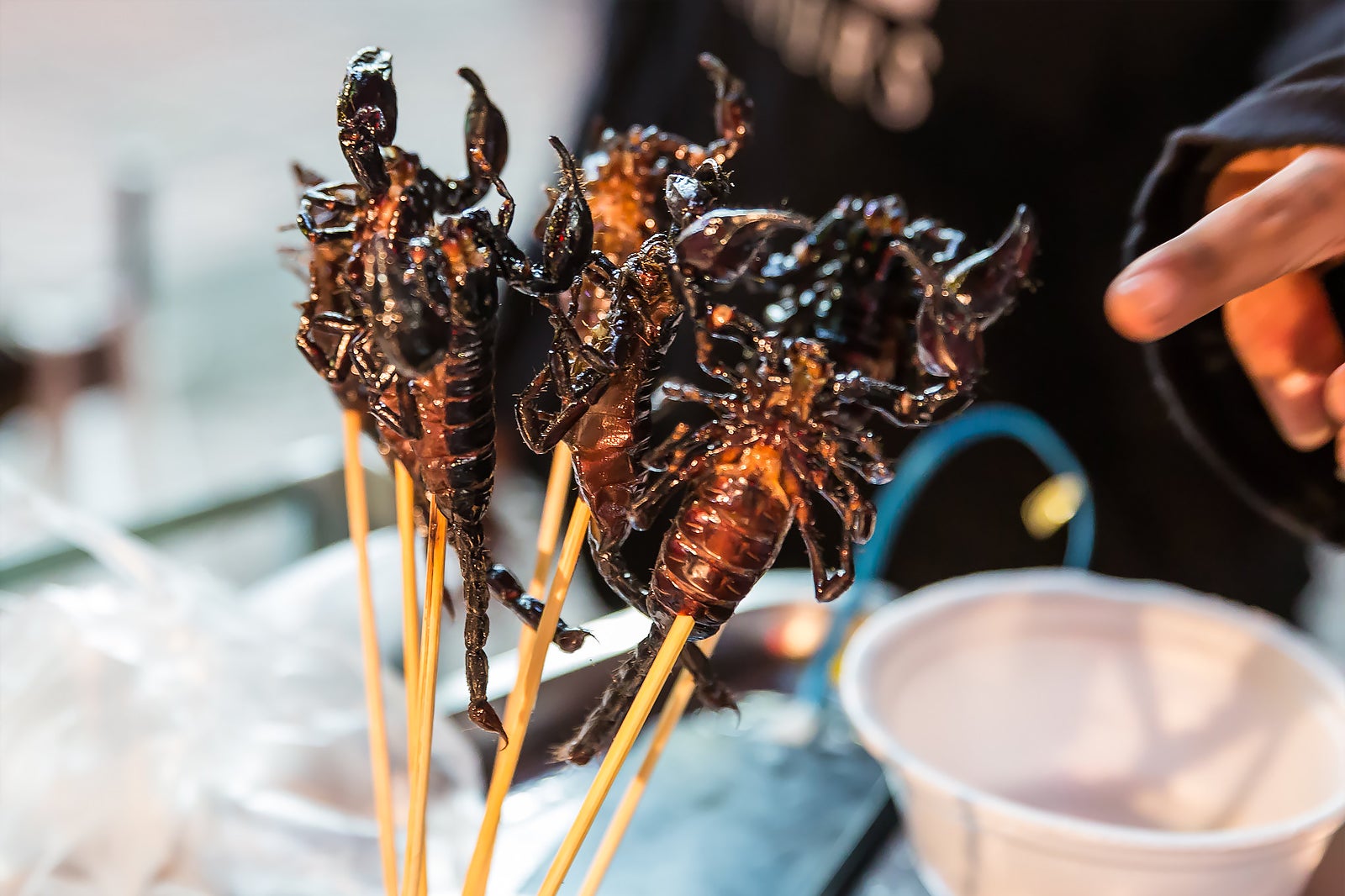 Everybody knows that lining your stomach is important before a night out on the town. What better way to do so than with a bag of deep-fried insects? Although more of a tourist gimmick – rather than being a true reflection of traditional Thai cuisine – you can easily find these creepy-crawly vendors at Khao San Road, Patpong Market, and Nana Plaza.
Popular choices include bamboo worms, cockroaches, grasshoppers, red ants, and our personal favourite, deep-fried scorpion (tastes just like chicken!).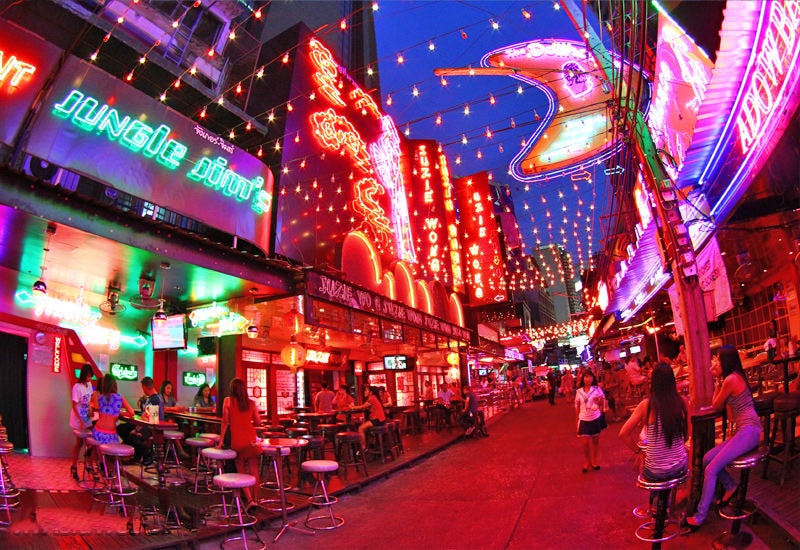 Ring the bell at a go-go bar
With only one night in Bangkok, ending up in one of the city's go-go bars is almost an unavoidable inevitability. Make it a more memorable experience by 'ringing the bell', which buys all the girls in the bar a drink.
You'll probably have to spend around 1,000 or 2,000 baht, but you'll be the most popular guy (or girl) in the place for a good 30 minutes. Simply head to go-go bar districts of Patpong, Soi Cowboy, or Nana.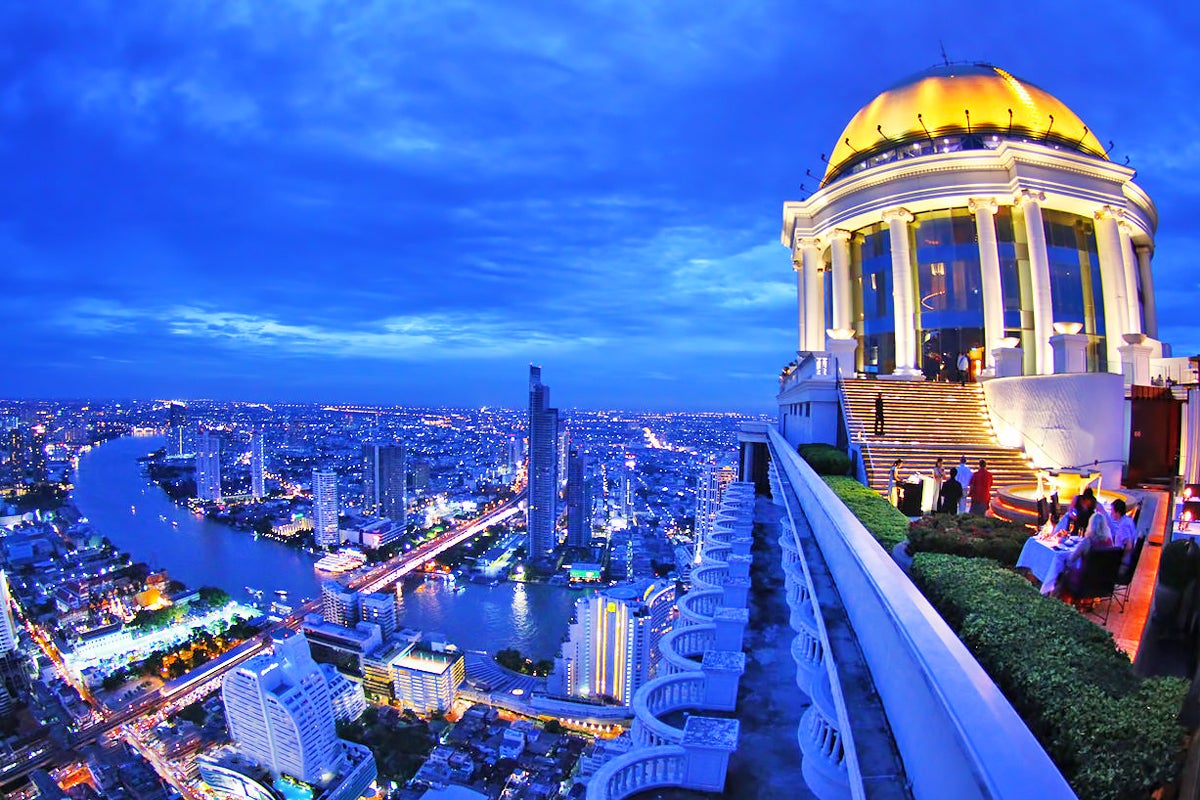 Visit at least 5 Bangkok rooftop bars
Bangkok's rooftop bar scene has been booming for years, with big-hitters like Vertigo and Lebua (as seen in the 2011 movie, The Hangover 2) both favourite for first-time visitors. While these venues are worthwhile stop-offs, they can be a bit pricey if you order a few rounds.
Thankfully, there are scores of other high-rise bars offering slightly more sensible prices, but still serves tasty cocktails and impressive city views. Hit up at least 5 in a night to win the imaginary "King of the Bangkok Rooftops" crown.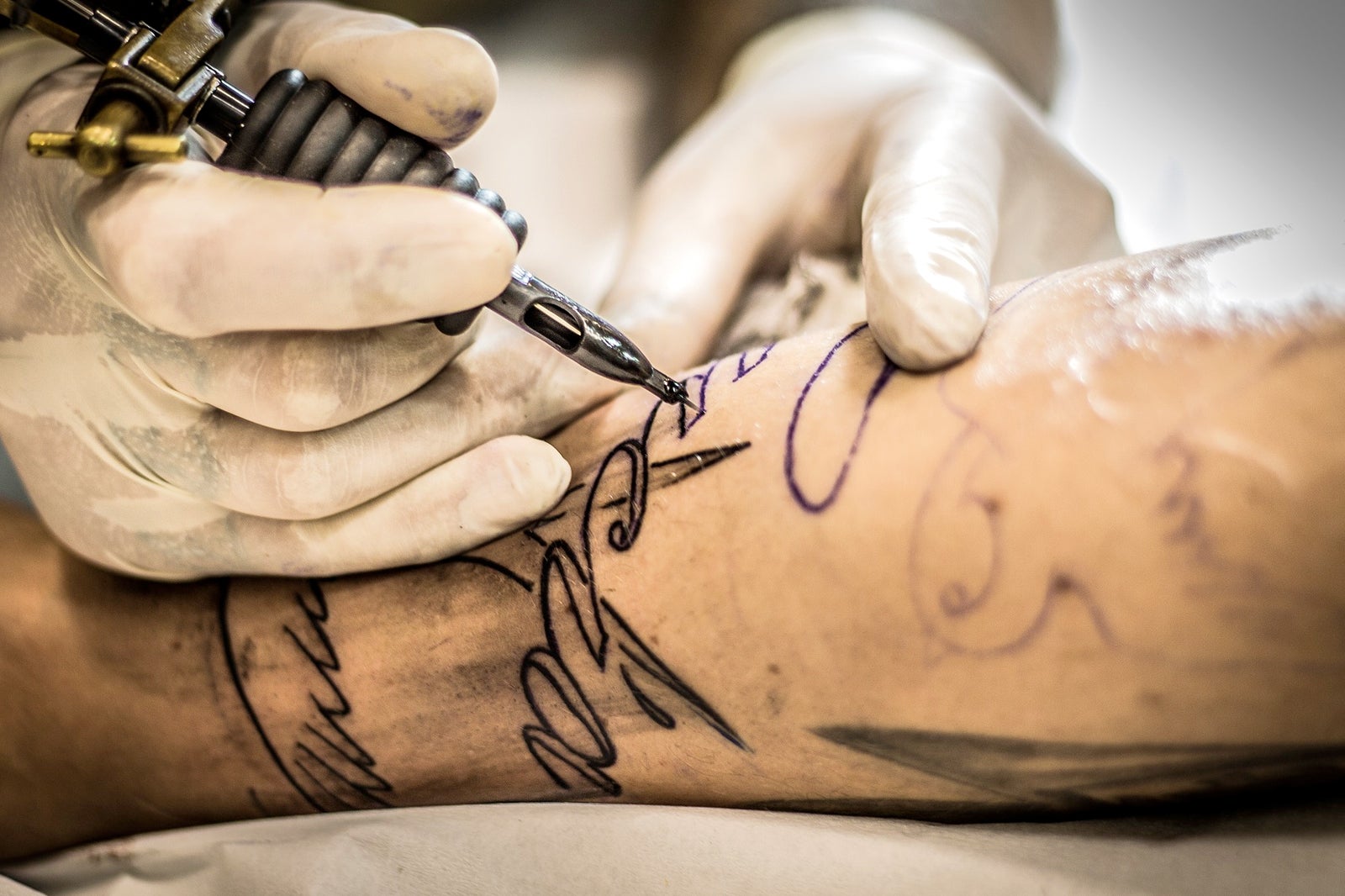 Make your one night in Bangkok an unforgettable experience – quite literally – by getting inked up with a permanent reminder of your adventures.
Classic Bangkok tattoos include Angelina Jolie's not-so-original Buddhist inscriptions, a cute gecko on your ankle, or even some Thai phrases, such as mai pen rai (note the irony of the meaning, 'Don't worry', when you wake up the next day).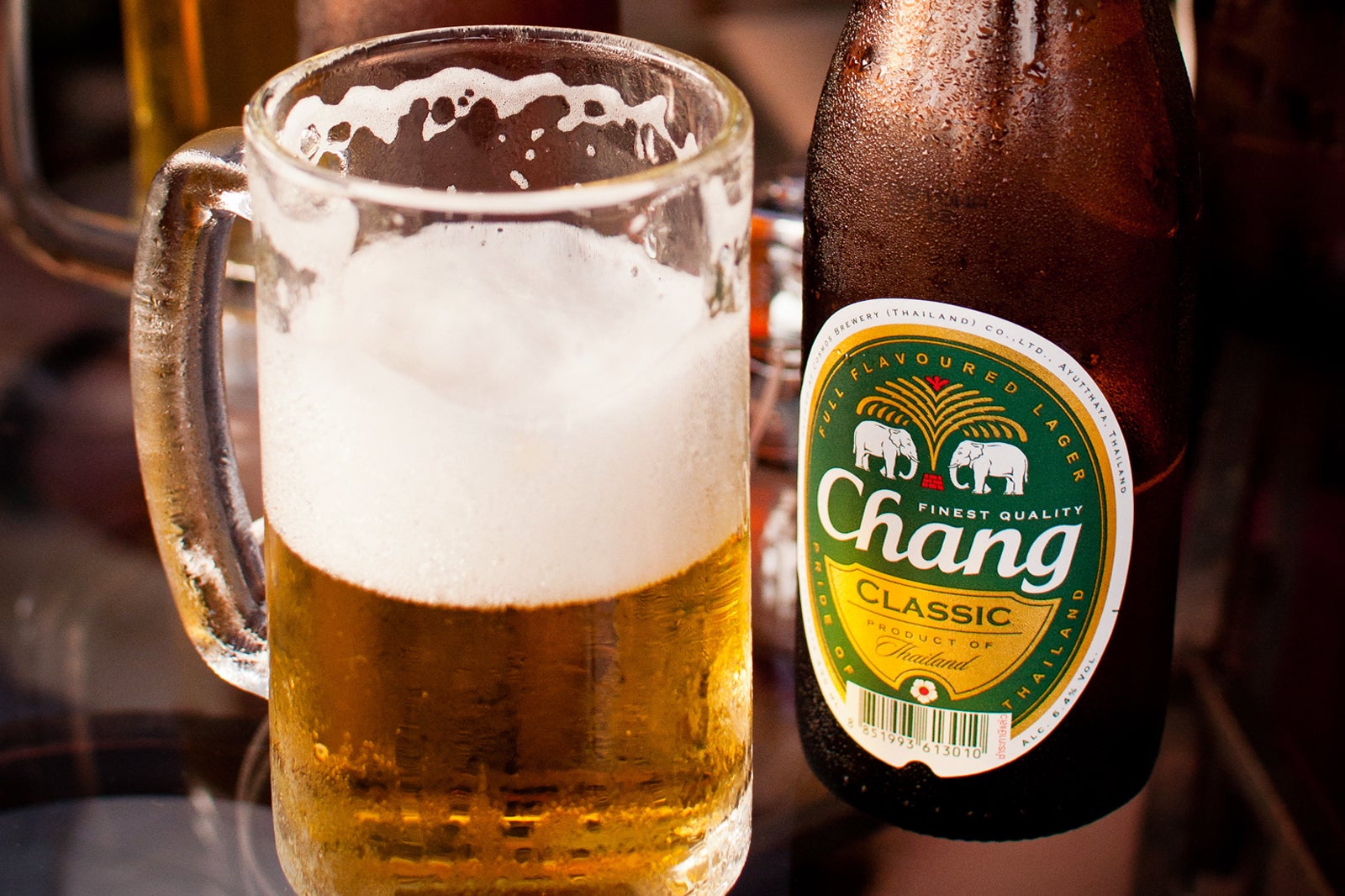 Sink a Chang at Cheap Charlie's
This Sukhumvit Soi 50 spot has earned legendary status among Bangkok's substantial expat community with their ludicrously low prices (Chang from 80 baht and shots from around 90 baht) and rather rustic decor.
Describing the seating options as sparse would be being overly-generous, and most people have to stand up in the enclosed area. It all sounds like a complete dive bar, and it is, but with cheap drinks and a famously friendly clientele, Cheap Charlie's makes our 1 night in Bangkok itinerary.
photo by Mark Fischer (CC BY-SA 2.0) modified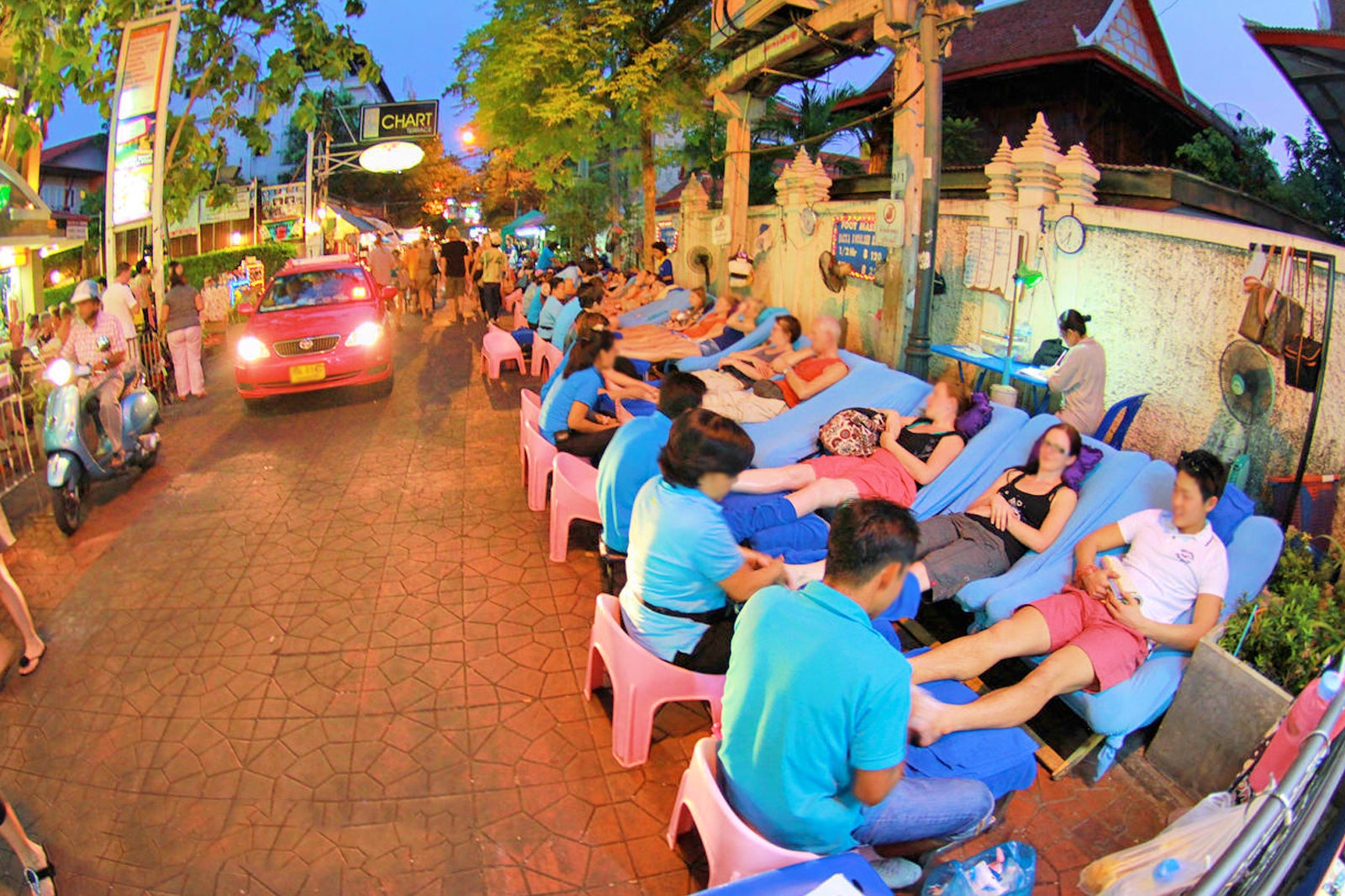 Have a foot rub in the middle of the street
Most massage parlours in Bangkok are air-conditioned havens, with soothing Thai music and aromas to lull you into a blissful state of half-consciousness. Then there are ones on the street, sitting next to passing crowds, noisy bars and busy restaurants.
Most of these outdoor venues specialise in foot and leg massage, meaning that there is less of the fuss involved compared to having to go inside and get changed. Find the best of these on Khao San Road and Soi Rambuttri, with 1-hour sessions starting from around 250 baht.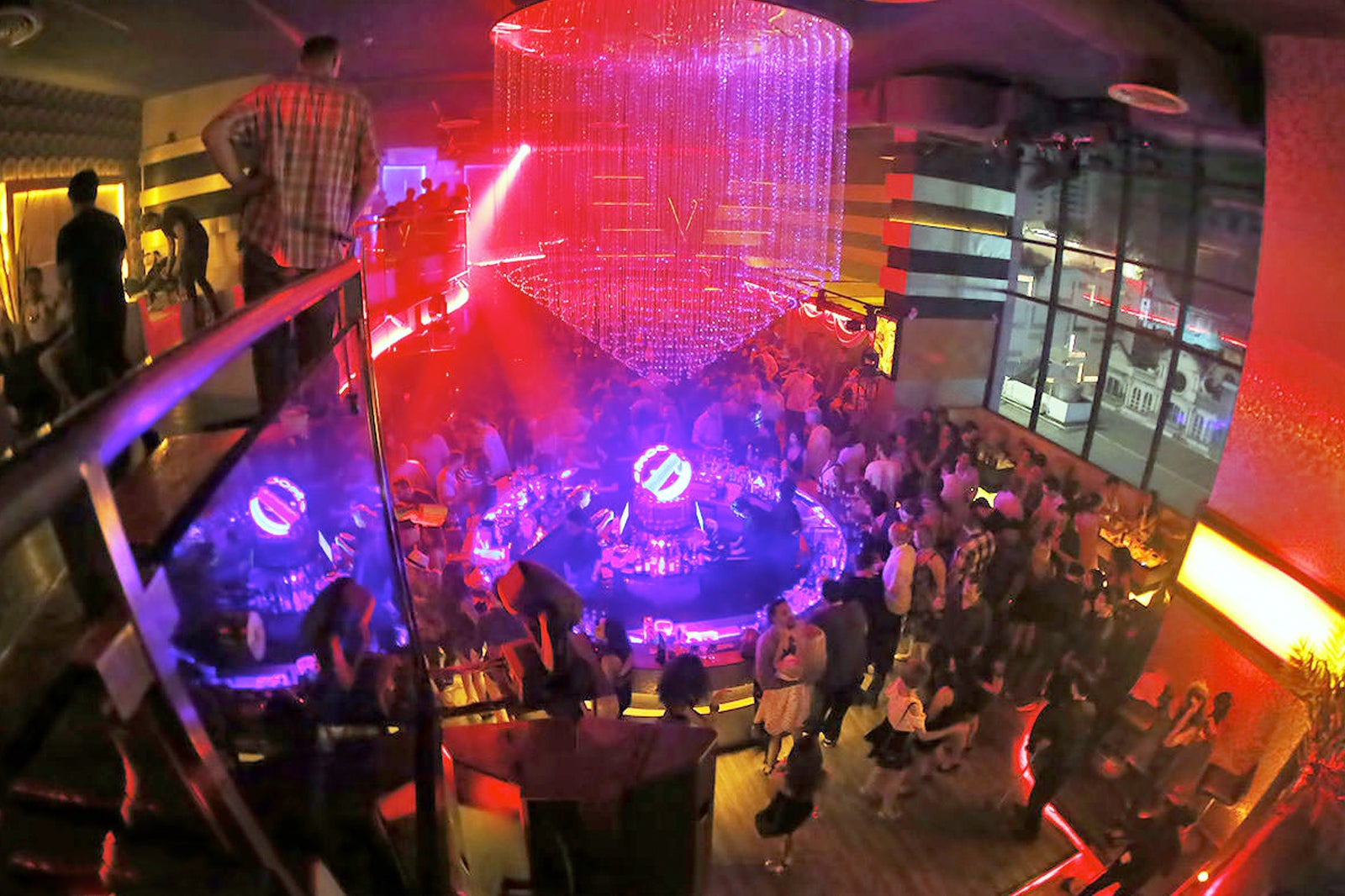 Most clubs in Bangkok close relatively early, but if you start your night early enough, the 2am kicking-out time will seem much later. Most of them can be found around Sukhumvit Road, such as Levels (Sukhumvit 11) and Funky Villa/DEMO (Thong Lor 10) as well as a massive strip of clubs at RCA, such as Route 66 and Onyx.
Those looking to keep the party going until later can try their luck at Mixx Discotheque (at the basement of Intercontinental Hotel) which sometimes stays open until 4am, depending on the mood of the local authorities.