10 Local Nightlife Experiences in Taipei
Where Do Taipei Locals Go at Night?
The wonderful city of Taipei has a lot to offer at night, from enjoying unique craft beers at a local bar to joining the cheering fans at a sports bar. Take the Maokong Gondola for tea, go to Yongchungang Park for a night tour, and then visit Huashan 1914 Creative Park to experience the unique charm of the ancient relics by night.
If you visit during the summer months, find a park and watch the fireflies light up the night sky. For a different experience, you can go to the National Theater and Concert Hall if you love music or drama, or visit a night exhibition at the Taipei Fine Arts Museum. To end the day, you can treat yourself to a massage performed by a skilled professional to relieve fatigue after your journey and melt away the stresses of everyday life.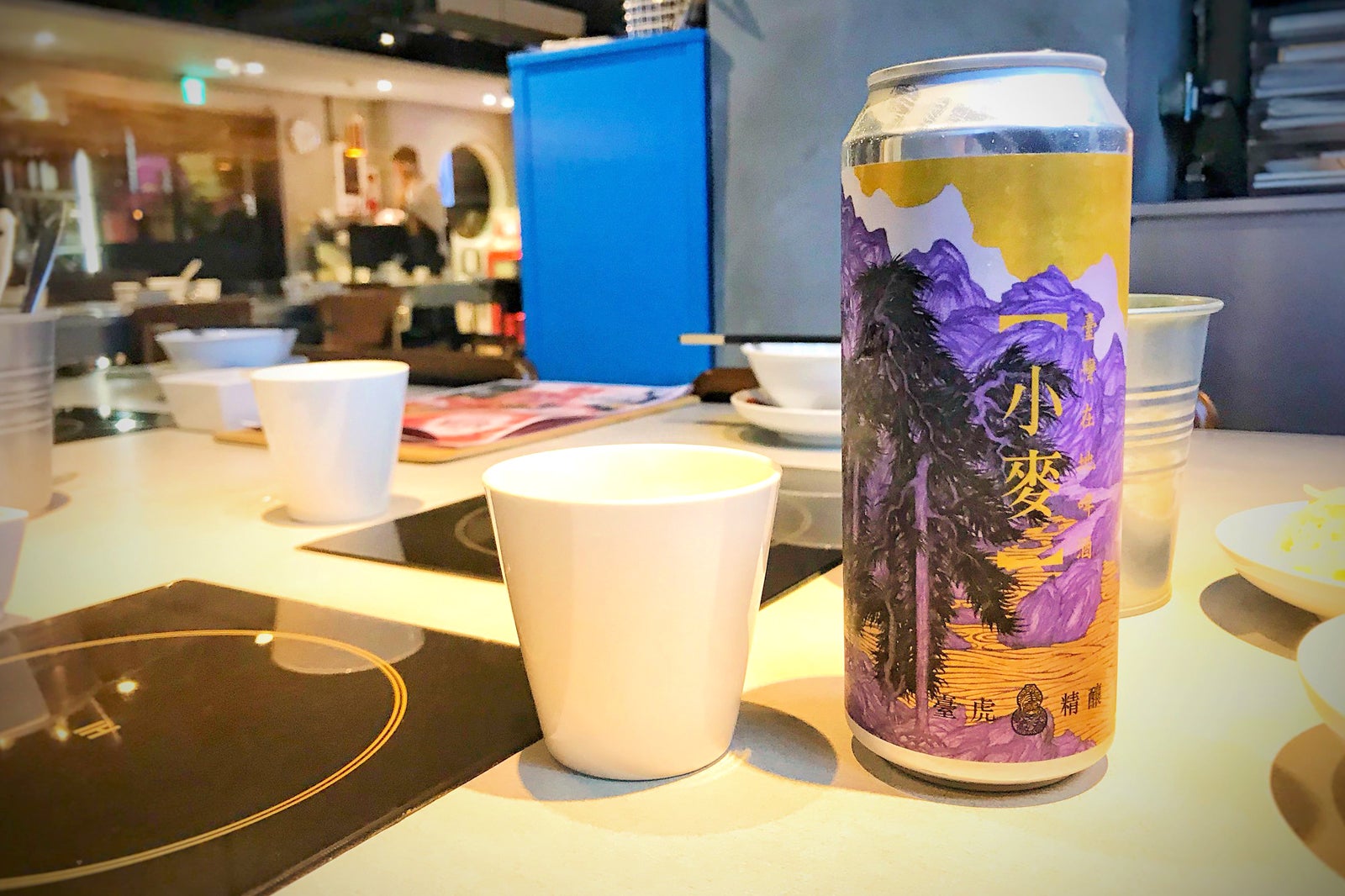 Craft beer has become very popular in Taipei in recent years. A number of microbreweries have sprung up and you'll find bars offering incredible night views, microbreweries that have won international awards, as well as stylish bars hidden down laneways. Some bars even offer tastings.
If you don't know what kind of craft beer you'd like, you can ask the experienced staff to recommend some and help you find your favourite. Each bar has its own unique style and offers American, English or Taiwanese snacks. Some also have darts, billiards and other facilities, making them great places to spend time after dinner.
2
Watch the night scene at Keelung Riverside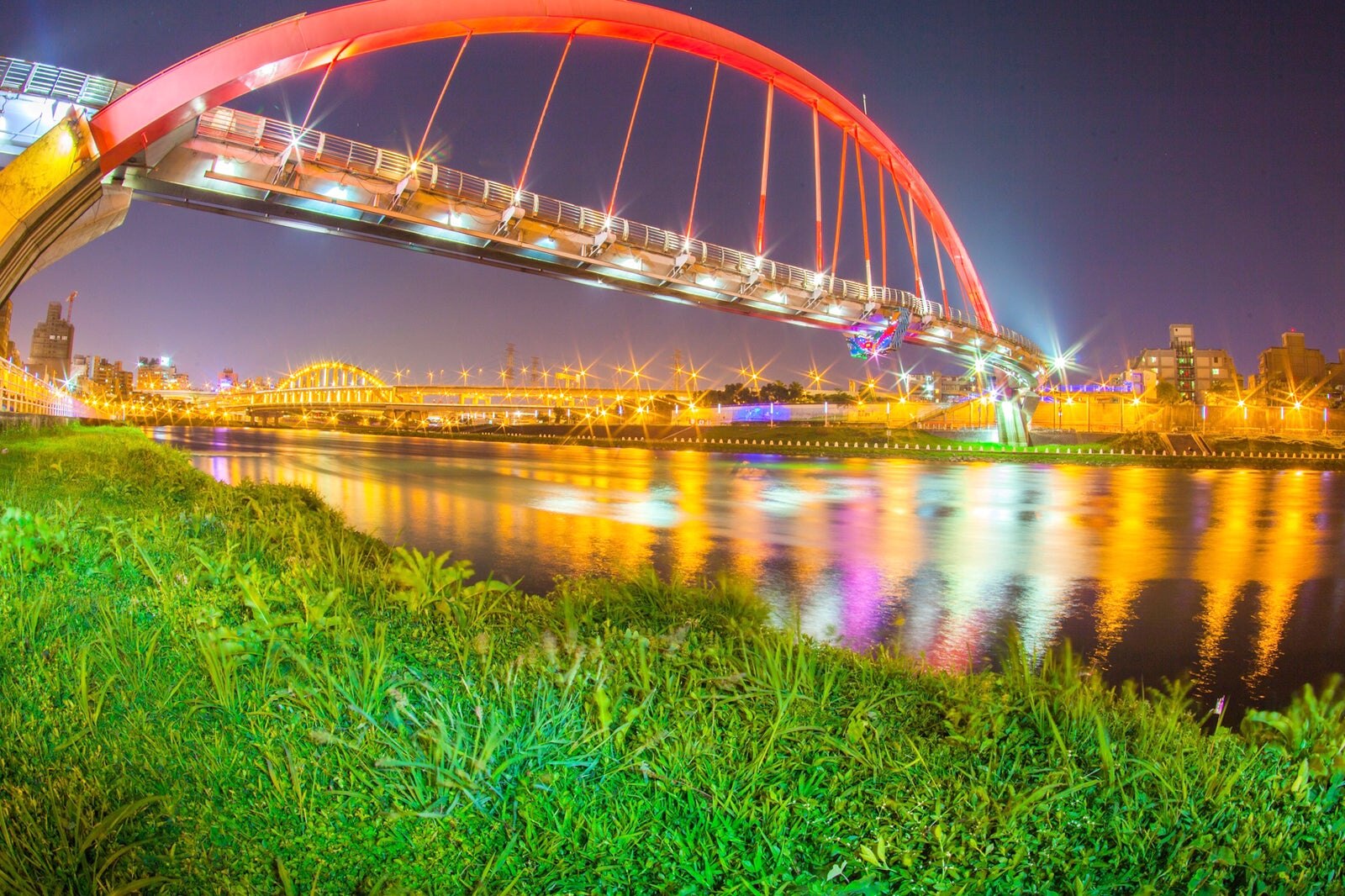 The Keelung River, which winds through downtown Taipei, has many riverside parks and scenic bridges along its banks, making it a fantastic place for a stroll after dinner. The river passes through Beitou, Shilin and Nangang District in Taipei. After nightfall, a splendid landscape is unveiled, with lights along the river and towering mountains around the Taipei Basin.
Many people visit the riverside park where they can enjoy a walk surrounded by beautiful night views. Keen photographers even go check the location before sunset, hoping to capture the splendid river scenery after nightfall.
photo by Eddy Tsai (CC BY-SA 2.0) modified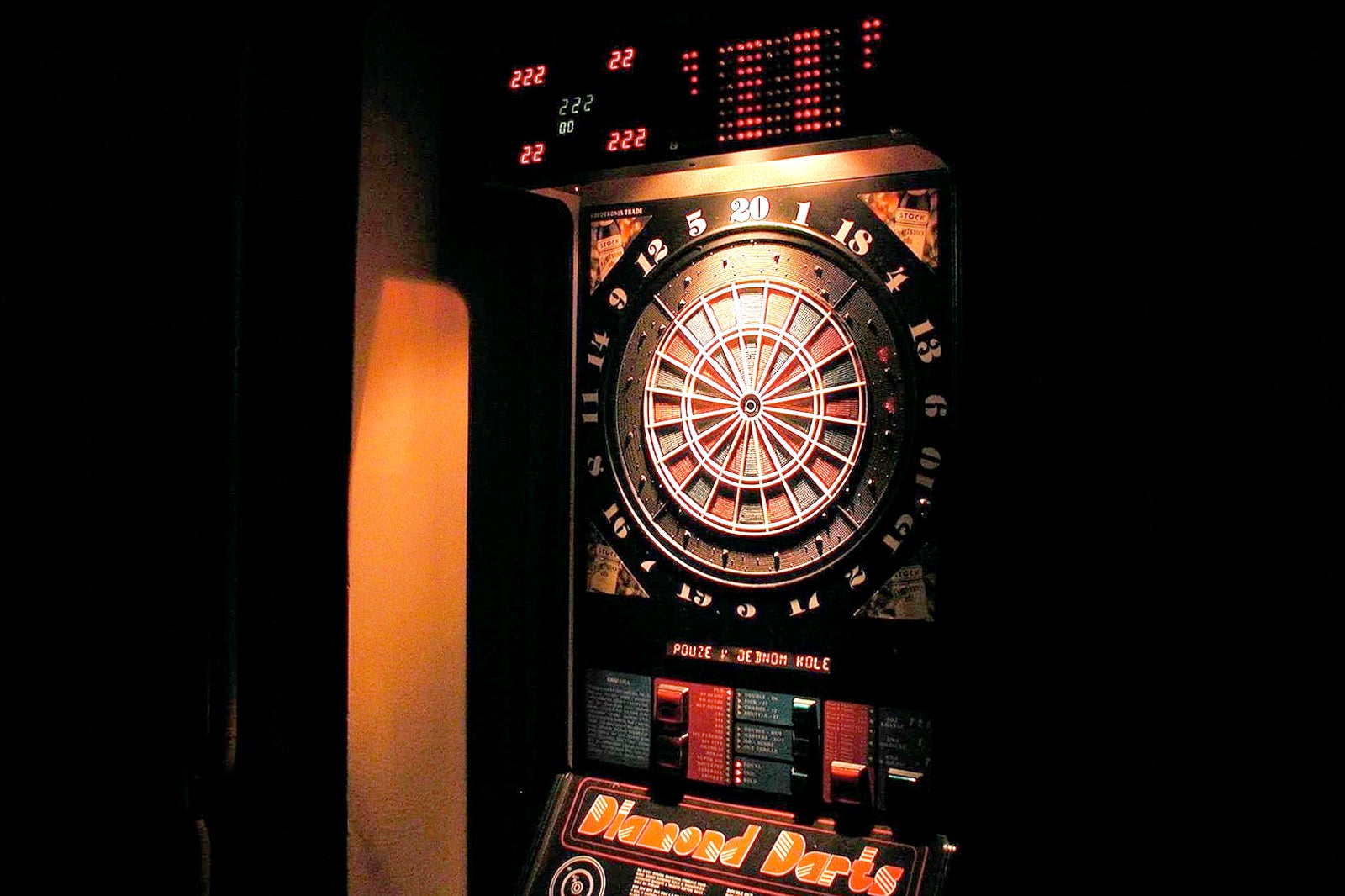 If you like to watch sports, don't miss the chance to join the cheering fans at a sports bar in Taipei. Taipei has a large number of sports bars serving American, Japanese or Taiwanese snacks as well as a wide variety of beers and cocktails. The sports are shown on large television or projection screens, and you can eat and drink while cheering loudly for your team.
The sports bars are always full during the season. As the game comes to a close, the customers stand up and cheer together, creating a great atmosphere of camaraderie and fun. Some bars also have darts and other recreational facilities, so you can play a game yourself before cheering on your favourite team.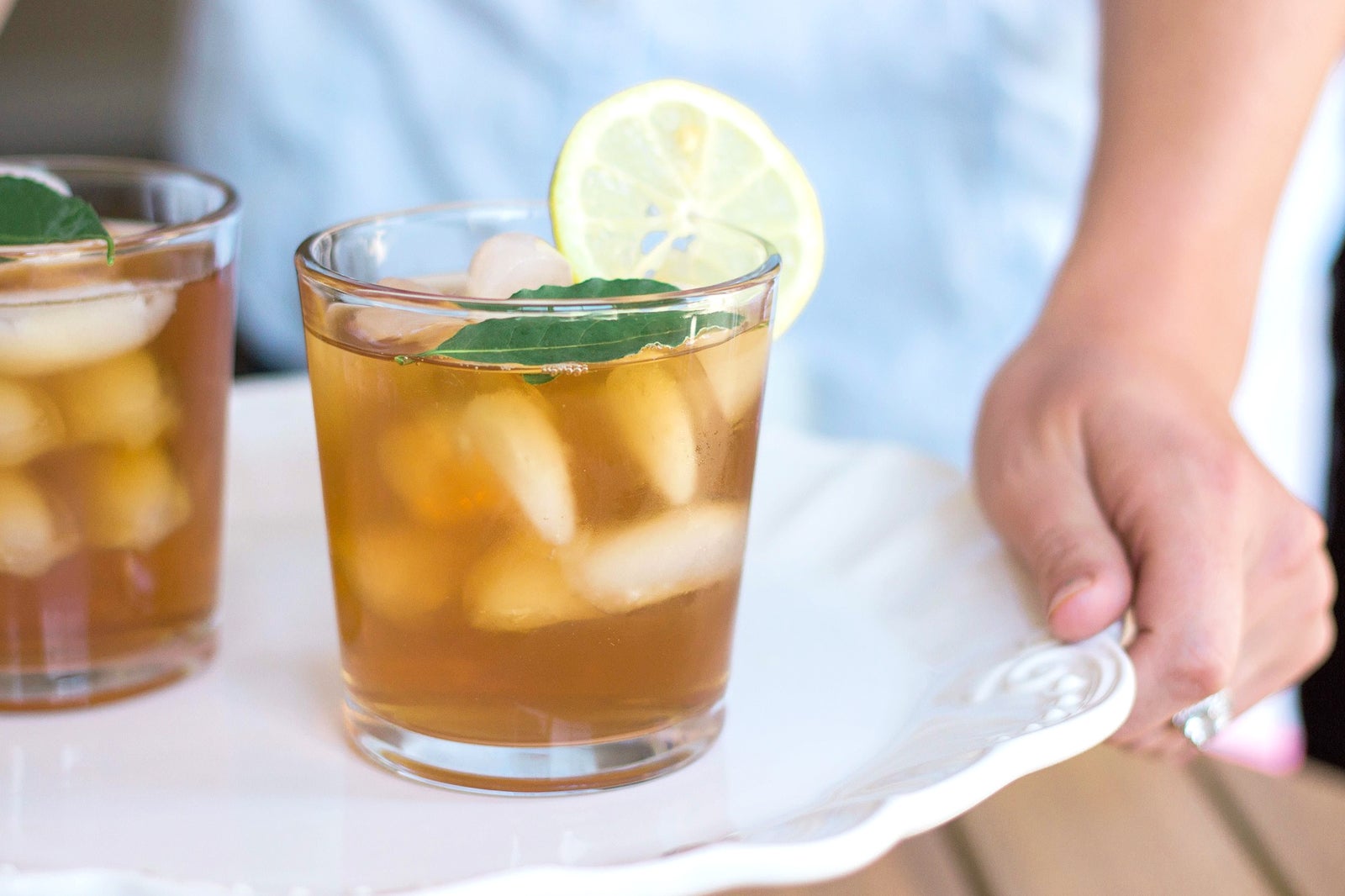 Maokong is most famous for its many teahouses and the area comes alive at night, with some teahouses open 24 hours a day. After the ascent up the mountain, you'll be rewarded with the aroma of freshly brewed tea and the spectacular night scenery. Every teahouse in Maokong has its own unique charm, with some known for their spectacular views of Taipei by night and others for their unique tea-based dishes.
The opening of the Maokong Gondola has proven a major boost for the teahouses of Maokong. People crowd into the teahouses during holiday times and they're also a popular place to go after nightfall. As Maokong, also known as the "Tea Village", is most famous for its Tieguanyin tea, the Taipei Tea Promotion Center for Tieguanyin and Baozhong is located there. If you arrive early, you can pop into the Promotion Center to learn a little about the tea-making process and tea-tasting methods before heading to the teahouse to put your newly acquired knowledge into practice when you taste the tea.
Location: Wenshan District, Taipei City, Taiwan 116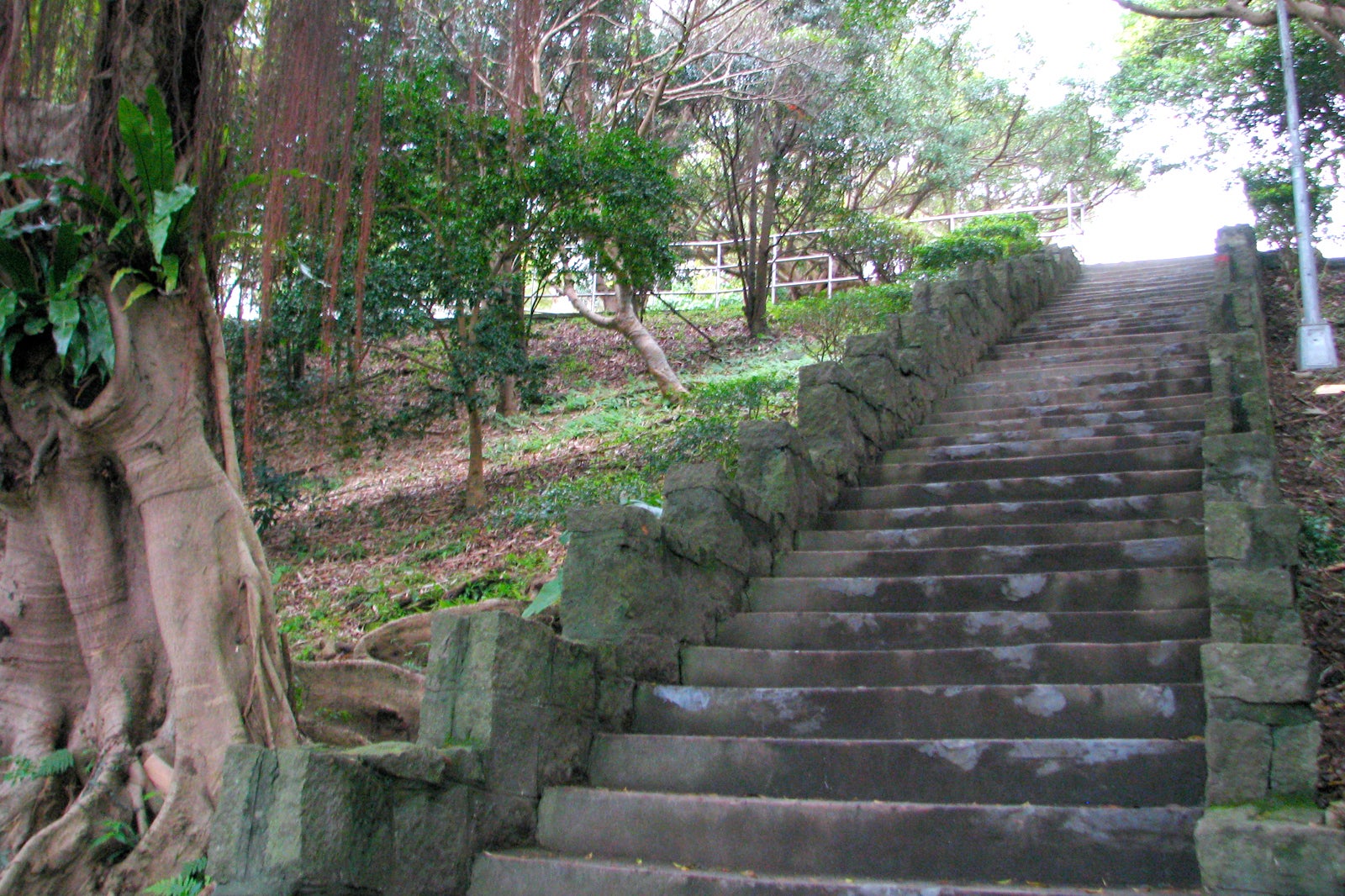 Yongchungang Park offers one of Taipei's best and most popular night-time views, especially if you don't like to climb up and down mountains. This park is one of the entrances to the Four Beasts Mountains and is close to Yongchun Senior High School, less than a 3-minute walk from the bus station.
The Yongchungang Trail in the park is about 1 km long, with mostly small, fairly flat steps. It's an easy walk to the observation platform overlooking the most prosperous part of Xinyi District, the Taipei 101 building, and the charming, gorgeous night view of the city that never sleeps. Want to enjoy a night view of Taipei after dinner, but don't want to climb the mountain or go to the tall buildings downtown? Come to Yongchungang Park and enjoy the city from a different angle.
Location: No. 2, Lane 656, Songshan Rd., Xinyi District, Taipei City, Taiwan 11080
Open: 24 hours
photo by Pppighil (CC BY-SA 3.0) modified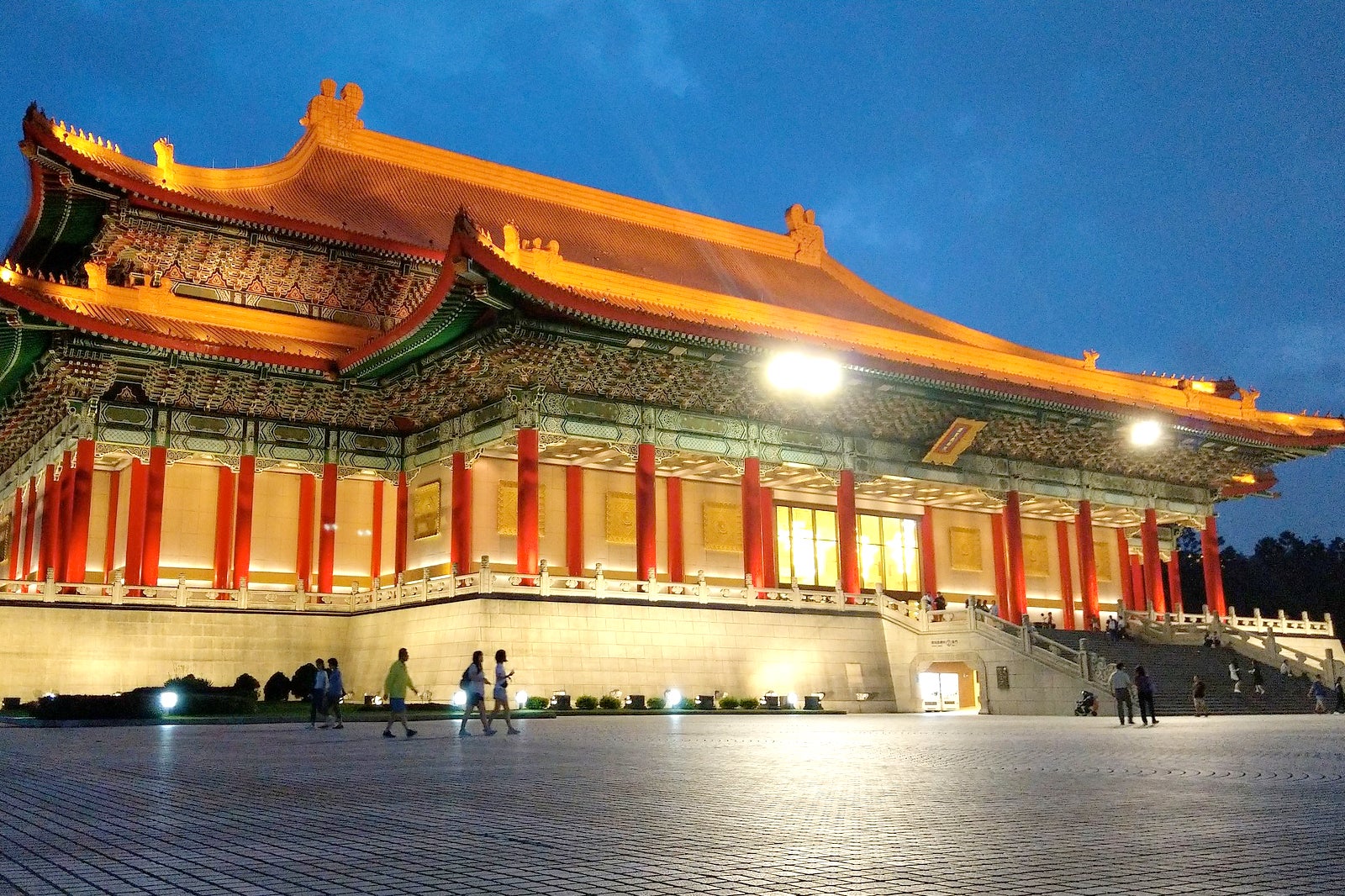 Located in Bo'ai Special Zone in Taipei, NTCH (officially called the National Theater and Concert Hall), is Taiwan's first national arts and cultural performance venue and one of the most important landmarks in Taipei. NTCH offers facilities including a theatre, concert hall and auditorium. The exterior resembles a Chinese palace, featuring a yellow tiled roof, red columns and coloured arches that add to its stately elegance.
NTCH offers a diverse programme of music and drama performances throughout the year. Renowned musicians and orchestras from all over the world are invited to perform from time to time, much to the delight of music fans. Many major international arts festivals are held here every year, introducing audiences to classic and avant-garde performances from all over the world.
Location: No. 21-1, Zhongshan South Rd., Zhongzheng District, Taipei City, Taiwan 10048
Open: Daily from 12 pm to 8 pm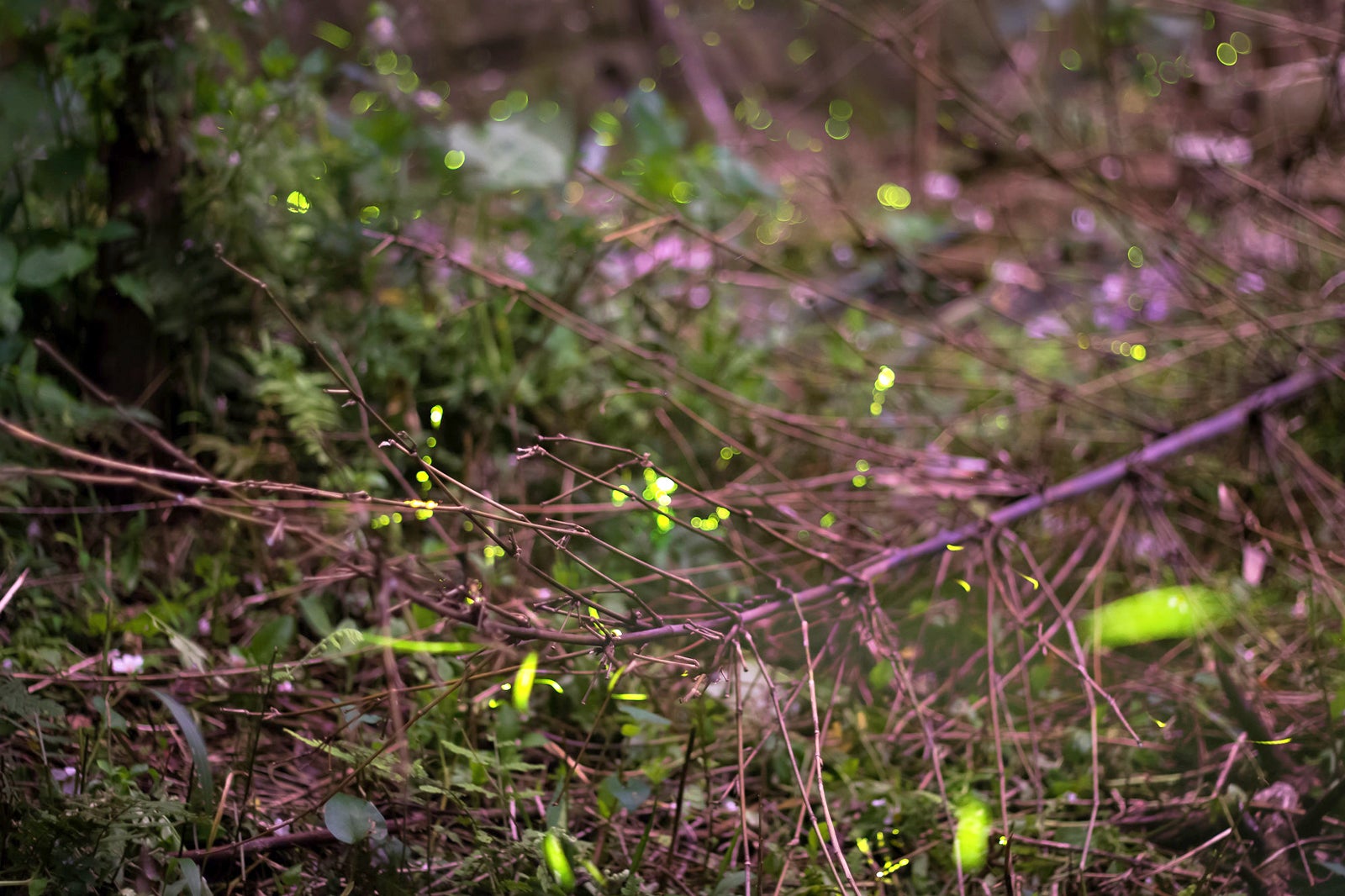 Fireflies can be seen everywhere in downtown Taipei from the end of April to the start of June each year, with the peak season around the end of April. Head to places like Shuicheliao Trail along Bamboo Lake in Beitou District, Cuishan Trail in Shilin District, and Hushan Nature Trail in Xinyi District from around 6.30pm for the best sightings.
Fireflies can only survive in an environment that has clean water and is free from light pollution. As the environment changes, they are finding it difficult to adapt, resulting in an ever-shrinking habitat. Many firefly viewing sites in Taipei are being renovated or artificially restored to provide fireflies with an ideal environment free of pollution, so that we can see their spark again.
photo by 胚卓's photography (CC BY-SA 2.0) modified
8
Night outing at Huashan 1914 Creative Park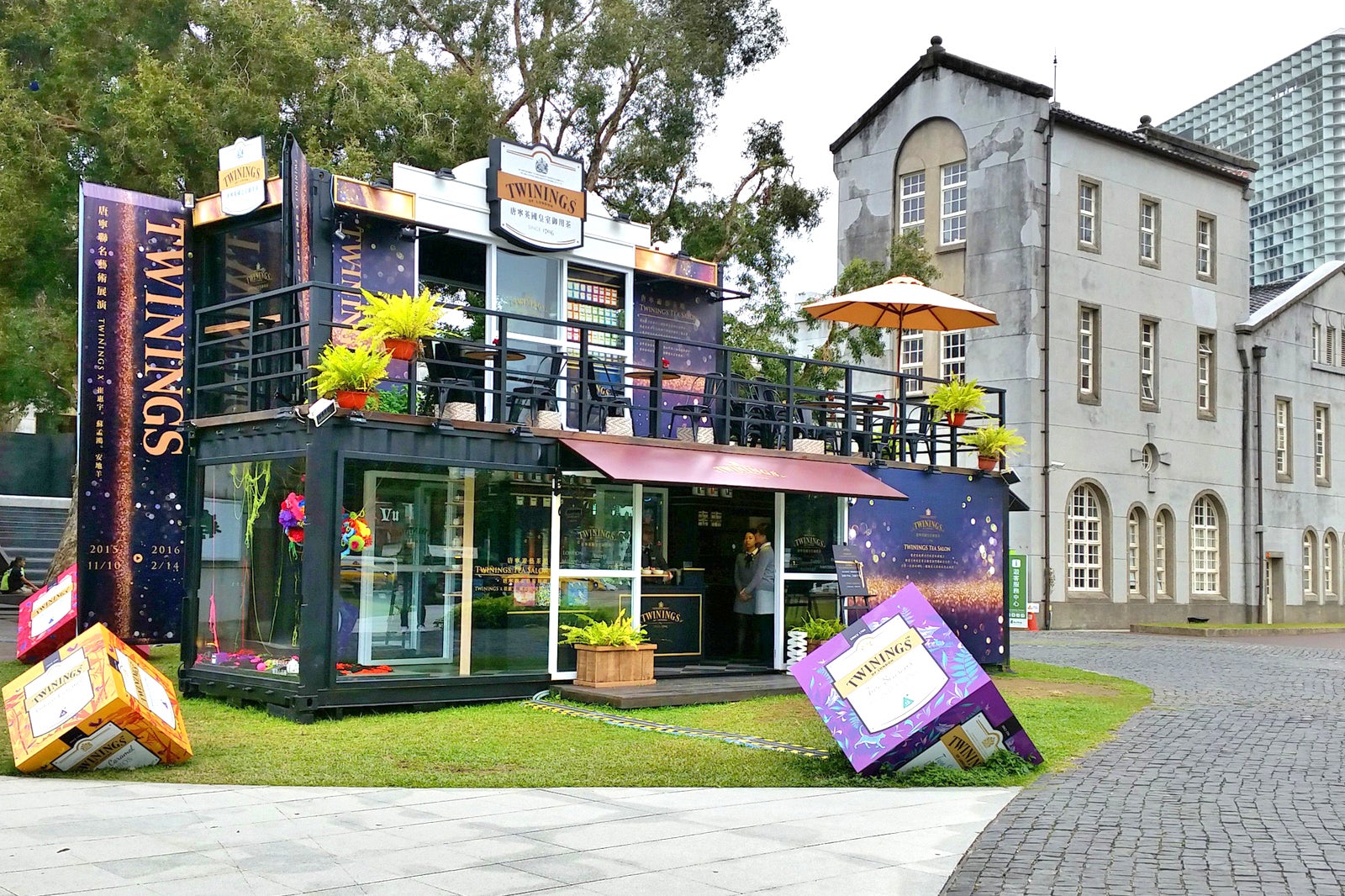 Huashan 1914 Creative Park, formerly known as "Taipei Wine Factory", stages a full range of wonderful exhibitions and activities throughout the year. The open-air market is always crowded with people who go there to pass the time during the day, but it's just as charming by night. When the lights come on, the park takes on an entirely new appeal. Start your evening with dinner at one of the park's restaurants while enjoying the view of Taipei by night and the lights of the park. After dinner, you can wander around the park and immerse yourself in the unique atmosphere – completely different from that during the day.
Designated a historical site by the city, this park has many ancient buildings with a long history. When lit up, the park takes on a special romantic ambience. If you visit Huashan Park before the sun goes down, you'll get to see the beautiful scenery illuminated by the sunset until nightfall, when all the lights come on. It's a magical experience that you'll never forget.
Location: No. 1, Section 1, Bade Rd., Zhongzheng Dist., Taipei City, Taiwan 10058
photo by travel oriented (CC BY-SA 2.0) modified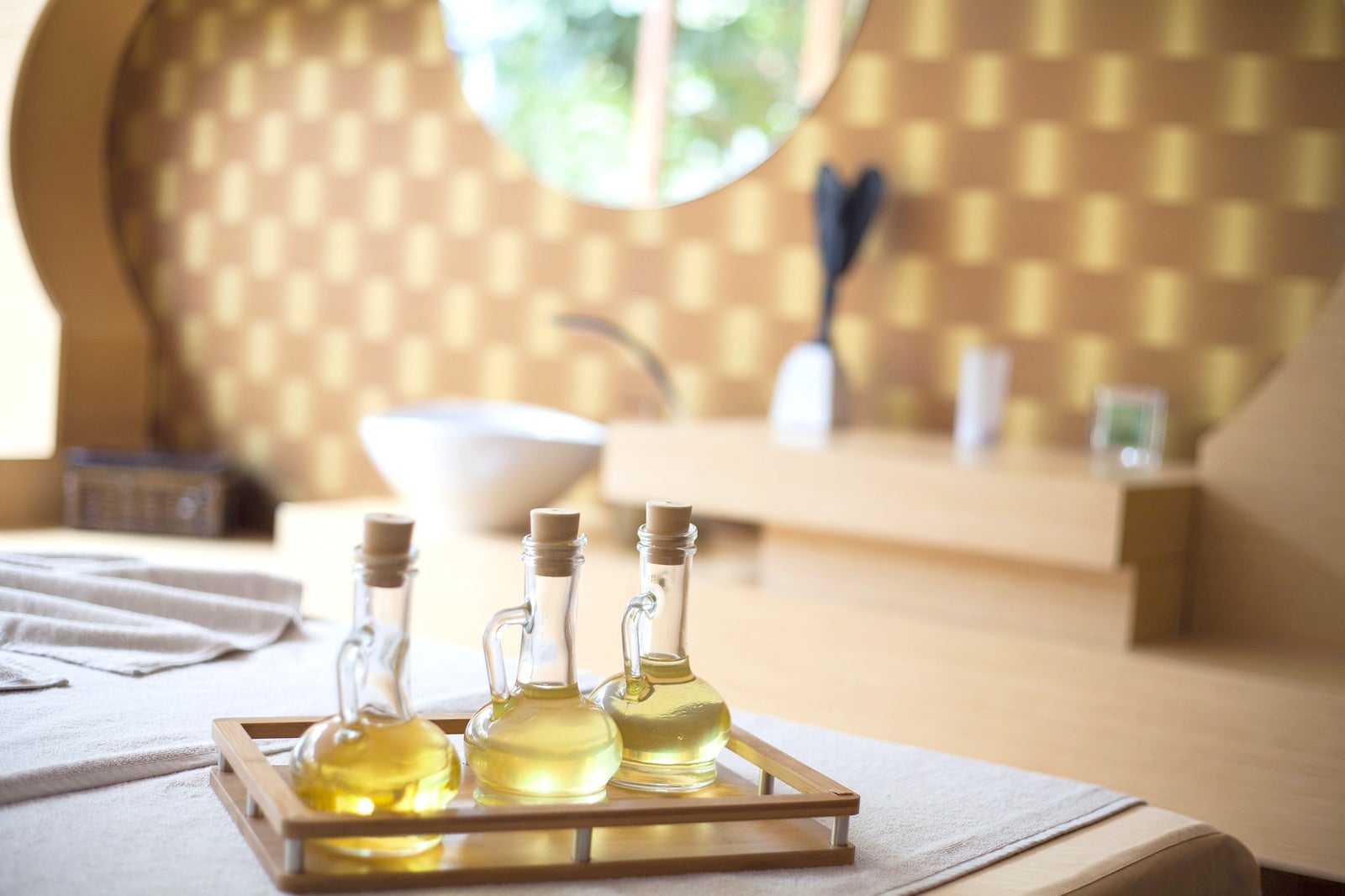 Whether you prefer Taiwanese, European or Thai-style massage, there are plenty of spas to choose from along the streets and lanes of Taipei. If you want to really treat yourself, visit an aromatherapy spa in one of the city's high-rise buildings, where you can enjoy a massage from the world's top aromatherapists using natural plant essential oils.
Meridian massage, which is a typical Chinese-style massage, helps relax your muscles and nerves by massaging your feet, neck and shoulders. Thai massage, which helps to alleviate fatigue and relax your whole body, is also available in Taipei.
10
Night exhibitions at Taipei Fine Arts Museum
Located in Zhongshan District of Taipei City, Taipei Fine Arts Museum (or TFAM) is Taiwan's first modern fine arts museum. The exterior of the building adopts a modernist style while incorporating the characteristics of a Chinese courtyard building. The museum uses a framework resembling the Chinese character "井" as the main structure, and grey and white as the main colours. All-glass facades set around the building allow light to flood in, creating a bright and open space.
Opening hours are extended to 8.30pm on Saturdays. There are themed exhibitions requiring a ticket as well as other free exhibitions. It's a great place to spend the evening at weekends. Many arts and culture enthusiasts like to visit exhibitions on Saturday nights for a different experience. For those who have never been to a fine arts museum at night, a night tour of the TFAM is a unique and interesting way to spend an evening.
Location: No.181, Section 3, Zhongshan North Rd., Zhongshan District, Taipei City, Taiwan 10461
Open: Tuesday–Sunday from 9.30 am to 5.30 pm, Saturdays from 9.30 am to 8.30 pm (closed on Mondays)
photo by lienyuan lee (CC BY 3.0) modified