10 Best Nantou Foods Everyone Should Try
A Guide to Local Specialties You Should Try in Nantou
Nantou is well-known as a tea-producing area thanks to its excellent climate. Visitors coming to taste the mellow tea produced in Nantou should not forget to try pairings with delicious Assam tea cheesecake (a sa mu hong cha ru luo dan gao), Assam tea egg rolls (a sa mu hong cha dan juan) and black tea Baumkuchen (hong cha nian lun dan gao). Desserts full of strong tea flavour will surely impress your palate. Those who take the little Jiji train will definitely love the retro train tickets in their hands. On the train, you can also enjoy the famous Jiji train ticket cookies (jiji huo che piao bing), a lovely and tasty kind of ticket-shaped snack.
The favourite snacks and pastries for locals in Nantou include sandwich ice bricks (san ming zhi bing zhuan), millet omelettes (xiao mi dan bing), deep-fried meat pies (rou zi die) and snow white cakes (bai xue su). They are all strongly expressive of the local characteristics and attract gourmets from far and wide just to taste them. Want to buy some famous Nantou products for your friends and relatives back home? The single malt whisky (dan yi mai ya wei shi ji) brewed by a local distillery in Nantou has a rich and mellow taste and an intense aroma. The amazing flavour makes it a very popular souvenir.
1
Millet omelette (xiao mi dan bing)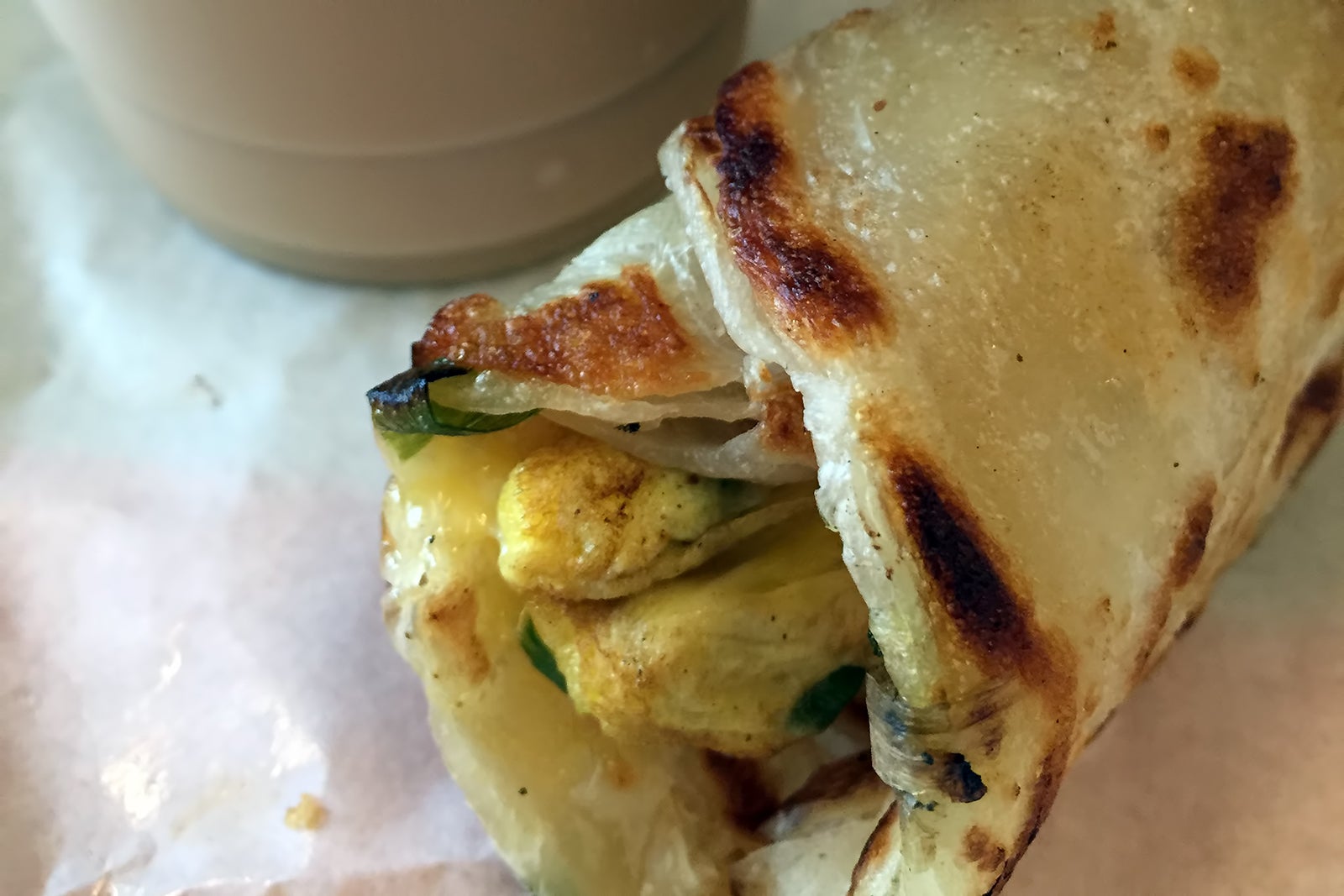 Millet omelette is a popular street food item in Nantou. Although it's called "millet", there is no millet in a millet omelette here. It was simply named so by sellers and it's more of an egg pancake than an omelette. Millet omelette is inexpensive, and the dough is handmade on site. The sellers roll the dough in front of the customers, and their skilful action attracts the crowd's attention.
The dough is put into hot oil and quickly turns into a crispy golden pastry, to which fresh eggs, chopped scallions, and finally a special black pepper sauce are added. The combination of crispy pastry and egg is most appetising, and the taste is enriched by the chopped scallions. With rich and spicy sauces, you will want to have a second one as soon as you finish the first. Millet omelette is popular in Nantou and it's a common sight where locals queue patiently for them.
photo by bryan... (CC BY-SA 2.0) modified
2
Assam tea cheesecake (a sa mu hong cha ru luo dan gao)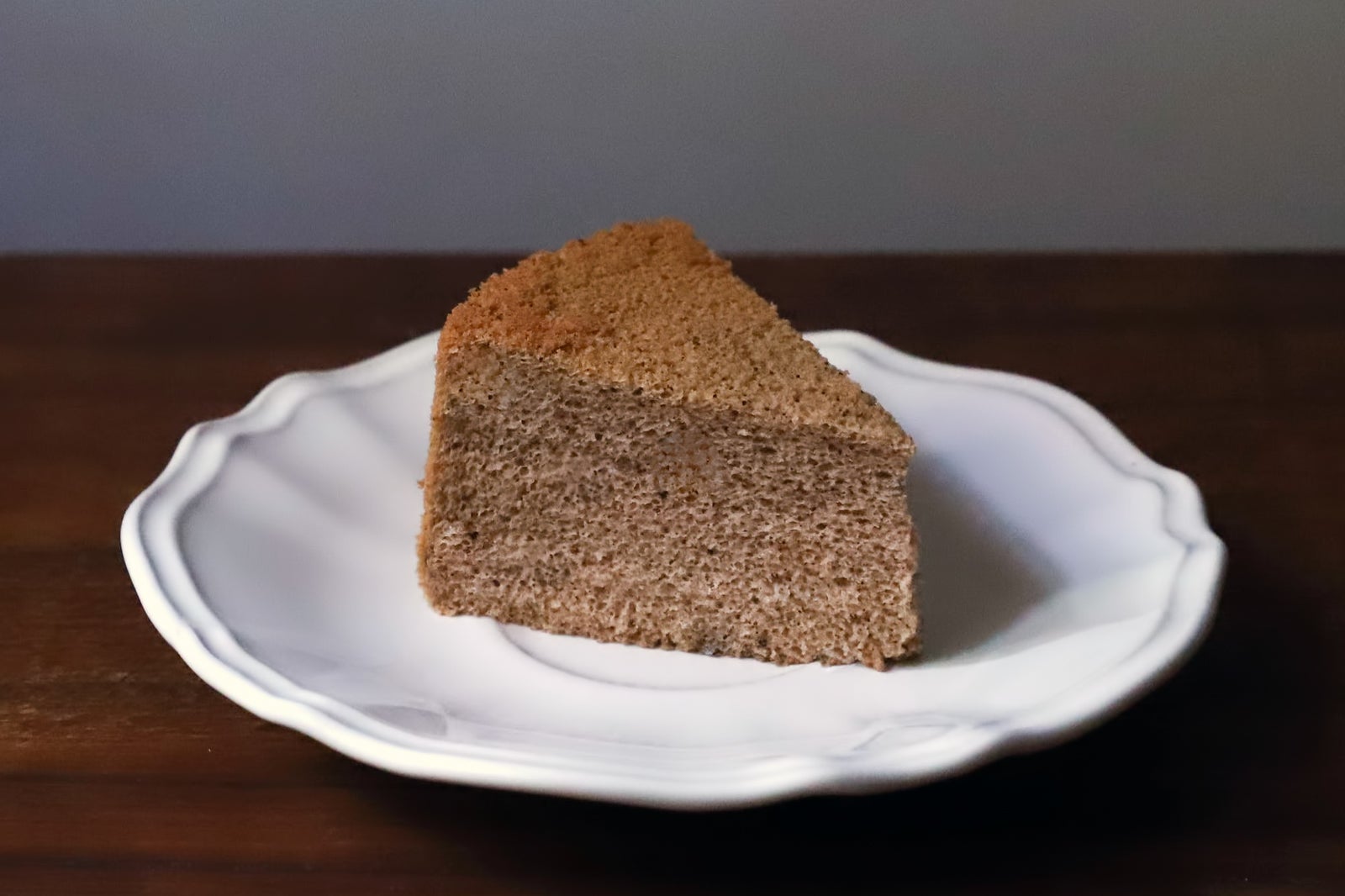 Assam tea cheesecake is a must-try when you come to Nantou. This dessert has a strong black tea aroma. Each chef has his or her own cheesecake recipe, so each cheesecake that you try may have a unique flavour and taste. The most distinctive feature of Nantou cheesecake is the addition of Assam tea produced in Yuchi, Nantou. The blending of the rich tea aroma with the cheesecake creates this delicate dessert.
When sampling the dessert, first appreciate the colour of the black tea and its unique aroma, then take a bite to enjoy the dense and firm texture. If you look carefully, you'll notice tiny black specks scattered in the crumb of the cake. That's the Nantou Assam tea powder. It's a good chance to try the unforgettable local taste of Nantou in addition to experiencing the superior quality achieved by the tea farmers and the careful baking of the pastry chefs.
3
Assam tea egg roll (a sa mu hong cha dan juan)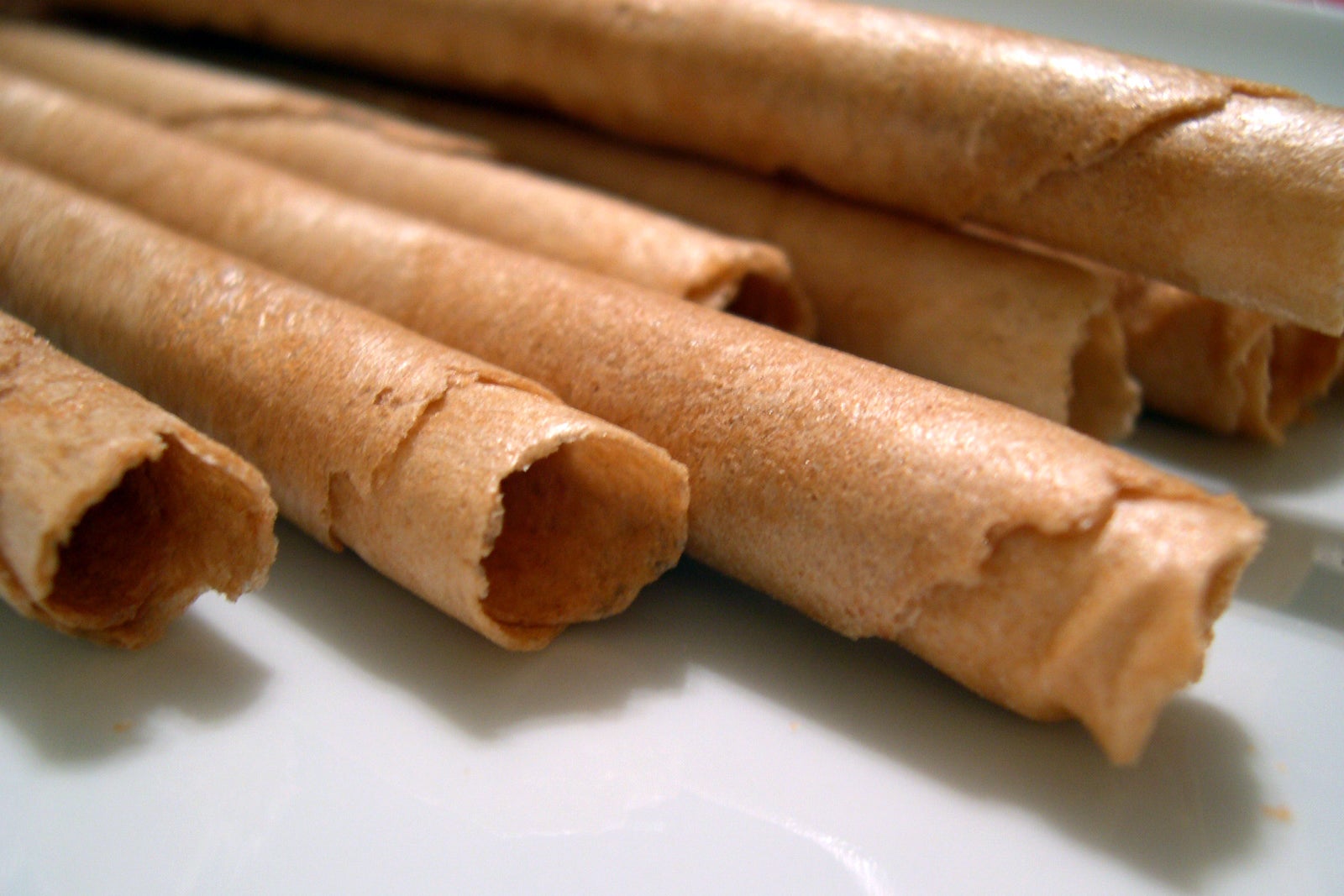 Sweet Assam tea egg rolls are must-tries when visiting Sun Moon Lake. Locally grown Assam tea is added to the egg rolls, and the emphasis is on fresh same-day production without artificial ingredients. They appeal to people of all ages with their pure aroma of black tea. The ingredients of Assam tea egg rolls are quite simple: vegetable oil, sugar, flour, eggs and Assam tea. They are made and wrapped up on-site by the sellers, and watching the process is enough to whet your appetite.
The colour of Assam tea egg rolls comes from the dark brown of black tea. The egg rolls are crisp and refreshing and the strong Assam tea aroma fills your mouth with every bite, and one is usually never enough. Enjoy the wonderful flavours and aromas right beside Sun Moon Lake. The treat and the beautiful scenery and will make your trip to Nantou all the more memorable.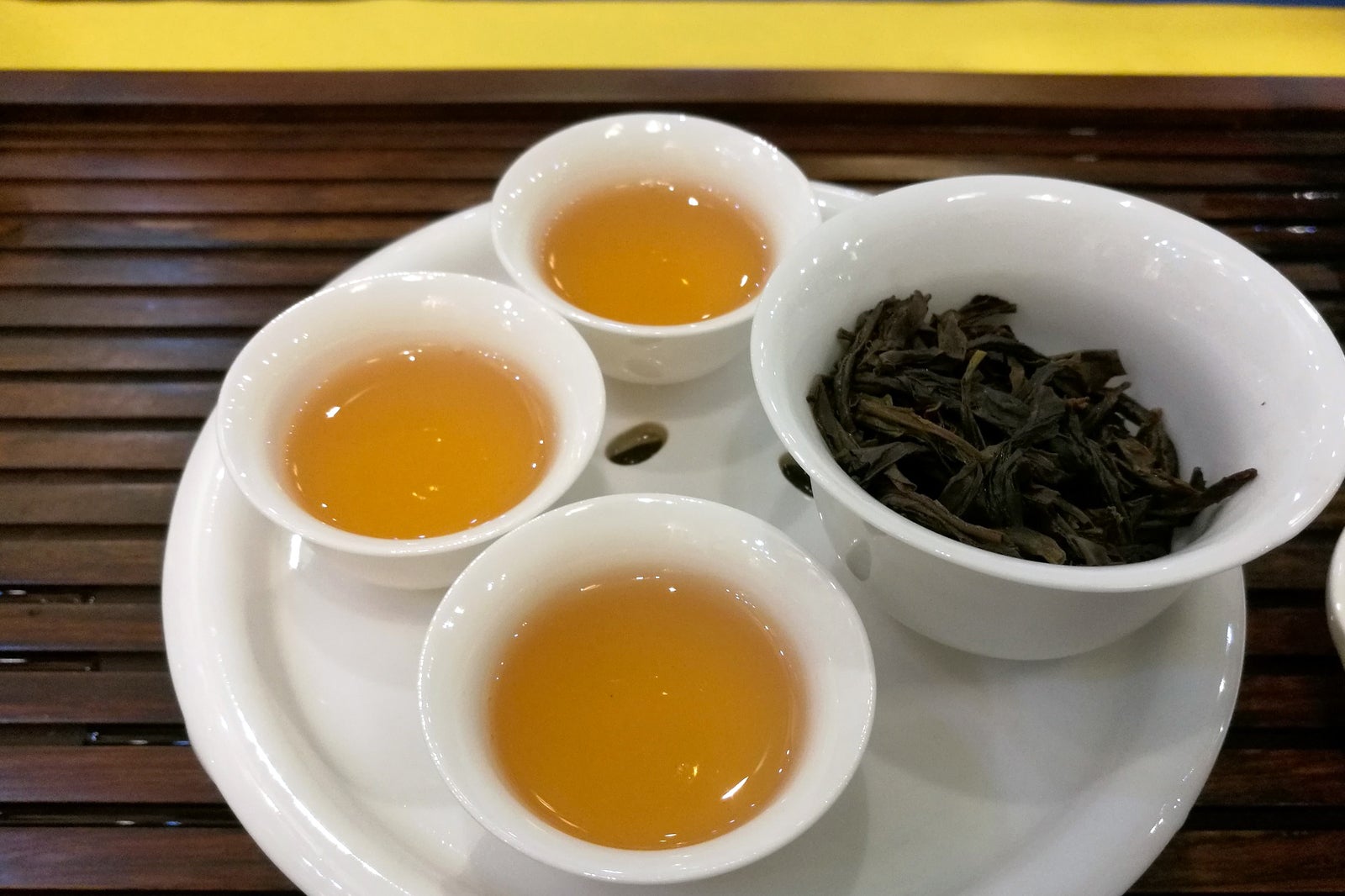 Nantou is a tea country, with hills, basins and plateaus. The temperature difference between day and night is large, and the area is often covered in clouds and mist. This has made it an excellent natural environment for tea production. Nantou's tea production is considerable in both area size and the types of tea grown.
Due to its high economic value, tea has become an important Nantou commodity. The Nantou Global Tea Expo is a grand event held yearly here. While it's mainly for local tea farmers, it always attracts a large number of visitors. There are many kinds of Nantou tea, including black tea and green tea, each with different flavours. Nantou teas from the pristine high mountains are hailed by tea experts. The light tea aroma would be one of the best souvenirs of your wonderful journey to Nantou.
5
Single malt whisky (dan yi mai ya wei shi ji)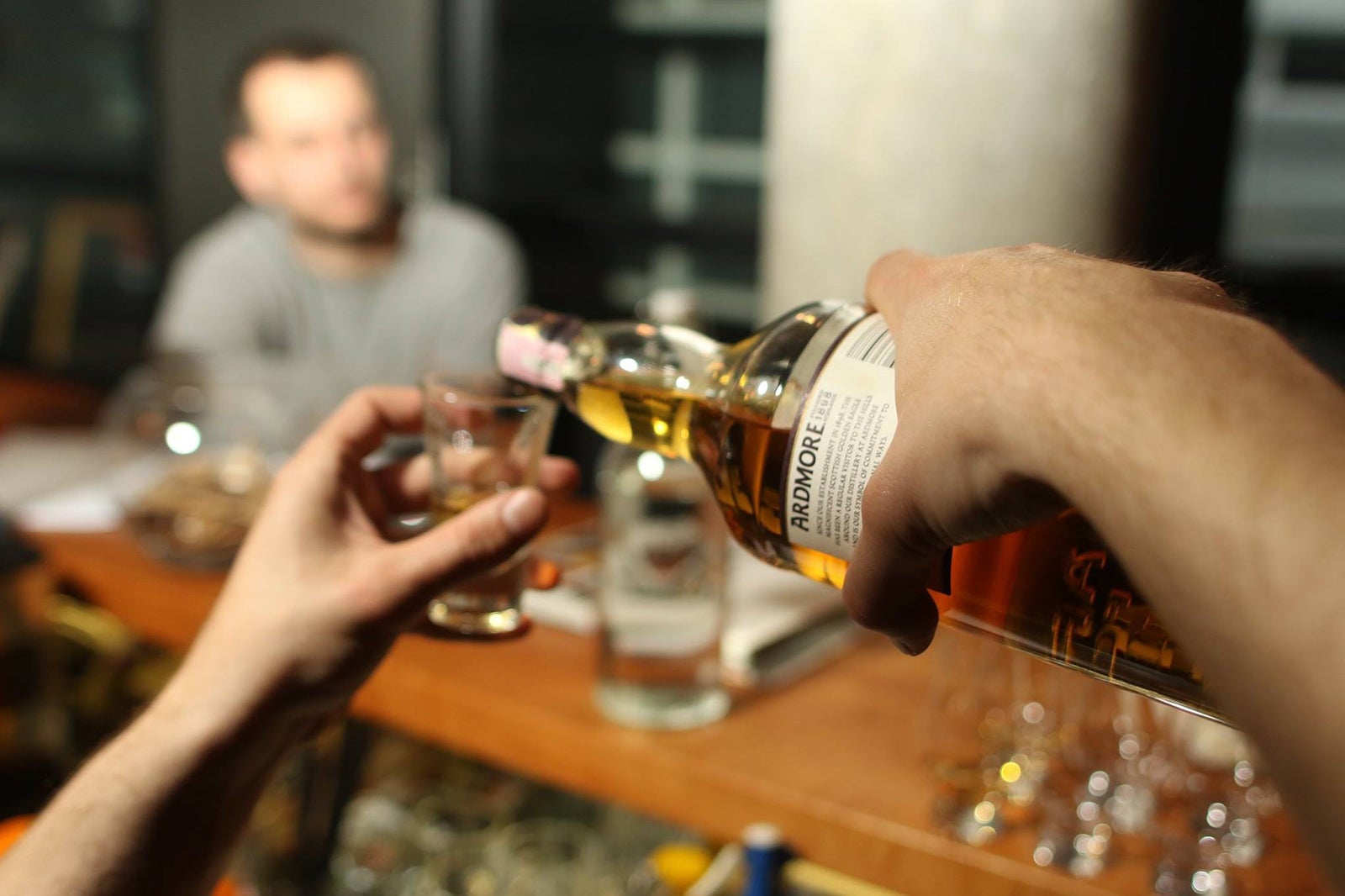 OMAR single malt whisky, expertly brewed by Nantou Distillery, makes an excellent souvenir, is suitable as part of your own collection or as gifts for relatives and friends. The name "OMAR" was taken from the Scottish word for amber, reflecting the deep honey colour of single malt whisky.
In 2008, Nantou Distillery imported customised copper pot distilling equipment from Britain, then imported malt and other equipment from Germany and began carefully brewing OMAR single malt whisky. In just a few years, this whisky won a succession of awards in international whisky competitions. Nantou whisky thus become globally renowned and has amazed many professional tasters. OMAR single malt whisky has adopted an exclusive lychee liqueur barrel finishing technique. Rich in tropical fruit aroma and mellow in taste, it is quite unique and refreshing.
6
Sandwich ice brick (san ming zhi bing zhuan)
Whether in hot summer or cold winter, many residents in Nantou enjoy having a sandwich ice brick after a meal. This refreshing dessert is a 'brick' of pure handmade ice cream sandwiched between soda cookies. The dessert comes in many flavours, such as chocolate, longan, peanut and milk. The crispy soda cookies go in contrast with the dense ice cream, offering a sensation with each bite.
The handmade ice cream has a firm texture, with moderate sweetness and no artificial colouring. It's as if each mouthful comes with a time-honoured quality guarantee. Raisins are also added to the ice cream filling in Nantou's sandwich ice bricks, enriching its texture and making it a must-try frozen dessert in Nantou for those with a sweet tooth.
7
Deep-fried meat pie (rou zi die)
Deep-fried meat pies are a very popular street snack in Nantou. Many locals will have deep-fried meat pies after work to stave off hunger. In recent years, thanks to the Internet and TV programmes, this Nantou speciality has become famous and attracts many visitors to try them out.
Deep-fried meat pies are made with a meat filling coated in flour, which is fried in hot oil quickly till golden brown and crispy. The ground meat filling is laced with chopped scallions, with the right degree of saltiness and strong aroma. Make sure to enjoy one while it is hot. Whether it's their appearance or taste, deep-fried meat pies are a very bold street food with a strong flavour, and the crispy pastry is a perfect match for the tender meat filling.
8
Black tea Baumkuchen (hong cha nian lun dan gao)
Black tea is produced in Yuchi, Nantou, and local sellers incorporate the tea into a Baumkuchen-like multilayered cake to create this unique dessert. Baumkuchen is a classic German dessert made by stacking one thin layer after another. It gets the name Baumkuchen ("tree cake" in German) from the clearly defined grain, like tree rings, that can be seen when you cut into it.
The black tea Baumkuchen of Nantou is an integration of Baumkuchen and No. 18 Taiwan Tea produced in Nantou. It's coupled with honey produced in Puli. If you cut the cake with a knife, you'll be able to admire its beautiful grain first. In every bite, the strong aroma of black tea combines with the sweetness of the honey, which all melts in your mouth. Paired with a cup of hot coffee or black tea, it is a delicious afternoon treat.
9
Snow white cake (bai xue su)
Nantou's snow-white cake is a time-honoured treat. It has won a number of gold medals in cake competitions and has also been selected as one of the top 100 souvenirs in Taiwan. Each snow-white cake has a fine outer layer around a rich but delicate inner filling. Flakes and crumbs fall down when you bite into one, resembling falling snow – the inspiration behind its name.
Snow white cakes come in several flavours, such as original, taro, green tea and plum. The ingredients are all locally sourced. They aren't too sweet, and you'll not feel overly full if you have one or 2 more servings. Snow white cakes are white, fleshy and appealing. The filling is relatively firm and dense, and each flavour brings a different surprise. Snow white cakes come in boxes of 10. Simply remember to buy extra boxes for the journey and when you get back home.
10
Jiji train ticket cookie (jiji huo che piao bing)
Take the little Jiji train to Jiji railway station and see the variety of delicious foods on offer in the shop area around the station. One nice treat to try is the Jiji train ticket cookies, which are full of local character. A common memory amongst many residents in Nantou is the old Jiji train tickets. Holding the small ticket in hand, a feeling of returning to the hometown comes over the Nantou locals living far from home.
Local sellers took the shape of Jiji train tickets as inspiration in their baking, and painstakingly crafted the Jiji train ticket cookie. They were instantly and warmly welcomed by travellers, and have become a popular speciality of Jiji. The cookies even bear the words "Jiji to Checheng" on them. Jiji train ticket cookies come in a variety of flavours, such as plum, pineapple, brown sugar banana and cantaloupe. They have a moist filling and crispy pastry. Each bite may help you recall the beautiful memories of riding the small train.