10 Things to Do in Lucerne in a Day
What is Lucerne Most Famous For?
The picturesque town of Lucerne is one of Switzerland's most inviting corners, sitting on top of the magnificent Lake Lucerne, with the Swiss Alps in the background and the twinkle of cowbells providing the perfect soundtrack. Breathe in the fresh mountain air, drink in the beautiful scenery and treat your taste buds to a sprinkling of sugary heaven as you dip in and out of authentic Swiss chocolate shops.
Lucerne might be small, but it's packed full of diverse history and impressive architecture. From charming treasures such as Chapel Bridge and the ice-cool attractions of the Glacier Gardens to the impressive peaks of Mount Pilatus, Lucerne almost looks like your picture-postcard image of Switzerland. Whether you're strolling through the Old Town or sitting among the swans at Schwanenplatz, you'll find your own version of Swiss paradise in Lucerne.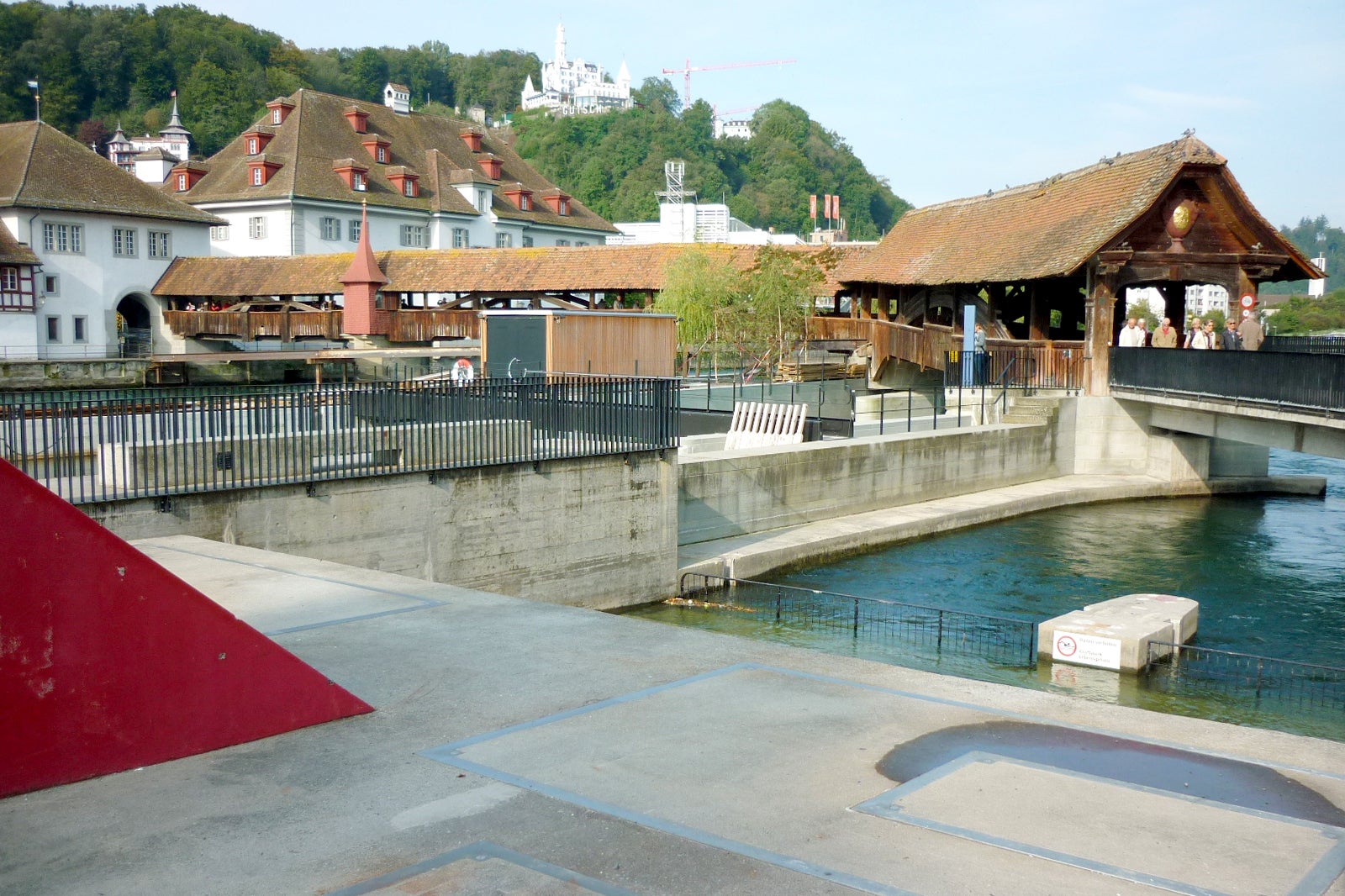 Start the day at Mühlenplatz
Full of charm, character, and intrigue, as you set foot in Mühlenplatz, one of the first things you'll notice are the beautiful buildings showcasing highly decorative and colourful designs. Located in Lucerne's Old Town, another delight of this charming square lies in its population. Never too crowded, you can enjoy a relaxing morning stroll, stop by the central fountain and take a quiet moment of reflection before wandering in and out of the many boutiques.
With cafés and restaurants spilling out onto the cobbled streets, this historic square is a great place to grab a coffee and pull up a beautifully decorated chair as you watch the local life walk by. Make sure to dig into the tempting pastries and homemade granola at popular café and meeting point Mill'Feuille, where you can also catch a view of the scenic River Reuss.
Location: Mühlenplatz 1, 6004 Lucerne, Switzerland
photo by Paebi (CC BY-SA 4.0) modified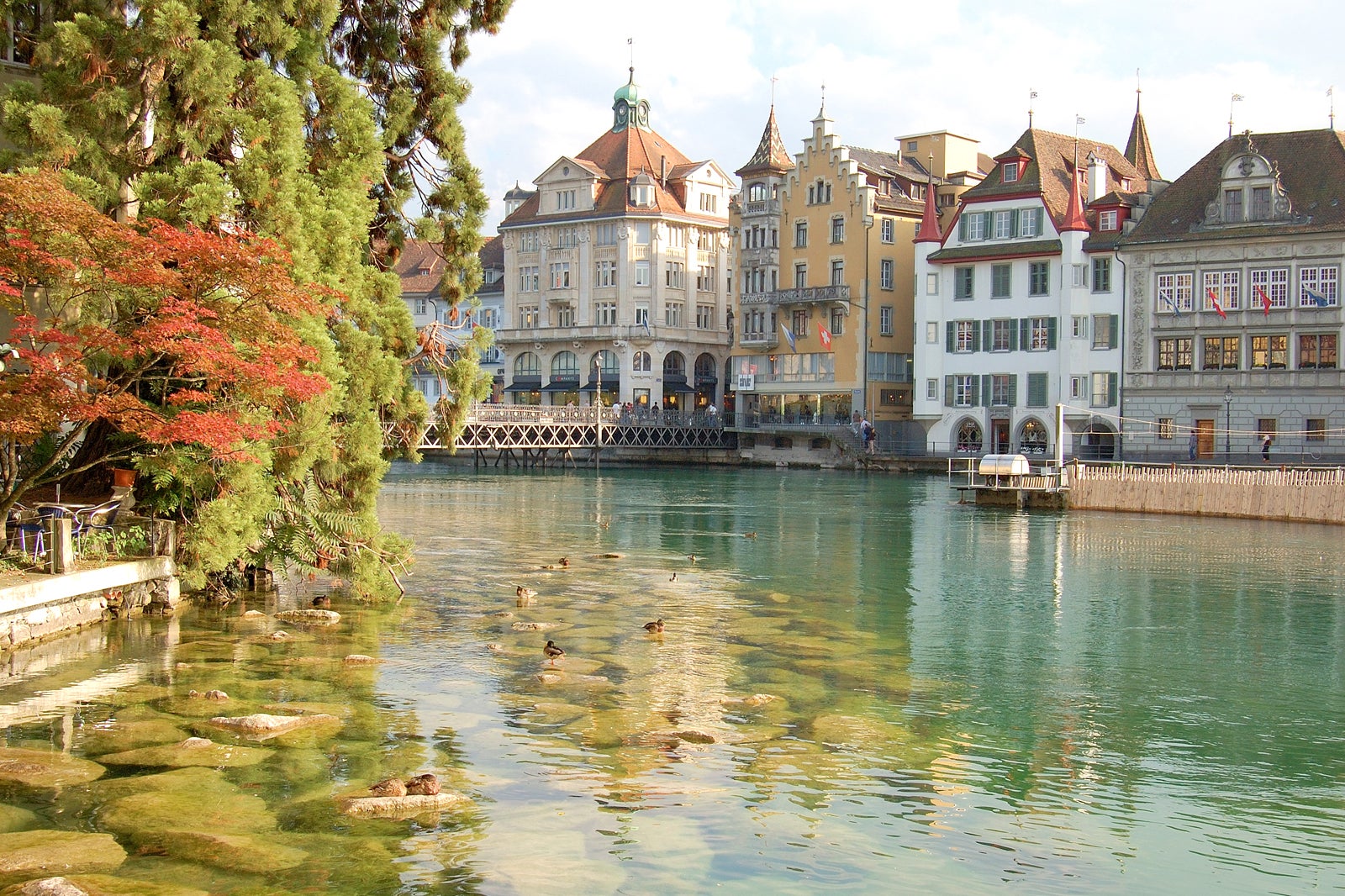 Wander around the Old Town
You'll need to pull on some comfortable shoes before navigating the winding cobblestone streets of Lucerne's quintessential Old Town. With a crystal-clear canal flowing from its medieval middle, the peacefulness and compactness of the area ensures an easy wander. Allow yourself to be drawn in by the hand-painted murals on the impressive 15th-century buildings and step inside the welcoming doors of architectural wonders, such as the Old Town Hall and St Peter's Chapel.
Around every corner, you'll discover delightful dining options and quaint shops selling everything from dazzling jewellery to delicious Swiss chocolate – a treat so tasty you'll waste no time in enjoying a mid-stroll snack. From beautiful fountains to uncovered bridges, the Old Town harbours a romantic essence within its narrow passageways.

Location: Kornmarkt 11, 6004 Lucerne, Switzerland
Shoppers
History
Photo
Budget
photo by Simon Koopmann (CC BY-SA 2.5) modified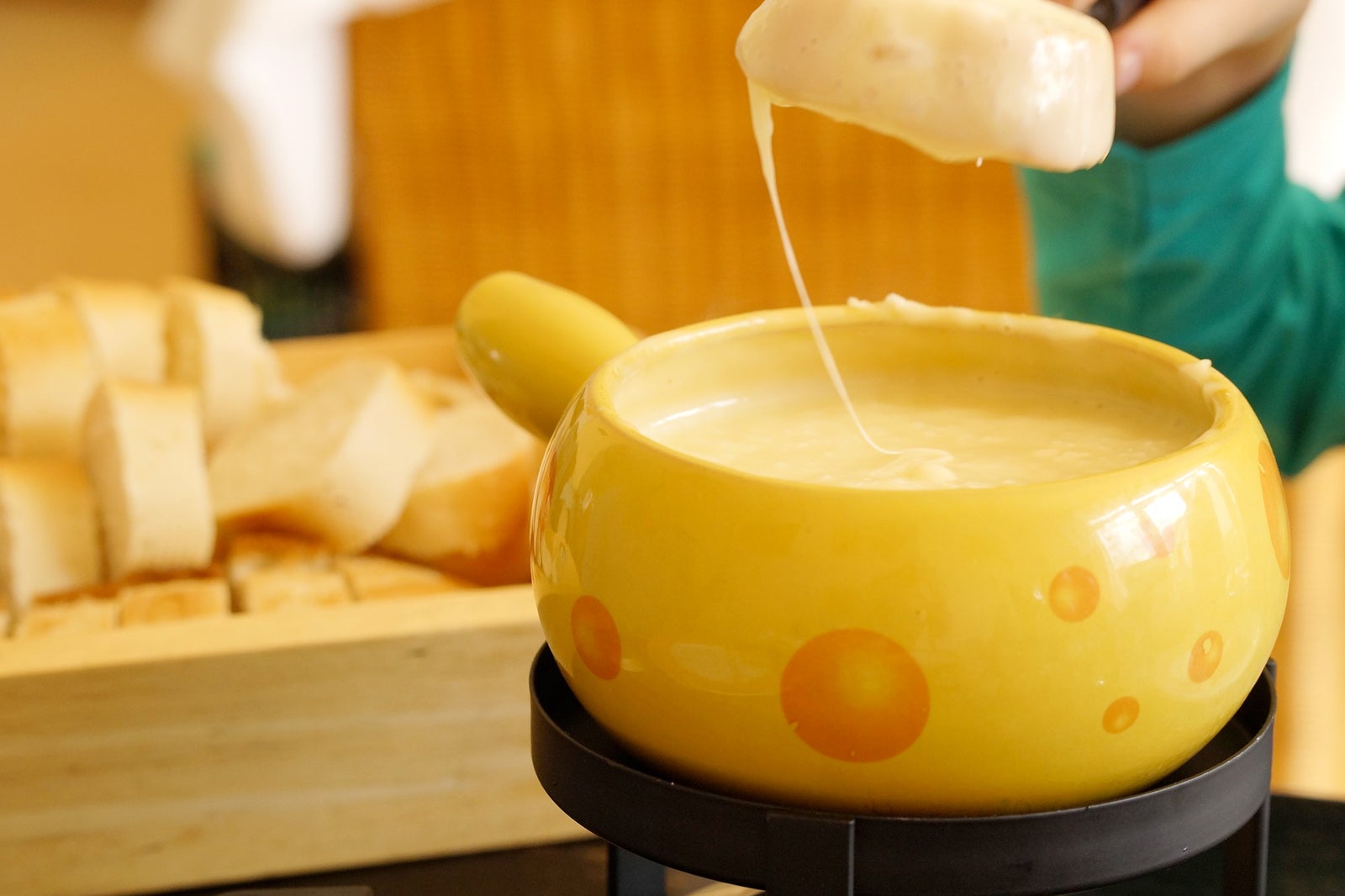 Eat cheese fondue for lunch or dinner
You might think that you can get cheese fondue at home, but you'd be wrong. To fully enjoy the depths of this dreamy dish, you need to do so within its traditional setting. Originating in the Swiss Alps and born as a blurred creation between Alpine farmers and the upper class, a traditional cheese fondue is whipped up from grated Gruyère and Emmentaler cheese, kirsch, a little seasoning and a dash of dry white wine, Oh, and in Switzerland, la fondue comes in no other form, so forget about chocolate fountains.
The streets of Lucerne are a melting pot (pun absolutely intended) of rich gruyere aroma's, but there's one spot that's a must-try – Fritschi. Located in the heart of the Old Town, as soon as you step inside this charming eatery, you'll be met with a wave of warmth and friendliness. Try la fondue à la Provençal out on the terrace for a noteworthy culinary experience. Attentive staff and large portions will have you instantly grabbing a skewer and diving on it to the comforting, velvety depths.
Location: Sternenplatz 5, 6004 Lucerne, Switzerland
Open: Daily from 10.30am to 12.30am
Phone: +41 41 410 16 15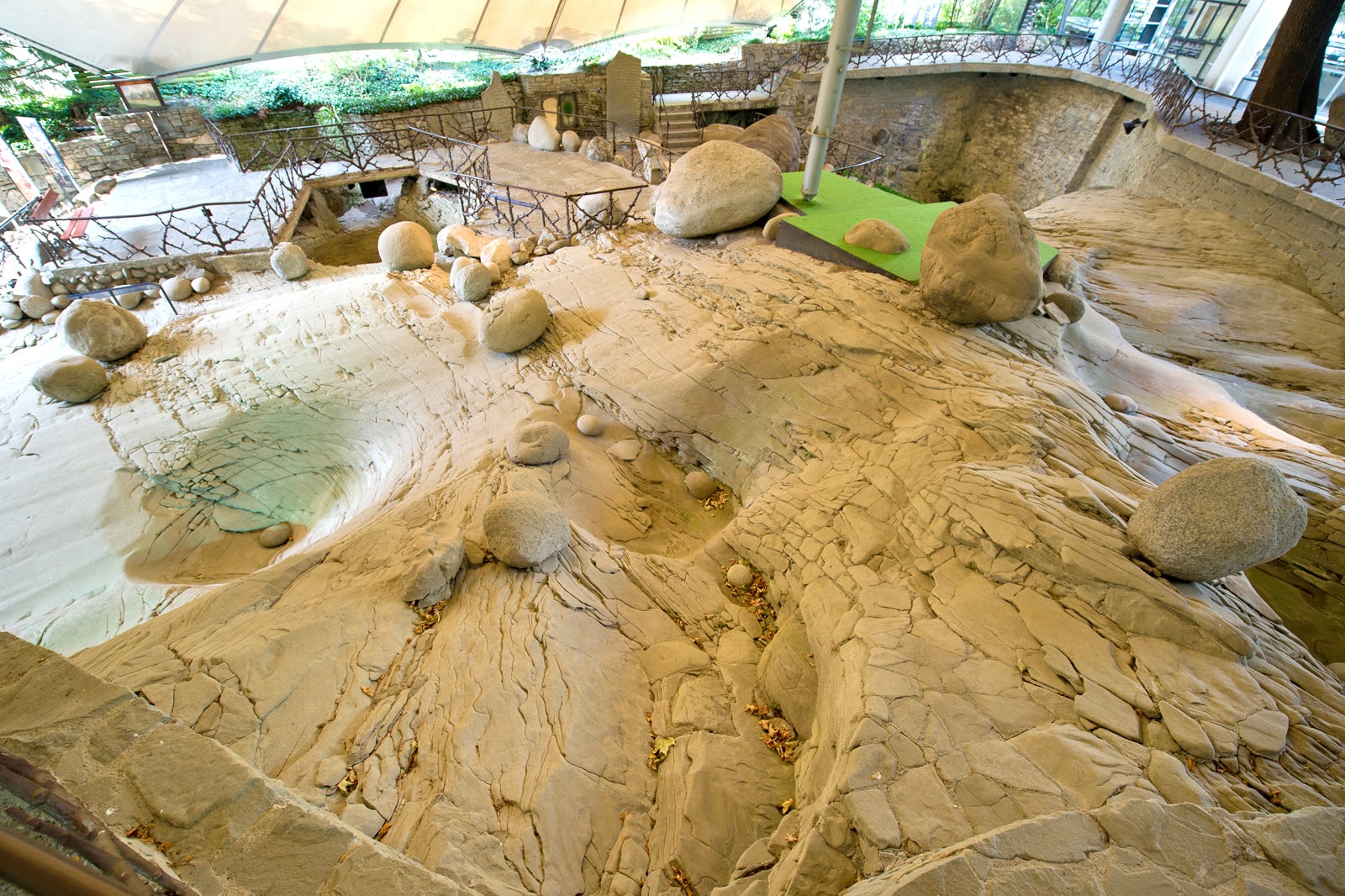 Get lost in the Glacier Gardens of Lucerne
Did you know that Lucerne was once covered by glaciers? Want to get to grips with this impressive corner of the ice age? Within a short stroll from the city centre, right in the heart of Lucerne, sits the spectacular Glacier Gardens. This eclectic museum houses a stunning natural monument, complete with potholes of impressive proportions, alpine plants and a fish pond fed directly by the Gorner Glacier. It's a great spot for a little rest and relaxation.
Once you've seriously gotten into the glaciers, for something a little extra, get lost inside the mirror maze – a room filled with 90 mirrors, inspired by the Alhambra Palace in Granada. Make your way around the bewildering twists and turns, then finish your visit with a climb up to the observation tower for sublime views over the city. And the best news? An adult ticket will cost just 15 francs.
Location: Denkmalstrasse 4, 6002 Lucerne, Switzerland
Open: Daily from 10am to 6pm
Phone: +41 41 410 43 40
photo by Leiju (CC BY-SA 3.0) modified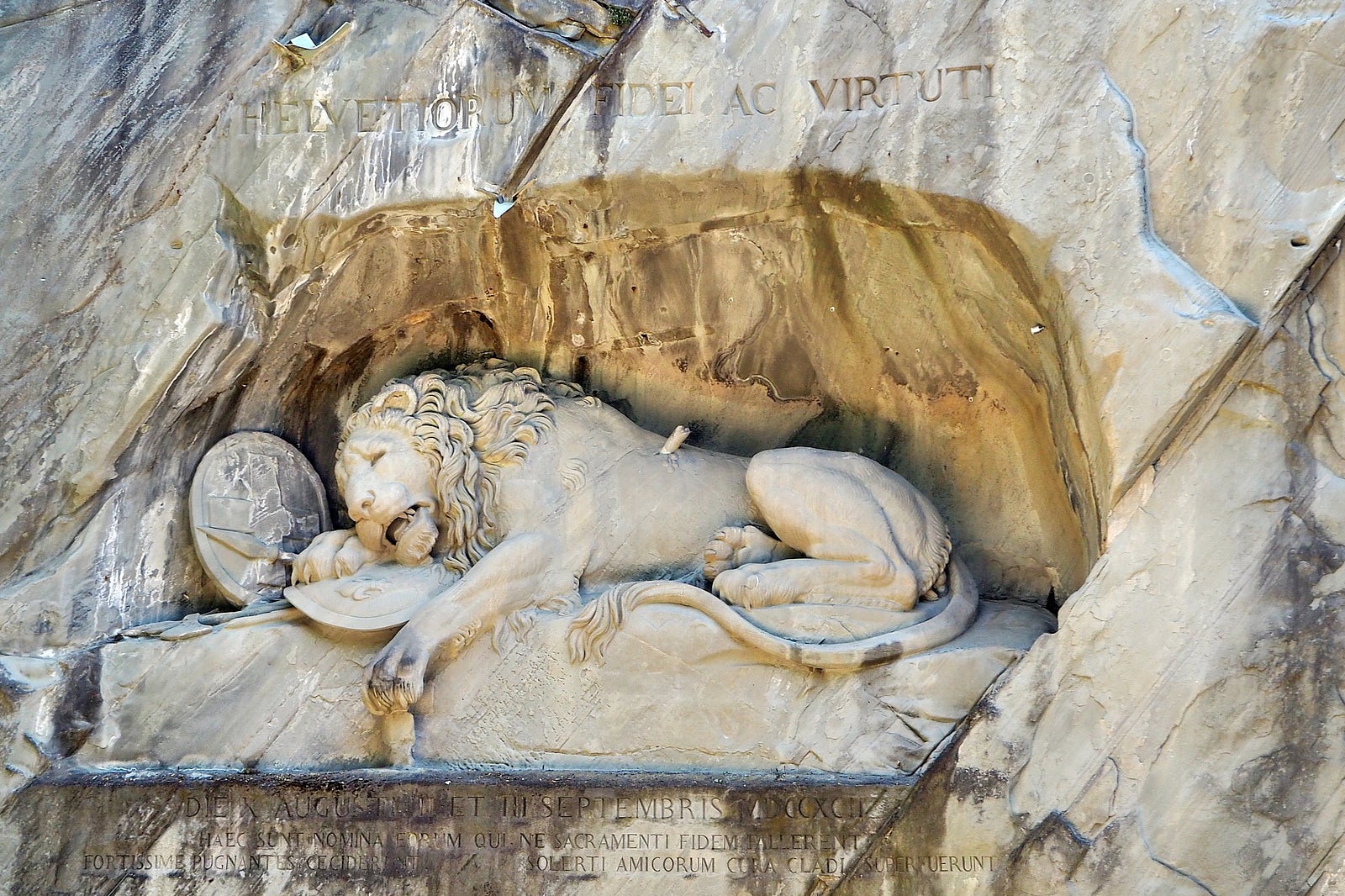 Must-See: The Lion Monument
Telling a story of important Swiss history, this memorable monument is spectacularly carved directly into the walls of a large sandstone quarry. Designed by Danish sculptor Bertel Thorvaldsen in 1820, the monument is a memorial to the Swiss soldiers who lost their lives during the French Revolution. Above the lion is an inscription that reads, "HELVETIORUM FIDEI AC VIRTUTI," which translates as "To the loyalty and bravery of the Swiss".
Known as the saddest stone in the world, this historical piece of art is easy to find, sitting directly next door to the Glacier Gardens. Take a short walk from the centre of town for a meaningful look into the lion's mournful eyes. You'll find it difficult not to be moved by its tragic gaze.
Location: Denkmalstrasse 4, 6002 Lucerne, Switzerland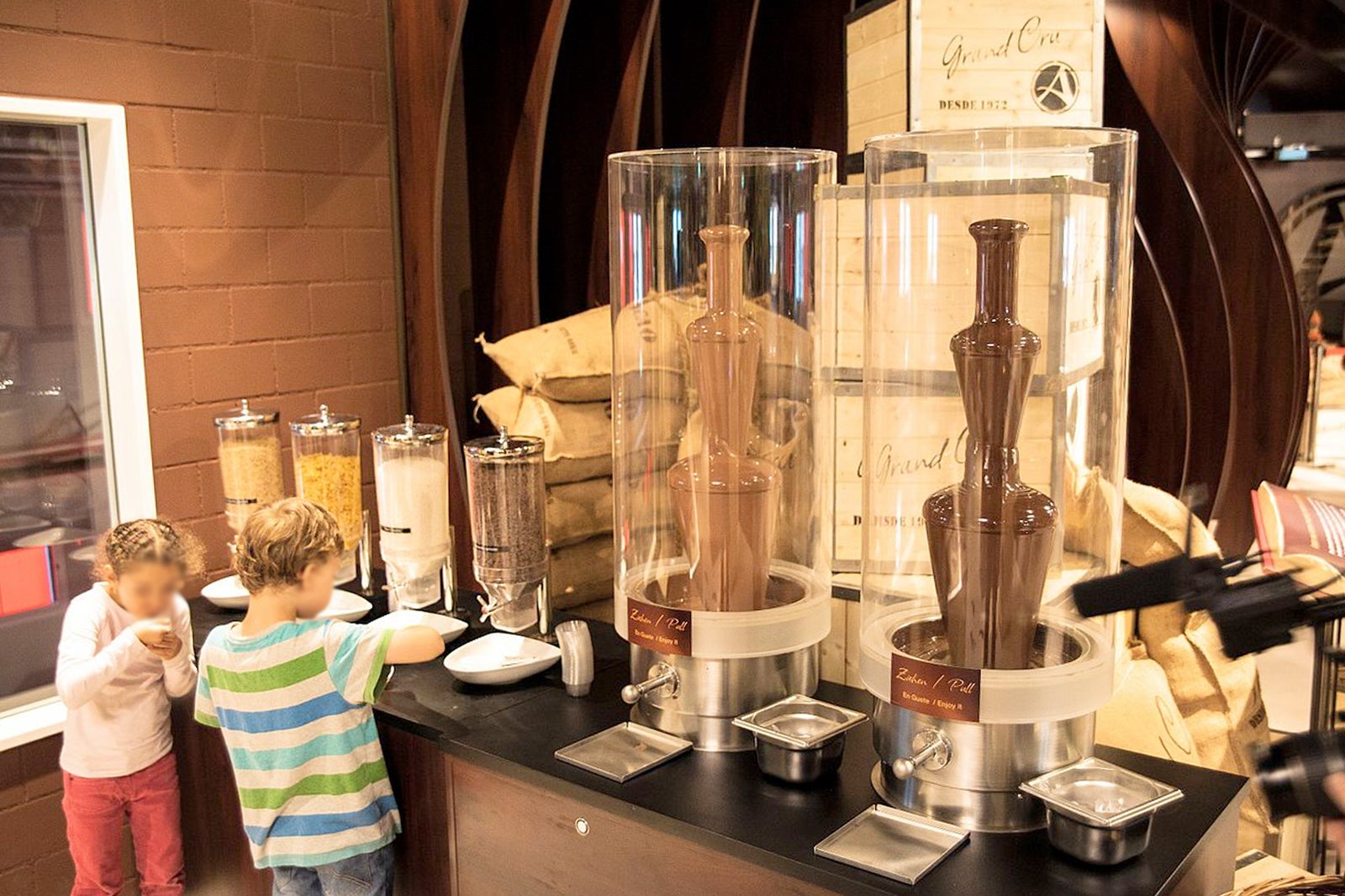 Take the train to Root for a dreamy chocolate factory tour
Delight your innate Swiss senses as you board a train from Lucerne station for a trip to the Aeschbach Chocolatier in nearby Root. Just a short 20-25-minute ride will see you immersing yourself into the heavenly scent of ChocoWorld – an intoxicating interactive tour. Here, you can learn everything there is to know about the humble cocoa bean, the history of chocolate and its creamy production.
Founded in 1972, and as the only maker in all of Switzerland with in-house specialities such as chocolate thalers and coins whipped up in the special Choco Manufaktur, you can get up-close and personal to the creative chocolatiers going about their daily business and get your fill of tasty Swiss chocolate squares.
Location: Aeschbach Chocolatier AG, ChocoDromo 1, Hochschwerzlen, 6037 Root-Lucerne, Switzerland
Open: Monday–Friday from 8.30am to 5pm, Saturday–Sunday from 9am to 5pm
Phone: +41 41 747 33 40
photo by Obi-waldi (CC BY-SA 4.0) modified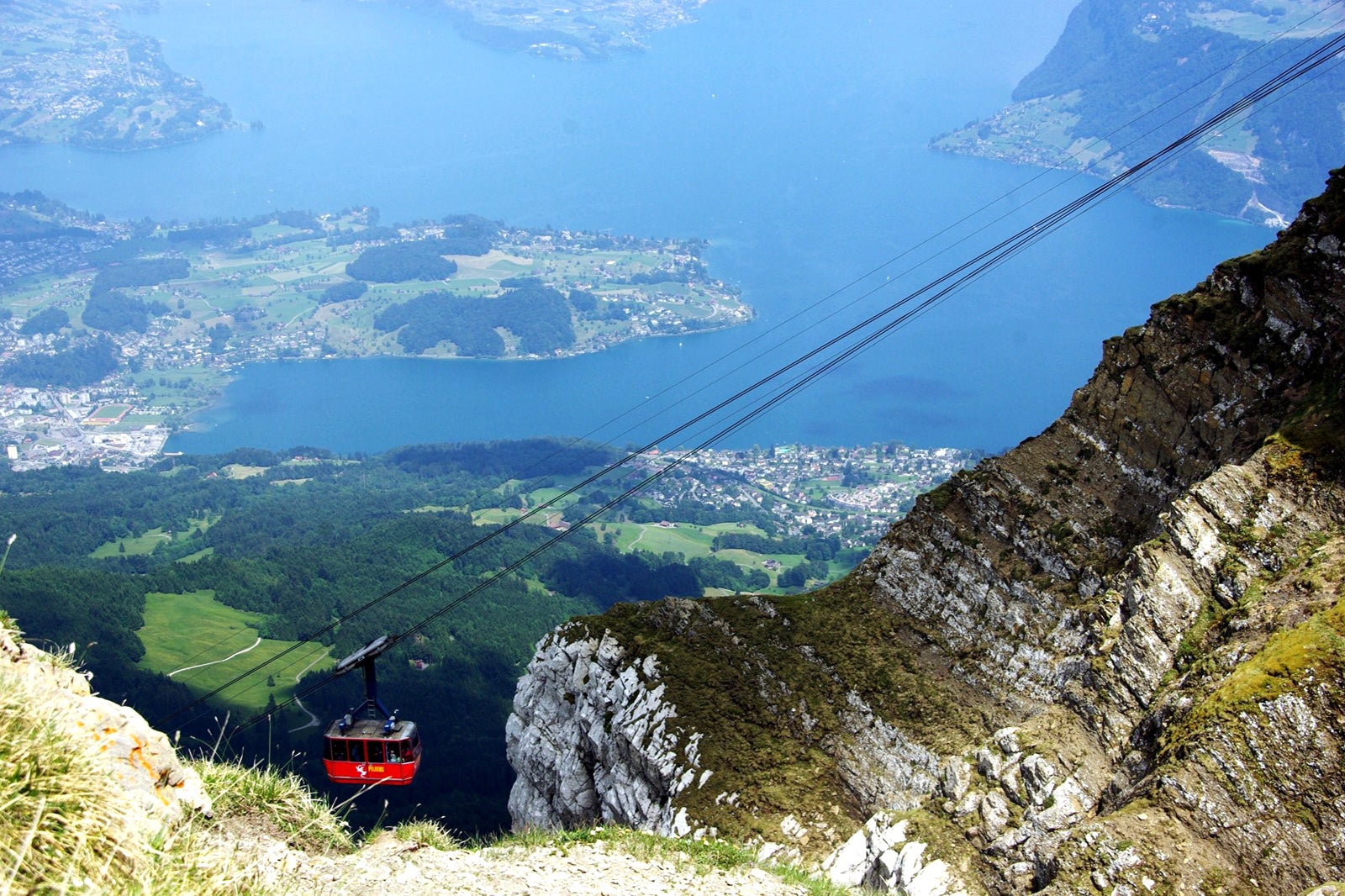 For a scenic adventure just outside of the city, the snow-capped peaks of Mount Pilates beg to be uncovered. Viewing this breathtaking beauty from the city is one thing, but getting up-close and personal is another. Just take a breezy bus ride from Lucerne Station to Kriens, then ride a series of gondolas and a cable car to the top, enjoying impressive views along the way.
An adult ticket will set you back 72 francs, but there are half-fare and rail pass options available. With exploratory paths perfect for trekking and biking, the cost will be well worth it. If you're seeking something a little more unique, jump off at Fräkmüntegg station – one of the stops on your way to the top – for a ride down Fräkigaudi, the longest toboggan run in all of Switzerland. However you choose to discover your alpine paradise, make sure to wrap up warm as the wind can come with quite the kick.
Location: Pilatus, 6010 Alpnach, Switzerland
photo by Dave Shafer (CC BY 2.0) modified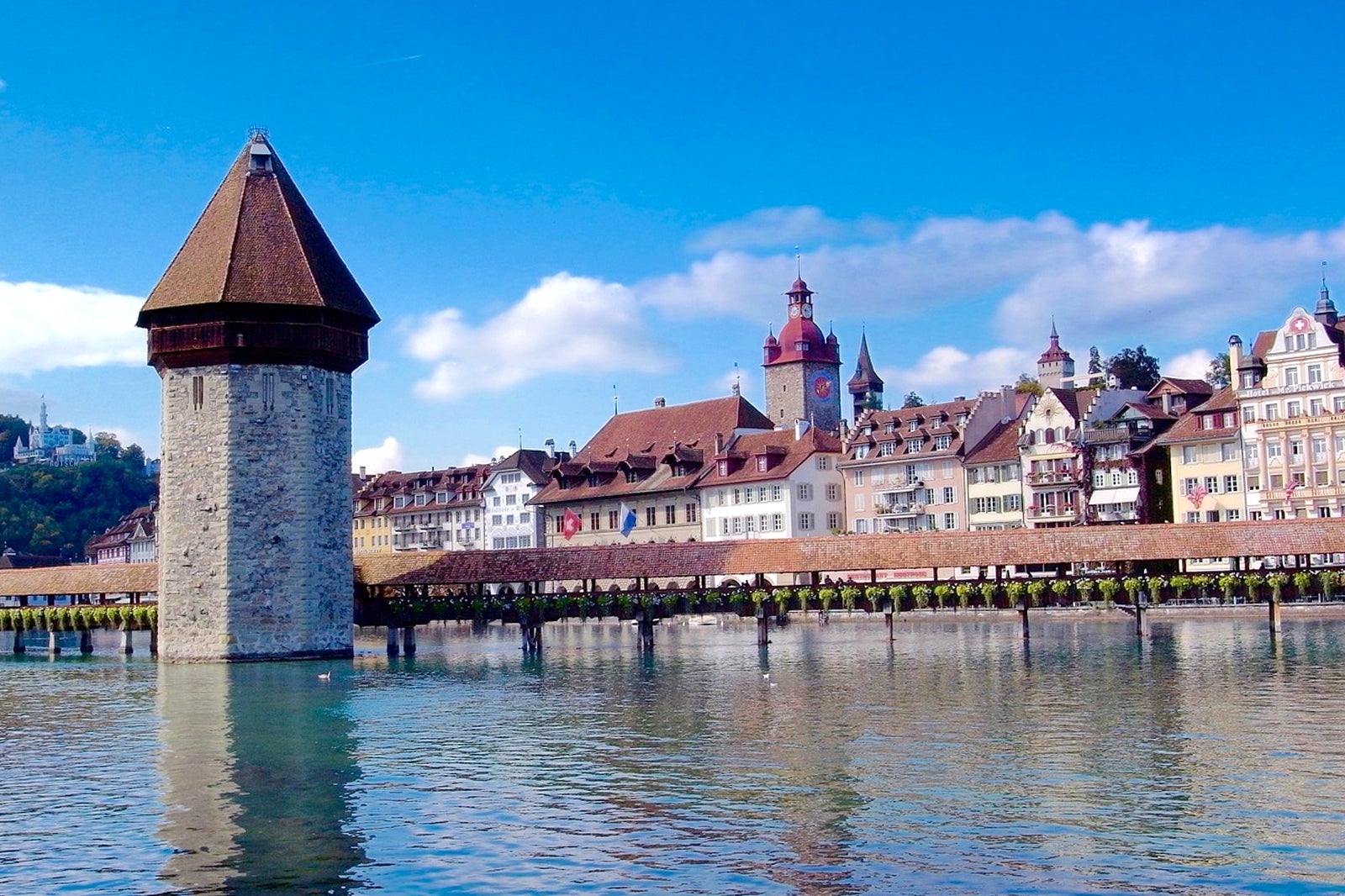 Take a walk across Chapel Bridge
Head to Lucerne's most famous landmark and grab a front-row seat to the city's incredible history. Built initially as a way to link the Old Town on the north bank of the Ruess river to the new town perched on the south bank, Chapel Bridge is a one-of-a-kind wooden walkway serving as the symbol of Switzerland. It's also Europe's oldest covered bridge and the world's oldest surviving truss bridge, so it's safe to say it's a pretty big deal.
As you look out onto the town, steeped in spectacular architecture, make sure to also look up at the pristine paintings covering the ceiling. Telling a story of Lucerne's rich history, and dating back to the 17th century, these murals were created by local artist Hans Heinrich Wägman and make crossing this wooden bridge a truly unique experience. If you happen to pass through at night, the ambient lighting will ensure you snap the most perfect photographic moment for your social feed.
Location: Kapellbrücke, 6002 Lucerne, Switzerland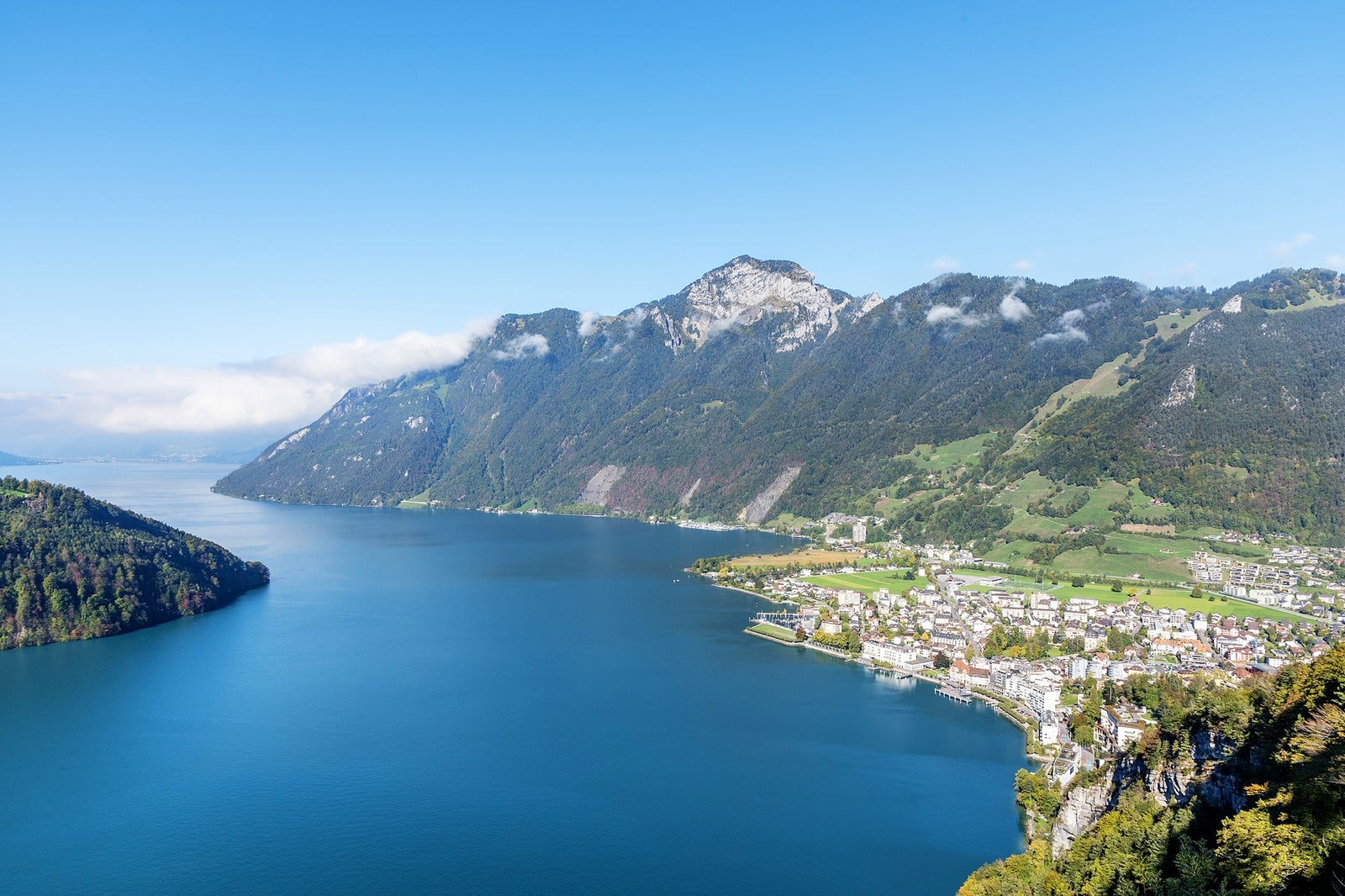 As a picture of overwhelming beauty and the best-kept secret in the Swiss Alps, Lake Lucerne – or the tongue-twisting Vierwaldstättersee, to the locals – is a shimmering 38-km stretch of serenity and tranquillity. Share this cobalt blue pool with the local swans and enjoy stunning views of the alpine mountains stretching out into the distance.
Like something out of a fairy tale, the only way to appreciate the scenic splendour of this destination is to hop onto any of the several boat rides on the lake itself. Most boats depart from Lucerne, but you can board in other towns along the lake, even combining your trip with a visit to Mount Rigi or taking the hour-long round trip, from Lucerne to Meggen and back. Whichever journey you choose, each one will transport you through rolling hills, cascading waterfalls, crumbling castles and charming Swiss villages. Pack your camera – it's going to be an Instagrammable occasion.
Location: Vierwaldstättersee, Lucerne, Switzerland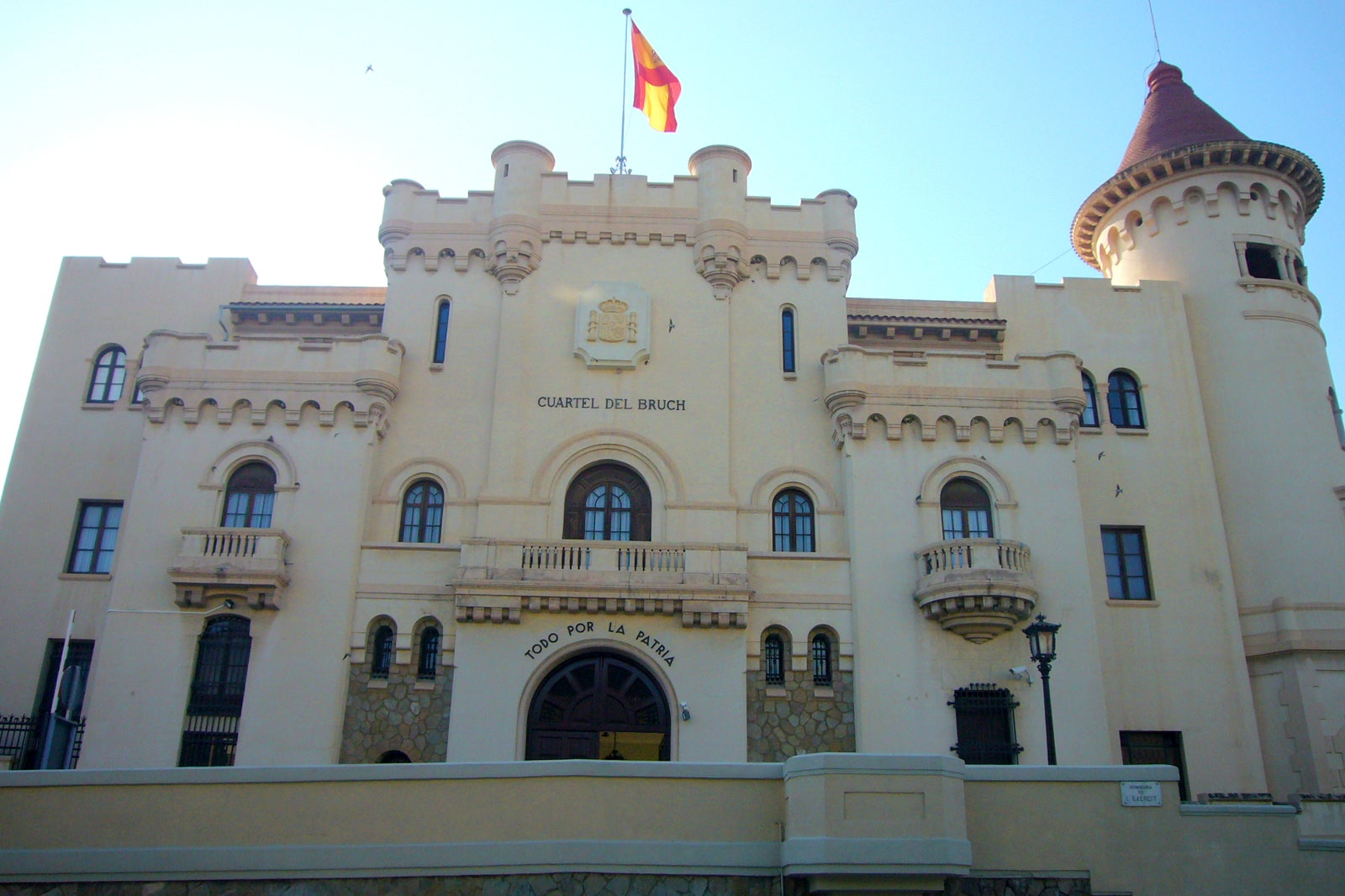 End the day at The Bruch Quarter
If original cafés, bustling coffee shops and hip bars are your thing, make your way to the trendy Bruch Quarter. Known for being a cool, cosy and quirky area, this former cattle market is now a fully converted trendy residential district brimming with diversity. From all-embracing eateries to ethnic supermarkets and small boutiques selling clothing and handmade crafts, this neighbourhood houses a really intimate feel.
Nestled in the west of Lucerne, between the main street leading out of town and the Gütsch hill, make sure you seek out Madeleine, a vibrant speakeasy-style venue housing a bar, gigs, comedy nights and a whole range of regular cultural shows. If you feel like treating yourself to a cocktail or 2, pull up a red velvet chair in glamorous café Aurum XLIV. Its gold interiors offer a little slice of Lucerne luxury.
Location: 6003 Lucerne, Switzerland
photo by Jordiferrer (CC BY-SA 3.0) modified