9 Best Things to Do in Oviedo
What is Oviedo Most Famous For?
Our list of the best things to do in Oviedo shows that this is one of Spain's historical treasure troves, home to several UNESCO World Heritage sites that hail from the Kingdom of Asturias. At the heart of the city is the medieval old town where you can find most of these landmarks. It's small enough to explore on foot, thanks to a network of tiled and cobblestone streets.
Besides offering plenty of sightseeing, Oviedo has its own set of unique sensory experiences. Among other things, don't forget to quench your thirst with the beverage that the city's famous for at a sidrería downtown. The city's roughly a 35-minute drive southeast from Asturias Airport (OVD), and it's well worth the drive, as you'll see.
What are the best things to do in Oviedo?
1
Casco Antiguo
The old town and heart of Oviedo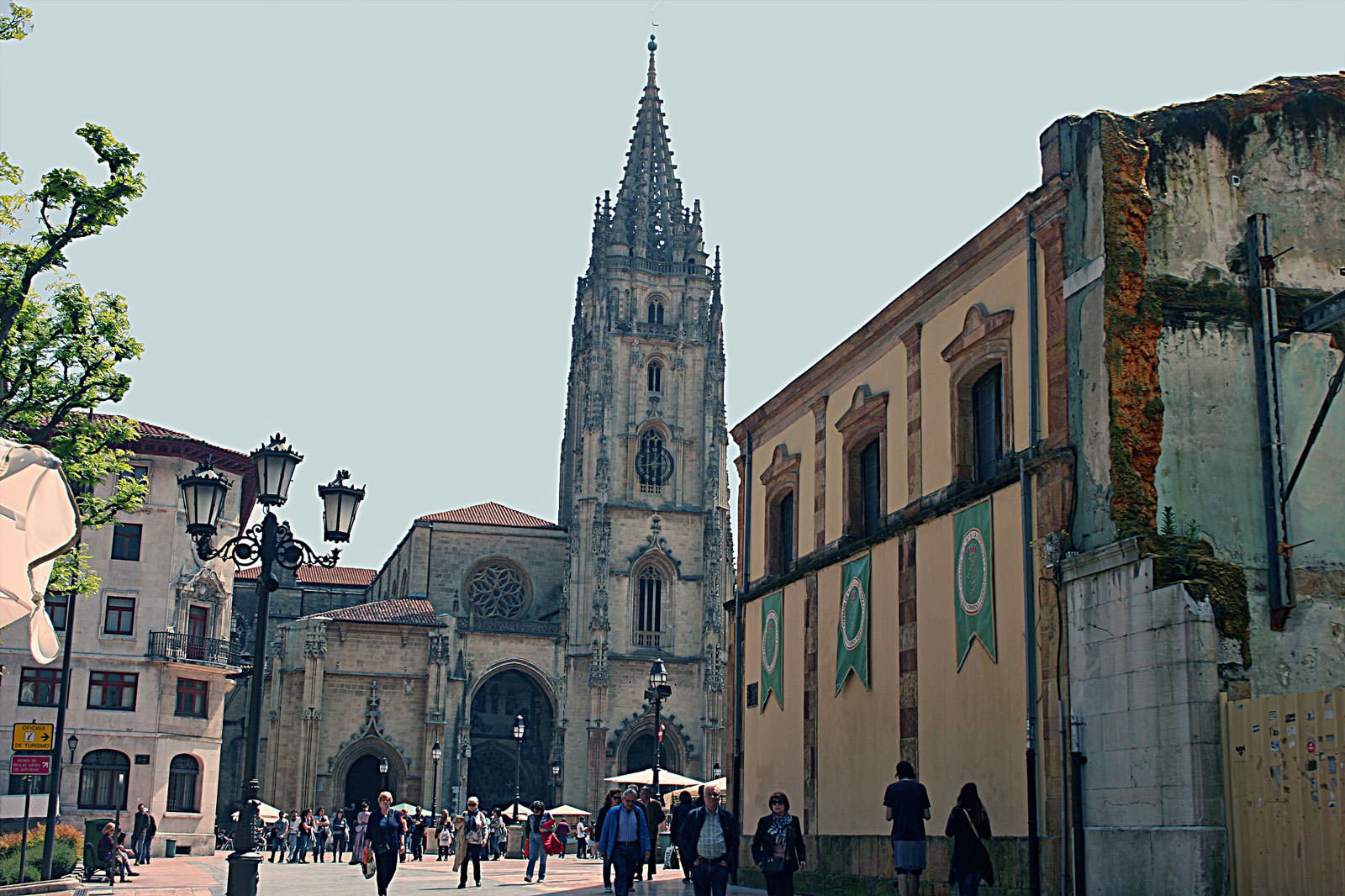 The historical district of Oviedo is full of scenic walks through a network of old stone-tiled streets. They're lined with buildings of architectural splendour, some of which date back to the 16th century. The eye-catching spire of the Oviedo Cathedral serves as the beacon of the medieval town, with the spacious plaza in front of it. Interconnecting streets, many of which are pedestrian-only, lead you to other plazas and landmarks, such as the nearby Ayuntamiento (town hall).
Location: Plaza de la Constitución, Oviedo, Asturias, Spain
Open: 24 hours
2
Cathedral of San Salvador
Romanesque landmark with a stunning bell tower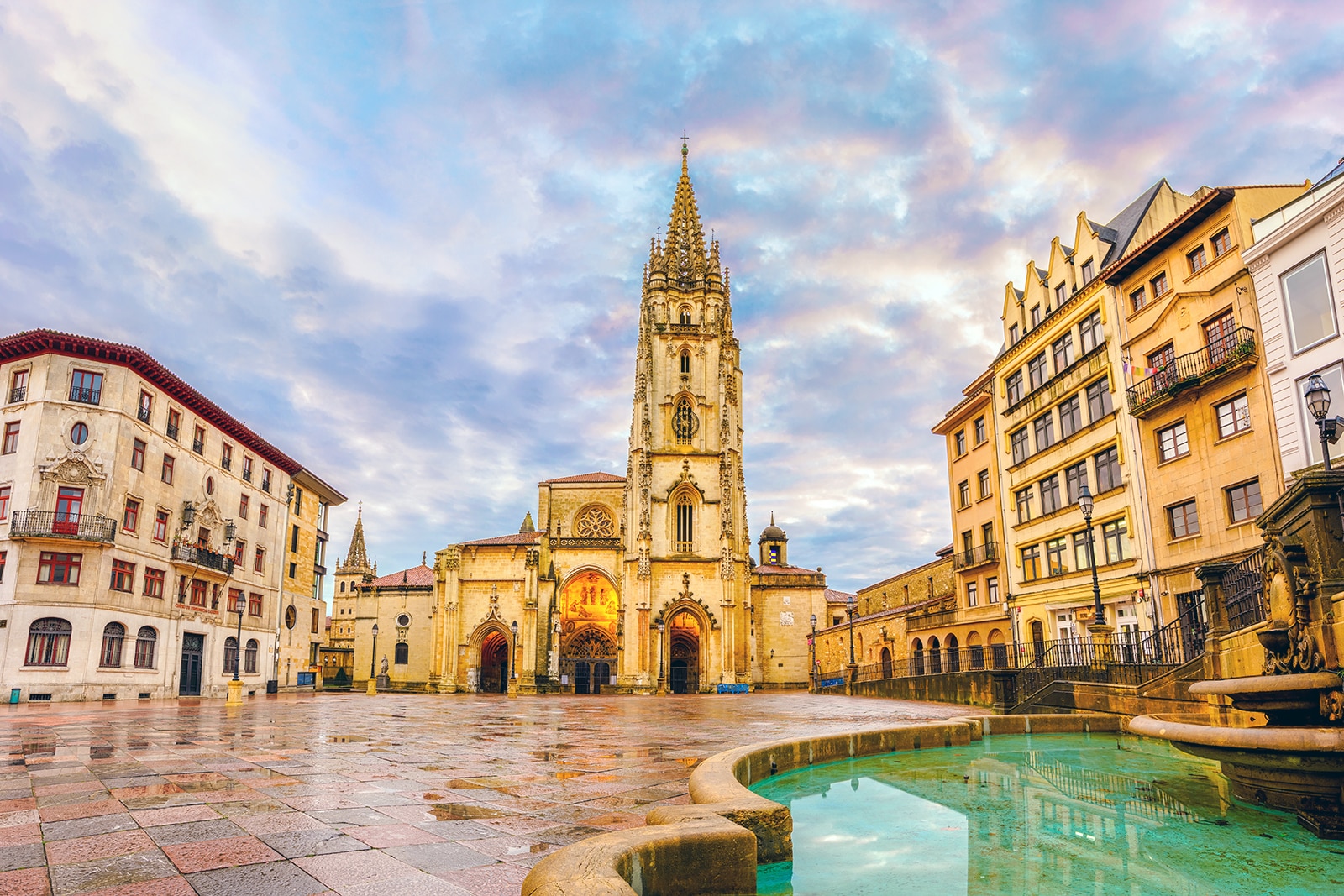 Often referred to simply as "Oviedo Cathedral", this Roman Catholic basilica with its 80-metre-tall Gothic spire towers over the stone-tiled plaza. The most picturesque angle to capture its Romanesque façade from is the fountain at the plaza's southwest corner, with the cathedral's reflection in the pool's surface. Step inside (tickets are around €7 with audio guide included) to admire the choir and chapels under 3 large naves lit by large arched windows. You can also check out the Cámara Santa, an adjoining chapel that keeps the holy chest – a pilgrimage highlight for many devotees.
Location: Plaza Alfonso II el Casto, Oviedo, Asturias, Spain
Open: Monday - Saturday from 10 am to 1 pm and from 4 pm to 5 pm (closed Sundays)
Phone: +34 (0)985 219 642
3
Campo de San Francisco
Pleasant walks within Oviedo's lush central park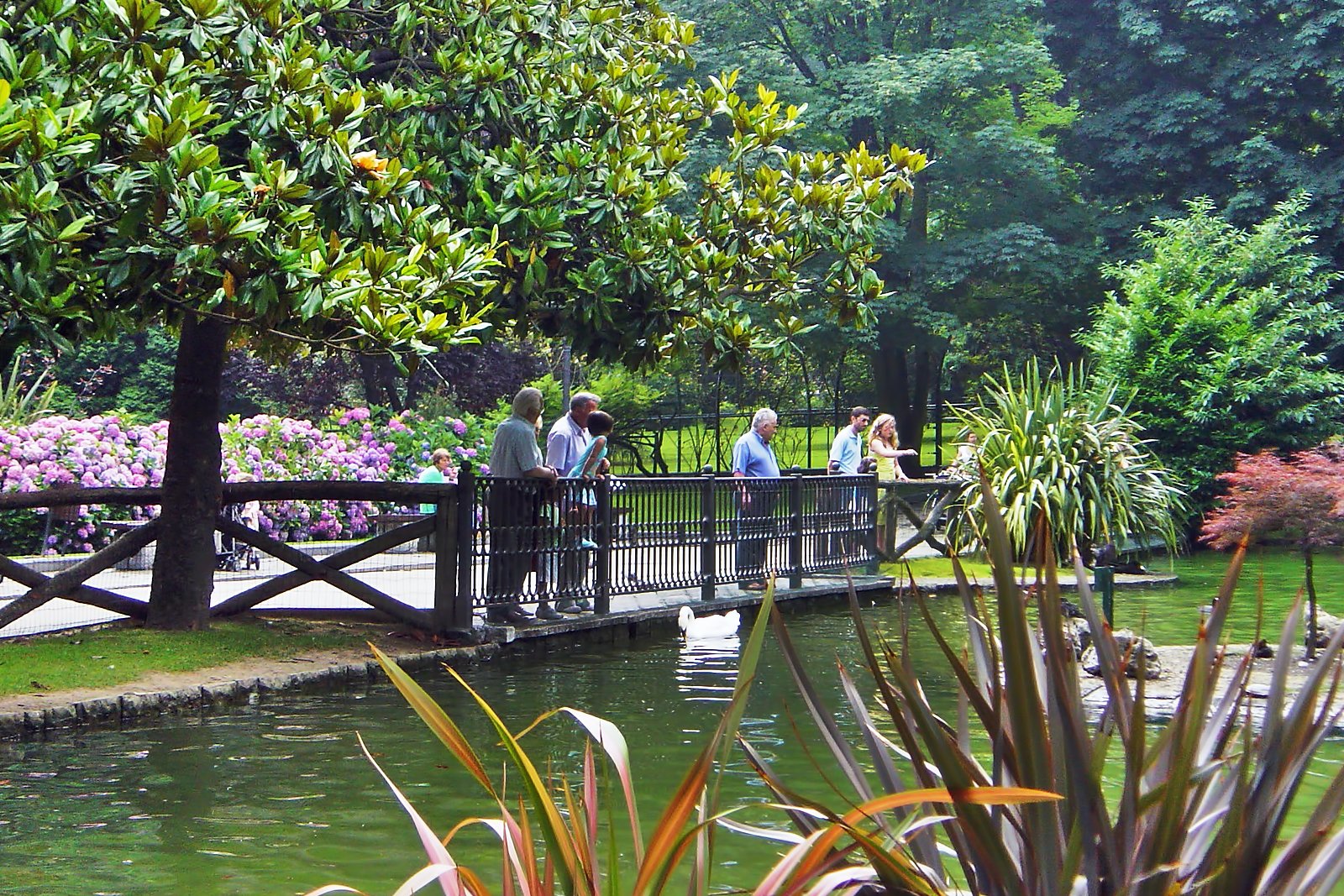 Just a short stroll east from Oviedo's Casco Antiguo, Campo San Francisco serves as the city's green oasis, where you can enjoy relaxing walks along oak and chestnut tree-shaded paths and well-manicured gardens. Pathways are lined with plenty of benches where you can pause and take in the fresh air and views. Peacocks and pigeons roam freely in the park, and there are ponds where you can feed the ducks as well. There's a variety of sculptures and monumental ruins scattered throughout, including the magnificent arched columns of San Isidoro church. Entry is free.
Location: Campo San Francisco, Oviedo, Asturias, Spain
Open: Daily from 10 am to 10 pm
Phone: +34 (0)984 0838 00
photo by yo (CC BY-SA 4.0) modified
4
Museum of Fine Arts of Asturias
A haven of paintings and sculptures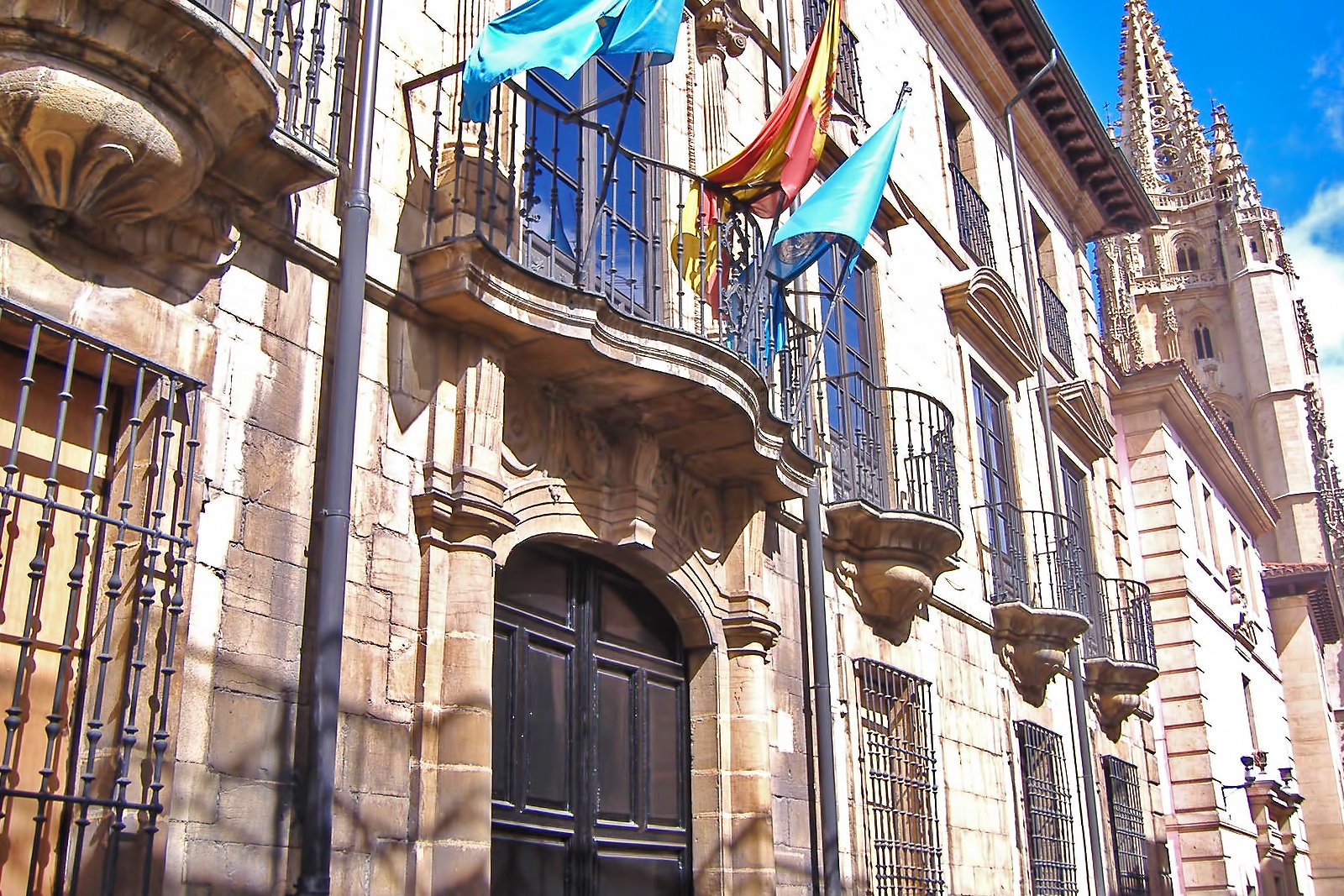 On the southern border of Oviedo Cathedral's plaza, the Museo de Bellas Artes de Asturias (Museum of Fine Arts of Asturias) is a haven for art-lovers. Don't let this old palace's unassuming façade and free admission fool you. It spans across 3 buildings, and you'll likely end up spending a good several hours going through the impressive collection of arts inside. Different sections showcase thousands of classical and contemporary artworks, some by Dali and Picasso, together with local Asturian artworks and items that date back centuries.
Location: Calle Sta. Ana, 1-3, Oviedo, Asturias, Spain
Open: Tuesday - Friday from 10.30 am to 2 pm and from 4.30 pm to 8.30 pm. Sundays from 11.30 am to 2.30 pm (closed Mondays)
Phone: +34 (0)985 2130 61
photo by Sergio.solar (CC BY-SA 3.0) modified
5
Oviedo's Stone Churches
Grand monuments of the Asturias Kingdom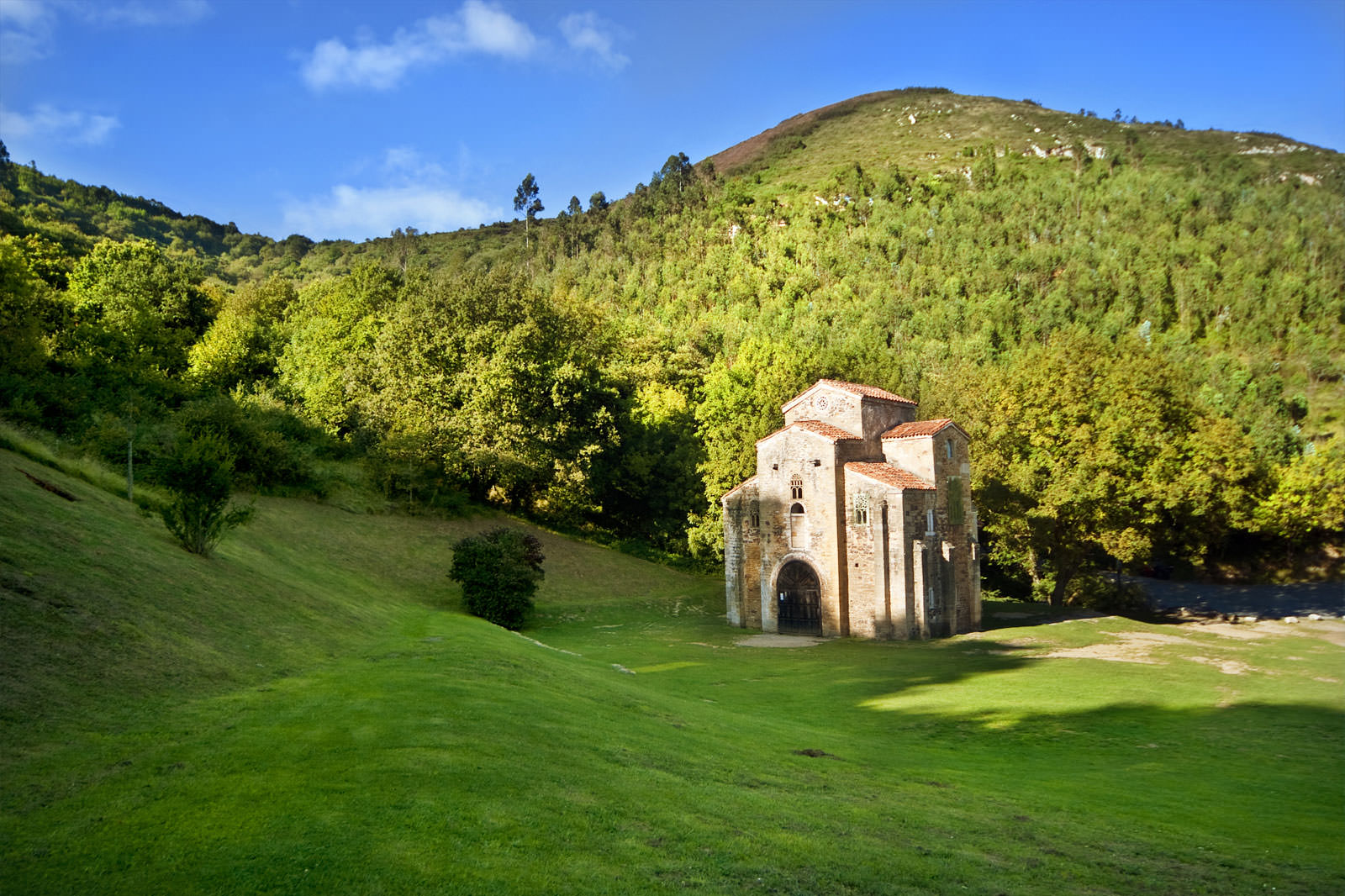 Oviedo is included in the UNESCO's World Heritage list for its collection of revered 9th-century pre-Romanesque stone churches. You can find them scattered throughout the city, within the old town and around the adjacent foothills. A prominent one is Santa María del Naranco, set in the green Naranco valley above the town and dedicated to King Ramiro I. Another is the San Julián de los Prados, 15 minutes' walk north from the old town's centre. This was built earlier and features vividly painted Roman frescoes among its highlights. Tickets to each site are from around €3.
6
La Foncalada Fountain
Ancient technology that still works!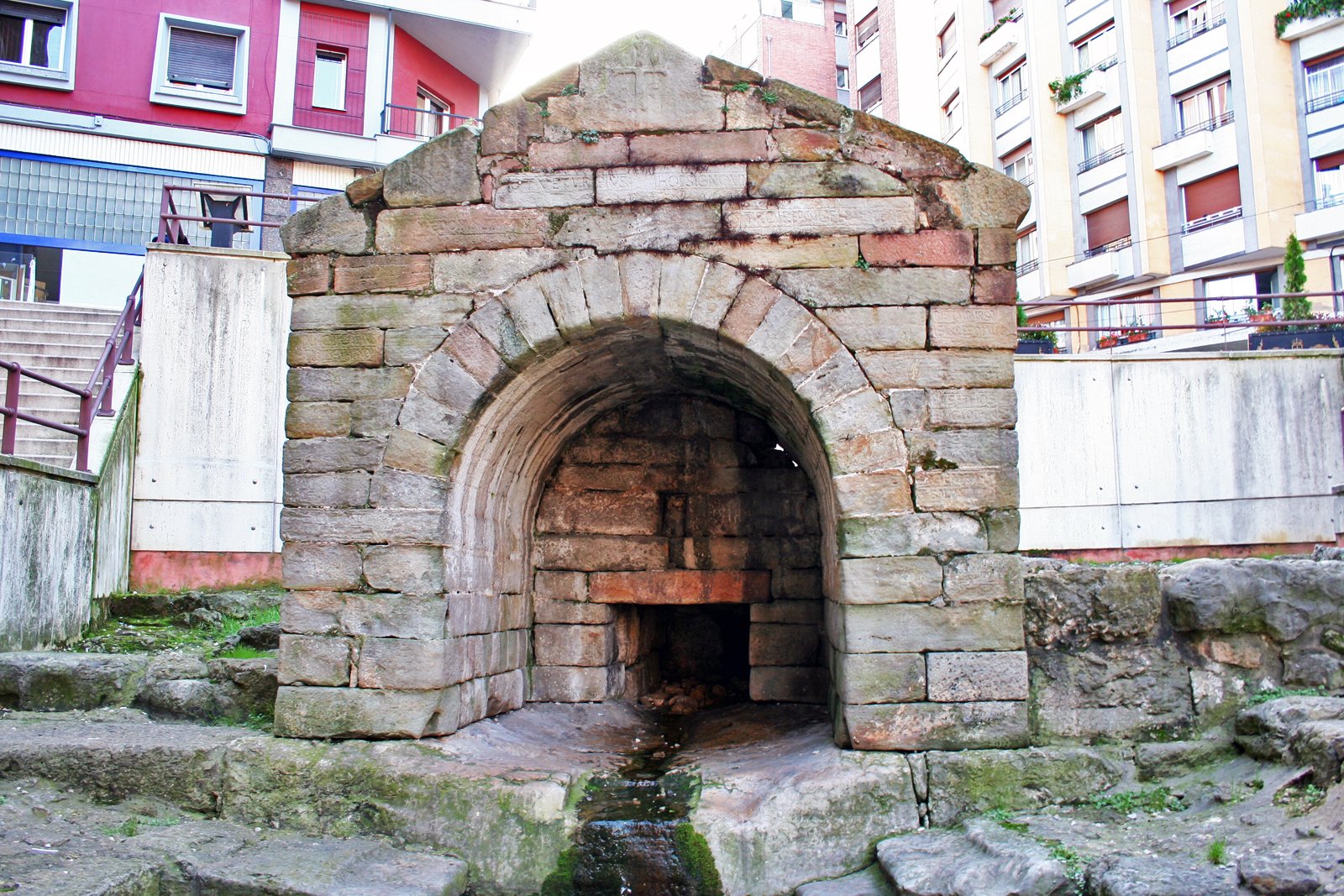 Oviedo's citizens enjoyed drinking from this fountain in medieval times, and you can still do so today. The La Foncalada Fountain is a short stroll north of the Oviedo Cathedral and is another of the city's UNESCO World Heritage sites. You can make out the true foundations of the city around the fountain, which is visibly a few metres lower than the city's modern street levels. The underground water source is channelled into a stone-gabled pool, and a cross and some inscriptions are visible on the stones. It's slightly obscured down a flight of stairs, but access is free.
Location: Calle Foncalada, Oviedo, Asturias, Spain
Open: 24 hours
Phone: +34 (0)984 4937 85
photo by Sitomon (CC BY-SA 2.5) modified
7
Mercado El Fontan
Fresh produce from all over Asturia in one spot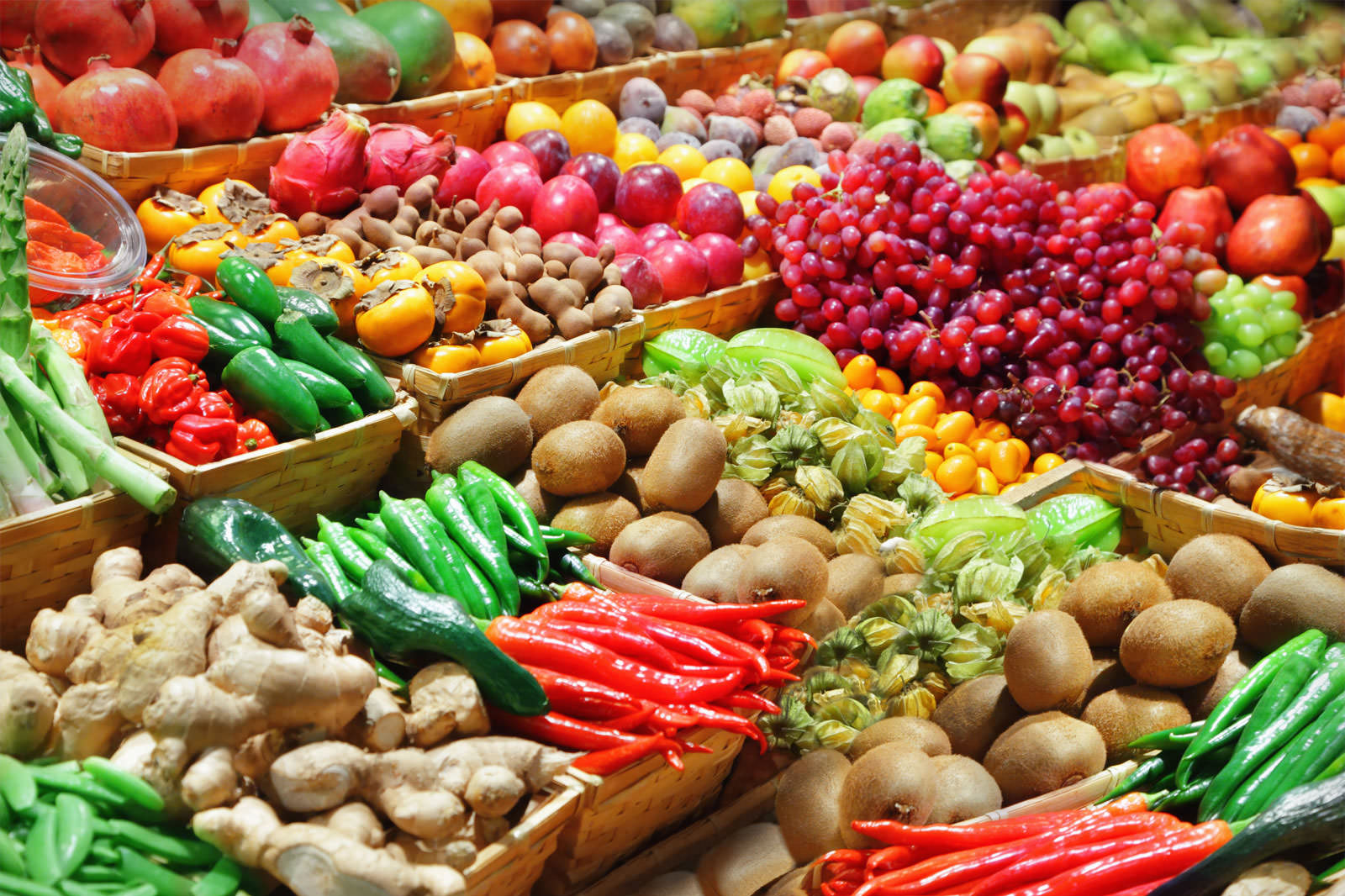 As the central marketplace of Oviedo, Mercado El Fontan features a good variety of stalls selling fresh produce daily. Save for the fresh fruits, cheeses and some selections of pastries, most of the items sold here aren't ready to eat and are mostly geared towards locals looking for their daily groceries. The stall owners are friendly and create a festive shopping atmosphere, making it worth a visit even if you're not going to buy anything. The market is housed in a large warehouse-like building in the old quarter. Outside, in the Plaza del Fontan next door, you can find stalls selling all sorts of souvenirs.
Location: Plaza 19 de Octubre, Oviedo, Asturias, Spain
Open: Daily from 8 am to 3.30 pm
Phone: +34 (0)985 2043 94
8
Teatro Campoamor
Oviedo's elegant opera house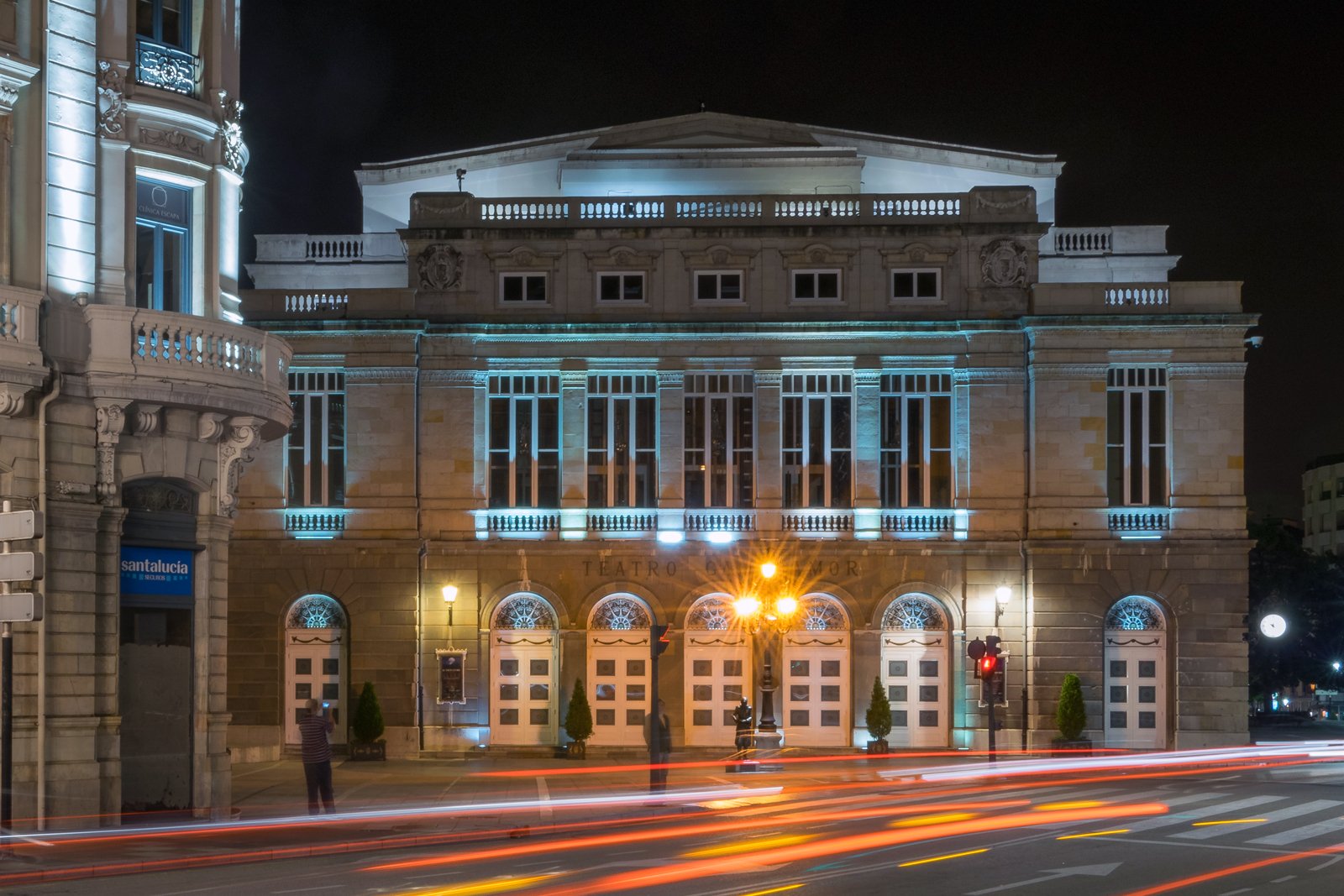 Take a look at this elegant 19th-century opera house between the Cathedral and Campo de San Francisco and check the show schedules – there's almost always a good production on. After restorations, the historic 1948 debut featured the opera Manon, and a wide variety of performances have graced its stage ever since. You can expect everything from classic plays such as Tristan & Isolde to ballets and Spanish zarzuelas (musical comedies) like Ruperto Chapí's The Troublemaker. Ticket prices depend on seating arrangements – from €16 and up to €25 for mezzanine seats.
Location: Calle Pelayo, Oviedo, Asturias, Spain
Open: Performances start around 7 pm or 8 pm (theatre opens daily from 12 pm to 1.30 pm and from 4 pm to 8 pm)
Phone: +34 (0)985 2075 90
photo by Javierlabradadd (CC BY-SA 4.0) modified
9
Calle Mon
Drinking and partying in the old town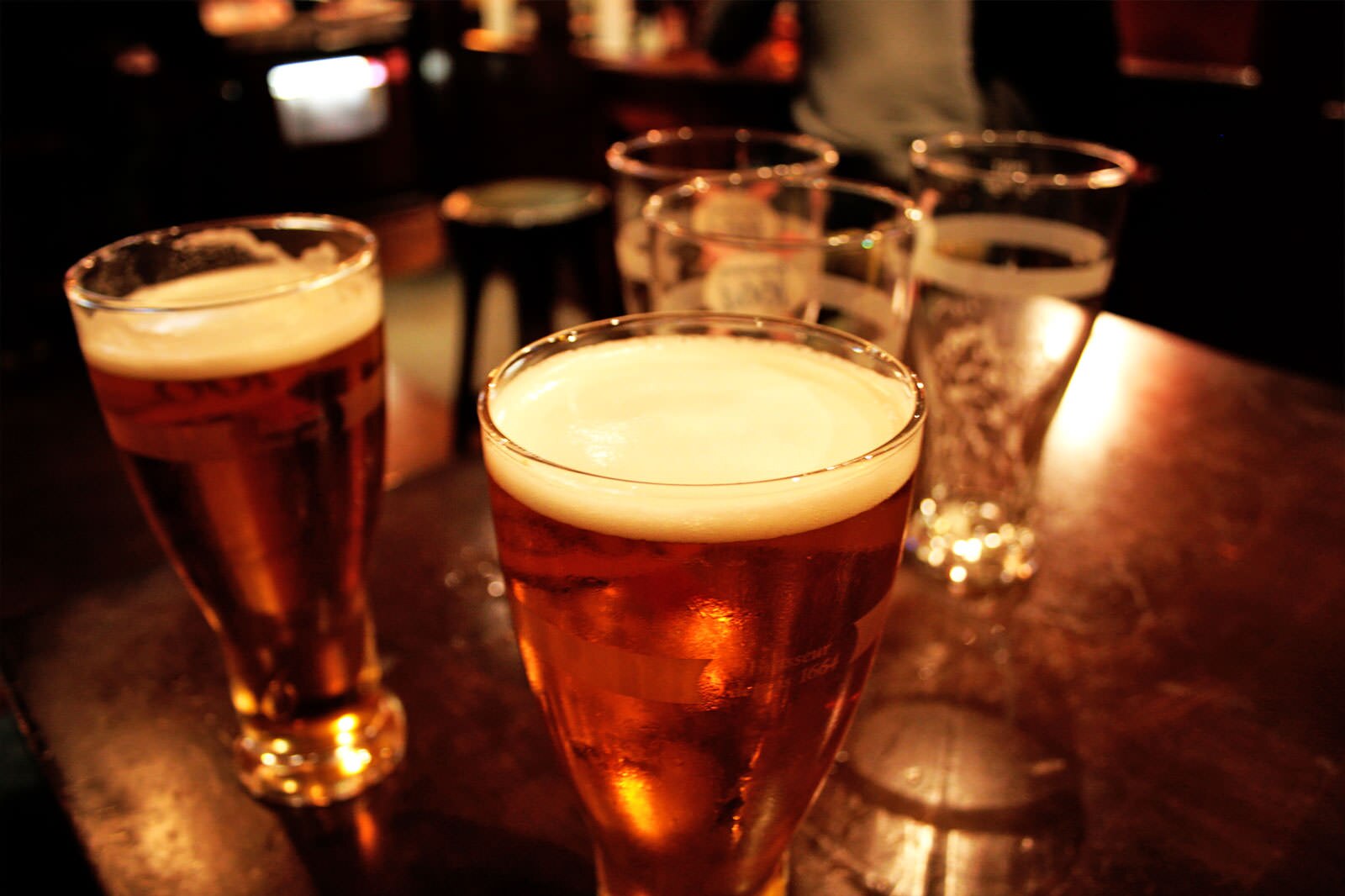 Despite being an "old town", the Casco Antiguo has plenty of bars and clubs that attract a youthful crowd after dark. There are great hotspots to discover along the cobblestoned Calle Mon strip, which usually comes to life over the weekend nights. Most of the dance clubs here are free to enter and partygoers usually spill out into the streets with drinks in hand. Among the notable bars and clubs here are Babia, Deluxe, Las Mestas and the Urban Cocktail Club.
Location: Calle Mon, Oviedo, Asturias, Spain
Open: most bars open daily from 6 pm until late
Back to top