Seville Travel Essentials
Useful Information to Help You Start Your Trip to Seville
Our Seville Travel Essentials lays out the essential information you need to help planning your trip to one of the most popular destinations in Spain. No matter how frequently you travel, some questions will always need answers: What's the weather like? How can I get from the airport to my hotel? What currency and type of plug do I need? We have all these answers plus other basic info about the best time to go, getting there, getting around, and a few useful travel tips.
It's all compiled in this Seville Travel Essentials. After reading this short and easy-to-read guide, you will be a little more prepared to start your trip in Seville.
1
When is the best time to travel to Seville?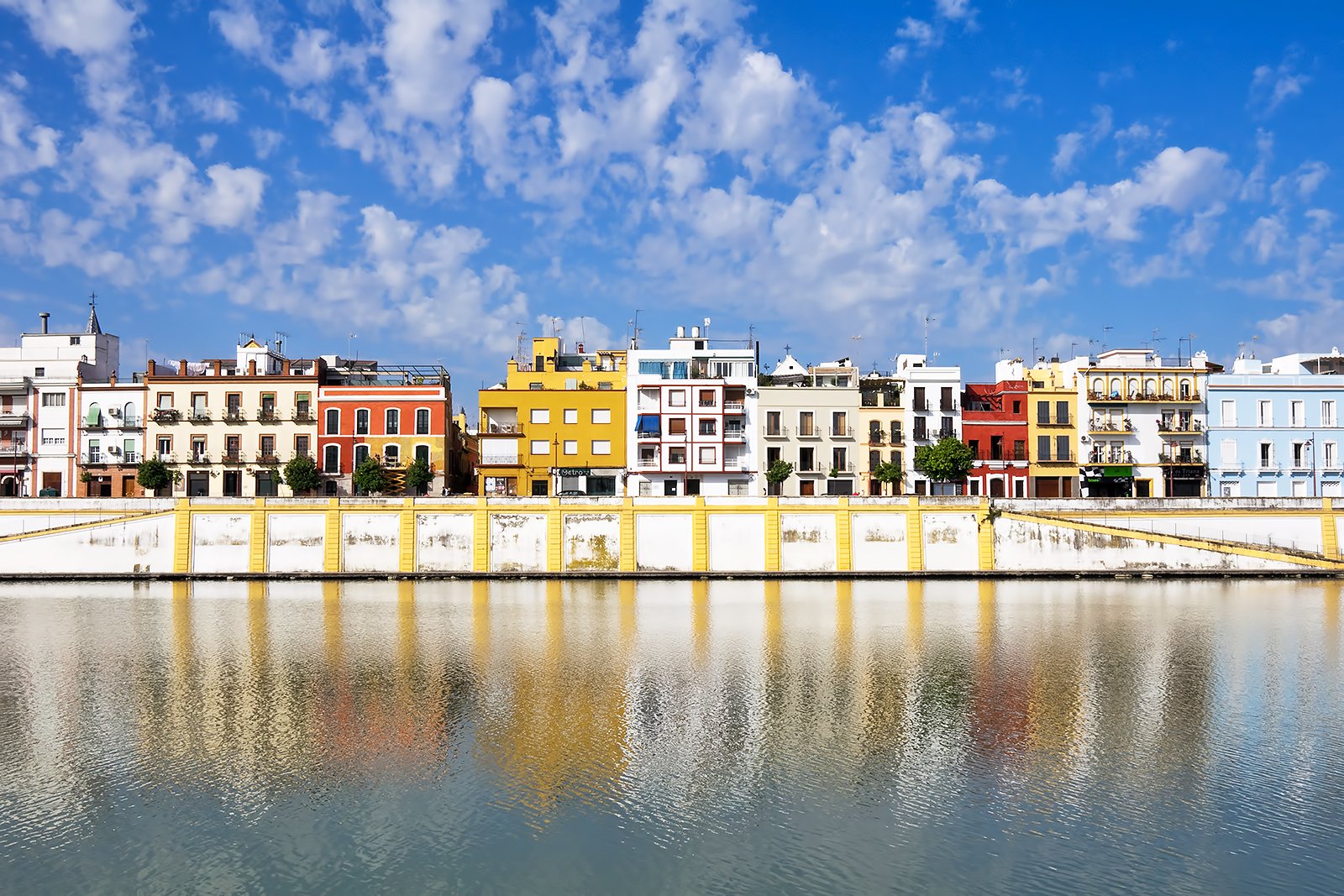 Seville has a subtropical Mediterranean climate, with mild and humid winters and very hot summers.
The average temperatures range from 6°C in winter to 36°C in summer.
The rainiest month of the year is December, with an average of 8 rainy days. Short torrential rains can happen at any time though.
Seville is warm and agreeable all year round, but the best times to visit are spring and autumn. Temperature is just fine, you'll avoid the throngs of July-August tourists and enjoy more affordable hotel and flight prices.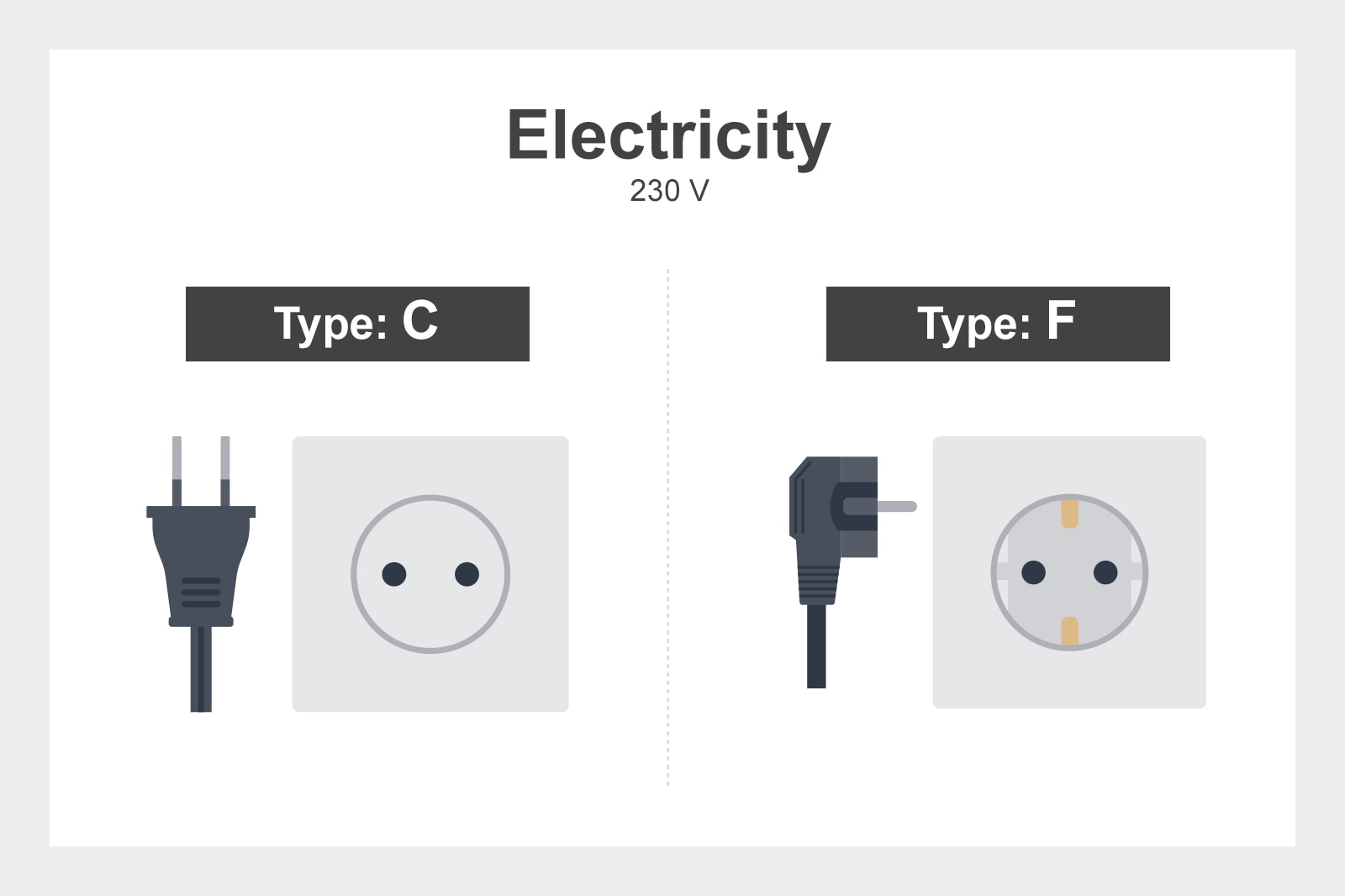 Primary languages: Spanish
Plug types: C and F
Electricity: 230 V
Currency: Euro (€)
International dialling code: +34 95
Emergency telephone number: 112
3
How to get to my hotel in Seville?
Seville Airport
Seville Airport is 10 km northeast of the city centre. It's one of the busiest airports in Spain. The airport features a single 2-storey terminal and 1 runway. There are several transfer options to reach central Seville:
A taxi to the city centre takes around 15-20 minutes. Taxi ranks can be found right opposite the terminal.
The bus Line EA takes around 35 minutes. The bus stop is outside the terminal.
Car rental agencies, including Avis, Europcar and Hertz, can be found on the ground floor of the terminal.
Seville Santa Justa Railway Station
Seville Santa Justa is the main train station in Seville. It's located 1.5 km northeast of the Old Town. There's a second train station in Seville called San Bernardo, which mostly serves the south of Spain. Santa Justa is connected by AVE trains (Alta Velocidad Española train – Spanish High Speed train) to Madrid and other major cities in Spain. You'll find metro and bus lines as well as taxis at the station to get to your hotel.
photo by Iantomferry (CC BY-SA 3.0) modified
4
How to get around Seville?
Travel tips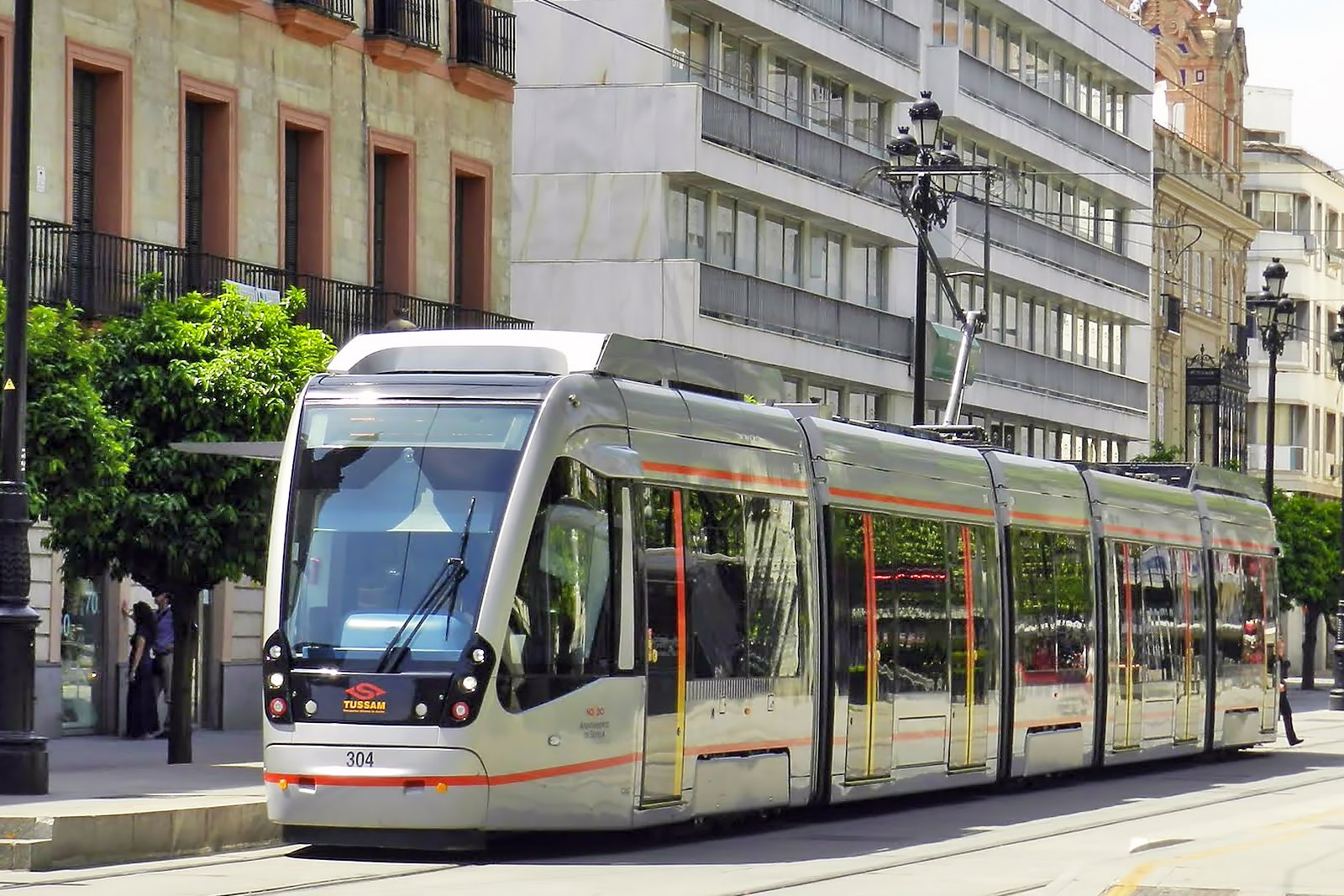 The most pleasant way to explore Seville city centre – the Old Town – is on foot. You'll find many landmarks and attractions, such as the Royal Alcázar of Seville, the Palacio de las Dueñas and the Seville Cathedral, within a 1-km circle around the city centre.
For longer journeys, Seville's public transport services are as efficient as they are affordable. They include bus, metro and tram networks. Run by different companies, they do not use the same ticketing system.
The metro line features 3 zones. The tickets are priced depending on the number of zones you pass through during a single ride. Metro tickets are valid for 1.5 hours once stamped.
Single-journey bus tickets and 1-day rechargeable bus cards are available. Tickets can be purchased on the bus, while cards are available at the office of the bus company (Tussam) at The Prado de San Sebastian.
Seville tram is confusingly named MetroCentro. The tram line goes southward from the city centre to San Bernardo Railway Station. Single tickets can be purchased in the vending machines available in each station.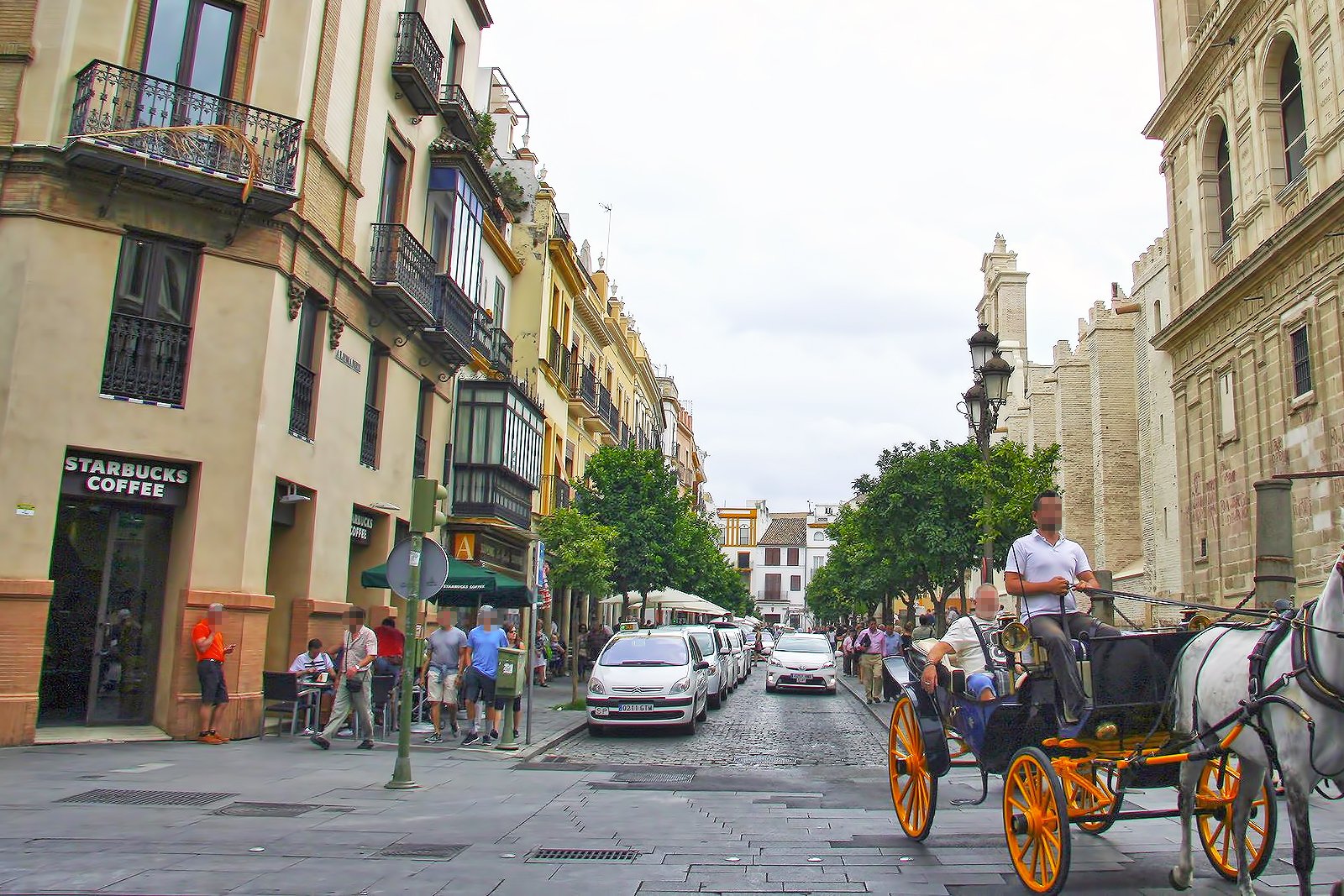 Seville's official taxis are white with a yellow diagonal stripe on their back doors.
They can be hailed on the street. A green light on their rooftop indicates that they are available.
Taxi ranks can also be found easily all around the city.
Rates are slightly higher at night and on weekends.
If you do not speak Spanish, a good way to tell the taxi driver where you want to go is to show them a piece of paper, or your smartphone, with the address of your destination written on it.
Many taxis do not accept the payment of the fare by credit card.
Always that the driver has turned the meter on.
Hailo and MyTaxi apps can be used in Seville.
photo by Sorin Craciun (CC BY-SA 3.0) modified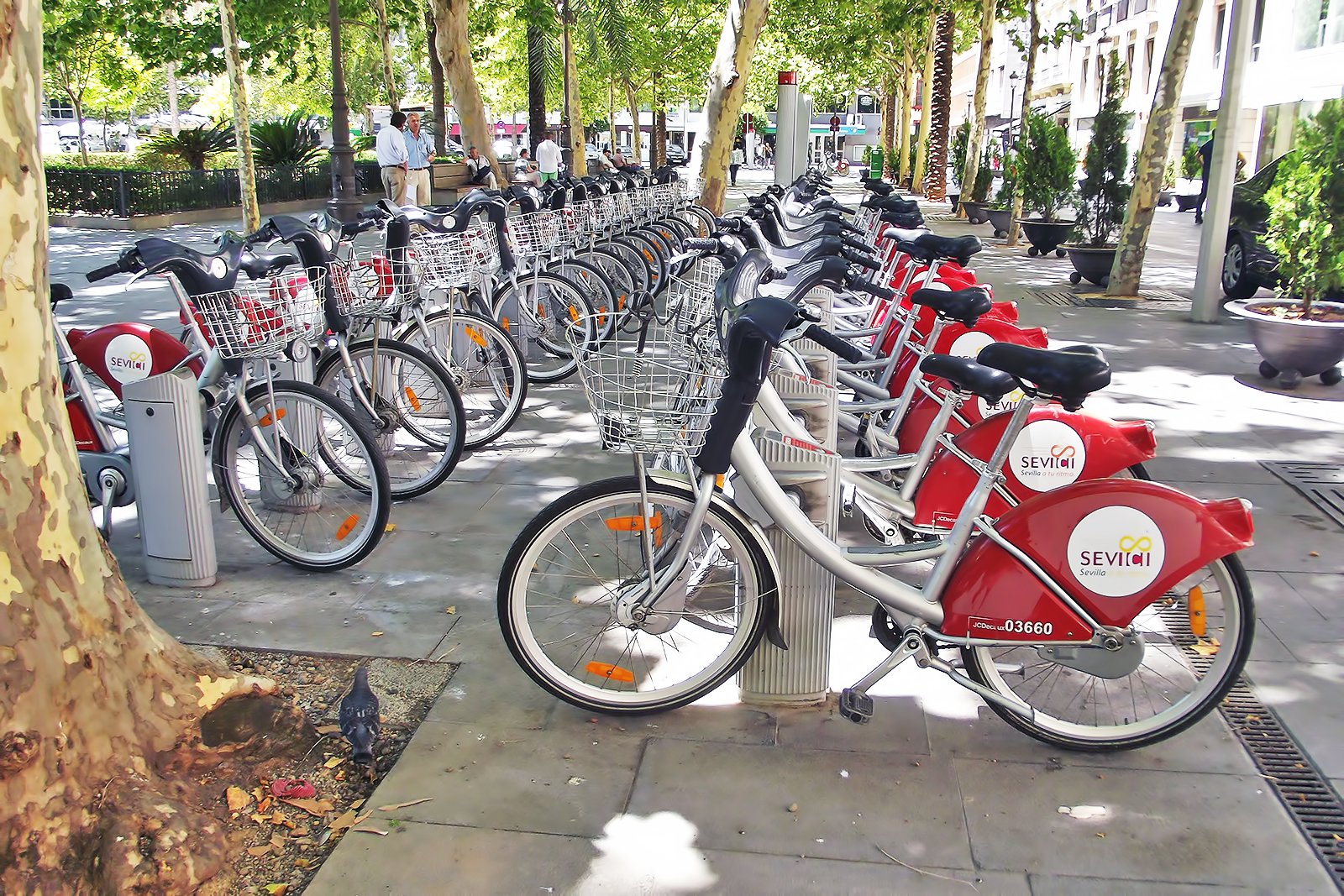 Seville has a public bike-sharing scheme named Sevici. There are around 250 bike stations throughout the city.
A short-term subscription is valid for 7 days.
photo by Elliott Brown (CC BY-SA 2.0) modified
7
What are the main annual events in Seville?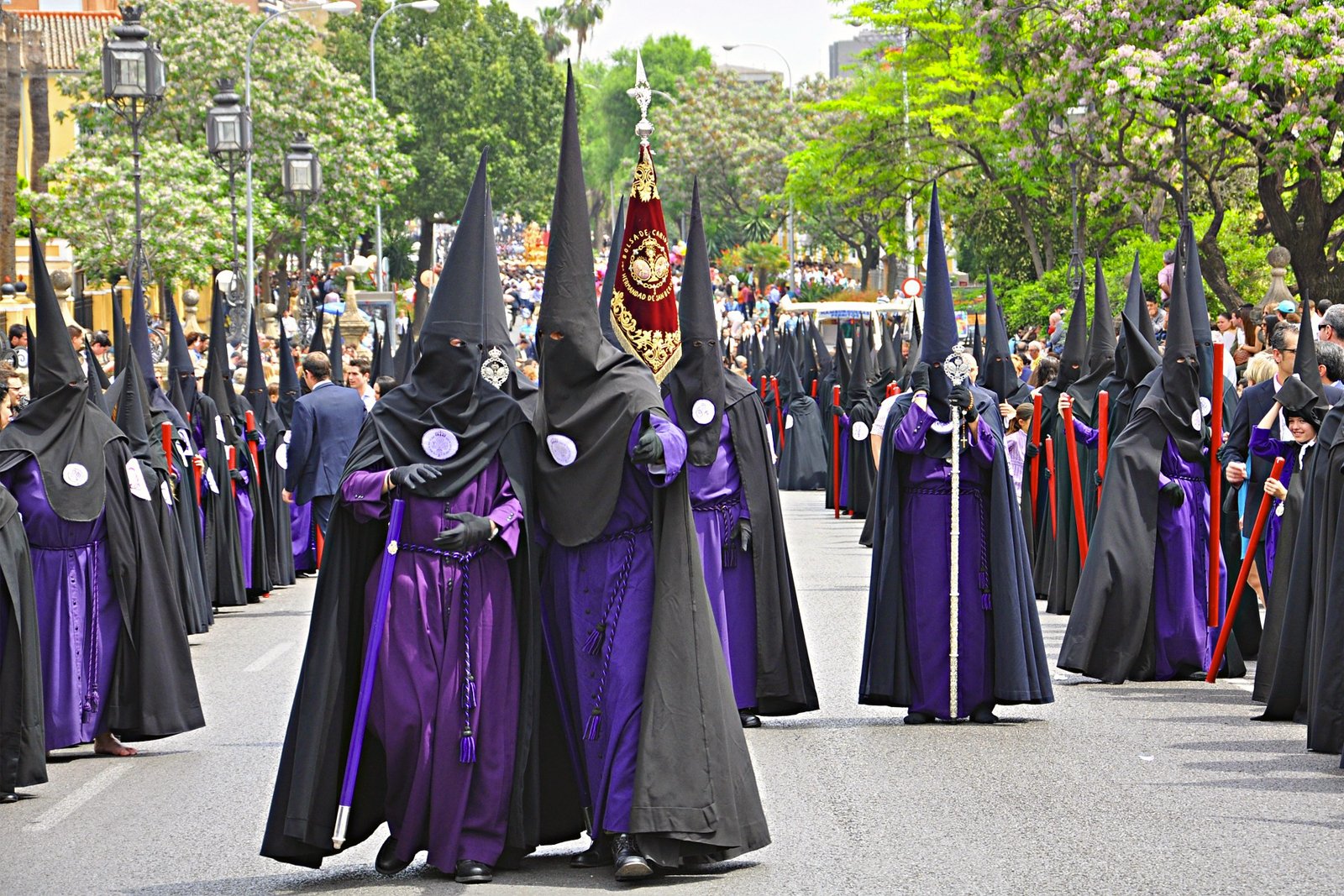 Semana Santa
What: Semana Santa involves processions of church brotherhoods and penitents, with elaborate floats carrying 17th-century images of Christ and Mary. Expect a lot of parties, with bars open all day and night.
When: Easter week
Where: Throughout Seville
Seville Fair
What: The Seville Fair is a week-long party involving dancing, drinking, eating and socialising. Expect late-night celebrations, which can last right through until dawn.
When: Two weeks after Semana Santa
Where: Los Remedios, southwest of Seville
La vela de Santiago y Santa Ana
What: La vela de Santiago y Santa Ana celebrates the patron saint of Triana. It's held along the riverside and features plenty of food and drinking and dancing. Try to pick up the flag at the end of the greasy pole – la Cucaña – stretching out over the river. You'll win a prize.
When: Late July
Where: Calle Betis in Triana district
Back to top